Who says adventure can only be found in Costa Rica? Climbing volcanoes in Nicaragua might not be in many Central American itineraries, but they should be.
Not only is CR's neighbor cheaper, but it's also less crowded: two main ingredients for a successful backpacking trip.
Whether new to hiking or a seasoned trekker, there's a Nicaraguan volcano and trail for you.
Cosigüina: Easy to Advanced Hike
A day trip to Volcano Cosigüina is an off-road and hiking adventure combo.
While you may opt to do the entire eight-hour excursion on foot, most tours cover the first half of the volcano crater trail using 4×4 transportation.
Cosigüina is usually an easy climb, as its slopes are not too steep. However, the terrain can be unpredictable, so that the usual one-and-a-half-hour hike can take longer.
The total time depends on road conditions and how far your vehicle can go.
Once at the top, you'll be graced by the sight of one of the most beautiful crater lakes in the region.
It's best to leave from the sleepy beach town of Jiquilillo, but if you are not staying there, a longer excursion from Leon is possible.
I made this trip from Monty's Beach Lodge, and while that hotel is one of the closest ones to Cosigüina, we still had to leave by 5 a.m.
Alternatively, you may overnight in Potosi, but there's not much to see there, so I chose to stay on the coast.
Cerro Negro: Intermediate Hike
An easy day trip from Leon, Cerro Negro is probably one of the shortest volcano climbs in Nicaragua.
Don't let its height fool you, however. It may only be 500 meters high, but the one-hour ascent is steep and hot when the sun is out.
Additionally, you are climbing an active volcano: making the hike more daring.
As Cerro Negro is frequented by thrill junkies, local operators came up with a brilliant idea: "sandboarding" down its slopes.
Known locally as volcanoboarding, you must wear what I call "an astronaut suit" before jumping on your sled.
Why you may ask? Well, in case of an accident, the volcanic terrain would surely leave some scrapes.
Concepcion: Advanced Hike
One of the most challenging hikes in Nicaragua is along the slopes of another active volcano: Concepcion.
The beautiful, near-perfect stratovolcano is on the island of Ometepe, a unique ecosystem in itself.
Concepcion's location within Lake Nicaragua, Central America's largest lake, makes the view from the top one of the most spectacular on this list.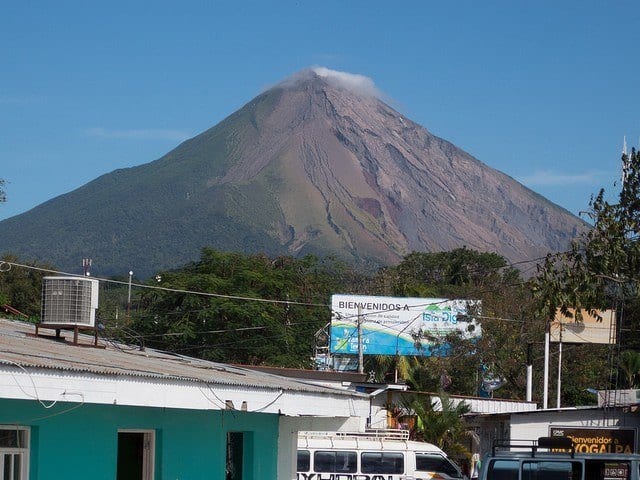 You will walk past plantain, bean, and coffee plantations along its steep, fertile slopes.
Pick between two major trails: the four-hour hike to the viewpoint or the entire outing to its crater (nine to ten hours).
I did the latter with Ometepe Secret Adventures and was so exhausted I couldn't fathom going to the top.
I had an excellent guide who was patient with my slow, sorry self and taught me a lot about flora and fauna in the process.
Still, I advise you to venture there only if you are very fit. Pickups are available at either Moyogalpa or Santo Domingo.
See also: Hike to Diamond Head Crater in Oahu
Maderas: Advanced Hike
Another top hiking attraction in Ometepe is climbing Volcano Maderas. It might be the smaller of the two volcanos on the island, but it's still a high 4,593 feet (1,400 meters).
What's most interesting about it is that its climate is different from Concepcion's; it possesses a cloud forest, which restricts the views and makes the hike quite humid.
You can choose from several trails, depending on which side of the volcano you wish to climb.
They start at Balgüe (north) and Merida (south), with operators offering Moyogalpa pickups. The side you climb will depend on your fitness level.
A shorter trail directs you to the viewpoint, which, weather permitting, affords spectacular views over Lake Nicaragua and Volcano Concepcion (four hours minimum).
Alternatively, if you decide to go for the top to see the mysterious, misty crater lagoon, expect the arduous hike to take a minimum of seven to eight hours—more if walking at a slower pace.
________
The author received a complimentary climb of the Concepción volcano by Ometepe Secret Adventures and a free tour around Granada by Va Pues. However, all tips and recommendations are her honest opinion and are based on her experiences.
Maria Alexandra Laborde is a serial expat, having lived and traveled extensively throughout 6 different countries and territories, including over 18 years in Latin America.
Also, Maria is the author of LatinAbroad, where she shares cultural experiences and advice after living in and traveling to over 30 countries across 5 continents. Follow her on Facebook, Google+, Instagram and Pinterest
Planning a trip? Go Backpacking recommends: