Like in many Latin American countries, Nicaraguan food goes back to pre-Columbian times and has been transformed and influenced over time.
This is evident in the name of some of its dishes and the ingredients and spices used in them.
Most of the traditional Nicaragua menu is known as "criollo," which is how Indian-Spanish fusion cuisine is referred to throughout most of the Caribbean, Central, and South America.
Overview
There is a significant difference between the Pacific, Atlantic/Caribbean, Northern, and Central Nicaraguan foods—particularly the type of vegetables and spices consumed.
Yet, there is one omnipresent base ingredient: corn.
Its extensive usage goes back to ancient indigenous cultures in the Americas, particularly Mexico, Honduras, El Salvador, Nicaragua, etc. Furthermore, this ingredient is not limited to food.
It's also used in various traditional drinks such as Pinole (pre-Columbian drink with cocoa, cinnamon, and toasted ground corn), Chicha (fermented corn beer), and other fruit-based nonalcoholic beverages.
Ingredients typically found in the tropics triumph here as well.
These include fruits such as mangoes, jocotes, papaya, plantains, avocado, and tamarind, in addition to starchy root vegetables such as cassava and quequisque (also known as Malanga or yautia).
Herbs and spices include garlic, onions, tomatoes, cilantro, oregano, achiote (annatto), cacao, and cinnamon.
They portray how well-seasoned, yet non-spicy, Nicaraguan cuisine is. Moreover, how the mixing of the sweet, savory, and sour is the norm—especially when it comes to seafood (to kill that "fishy" taste and smell).
Other unique features of Nicaraguan recipes are animal innards such as tails, stomachs, brains, testicles, skin (particularly of pigs), feet, and even blood (to make the traditional moronga).
Central and Pacific Cuisine
The inhabitants of the Central and Pacific regions of Nicaragua prefer simple gallo pinto (rice and black beans, cooked with oil in a frying pan) with either beef, chicken, pork, or (particularly on the coast) seafood—alongside fried snacks and dairy products.
Sample dishes include:
Indio Viejo
Indio Viejo is a thick chicken or beef stew made with cornflour "masa," garlic, onions, sweet peppers, tomatoes, and a squirt of sour orange.
Using achiote or annatto also gives the dish an attractive deep-orange color.
Quesillo
Quesillo is a thick corn tortilla with soft cheese, pickled onions, and sour cream.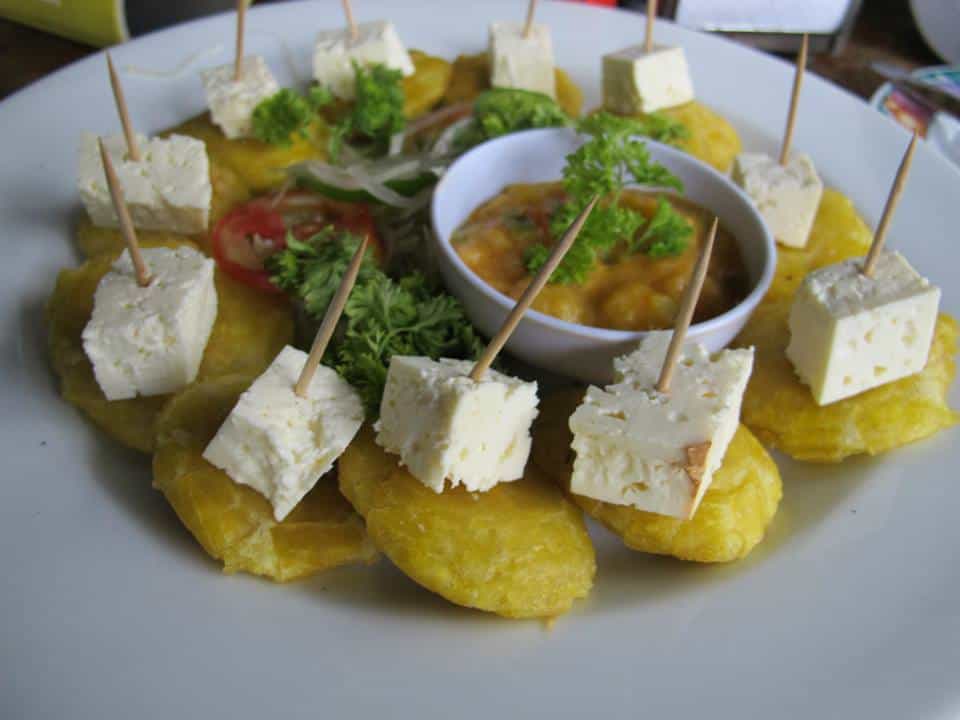 Tajadas con Queso
Tajadas con queso is fried plantains, sliced thin or thick, with salty local cheese & repollo (cabbage salad) as toppings.
Caballo Bayo
Caballo Bayo is the Nicaraguan twist on Mexican fajitas: many ingredients are typically served in clay pots, from which guests pick their favorites to make their tortillas.
Fillings and toppings include fried/shredded beef or chicken, mashed beans, creole chorizo, guacamole, pico de gallo, sour cream, moronga (pork blood sausage), chicharrón, green & red sauces.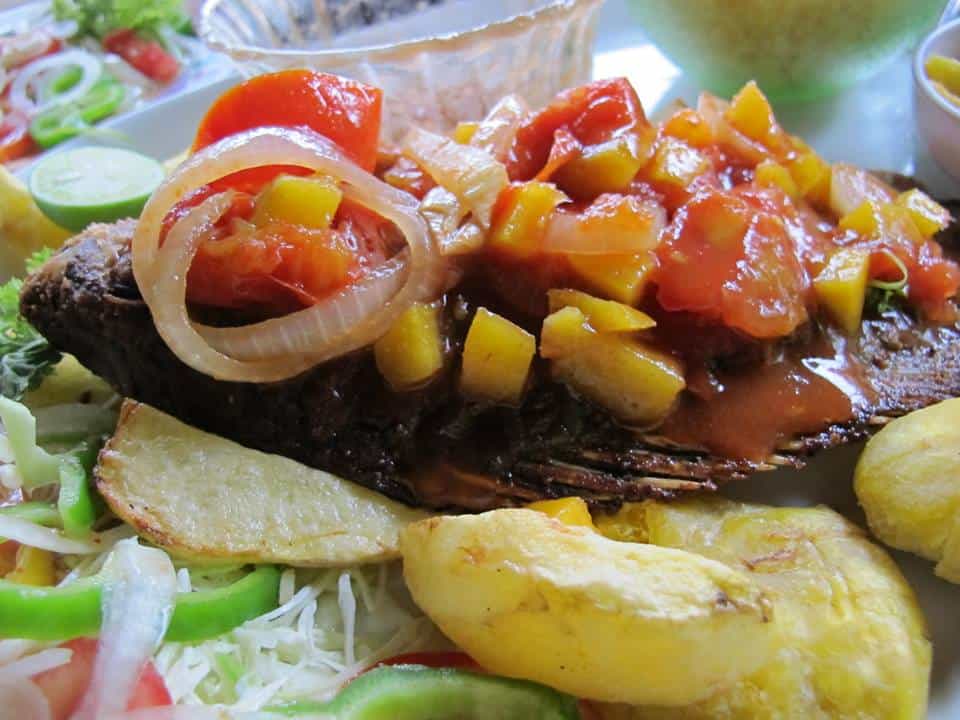 Local Fish with Tropical Fruit and Vegetables
Local fish dishes such as guapote are typically seasoned while cooking with savory ingredients such as garlic, black pepper, cilantro, and onions but topped upon serving with sweet tropical fruit sauces that may include, say, mango and tomatoes (as pictured above).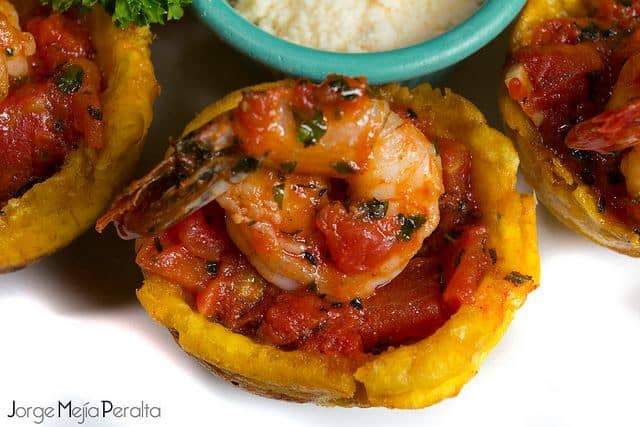 Atlantic and Caribbean Cuisine
On the other hand, Nicaraguan food on the Atlantic coast is heavily influenced by Afro-Caribbean spices and flavors, mainly coconuts, chiltoma (sweet peppers), and chilies accompanied by roots such as yuca (like cassava), and malanga.
Moreover, coconut oil is typically used for cooking instead of lard or cooking oil. These combinations give 'Nica-Caribbean' cuisine a distinct flavor.
The most popular seafood dishes include lobster, shrimp, and crab. You name it. When it comes to fish, it is eaten either dried, fried, or in soups.
Rondón
Rondón is a creamy coconut milk-based stew of turtle meat or fish with beef or pork, originally from the city of Bluefields.
It is seasoned with sweet peppers, chilies, onions, plantains, yuca, quequisque, and an herb named nargan.
We recommend you opt for the fish variety, though, as turtles are endangered.
Gallo pinto con Coco
Gallo pinto con coco is like the traditional Nicaraguan rice and black beans dish, but cooking oil is substituted by coconut oil when frying.
Pan de Coco
Likewise, pan de coco is bread whose flour includes ground coconut and is the perfect accompaniment to rondón.
Gaubul
Gaubul is a traditional Caribbean-Nicaraguan drink, little known even on the Pacific coast of its own country.
It is a mixture of cooked, mashed green plantains with fresh cow milk, coconut water, and sugar to taste.
Maria Alexandra Laborde is a serial expat, having lived and traveled extensively throughout 6 different countries and territories, including over 18 years in Latin America.
Also, Maria is the author of LatinAbroad, where she shares cultural experiences and advice after living in and traveling to over 30 countries across 5 continents. Follow her on Facebook, Google+, Instagram and Pinterest
Planning a trip? Go Backpacking recommends: