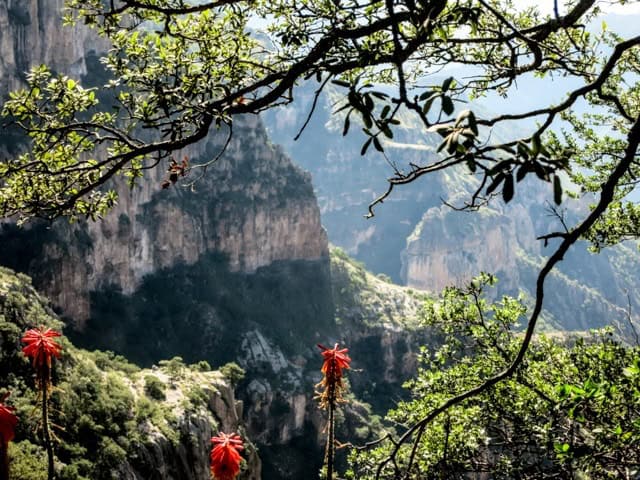 Copper Canyon, or Barranca del Cobre in Spanish, is a system of canyons in northwestern Mexico that are deeper and longer than the celebrated Grand Canyon across the border in Arizona.
I'm getting the Grand Canyon comparison out-of-the-way right at the beginning because, let's face it, if we're talking about canyons in North America, that's the one that's going to come up.
The truth is, I've been to both Copper Canyon and the Grand Canyon, and the one in Arizona is a fabulous photo opportunity. Still, Copper Canyon is a visit to another planet.
It's an adventure into some of the most startling landscapes you've ever seen, and there's far more to do than look at them.
You can hike into the canyon, zipline over it, mountain bike through it, ATV next to the edge of it, repel down it, or go for a run through it with the famous Tarahumara.
The Tarahumara recently had their own Nike barefoot running shoe modeled after them.
This is, after all, is where the Tarahumara Indians started ultra-marathoning, a people so bad-ass they started running sixty miles through the canyons in flip-flops for fun.
Copper Canyon is about eleven hours from El Paso, and it's still only about as far south as Corpus Christi, Texas.
It's in the southwest corner of the border state of Chihuahua and is not that far a trip from the Southwestern U.S., including Los Angeles.
If you want to take pictures of a large hole in the ground, head to Arizona with the other retirees.
If you want to play hard in one of the most beautiful and treacherous landscapes on the planet, and do so without fighting crowds, head to Copper Canyon.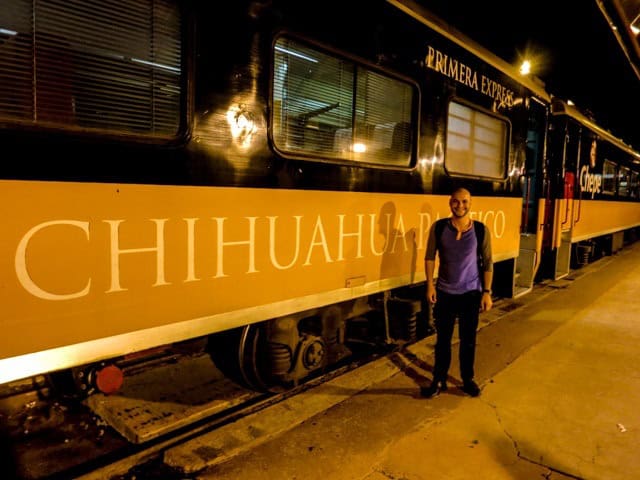 1. Copper Canyon Railway Engineering Marvel
The best way to reach Copper Canyon is by train. Yes, there are other ways to get there, but the Chihuahua al Pacifico Railroad, also known as "El Chepe" is the best, most scenic, and the most fun.
You can get on the train as far north as the city of Chihuahua, the state capital, and ride it to the ocean side city of Los Mochis.
But the train's selling point is the middle, where it cuts through the canyon and provides some of the most astonishing vistas you'll ever see.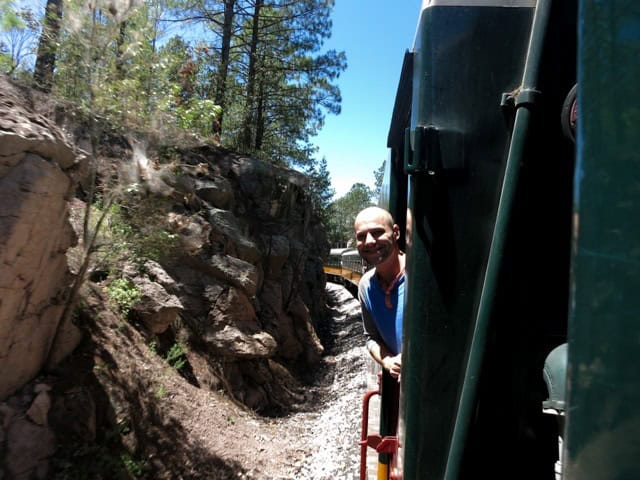 There's a dining car, and the train makes a few stops at small canyon villages where locals sell you Mexican street food, handmade baskets, and pottery. This is not the imported stuff from China, folks.
Coming south from Chihuahua, watching the landscape turn from flat farmland to hilly pine forests and finally to mountains before entering the canyon itself was remarkable.
The scenery turns more beautiful by the minute.
Don't shoot too many pictures early in the trip, although I know it's tempting. The good stuff is at the end as you inch closer and closer to Copper Canyon.
Cost: $265 – 1,400 Mexican pesos ($20 – $107) per person depending on the class and city of departure
2. Second Longest Zipline Course In The World
Near the El Divisadero station is the Copper Canyon Adventure Park.
The facility sits on the edge of the canyon and extends over it. There's a restaurant with a glass floor that lets you look down into the canyon while floating above it.
There are a few different activities here. The first one I did was ziplining.
The facility has a set of seven ziplines and two suspension bridges totaling a 4,100 meters route as high as 450 meters above the ground.
With the longest zipline at over one 1,000 meters, you will soar over 80 miles per hour.
The concept of ziplining is simple, but such an intense zip line system required the most precise calculations.
I've been on a lot of ziplines in my life. Generally, they are all the same. This one was not.
I flew, at first clutching the straps and venturing a peek down every few seconds.
Everything was up to code, and the staff was very vigilant in making sure all safety procedures were being followed.
So after I got comfortable with the idea of cable-based flight, I was soaring like a gringo eagle, arms wide, and eyes alternating between the canyon floor thousands of feet below and the spectacular skyline.
There are some long ziplines on this course.
There were a few times when I had to ask for clarification to see where it was that I was supposed to be landing. Other times, I preferred not to know.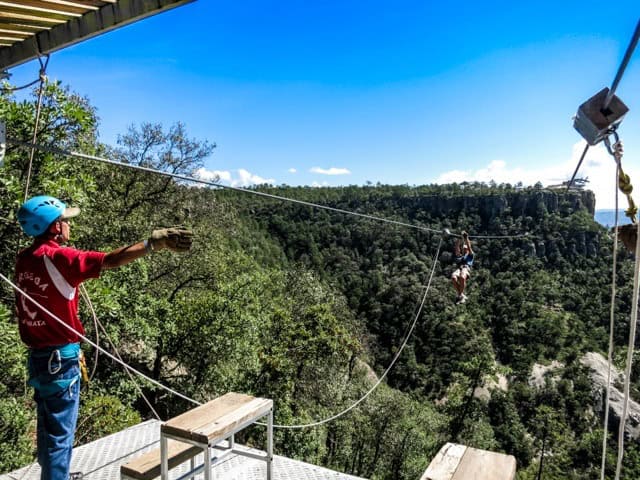 Interestingly enough, the local Tarahumara were instrumental in hauling the heavy materials across the rugged Copper Canyon terrain to build the zipline circuit and all facilities along path zip.
These days, the Tarahumara are also working as guides and maintaining the route.
While this trip did not focus on getting to know the Tarahumara people, you will want to contact a local tour operator, Dave Hensleigh of Authentic Copper Canyon, who has a great relationship with them.
Hours: 9 AM or 1 PM, daily
Cost: $600 Mexican pesos ($45 USD) per person
Time: 2.5 hours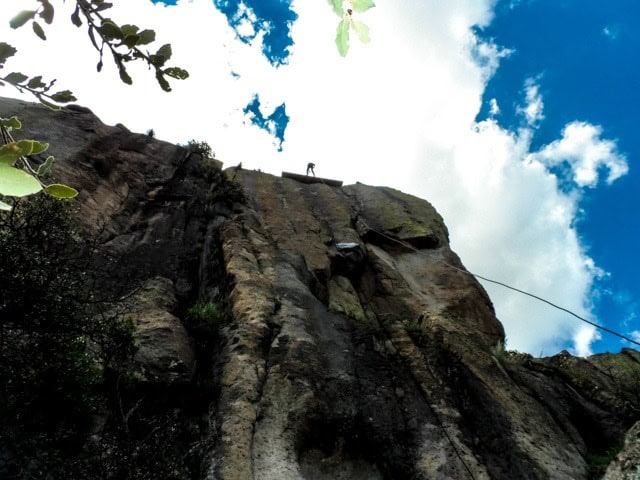 3. Rappelling, Tarzan Swinging, and High Ropes Course
Another attraction at the Adventure Park was the High Ropes Course.
On the zipline, I had lived out my childhood fantasy of flying; I was Superman in a hard hat.
On the High Ropes Course, I was Spider-Man and even Tarzan at times, a few of my childhood favorites.
The course began as I rappelled down a sheer rock.
The course was intense as I was swinging on cables, which I embarrassingly referred to as a "web" in front of the rest of the tour while in full childhood fantasy fulfillment mode.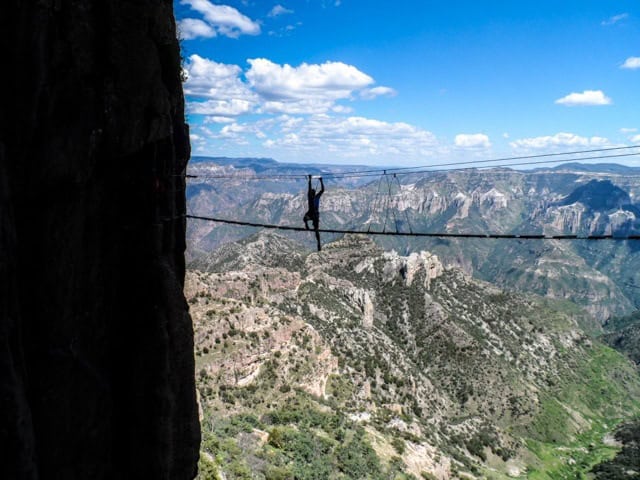 It's a little more physically demanding than the zip line course, but it's still okay for beginners.
You feel like an expert, which is a testament to the skill of the instructors and the design of the course.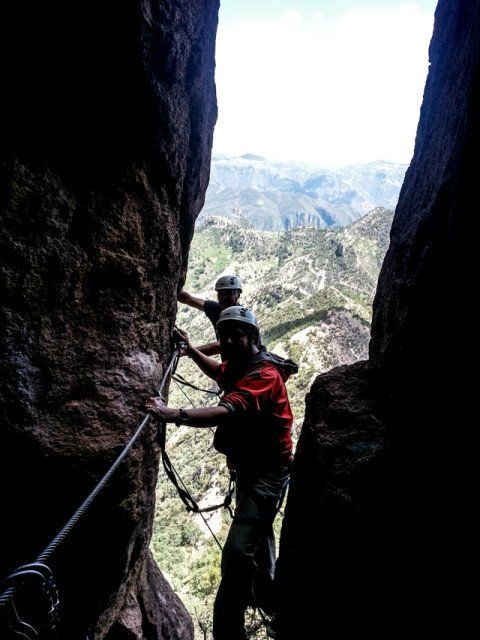 Hours: Between 9:00 AM and 3:00 PM every day
Cost: 450.00 Mexican Pesos per person
Time: 1 1/2 hours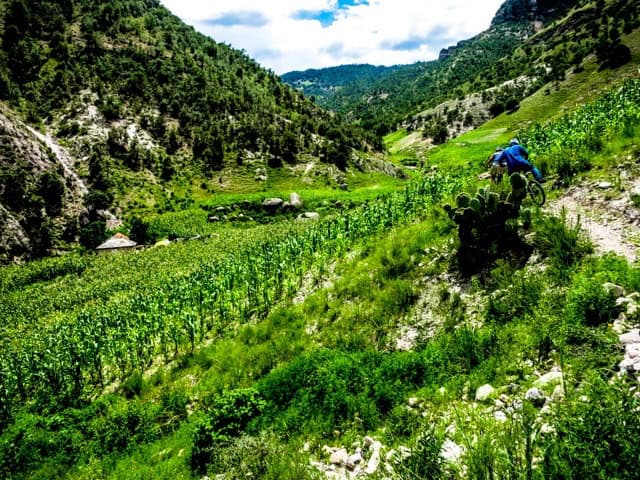 4. Advanced Mountain Biking into Tarahumara Territory
It was during mountain biking that I came to appreciate the incredible intensity of the landscape and the jagged challenges every few feet of rock presented.
When you fly above something or climb down it, you don't understand it on a tangible level. It is abstract beauty, nature as aesthetic.
Mountain biking through the canyons and into the fantastic scenery in the vicinity, which included riding through pine forests next to babbling brooks and into sun-melting meadows watched over by cacti, gave me a real appreciation for the simultaneously beautiful and brutal ecosystem of the canyons.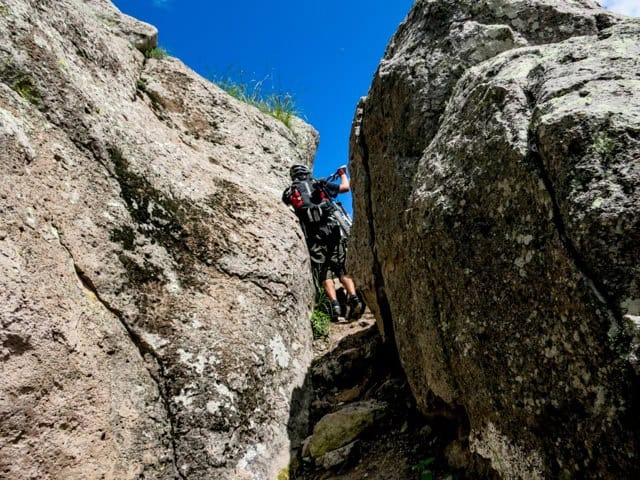 It was more than just a mind-boggling series of ditches.
It's amazing how the environment is alpine at the top and sub-tropical closer to the heat at the bottom of the canyons.
There was a great deal of walking the bikes over steep terrain, which was fine by me.
This trail was challenging, which meant stumbling down it while walking the majority of the way.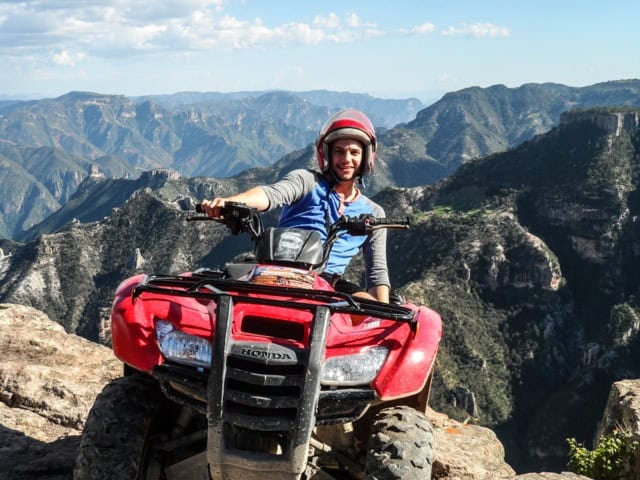 5. Ripping Along The Edge of Copper Canyon by ATV
After enjoying the sweaty tranquility of a mountain bike ride, I had earned the noisy and effortless privilege of cutting along the canyon's edge on an ATV.
The ATV trails were broader and less winding than the mountain biking trails, but they kept us on the canyon rim viewing the stunning scenery.
It was also exciting to rip along with an engine between your legs while an insane dropoff lingered just a few feet away. Of course, it was perfectly safe.
But like any good roller coaster, the experience was safe with just enough implied danger to increase your heart rate.
How to Participate:
Parque de Aventuras Barrancas del Cobre
Phone: 01 (635) 589 6805, or contact the Office of Tourism in Chihuahua at cturismo@chihuahua.gob.mx or by phone in Mexico at 01 800 508 0111 / (614) 429 3596
Parting Thoughts
Copper Canyon is a place to play, pure and simple.
Sure, you could visit a nearby hotel deck and sip margaritas while watching some of the most breathtaking sunsets you've ever seen. I did that too.
But I imagine the satisfaction I felt sipping strong tequila and watching the canyon turn a pinkish glow as the sun descended into the canyon floor would not have been nearly as sweet without first getting some of the canyon under my fingernails.
________
My trip to Copper Canyon in the Mexican state of Chihuahua was provided in collaboration with Ah-Chihuahua, Conexion a La Aventura, ATMEX, Hotel Divisadero, Visit Mexico, Mansion Tarahumara Club Resort & Spa, and Chepe Ferrocarril Barrancas del Cobre. All opinions expressed above are my own.
Jason Batansky is a 29-year-old entrepreneur, blogger and occasional Daily Beast contributor in constant motion since his first solo trip abroad over 10 years ago.
His three online businesses have allowed him to travel and live throughout South America, South East Asia, and Europe, while working here and there wherever he found reliable Wi-Fi access and motivation, two elements necessary to running online businesses that can be difficult to obtain simultaneously in the world's most beautiful locales.
Planning a trip? Go Backpacking recommends: