In the village of Granö in northern Sweden, the Granö Beckasin lodge offers the modern comforts of hotel rooms in the form of a treehouse or "bird's nest," as they call it.
The treehouse concept still elicits my childhood curiosity about living above the ground amidst bark and birds.
Forming a circle around the top of a small hill along the banks of the Ume River, the six unique bird's nest studios offer incredible views of the surrounding water and pine trees.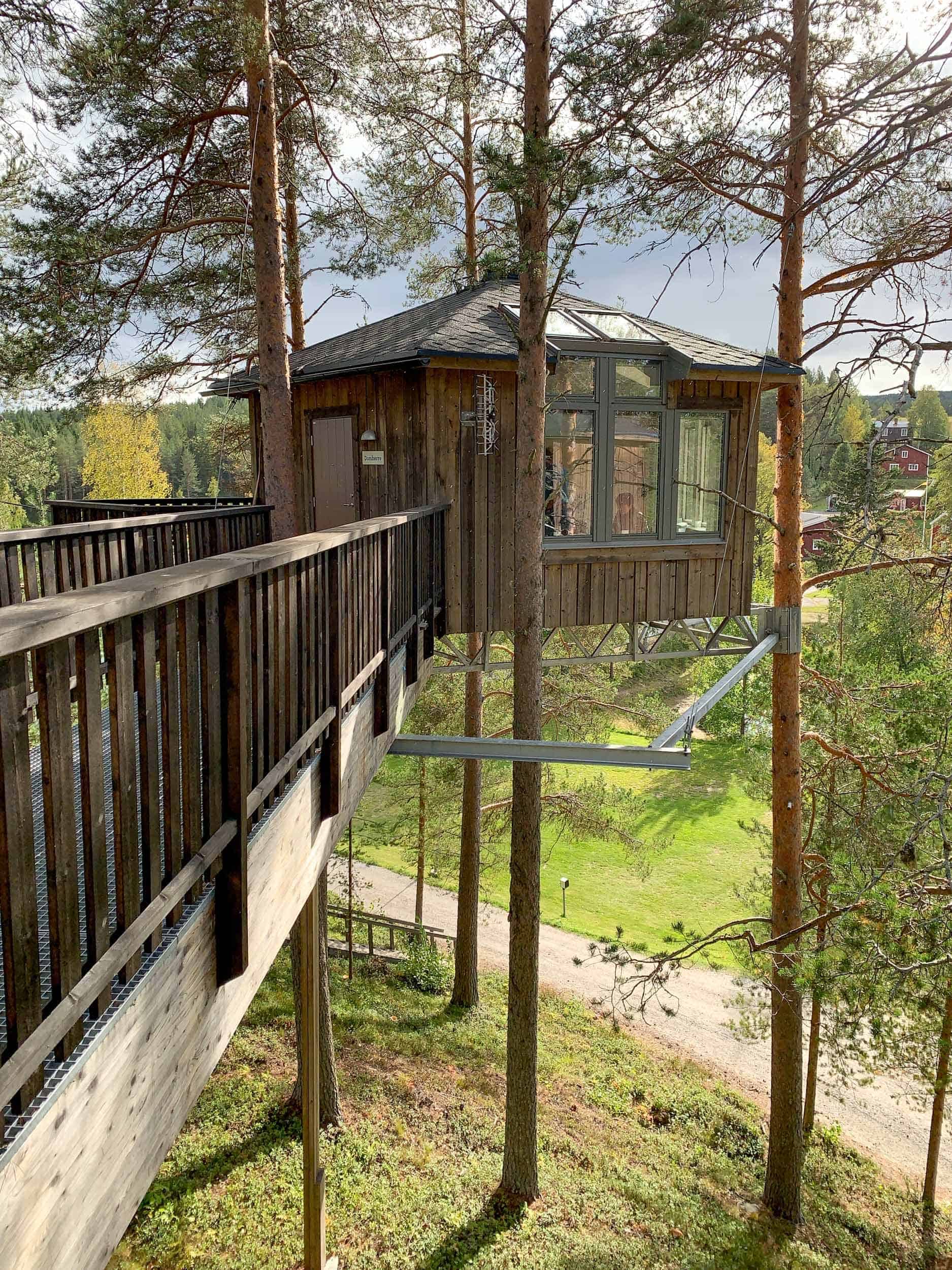 When the northern lights are in the forecast (fall and winter), they can be visible from these rooms.
However, there's much more to staying at Granö Beckasin than living in the trees, as I soon discovered during my four-day trip to Vasterbotten.
Granö Beckasin makes an excellent base to go on adventures in northern Sweden. But first, I want to introduce you to all the options for getting a good night's sleep at this unique lodge.
Accommodation Options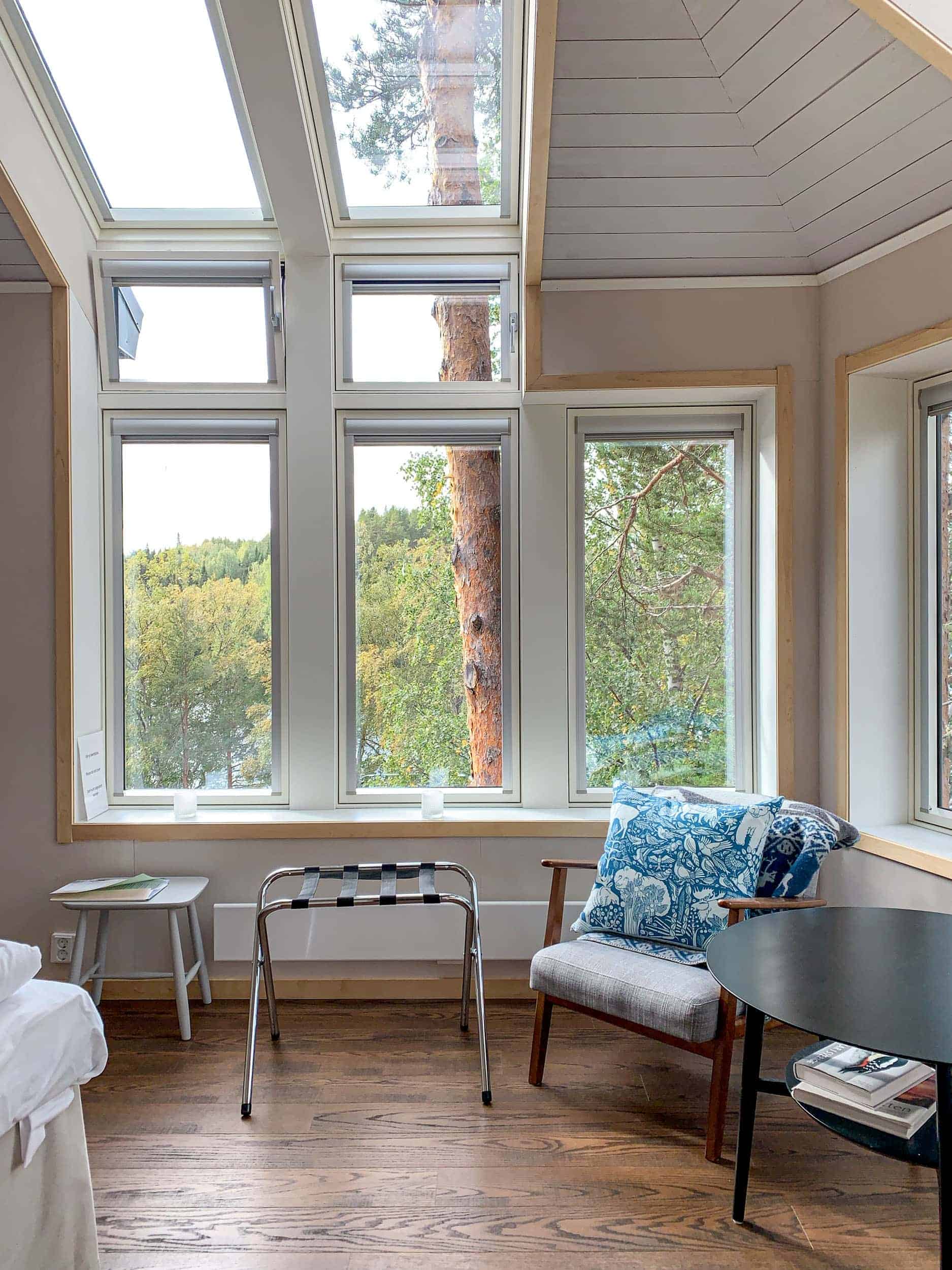 Bird's Nest Room
The bird's nests are a popular choice for visitors to Västerbotten.
Comfortable beds, a full bathroom with running water, lots of windows, floor heating, flat-screen TV, Wi-Fi, a coffee maker, and a small seating area outdoors are included with each nest.
As they were fully booked when I was there, I only had the opportunity to visit, not sleep, in one of these great rooms. The nightly rate starts at 2900 krona or about $300.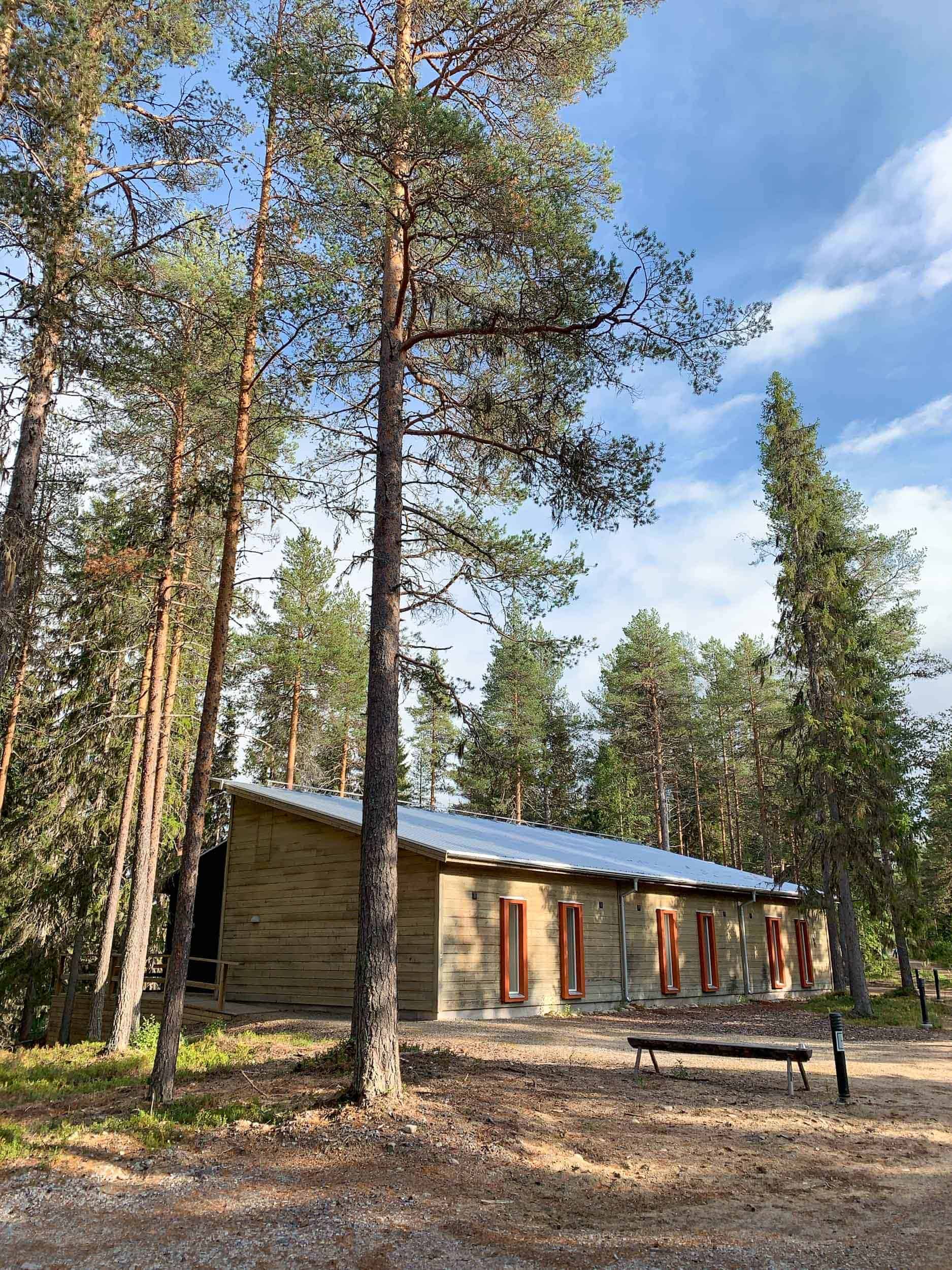 Eco-hotel
In 2014, Granö Beckasin expanded to include a 12-room eco-hotel.
The rooms are about 300 feet (100 meters) up a gentle incline from the bird nests and restaurant.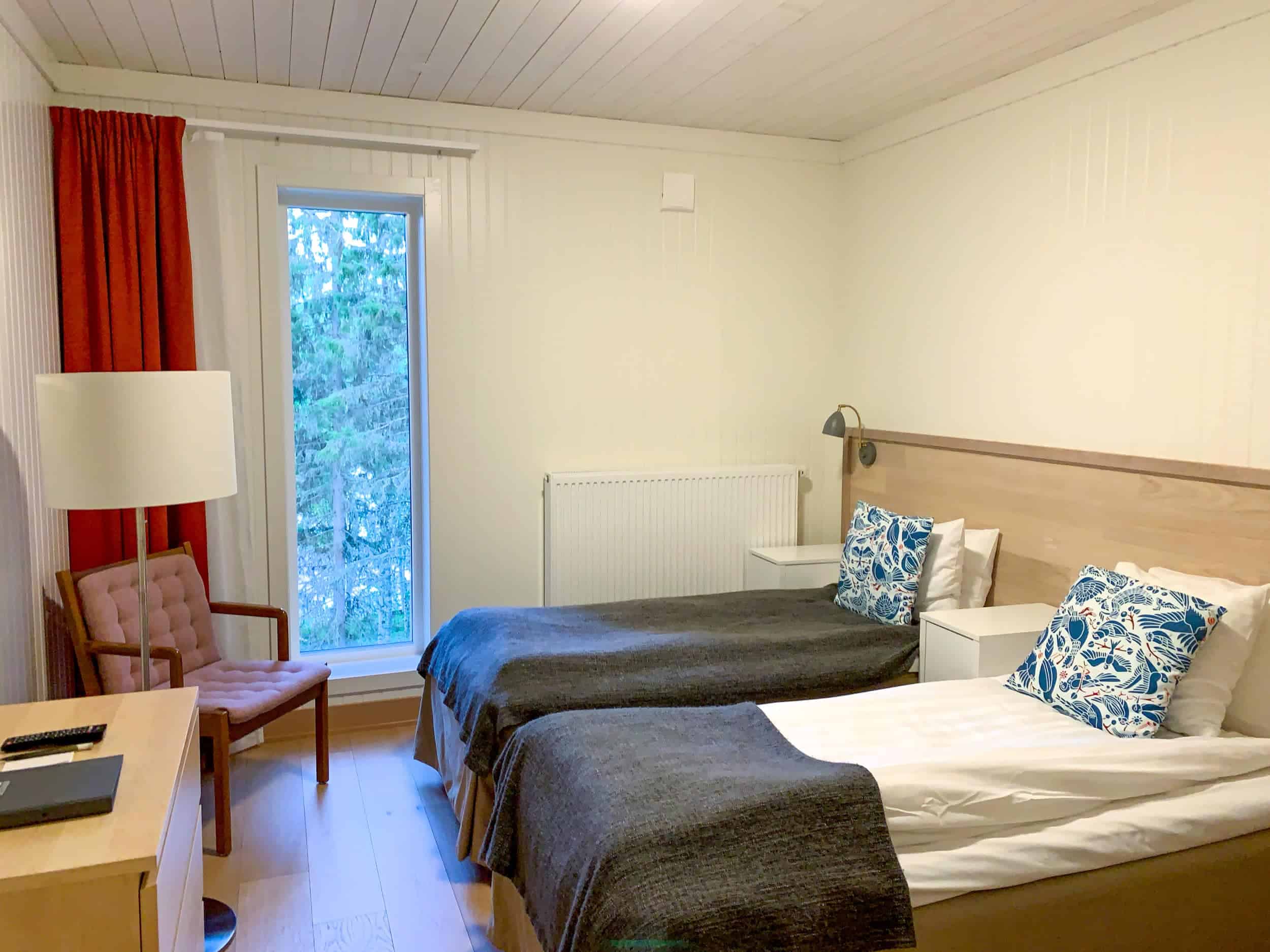 Each room features a full bathroom, TV, and vertical window offering natural light and views of the surrounding trees.
Geothermal heat warms the rooms and building, ensuring guests sleep well, even in the cold winter. The nightly rate starts at 1190 krona or about $124.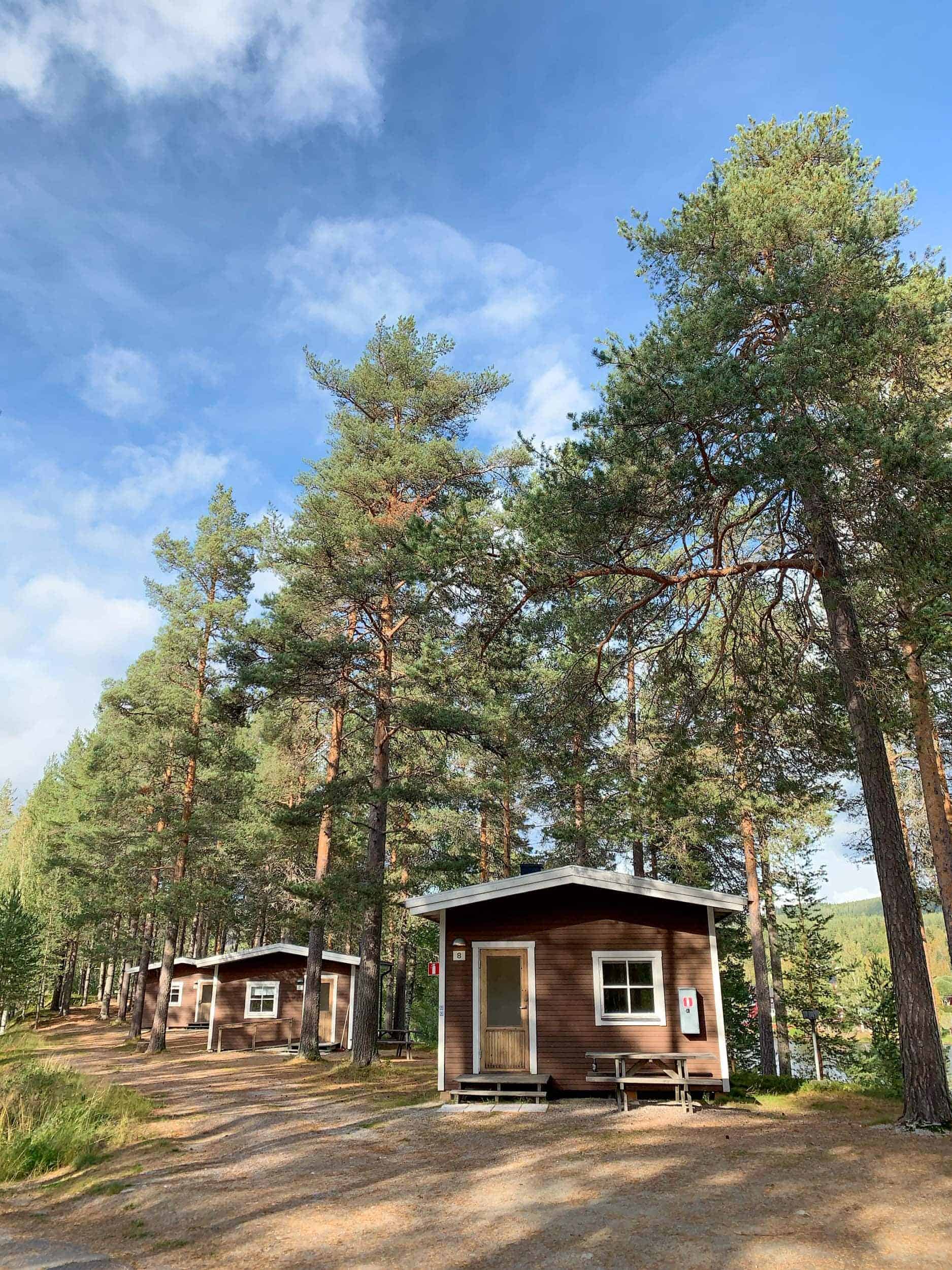 Cabins
Individual cabins line the access road between the bird's nests and the eco-hotel.
Each cabin is about 49 square feet (15 square meters) and includes a double bed and sofa bed (enough to sleep four people).
The small kitchen is equipped with a microwave, refrigerator, and kettle. Benches are available outside if you want to enjoy nature day or night. The nightly rate starts at 1190 krona or about $124.
Camping
If you're on a tight budget or prefer sleeping on the ground, Granö Beckasin offers 21 campsites, all near the river. The nightly rate is 260 krona or about $27.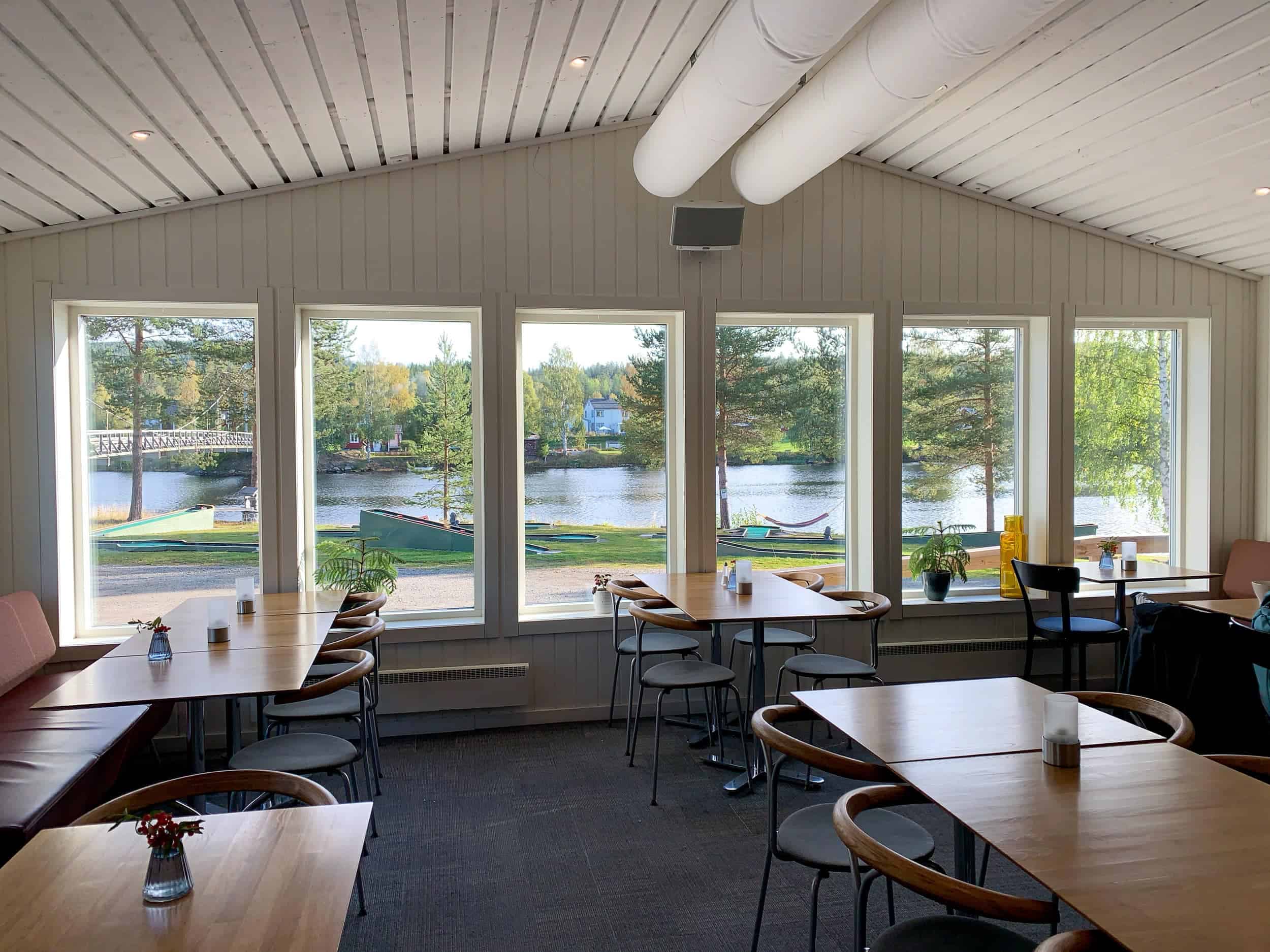 Restaurant at Granö Beckasin
Breakfast
The restaurant at Granö Beckasin offers a direct view of the river, which I enjoyed every morning at breakfast.
A light breakfast buffet includes pastries, bread, deli meats, and cheeses. I also tried caviar-in-a-tube for the first time, which I ate with a hard-boiled egg. It's super salty!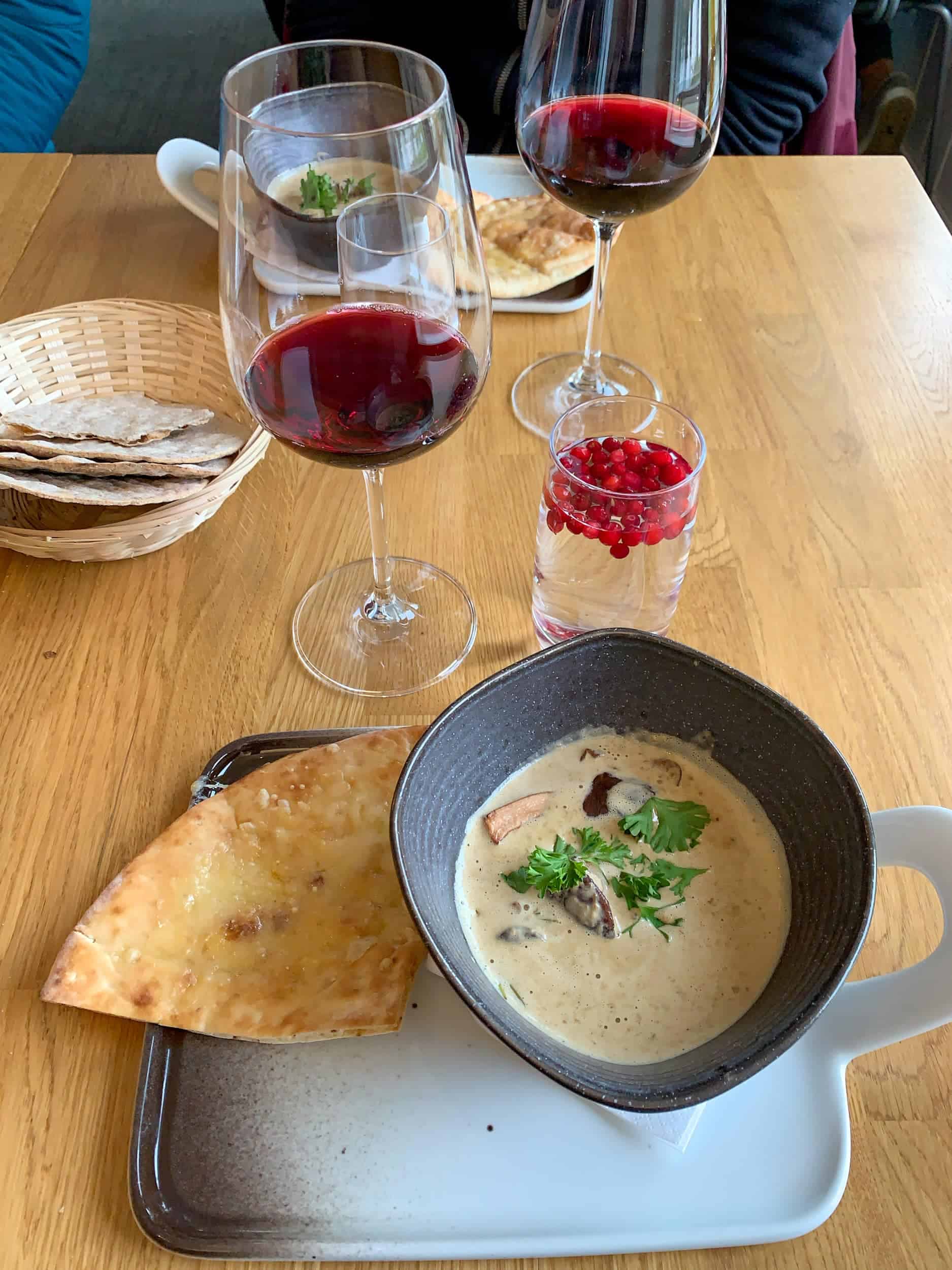 Dinner
For dinner, Granö Beckasin offers a small menu with several meat-based dishes and a vegetarian option.
Each dinner began with crispy Swedish flatbread, butter, and mushroom soup made from local produce.
The first night, I ordered the main course of smoked arctic char (fish) with potatoes and browned butter with yuzu and sesame.
The second night, I went with the steak and mixed vegetables, which were excellent.
Related: Swedish Food – My Best Bites
Dessert
The dessert options were also impressive, considering Granö Beckasin is in a town of 200 residents.
I ordered the sea buckthorn ice cream with caramelized almonds, butter-fried lemon cake, merengue, and cloudberries on my first night.
The second night I ordered the chocolate mousse with raspberry ice cream. Entrees are priced from $23-$29; desserts are $3-$11 each.
When booking a room, you can choose a rate inclusive or exclusive of dinner.
Related: Discover Traditional Swedish Food in Lapland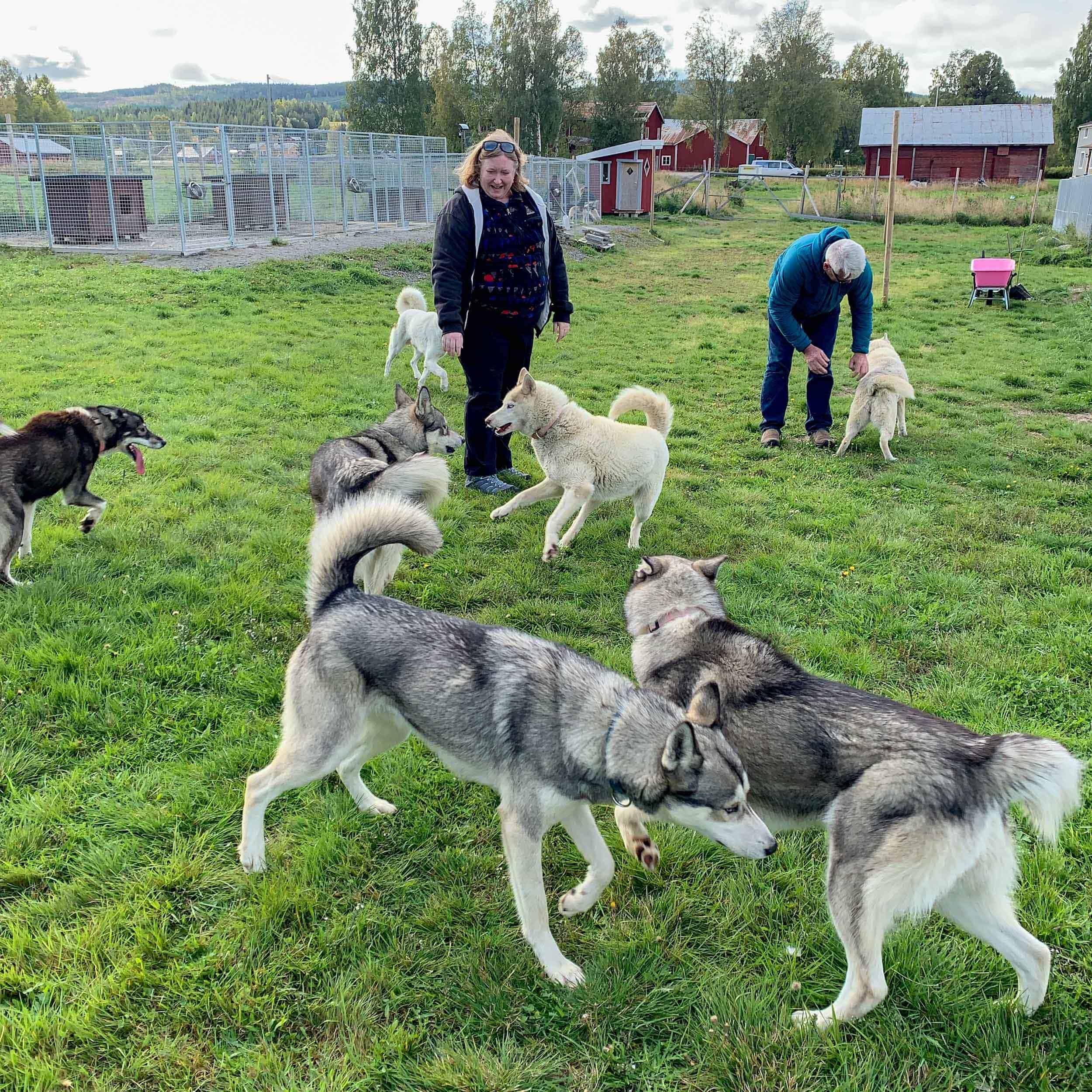 Local Adventures in Västerbotten
Once you've confirmed your stay at Granö Beckasin, it's time to focus on how best to spend your time.
As I visited in September, my experiences below are based on things to do before the snow starts to fall.
All of these activities and more can be arranged through the lodge.
Husky Trekking (and Dog Sledding)
The highlight of my stay in Granö was husky trekking at Spruce Island Husky, a dog-sledding company that allows you to take their dogs for walks in non-winter months.
Or, I should say they allow their dogs to take you for a walk.
Guests are given a waist belt, and a stretchy cord connects the dog's harness to the belt.
The dogs are energetic — they prefer to run, so there's a constant tension as they pull you along.
This is an excellent activity if you want quality time with a furry friend.
If you're planning a winter trip between December to March, you can go dog sledding instead!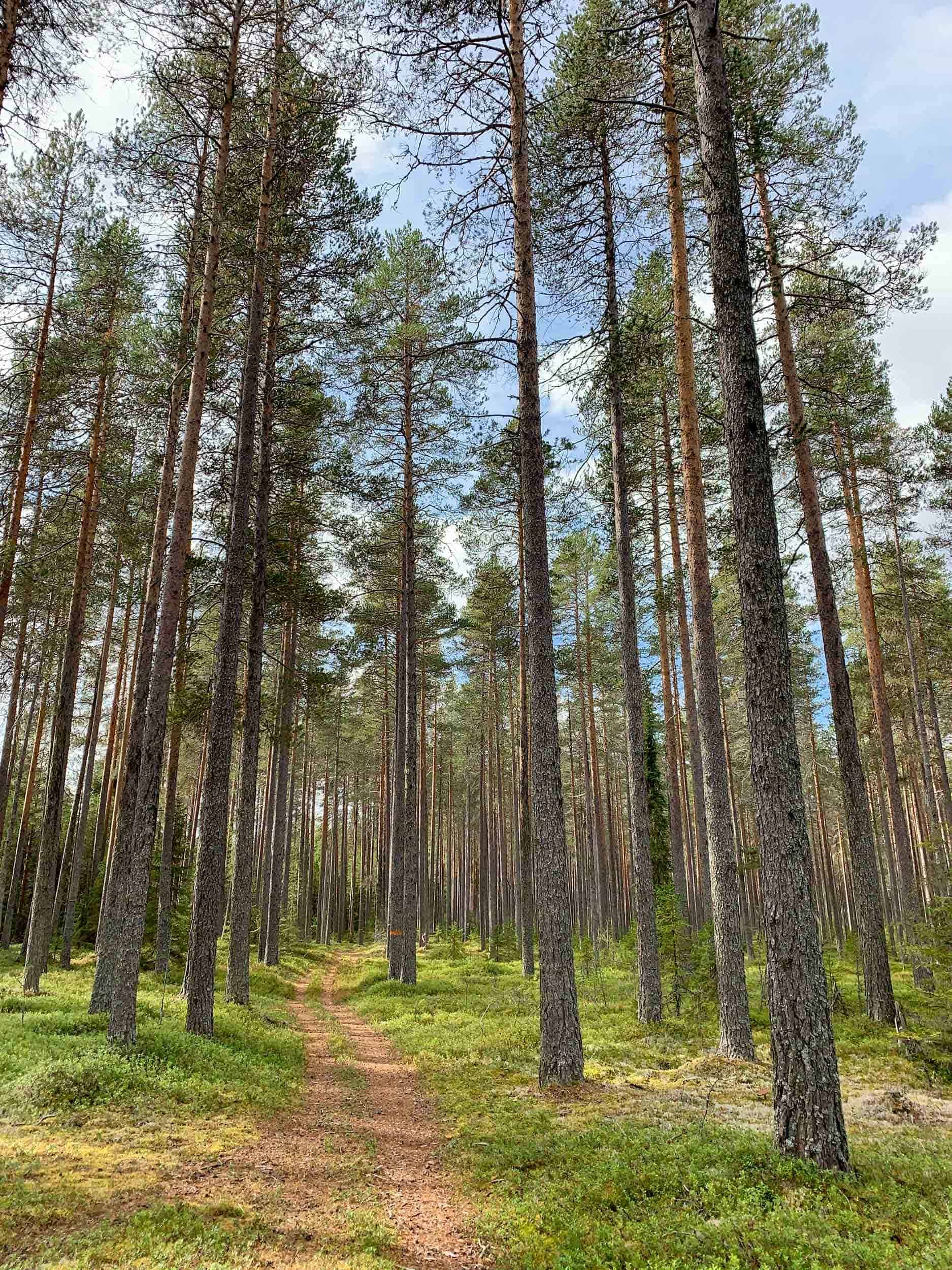 Hiking
The forest around Granö Beckasin is easily accessible, and lots of care has been put into creating safe, easy-to-follow trails.
We spent about five hours in nature on our first full day, starting with a short ride on a timber raft, continuing with a nature walk, and culminating with an outdoor lunch of moose meat cooked over an open fire.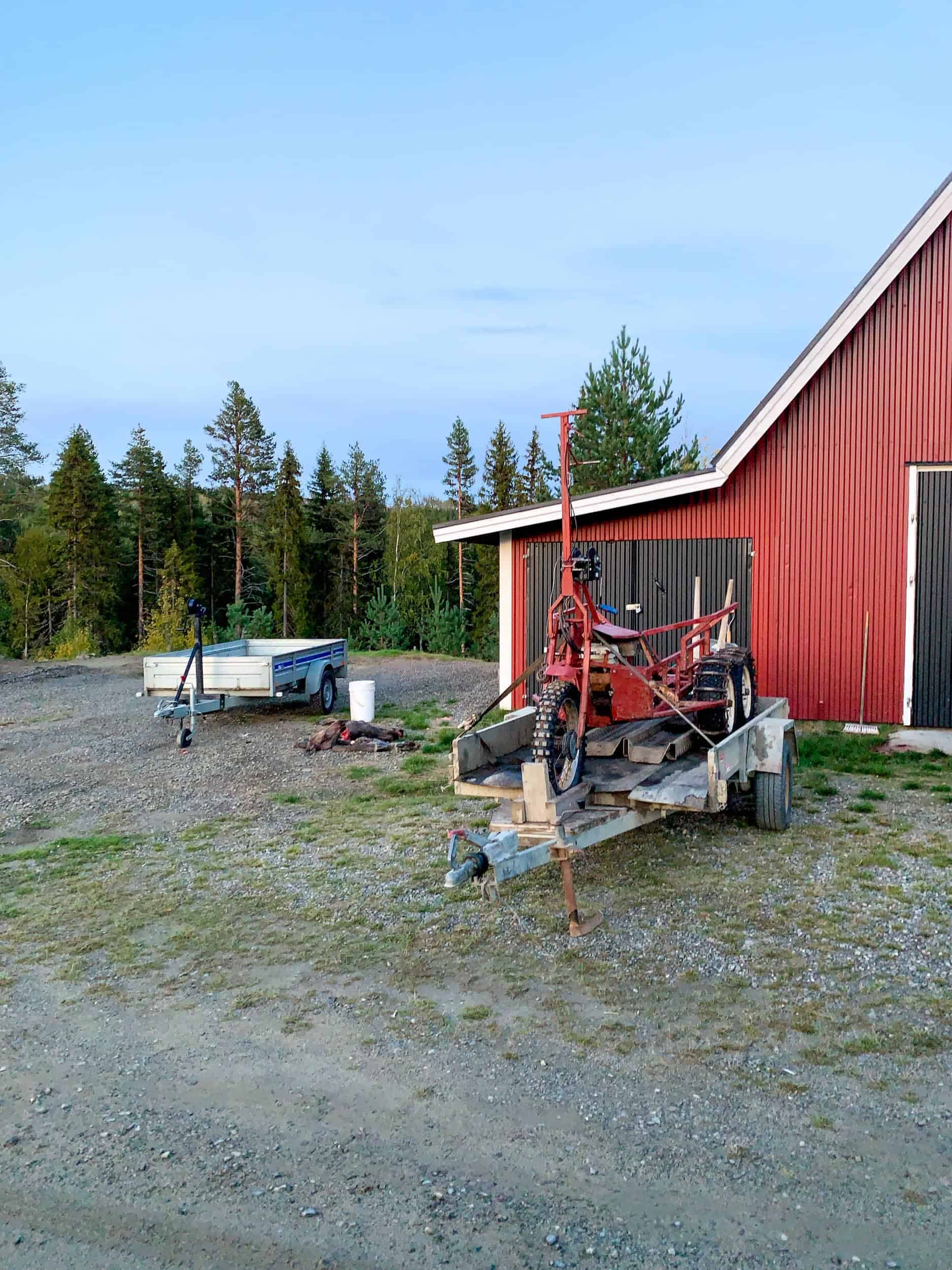 Moose Safari
Moose safaris allow guests to go out with a local guide around dusk and look for wild moose.
When the sun sets earlier in the evening during the fall and winter, there's less daylight available to spot them.
Following an early dinner, we went out for a few hours, but it wasn't until it was almost dark that we began to spot some moose a hundred or more meters away.
As a result, my best photo was outside a hunter's lodge. Hunting moose is widespread, given Sweden has the densest population in the world.
Our guide informed us that moose safaris in the summer allow up to five hours of viewing, as the sun doesn't set until midnight.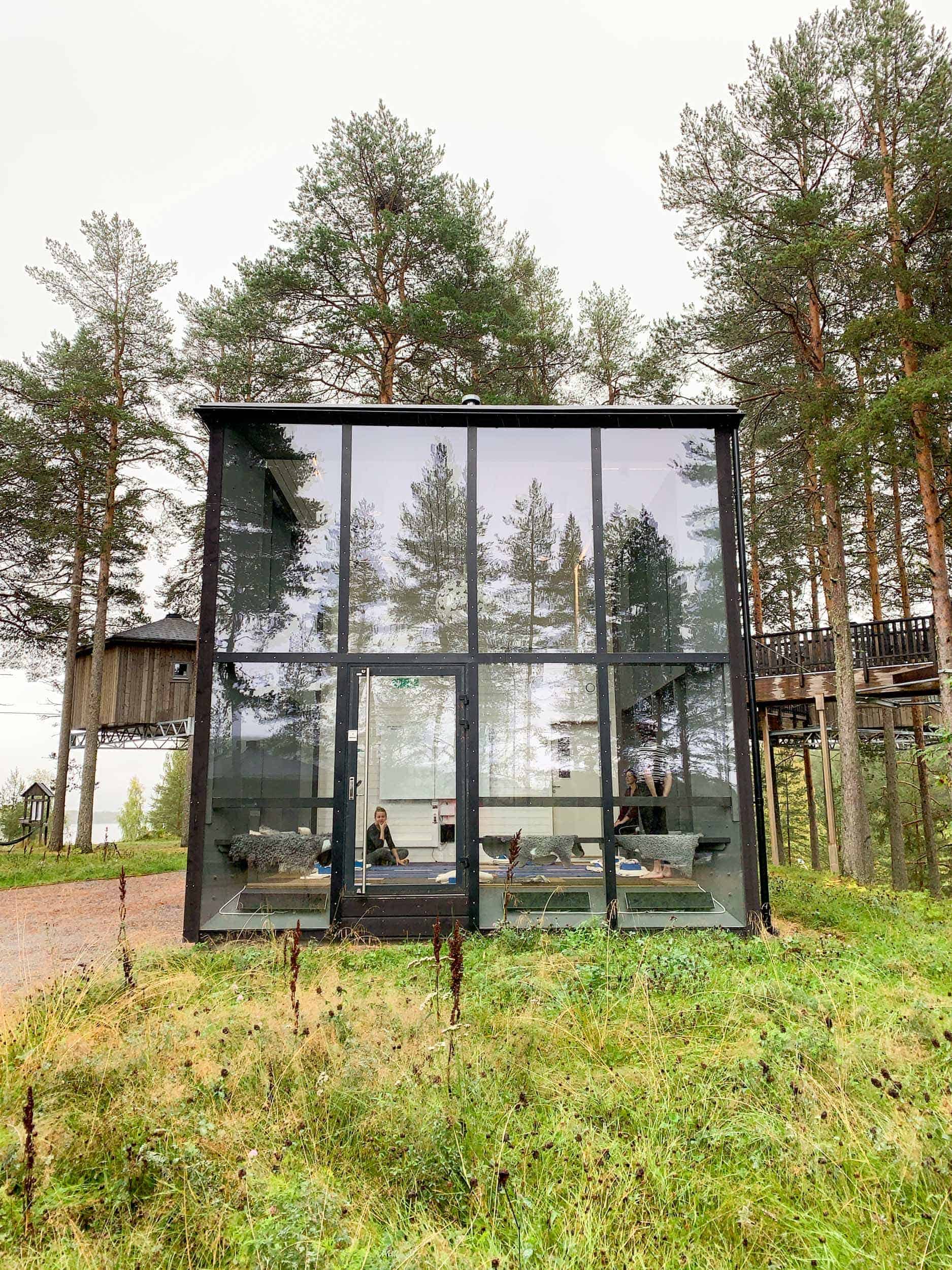 Yoga
One of the most fantastic features at Granö Beckasin is the glasshouse, surrounded by bird's nests. This glass and steel structure with floor-to-ceiling windows is used for yoga.
You can either practice independently or arrange for a professional instructor from the city of Umea to visit.
On our last morning, I attended a beginner yoga class for our group. While I didn't participate (due to a lower back issue), I did enjoy spending time inside the glasshouse observing the class.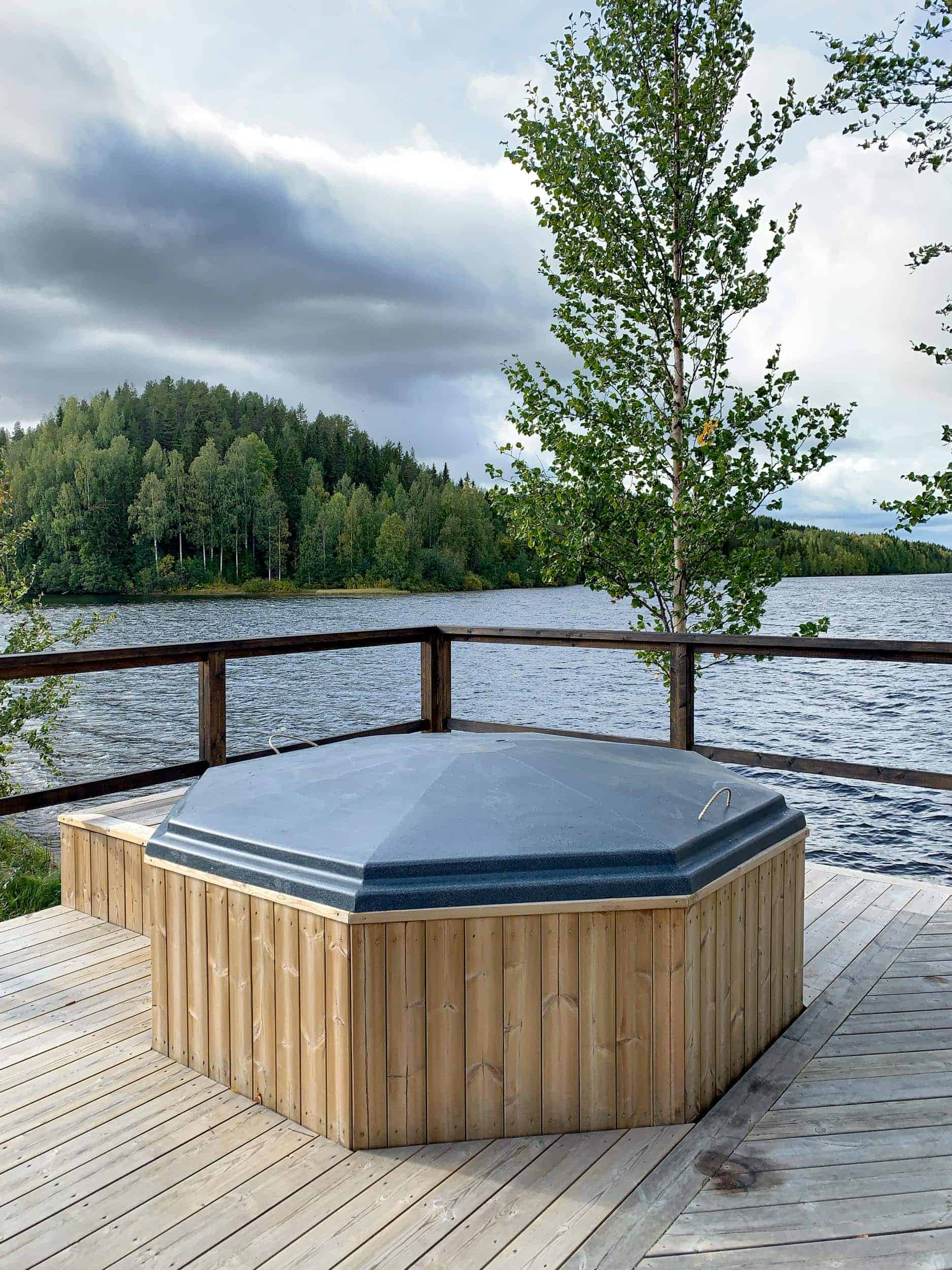 Sauna and Hot Tub
Another offering by Granö Beckasin to help you relax during your visit is the outdoor hot tub and on-site sauna.
As you can see above, the hot tub offers a beautiful view of the river and forest, while the sauna can comfortably seat a small group of guests.
More Summer Activities
Bicycling
Rafting
Fishing
Winter Activities
Winter in Swedish Lapland has a lot to offer, especially when it comes to getting physical.
You can use Granö Beckasin as a base for many wintertime adventures:
Dog sledding
Snowmobiling
Snowshoeing
Cross-country skiing
Downhill skiing and snowboarding
Northern lights tour
Ice fishing
As you can see, the Västerbotten region of Swedish Lapland is a playground for adventure sports, wildlife, and time in nature.
Based on my three-night stay, I highly recommend Granö Beckasin as your base for adventure in northern Sweden.
_____
My tour of Västerbotten was arranged in partnership with the Adventure Travel Trade Association, Visit Vasterbotten, and Granö Beckasin as part of my attendance at the 2019 Adventure Travel World Summit.
Dave is the Founder and Editor in Chief of Go Backpacking and Feastio. He's been to 66 countries and lived in Colombia and Peru. Read the full story of how he became a travel blogger.
Planning a trip? Go Backpacking recommends: