The promise of husky and reindeer encounters led me to leave Stockholm for Västerbotten in Swedish Lapland.
Västerbotten is at the southern edge of the Lapland region, along the Gulf of Bothnia, the body of water between Sweden and Finland.
I was making the journey with a small group of adventure travelers, all fellow members of the Adventure Travel Trade Association I joined last year.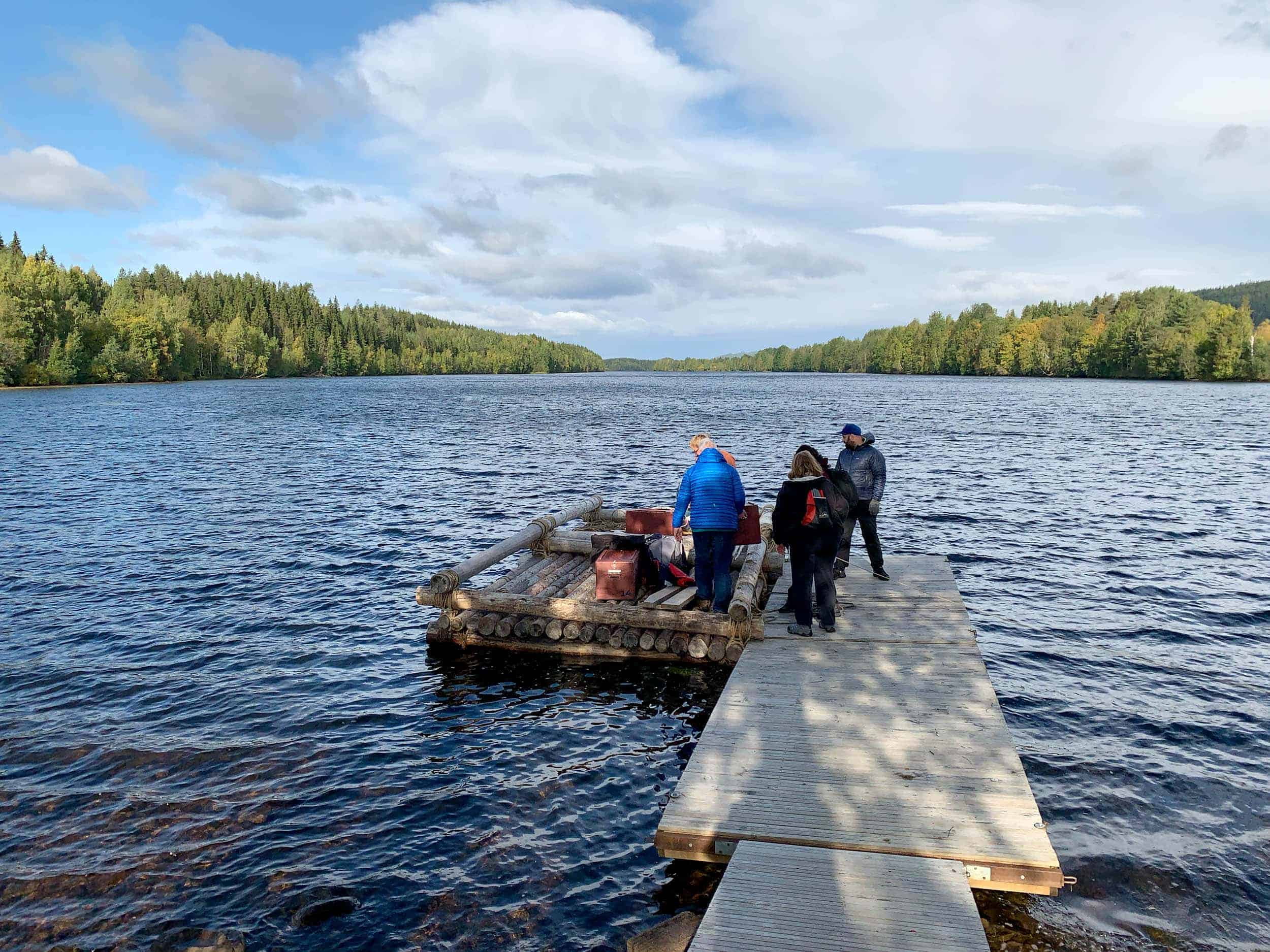 Together, we spent four days in the serenity of Swedish nature in a region of Lapland often passed over by foreign tourists in favor of the northern tip of the country.
If you'd like to experience Swedish Lapland without contributing to overtourism, a fall escape to Västerbotten is just the ticket.
Escape to Västerbotten
If you're flying into Västerbotten, you'll arrive in Umea, the county's capital city.
Västerbotten is about 5,800 square miles but only has about 220,000 residents. And a third of them live in Umea.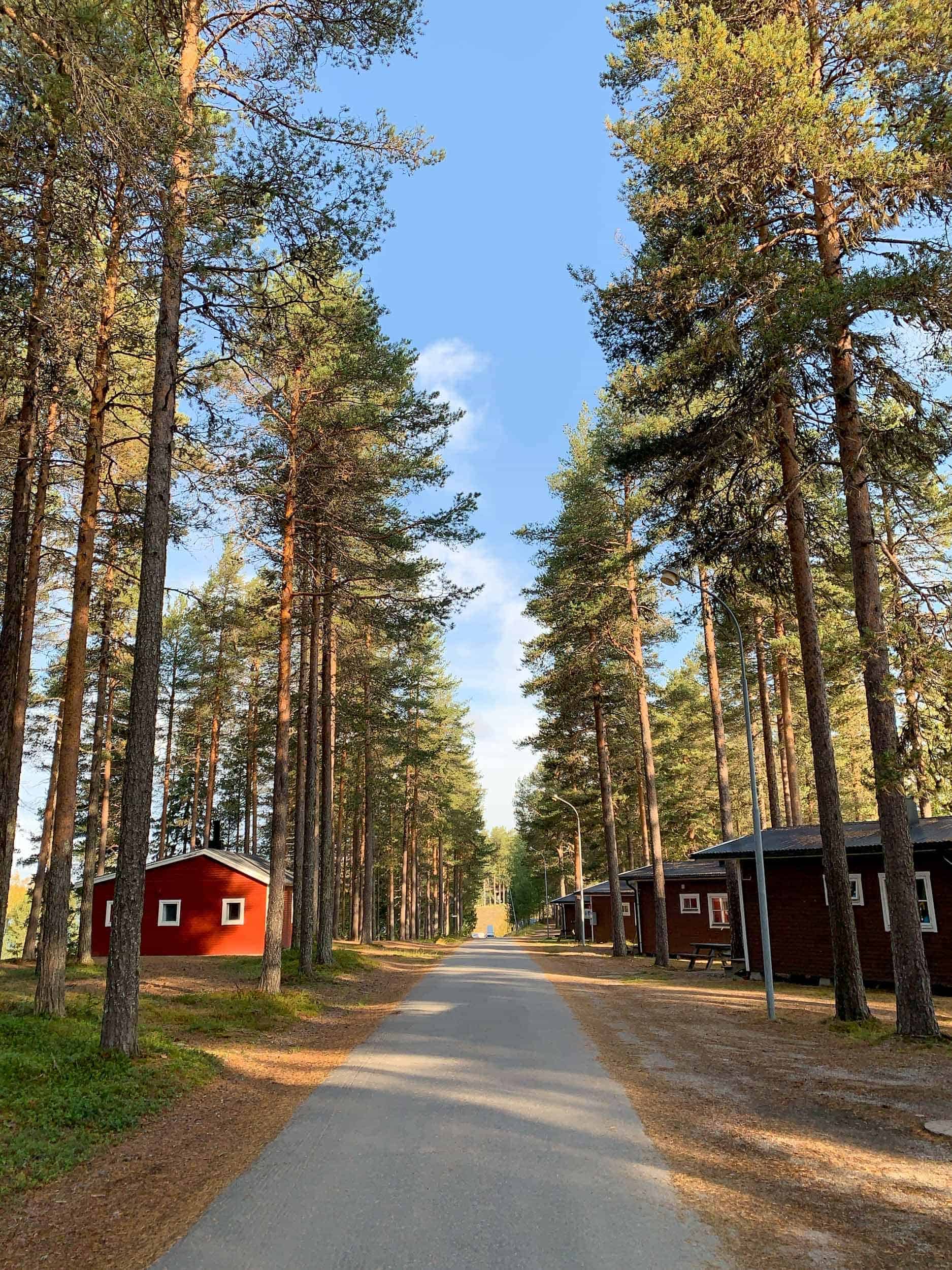 Day 1: Arriving at Granö Beckasin
Upon arrival at the airport, we boarded a van and drove an hour northwest of Umea to the village of Granö (population: 200).
Here, we checked into an eco-hotel called Granö Beckasin, which served as our base for the next three nights.
Granö Beckasin offers four types of accommodation:
Birds nests (treehouses)
Cottages
Eco-hotel
Camping
The birds' nests are the most in-demand option, which is understandable once you see these treehouses with comfortable interiors and scenic views.
Of course, they're also the most expensive option.
The individual cottages include kitchens and are more easily accessible as you can park your car right outside them.
See also: Granö Beckasin – A Base for Adventure in Northern Sweden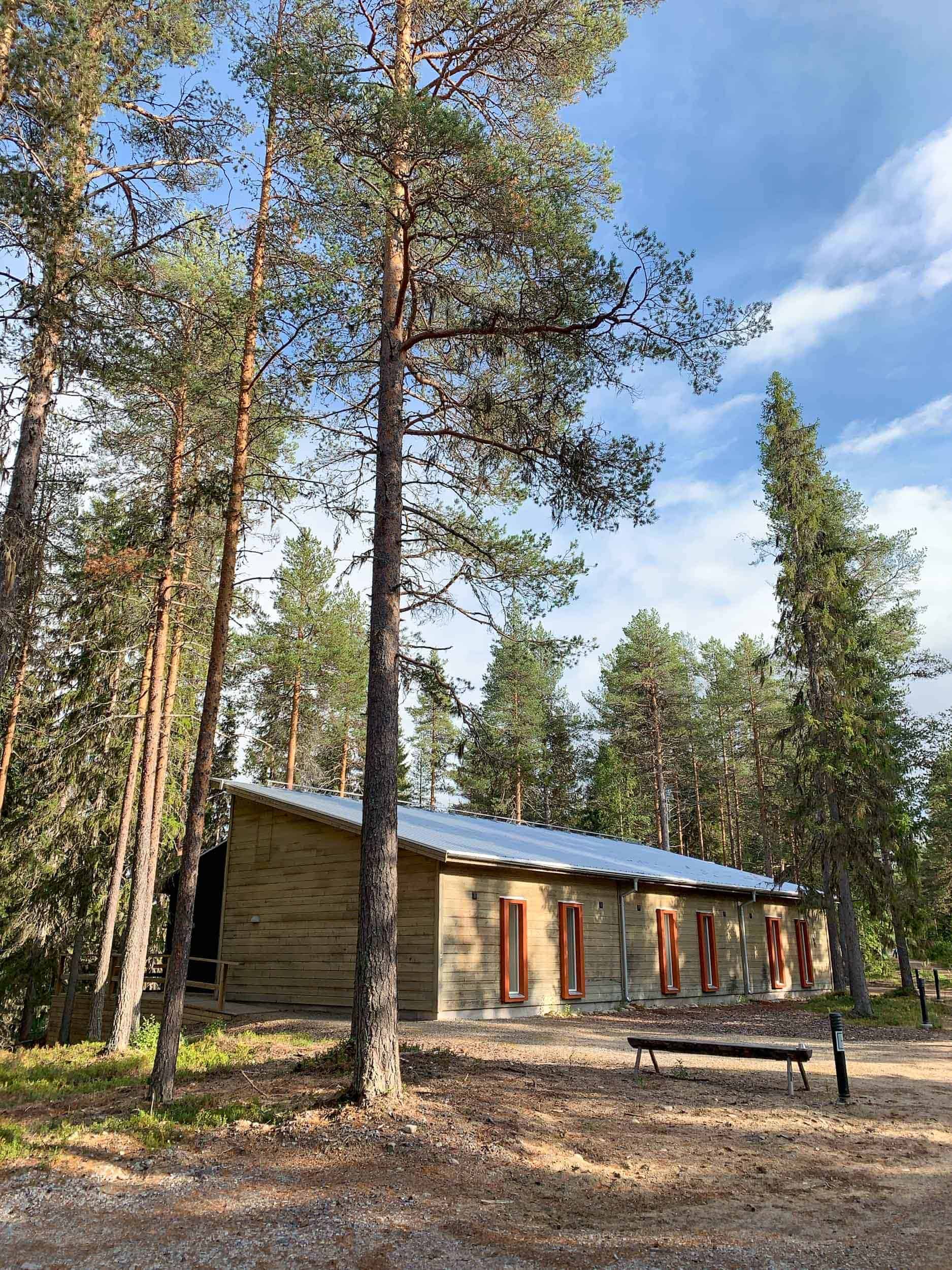 I stayed in the eco-hotel, which is located beyond the cottages and has 12 comfortable, clean, and well-heated double rooms.
Weary from our day in transit, we were treated to a beautiful three-course dinner at Granö Beckasin's restaurant.
Dishes included:
Traditional Swedish flatbread with butter
Mushroom soup
Smoked arctic char with potatoes and sweet peas
Sea buckthorn ice cream
A glass of white wine washed it all down, and it wasn't long before we were retiring for the night.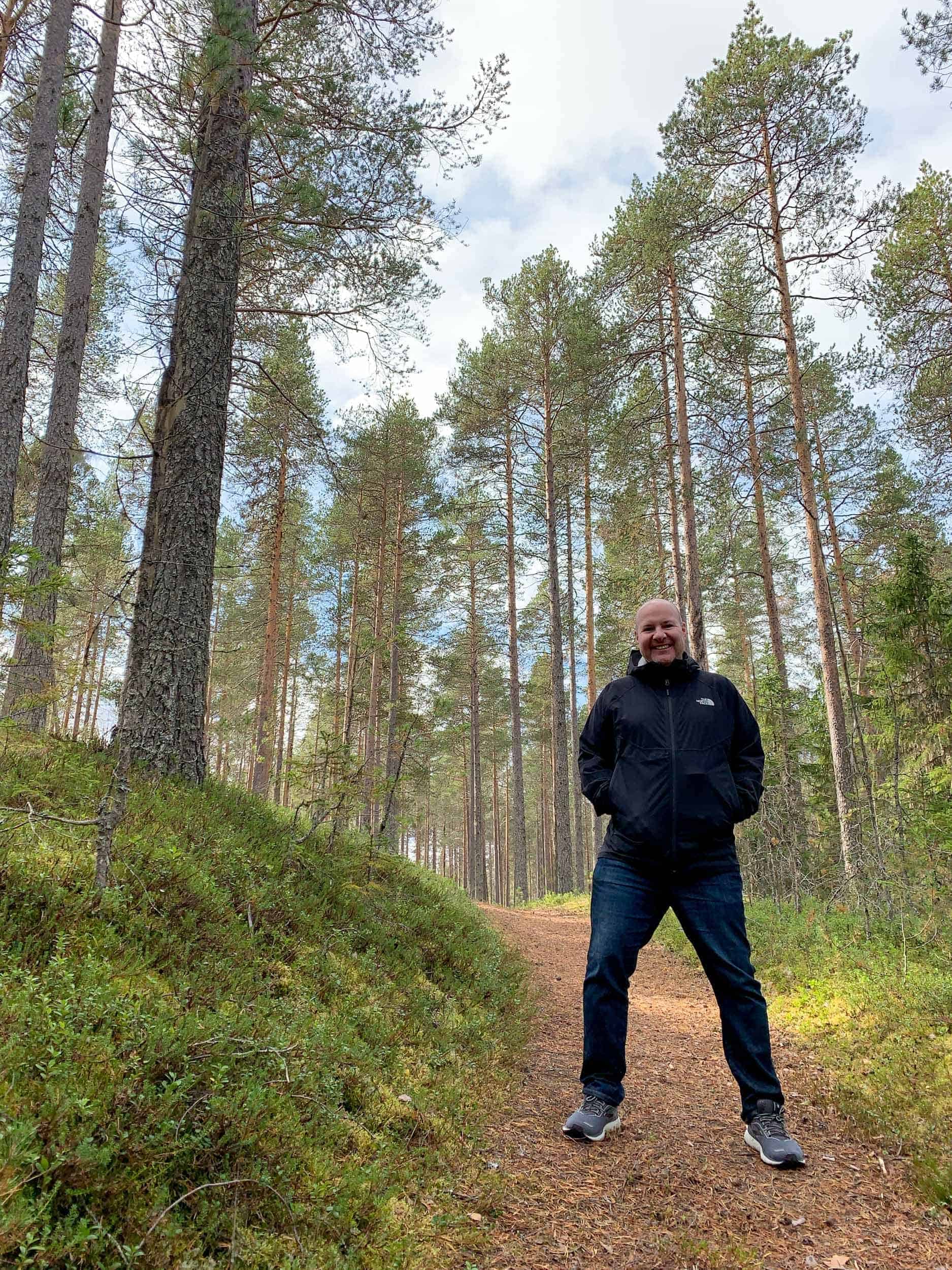 Day 2: Nature Walk and Moose Safari
We enjoyed a small breakfast buffet in the dining room the following day before boarding a motorized wooden raft for a short trip to a river inlet near the hotel.
Once the raft was tied up, we began a nature walk in the woods.
Our guide, the Swedish hotel owner, pointed out everything from the local lingonberries and blueberries, which we picked and ate ourselves, to the history of tar production in the area.
Stepping off the trail at times, you walk on green mossy earth that sinks like a sponge under your weight.
The forest felt incredibly alive, and the air was clean. Aside from us, the only sounds we heard were from nature.
It was an idyllic introduction to Västerbotten and Swedish Lapland.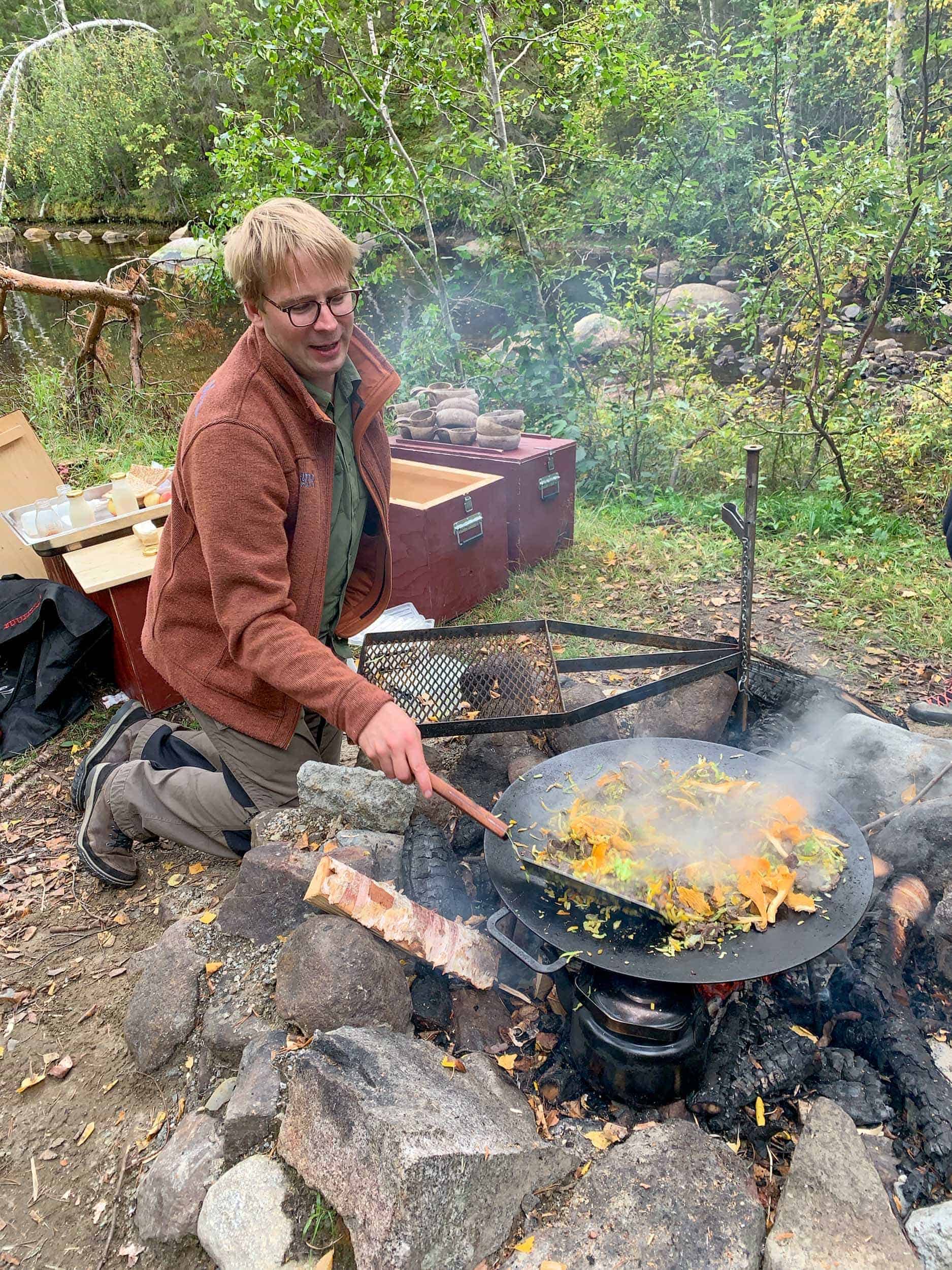 Outdoor Lunch
We arrived at a campsite operated by the hotel at the end of our walk.
Provisions were unloaded from the raft, and our guide started a fire to cook our lunch.
First, he prepared a vegetarian stir fry for the vegetarians in the group. Then, he threw heaps of thinly sliced moose meat on the pan.
The meat sizzled and smoked as we all looked on with curiosity and hunger. He added local vegetables, mushrooms, milk, salt, and pepper.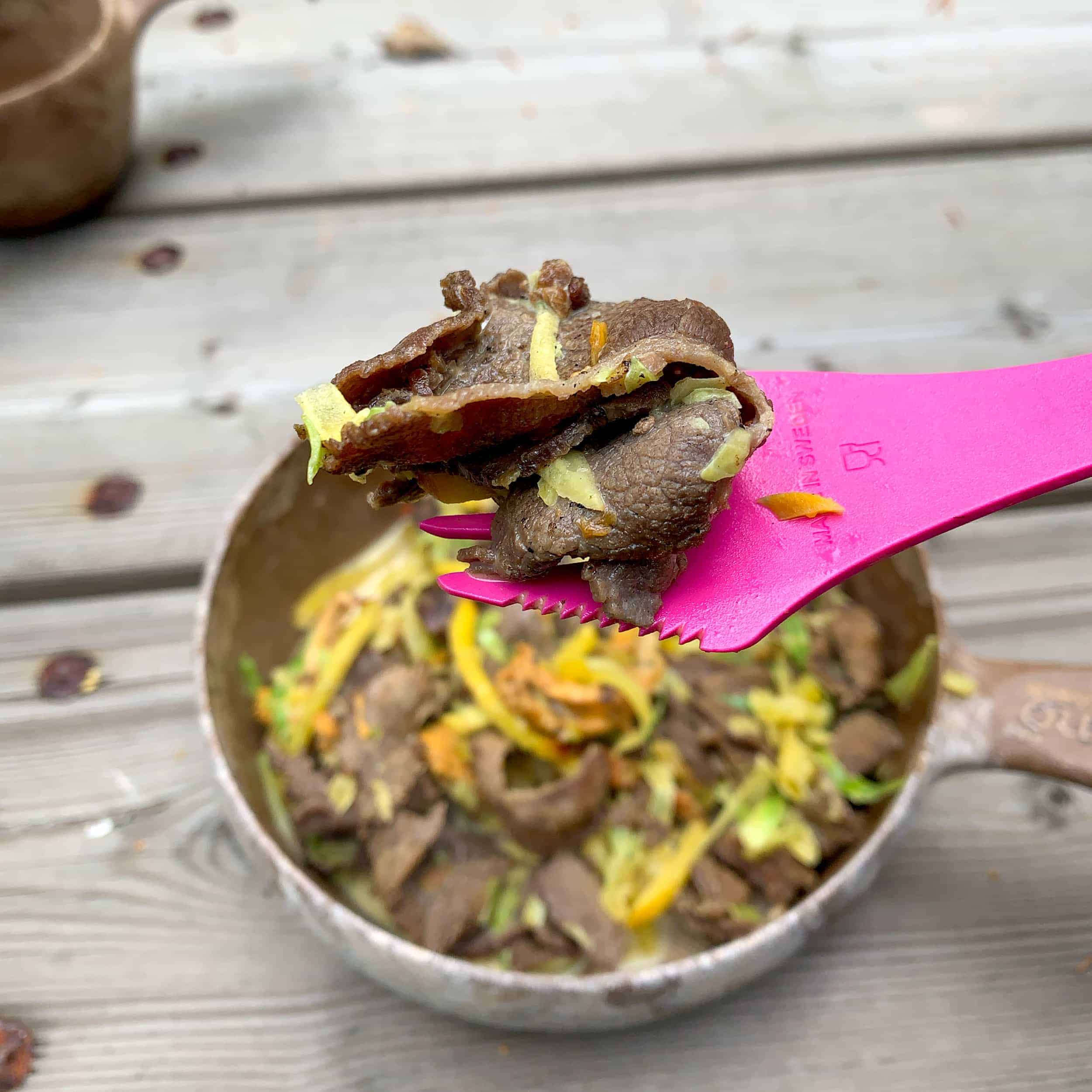 The result was delicious. Moose meat has a similar taste as beef– a little fatty but otherwise excellent.
Our outdoor lunch and time in nature continued with coffee made over the campfire.
Stockholm is a clean, organized city; however, it seems like a busy place in contrast with rural Västerbotten.
I realized I don't prioritize spending enough time in nature each year. I miss the peacefulness of it.
See also: Discover Traditional Swedish Food in Lapland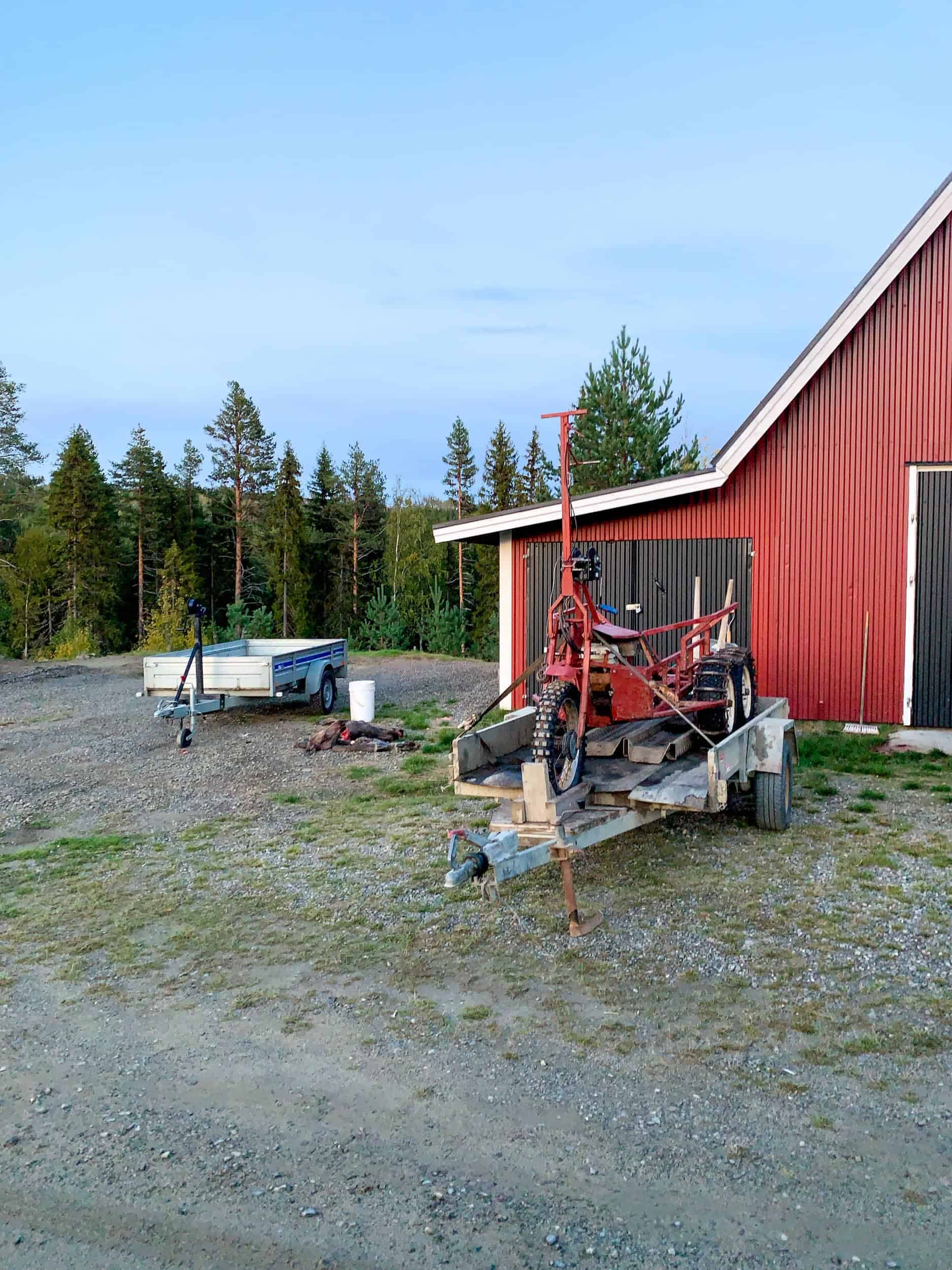 Moose Safari
Our itinerary initially had us visiting reindeer after lunch. However, their owner was sick, so we instead went on a moose safari after dinner.
A local hunting guide drove us around forest access roads while we all looked out the windows for moose.
In the summer months, when the sun doesn't set until after midnight, it's easier to spot them. You have more hours of daylight.
The days are quickly getting shorter by fall, and so is the window for seeing moose.
To our guide's credit, he used the time to inform and entertain us, as well as answer all our moose-related questions.
Before arriving in Västerbotten, for example, I had no idea Sweden was home to more moose than the rest of the world combined!
That's a lot of moose, which explains why hunting and eating the moose is a part of the culture in Lapland.
Our best moose sighting was the one recently killed by our guide's friends. The fresh carcass was lying outside a structure used by the hunters.
A small trailer held a little five-wheeled tractor to help move the moose's body.
As daylight faded, we did see some of these animals in the distance of a field or two. But, despite my 20/20 vision, I only saw them as dark figures in motion a few hundred meters away.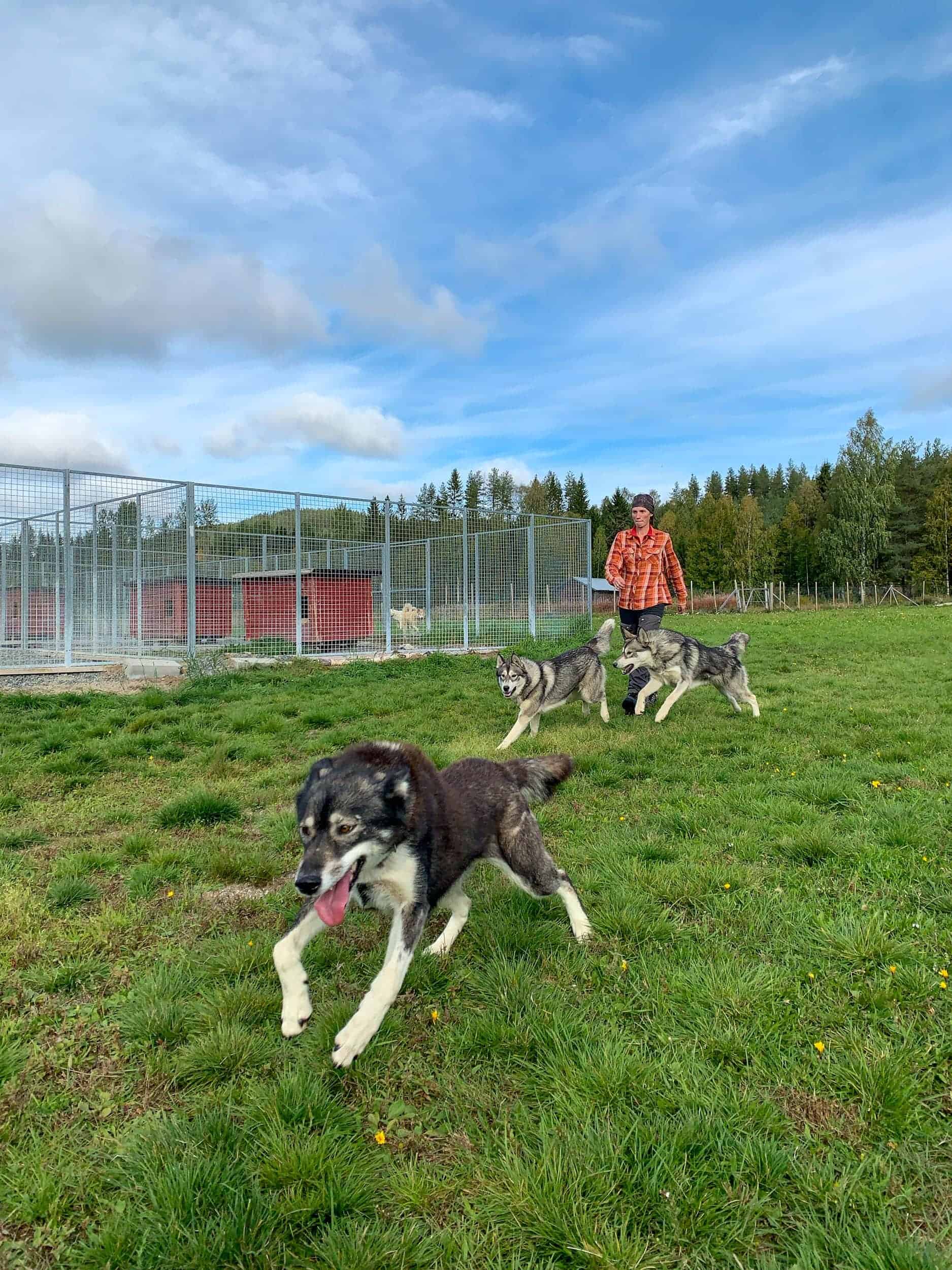 Day 3: Husky Dogs and Whitewater Rafting
Spruce Island Husky
On our third day in Västerbotten, we left Granö Beckasin after breakfast to visit one of the hotel's activity partners, Spruce Island Husky.
Arriving at the outdoor kennel of this dog sledding company, I immediately fell in love with all 31 of their Alaskan and Siberian huskies. Yes, all of them!
After taking some photos of the dogs in their pens, the owner let a few out and put harnesses on them.
Then we put belts on and were shown how to hook and unhook ourselves from the elastic leashes we'd be using to walk the dogs in the surrounding forest.
As we soon found out, it was more like the dogs were walking us (humans).
According to their owner, huskies only care about three things, "eating, running, and making puppies."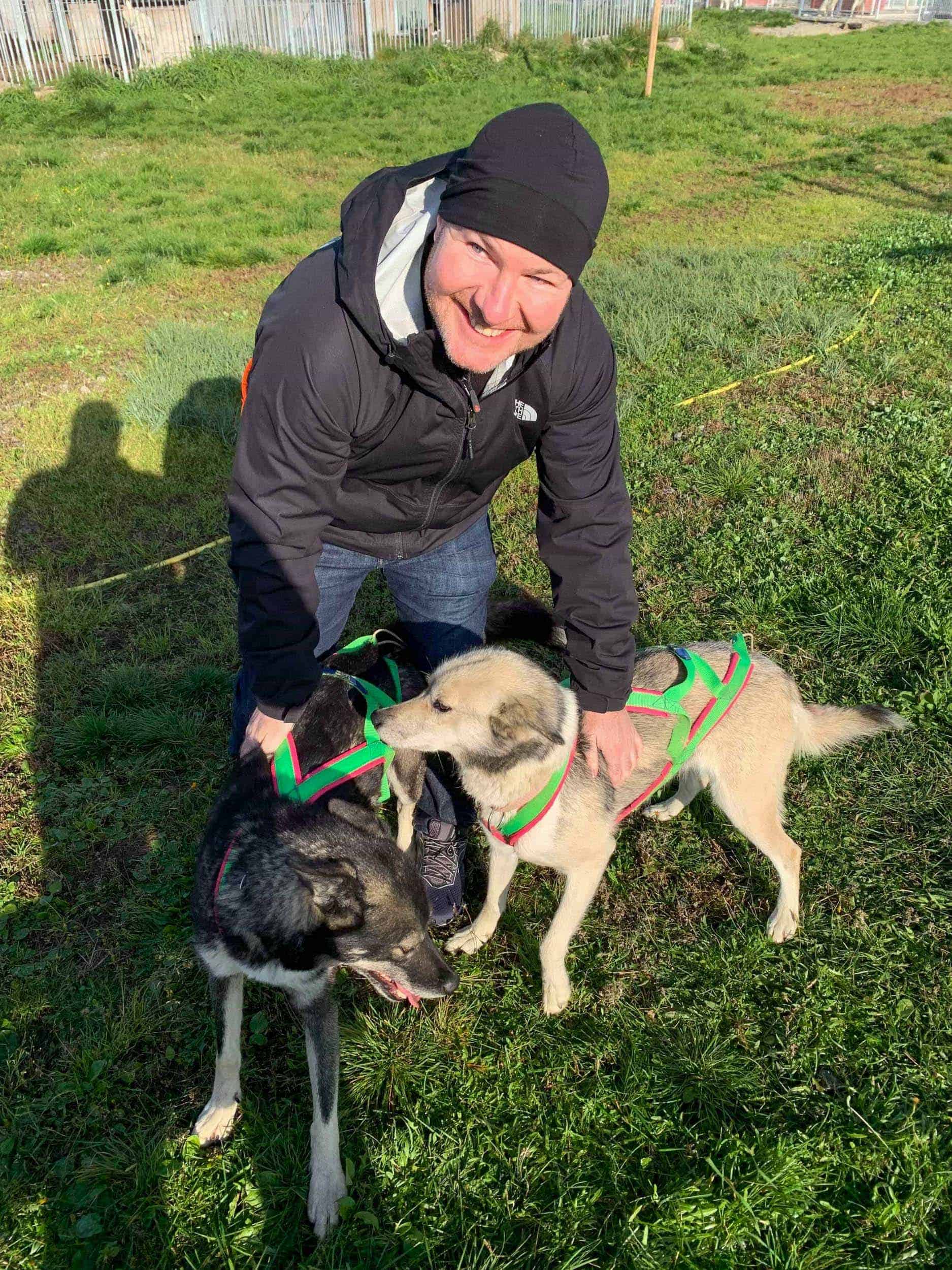 In Autumn, the dogs begin their training for the winter season by pulling ATVs on forest trails.
The dog sledding season in Granö begins in December and runs through March.
During the rest of the year, you can visit the kennel as we did and go for walks with the dogs.
Following the walk, we returned to the fenced-in area for organic vegetable soup cooked over an open fire, coffee, and more playtime with the dogs.
It was a thrill to watch them run around, interact, and chase each other.
I couldn't get enough of them, but there was more to our day than adorable sled dogs, so we eventually had to say goodbye.
Dog sledding tours with Spruce Island Husky can be booked through Granö Beckasin. Click here for details.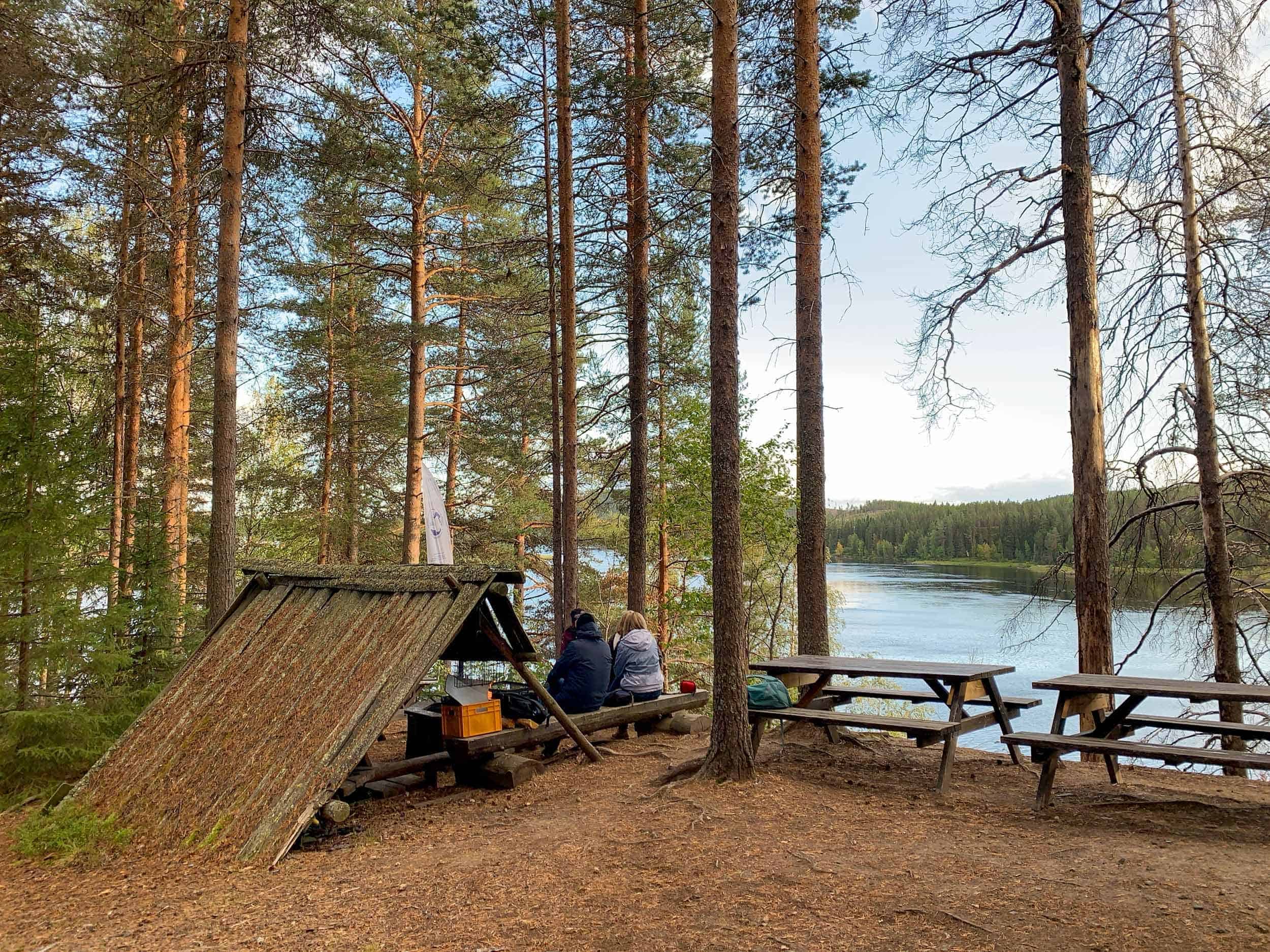 Forsknäckarna Wilderness Camp
Our second stop of the day was the Forsknäckarna Wilderness Camp, which offers rustic accommodation, dining, and a variety of outdoor activities.
They guide whitewater rafting trips on the Vindelalven River during the warmer months.
In winter, they'll take you ice climbing and snowmobiling. The on-site sauna and hot tub are available year-round.
The camp can host solo travelers and groups, bachelor/bachelorette parties, and corporate retreats.
To help you disconnect, the camp doesn't offer Wi-Fi.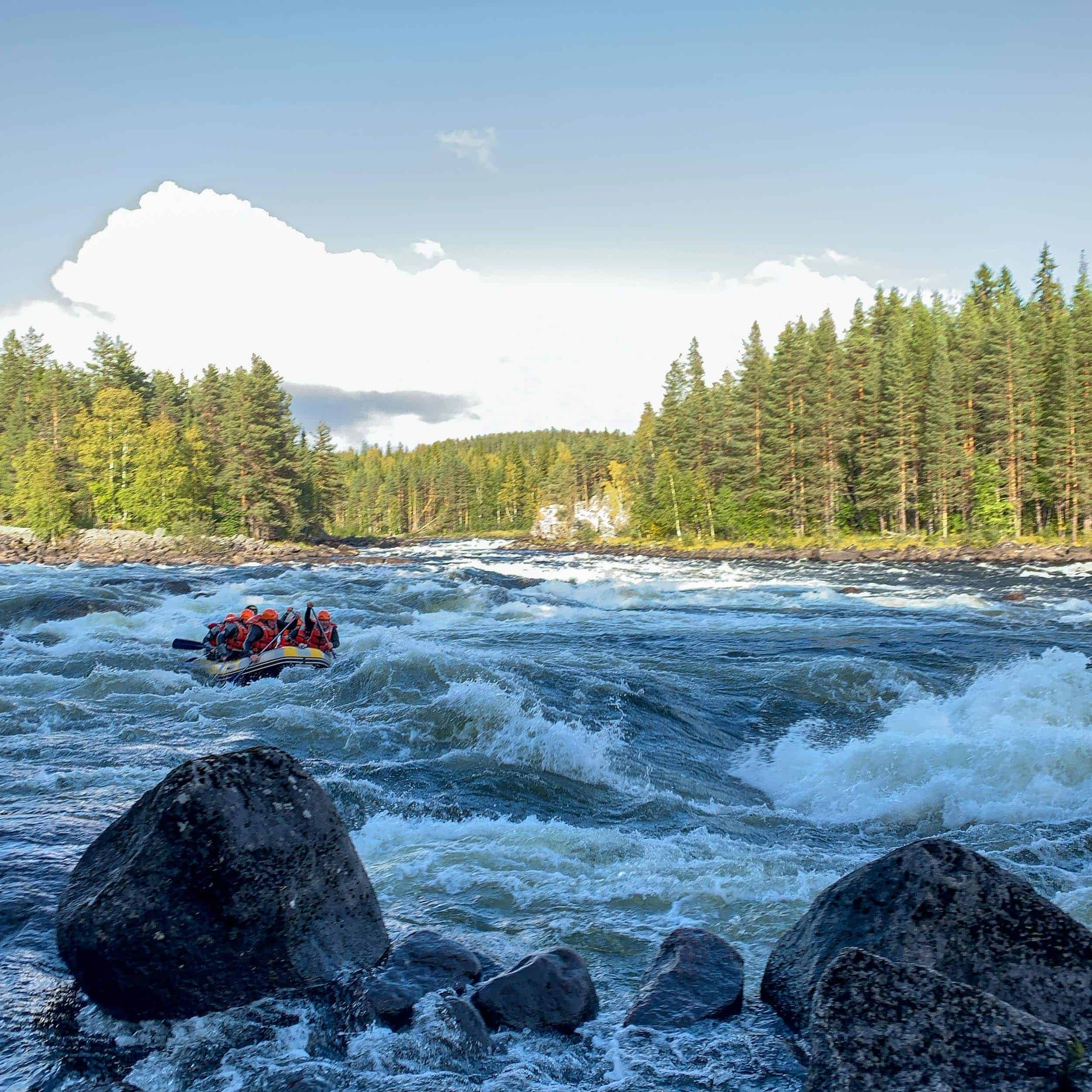 Whitewater Rafting
Our group split into two at the camp, with four or five people going whitewater rafting.
The rest of us drove out to watch them put the rafts in the river, and then we sped ahead and walked through the woods to a spot near some rapids where we could take photos.
Along the way, we picked wild blueberries and lingonberries to eat.
I like the blueberries, but not the raw lingonberries; I prefer them to be cooked or incorporated into ice cream.
The largest rapids that day were Class III-IV, which signifies moderate difficulty. I believe that's what you see in the photo above.
See also: Rafting Nepal's Kali Gandaki River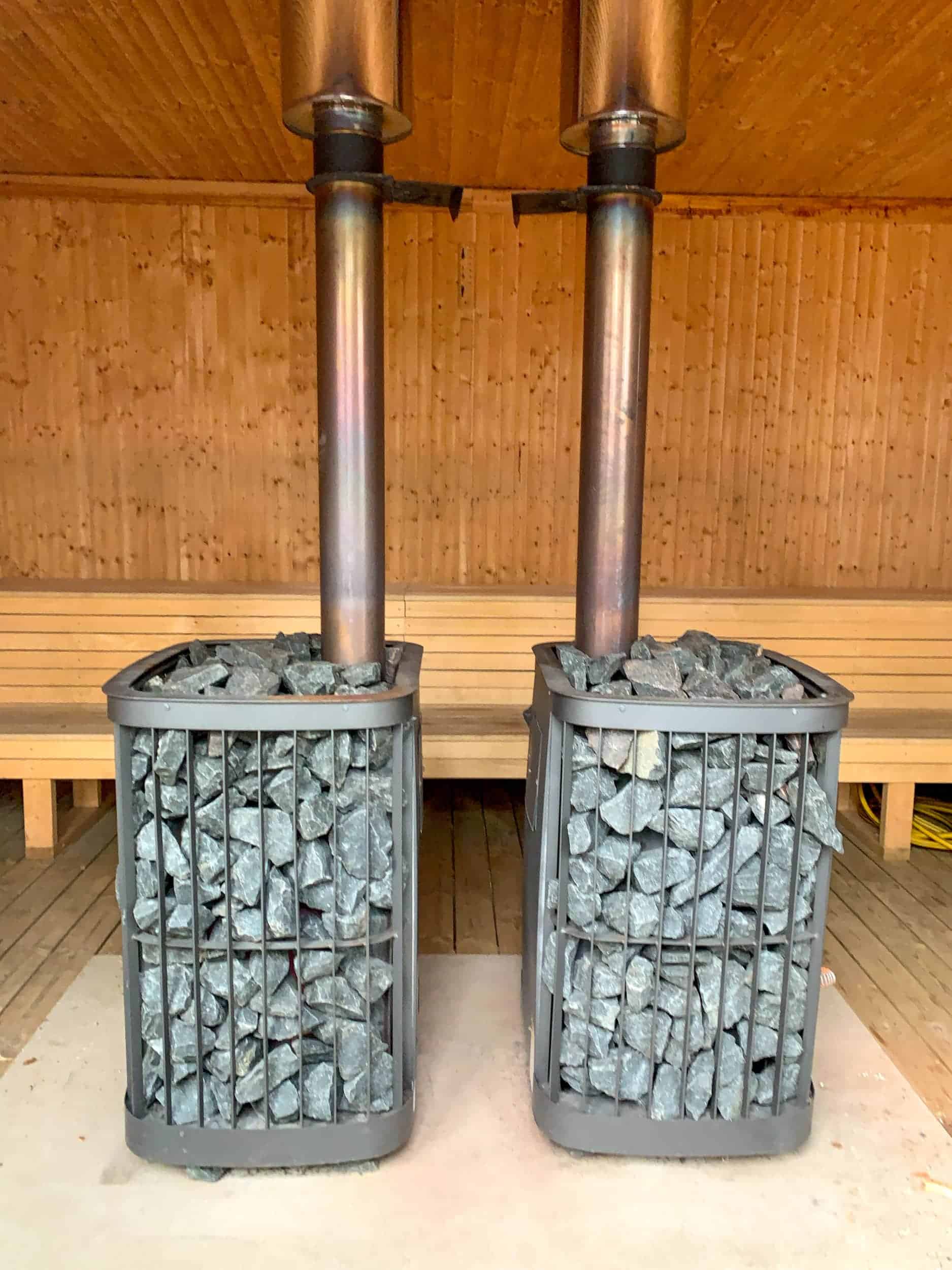 Sauna
Once we got the photos, the rafters continued downriver while the rest of us returned to Forsknäckarna.
I used my free time for my first Swedish sauna. It was a dry sauna and plenty hot.
I lasted about 20 minutes, which was hopefully enough time to sweat out some toxins.
After the sauna, I hung out by the campfire with a view of the river as dusk approached.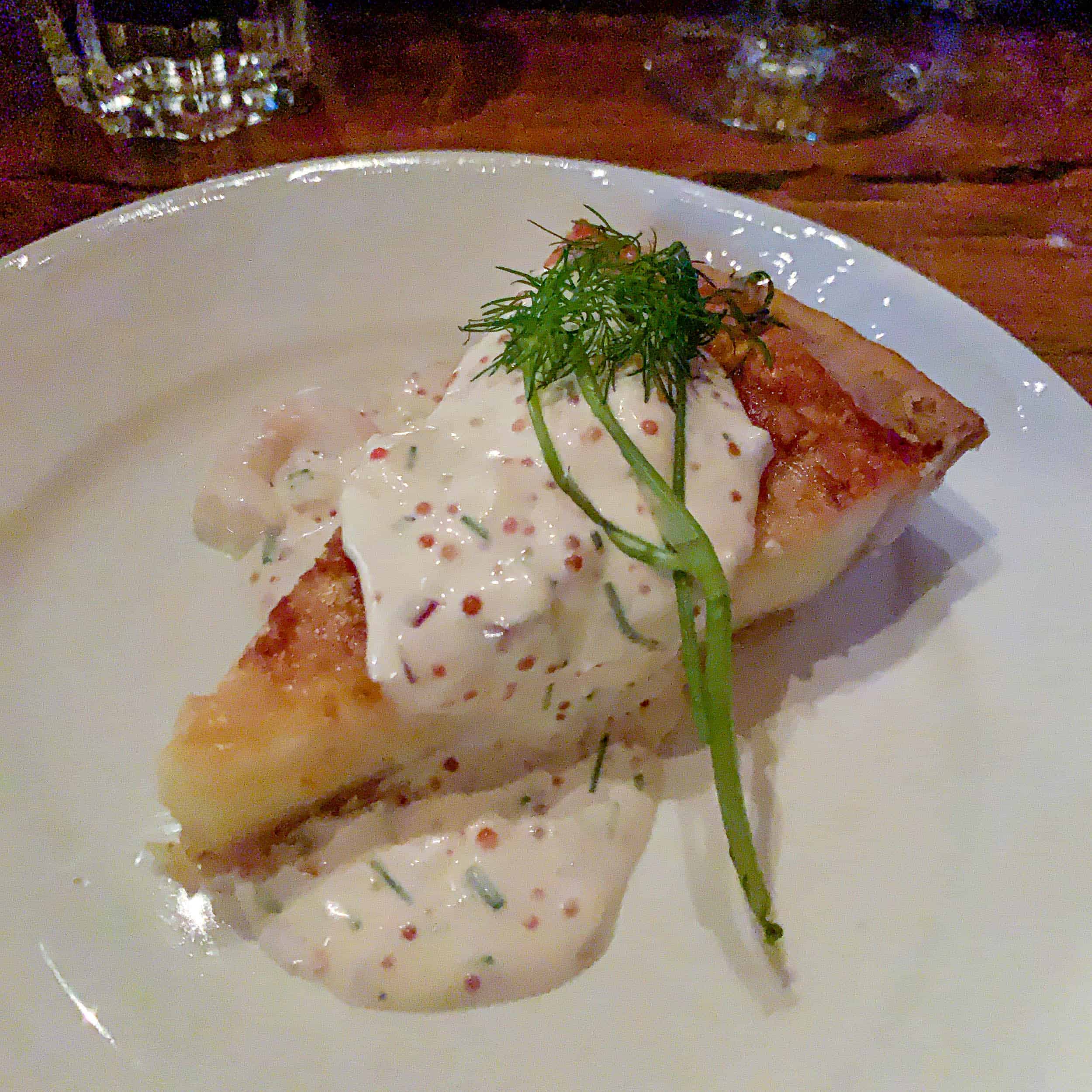 Dinner
Once all the rafters were back and rested, we reunited for dinner in the dining hall.
A large fire pit was at the center of the building, and reindeer skins hung from the walls. Dinner was by candlelight.
It began with wine and a traditional slide of Västerbotten cheese pie.
Our second course was thinly sliced reindeer meat with almond potatoes, salad, and lingonberry jam.
The meat tasted similar to moose, which is to say like beef; however, it didn't seem as fatty. I'm a fan.
Dessert was a delicious cloudberry ice cream produced by a local dairy farmer.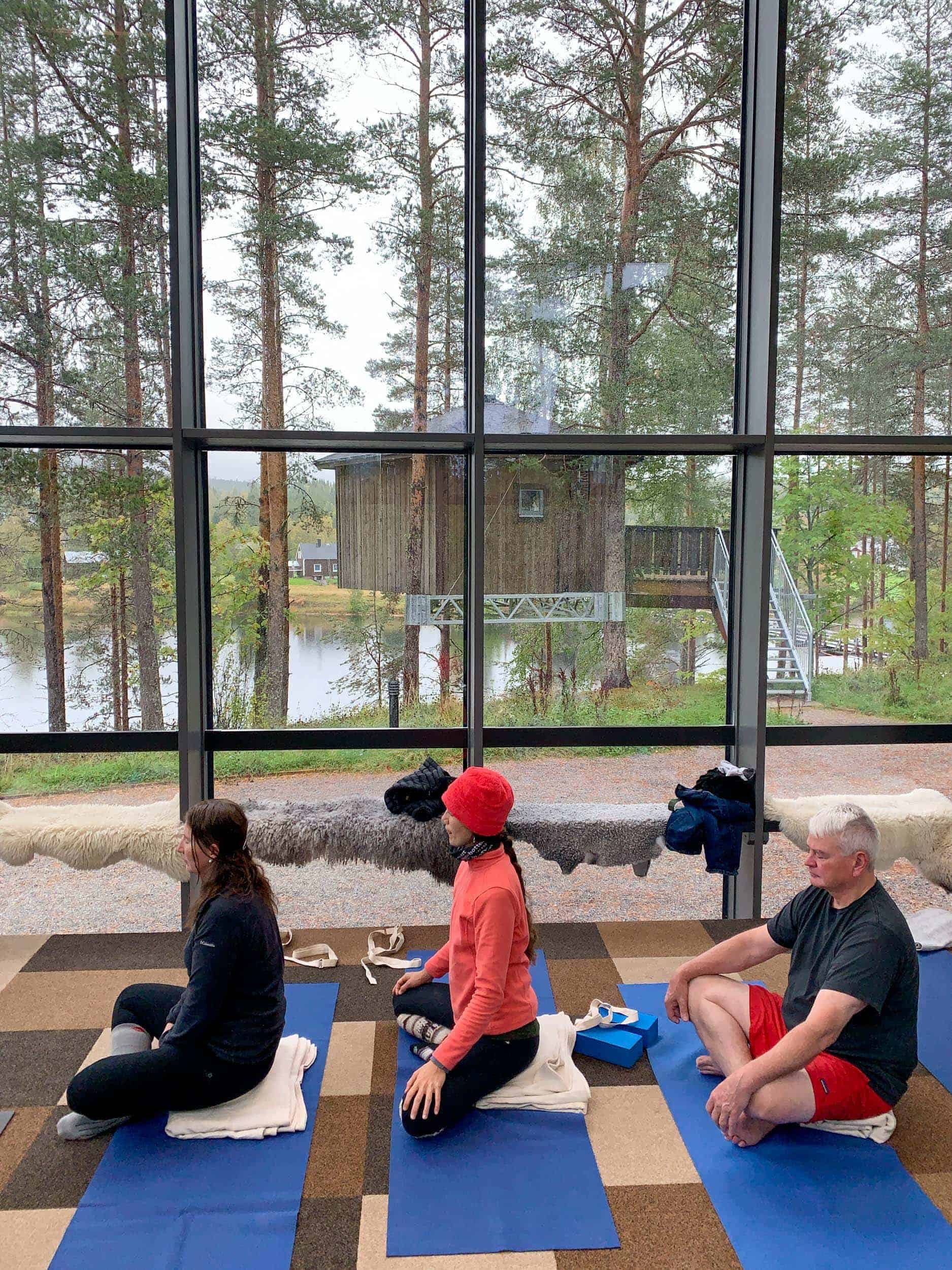 Day 4: Yoga, Brunch, and Touring Umea
Yoga in the Glass House
Our last day at Granö Beckasin in Västerbotten began with breakfast and a 9 AM beginner yoga class in the glasshouse.
The glass and steel building is in the middle of the small hill on which the treehouses were built.
While I sat out of the yoga class out of concern for my lower back, I sat inside to watch and enjoy the view of nature.
Granö Beckasin hosts yoga retreats in the space regularly.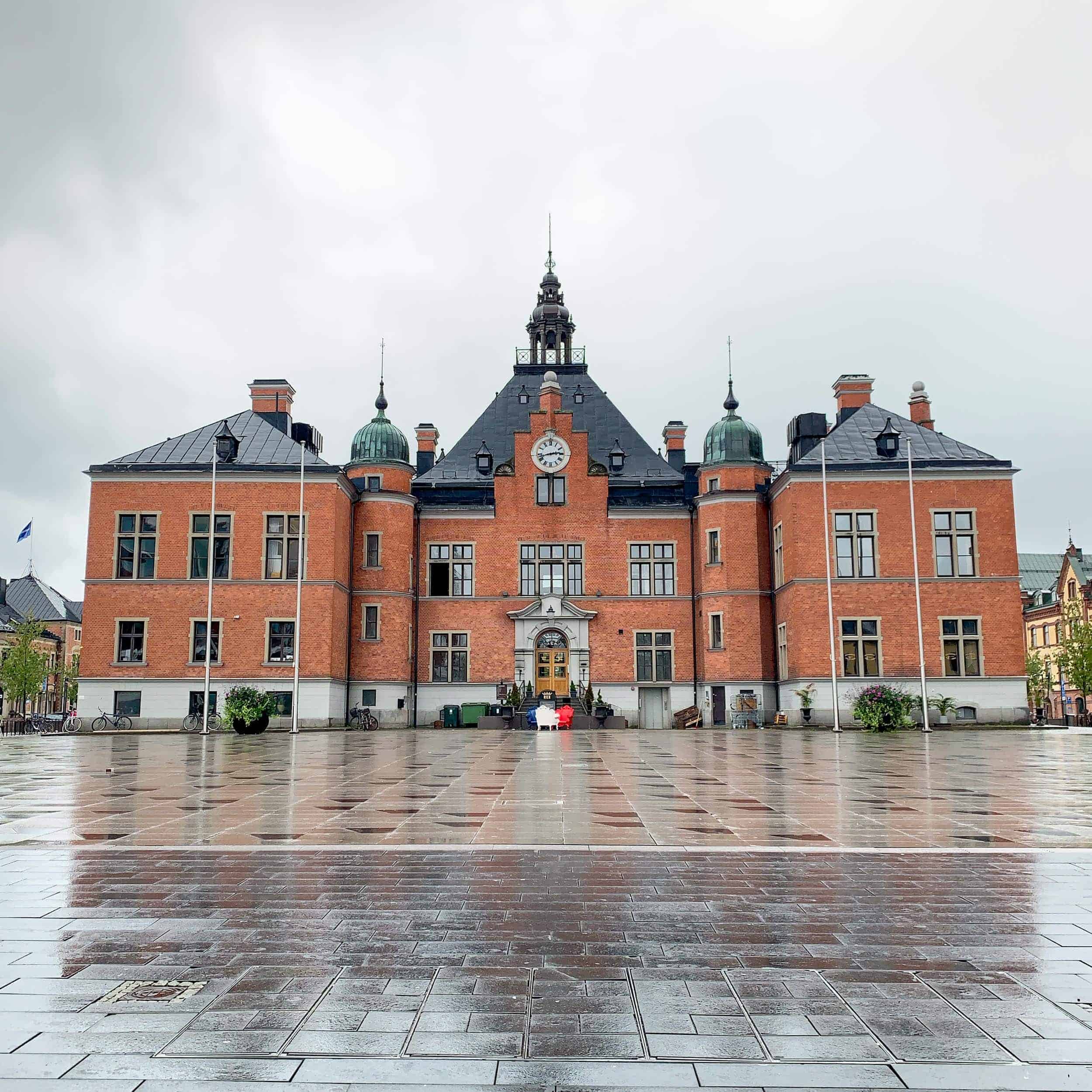 Umea
After yoga, we checked out of the hotel and drove back to Umea to see a little of the city before our afternoon flight to Gothenburg.
There was a light rain, so we didn't linger outside for very long.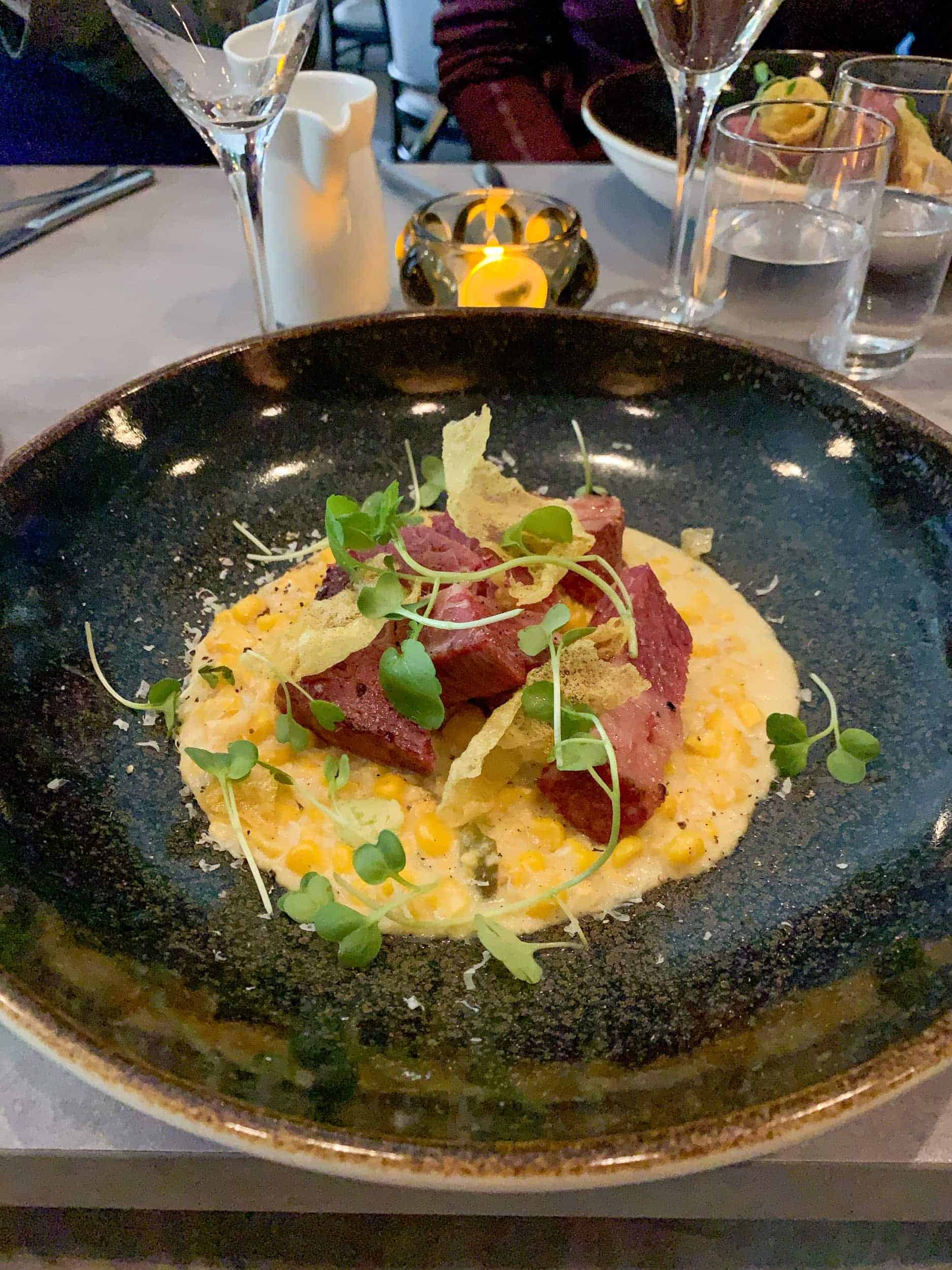 Brunch at Harlequin's
A relaxing brunch at Harlequin's restaurant and wine bar in Umea's city center was the highlight of the afternoon.
Harlequin's serves traditional Swedish fare, including reindeer and locally-caught seafood.
We were served brisket with corn on our visit, which was terrific.
It was here that I was introduced to the Copenhagen Sparkling Tea Company, which produces organic sparkling teas. They offer both low-alcohol and alcohol-free varieties.
The tea is bottled like champagne with a cork and everything, and when poured into a champagne flute, it'd be easy to mistake for sparkling wine. As a tea fan, I loved the flavors, too.
Unfortunately, the Copenhagen Sparkling Tea Company's products aren't available in the United States (yet).
According to their website, it's only distributed to parts of Europe and one restaurant in Hong Kong.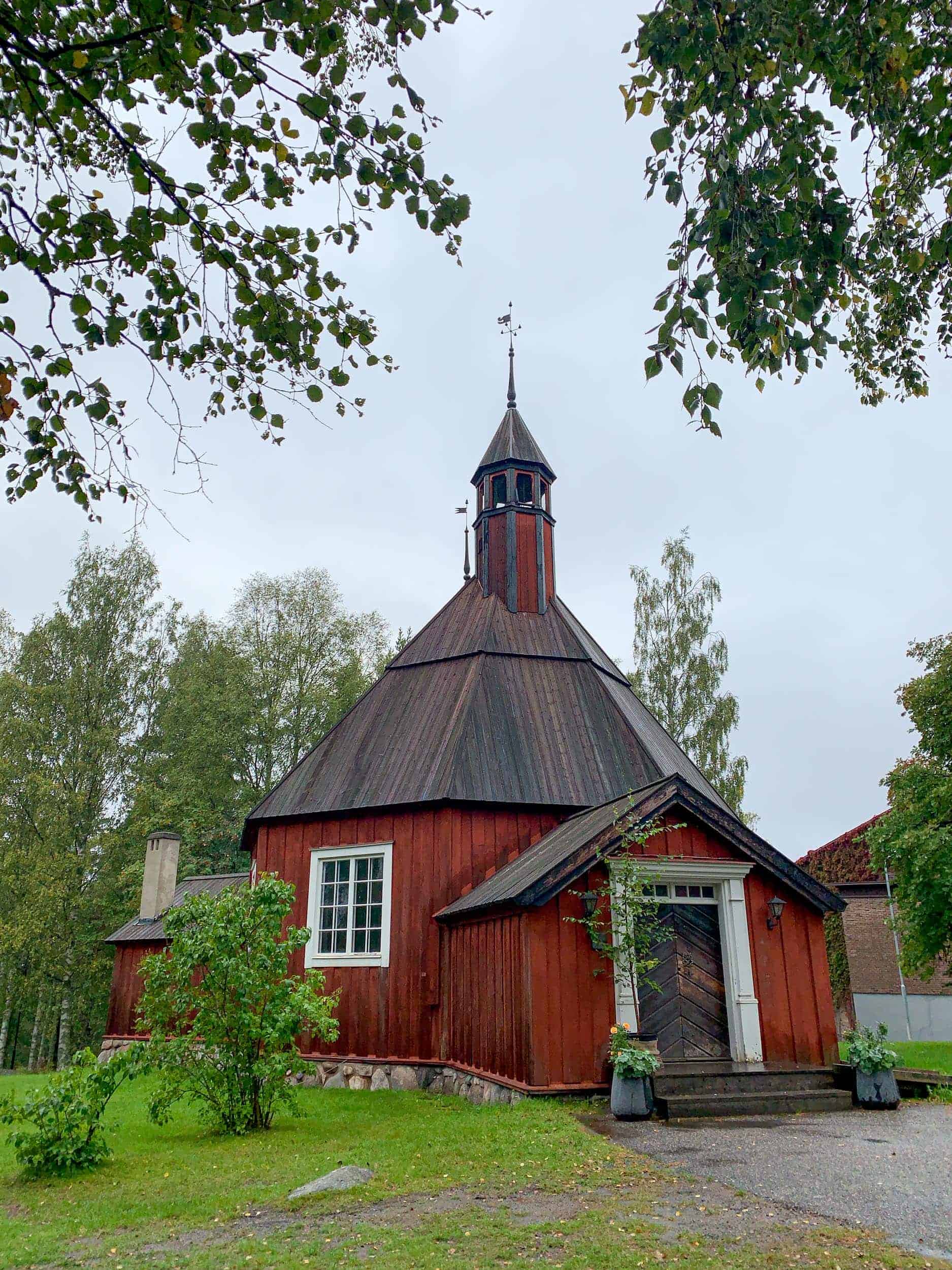 Västerbottens Museum
The Västerbotten Museum was our final stop before heading to the airport.
This small museum features several exhibits, including one on the history of skis.
Prehistoric skis were used across northern Europe as early as the Stone Age. The Västerbottens Museum is home to the second-oldest ski ever discovered.
The Kalvtrask ski dates back to BC 3350 to 3000, about 5,000 years old.
Looking at it in the display case, it just seems like an old, dark wooden plank with a few holes in it.
But, it's incredible to think humans were using such skis to traverse snowy Sweden so many years ago.
Plan Your Trip to Västerbotten
At this point, it should be obvious I had a fantastic time in Västerbotten in Swedish Lapland.
Here are a few quick links to wrap up and help you plan your trip:
How to Arrive
Daily flights from Stockholm serve Umea. I flew Norwegian.
Where to Stay
Granö Beckasin has everything you need for accommodation, dining, and booking activities in the surrounding region.
Things to Do in Fall
Guided nature walks
Moose safaris
Husky trekking with Spruce Island Husky
Whitewater rafting with Forsknäckarna
Chill out in a treehouse and enjoy the nature
_____
My tour of Västerbotten was arranged in partnership with the Adventure Travel Trade Association, Visit Vasterbotten, and Granö Beckasin as part of my attendance at the 2019 Adventure Travel World Summit.
Dave is the Founder and Editor in Chief of Go Backpacking and Feastio. He's been to 66 countries and lived in Colombia and Peru. Read the full story of how he became a travel blogger.
Planning a trip? Go Backpacking recommends: