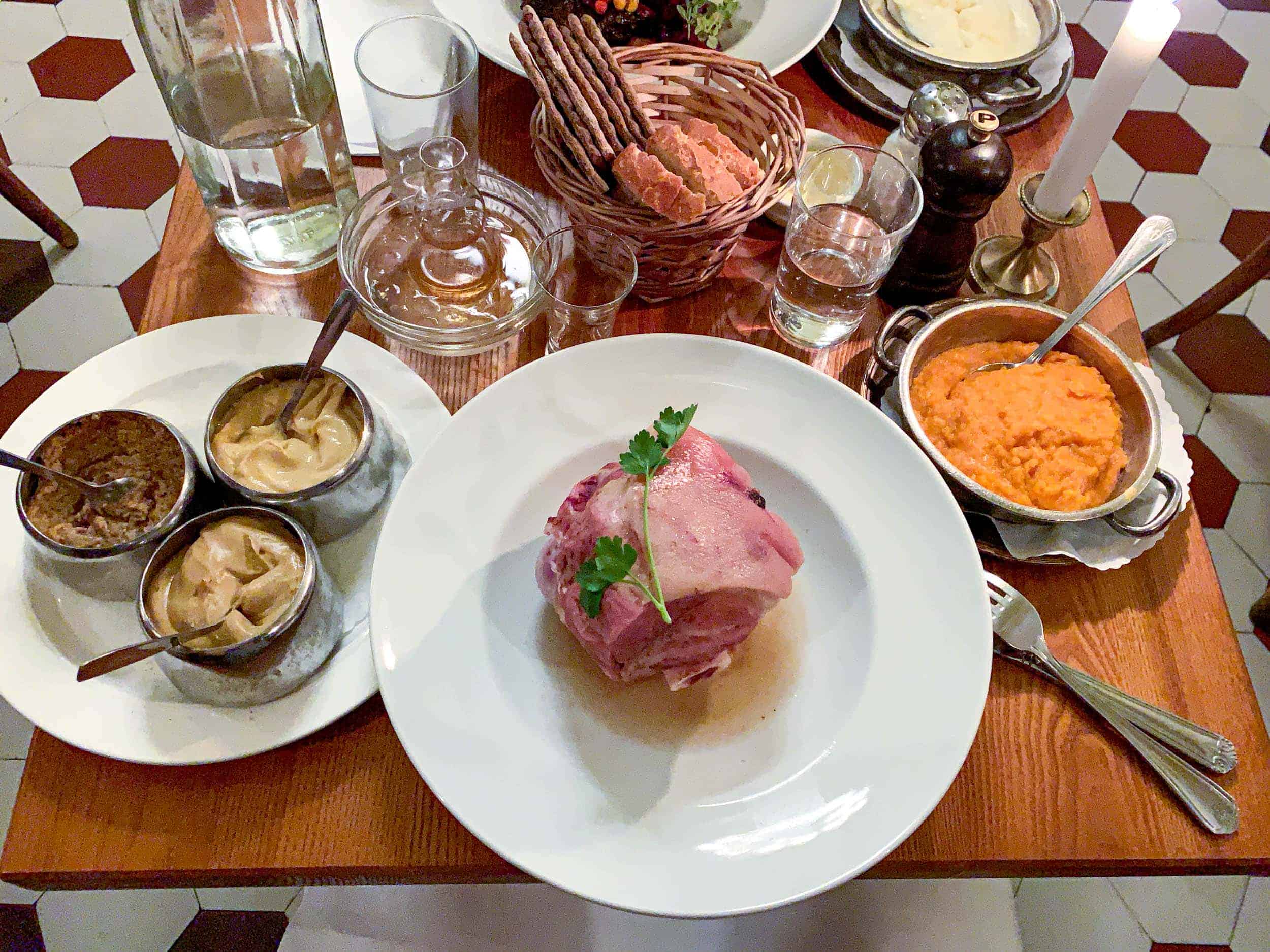 Traveling to Sweden for two weeks gave me ample opportunity to discover traditional Swedish foods.
Locally-caught fish, game meat, colorful berries, and delicious pastries all played a starring role in my experience.
I also discovered eating well in Sweden doesn't have to cost a fortune.
While the overall cost of travel is higher than in other countries such as Thailand and Colombia, there are cheap eats, food trucks, and good deals to be found.
Plus, if you're taking advantage of a travel rewards program like Marriott Bonvoy, then whatever you're spending can benefit you later.
What follows are my best bites in Sweden based on time in the two largest cities, Stockholm and Gothenburg, and my journey north to Västerbotten in Swedish Lapland.
Stockholm
As I began my adventure in Stockholm, severely jetlagged, I might add, it was here that I first delved into traditional Swedish foods.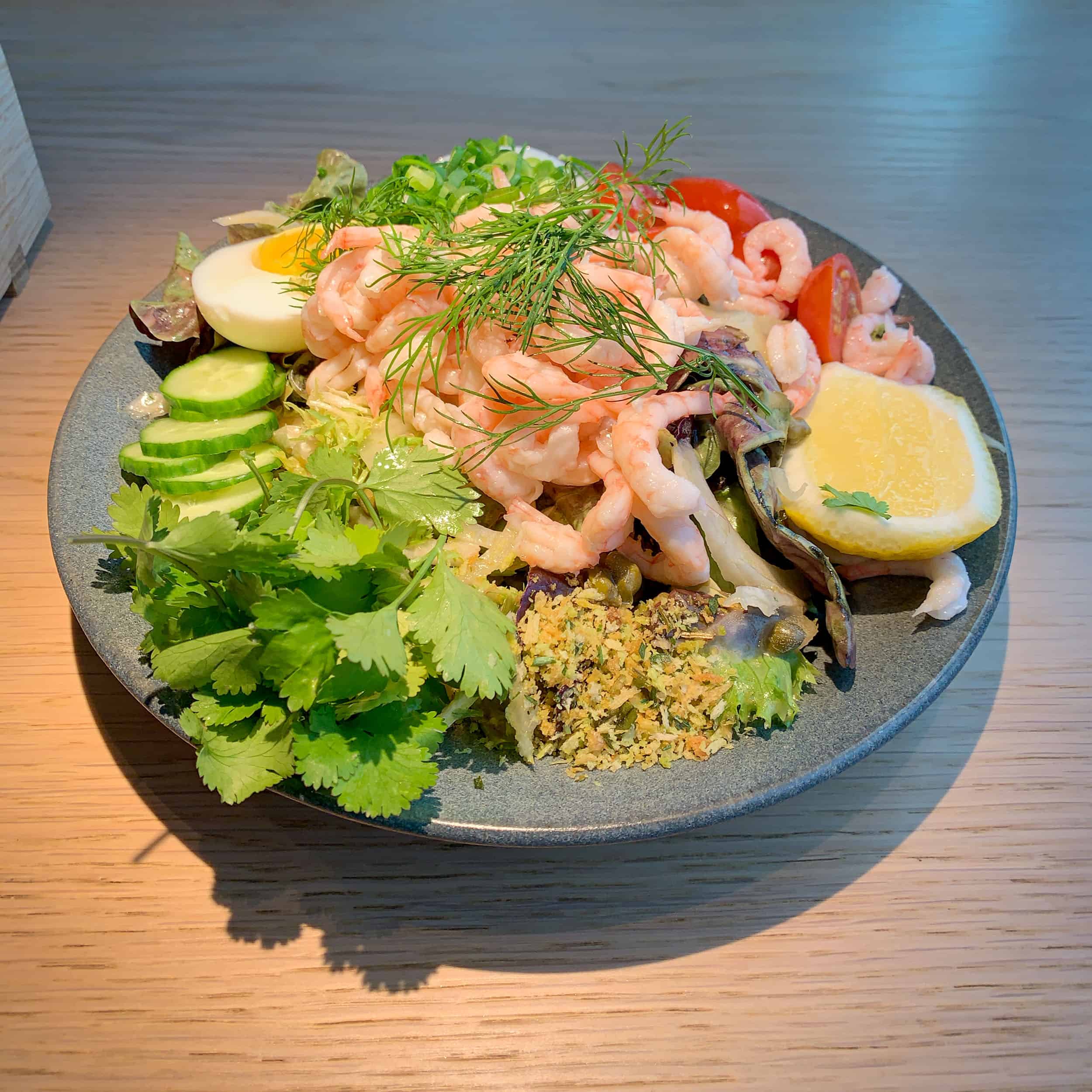 Shrimp Salad
Specifically, I began with lunch at TAK, a rooftop restaurant my friend Gary recommended.
Even simple decisions proved hard after two days of travel (and not much sleep), so I chose the three-course set lunch for $45.
It began with an appetizer of tataki of arctic char with a heaping pile of trout roe.
The main course was a massive shrimp salad with fresh tomatoes, egg, coriander, and a yuzu-koshu dressing.
The impressive display of healthy, fresh ingredients signaled good things to come.
Dessert was a chocolate mousse with olive oil and sea salt I won't soon forget.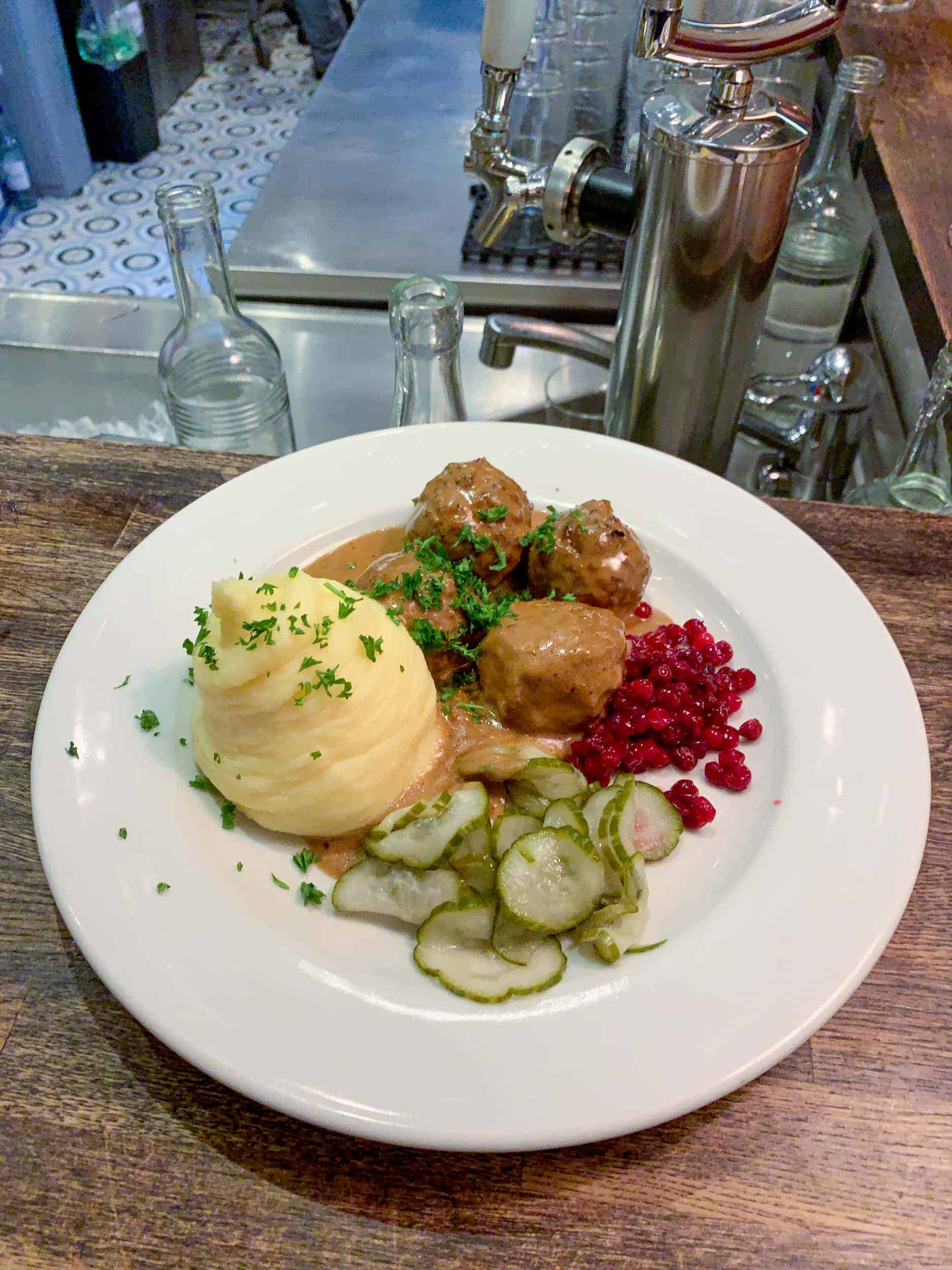 Swedish Meatballs with Lingonberries
That night, after realizing I was in too much of a daze for serious sightseeing, I stopped in the Nomad Swedish Food and Bar for dinner.
There, I ordered traditional Swedish meatballs, which were served with silky smooth potato puree, pickled cucumbers, and lingonberries.
The meatballs were smothered in flavorful gravy, too! This is serious comfort food.
I would later try the same dish with wild boar metaballs in Gothenburg, and it was equally as delicious.
Lingonberries are small red berries best eaten after being cooked in some way or made into jam or ice cream.
S.O.S. Herring with Cheese
On my last night in Stockholm, I invited my friend Gary to dinner at Pelikan, a historic restaurant where Anthony Bourdain ate while filming the Sweden episode of No Reservations.
Everything on the menu is typical Swedish food, so you can't go wrong.
I started with an appetizer referred to as S.O.S., an assortment of herring with cheese.
I don't have much (any?) experience eating herring, and certainly not with cheese, so this was new territory. And to my surprise, I quite enjoyed the dish.
The waitress also said it was customary to drink schnapps (an alcoholic beverage) with herring, so I ordered some (which can be seen served on ice at the top left of the photo above).
Gary nor I liked the schnapps, which seemed to disappoint our kind waitress.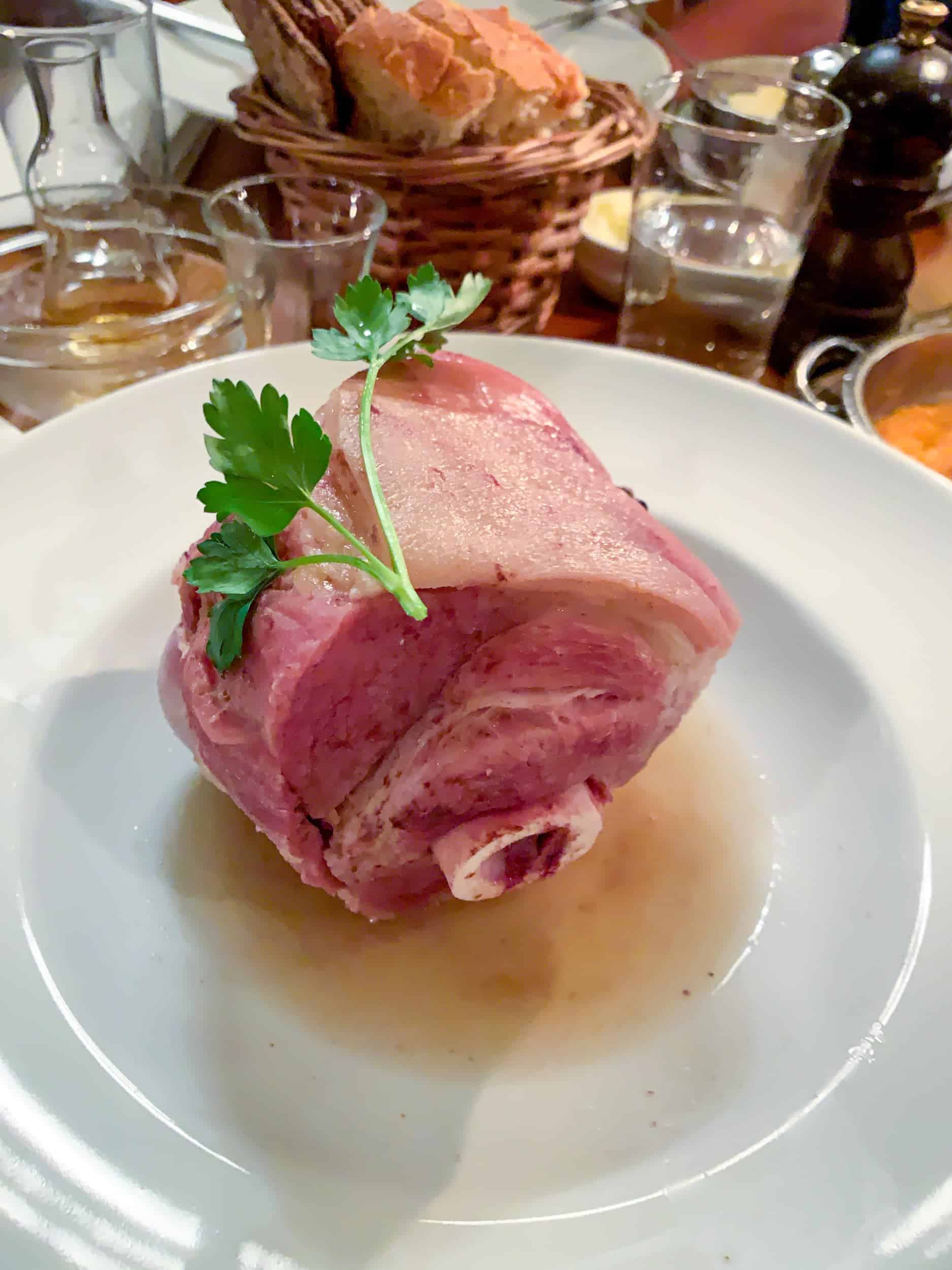 Boiled Pork Knuckle
On No Reservations, Bourdain orders the boiled pig's knuckle while his Swedish guests enjoy the meatballs.
I'd already eaten meatballs once by this point, so I went with the pig's knuckle.
It's a massive chunk of ham, easily enough to serve two or three adults. It's served with three types of mustard and mashed swede (rutabaga).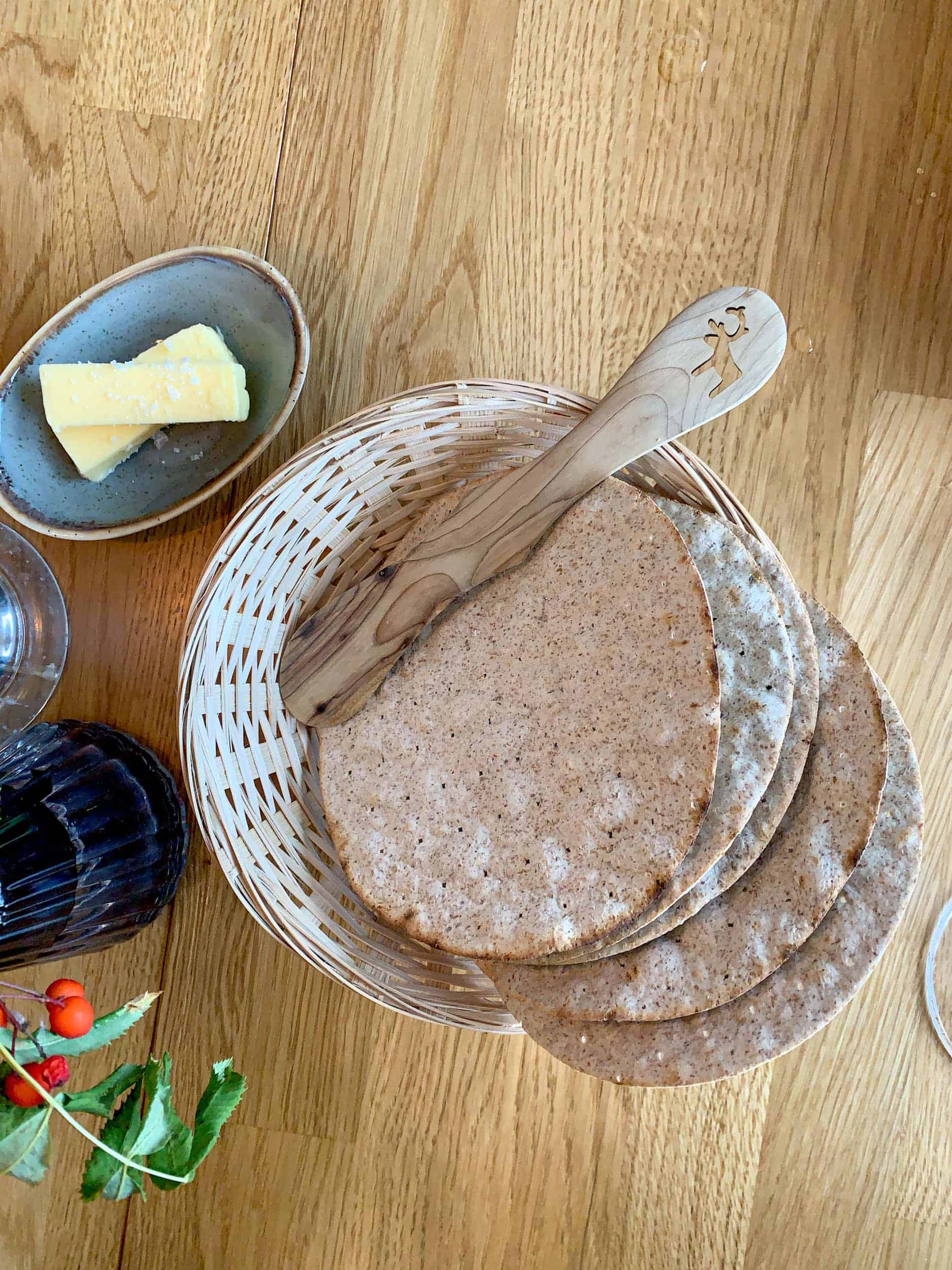 Swedish Lapland
An hour north of Stockholm by air is the city of Umea, which acts as a gateway to the Västerbotten region of Swedish Lapland.
I spent three nights at Granö Beckasin, a wonderful forest lodge that serves as a base for exploring northern Sweden.
Tunnbröd (Swedish Bread)
On my first night in Lapland, I learned about Swedish flatbread called Tunnbröd. It's made with barley and therefore lacks gluten.
It's common to spread butter on the bread; however, I found the crunchiness slightly off-putting.
I'm so used to softer pieces of bread. Having grown up in the United States, it'd take some time for me to get used to Tunnbröd.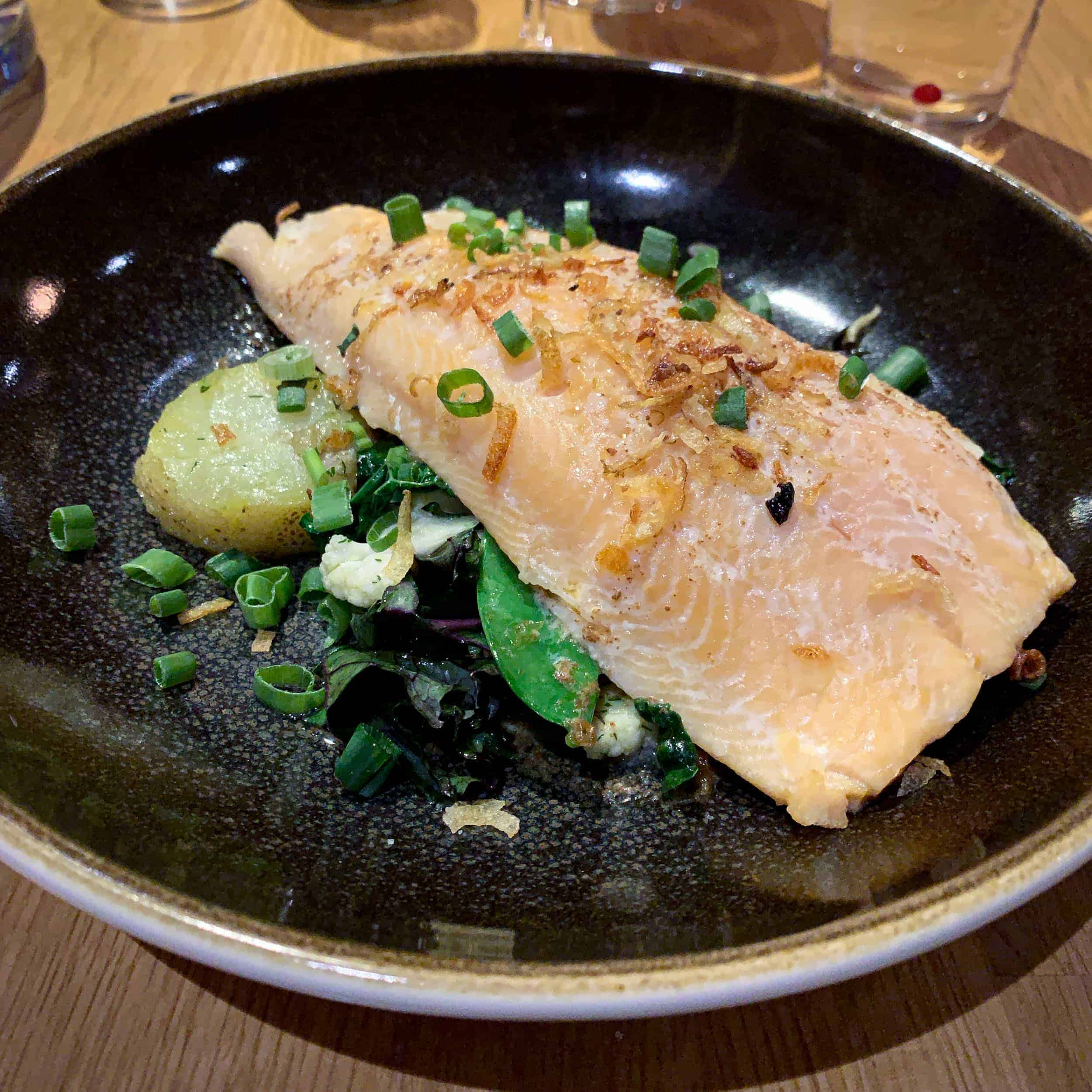 Fish
Being surrounded by so much water, it should come as no surprise fish and seafood are an essential part of the Swedish diet.
The country also features 30,000 lakes and three large rivers, so fresh fish can be accessible even in the interior.
For my first dinner at Granö Beckasin, I ordered the arctic char (pictured above) with potatoes.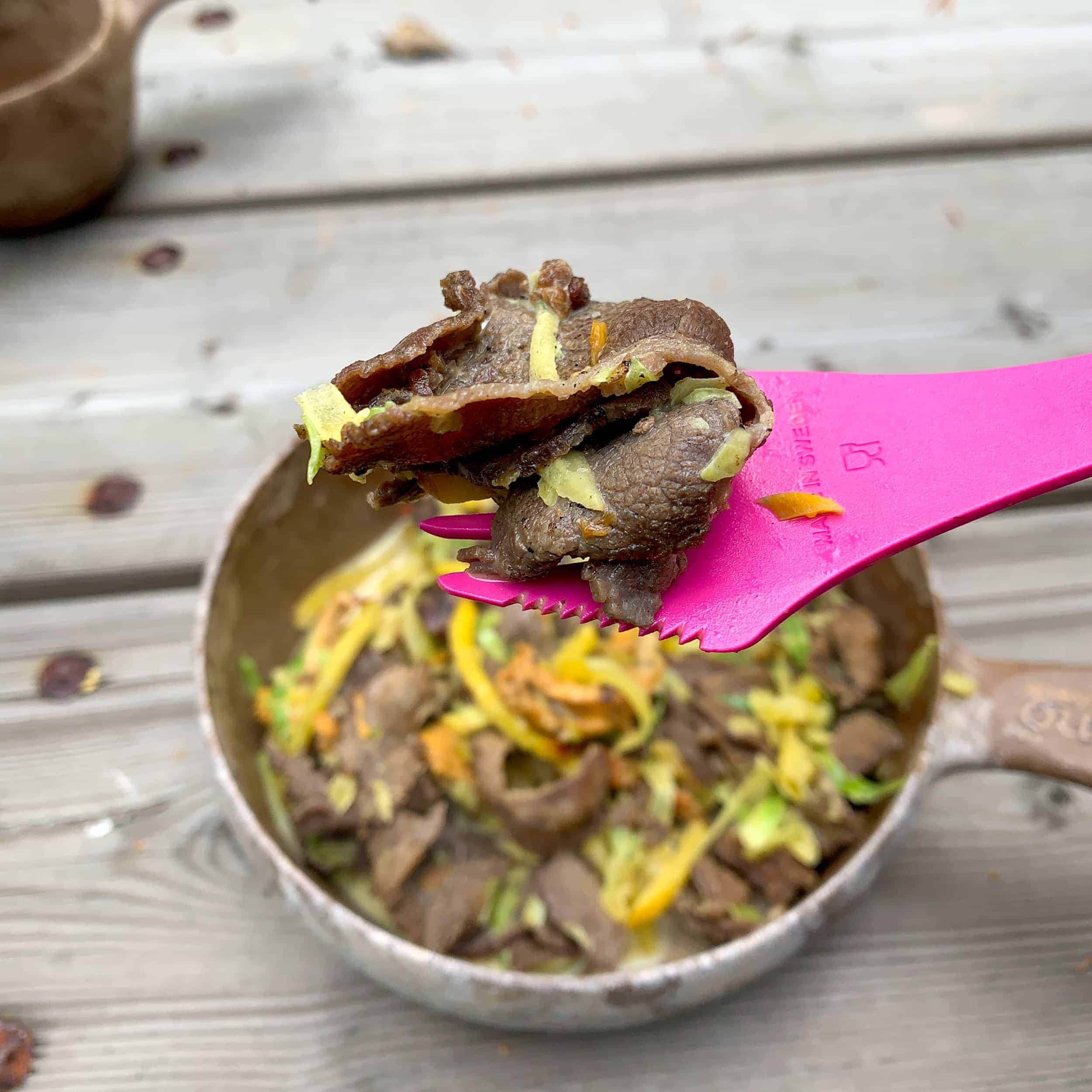 Moose
Sweden has an estimated 300,000 to 400,000 moose during the summer months.
That's more moose than the rest of the world combined.
With that many moose running around, hunting them is a long-standing and popular tradition.
About 100,000 moose are killed each Fall by hunters, who turn around and cook up the meat to sustain them through the winter.
During my stay at Granö Beckasin, I got to try moose meat cooked with local mushrooms and vegetables over an open fire.
I'd liken the flavor to beef. It's a lean source of protein, too.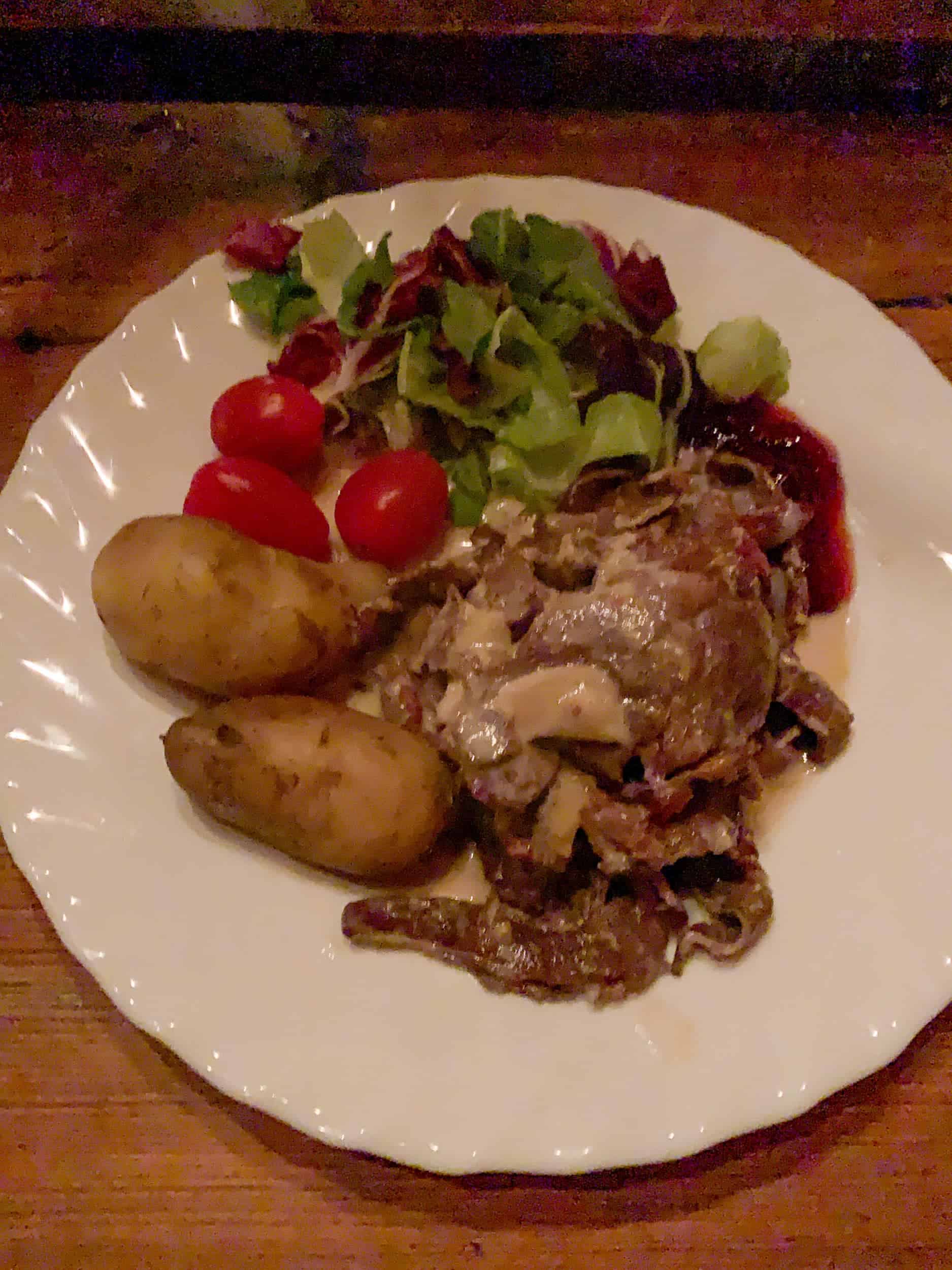 Reindeer
Reindeer, like moose, are indigenous to northern Sweden.
The indigenous Sami people have long raised herds of reindeer for their skins and meat.
I tried reindeer for the first time at a wilderness camp. It was served with potatoes, a salad of lettuce and tomatoes, and lingonberry jam.
The flavor was similar to moose meat, which is to say, like beef.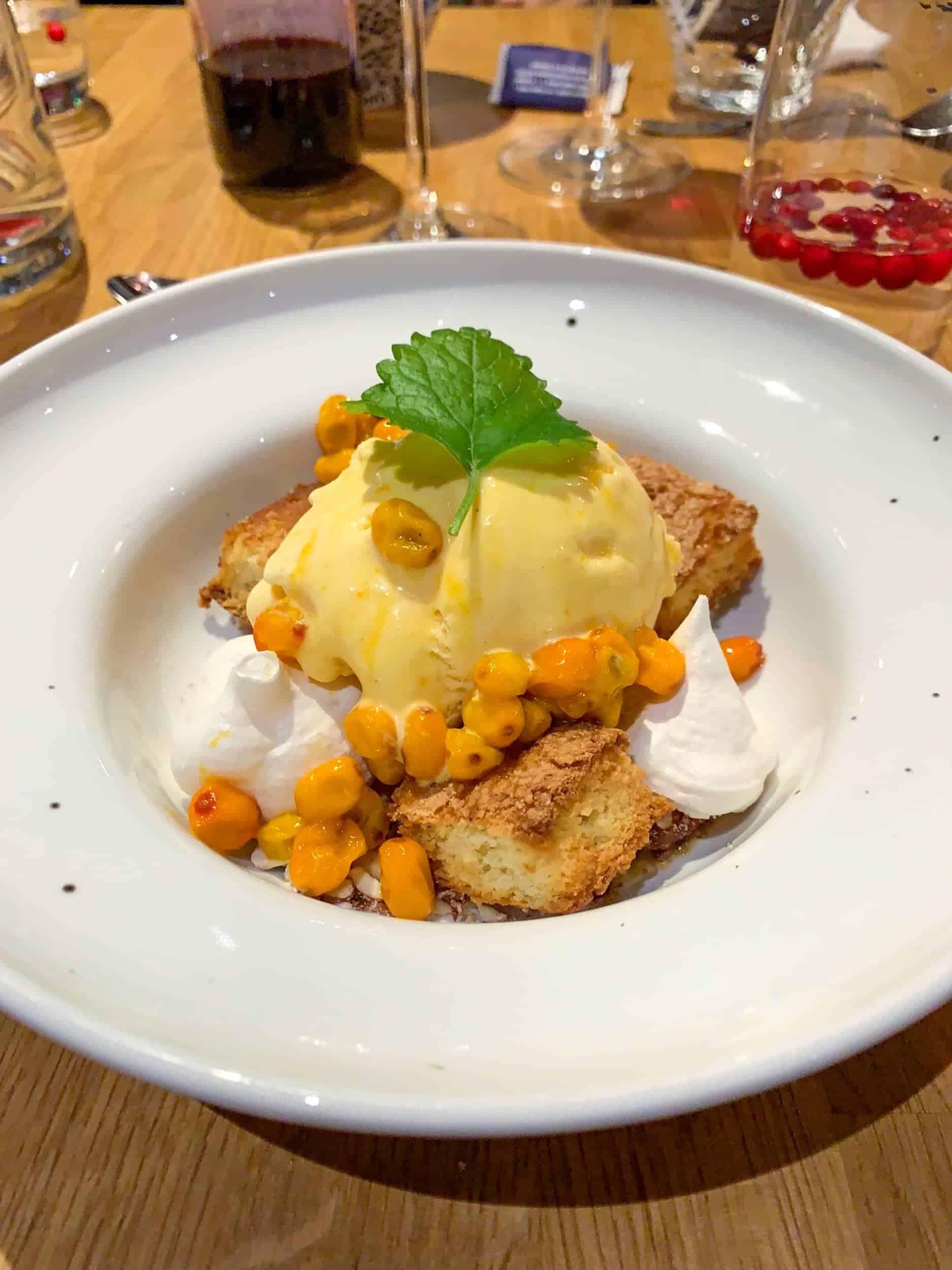 Cloudberries
Cloudberries (I love the name) grow wild through northern Sweden.
I first experienced them as a topping over sea buckthorn ice cream, and later, as the flavor of the ice cream itself.
Like lingonberries, they're tart when eaten raw, and therefore best served with something else or eaten in jam-form.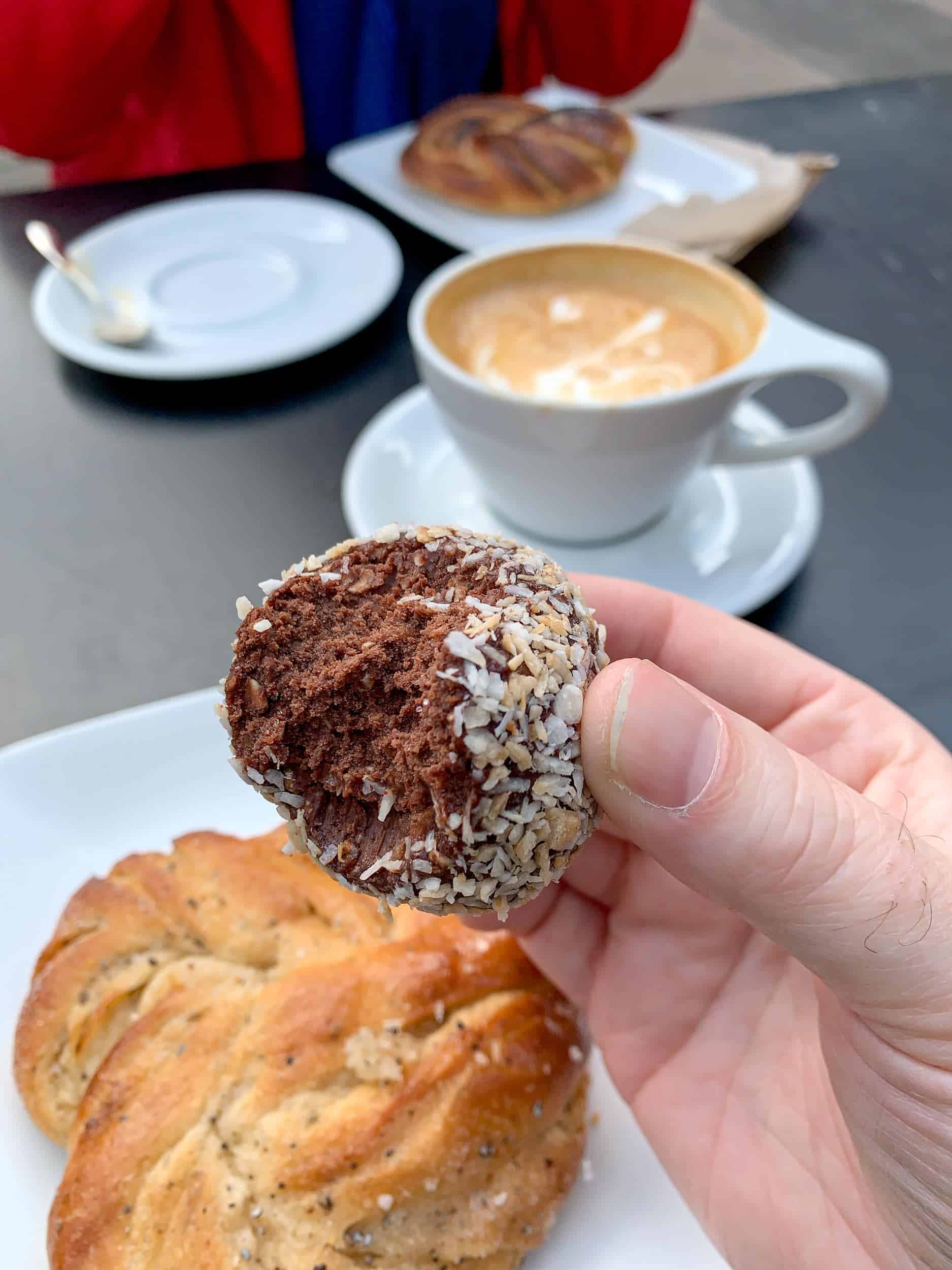 Gothenburg
My final stop in Sweden was Gothenburg, the second-largest city. This is where I attended the Adventure Travel World Summit.
Between keynotes and meetings with adventure travel tour operators, I had some time to explore the city.
Fika
The concept of a fika, or Swedish coffee break, was new to me when I arrived in Sweden. By the time I reached Gothenburg, I was a fan.
Fikas can happen any time of the day — morning, afternoon, or evening, though as they typically feature coffee (or tea), mid-morning and mid-afternoon are common.
All you need to do to enjoy a Swedish fika is stop whatever you're doing and take some time to relax over a warm drink.
You can enjoy a fika alone. However, they're often used as a chance to be social, whether it's coworkers taking a break at the office or friends, family, or couples meeting at a coffee shop.
In Gothenburg, I enjoyed a fantastic fika at da Matteo, a cafe and coffee roaster with multiple locations in the city center.
I ordered a cappuccino, chocolate ball, and cardamom bun. The latter two pastries are traditional fika sweets; the only pastry more popular in Sweden is the cinnamon bun.
I read an estimate that the average Swedish person eats 300 cinnamon buns per year. And most of those, no doubt, are consumed during the daily fika.
***
I wasn't sure what to expect from Swedish food during my first trip to Sweden. However, I quite liked what I found.
The emphasis on fish and seafood, lean meats like moose and reindeer, and colorful berries had me feeling like a healthy eater.
And the Swedes' love of fikas and taking time out to enjoy a coffee and sweet pastry every day was right up my alley.
______
This story was written by Dave and brought to you in partnership with CityAds.
Dave is the Founder and Editor in Chief of Go Backpacking and Feastio. He's been to 66 countries and lived in Colombia and Peru. Read the full story of how he became a travel blogger.
Planning a trip? Go Backpacking recommends: