Last month I met a horse named Canario, and if I had my way, that horse would retire from shuttling tourists around and live out the rest of its years chomping fresh, green grass under the towering wax palms of Valle de Cocora in central Colombia.
Extreme horseback riding wasn't on my agenda when I arose early one morning at a dairy farm turned hostel outside Salento, a pueblo in the heart of Colombia's coffee-growing region.
Upon arrival the previous day, I'd kept to myself, aside from talking to a German guy in the bunk bed next to me who'd spent five hours hiking around in the mud and rain to see hummingbirds.
After taking in the views of clouds drifting through the mountains around the dairy farm, while sipping a fresh cup of coffee, I walked the 10 minutes down a dirt road into Salento's main square.
There, I waited for the 9:30 am share jeep to Valle de Cocora, a nature preserve home to Colombia's national tree, the wax palm, which also happens to be the tallest type of palm tree in the world.
While I was waiting, the Colombian manager from the Base Camp hostel in Manizales showed up, along with the French guy that had been working there during my stay.
They were wearing rubber boots in preparation for the mud to be encountered during the full 5-hour hike.
I was still feeling content with my plan to hop out of the jeep, photograph the palms, have lunch, and head back to Salento within a few hours.
Then a friendly young Aussie walked up in shorts and flip flops. Followed by two Swiss girls.
And suddenly, we were all crammed in the back of an old jeep, speeding down a mountain road, onto a bumpy unpaved one, toward the entrance of the valley.
During the journey, we introduced ourselves and got to know each other, as happens so effortlessly when sharing such experiences.
By the time we arrived thirty to forty minutes later, a group dynamic had developed, and before I knew it, we were picking out horses to ride during the first half of the trail.
The cost was about 18,000 pesos each ($10), which included payment for a guide (required when taking horses).
There were no helmets; no insurance waivers to sign.
Once we were all on our horses, mine's name being Canario (Canary), I declared in Spanish to my new friends that I had minimal horseback riding experience.
My last ride was almost two years prior — a gentle trot through Storms River, South Africa.
Luckily, horses such as these have the same routine every day, so they follow each other and are familiar with the guide's commands (usually relayed via whistling).
The Swiss girls were experienced riders, as was everyone else in comparison to me. The Australian guy was riding barefoot.
As we set off down the trail, the horses all fell in line, and we were soon passing through farmland, on a narrow, deeply rutted path.
Canario managed to balance himself on the thinnest sections of mud and traipsed through large puddles of water without hesitation.
Sometimes another horse would speed up behind us, and as if to ensure none of them would pass, Canario would speed up too.
I'd immediately try and calm him down, but it took some time for me to relax and enjoy the passing scenery without images of falling off a runaway horse passing through my mind.
After about thirty minutes, we left the open farms of the valley for the cover of the jungle.
Due to the region's climate, it rains a lot, and therefore the trail was wet and muddy.
We were soon navigating around very steep terrain (both going up, and more frighteningly, down).
The Swiss girls commented that their (pampered) horses in Switzerland would never be able to handle such rugged trails.
Meanwhile, I thought that this ride was about ten times more dangerous than any other I'd been on (going back to when I was a kid and rode a little more often in New Jersey).
The rocks and deep sections of mud were one danger, but it was the river crossings that had my anxiety levels maxing out.
We crossed the same river in the jungle about 4-5 times, and each time it seemed the water was deeper and moving faster than the prior crossing.
The water level was just below the bottom of my stirrups, and as it was muddy, there was no way to tell where it was best for the horse to be walking.
They just followed each other in a line. One misstep, and I was going to be chucked into cold water.
On one or two occasions, I'd also probably have been swept over a small rocky waterfall to boot.
My camera, in a nylon drybag, could easily be destroyed, along with a few of my bones.
Even scarier than the river crossings on horseback were the state of the "bridges" if you were hiking that section of the trail.
Usually, they consisted of a few rotten logs. One of them was a moss-covered, rope suspension bridge, complete with broken floorboards like you'd see in an Indiana Jones movie.
When I saw them, I was thankful to be riding Canario.
And despite all my anxieties, I trusted Canario didn't want to fall either, and would, therefore, be taking as much care as a horse knows how to take.
After an hour and a half or two, we dismounted and walked another few hundred meters up to a small guest house perched above the trail.
Home to an array of hummingbird feeders, and a Colombian man, it was a regular rest stop for those on the trail.
Our group warmed up with the hot chocolate and large chunks of cheese.
Those familiar with local customs will break up the cheese and add it to the chocolate — a delicious treat after more excitement than I bargained for that morning.
We were at 2,800m, and it had begun to rain.
The Australian, when given a choice between hiking the remainder of the trail in flip flops or barefoot, started to go barefoot.
Between the mix of mud and horse manure on the trail, it was an unthinkable (and dangerous) proposition to me. But he had no other choice.
The Colombian girl had been on the receiving end of a kick from the French guy's horse just before we arrived at the house.
A giant bruise was swelling up on the outside of one of her knees.
To finish the trail, we would be on foot for the next three hours.
Already having experienced the type of terrain we'd encounter on horseback, I knew I was in for a muddy mess, especially with the rain starting.
The elevation couldn't be ignored either, as it was not something we felt while the horses were doing the physical work.
Would the barefoot Australian make it out alive? Would we get lost due to the poorly marked trail? Would the views of the valley be worth the effort at the end of the day?
To be continued.
____________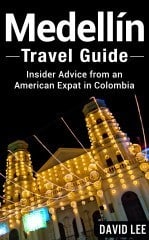 My 138-page, all-original Medellín Travel Guide is available for Kindle and PDF.
.
Dave is the Founder and Editor in Chief of Go Backpacking and Feastio. He's been to 66 countries and lived in Colombia and Peru. Read the full story of how he became a travel blogger.
Planning a trip? Go Backpacking recommends: