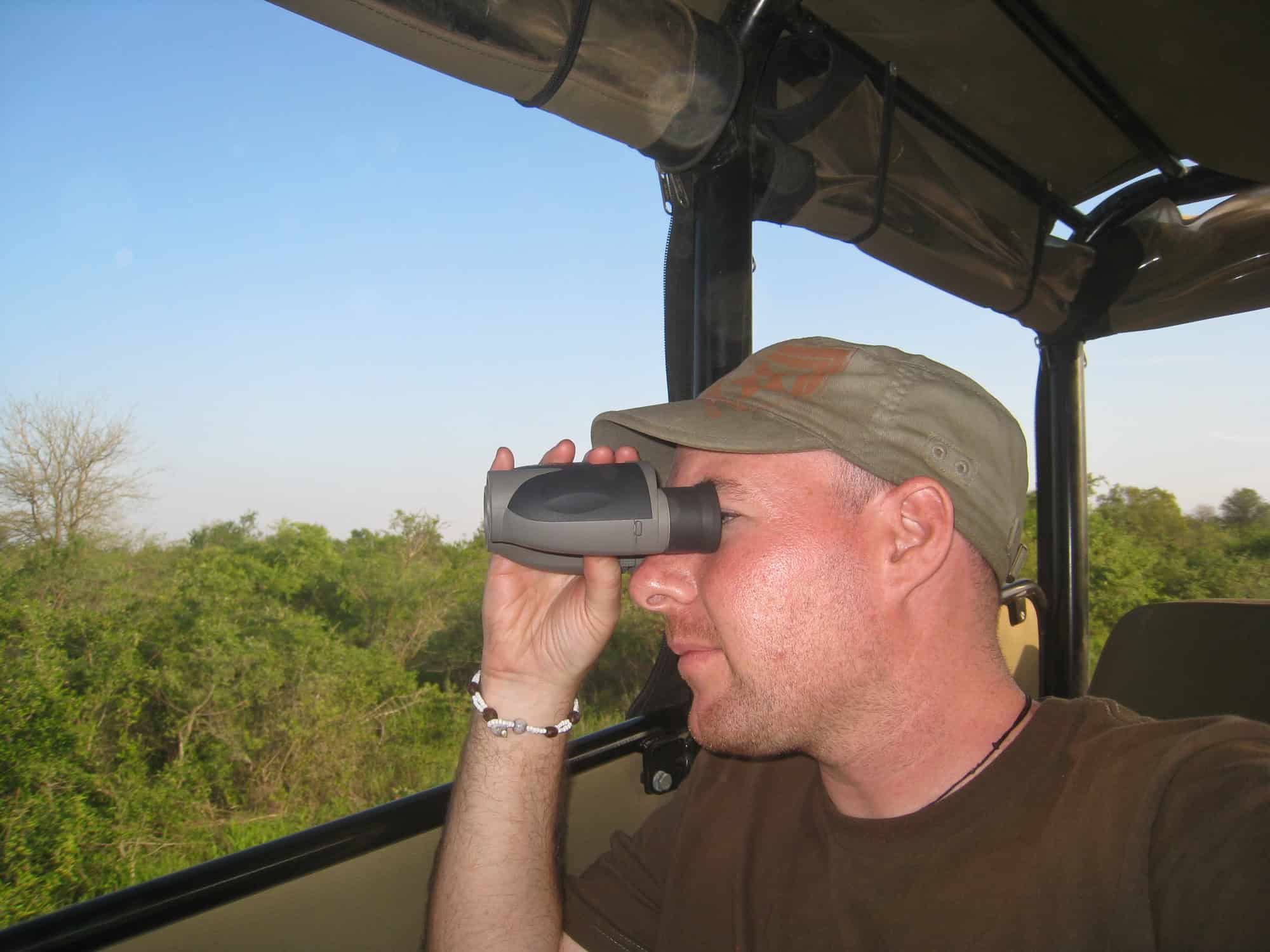 You need travel binoculars, but you don't know what kind. Start with these questions.
We're fortunate to have an abundance of handy tools and gadgets in 2020 that help us to experience and immerse ourselves in the great outdoors.
Whether it's the not-so-humble smartphone eternally in our pocket or the walking sticks that make eating up the miles easy, we must make the right calls on our kit, so we don't end up with that dreaded buyer's remorse.
Your travel binoculars are no exception. We trek the outdoors to experience and see the world, but our eyes our limited.
For the price of a few dollars (or more!) and a few extra grams (give or take), we can massively augment that vision – and our enjoyment as a result.
Travel binoculars come in many shapes and sizes, so you'll need to know what you want out of yours before you go buying.
Here are the right questions to ask yourself.
Are you expecting to look long-distance?
As you'd imagine, more powerful binoculars are heavier and, in some cases, larger than smaller binoculars or monoculars.
It's a trade-off between weight and comfort and magnification – and you'll find you don't always need a large set of binocs to see what you want to see.
As a rule, larger and more powerful binoculars are better for trips where you have to view things at a distance.
The most common examples of these are mountain ranges, whale watching, and safaris.
We've heard stories from many safari-enthusiasts about how their more powerful binoculars were able to show them every stunning detail on the animals they came to see but were unable to get close to for safety concerns.
You need to keep 200 meters away from elephants, for instance, yet it's wonderful to still be able to see the incredible detail of their bodies clearly from that distance.
Conversely, if you're on a gentle hike through the local countryside and don't want to miss out on birds and nearby scenery, a smaller set of binoculars will do you fine. It's an important consideration when you're getting into binocular comparisons.
Magnification power: less might be better than more.
You don't always need a high-magnification set of binoculars. Typical compact travel binoculars have a diameter of around 25mm.
When magnification power goes up, the field of view goes down.
That's bad if you want to scan for landmarks or enjoy a moderately augmented view of a landscape.
This makes lower-magnification binoculars ideal for general travel use; you'll spend less time scanning back and forth for that local landmark and more time seeing what you need to when you need to.
It's a less frustrating experience.
Does optics quality matter to you?
For some, binoculars are all about practicality. That usually means they are needed to find things and not for appreciating beautiful things at a distance.
This is an important question to ask yourself because the less expensive compact travel binoculars will have prisms that have a lower resolution – i.e., less detail in the view.
More pricy binoculars tend to have what is known as prim or roof prism lenses, which give you better detail.
Think similar to a higher resolution on a PC monitor. You'll pay more, but you'll get a picture with more precise detail.
If you want a set of travel binoculars for admiring the beauty of the land around you as much as for finding important locations, you might want to consider more expensive options that have better quality optics.
Conversely, if you wish to be able to quickly ID landmarks, so you know where you are, you'll do just fine with a cheaper set without those more expensive optics.
You won't get as crystal-clear a view as you would with the higher-end products, but you'll be able to view the land around you.
_____
This story was brought to you in partnership with Wild Life Chase.
Tim is a professional writer who is passionate about camping, hiking and the great outdoors.
Planning a trip? Go Backpacking recommends: