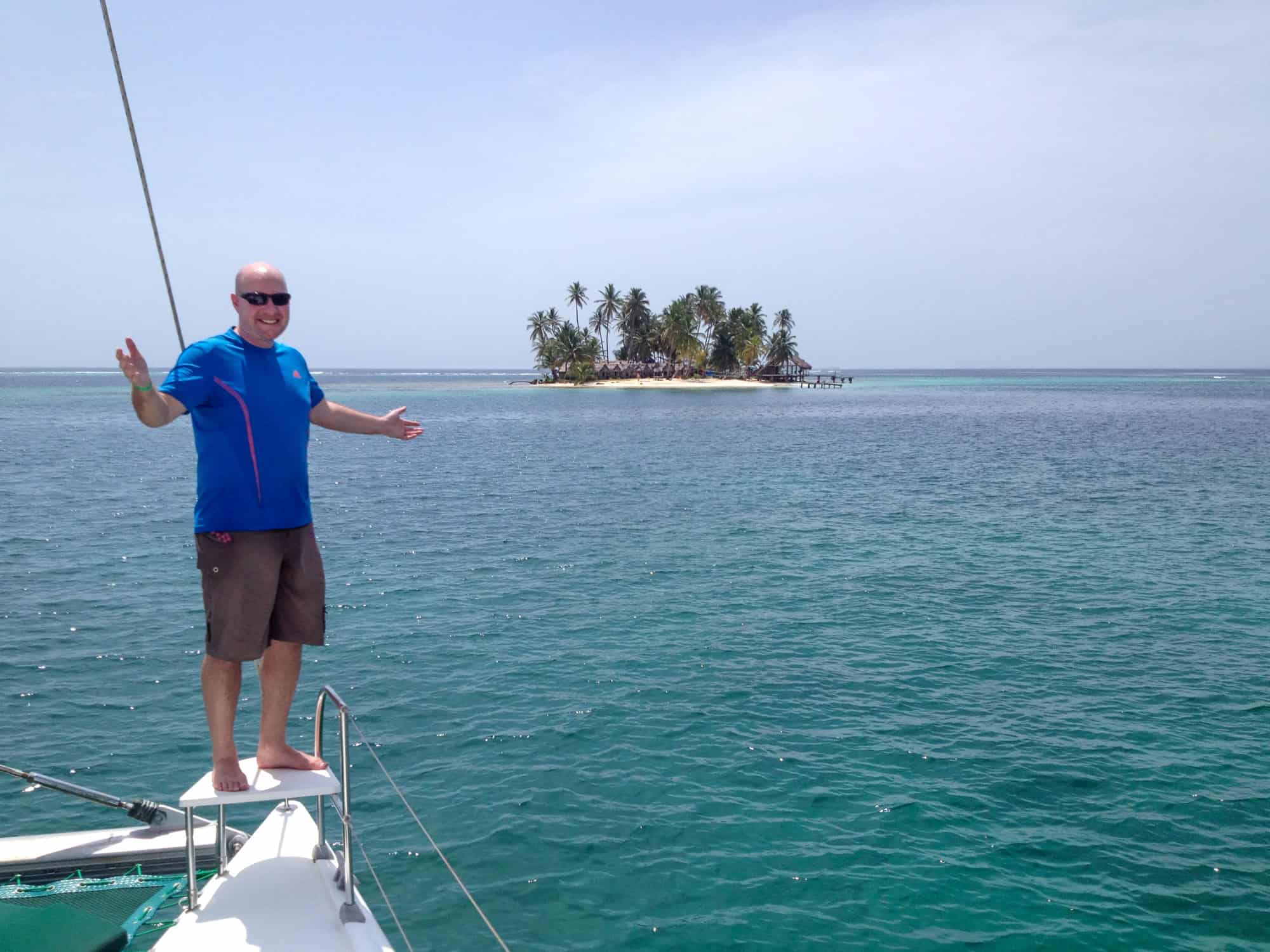 The San Blas Islands in Panama are a paradise for backpackers, myself included.
This archipelago of 365 islands lies just off Panama's Caribbean coast, making it easily accessible from the mainland.
While living in Medellin, I met and spoke with a steady stream of travelers who'd sailed from San Blas, Panama, to Cartagena, Colombia.
The several days they spent island-hopping in beautiful San Blas was always the highlight.
The following two days spent traveling in the open sea involved varying tales of seasickness, sometimes leaving my stomach swirling at the thought of rough seas and inattentive boat captains.
After flying into Panama City, I learned it was possible to book a trip to San Blas, and it didn't have to be part of a sailing trip to Cartagena.
The idea of hanging out on a tiny Caribbean island for a few days sounded dreamy, so I added time for it at the end of my two-week Panama itinerary.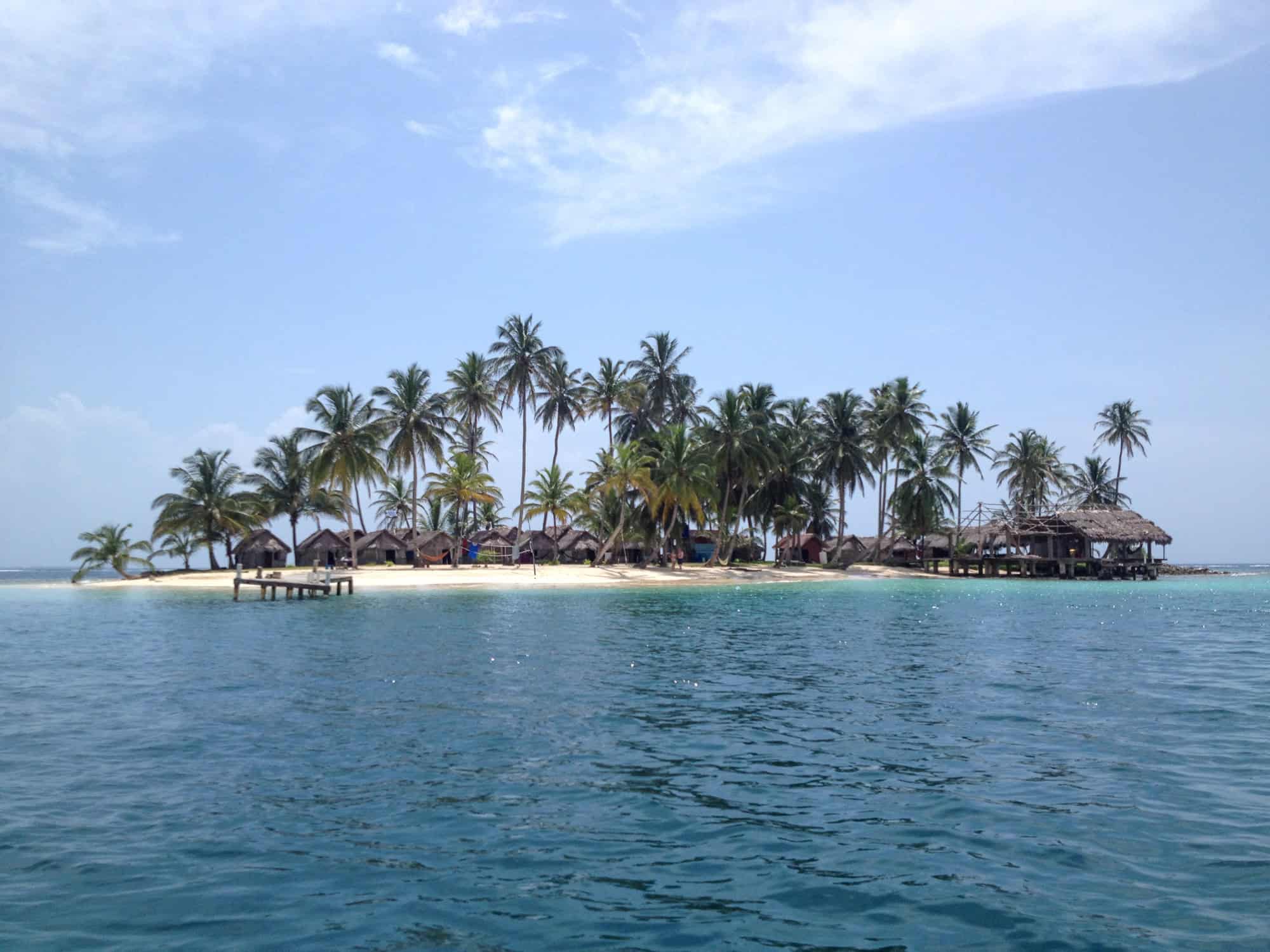 Planning a Trip to San Blas
Booking Your Trip
It's straightforward to book a last-minute trip to the San Blas Islands from Panama City or tour offices anywhere in the country.
Many hostels can also help you make arrangements.
The company I used is called Panama Travel Unlimited.
How much does a trip to San Blas cost?
Traveling to the San Blas Islands is backpacker-friendly and varies based on several factors:
the island you pick
the number of nights on the island
type of accommodation (private, shared, camping)
extras like late check-out (departure from the island)
day trips to other islands
snorkeling rental
the tour company you use
How long does it take to get to San Blas from Panama City?
Travel one-way from Casco Viejo in Panama City to Kuanidup in San Blas takes about two and a half to three hours.
Most of that time is spent in a 4×4 SUV, starting with driving east on the Pan-American Highway (Central American Highway 1).
After about an hour, you'll turn north into the jungle, including a portion of unpaved road.
The last 20-30 minutes is spent on a small boat. Lifejackets are provided.
You can depart Allbrook Airport in Panama City for El Porvenir Airport in San Blas if you prefer to fly. The flight time is about 25 minutes.
How long should you spend in San Blas?
Anything is possible; however, the cost will likely be the determining factor.
If you're willing to stay in a tent or share a bungalow, you can keep the cost low per night and afford yourself more time.
If you prefer a private bungalow on a more exclusive island, the cost will go up.
I highly recommend staying at least one night, preferably two.
While day trips are available, you'll spend so much time en route if traveling overland from Panama City that it'd be hard to relax fully.
It's possible to fly, though it's more expensive and skips some of the fun.
Add at least an extra $100 to your trip cost if you prefer to save time and fly.
I booked a three-day, two-night trip on Kuanidup, a 100-meter long island with 12 bungalows, for $273.
What's included in a trip to Kuanidup?
My San Blas tour to Kuanidup island included:
roundtrip transportation from Panama City (including 4×4 and boat)
two nights in a private bungalow and full use of the island
three meals a day
a visit to Dog Island which features a shipwreck
a visit to an indigenous community
What's not included in a trip to Kuanidup?
Miscellaneous expenses that are not covered by standard tours to Kuanidup and other San Blas Islands include:
$22 entrance fee and port tax
$10 for one-day snorkel rental
$10 fee to visit Cartí Sugtupu, an indigenous village
$2 boat taxi
Alcohol, soda, and snacks (ex: one beer and two Cokes were $6, small Pringles for $1.50)
Tips for island staff, boat drivers
Souvenirs
Related: 10 Incredible Things to Do in Panama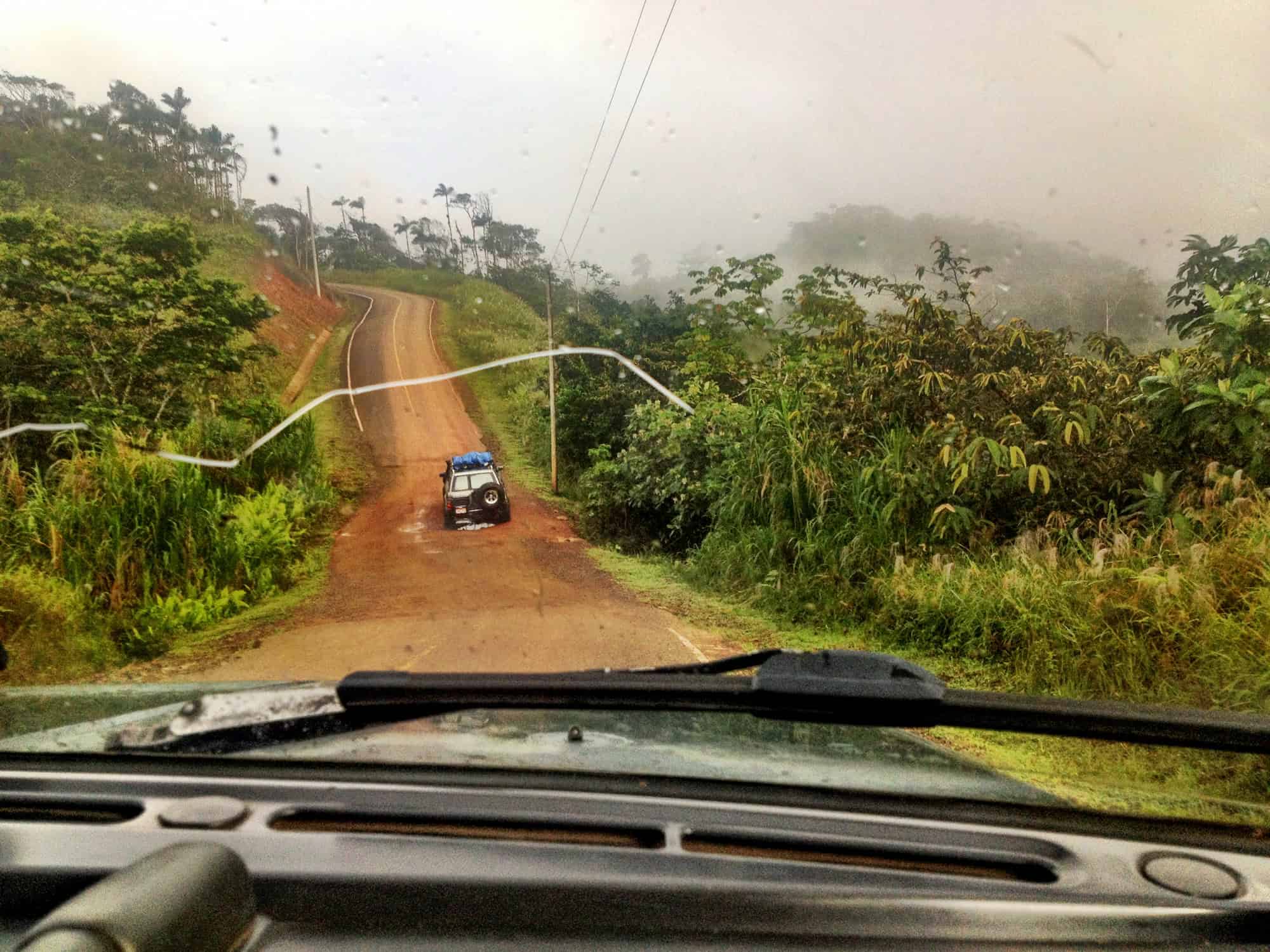 Traveling from Panama City to San Blas
Once you've booked your trip, it's time to hit the road. Expect a 5 am or 6 am pickup in an SUV.
You'll be joining up to six other travelers on the road to paradise.
Much of the drive occurs by highway, so you'll cover a lot of ground quickly.
That is until you take a turn north into the jungle toward the Caribbean coast. The road starts paved before giving way to dirt and mud.
Conditions vary depending on the weather; we were told bad weather could add hours to this portion of the trip.
In my case, it took about two hours by road.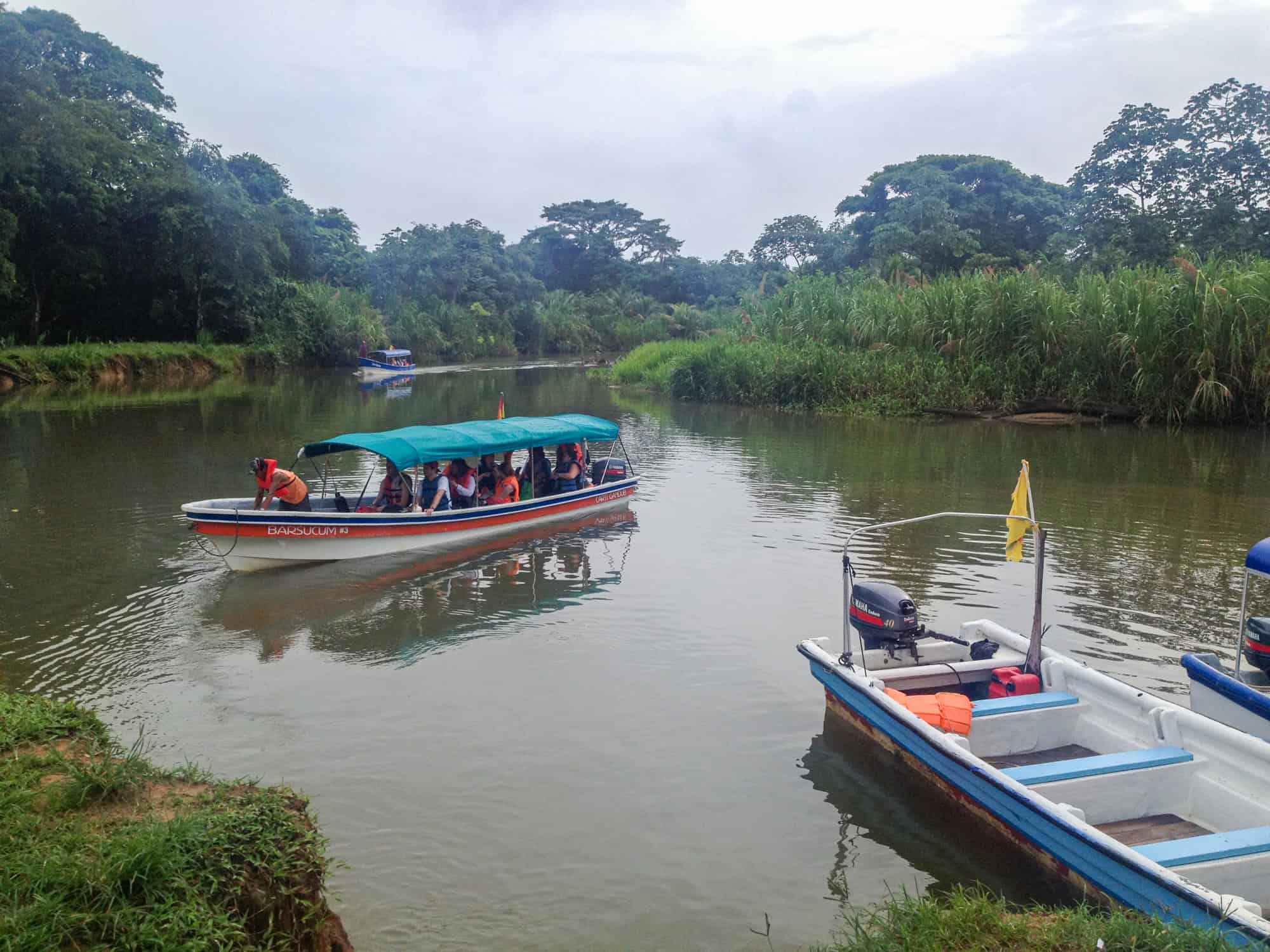 Once you reach the coast, you'll transfer to a boat taxi for the trip to your island of choice.
The amount of time spent on the boat will depend on which island you chose and the weather.
I was grateful for calm water and no rain, despite overcast skies. It took about an hour to reach Kuanidup island.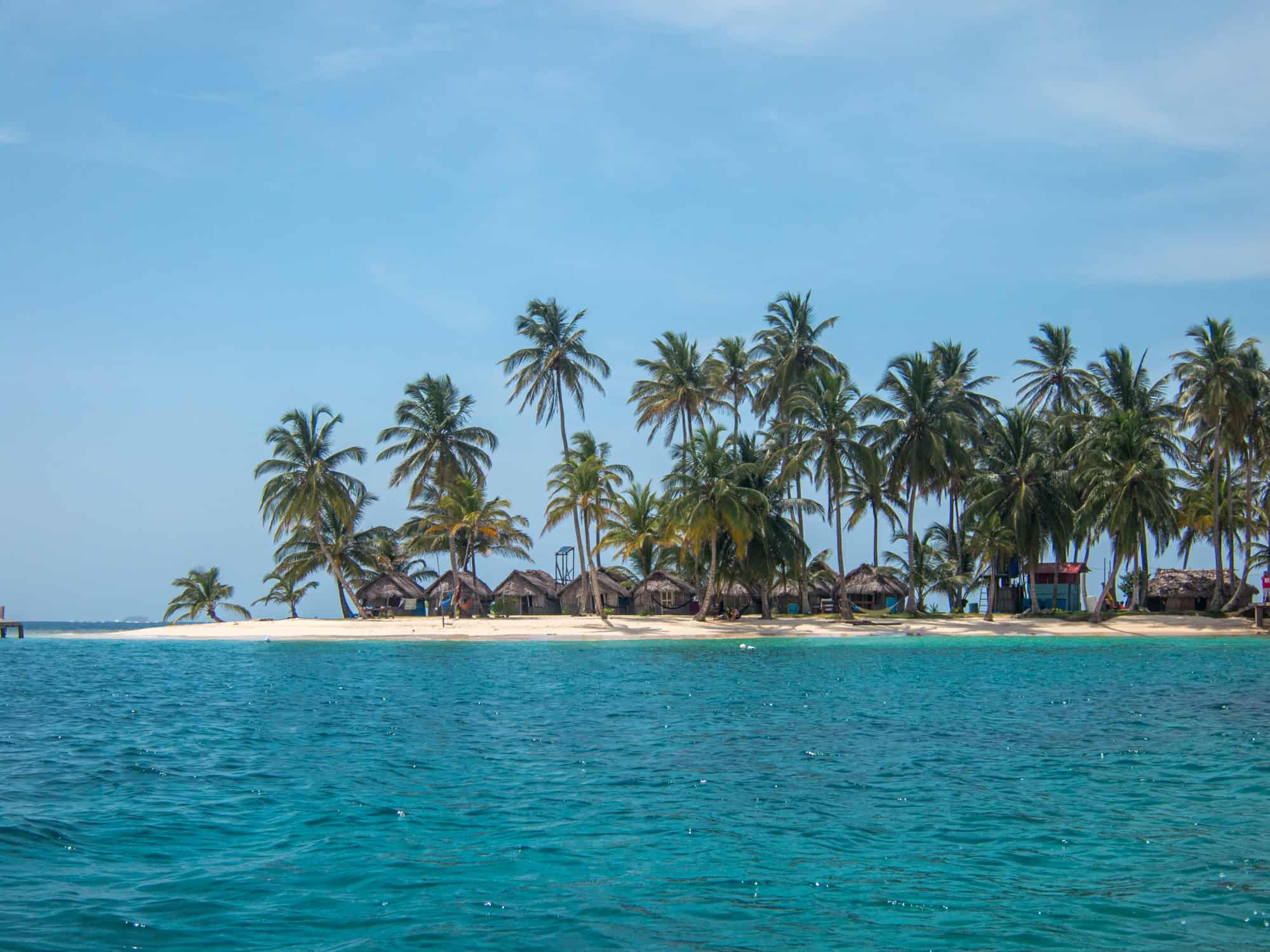 Approaching Kuandiup by boat, my eyes widened at the sliver of sand I'd be calling "home" for the next few days.
A dozen thatched-roof bungalows filled two-thirds of the island's interior, reminding me of months spent island-hopping in Thailand.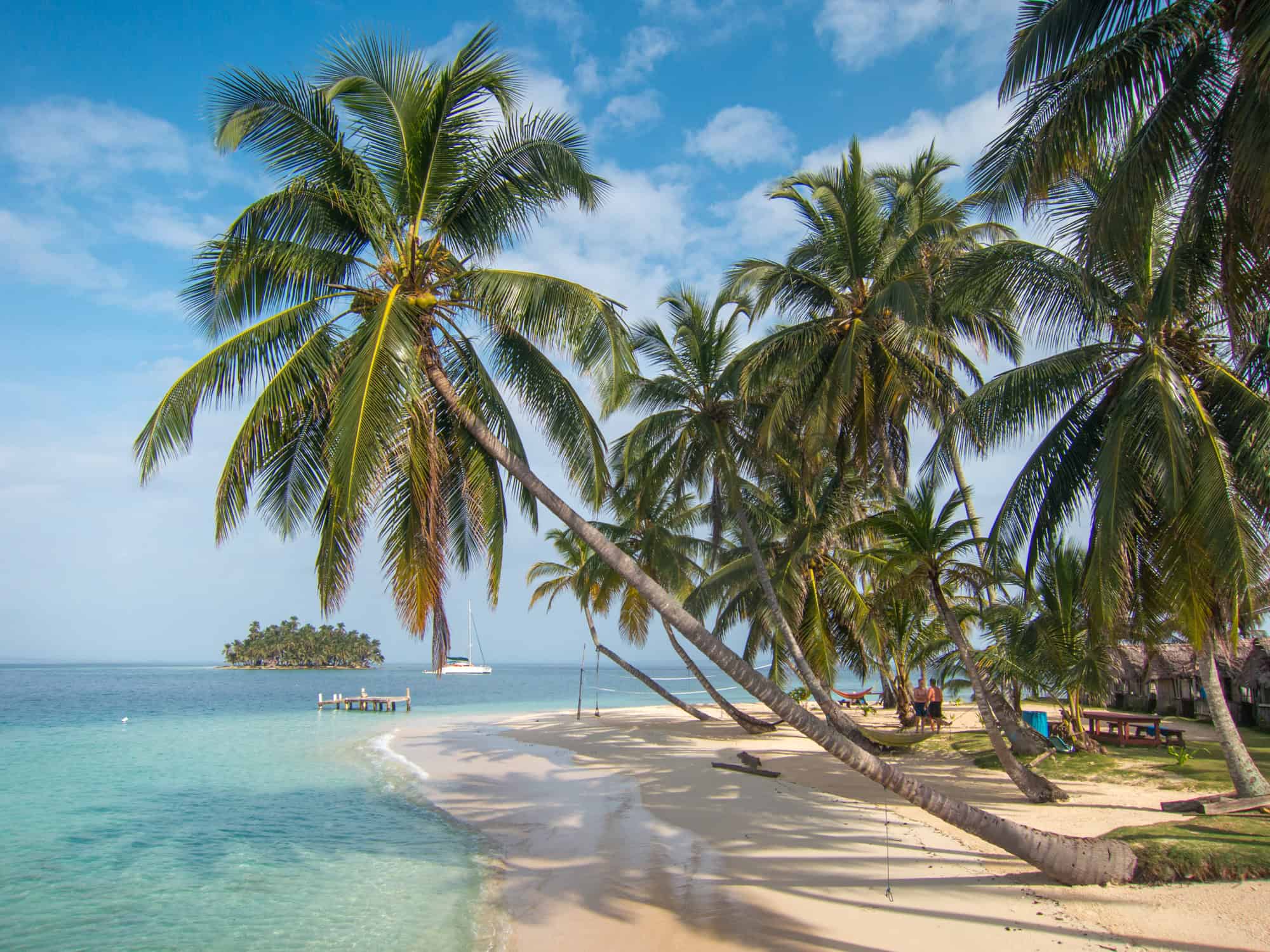 A Tour of Kuanidup Island
Kuanidup Island is a mere 100 meters long, making it about the same size as an American football field.
It doesn't take long to get to know it.
Let's begin with the gorgeous beach that wraps around the southwest side of the island.
The Beach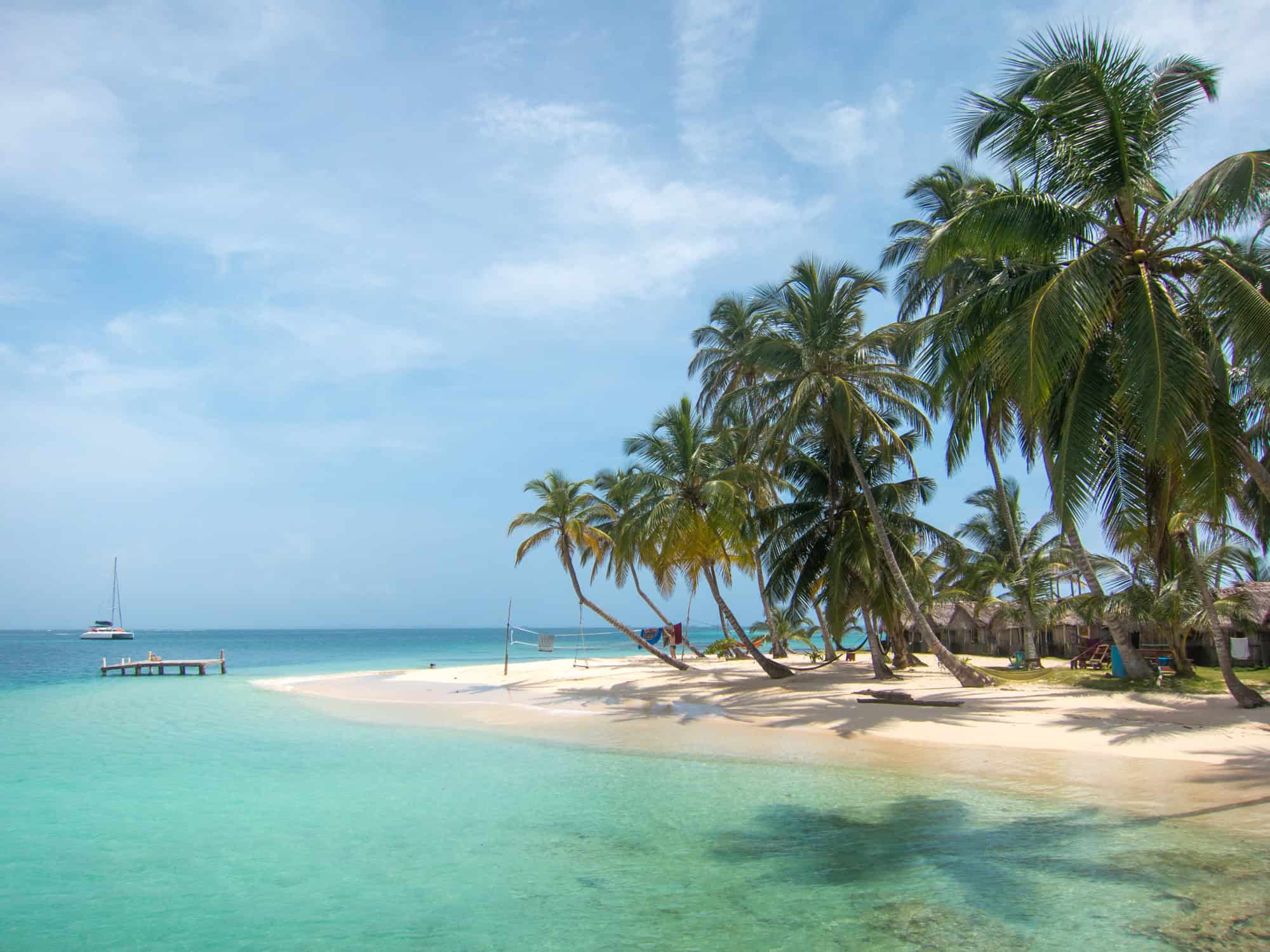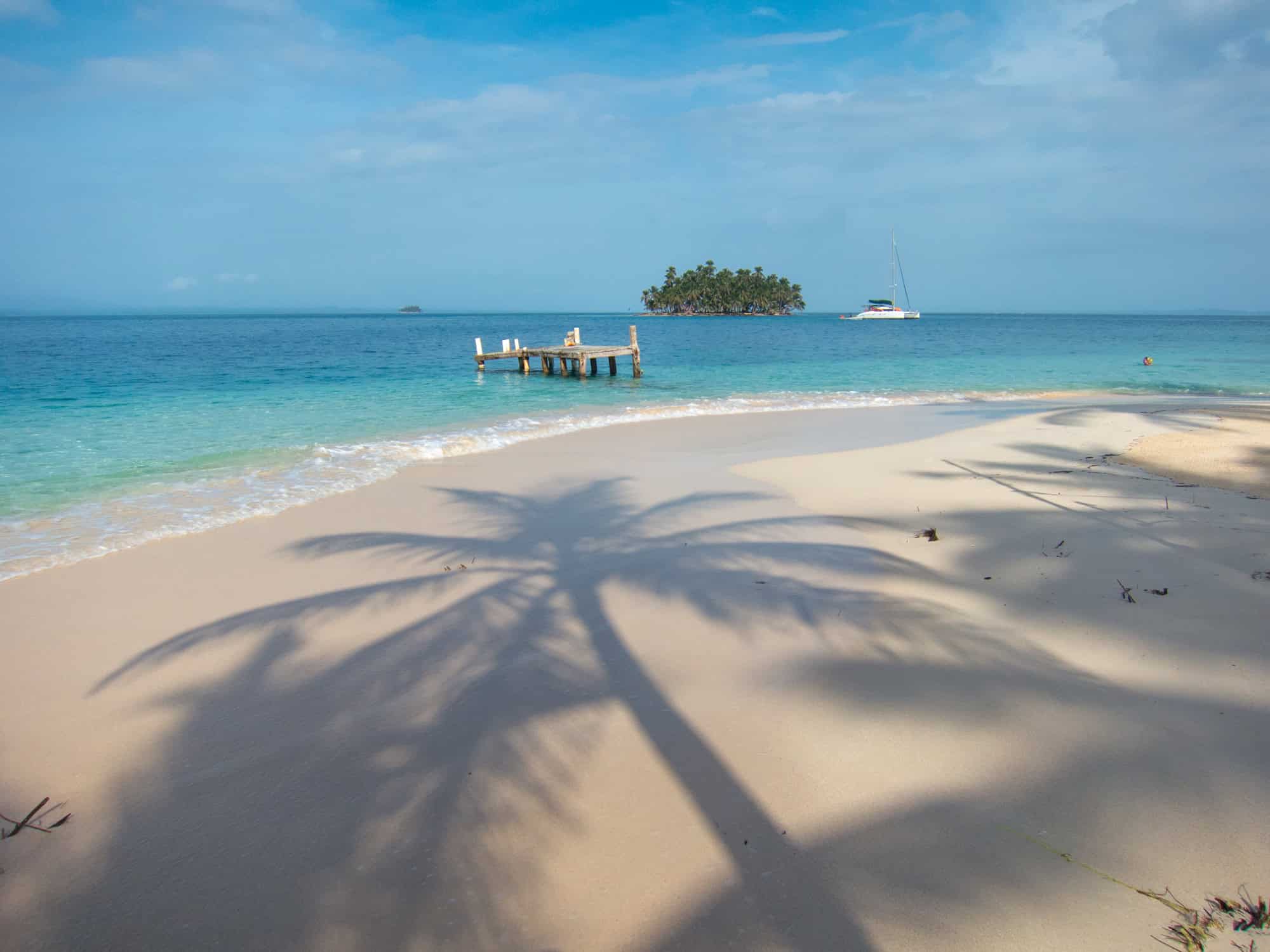 Just west of Kuanidup, as pictured above, is a small unnamed island.
A catamaran was anchored between it and Kuanidup during my stay.
At one point, one of the island staff offered to take another guest and me over to it for $1.
Of course, I took him up on it, allowing me to get some photos with Kuanidup in the background.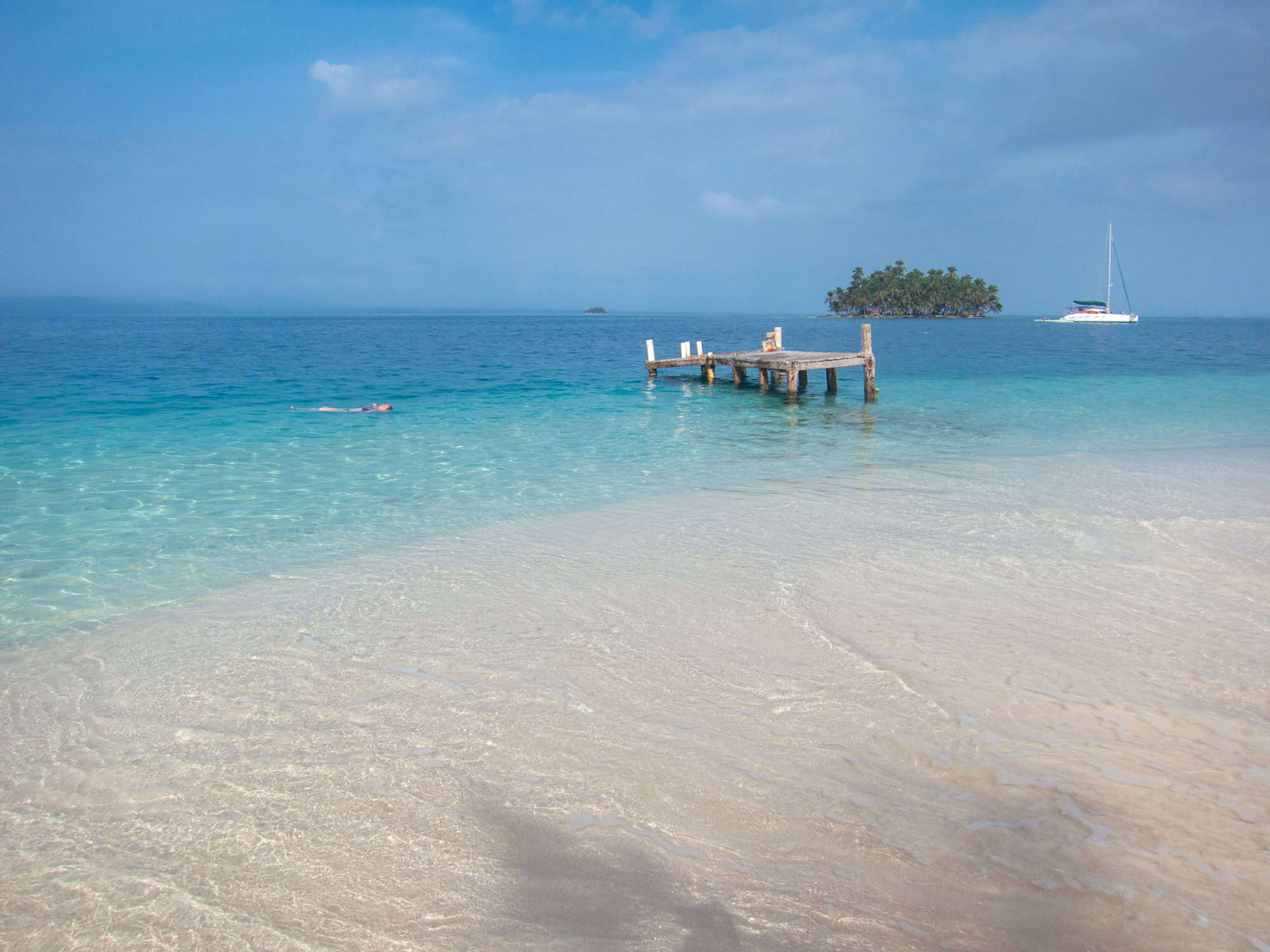 Mid-day, with the sun out, the waters were varying shades of blue, an idyllic environment to pass the time in total relaxation.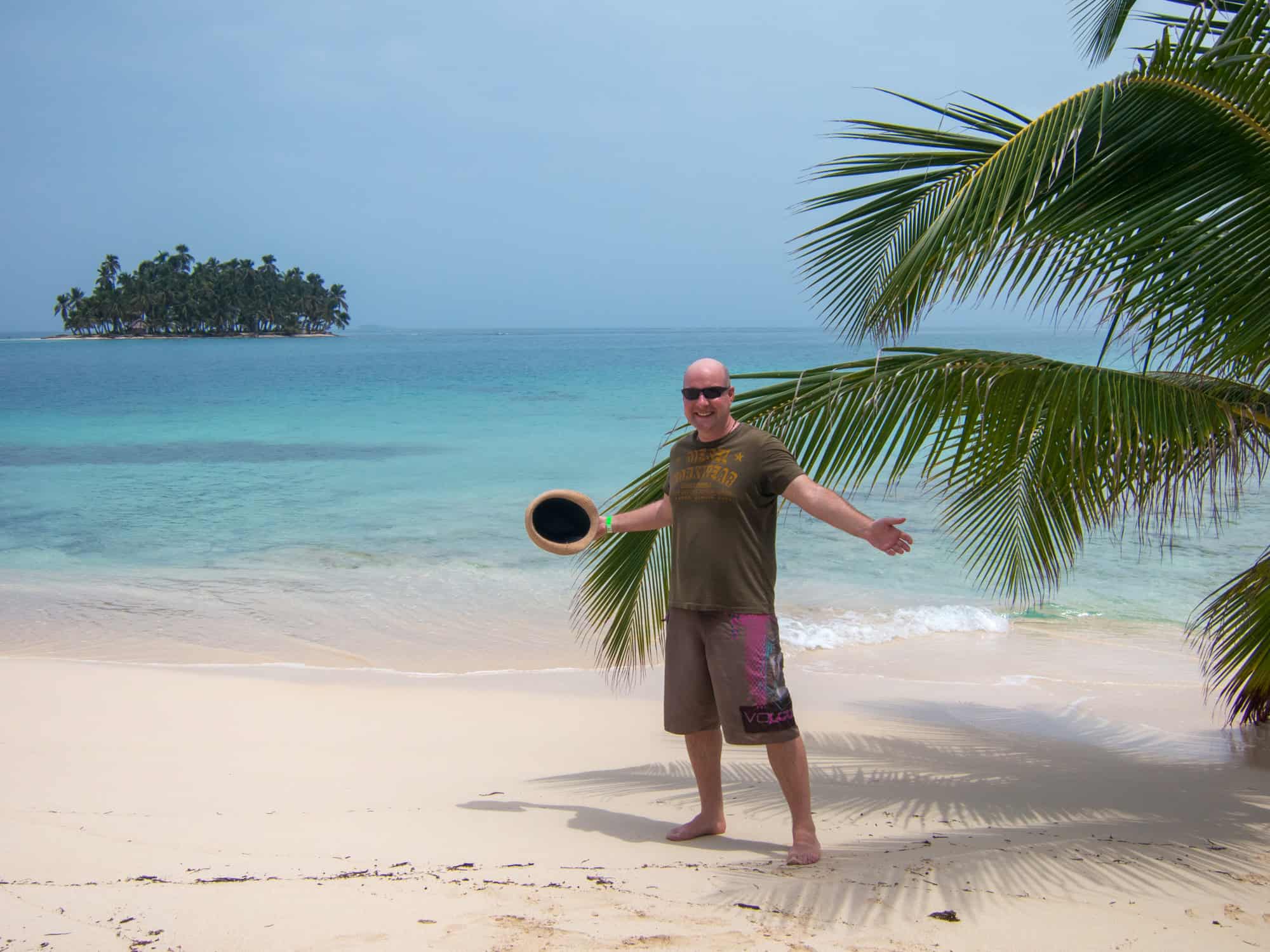 Kuanidup is my kind of paradise. Lately, I've been thinking about it a lot and longing for that feeling of space, gentle breezes, and endless horizons.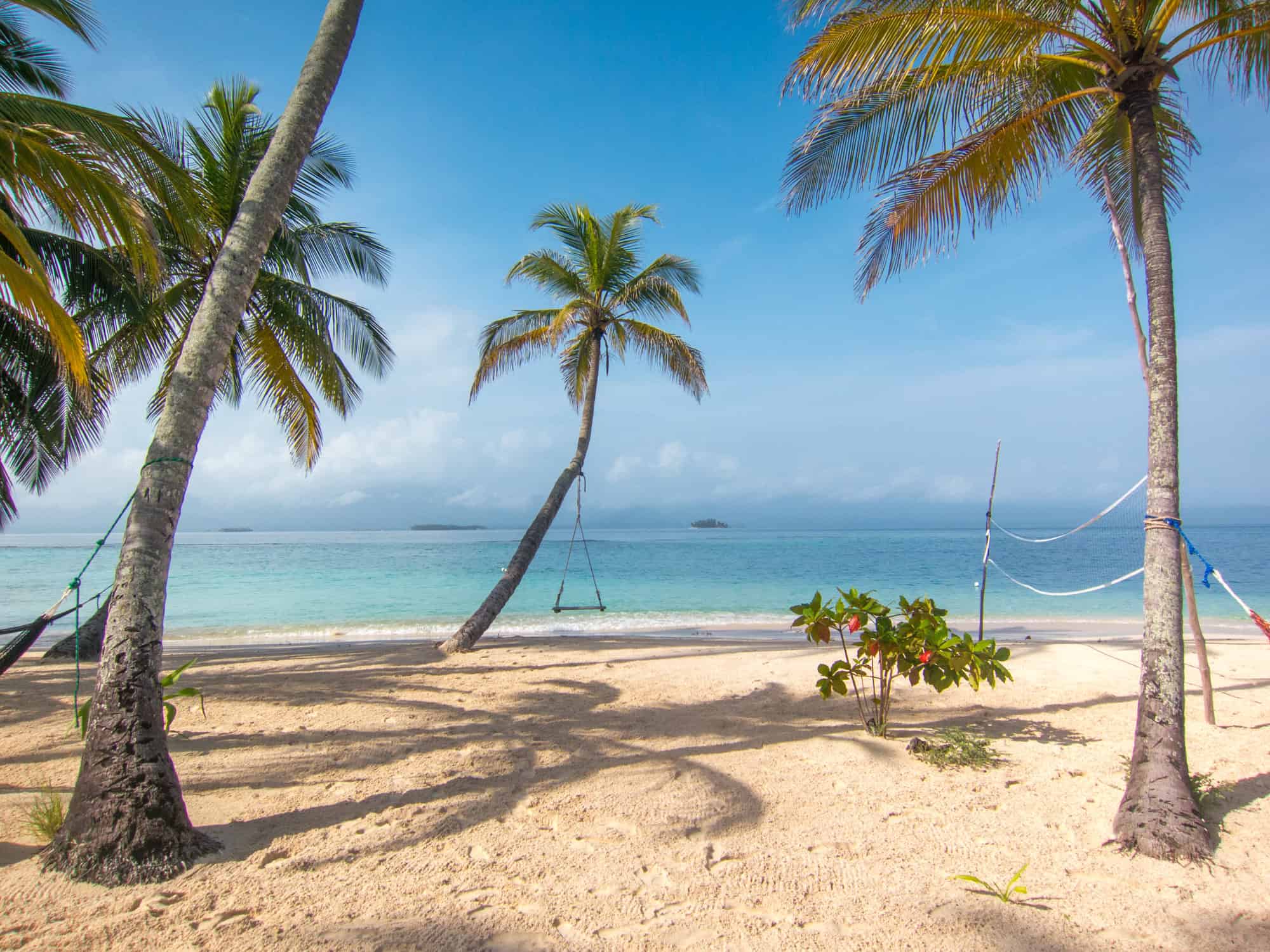 There's a beach volleyball net, as well as a tree swing and some hammocks.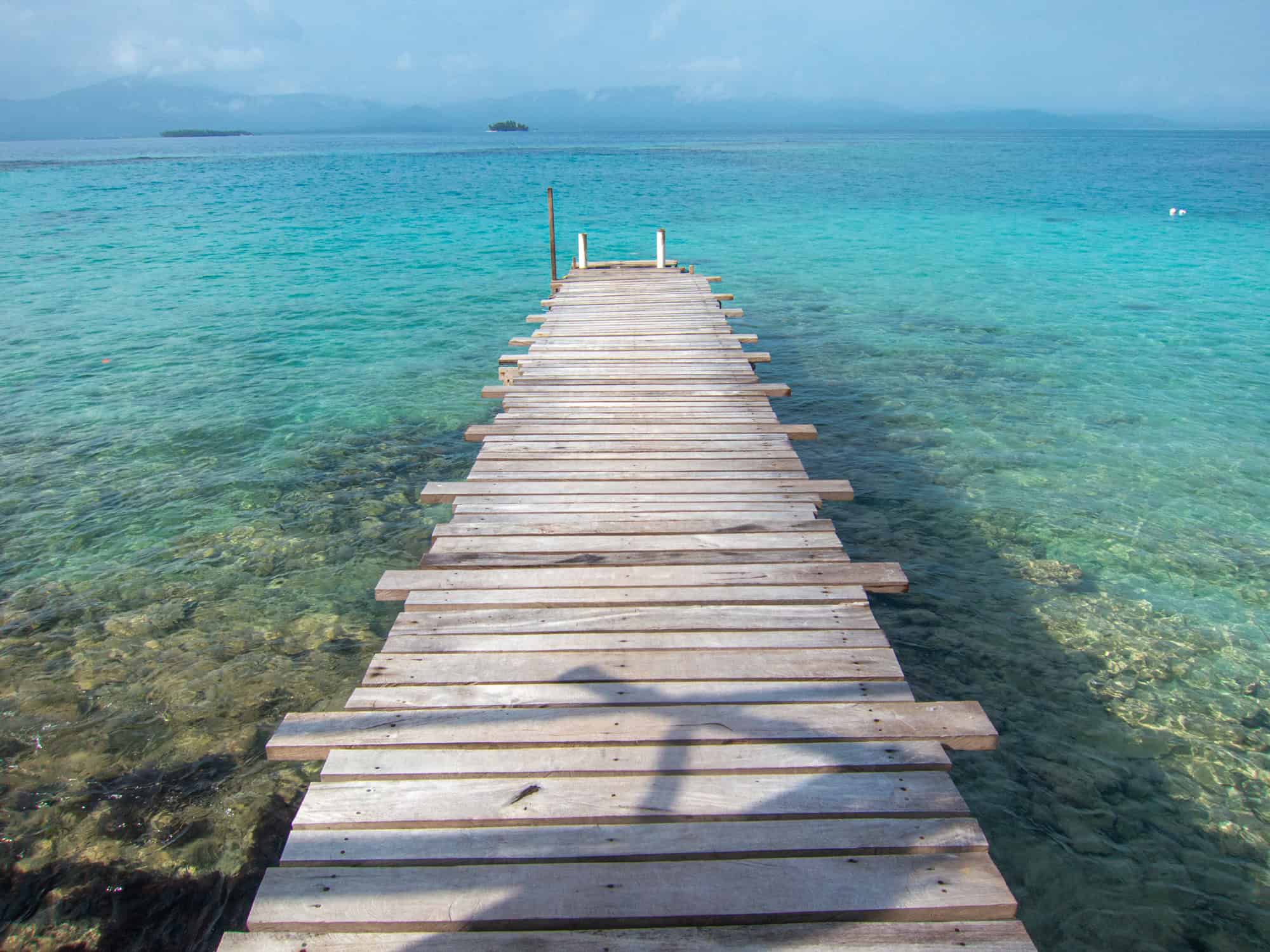 The view in the picture above is south toward the mainland.
The Bungalows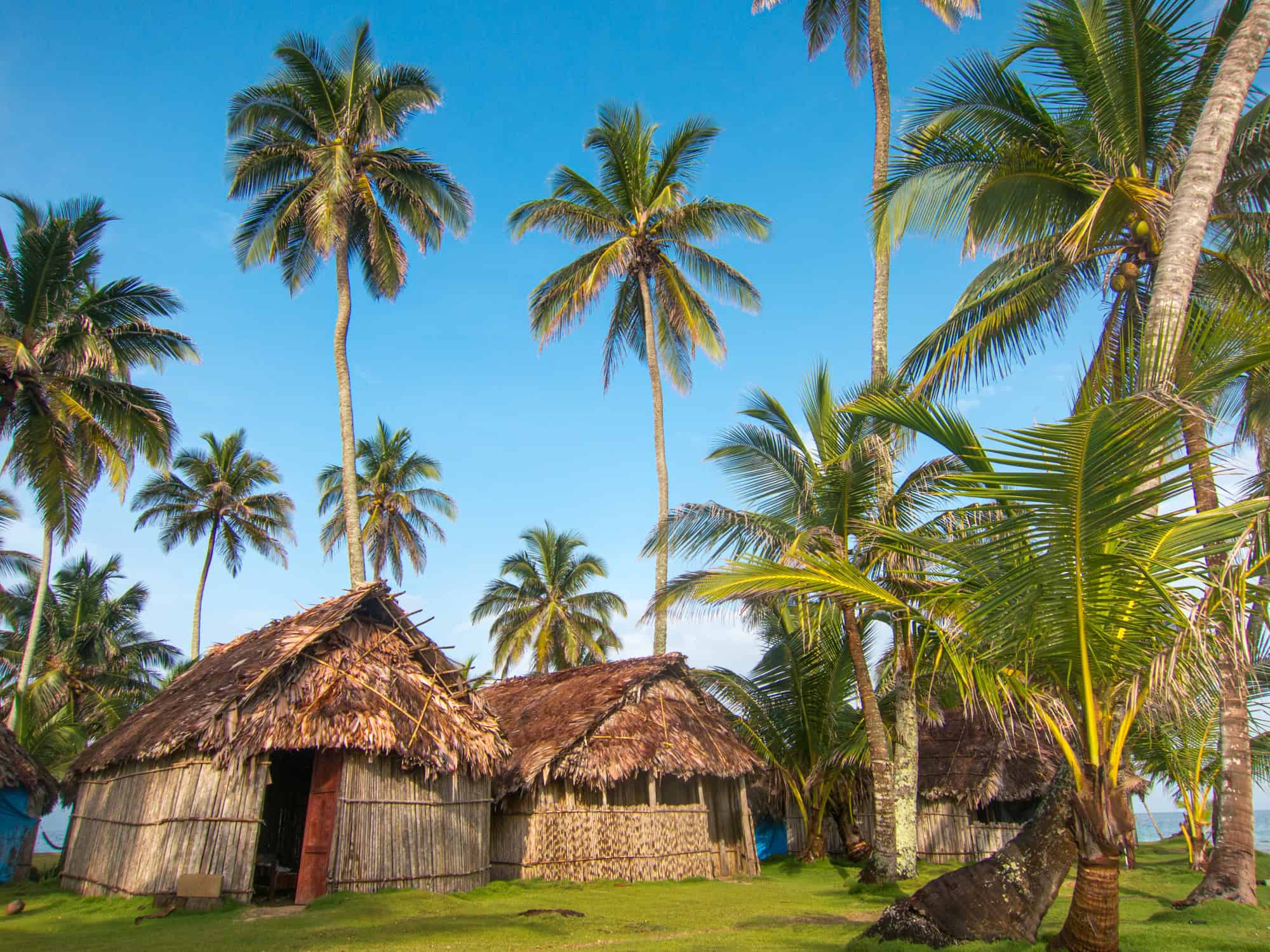 The traditional bamboo and thatched-roof bungalows with sand floors were just the kind of shelter I'd expect on a Caribbean island.
The basic foam "mattress" was sufficient for me to sleep at night.
The blue tarps help protect the interior from rain. And it did rain briefly at times during my stay.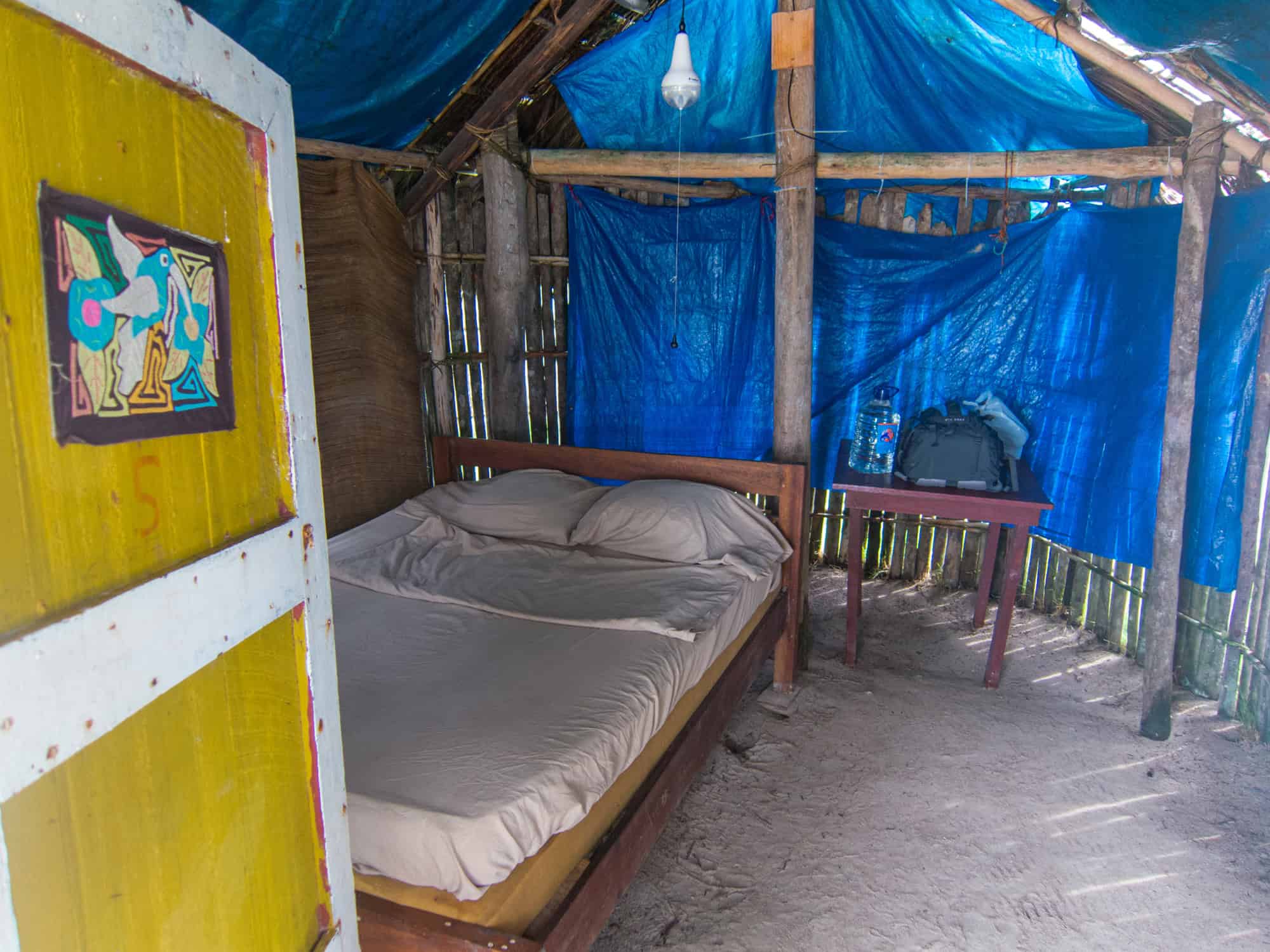 Generator-powered electricity was available for a few hours every night, powering a single light in each bungalow, the bathrooms, and the dining room and bar area.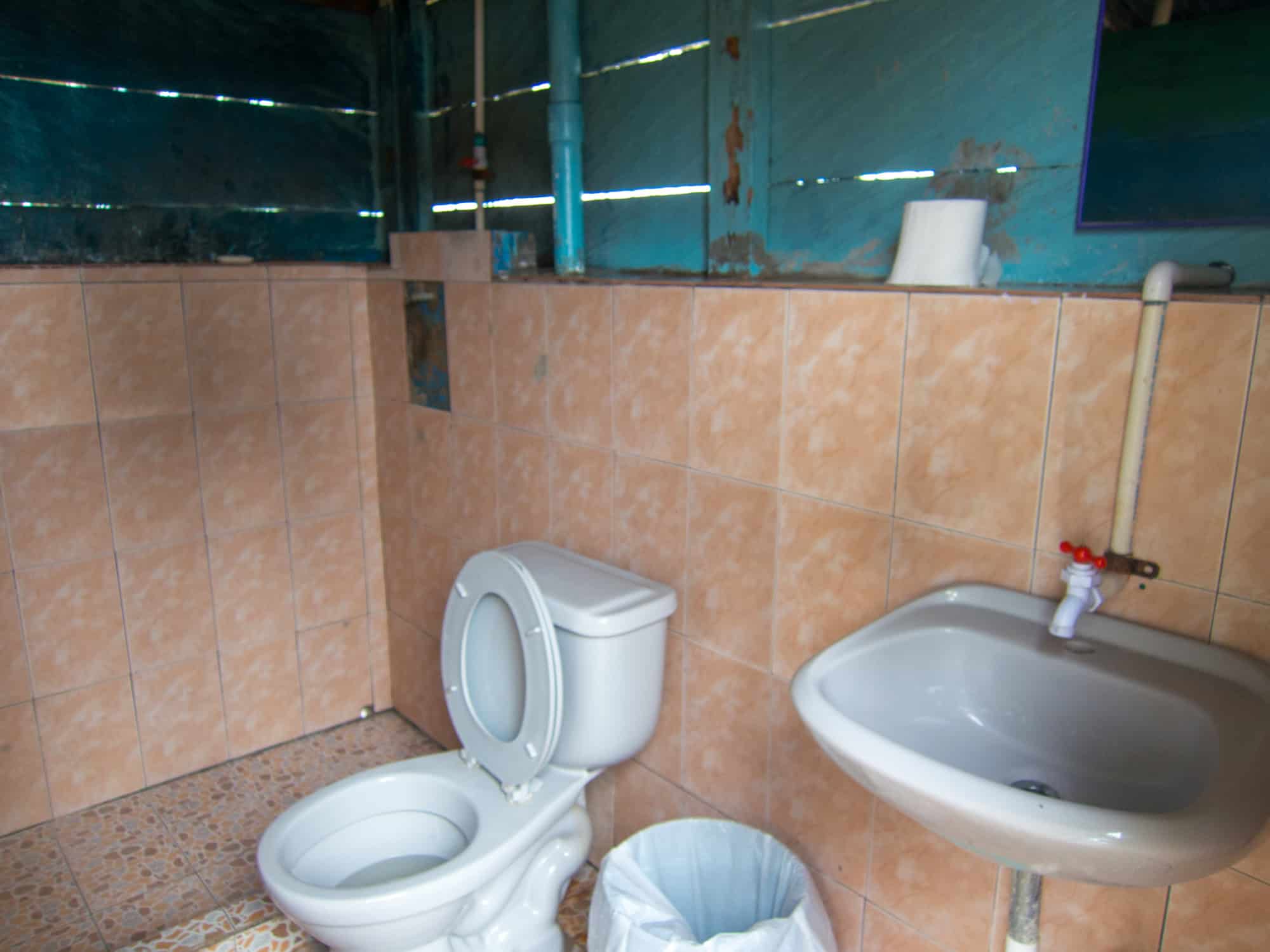 I was grateful for running water in the bathroom and a sit-down toilet (versus a squat toilet).
We only had cold water, if I remember correctly, but that's what you want in the tropics!
The Bar and Dining Room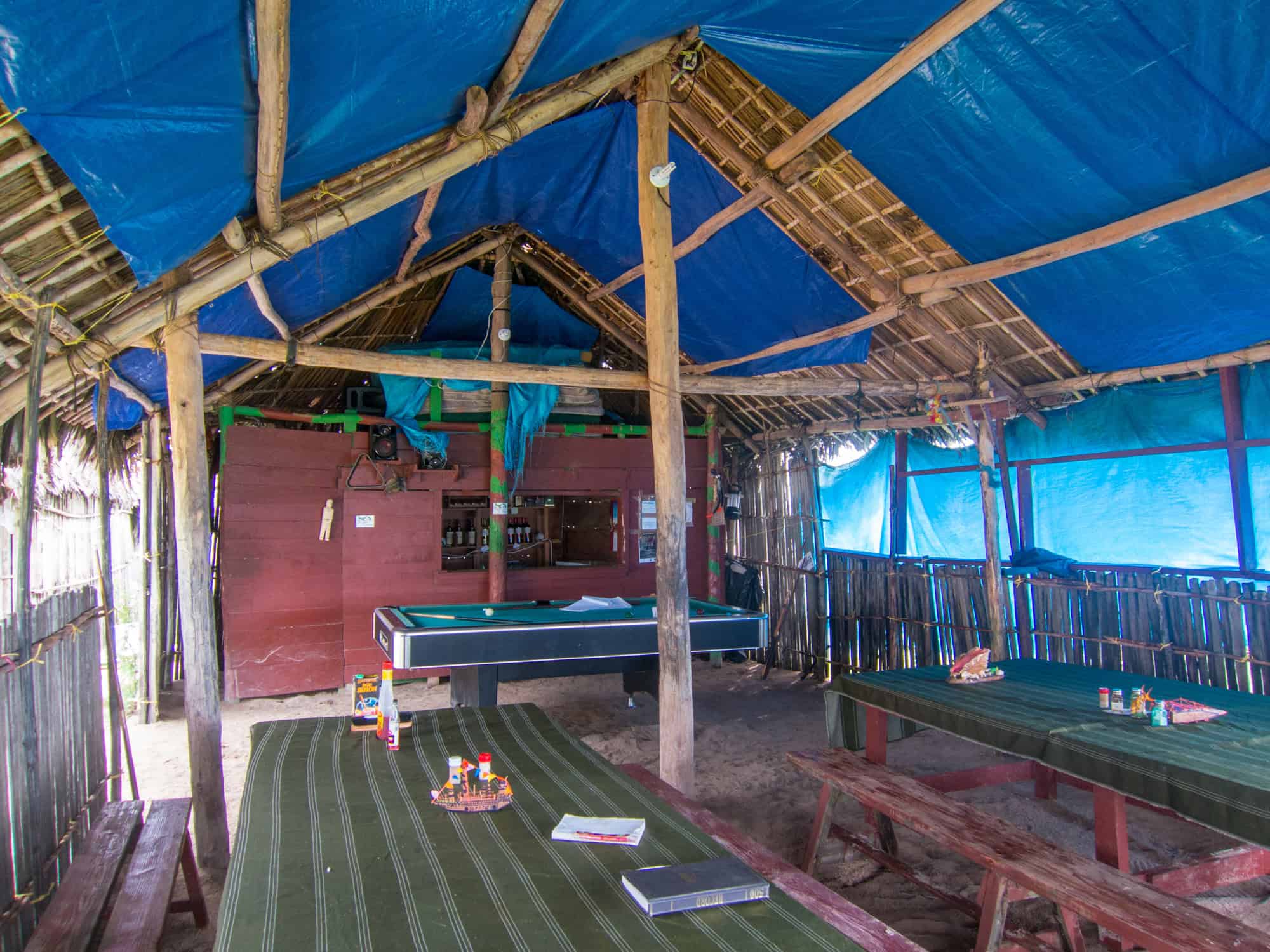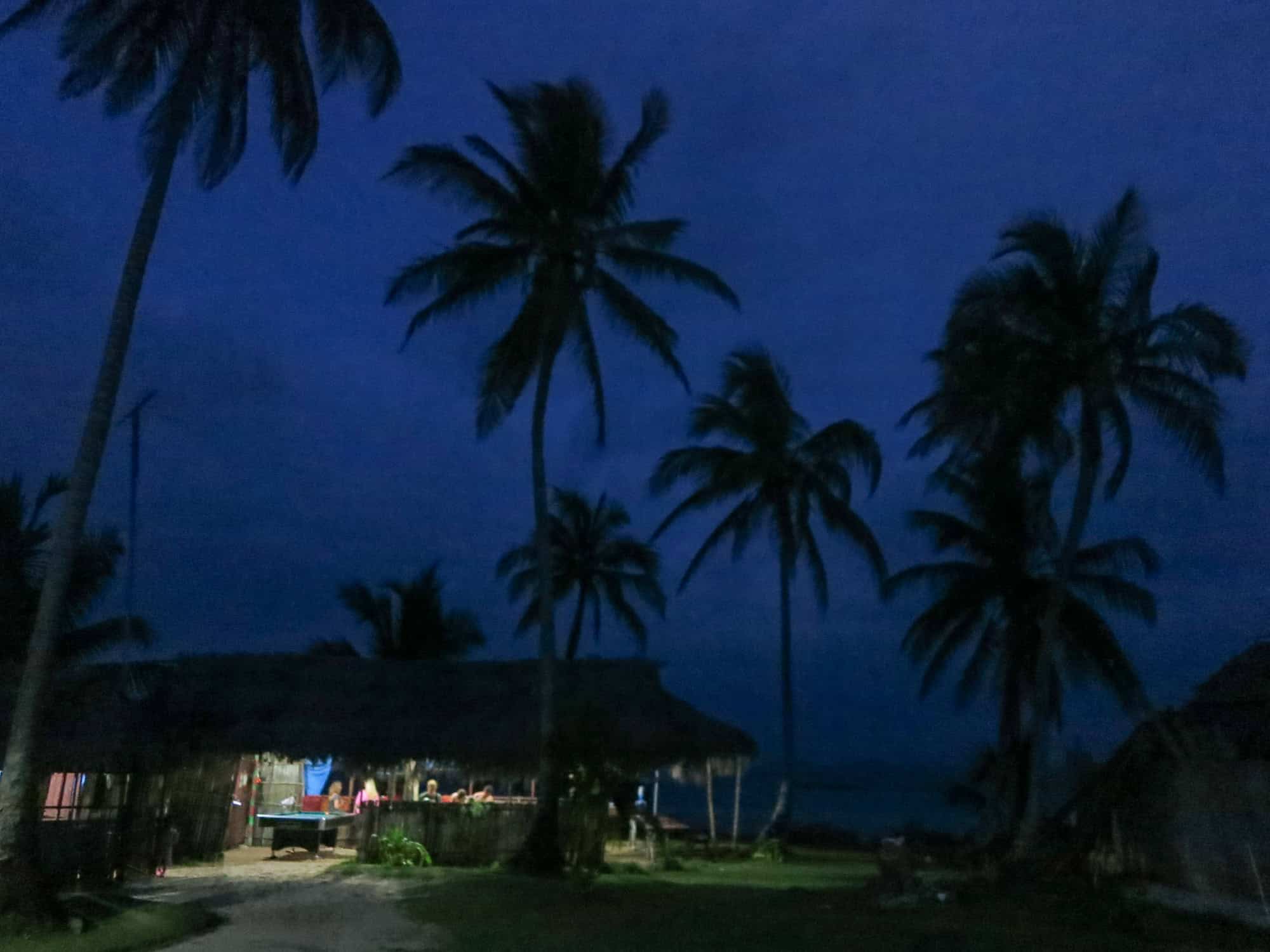 The dining room and bar featured several communal tables and a pool table. Like the bungalows, the floors were sand.
Mealtime brought all the guests together, not that there was much room to get far away from one another.
Two couples staying on Kuanidup at the same time as me had visited 20 years earlier. They were back to show their teenage children the island.
Keep reading to see what you can expect for food on the San Blas Islands.
See also: 9 Ways to Island Hop in the South Pacific on a Budget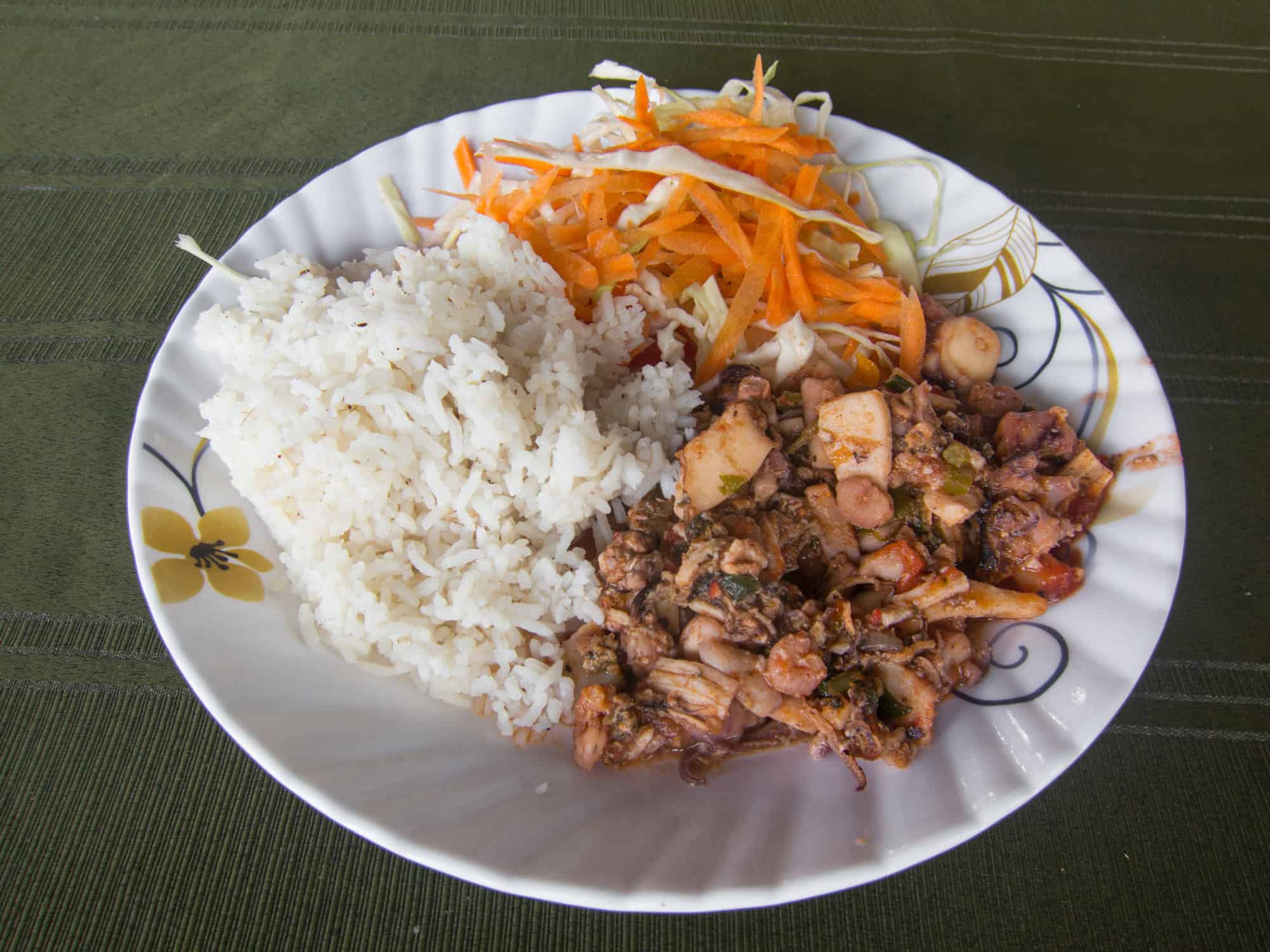 Meals on Kuanidup
Upon arriving on Kuanidup at 9:45 am, the other guests and I dropped our backpacks off in the bungalows and began to enjoy the island.
Our first lunch, consisting of fresh seafood, white rice, a simple salad, and ripe cantaloupe for dessert, came at 12:15 pm.
I'll admit, I didn't find the cooked seafood all that appealing. I ate what I could and tossed the rest.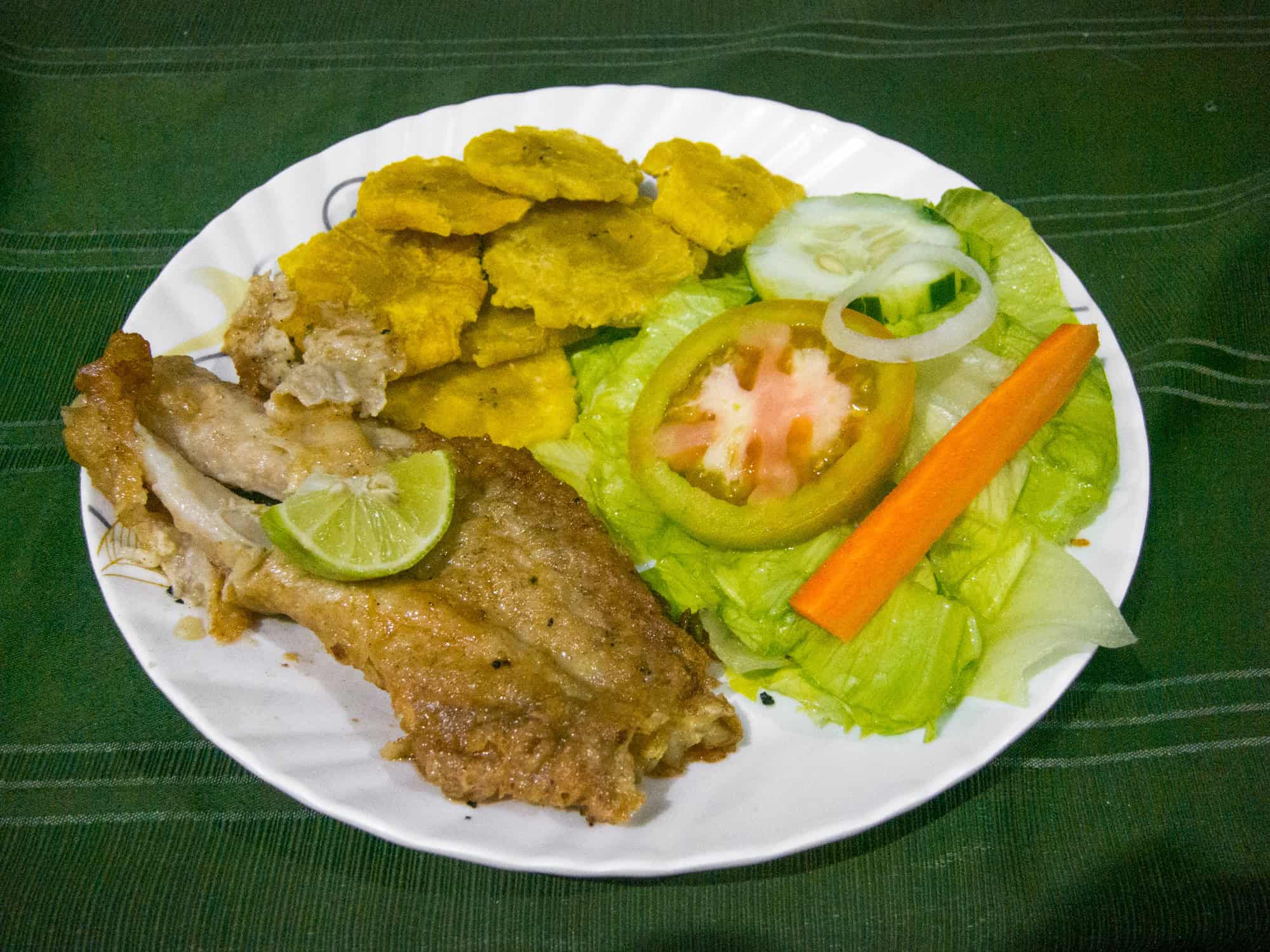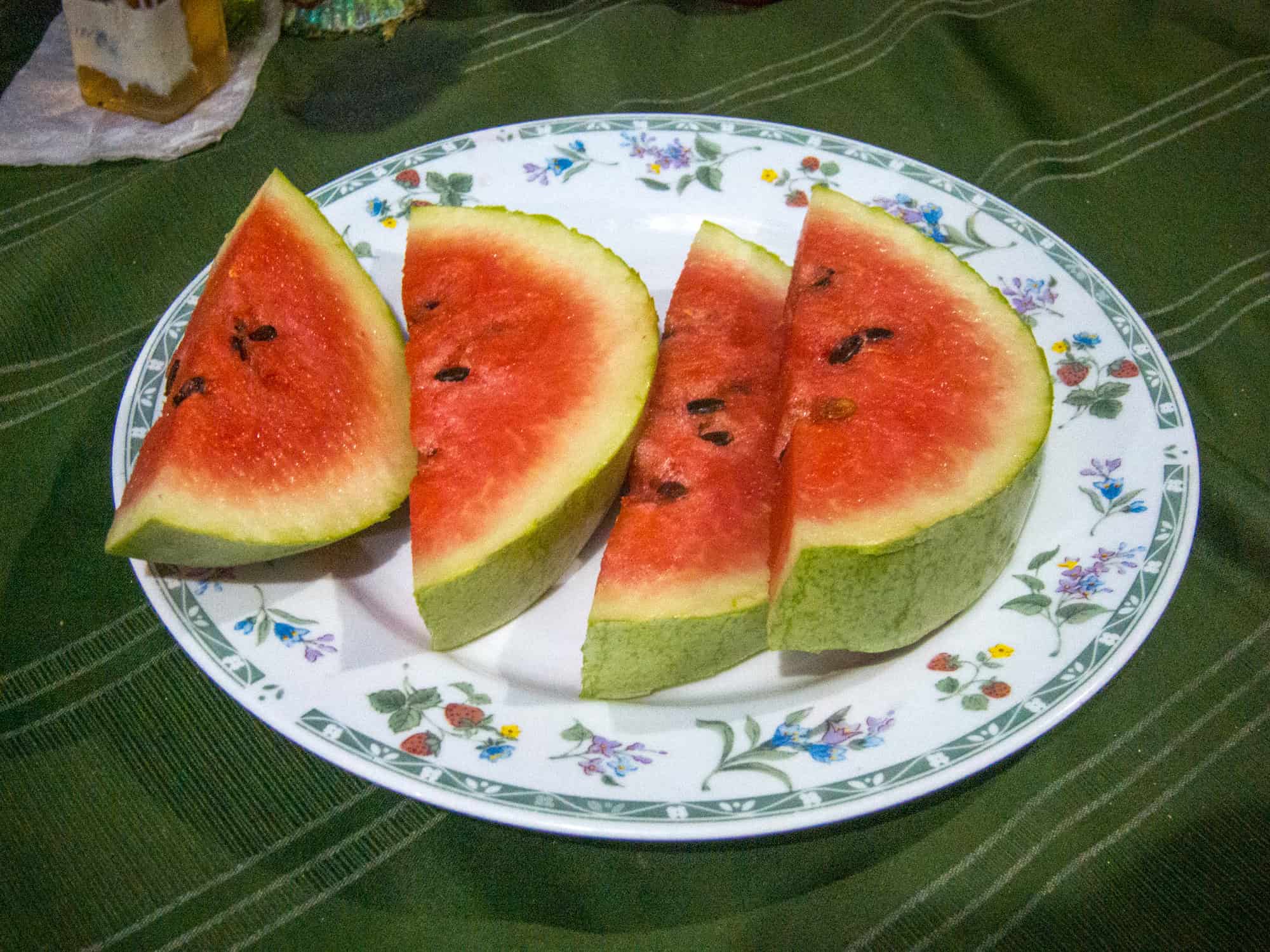 We were called to dinner at 7:15 pm. Thankfully, it was more to my liking.
Fried fish with patacones and salad. We had watermelon for dessert.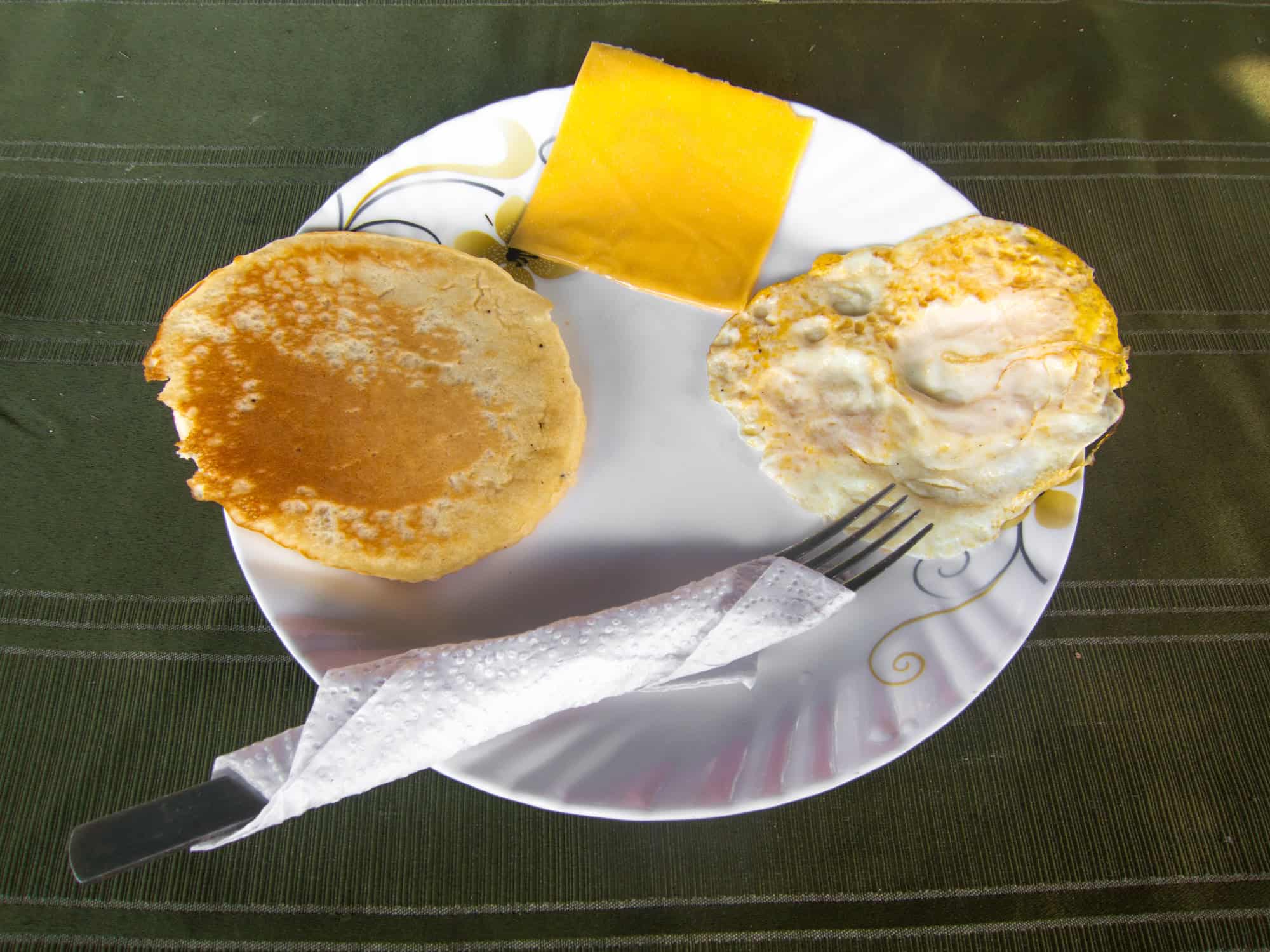 The following day, we were offered a pancake, fried egg, and slice of yellow cheese for breakfast—standard backpacker fare, which was fine by me.
Lunch was once again seafood and rice; dinner the second night was fried fish.
Breakfast on our final morning was scrambled eggs and veggies with bread and another slice of cheese.
Lobster and crab may be available. If you want to ensure you get either, ask in advance or on arrival to see if it's an option. They may cost extra.
See also: Traditional Costa Rican Food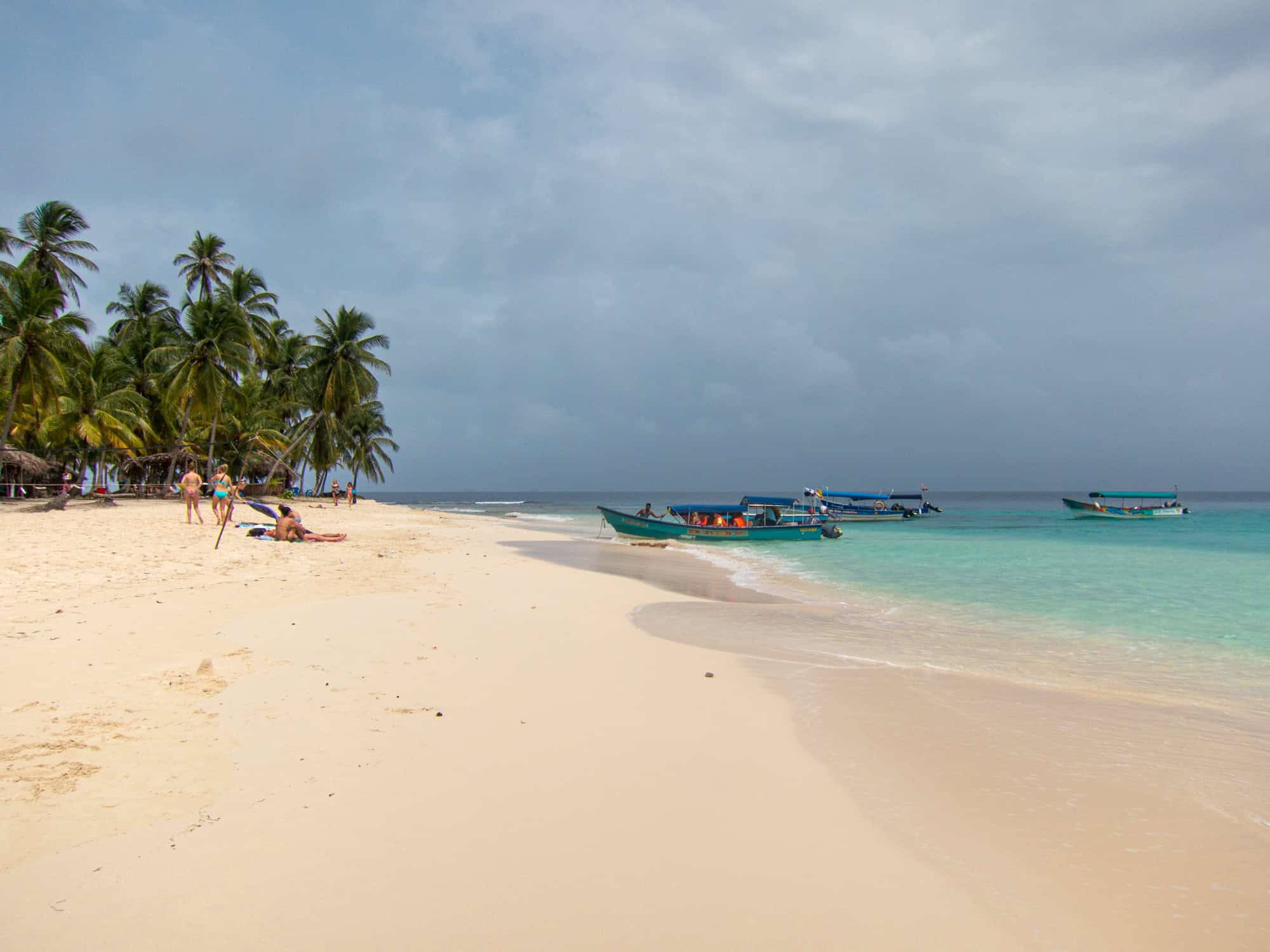 How to Spend Time in Paradise
As much as I like to relax, there's only so much one can do on a hundred-meter-long island.
Taking trips to other islands is an excellent way to add some excitement to your day.
Snorkel a Shipwreck on Dog Island
Following lunch on my first day at Kuanidup, we took a boat ride to Dog Island (Isla Perro).
Dog Island was larger than Kuanidup and made me appreciate my little island paradise all the more.
The beach is longer; however, it's the wreckage of an old army gunboat in shallow water that makes this a popular stop-off.
Snorkeling gear is available for rent. And given the clear, calm waters, it's easy to swim around the shipwreck.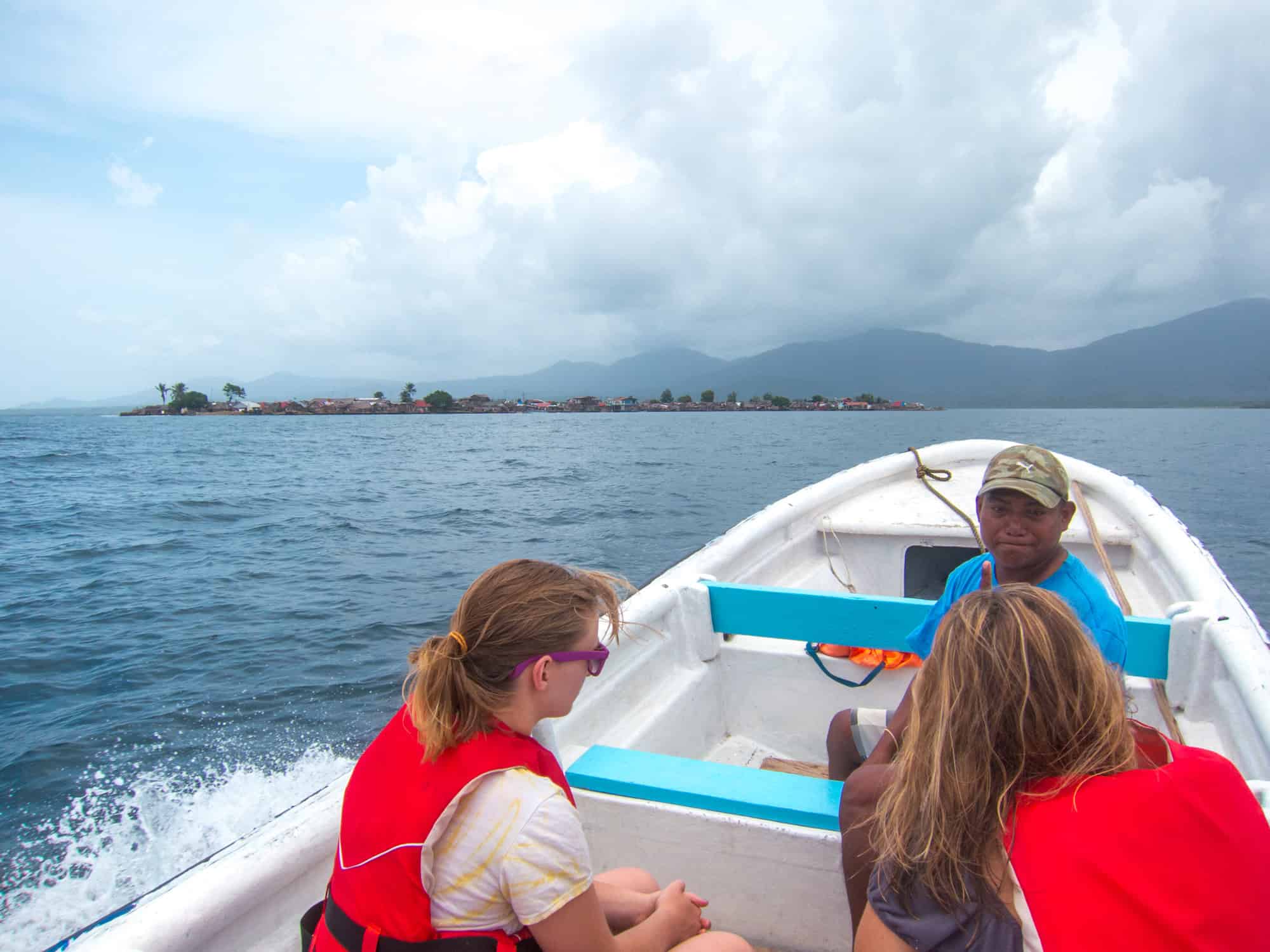 Visit an Indigenous Kuna Community
On my second day in the San Blas Islands, a few of us from Kuanidup took a short boat trip to a nearby Kuna community.
The island was much more developed than the tourist islands.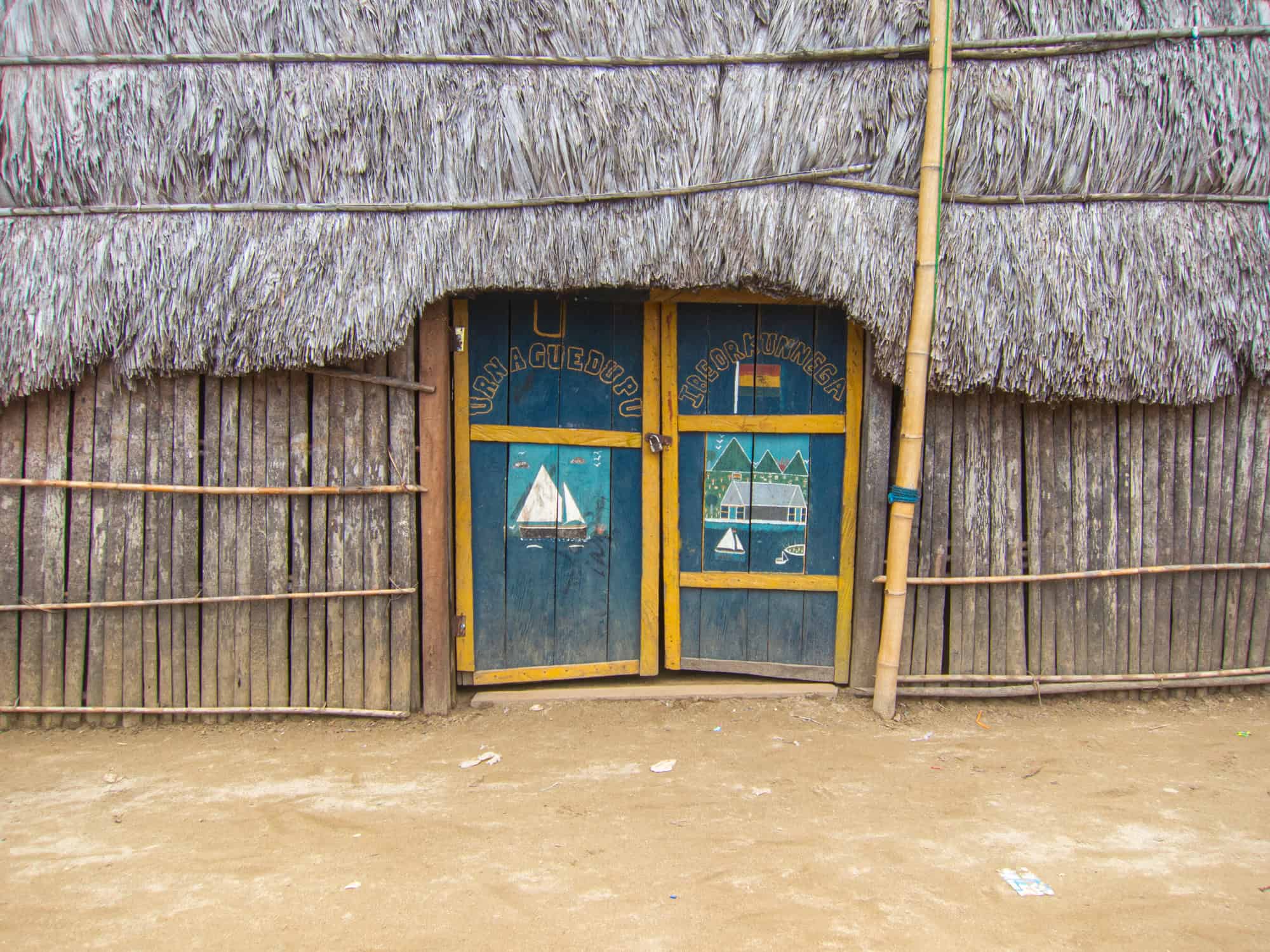 Still, many of the buildings were made of bamboo and thatched roofs. The road we walked down was dirt.
Women were wearing colorful traditional clothes with traditional bird and flower patterns.
We only stayed for 20 or 30 minutes, just long enough to get a peek into the lives of locals.
***
At 8 am on departure day, I devoured my eggs, cheese, and bread breakfast and said goodbye to Kuanidup and the San Blas Islands.
I'd be back in Panama City in time for lunch, with memories to last a lifetime.
Dave is the Founder and Editor in Chief of Go Backpacking and Feastio. He's been to 66 countries and lived in Colombia and Peru. Read the full story of how he became a travel blogger.
Planning a trip? Go Backpacking recommends: