A few weeks ago, the third edition of "Nomadic" Matt Kepnes' How to Travel the World on $50 a Day was released.
This latest edition features a more attractive cover, and more importantly, updated pricing info over the earlier 2013 edition.
Those who've followed Matt or this blog even longer know that he self-published the original version as an eBook in 2011, only to see it later picked up by a publishing house.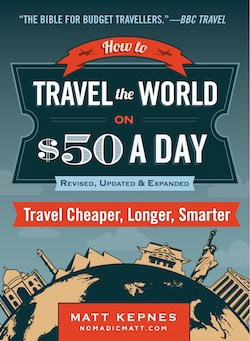 It's been interesting to watch the book evolve over the last four years, and now that I've read the review copy he sent me, I can say it's without a doubt a more comprehensive book.
A few things caught my attention in the latest version, not all of which are entirely new.
Matt's gone to great lengths to add more information about the sharing economy, specifically, Couchsurfing and house sitting.
There's also info about WWOOF'ing for those who want to volunteer on an organic farm as they travel.
New sections on the cost of travel in India, China, and Japan are also welcome.
Having traveled to all three countries, I couldn't help but relate to how cheap travel can be in India and surprisingly affordable in Japan.
Given the challenges foreign women face when traveling in India and the recent concerns around personal safety, it was wise of Matt to include advice from a female traveler, Candace Rose Rardon, on how women can stay safe while traveling there.
I'm not a travel hacker; however, Matt's added more info on this topic, and I have to admit he makes a strong case for getting someone like me more involved.
I'm still not ready to leap just yet (I promised myself I'd pay off my credit card debt from my 'round the world trip that ended in 2009 before I sign up for any new cards), but boy, do the promises of tens of thousands of bonus miles sound tempting. And I know he walks the talk when it comes to earning free flights and upgrades.
Everything Matt recommends, from banks and credit cards to travel discount cards and insurance, is accompanied by his recommendations, including company names and website addresses.
A nice thing about the book is that it's an easy read. It has a conversational tone as if he's sharing tips over coffee with you.
I do have one suggestion as a carryover from previous editions.
Matt prefaces Part Three of the book, the detailed cost of travel info for various regions of the world, by saying the places were chosen based on where most travelers go.
I understand the need to draw a line in the sand. However, I would still like to see cost info for North America, east/south Africa, and the Middle East. I bet we'll see more data for those regions in a fourth edition.
Overall, the third edition of How to Travel the World on $50 a Day is a terrific blueprint for first-time backpackers and most travelers, for that matter, whether they're taking a one or two-week trip or a one or two-year journey around the world.
_________
P.S. – Matt's in the middle of a five-month book tour taking him across the United States. Along the way, he's showing us all that it's possible to travel for $50 a day, even in his home country.
Dave is the Founder and Editor in Chief of Go Backpacking and Feastio. He's been to 66 countries and lived in Colombia and Peru. Read the full story of how he became a travel blogger.
Planning a trip? Go Backpacking recommends: