While dreaming of Hawaii often depicts perfect scenes of green mountains and sandy beaches, food comes first to my mind.
One of my favorite things to do on the Hawaiian island of Oahu, along with stand-up paddleboarding, and straight-up relaxation, is to enjoy the fabulous food the island offers.
The Asian fusion food that has become uniquely Hawaiian food offers a tasty repertoire for anyone who loves to eat.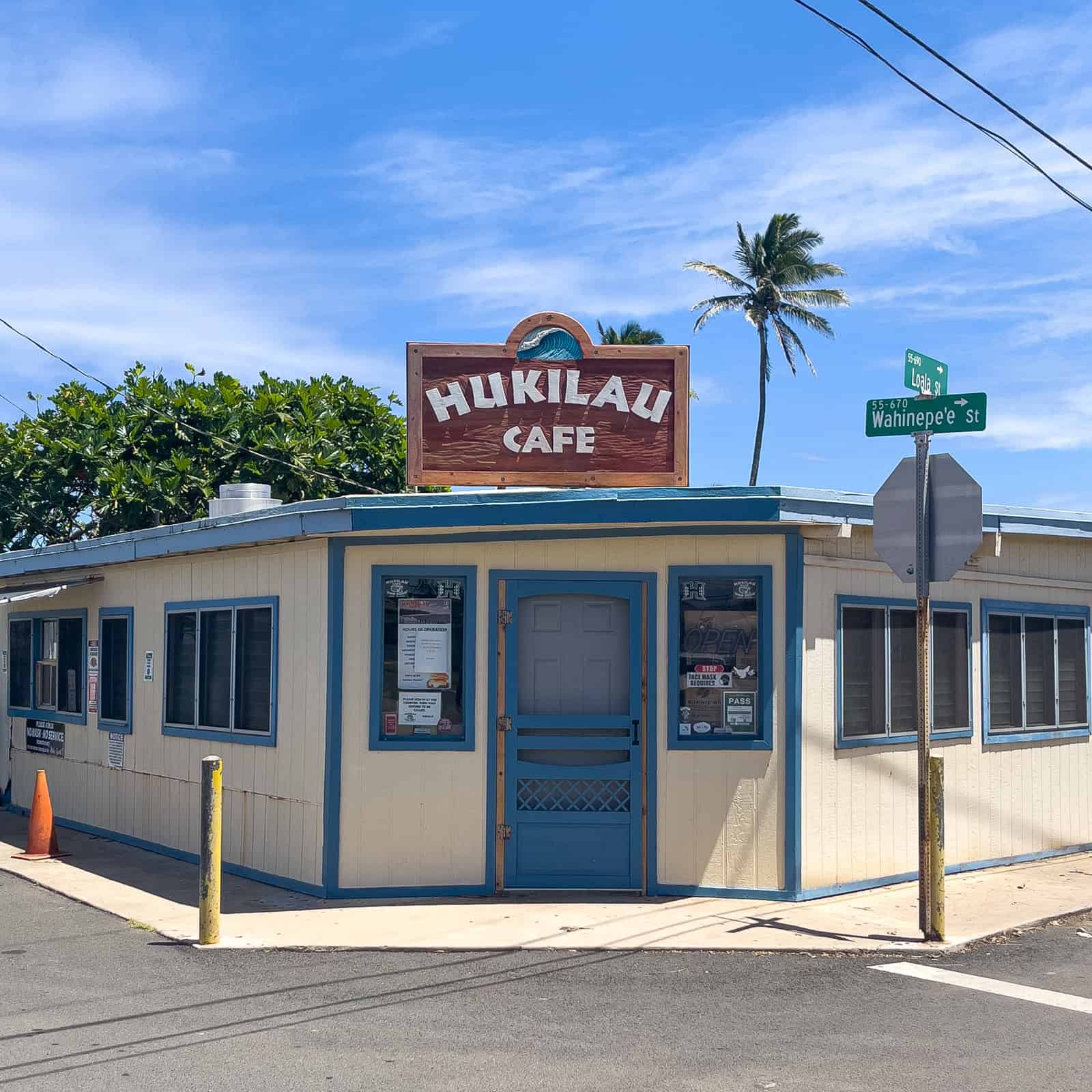 The last time I was in Hawaii, I took a day to drive around Oahu, which takes about three to four hours if you don't stop anywhere, but we stopped at the Hukilau Cafe for brunch.
The Hukilau Cafe name is especially famous for being used in Adam Sandler's 50 First Dates, a romantic comedy starring Drew Barrymore. However, only the name was used.
The 50 First Dates restaurant, as seen in the film, was constructed at the Kualoa Ranch and removed a long time ago.
Despite the newfound fame, they serve delicious home-style Hawaiian favorites.
Hukilau is located just off the highway in a quiet neighborhood in the town of Laie, near the beautiful beaches of the North Shore.
The cafe is in a small trapezoidal house that's been converted into a restaurant, and you'll know you've arrived when you notice the stream of vehicles parked on the side of the street.
The restaurant attracts tourists looking for good food (and driving around the island) and locals from Honolulu and Laie.
Related: Planning for Hawaii on a Budget – Oahu
The menu is quite simple, including typical dishes like teriyaki chicken and beef, loco moco (a hamburger patty over rice topped with a fried egg and smothered in brown gravy), chicken katsu, and the Hukilau burger.
They also are famous for serving macadamia nut pancakes, but I was more interested in the lunch dishes the day I went. We ordered a good selection of food, and it was all quickly delivered to our table.
The teriyaki chicken and teriyaki beef were excellent, gracefully sitting on a pile of hot steamed rice and complemented with a creamy macaroni salad.
The loco moco, which I learned was eaten by Adam on the TV show Man vs. Food, in my opinion, was not nearly as glorious as the version from Papa Ole's restaurant, but it still wasn't bad.
Hot steamed rice was first piled onto a plate before the meaty grilled beef burger was placed on top.
A fried egg, which was cooked sunny side up with an oozing yolk, was laid on the burger, and finally, the combination was drowned in a generous scoop of thick brown gravy.
>>> Discover more things to do on Oahu at Travelocity.
The final dish we ate was the Hukilau Burger, and I must say, it was impressive.
Within the toasted bun were a beef patty, a fried egg, cheese, raw onions, tomatoes, a leaf of lettuce, and the absolute stunner, a mouthwatering slab of teriyaki beef. The harmony of the flavors in each bite was a winning combo.
If you have a chance to drive around the island of Oahu, make a pit stop for either breakfast or lunch at the Hukilau Cafe!
Address: 55-662 Wahinepee St, Laie, Hawaii, 96762, United States
___
If you liked this story, check out Feastio, the new food blog from the founder of Go Backpacking.
Mark was raised in central Africa before migrating back to the U.S. for University. After graduating, he decided to continue traveling the world. On Migrationology, he shares the cultural side of travel from a slow-paced local perspective that often revolves around his love for eating all forms of food. Join him on Facebook and follow him on Twitter @migrationology.
Planning a trip? Go Backpacking recommends: