Are you planning a trip to the Aloha state? If your vacation to Hawaii includes Honolulu, give yourself a full day for an Oahu scenic drive.
That's what I did upon returning to Oahu for the first time in 30 years. I'd previously visited as a 13-year-old with family.
I traveled with my girlfriend this time, and we made the most of our week on the island. What follows is our one-day itinerary for a self-guided scenic drive around Oahu. It was one of the best drives of my life.
At the end of the article, I'll share a few alternative ideas to swap in if you prefer. A word of warning, though, before we continue.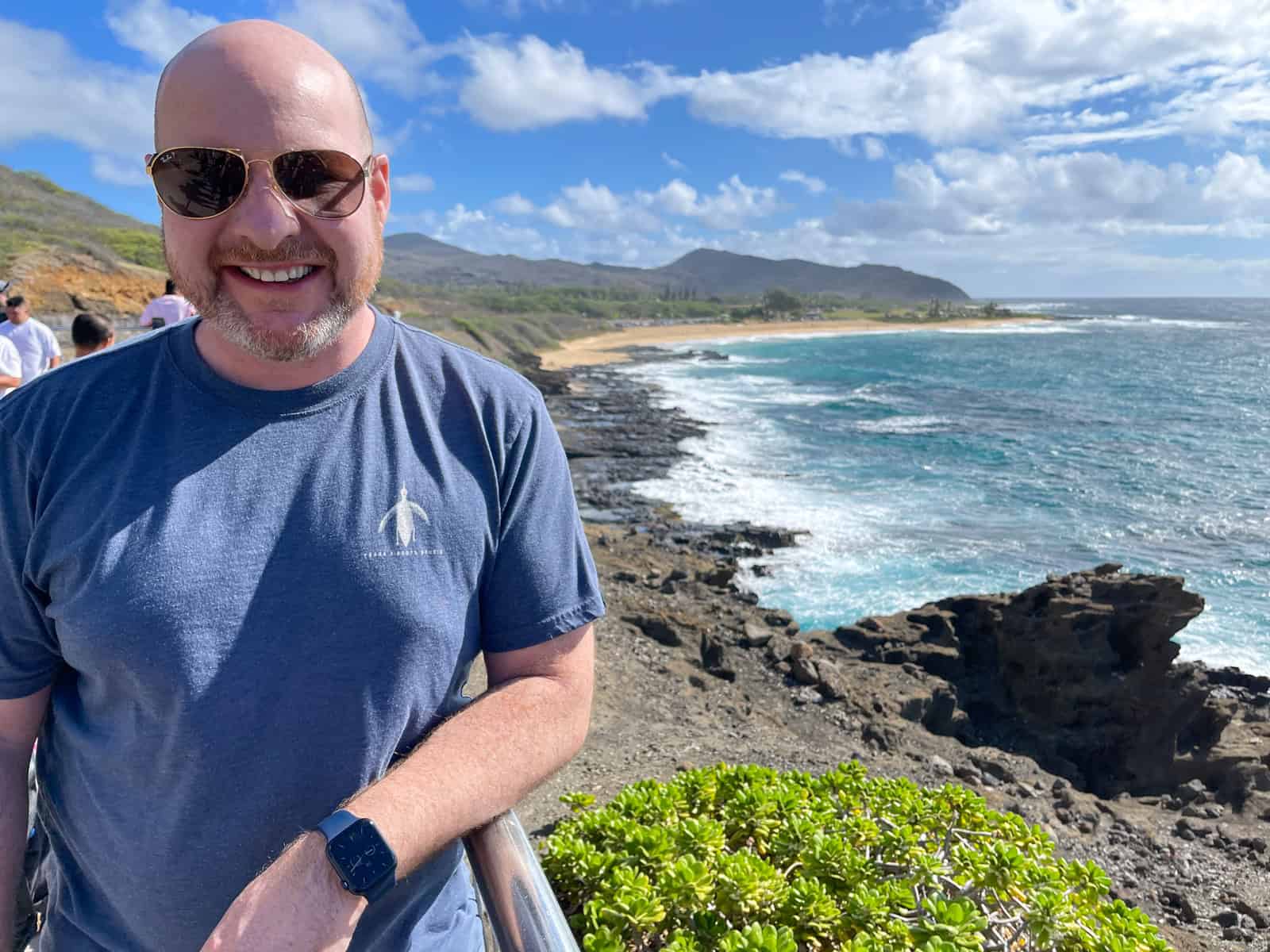 Rental Car Logistics
While we had no trouble reserving a rental car a few days in advance, the pick-up times in Waikiki Beach were limited to 8 a.m. or later.
This was the case for all the companies. I would've preferred to hit the road an hour earlier.
However, it wouldn't have been worth our time to take an Uber to the airport to get a car there, only to backtrack through downtown Honolulu to reach the east side of Oahu.
Instead, we did our best to work with this limitation. Ultimately, we saw everything we wanted on our Oahu road trip and were quite tired when we returned to our Waikiki Beach hotel.
So, I don't think it would've made a big difference even if we did get the car earlier than 8 a.m.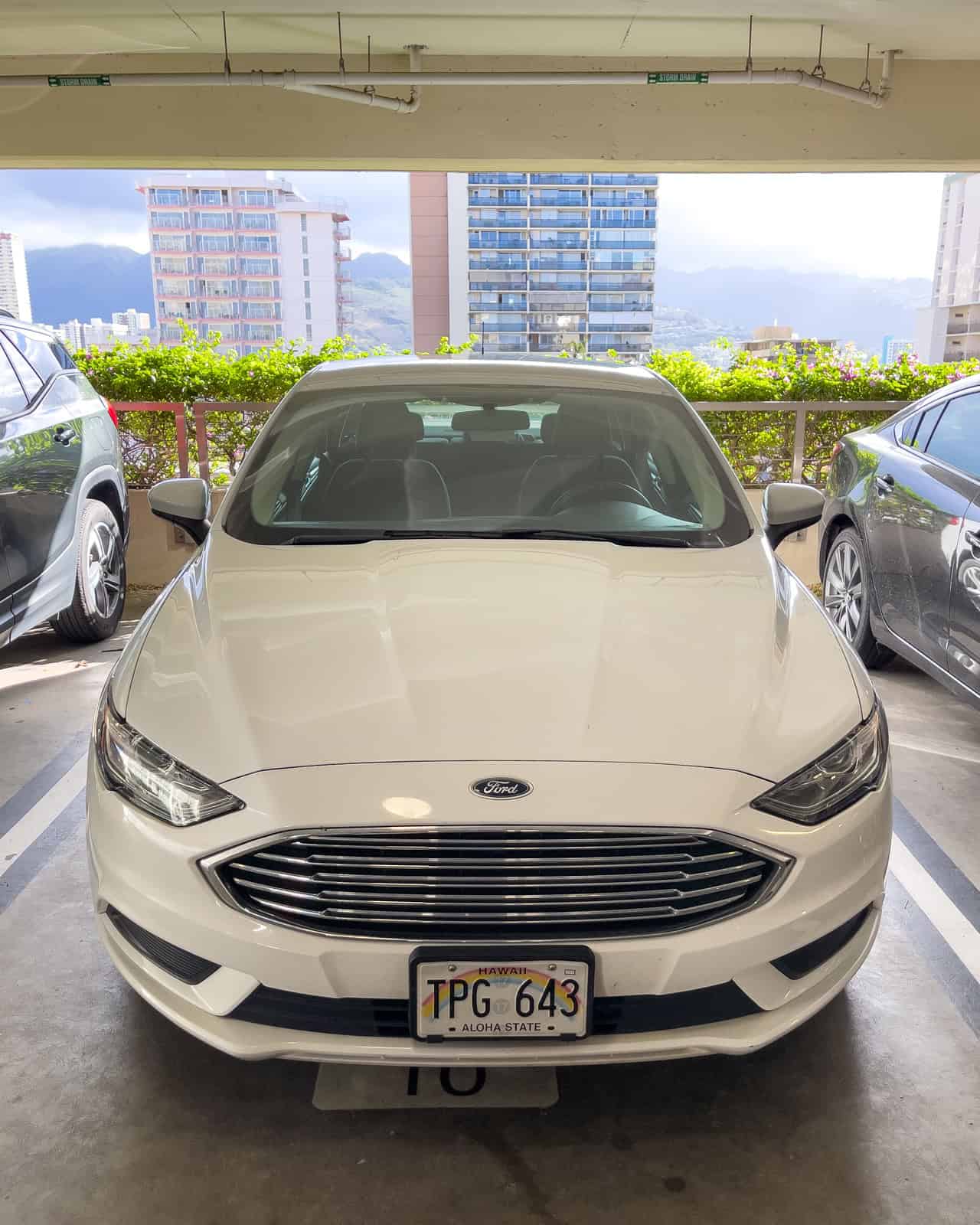 Picking up the Rental Car
Our Ford Fusion rental car was both economical and comfortable. The cost for a 24-hour rental, including insurance, fees, and taxes, was about $150.
The 24-hour rental is important because Budget doesn't accept returned cars after 3 p.m., which is odd because they don't let you pick them up before 8 a.m.
Seven hours won't buy you much in the way of stops on a drive around Oahu.
To get the most out of your day and car rental, return it to the garage whenever you get back to Waikiki and then return to the Budget kiosk to drop off the keys the next day before 8 a.m.
The cost would've been less had we booked the rental a few weeks earlier.
Direction of Travel
Everything I read about taking an Oahu scenic drive suggested traveling east of Honolulu and going counter-clockwise around the island.
I suspect this is because it allows you to see the sunrise on the east coast and sunset on the west coast if you're up early.
If this is your first time driving around Oahu, drive safely. There's no rush; you're on island time, and getting in an accident would be a surefire way to ruin the trip.
Budget Tip: Save money in Oahu with Go City. Buy a 1, 2, 3, or 5-day all-inclusive pass to enjoy tours, surf lessons, and access to parks like Waimea Valley at a discounted rate. Get your Go City pass here.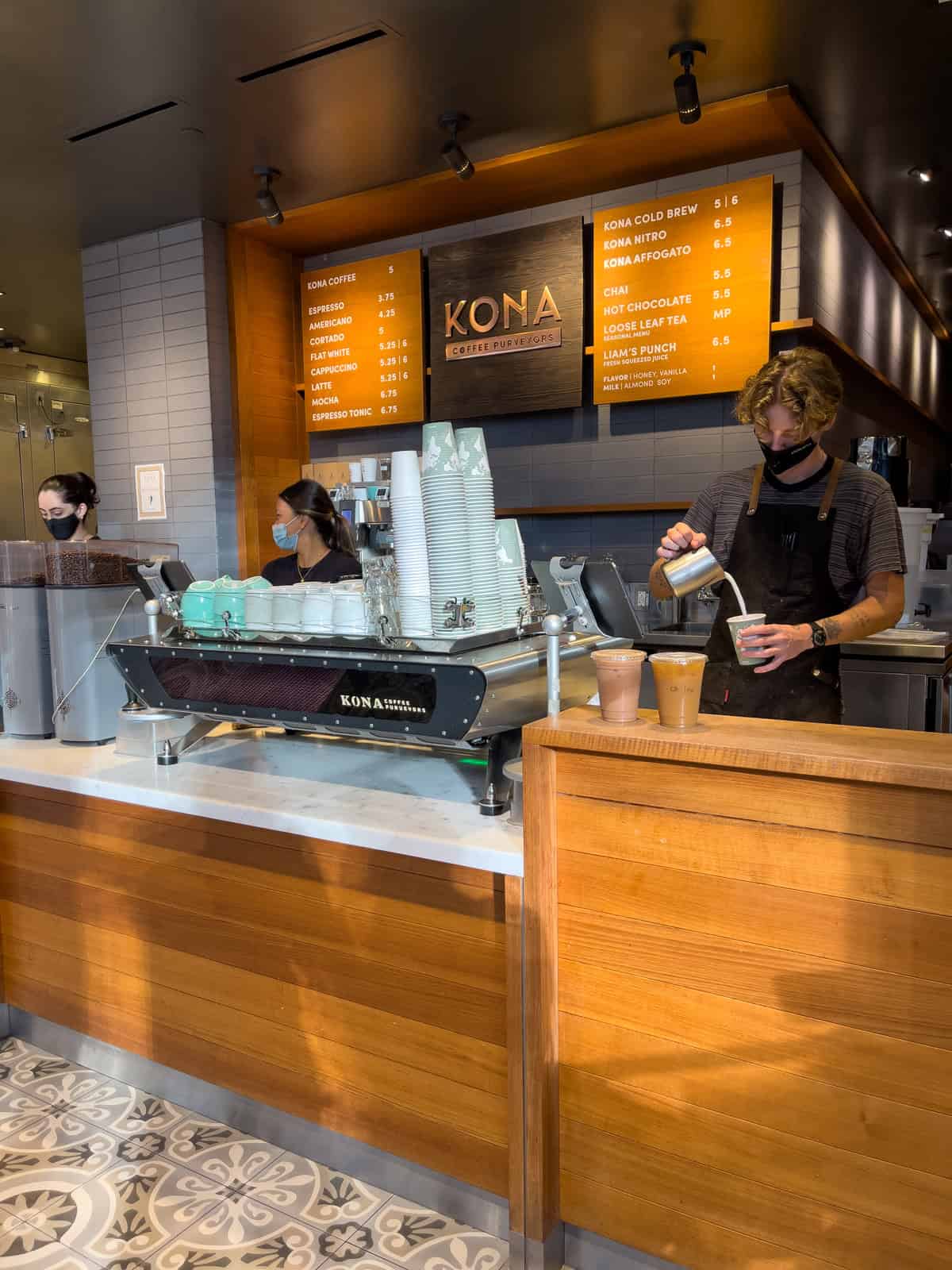 Top Oahu Attractions
Kona Coffee Purveyors / b Patissiere
Since the rental car wasn't available until 8 a.m., we got breakfast at Kona Coffee Purveyors, which opens at 7 a.m. daily.
This shop offers Hawaiian coffee and fresh pastries by b Patissiere, one of the best bakeries in San Francisco.
We were in Waikiki Beach for a week and saw a line outside the cafe every morning.
I'm pretty sure it was for the pastries because they were incredible! My favorite was the chocolate banana almond croissant.
Kona Coffee is conveniently located in the International Market Place, the indoor/outdoor shopping mall where we picked up the rental car.
Hanauma Bay
Once we'd eaten and got our car for the day, I drove east of Honolulu on Route 72 to Hanauma Bay, our first stop.
This stunning nature preserve with a sandy beach offers some of Oahu's best snorkeling. I remember swimming here as a teen.
The clarity of the water and the quantity of colorful fish and coral set a high bar by which I judged all future snorkeling experiences.
Unfortunately, the bay and beach were closed to visitors *unless* you had booked a snorkeling tour.
While we hadn't planned to snorkel that day, we had at least wanted to get some photos from an observation deck above the beach.
Thankfully, we didn't have to wait long for a beautiful beach view.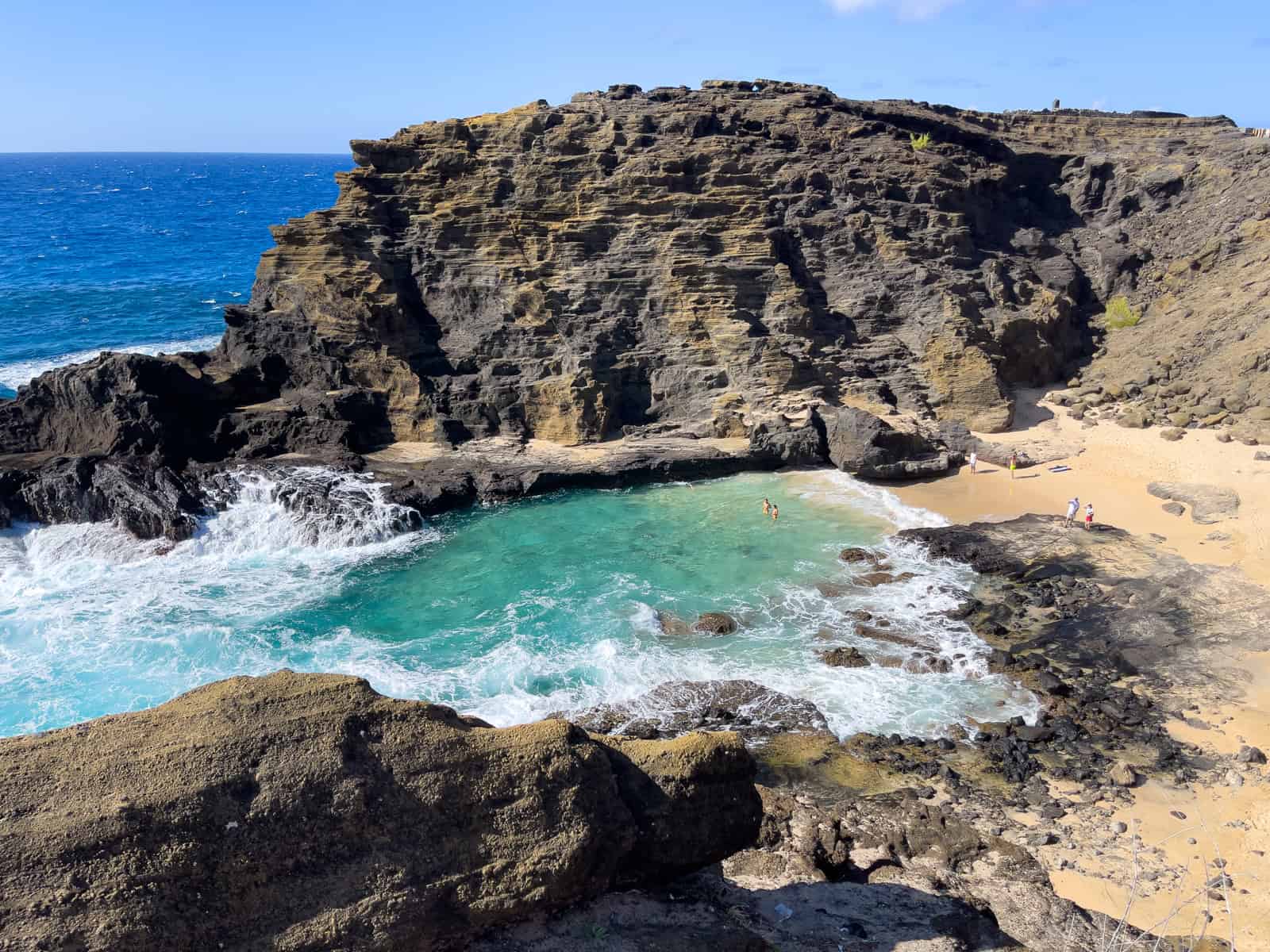 Halona Beach Cove and Blowhole
Our Oahu scenic drive continued a few minutes east on Route 72, which led us to the lookout points for Halona Beach Cove and Blowhole on the side of Koko Crater.
The beach is not easily accessible. If you're willing to climb down steep volcanic terrain, you may have it to yourself. We were satisfied with the view from above.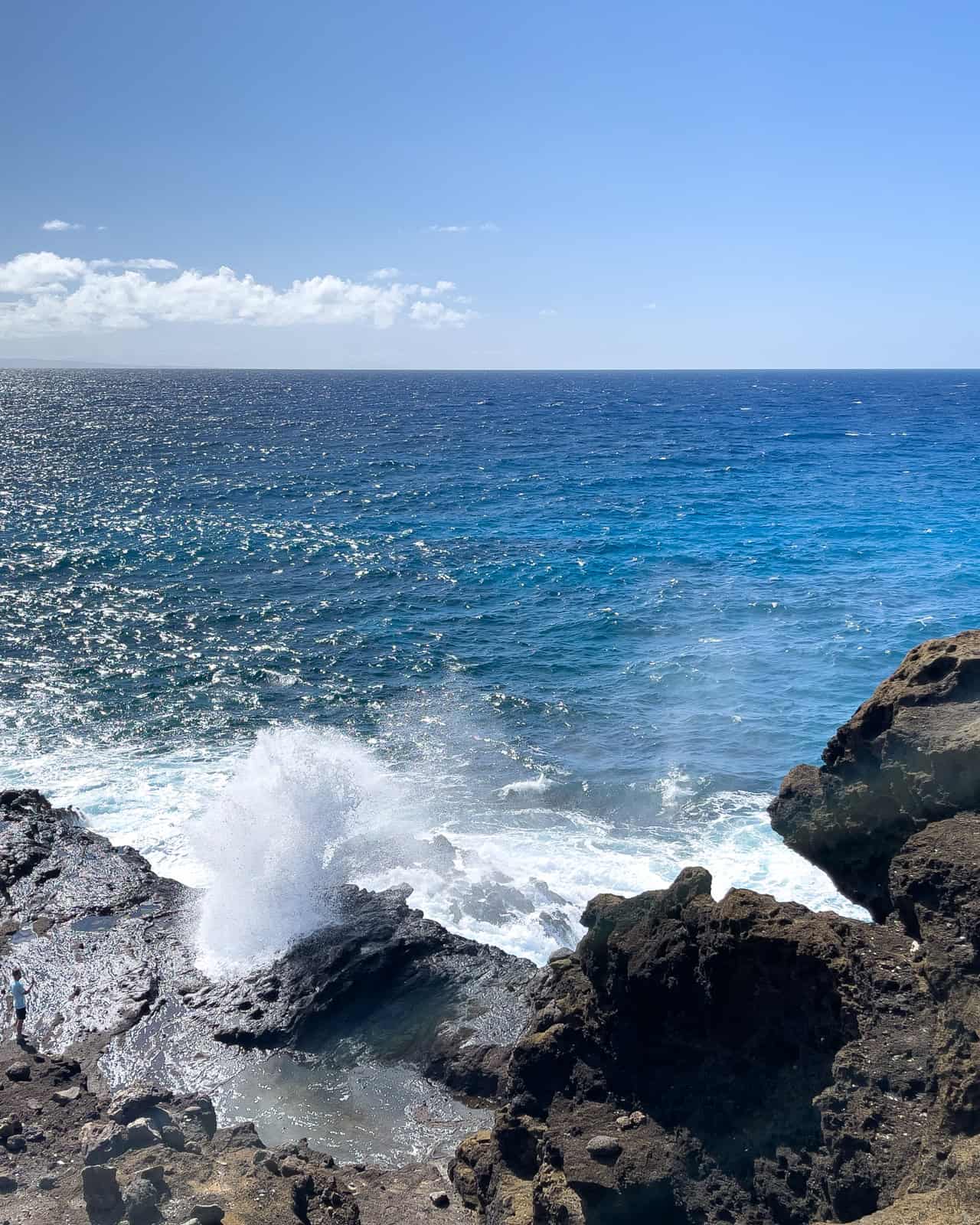 When a strong enough wave hits the rocks, the Halona Blowhole spouts water up like a geyser.
It was anti-climatic but still worth a quick stop on your day trip around Oahu.
Related: Planning for Hawaii on a Budget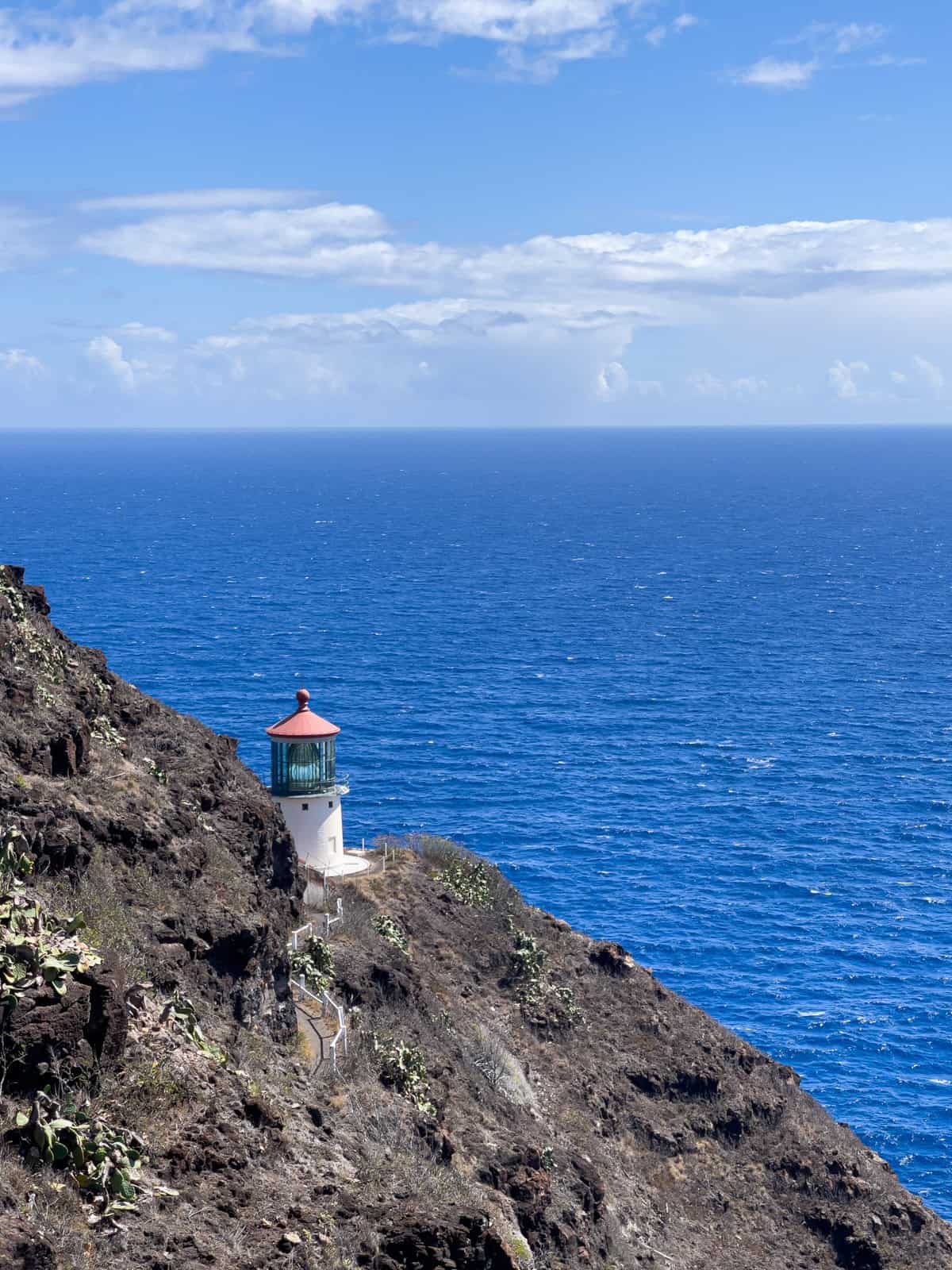 Makapu'u Point Lighthouse Trail
Driving another few minutes east on Route 72 will bring you to the Makapu'u Point Lighthouse Trail parking lot.
This trail is a relatively easy uphill walk on a paved path. We took about 30 minutes to reach the top, including a few stops for photos.
We saw one pair of parents carrying their baby in a harness and another pushing a stroller.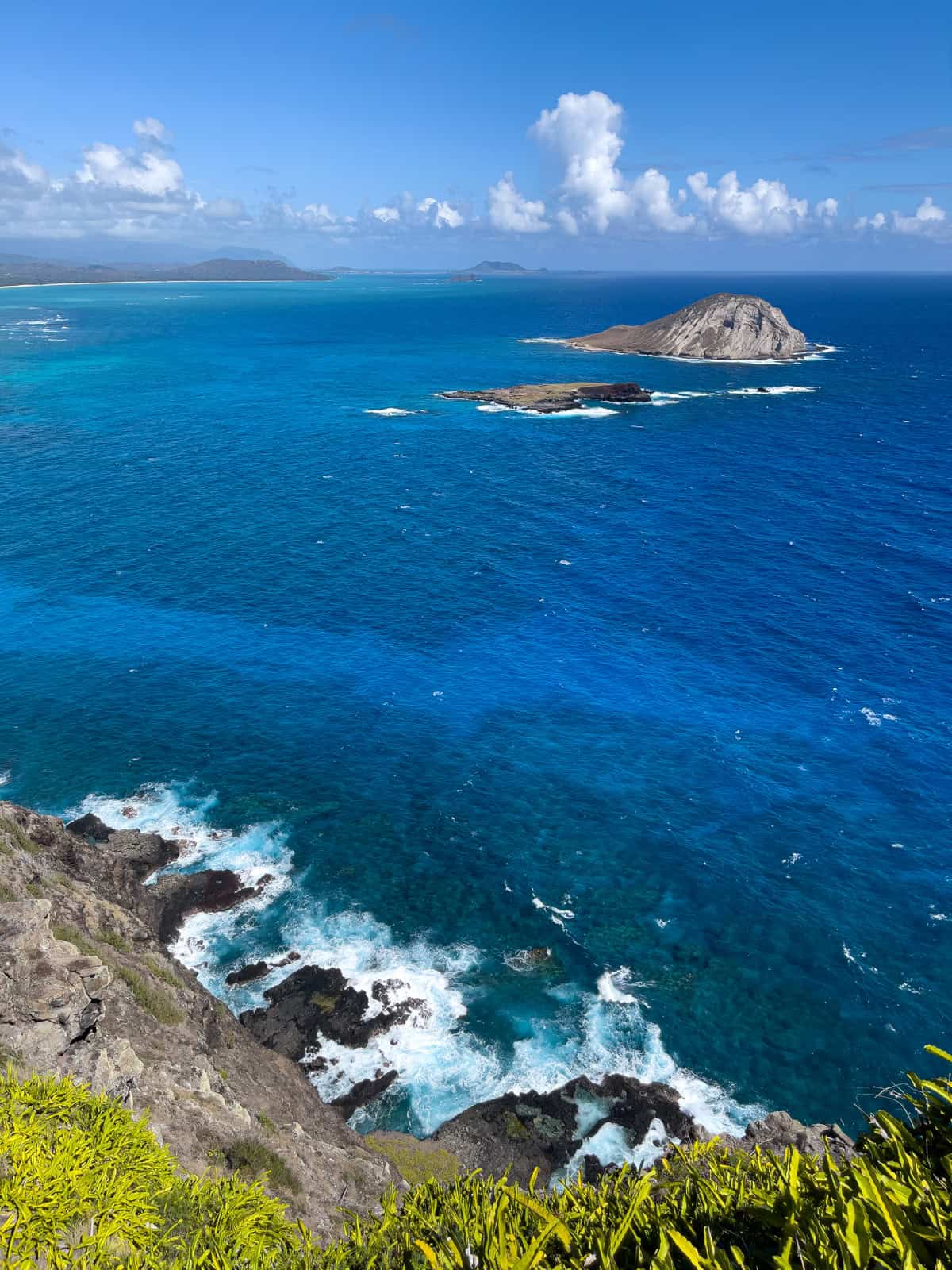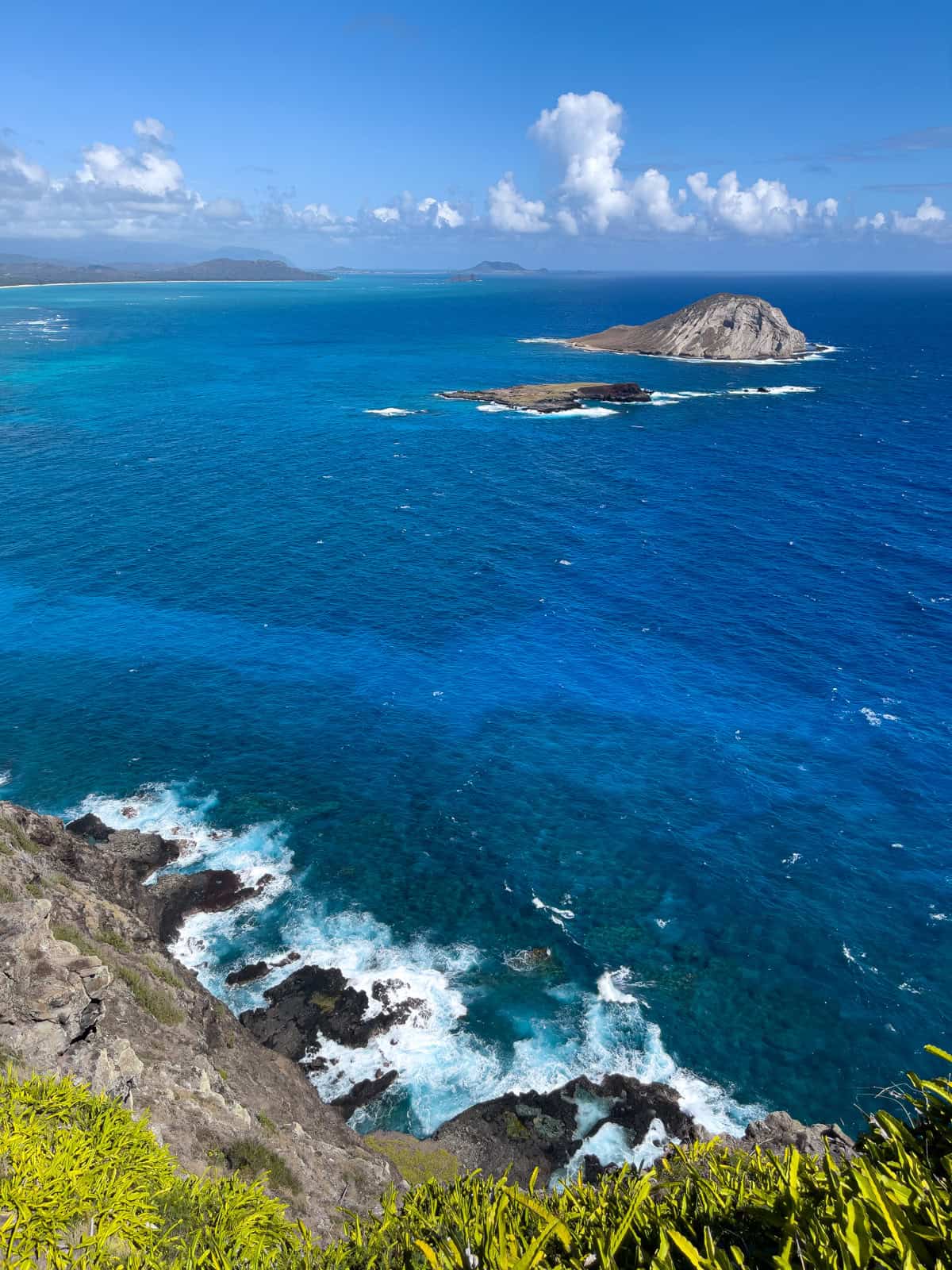 Once you reach the top, there are gorgeous views of Oahu's Windward Coast. On a clear day, look east, and you might see Moloka'i, another of the Hawaiian islands.
This is one of the best spots on the entire island to spot humpback whales. Whale-watching season in Hawaii runs from December to April.
They may have come early, but the views of turquoise waters from Makapu'u Point were some of my favorites that day.
The walk down was faster, about 15 minutes, and we were at this stop for about 75 minutes.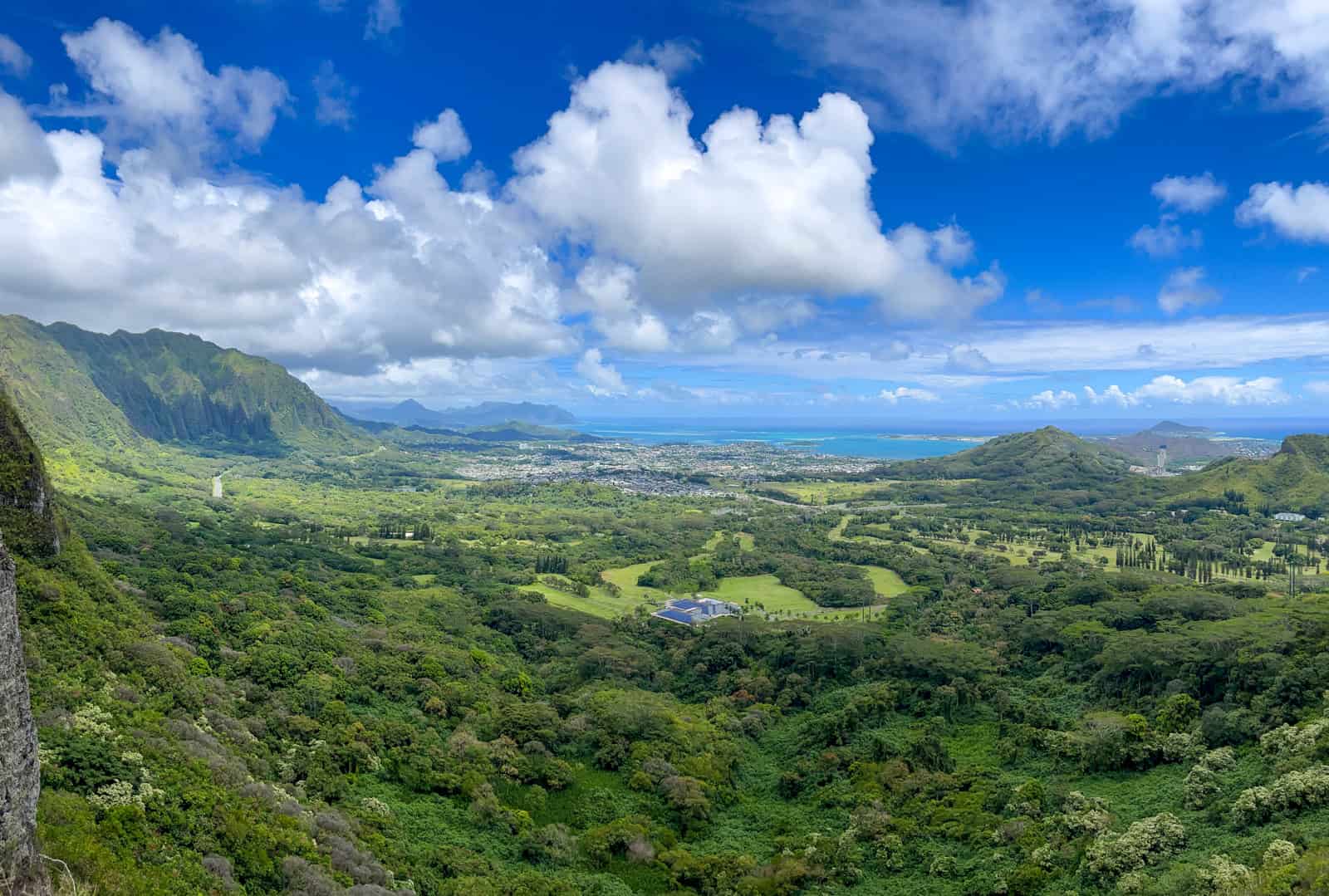 Nu'uanu Pali Lookout
Our next photo-op on the Oahu scenic drive was the stunning Nu'uanu Pali lookout, a 30-minute drive from the lighthouse trail. (Take Route 71 North to 61 South, the Pali Highway).
The scenic road takes you 1,200 feet up into the Ko'olau Range; you'll get a different perspective on the lush vegetation of Oahu's windward side.
To the northeast, you can see the azure waters off Kailua Beach. Equally pretty, Lanikai Beach, south of Kailua, is hidden by green hills. Give yourself 10-15 minutes in this remarkable place.
The Nu'uanu Pali scenic view is included on many of Get Your Guide's most popular half-day and full-day Oahu tours.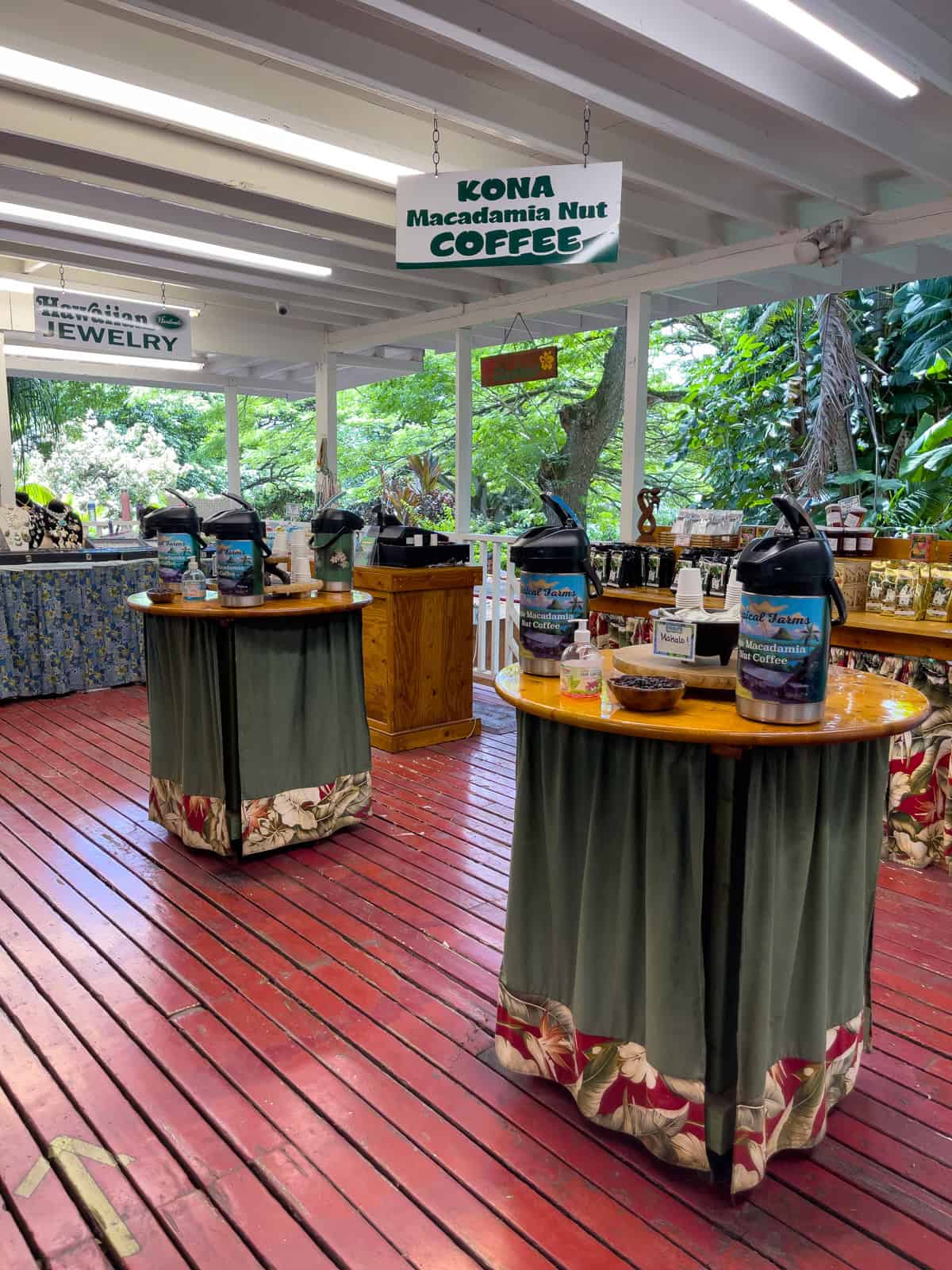 Tropical Farms Macadamia Nuts
My girlfriend, Kel, was keen to stop at a macadamia nut farm, and I'm glad we did.
A great place, Tropical Farms, is 30 minutes up the coast from the Nu'uanu Pali lookout. Take Route 61 North to 83 North (part of the Kamehameha Highway).
While they weren't offering tours when we visited, free samples of their nuts and macadamia nut coffee were available. My favorite was the onion and garlic.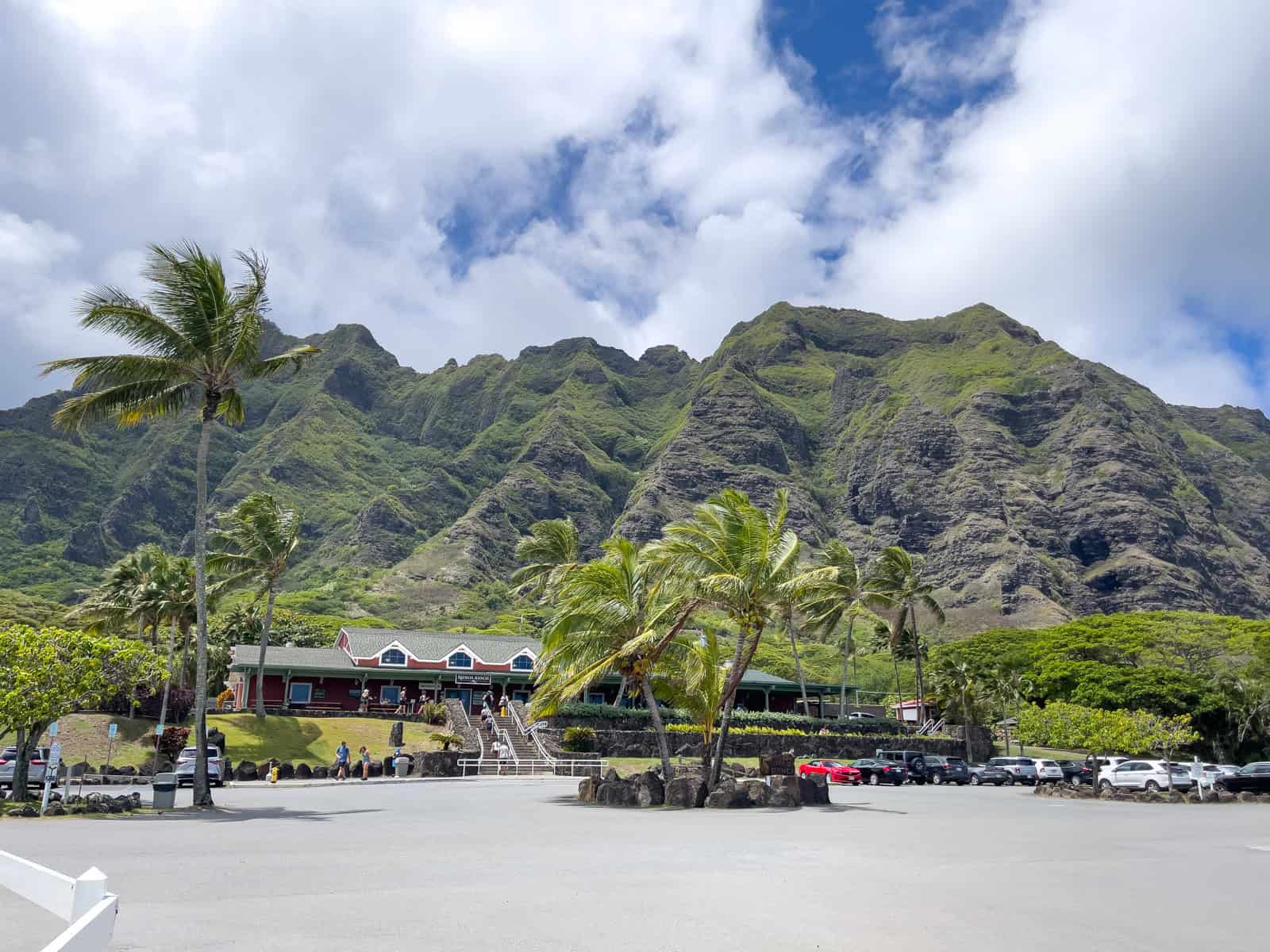 Kualoa Ranch
Go a few minutes north on Route 83, and you'll see the dramatic entrance to Kualoa Ranch.
This Hawaiian ranch is world-famous for being the site where scenes from Hollywood films such as Jurassic Park, Jumanji, and 50 First Dates were shot.
Tours are costly and sell out well in advance. For example, the 2.5-hour Jurassic Adventure tour, which takes guests to the Hakipu'u and Ka'a'awa Valleys, is $140.
Other activities include horseback riding, electric mountain bikes, and ATVs. Even though we stopped to look, I already knew no tours were available that day.
If you want to incorporate a tour at Kualoa Ranch during your scenic drive around Oahu, you may need to book weeks ahead. Given the time required, I suggest going on a standalone day trip.
The Ranch offers roundtrip transportation from Waikiki hotels for $30 per person, so you don't need a rental car to get there.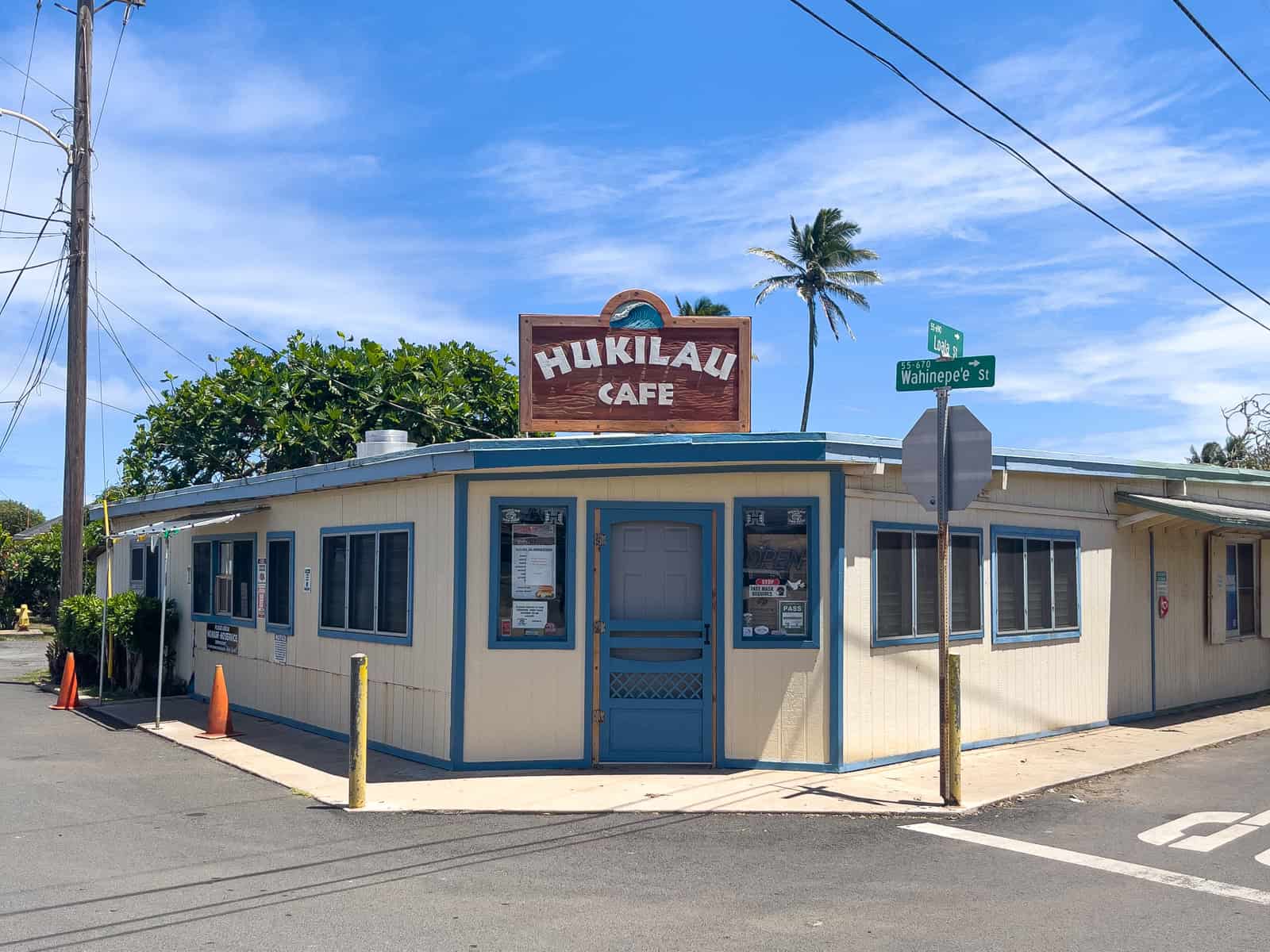 Hukilau Cafe
Speaking of 50 First Dates, a romantic comedy starring Drew Barrymore and Adam Sandler, many scenes are shot in a fictional Hukilau Cafe.
There's a cafe by the same name in Laie, a 25-minute drive north of Kualoa Ranch (on Route 83 North). However, this isn't the location where the scenes were filmed.
Despite that fact, or regardless of it, former Go Backpacking contributor and food blogger superstar Mark Wiens (and I) still went in the hopes of enjoying a typical Hawaiian meal.
You can read about Mark's experience at Hukilau Cafe here.
On my drive around Oahu, the restaurant was closed for lunch that day, so I missed out on trying their food.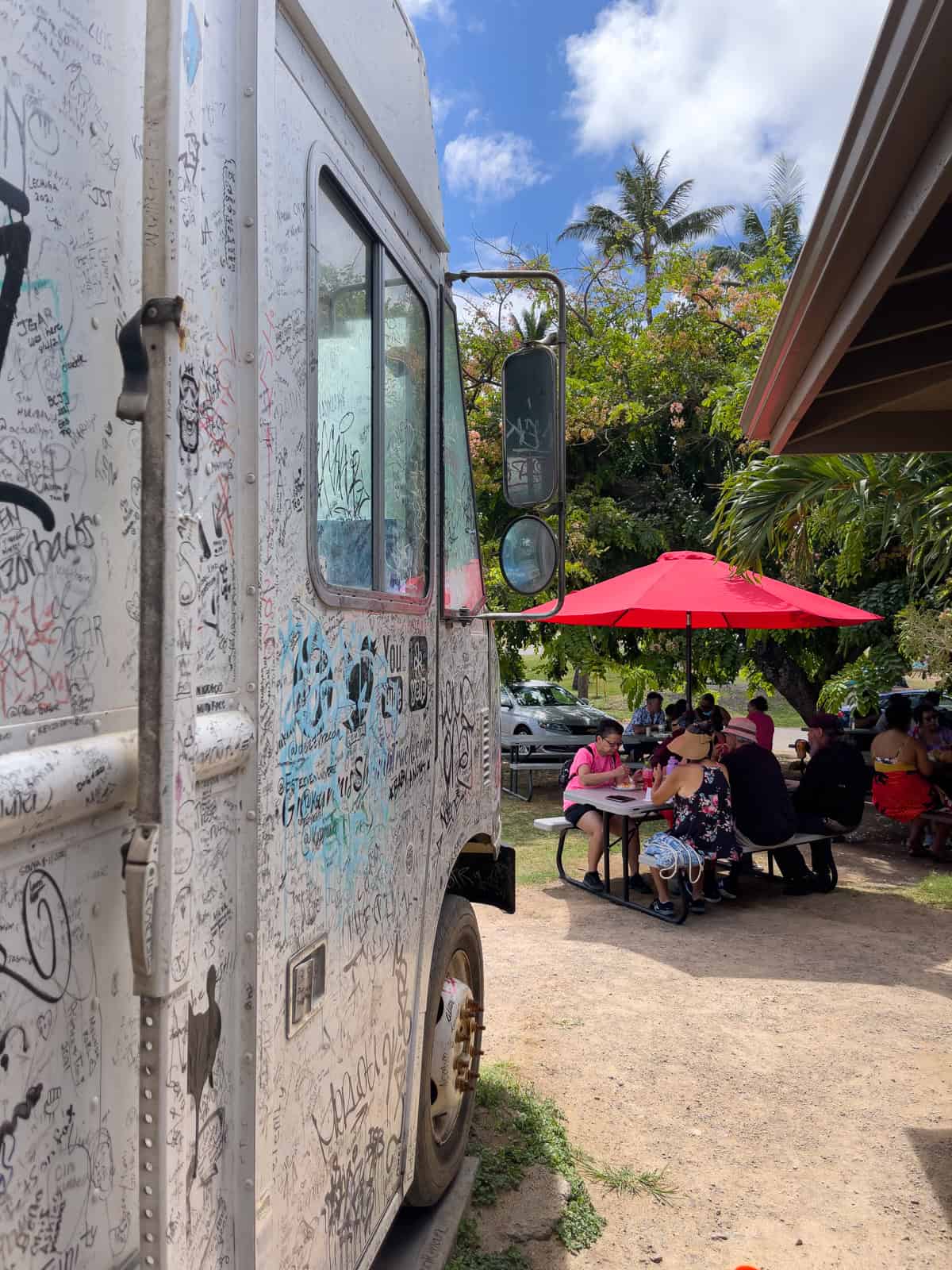 Giovanni's Shrimp Truck
That was fine since I also had eyes on Giovanni's Shrimp Truck a few minutes north on Route 83.
Giovanni's was one of the first shrimp food trucks on Oahu's North Shore to make a name for itself.
There's a lunch line every day, year after year, and that was certainly the case when we stopped by around noon.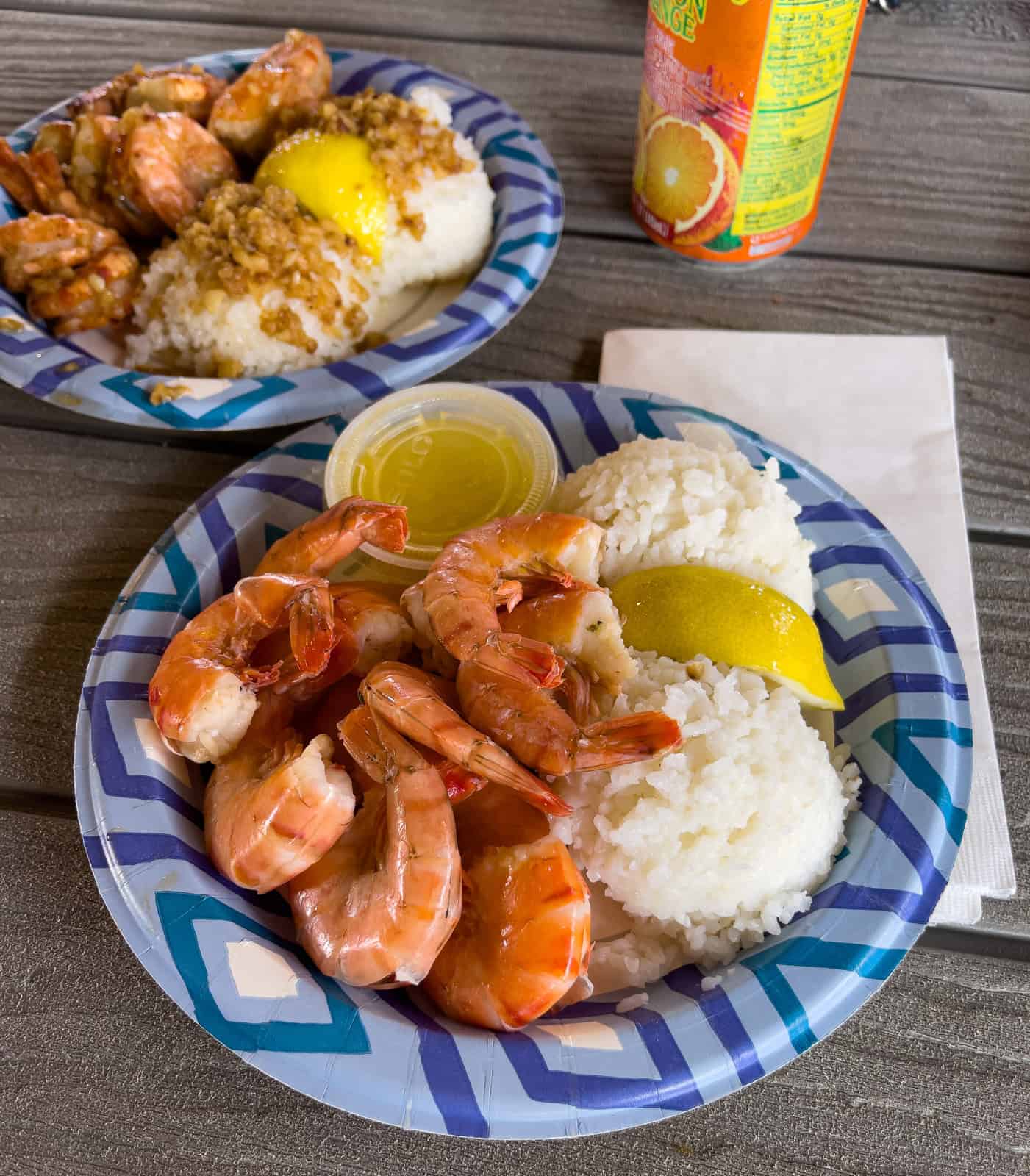 It took about 15-20 minutes to get our food. I ordered shrimp with butter and lemon while Kel got their signature shrimp scampi (i.e., garlic shrimp).
A third option is the hot and spicy shrimp plate. All three are the same size, come with white rice, and cost $15.
I felt hungry by this point in the trip, so I quickly worked on the dozen medium-sized shrimp.
Related: Best Places to Eat in Oahu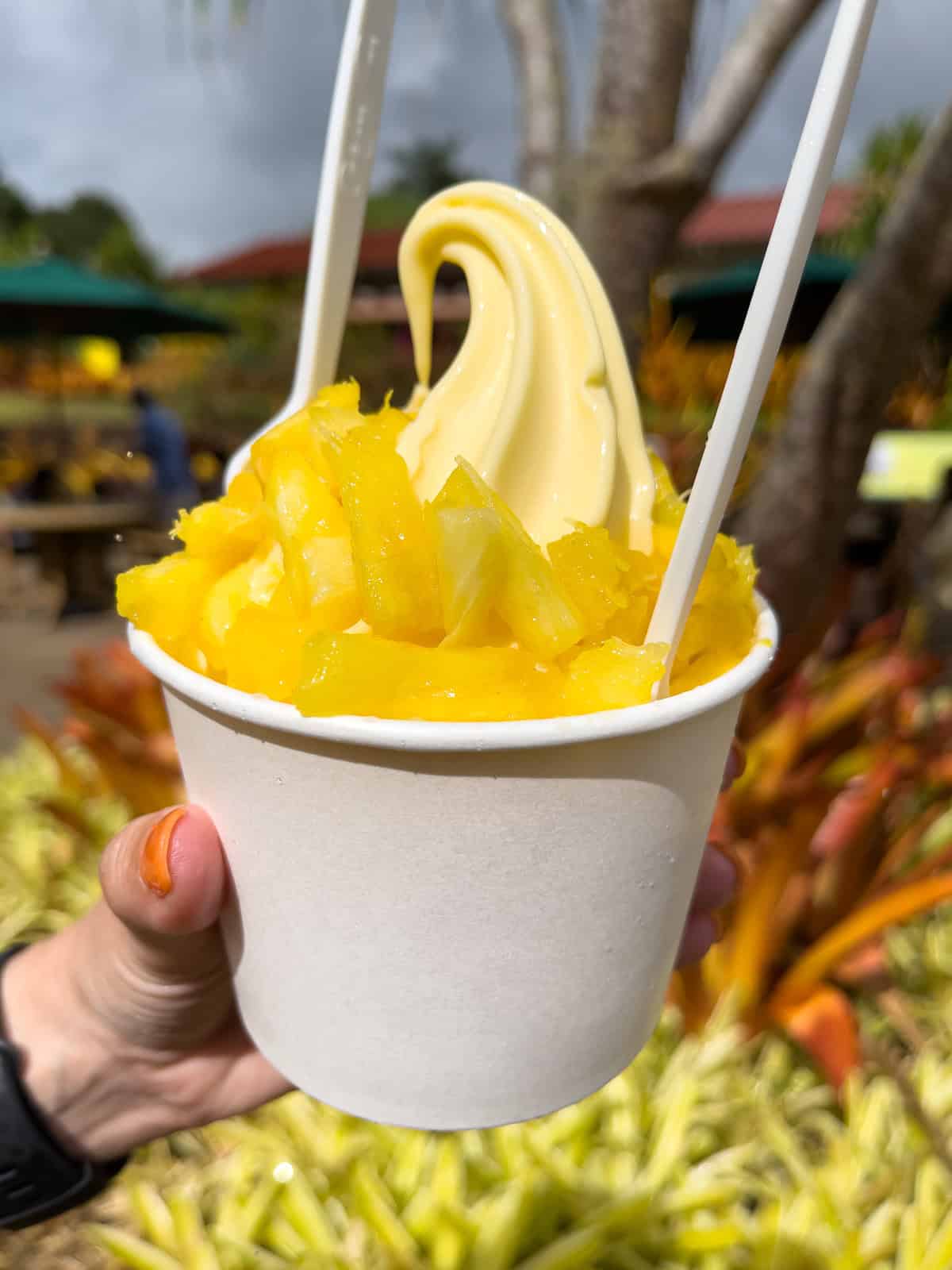 Dole Plantation
One of the places I remember best from visiting Oahu as a teen was the Dole Plantation. Tasting the fresh-picked pineapple was unforgettable.
I can also remember seeing the inside of a canning facility and the shape of machines used to remove pineapple cores.
Thirty years later, the Dole Plantation became a much bigger tourist attraction, and a stop is included on many Oahu island tours.
You can ride a train around the plantation to learn about pineapples and a giant maze to navigate on foot. We were more interested in dessert. The Dole pineapple whip dessert, to be specific.
A Dole whip is pineapple-flavored soft-serve ice cream, and we paid one dollar extra for fresh pineapple chunks to be added.
Behind the gift shop, where you can buy the dessert and all forms of pineapple paraphernalia, there's a patio and small garden that are free to enjoy.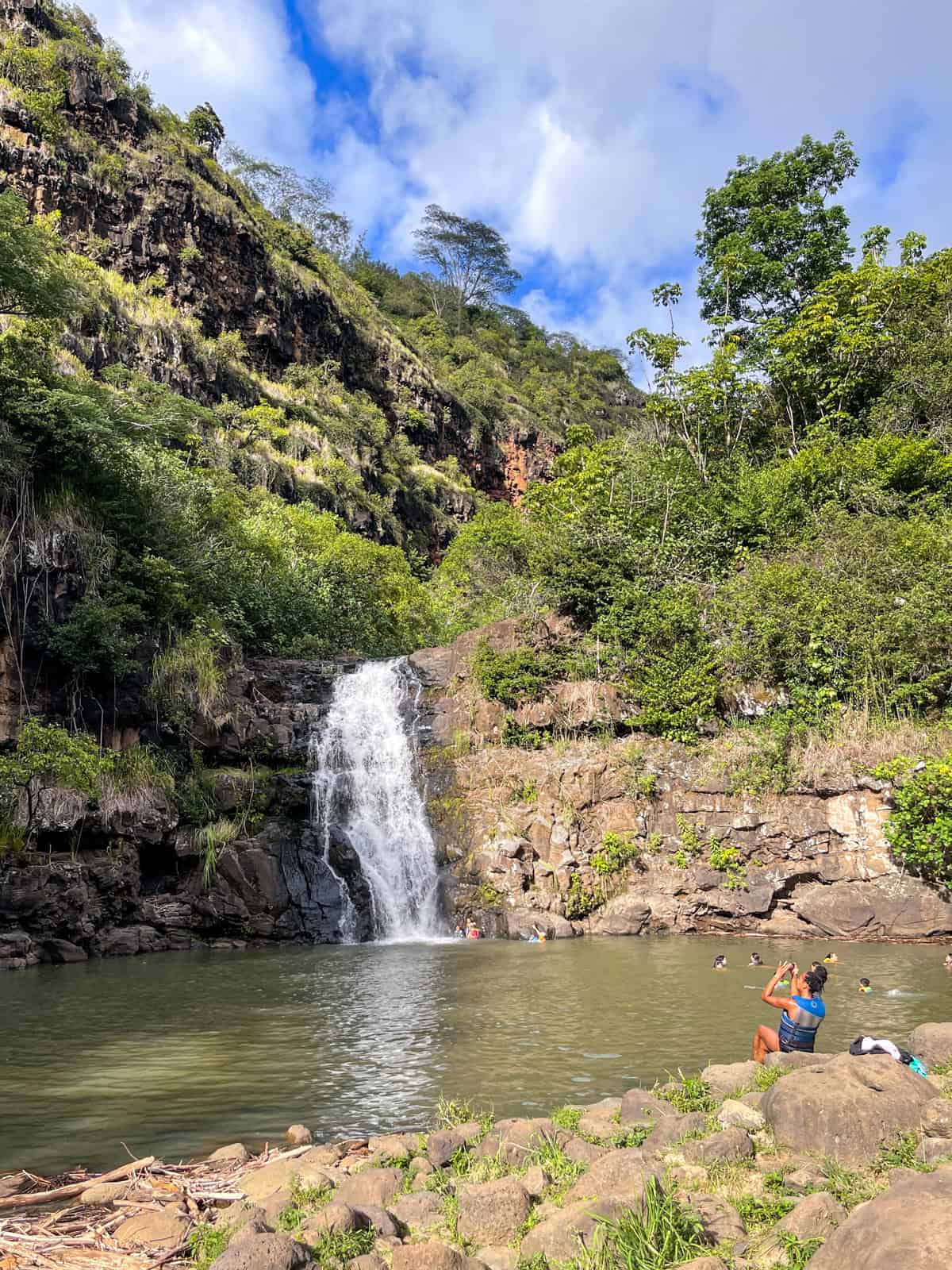 Waimea Valley and Waterfall
Our daylight hours were running out by mid-afternoon, and we desperately wanted to swim under Waimea Falls.
The Falls are open from 9 a.m. to 4 p.m. daily, and it was about 3 p.m. when we left the Dole Plantation.
We backtracked along Route 99 and Route 83 North to Waimea Bay, where we turned right on Waimea Valley Road, which provides access to Waimea Valley.
From there, it was an easy 30-minute walk on paved paths through the botanical garden to reach Oahu's best-known waterfall.
There are some rustic changing rooms and bathrooms and a small hut where a gentleman handed out life jackets required to swim there.
He said we'd arrived at this beautiful place at the best time of day; most visitors had already come and gone.
Kel and I enjoyed a 15-minute swim in the freshwater pool before drying off, changing, and returning to the car for another North Shore food experience.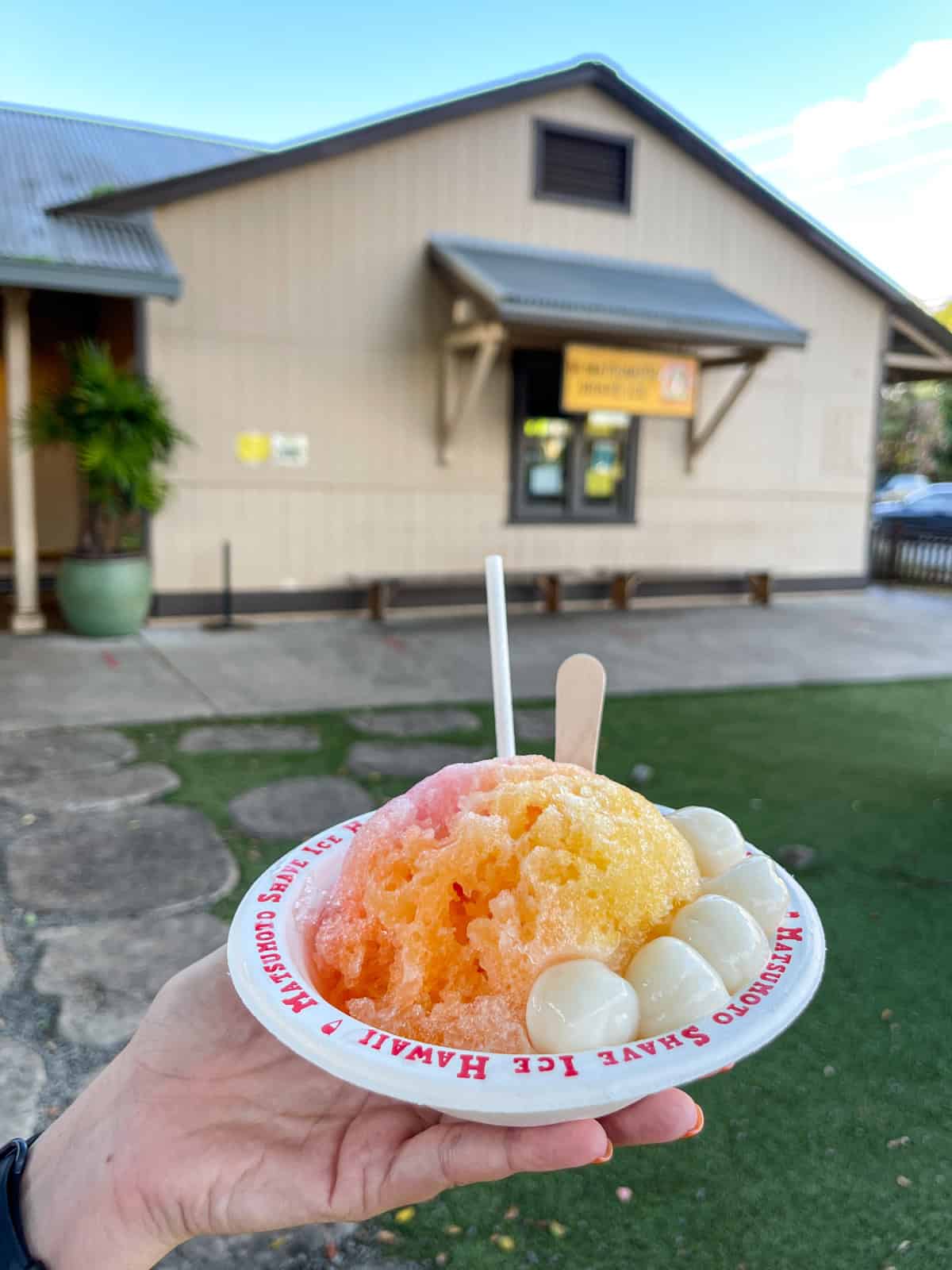 Matsumoto Shave Ice
Heading south on Route 83 for a few minutes brought us to Haleiwa town, still on Oahu's North Shore. You'll find many cute shops, restaurants, and the historic Matsumoto Shave Ice here.
Matsumoto has been serving their refreshing dessert since 1951. On a typical day, they'll make 1,000 for customers. President Obama has been seen getting shaved ice here, so you know it's good!
They have special machines to shave the ice and dozens of housemade flavored syrups to choose from. There are many places to buy shave ice on Oahu, but Matsumoto's is one of the best.
Related: 5 Hawaiian Fusion Foods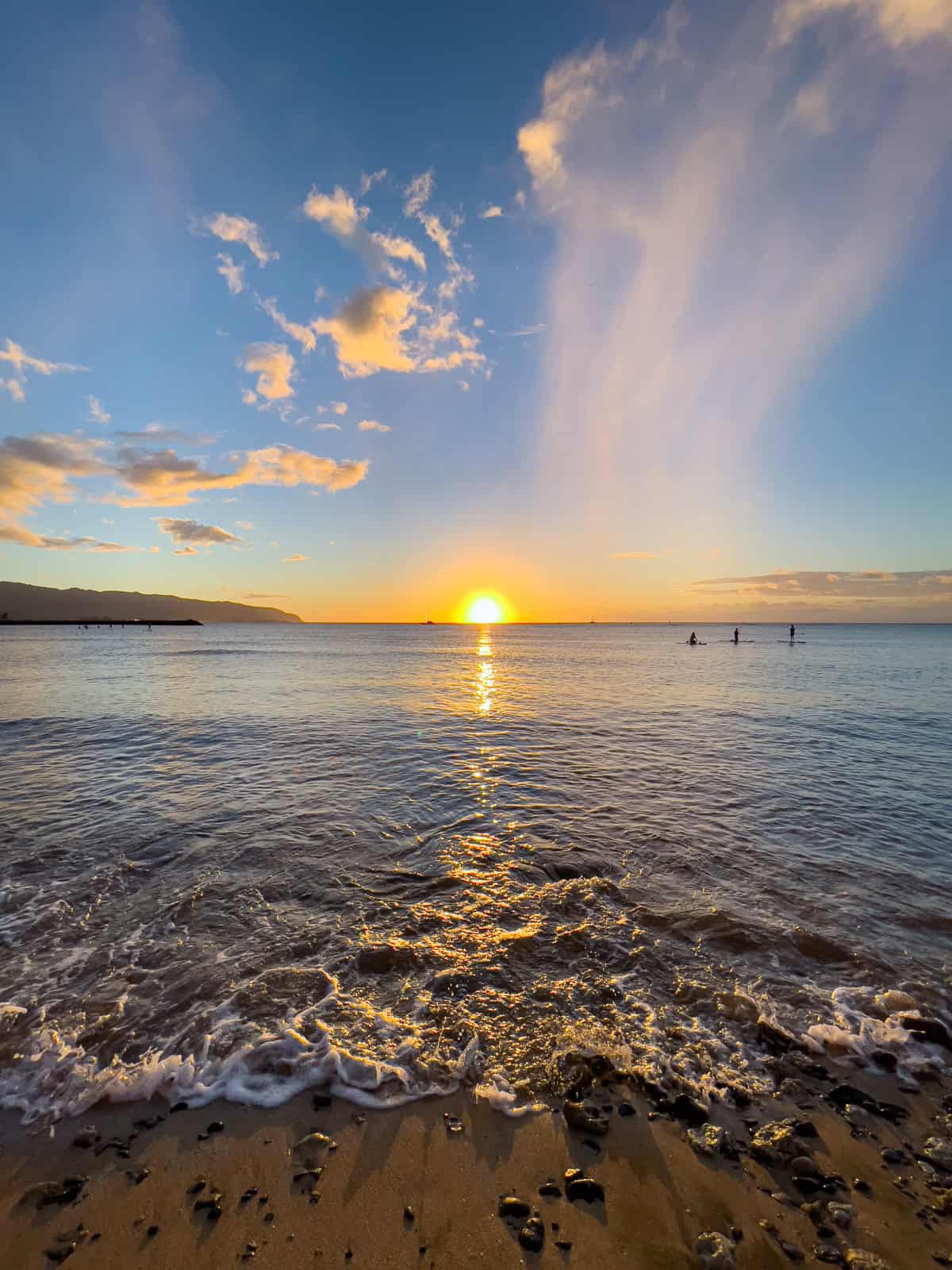 Sunset at Haleiwa Beach Park
I'd initially planned to watch the sun go down at Sunset Beach Park on the North Shore.
This beach is just a minute or two up the road from the Banzai Pipeline beach, a mecca for surfers worldwide.
However, upon arrival, we found parking at both beaches extremely limited, and many cars already occupied the spots.
Instead, we left the shave ice shop for nearby Haleiwa Beach Park, with plenty of parking.
A rainbow appeared inland, to the west, while we watched the sunset over the Pacific Ocean.
Stand-up paddleboarders could be seen gently floating on the water in the distance.
Once the sun went down over the horizon, we hopped in the car and drove back to Waikiki Beach, marking the end of the drive. It took about one hour despite an unexpected torrential downpour.
The day made for one of the best scenic drives I've experienced in the United States.
Related: Beauty of Oahu Island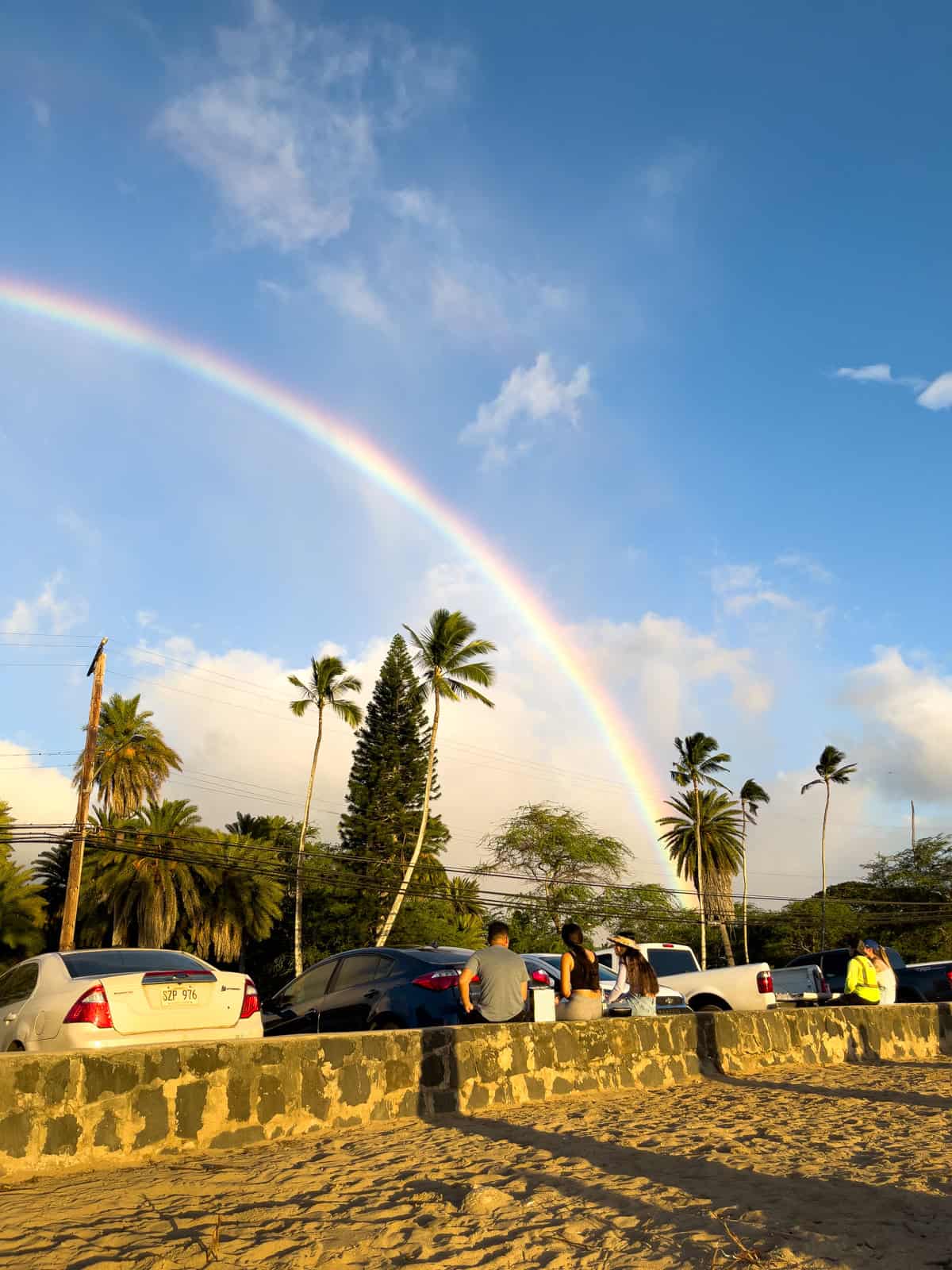 Alternative Places to Go
Hopefully, our Oahu scenic drive gave you some ideas to make your one-day tour of the island a reality. Follow it, and you'll see some of the most beautiful places on the island.
There are lots more interesting stops on Oahu than one day will allow; however, I thought I'd share a few alternatives to what we did.
If you prefer to try malasadas (Portuguese donuts), head to Leonard's Bakery instead of Kona Coffee Purveyors for breakfast. Leonard's is open from 5:30 a.m. to 7 p.m. daily.
If you came to Honolulu from the east, such as the mainland United States, Canada, or Europe, then jetlag may have you waking up very early.
Consider taking advantage of this by doing a sunrise hike at the Diamond Head crater. We did this on a different day than our drive around Oahu and used Uber.
It was a 30-minute hike to the top of the crater; our reward was breathtaking views. Allow 15-20 minutes to get back down. Check the official website for travel advisories and hours.
The Polynesian Cultural Center in Laie is a popular destination on the eastern side of Oahu. Here, you can learn about the local cultural traditions through live shows, tours, and food.
I recommend leaving Pearl Harbor for another day, as you must reserve a time slot for the USS Arizona. Visiting the USS Missouri battleship alone can take an additional hour or two.
Dave is the Founder and Editor in Chief of Go Backpacking and Feastio. He's been to 66 countries and lived in Colombia and Peru. Read the full story of how he became a travel blogger.
Planning a trip? Go Backpacking recommends: