La Cueva del Esplendor ("The Cave of Splendor") is a unique cave with a river running through it in the mountains above Jardin, a small pueblo in Antioquia, Colombia.
Several friends of mine had recommended Jardin in the past, so I recently took it upon myself to escape the big city for a weekend in the country.
I booked my horseback riding trip to La Cueva through a local guide, Jaime.
I'd been horseback riding in Colombia once before, in La Valle de Cocora, and while it turned out to be a more adventurous ride than I anticipated, it was also a lot of fun.
I was excited to mount up again, though I still approach riding with a lot of caution.
It always reminds me of the Christopher Reeve accident.
For beginner riders, you never know what kind of horse you'll be given, though the sign of a good guide will be the proper matching of a horse's temperament with a rider's experience.
My horse's name was Leonardo, and he turned out to be a real sweetheart.
He followed directions well, and never gave any signs of wanting to gallop down the trail at full speed.
Additional companions for the trip included two Swiss girls who had been living and working in Colombia for several months.
Together, the three of us, plus our guide and a random assortment of locals headed out of Jardin in the back of a share jeep.
You can choose to start your horseback riding within the town, but it's not so scenic and will add several hours to the whole adventure, thus increasing the chances that you'll get rained on in the afternoon.
Once we reached our guide's finca in the mountains above Jardin, we were paired with our horses and set off on the trails leading to La Cueva del Esplendor.
The weather was cool, the sky overcast.
Our ride lasted little more than an hour, which was enough time to appreciate the raw beauty of the landscape, without risking sore bums for the next few days.
With the horses tied up at another finca, we walked about twenty minutes downhill to the cave.
Water rushed furiously through the hole in the ceiling, kicking up a cloud of mist within the cave. We had the option to go for a swim, but the water was far too cold.
The cave itself was interesting, however, I knew all along that it was just an excuse to go horseback riding for a day.
We were given the option of abseiling down into the cave, however, it appealed to none of us, so we hiked back uphill along a river. Literally.
I've learned there's always an unexpected twist to tours in Colombia.
In this case, it involved leaping over rushing water onto slippery rocks in our loaned rubber boots.
Jaime helped us along, and it turned out to be fun.
It even appeared that the river held some prospects for canyoning, though I only saw a small section.
Back at the second finca, we all took a moment to relax and eat some snacks before mounting our horses for the one hour ride back to Jaime's place.
Once we arrived, and the horses had been sent on their way (up the road to wherever it is they called home), we were treated to fresh maracuya while awaiting the share jeep back to town.
After two horseback riding trips in Colombia, I'm hungry for more.
It's by far the best way to experience the countryside, while at the same time, getting a taste for the rural way of life.
____________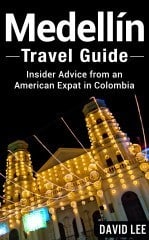 My 138-page, all-original Medellín Travel Guide is now available for Kindle and PDF.
.
Dave is the Founder and Editor in Chief of Go Backpacking and Feastio. He's been to 66 countries and lived in Colombia and Peru. Read the full story of how he became a travel blogger.
Planning a trip? Go Backpacking recommends: