Colombia's San Andres island offers visitors turquoise waters, sandy beaches, and boatloads of beach bars.
I learned about this small Caribbean island from a Lonely Planet guidebook I bought in Madrid days before flying to Colombia for the first time.
San Andres has long been a popular vacation destination for Colombians as the beaches and crystal clear water are among the country's best.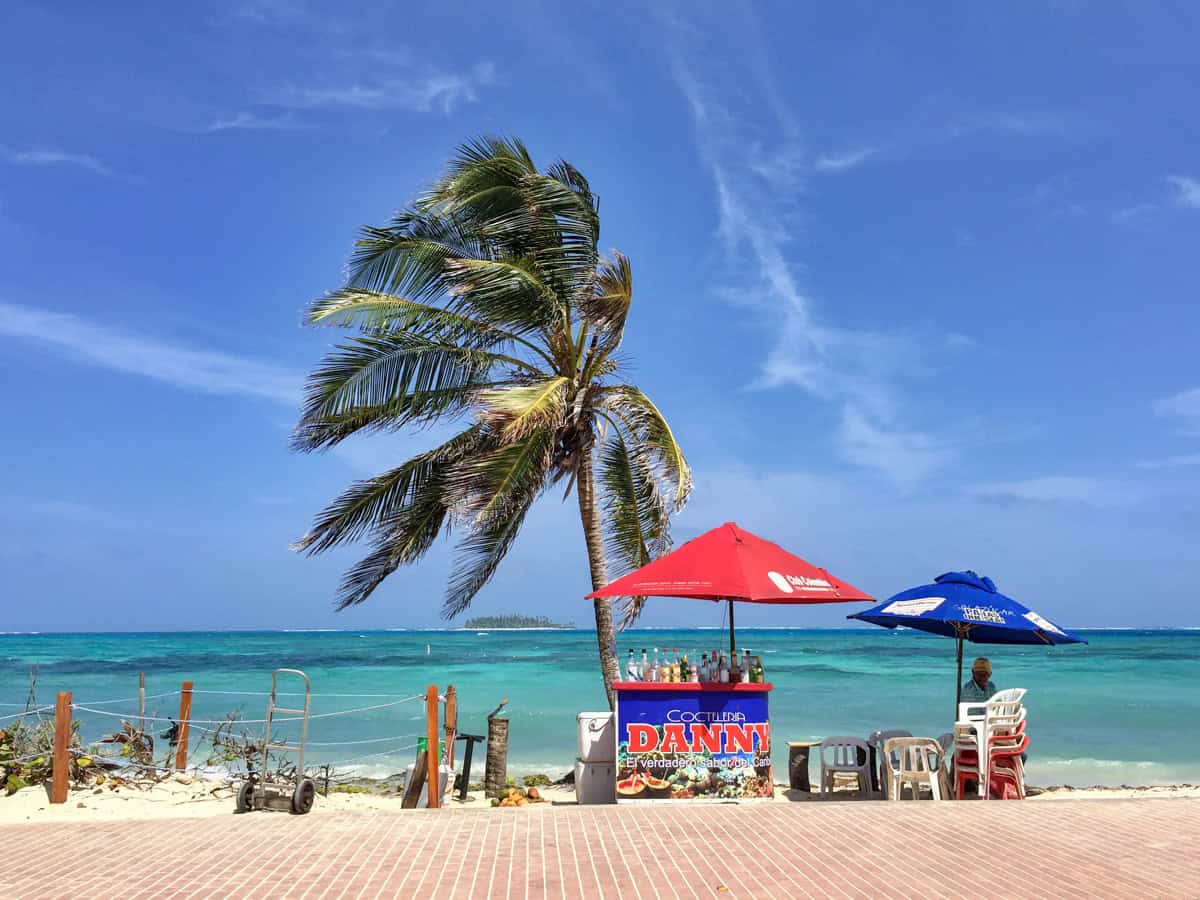 As tourism has grown, so has the number of foreigners adding this part of Colombia to their travel plans.
In February 2015, while still living in Medellin, I finally went to San Andres for myself and thought it similar to Cancun, Mexico, for many reasons:
Pretty waters
Beautiful beaches
Developed infrastructure and tourism services
Watersports (including snorkeling and scuba diving around coral reefs)
Family-friendly
Easily accessible by air from within Colombia
Relatively inexpensive (by Caribbean standards)
Cheap shopping
Lots of alcohol and beach bars
Mass tourism appeal
But please, don't let this comparison scare you off. I've had some great experiences in Cancun, such as snorkeling with whale sharks, and I also had fun in San Andres.
San Andres Travel Guide
My San Andres island travel guide follows, including frequently asked questions, what to expect once you arrive, the best things to do, onward travel to Providencia Island, and more.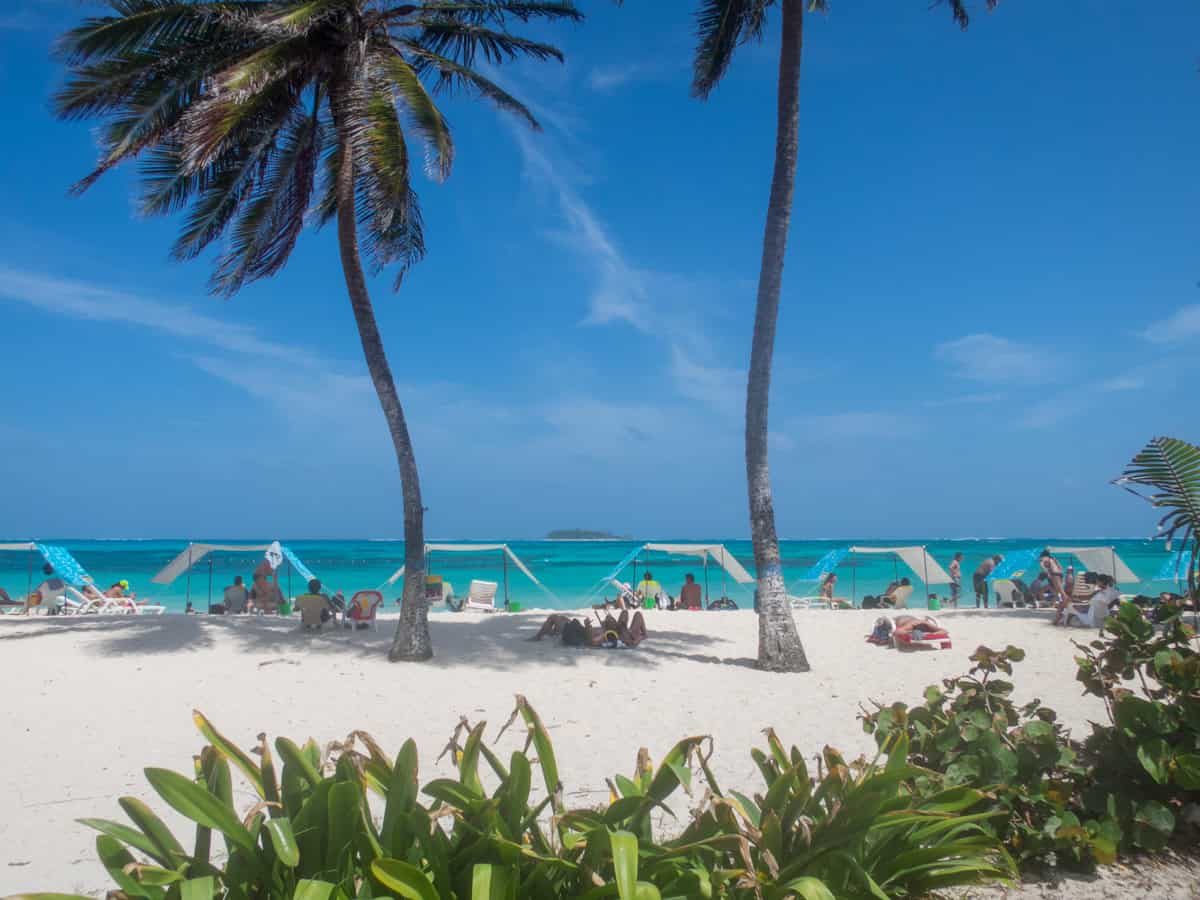 FAQ: Planning Your Trip
Where is San Andres, Colombia?
San Andres is the largest island of a 22-square-mile archipelago located 480 miles north of the Colombian mainland.
The north end of San Andres is the department's capital, known as San Andres Town. Other significant islands in the department include Providencia and Santa Catalina.
Geographically, San Andres is closer to the coast of Nicaragua (140 miles) than Colombia in South America. This reality has led to a long-time dispute between the two nations.
As it stands today, San Andres remains Colombian; however, in 2012, Nicaragua was granted increased rights over the islands' resource-rich waters.
Is it safe to visit?
Yes, San Andres is one of the safer places to visit in Colombia, as the island relies on tourists.
I still recommend taking common-sense precautions to protect your belongings against theft at night.
I didn't lock up a pair of sneakers in my hostel dorm, and someone took them. Whether it was another guest or staff, I'll never know. Next time, I'd pay for one of the private rooms.
When's the best time of year to go?
The best months to visit San Andres are February, March, and April, during the dry season when rainfall is at its lowest.
The rainy season runs from September to December and from May to June. The average temperature is relatively steady throughout the year, ranging from a high of 85 F to a low of 78 F.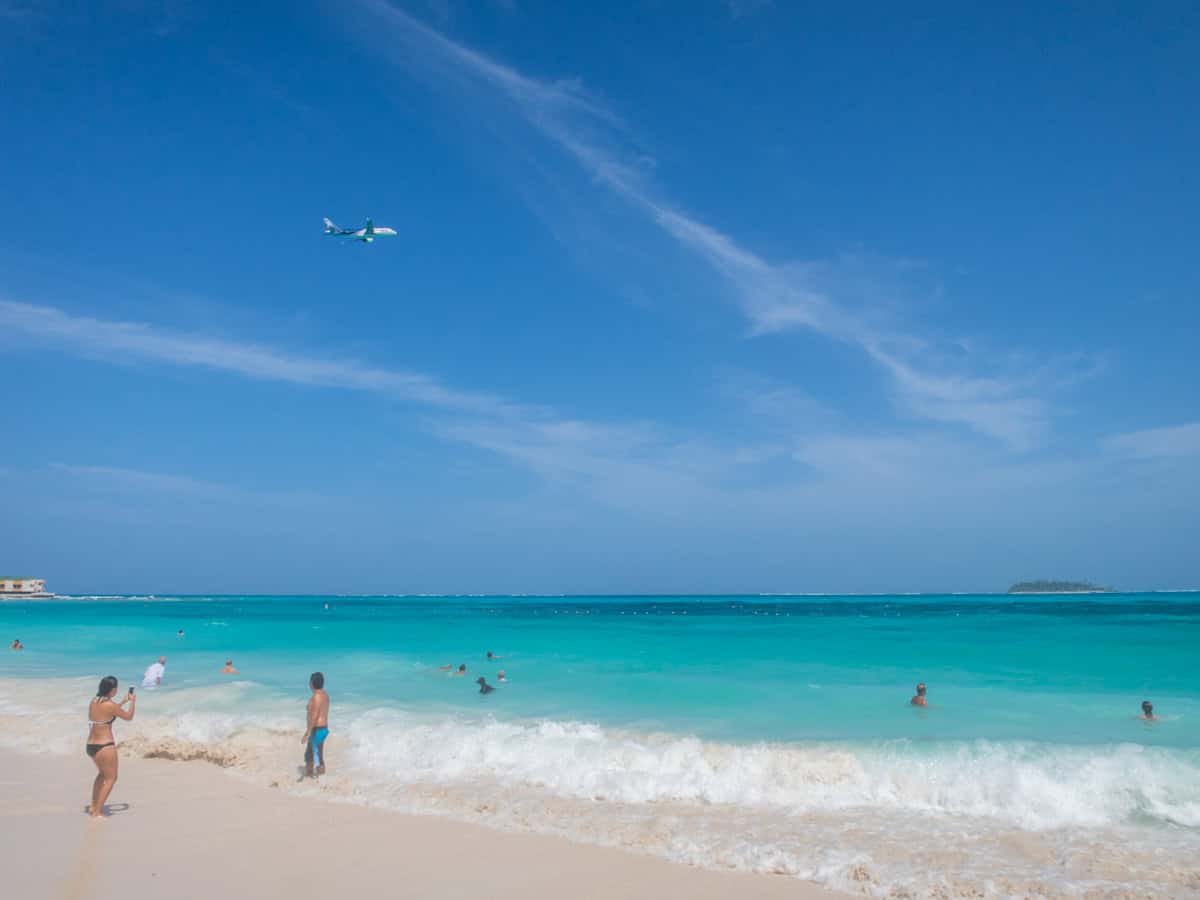 How do you get to San Andres?
San Andres (airport code: ADZ) is easily accessible from all major Colombian cities, including:
Copa Airlines flies direct from Panama City (1 hr 13 min), a significant hub in Latin America. Carriers with regular flights include Avianca, Copa, LATAM, Viva Air, and Wingo.
Viva and Wingo are discount Colombian airlines that usually offer the best deals, though additional fees can raise prices closer to those offered by larger carriers like Avianca.
One-way flights can be extremely cheap, as in $30, plus fees.
Note: Non-Colombian visitors to San Andres must buy a tourist card before boarding their flight to the island.
This is essentially an entry tax that can be paid at the airport. The current cost is 112,500 pesos ($30). Hold onto the tourist card until you return to the mainland.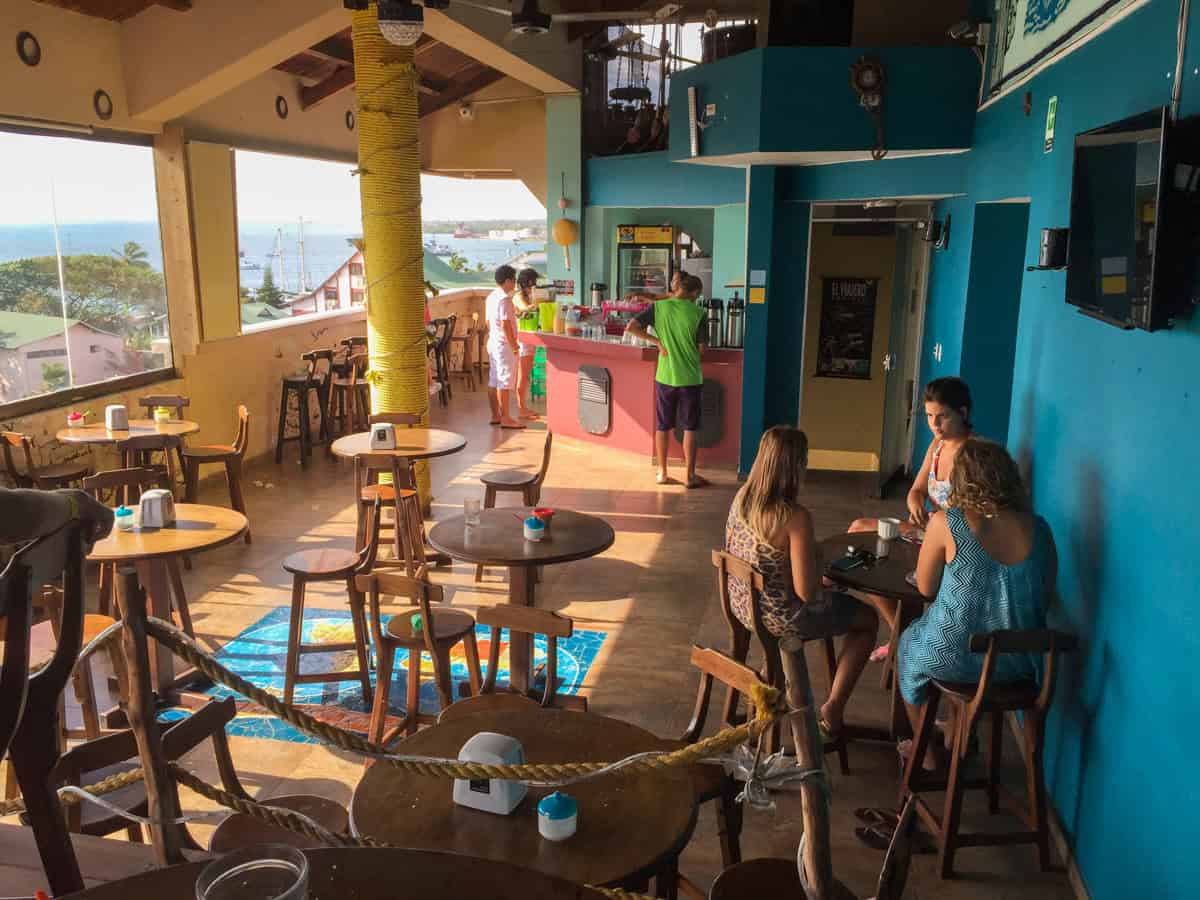 Where should you stay?
There's a variety of options in San Andres, from hostels to B&Bs, and hotels.
When I took my solo trip in 2015, I stayed in a dorm room at Viajero San Andres Hostel because of its convenient location at the island's north end and low cost. Today, there are many more options to choose from on Hostelworld.
If you prefer the privacy and comfort of a hotel or B&B, try searching CozyCozy, an aggregator of various accommodations.
Related: Best Hostels in Colombia
How do you get around?
Glad you asked! The island of San Andres has a paved road encircling it, and it's just 19 miles to go around the little island.
The best way to get around comfortably and inexpensively is to rent a golf cart.
Motorbikes and bicycle rentals are also available. Taxis are available but not necessary given the small size of the island.
Do you need to know Spanish?
San Andres is so small, and the locals are so used to English-speaking tourists that it's unnecessary to speak Spanish to enjoy your time here.
However, learning some Colombian slang words is a quick and easy way to connect with locals, even if it's to exchange pleasantries.
How much does a trip to San Andres cost?
Given all the variables, putting a specific price on a trip is hard, but I'll give it a shot.
Let's say you want to take a 3-day, 2-night trip from Medellin.
Airfare: $100 roundtrip
Hostel dorm (including breakfast): $30
Lunch, dinner, drinks: $80
Visitor tax (required): $30
Acuario and Johnny Cay tour: $5
Golf cart rental: $50
This quick trip would cost you about $295, or about $100 per day.
You could stay a few more nights, and the average daily price would decrease. Not bad for a Caribbean getaway!
Things to Do in San Andres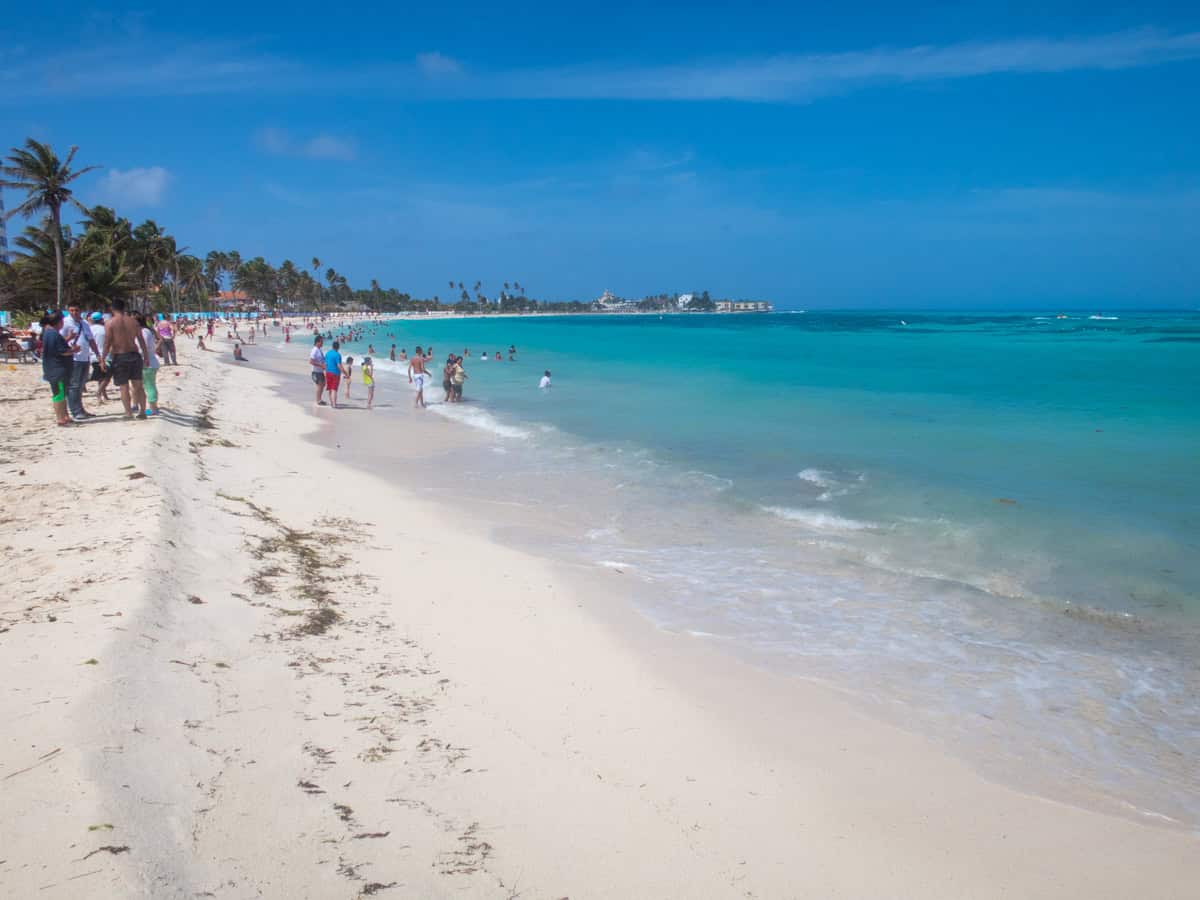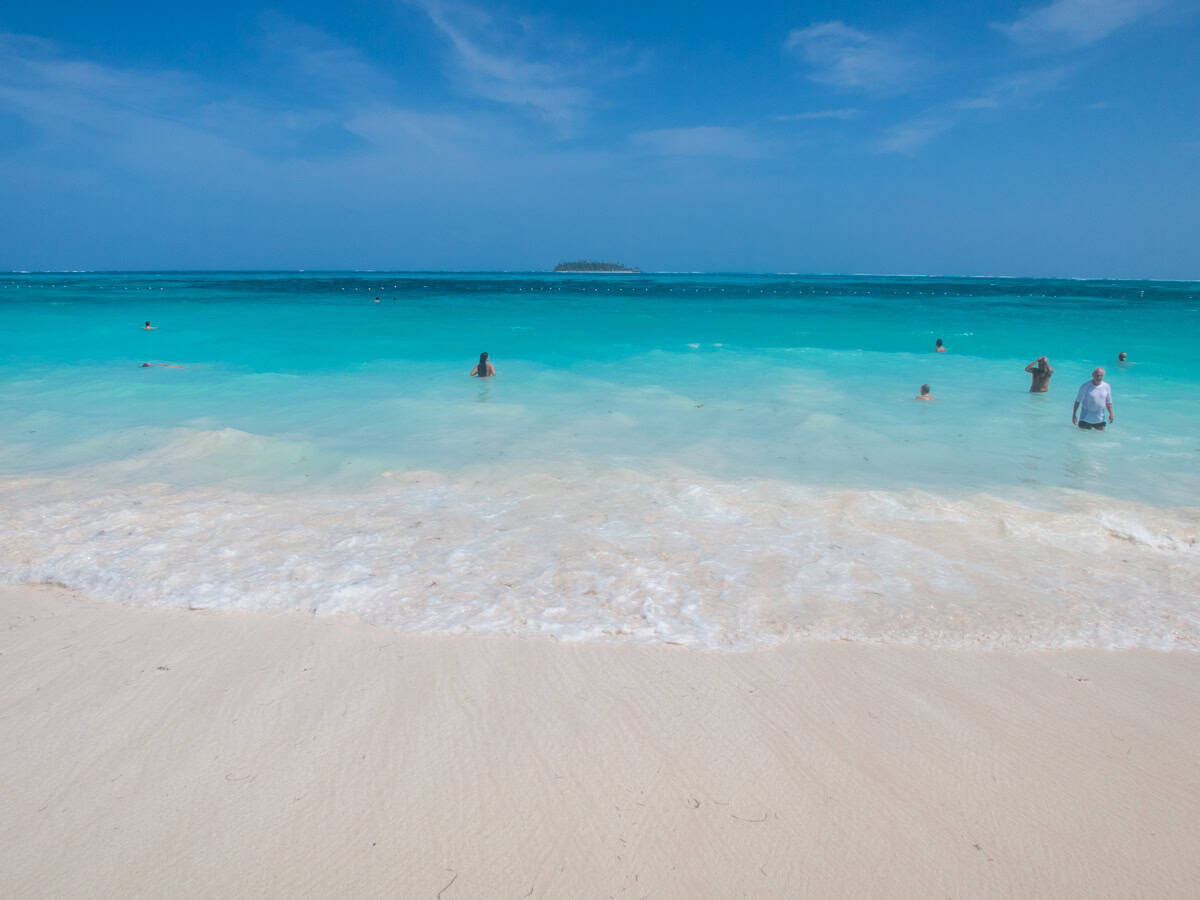 Spratt Bright Beach
The main beach on San Andres is called Spratt Bright, which runs for a few miles along the island's northern edge.
The water sparkles in various shades of blue when the sun is out. The sand is soft and comfortable for walking.
Look north, and you'll see Johnny Cay, a small island accessible by boat taxi throughout the day or as part of a multi-stop tour.
Restaurants, bars, and shopping are a short walk from the beach.
My first meal in San Andres was a fish filet and mojito at The Islander restaurant across the boardwalk from Spratt Bright Beach.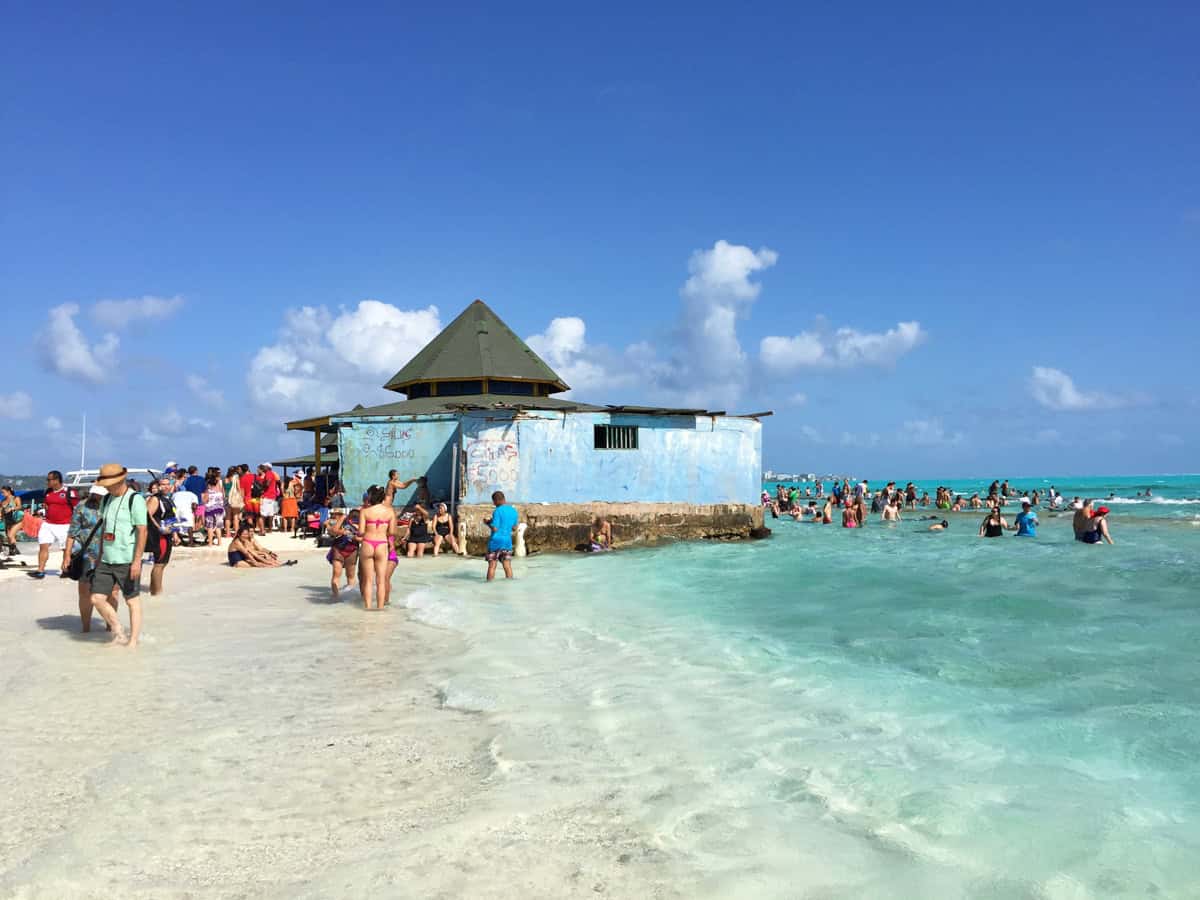 Cayo El Acuario
Haynes Cay and Rose Cay, off the east side of San Andres, make up Cayo El Acuario ("The Aquarium").
On my second full day in San Andres, I paid $5 for a boat tour to visit El Acuario, followed by Johnny Cay.
Combine clear waters with cheap boat trips, and you have the recipe for many people.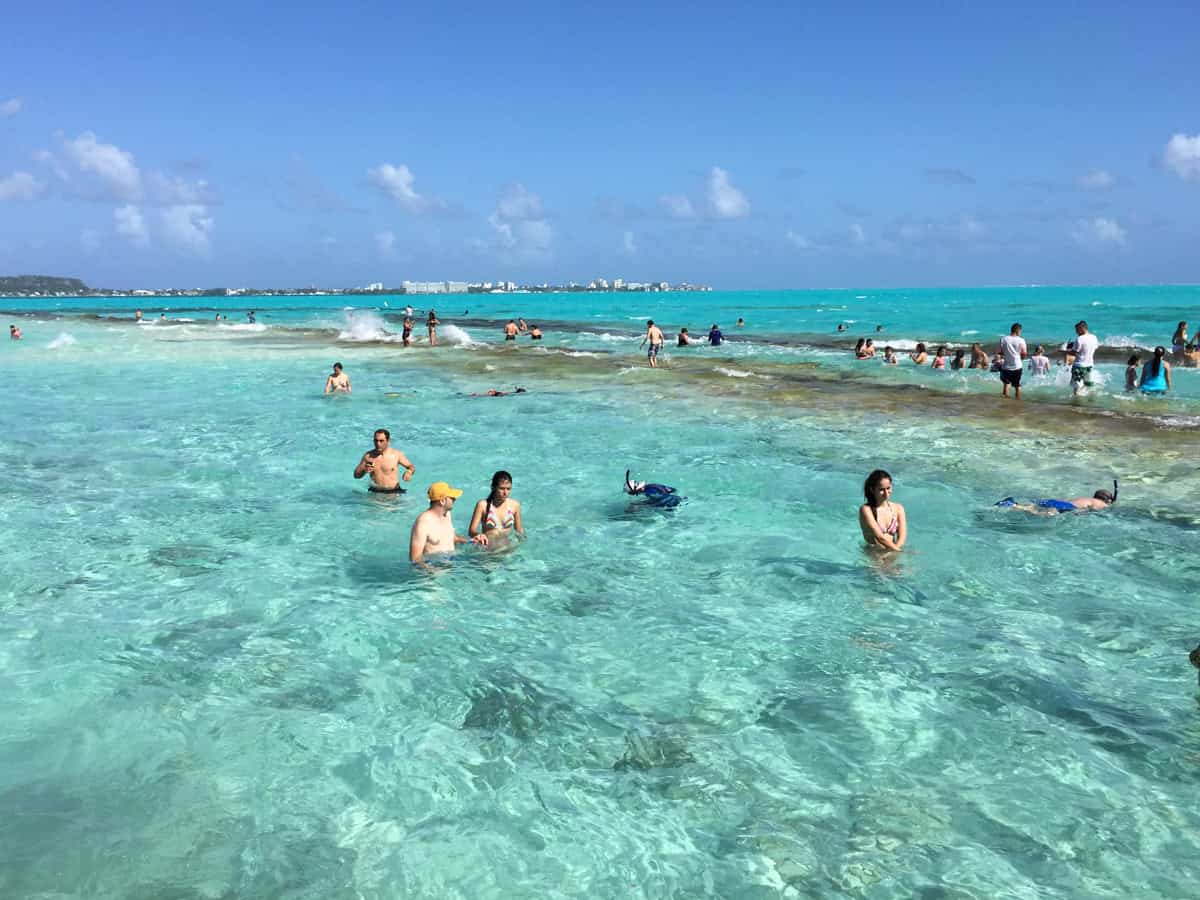 Given the crowds, it was hard to appreciate the location's natural beauty. The spectacle reminded me of Cancun, but I get the appeal.
Most Colombians will never travel internationally, so an opportunity to see such pretty waters in their country is a legit cause for excitement.
In addition to snorkeling, it's possible to feed manta rays here, which I do not recommend as it creates a dependency on humans — not good.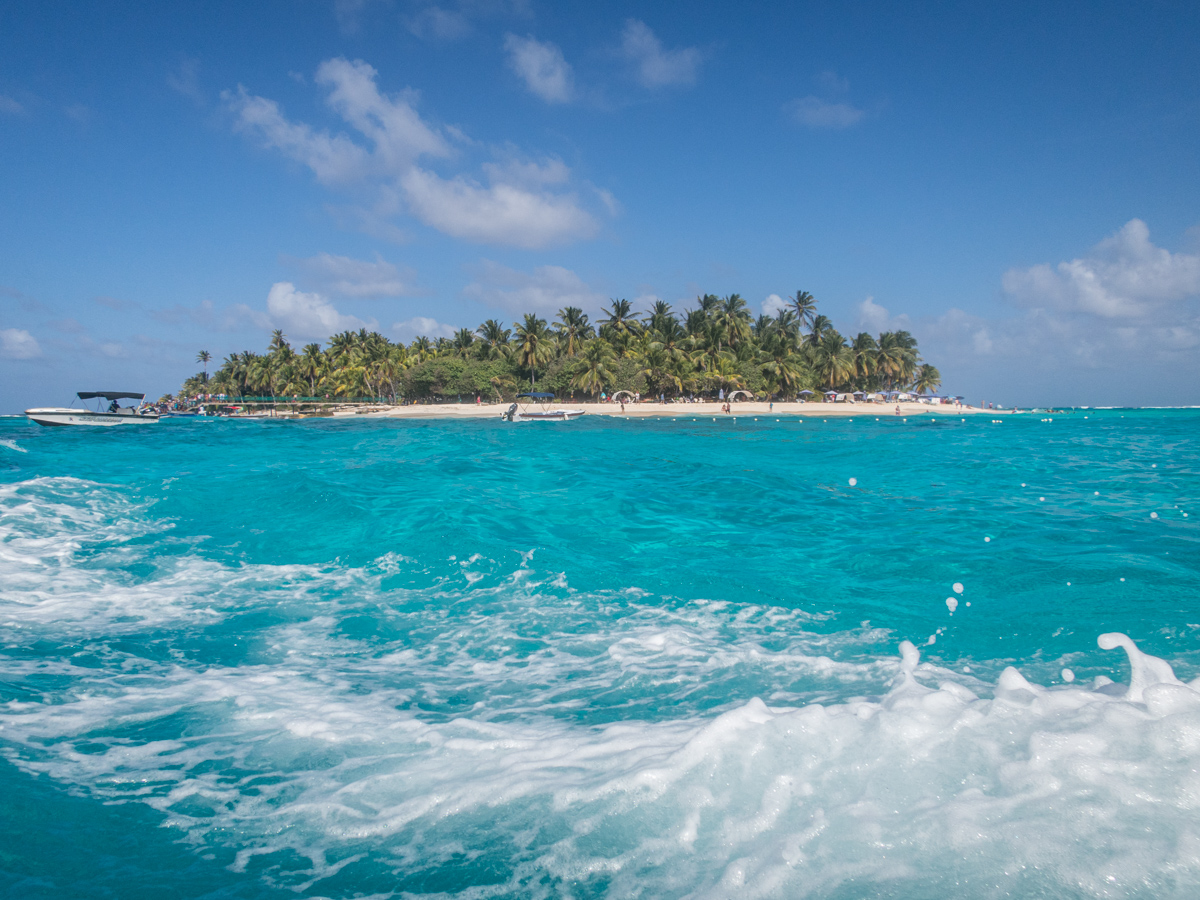 Johnny Cay
Johnny Cay is a tiny island, a short boat ride north of San Andres island.
This was the second stop of my boat tour and much more enjoyable than El Acuario (if you want to choose between the two).
The sandy beach facing south toward San Andres is perfect for swimming and lounging in the sun. Covered seating is available to rent.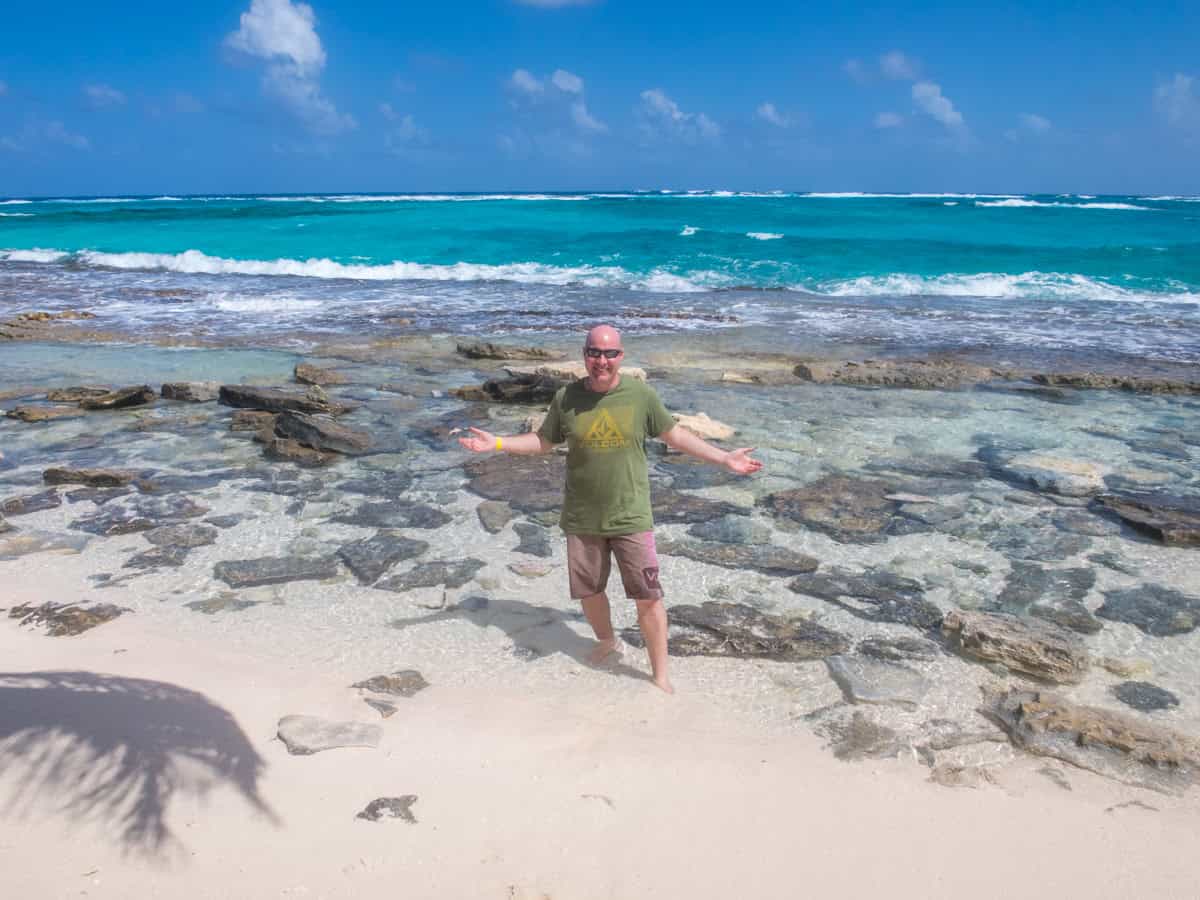 The other sides of Johnny Cay are rockier, though still worth seeing. It only takes about 15 minutes to leisurely walk around the entire island.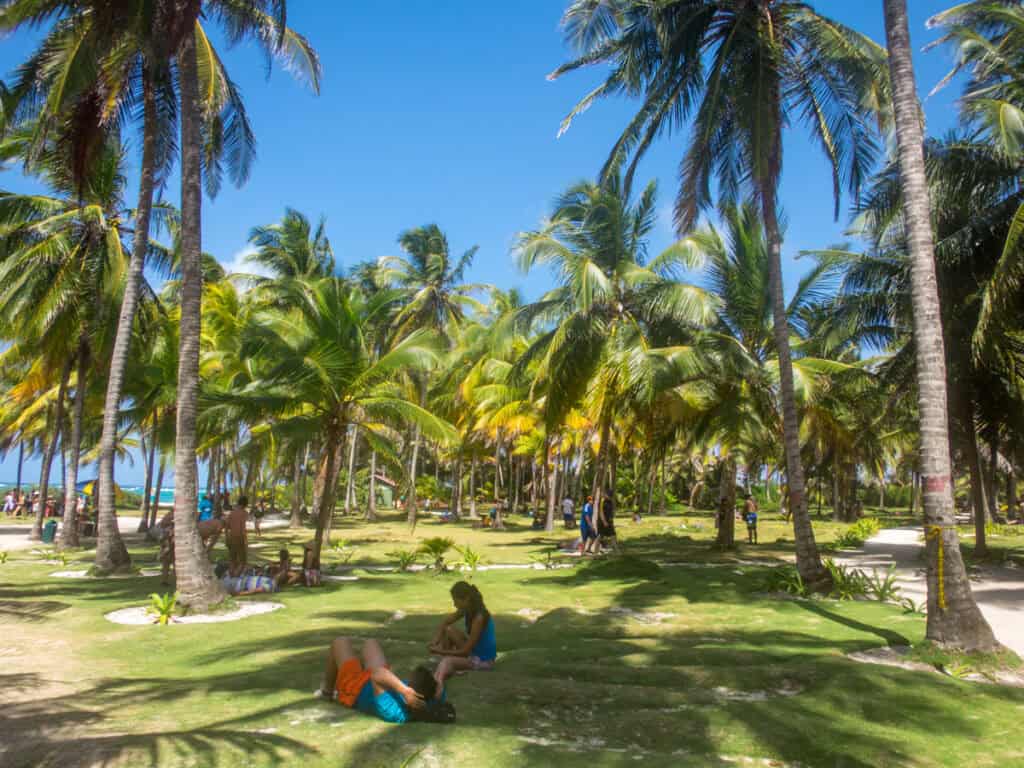 The interior has grass and palm trees, making it the perfect place to sit back in the shade, relax, and enjoy the Caribbean breezes.
I paid $13 for a lunch of fried red snapper with rice, fried plantains, and salad. Fresh lobster was also available.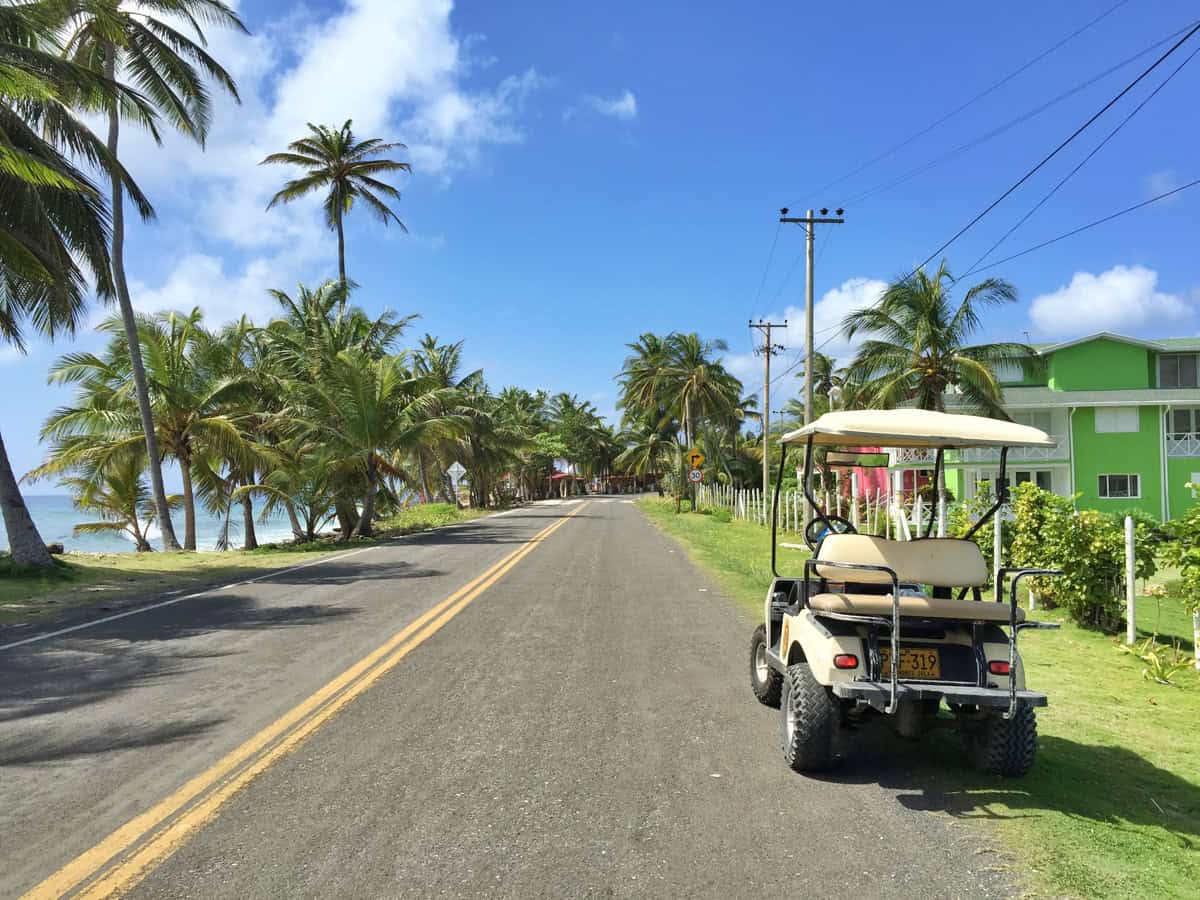 Rent a golf cart for a self-driving tour
I spent my first full day on San Andres cruising around the island in a rented golf cart. The full-day rental cost me $50, which was well worth it.
I fear motorbikes and a bicycle would've taken too long. The golf cart was user-friendly and zero-stress.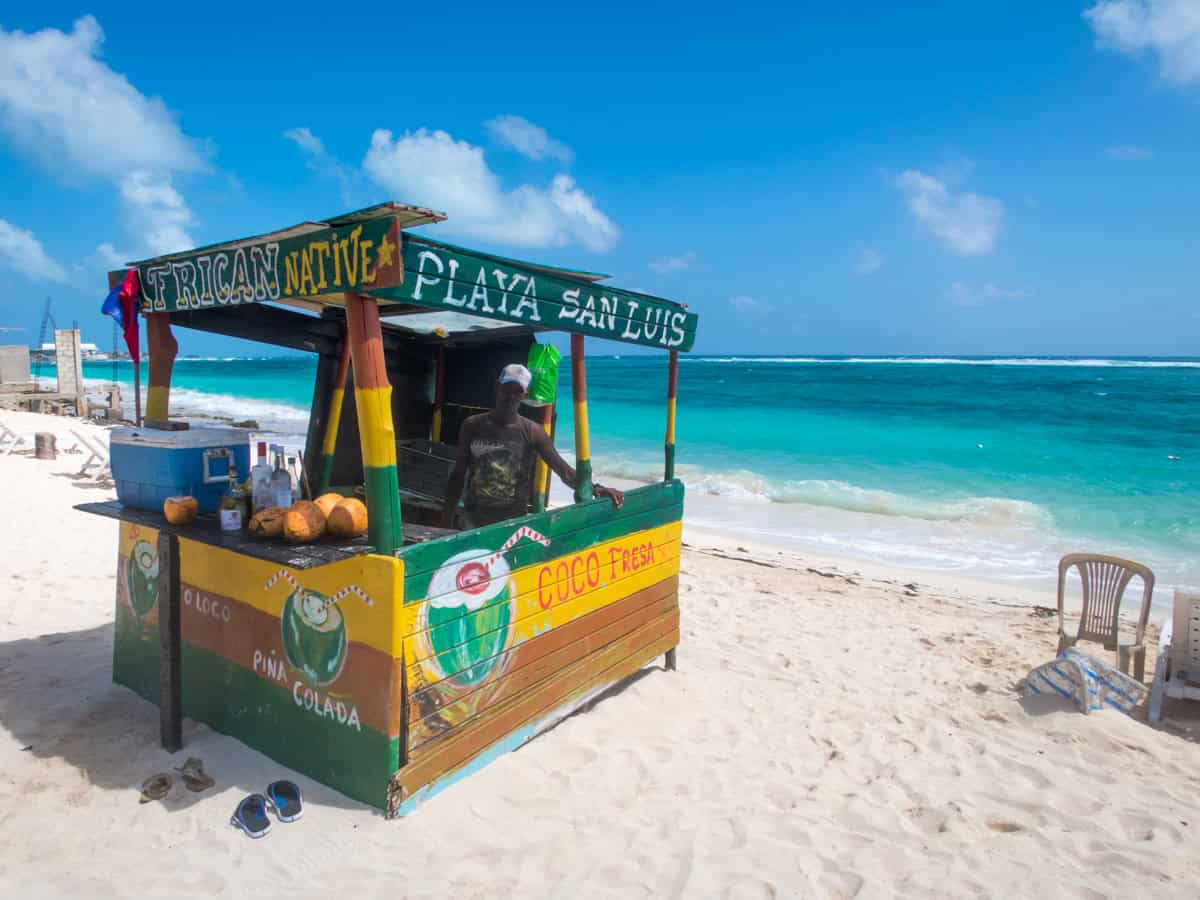 I visited several of the best beaches, including Playa San Luis (above), the First Baptist Church (below), West View (swimming spot and restaurant), a blowhole, and a pirate cave. It was nice to get out of the north end for a day.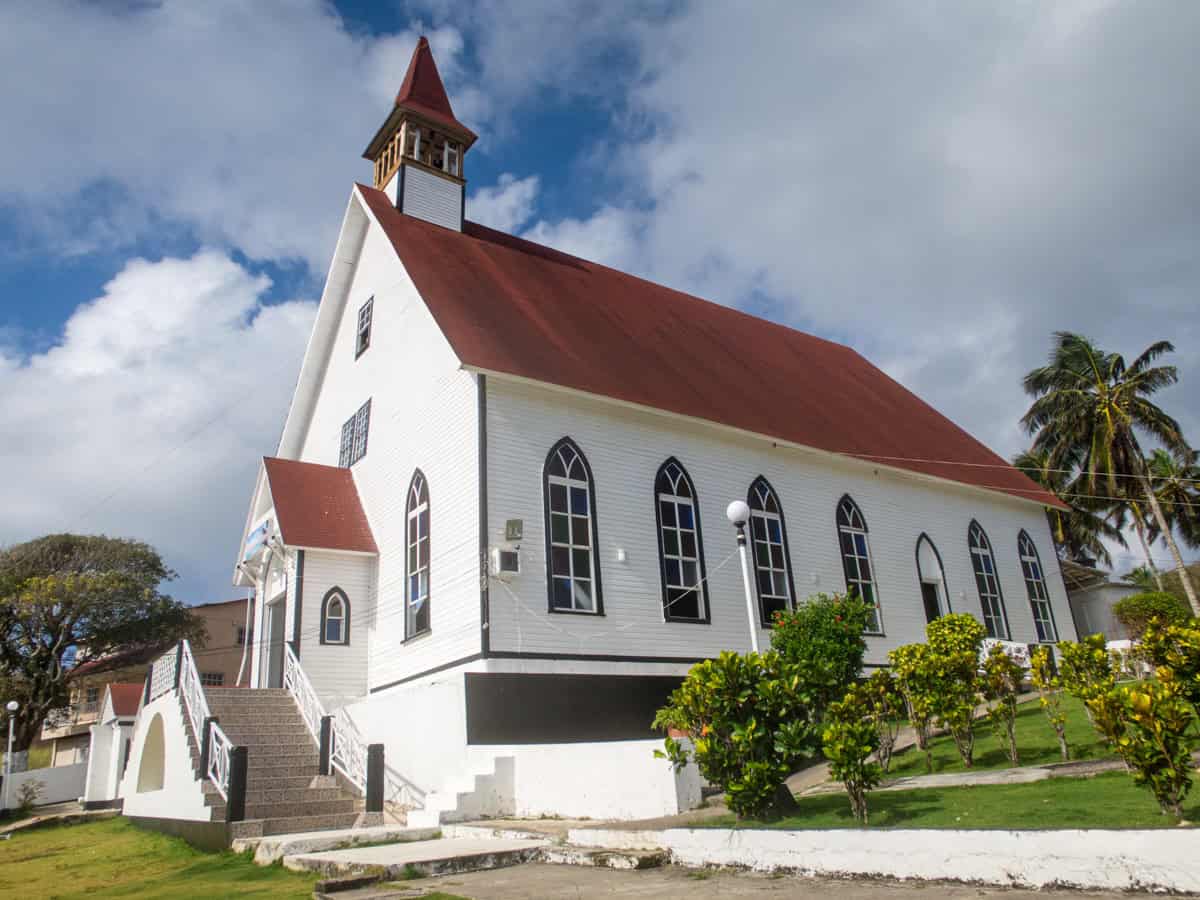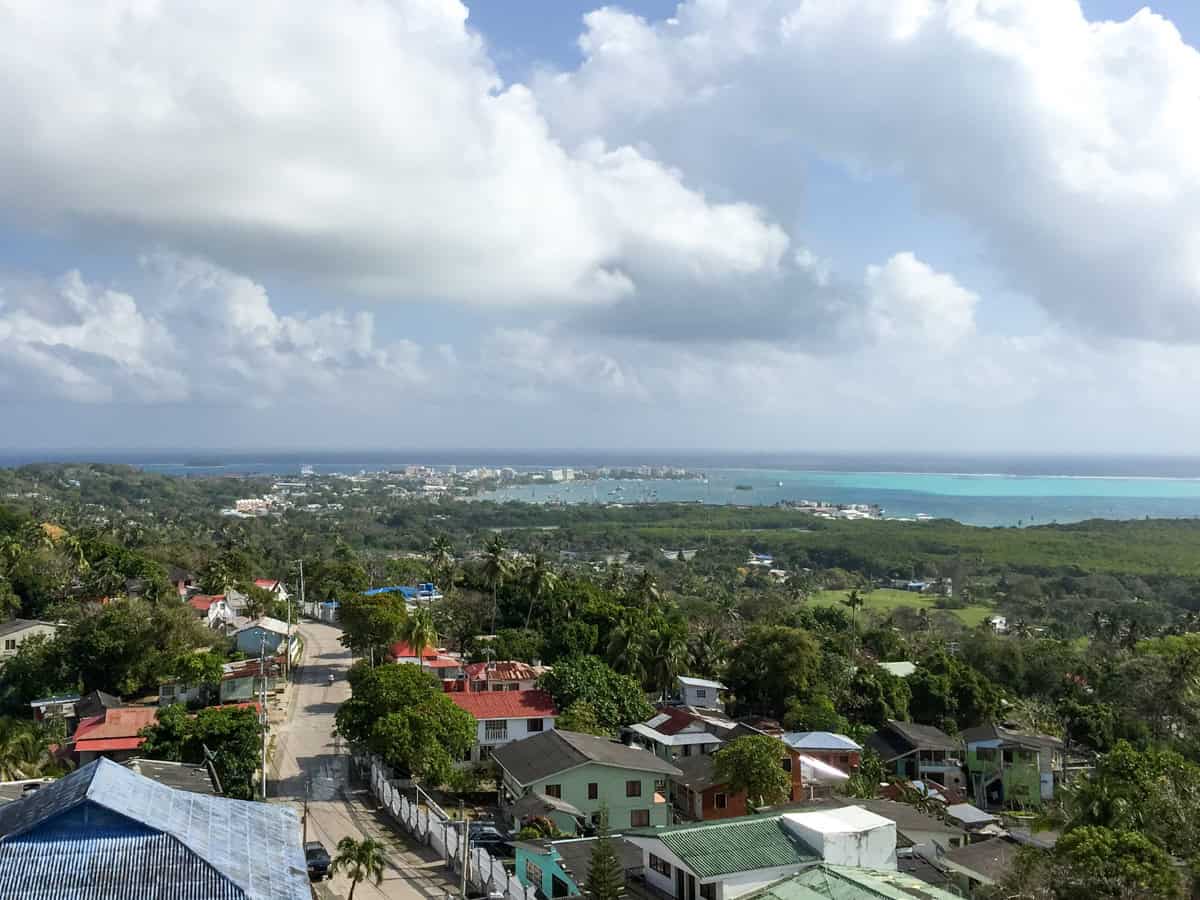 Old Baptist Church
The Old Baptist Church, established in 1847, is located in La Loma ("the hill") in the island's interior. For a dollar, you can climb up the steeple for scenic views.
As old as that may seem, English Puritans first settled the island between 1627 to 1629.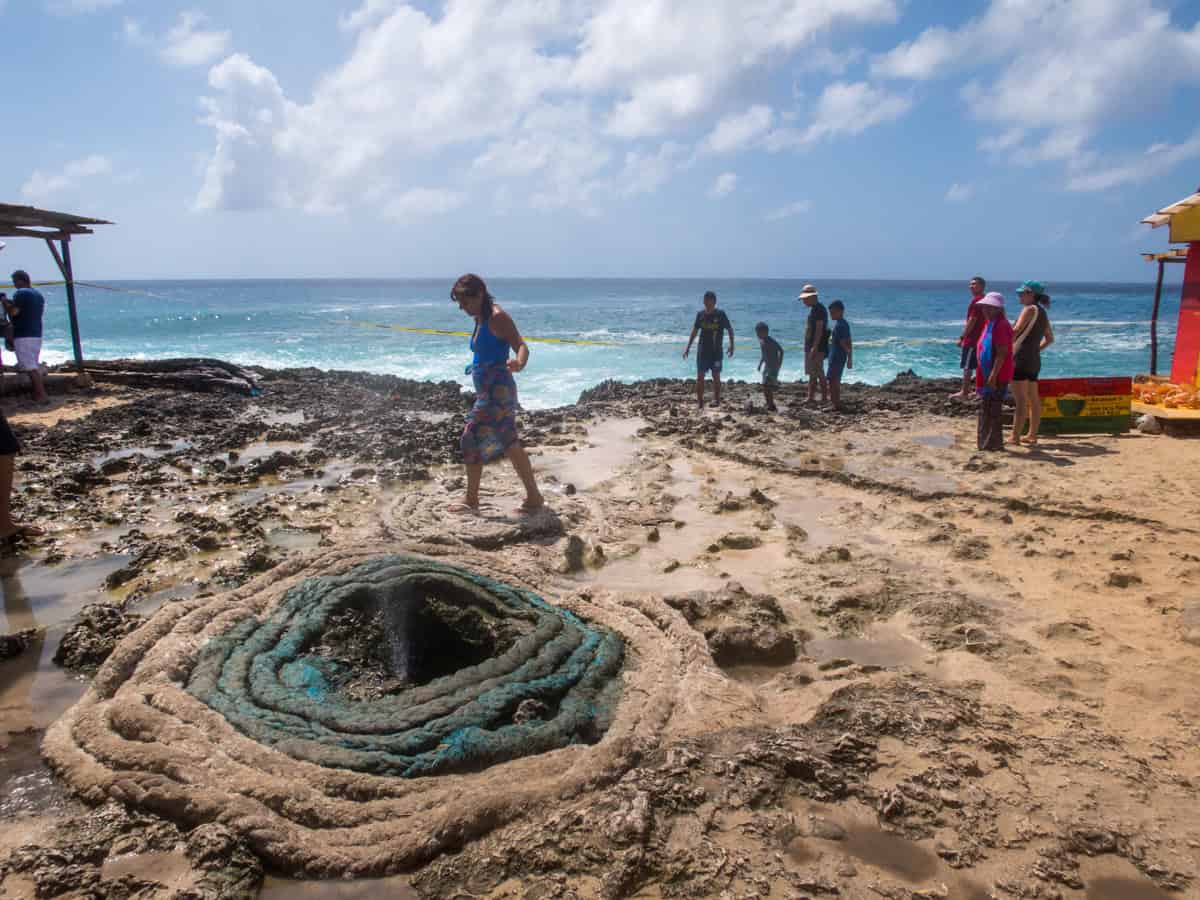 Visit El Hoyo Soplador (Blowhole)
It's not a Caribbean island experience without a few tourist traps. El Hoyo Soplador fits the bill. This blowhole sprays water up in the air to the delight of all around it.
Beach bars are there to serve visitors tropical drinks while they watch. It worked, too. I paid about $4 for agua de coco (coconut water) with rum.
Cueva de Morgan (Pirate Cave)
After a peaceful lunch at West View restaurant, I paid $6 to tour an old pirate cave called Cueva de Morgan ("Morgan's Cave").
Here, a handful of locals put on a little show. A small exhibition features a collection of old guns and swords. The cave itself was filled with murky blue water. I forget the backstory.
And while this was one of the only tourist attractions that didn't seem worth my time, there was no harm done, and my entrance fee supported the local economy.
Food and Drink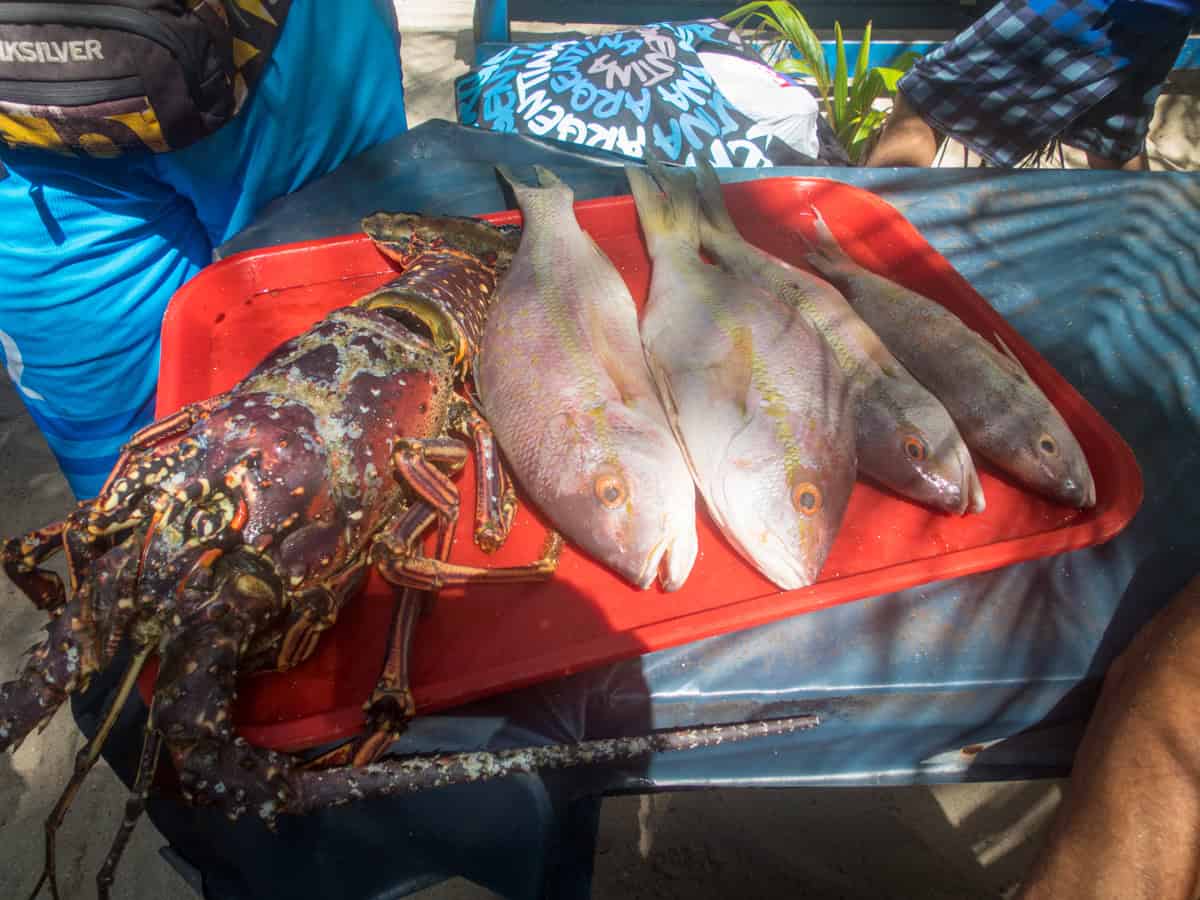 Seafood is typical on San Andres island, with a cuisine similar to the Colombian food you'll find on the mainland's Caribbean coast. Lobster fans will delight in the plentiful supply.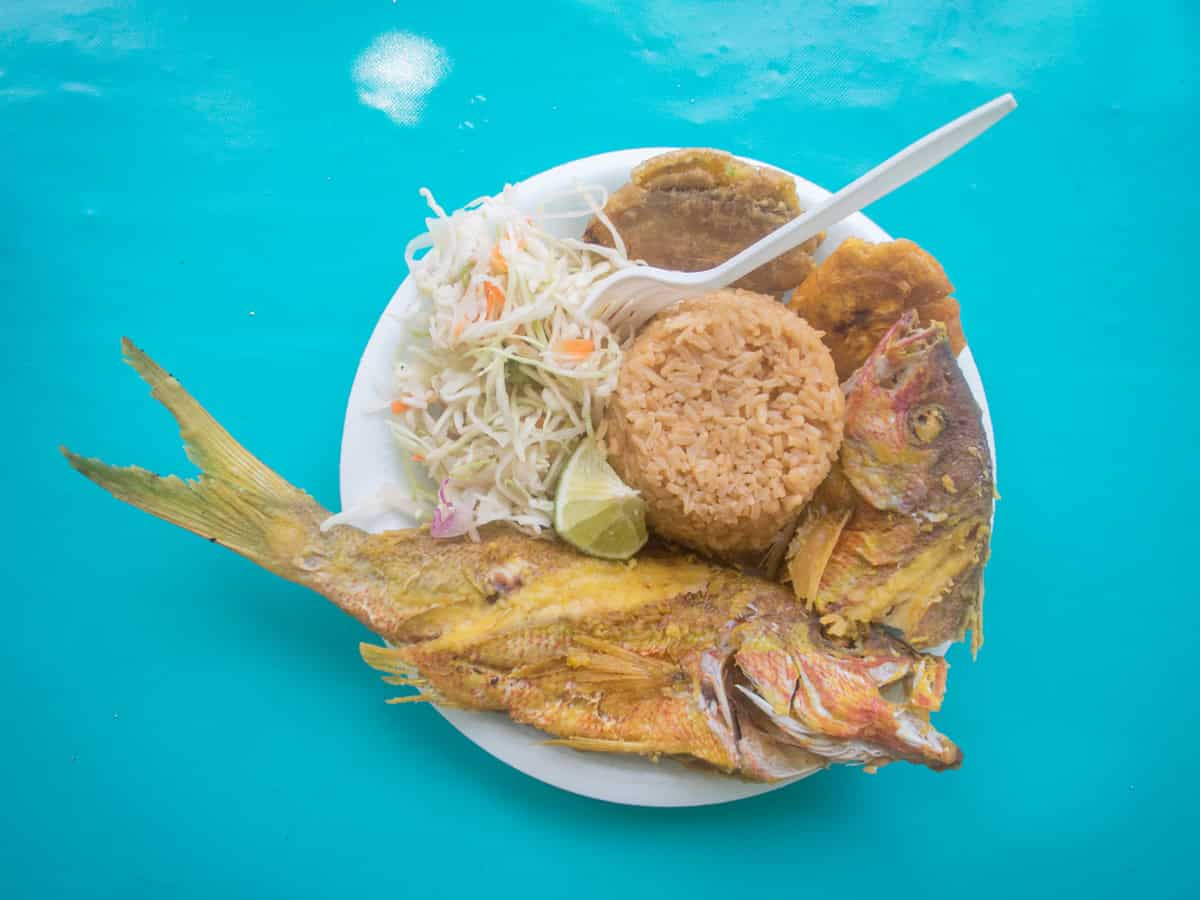 My favorite is a fried snapper (known in Spanish as "pargo"). It's traditionally served with coconut rice, fried plantains, a side salad, and a lime wedge.
Other typical dishes include:
Shrimp in _____ sauce (such as garlic)
Shrimp rice
Crab rice
Seafood casserole
Prawns
Conch
Rondon is a typical island meal made with coconut milk, seasonings, yucca, and fish or conch.
Restaurants are a little more expensive than you'd find on the mainland, but that's to be expected. Still, it's budget-friendly.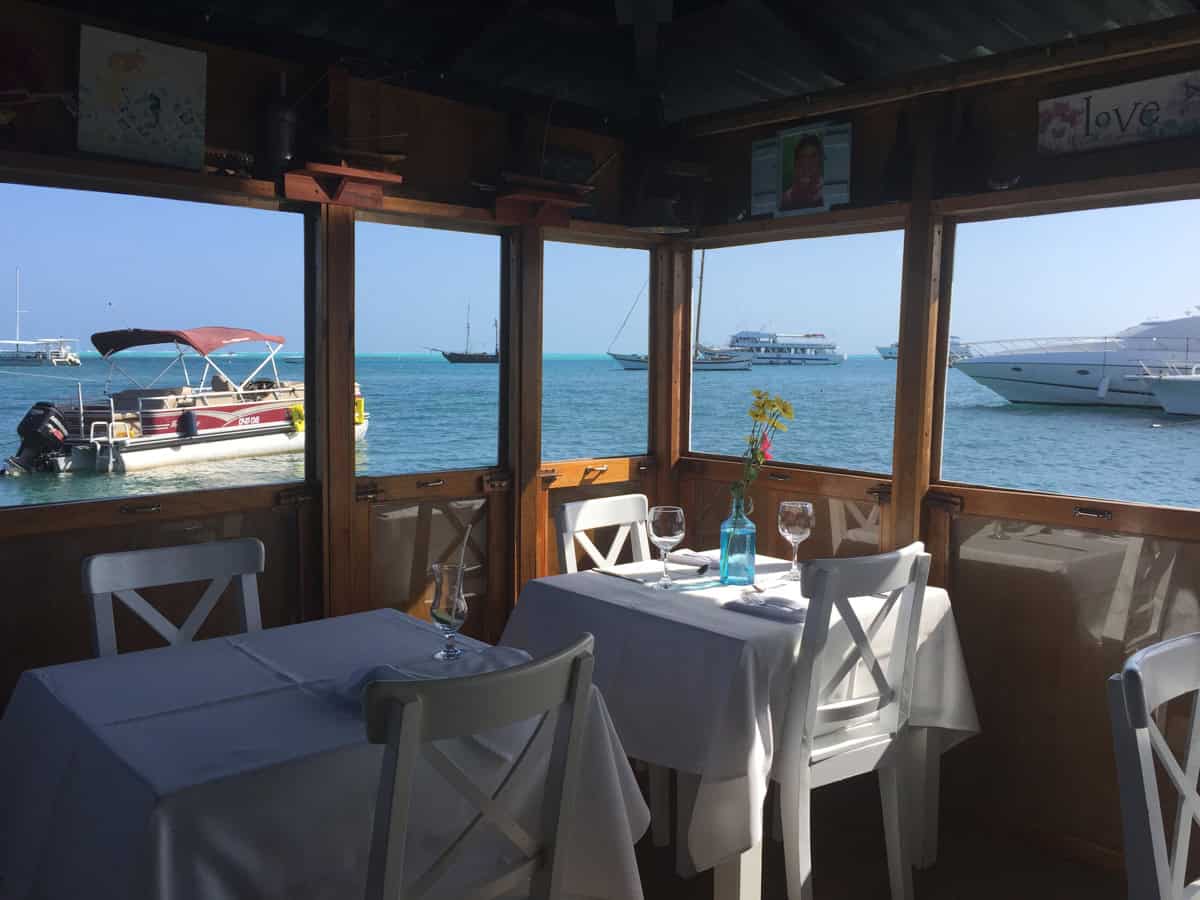 I splurged on one nice meal, a lunch at La Regatta in the main town, during my five-day stay in San Andres.
I chose La Regatta in the north end as it's set on the water with views of boats all around.
It must get a larger dinner crowd as only a handful of other diners were there for lunch. I was given a corner table (above), which I loved.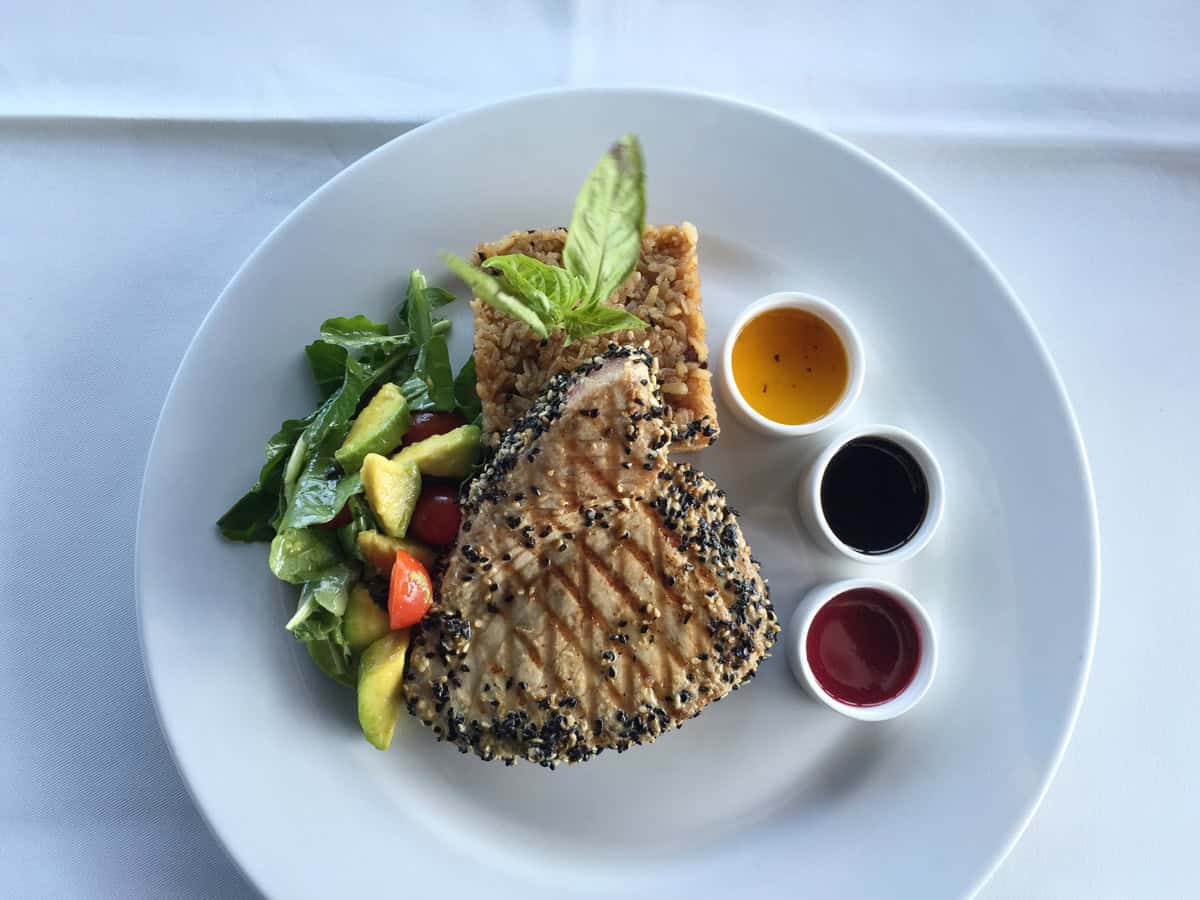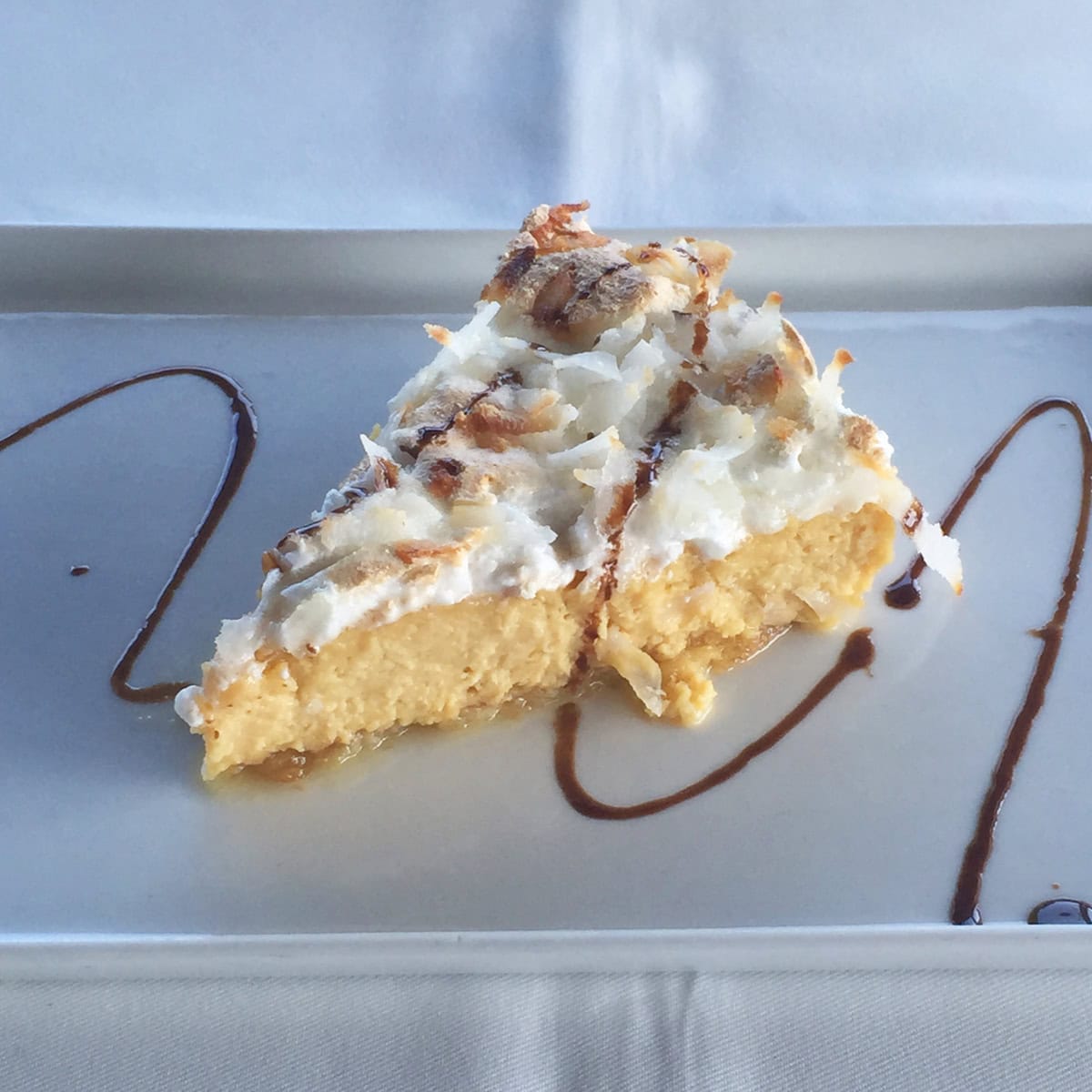 I ordered grilled fish with rice and salad, and it was served with three colorful sauces. For dessert, I went with a decadent coconut pie.
My lunch, including tax and tip, was $50, which I considered a good value given the setting and quality of food. This is an excellent place for a romantic dinner, and it's family-friendly.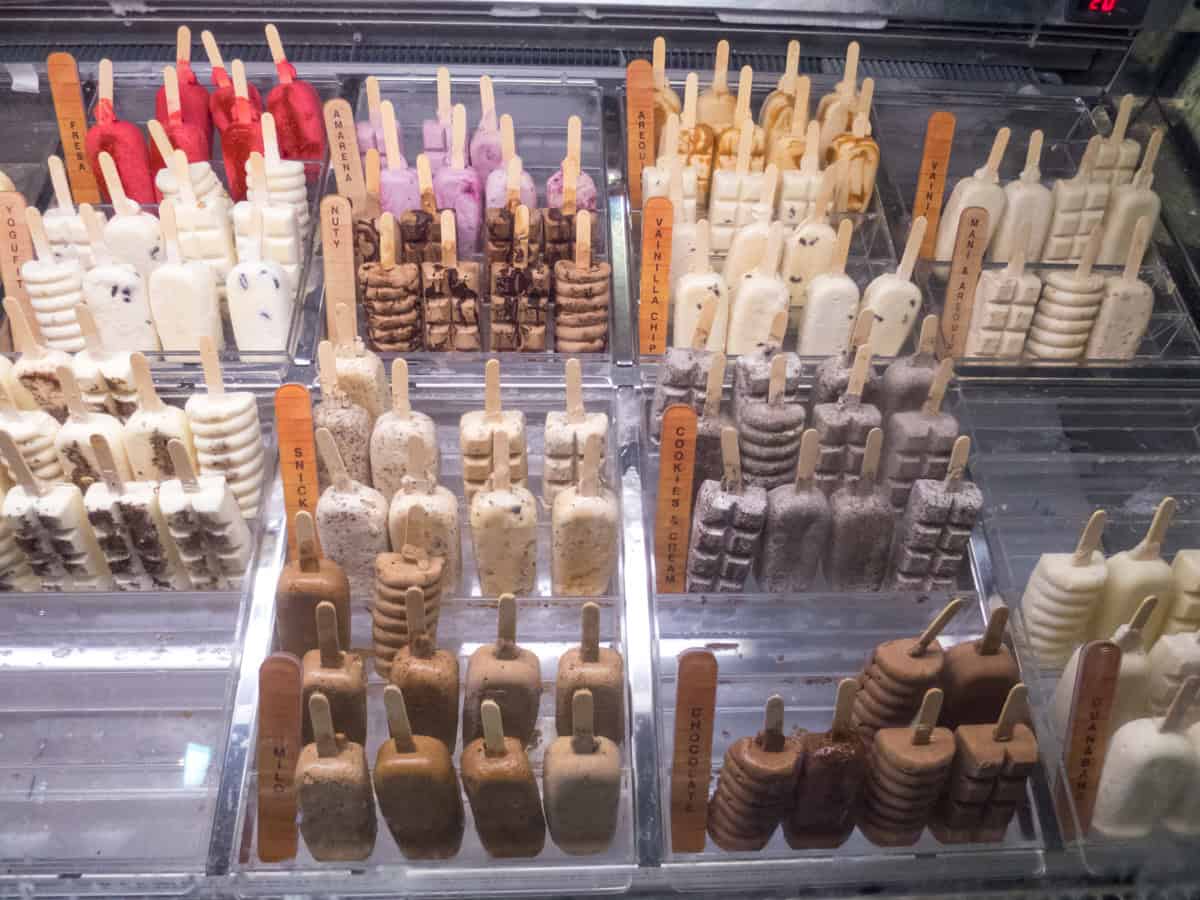 Since you're at the beach, there's no shortage of options for ice cream. I was impressed by the variety of flavors at the ice cream shop above. These artisanal pops are known in Spanish as "paletas" and go for a few bucks.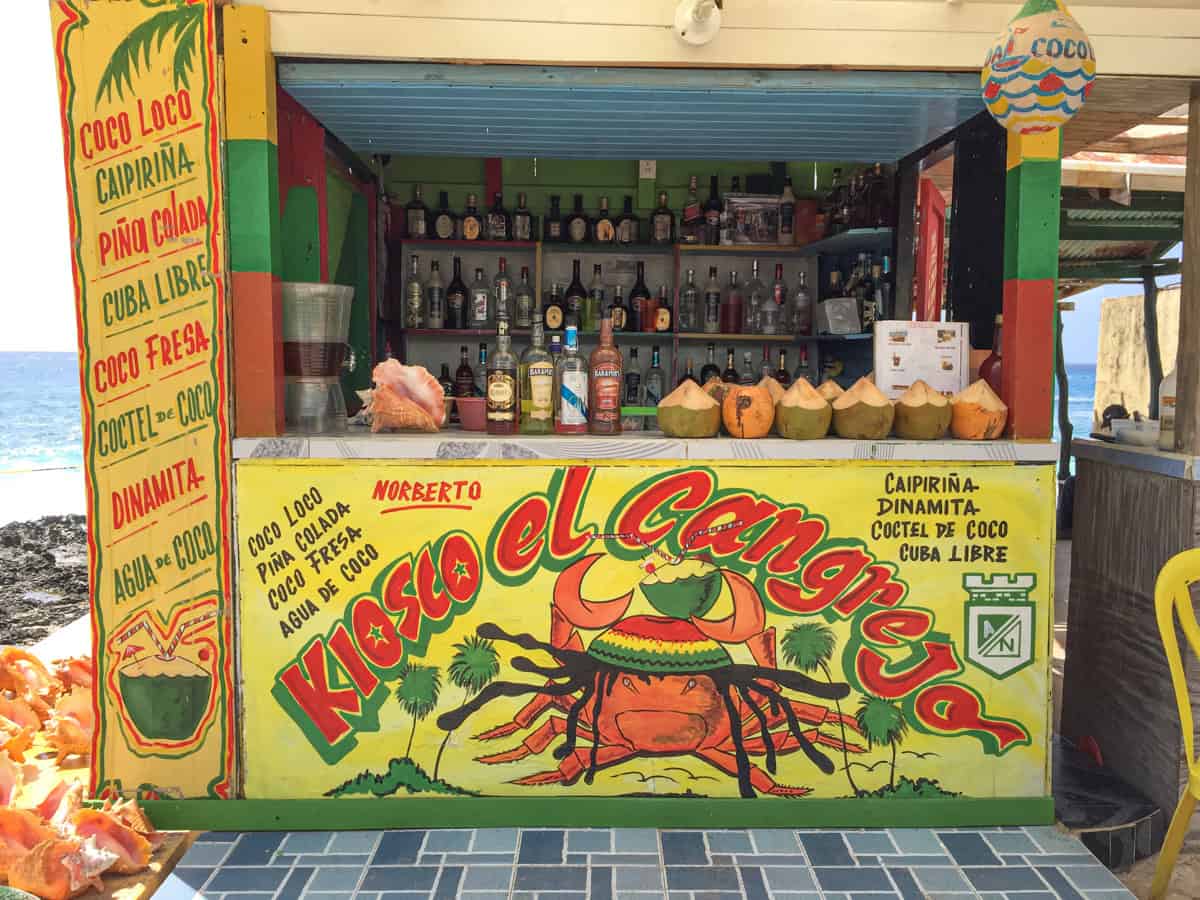 Last but certainly not least, the ubiquitous beach bars offer visitors freshly made tropical cocktails.
The "Coco Loco" is a signature San Andres island drink, and while I can't recall what's in it, the name alone ("crazy coconut") suggests a lot of alcohol!
Caipirinhas, mojitos, Cuba Libres, and coconut water with rum are a few more standard options. Expect to pay $4 to $5 per cocktail.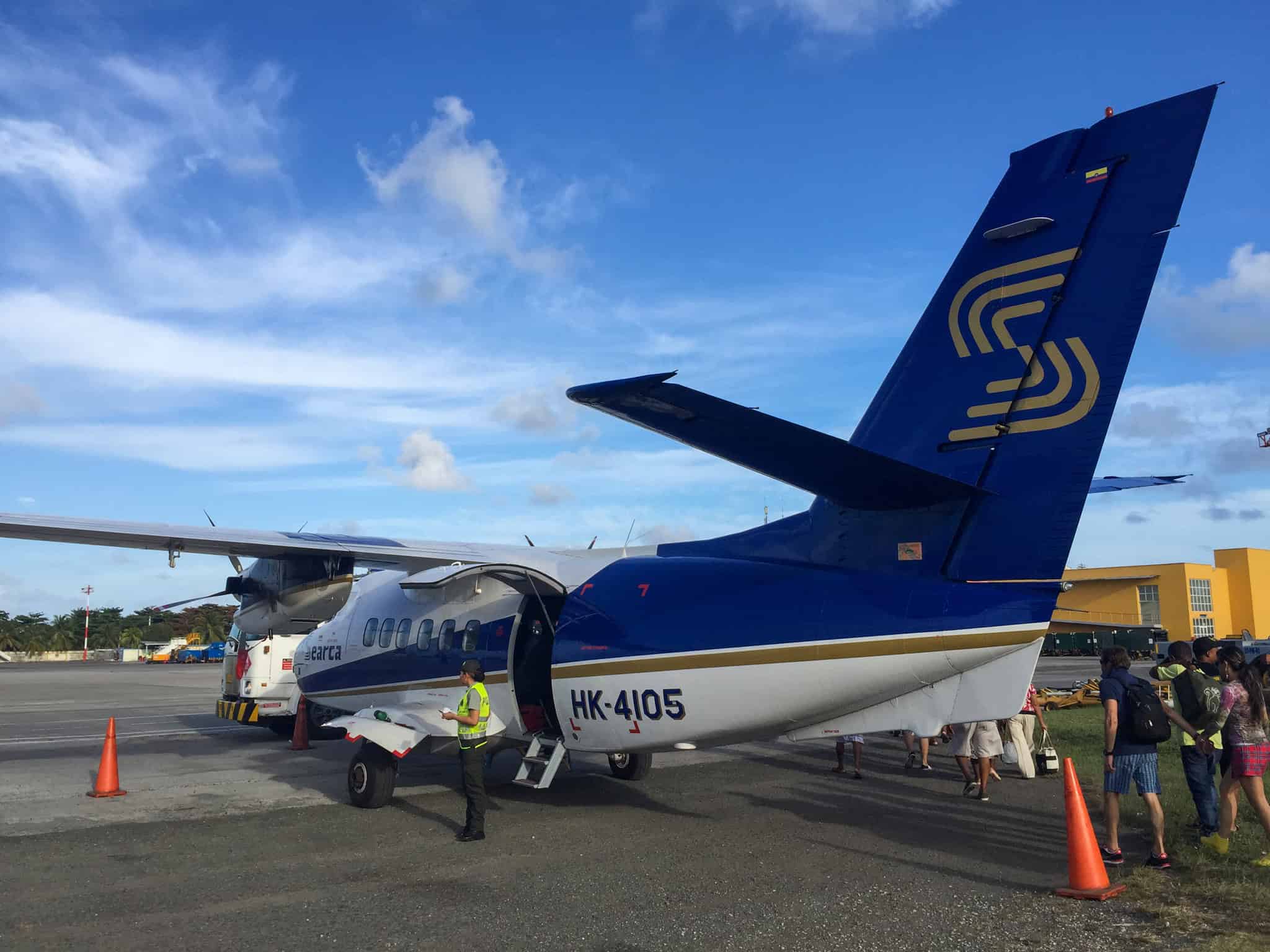 Getting to Providencia
Providencia is San Andres' sister island, and the two are often referred to together as San Andres and Providencia.
It's a smaller island with less development, fewer tourists, and a more laidback vibe.
Unlike San Andres, which is accessible via direct flights from mainland Colombia, Providencia is only accessible from San Andres.
Most travelers to San Andres stop there due to budget, lack of time, or lack of awareness.
Based on my pre-trip research, Providencia seemed more my speed, and I expected to spend most of my nights there.
Unfortunately, I hadn't planned everything out ahead of time. It wasn't until I arrived in San Andres that I got a handle on the ferry and flight schedules.
By then, it only made sense to spend two nights in Providencia, so I splurged on the island's only boutique hotel to compensate.
I paid $107 for roundtrip airfare from San Andres to Providencia with Satena.
The flight was about 20 minutes each way versus the ferry, which can take 2.5+ hours and is subject to potentially rough seas.
Since I would only have two days and nights in Providencia, I justified the flights as affording me more time on the island.
The extra cost versus the ferry was well worth the time and energy saved. Plus, it was fun to approach and depart Providencia from the air!
Dave is the Founder and Editor in Chief of Go Backpacking and Feastio. He's been to 66 countries and lived in Colombia and Peru. Read the full story of how he became a travel blogger.
Planning a trip? Go Backpacking recommends: