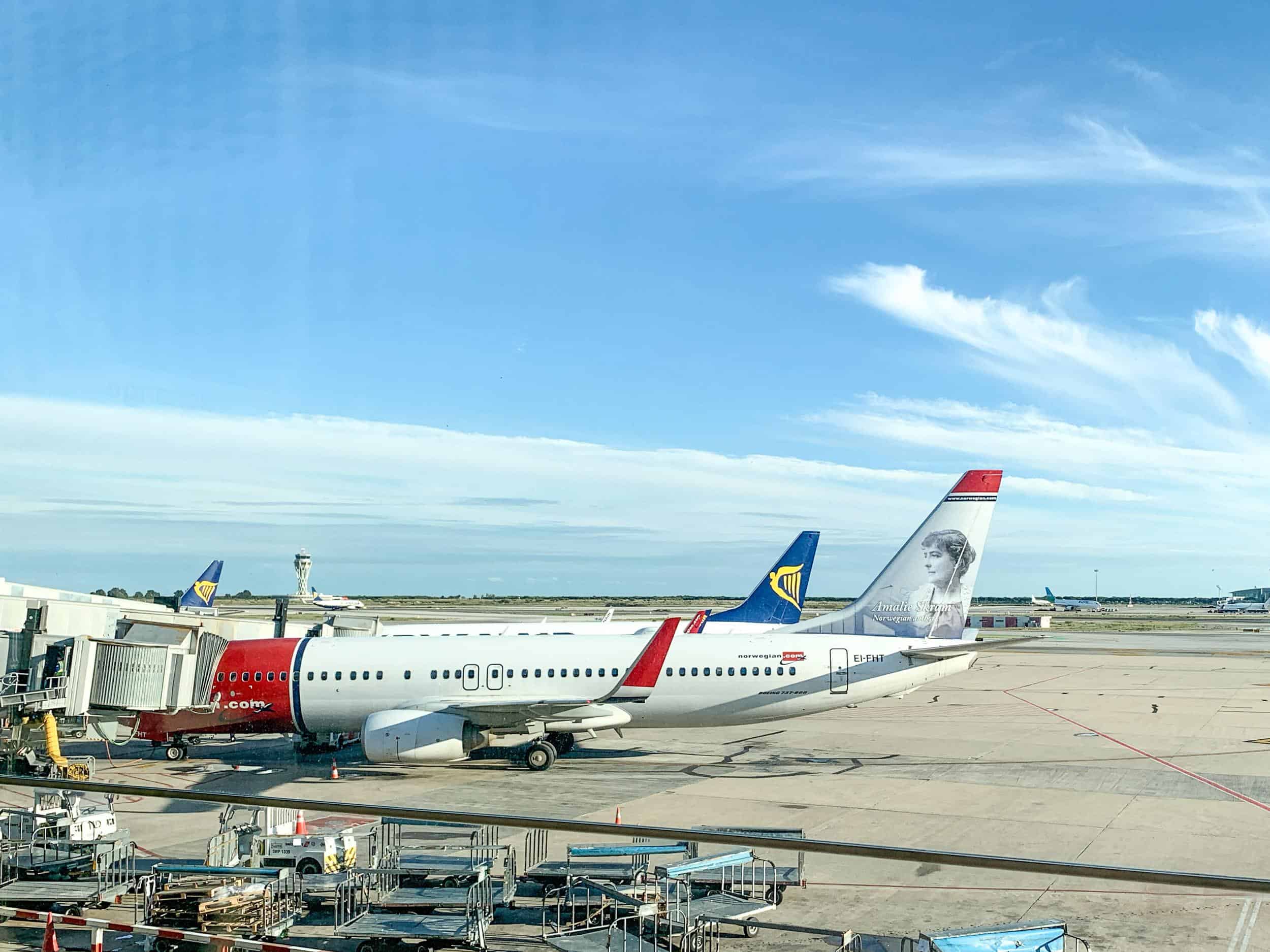 Spoiler alert! I've been a HUGE fan of the Norwegian Air 787 experience since flying with them for the first time on an economy ticket from London Gatwick to Miami.
Booking two and a half weeks in advance, I paid $400 for the base fare, plus another $81 for a hot meal, seat reservation, and checked bag (the last of which I didn't need as I was traveling with a carry-on size backpack).
A one-way flight for $481 isn't ultra-cheap, for sure, but I was also paying for the chance to fly on my first Boeing 787 Dreamliner.
As advertised, the latest airplane tech makes for a noticeably more comfortable ride, a difference I could feel after the nine-hour flight. More on those features below.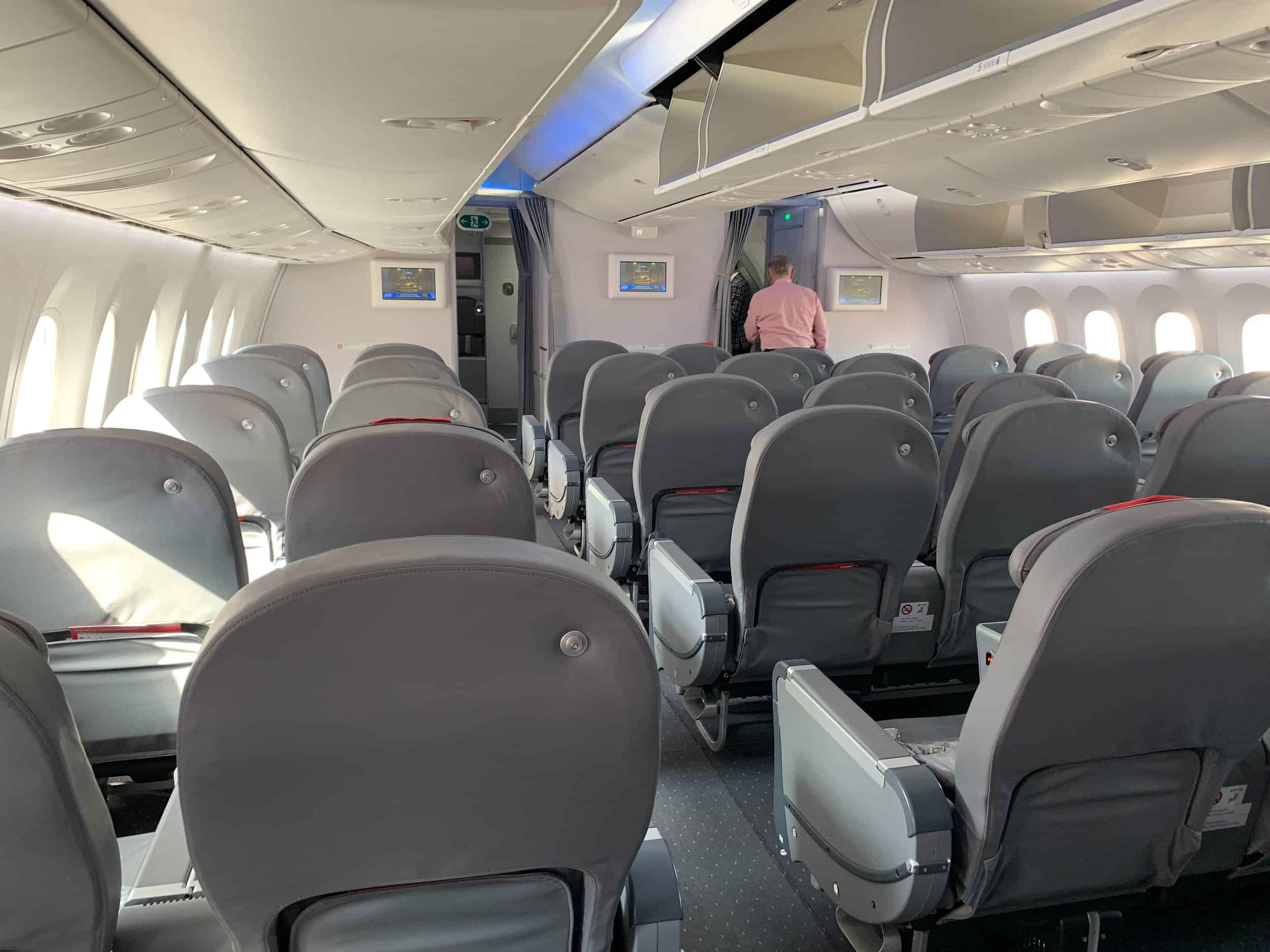 Flying Norwegian
The Cost of Norwegian Air 787 Premium Class
When the opportunity arose to return to Europe for the first time in three years to attend the 2018 Adventure Travel World Summit, I looked to Norwegian Air first.
I discovered they began a direct nine-hour flight from Austin, TX, to London Gatwick. Score!
While I didn't screenshot the October 2018 fares, I do recall the base economy fare being around $200 one way.
Add another $80 for a hot meal and seat choice, and it was going to come in at about $280. Incredible, I thought.
As I was fawning over the cheap cost of a trans-Atlantic flight, my eyes shifted to the right on the rate chart.
For another $400, I could upgrade to Premium with all the added benefits and still pay less than $700 total, a price comparable to Economy seats on major airlines flying similar routes.
I was thoroughly happy with my Economy class experience in 2015.
Still, only days after that flight, I learned I had a PE (pulmonary embolism) blood clot in my lungs, likely due to DVT (deep vein thrombosis) from flying.
Ever since that health scare, I've spent the extra money on flights for Premium Economy seating that offers more legroom to stretch my legs.
I decided to go for it and booked a one-way Norwegian Air 787 Premium class ticket for $680.
Premium Class benefits include:
2x checked bags, plus up to a 10kg carry-on bag, and personal item
Lounge access (not available in Austin, unfortunately)
Priority check-in line at the airport
Priority boarding (yay!)
Comfortable seat with up to four and a half feet of legroom, USB charger, and power outlet
Hot dinner and pre-landing snack, plus complimentary drinks throughout the flight
It was the last three bullet points above that mattered most to me, not to mention it was another chance to fly the Dreamliner, with all its built-in comforts.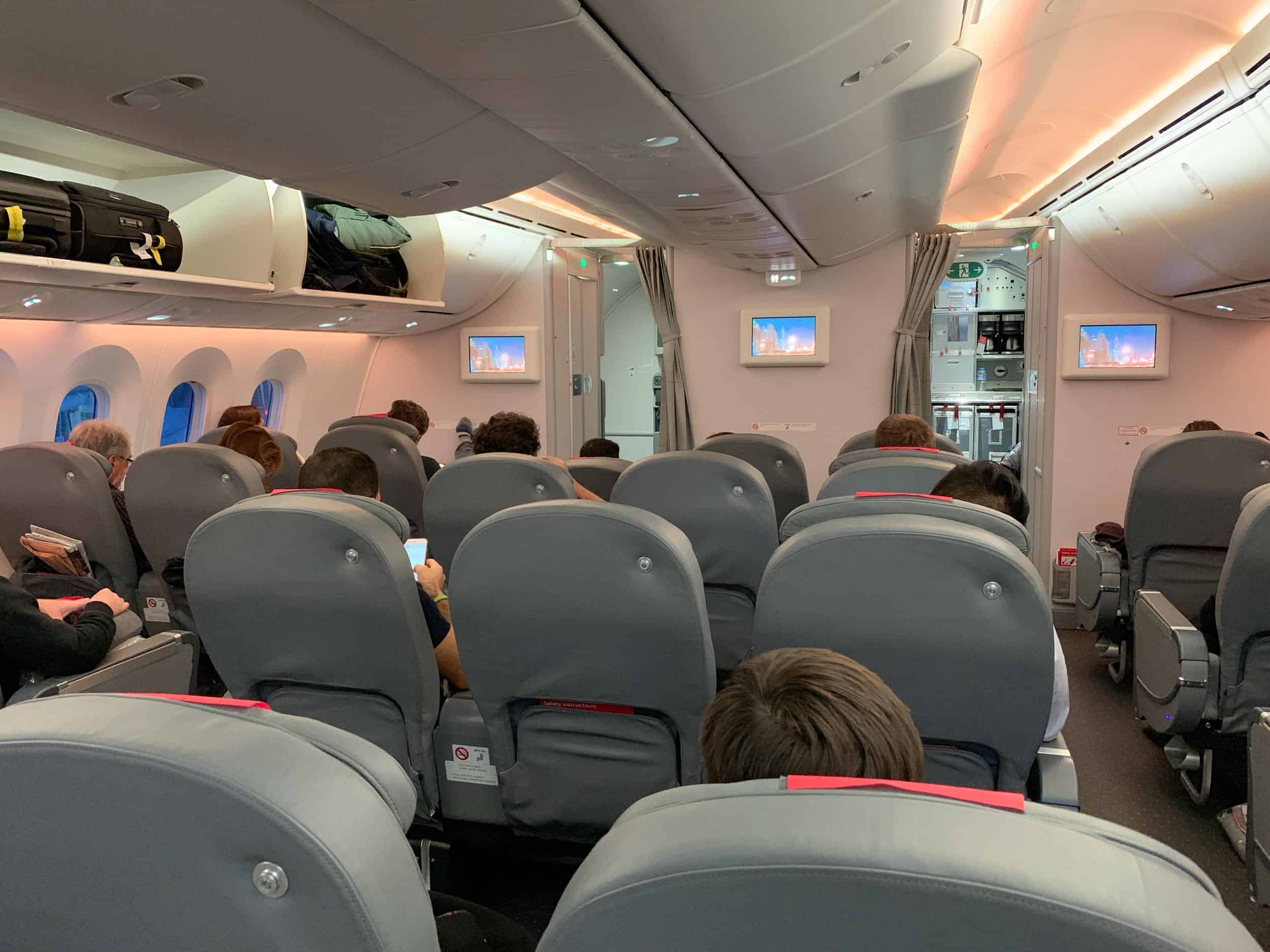 Why the Boeing 787 Dreamliner is Awesome
Why do I love Boeing's 787 Dreamliner? Let me count the ways.
Lower carbon emissions
It's built from composite material, making it lighter and more fuel-efficient than its predecessors. It has 20-25% lower CO2 emissions.
Choosing to fly modern planes like the Dreamliner reduces my carbon footprint.
Lower noise levels in the cabin
Back in 2015, I would fly with a pair of Beats wireless noise-canceling headphones. I loved the quieter flying experience they offered.
They were useful. However, I travel as light as possible, and they took up a lot of space in my daypack.
The Dreamliner is designed for a quieter in-cabin experience, so to put this claim to the test, I didn't use my Beats headphones for the entire nine-hour flight.
Sure enough, I didn't feel the need to take them out to watch movies or listen to music as the jet engines were noticeably quieter than what you get with older planes.
Better cabin experience – air quality, space, and lighting
The biggest reason I'm a fan of the 787 Dreamliner is the way I feel after a nine-hour flight. HUMAN!
The Dreamliner is designed to provide a more comfortable in-cabin passenger experience, regardless of where you're sitting on the plane.
The cabin altitude is lower, the humidity is higher, the air you breathe is cleaner, the temperature is better controlled, and the sound system is more refined.
Combined, this is the most significant selling point for me. I felt noticeably better at the end of a nine-hour trans-Atlantic flight versus ragged and worn out, dry, flaky skin on my face, looking and feeling like a zombie.
Beyond improved air quality, the Dreamliner is more spacious, too, with increased headroom above and legroom below.
The LED lighting system dims and brightens gently around takeoff, sleep time, and landing. It can put on quite the technicolor show at times. I love it.
The windows are significantly larger than average and are easily dimmed with the touch of a button.
Considering all this, I believe the economy seats are the best value currently available for trans-Atlantic flights.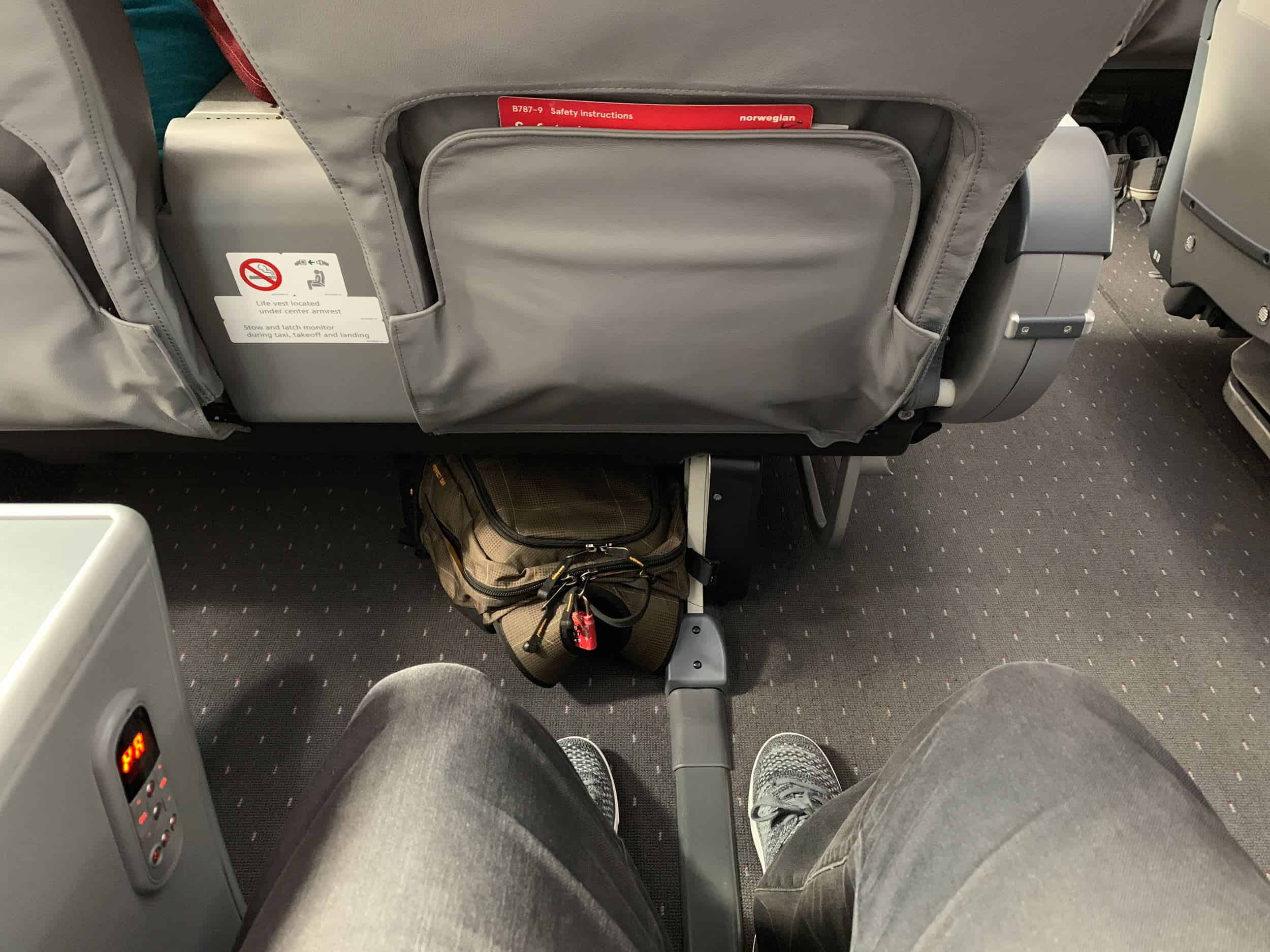 My Norwegian Air 787 Premium Class Experience
Check-in and Lounges
The benefits of flying Premium begin at the airport. I had to check-in at the counter for my international flight, and while the regular line wasn't that long, it was nice to have a dedicated agent and no line at all.
Once I was checked in, I passed through TSA Pre-check and got a bite to eat while waiting for my flight.
Premium ticket holders get lounge benefits, but only at select airports, which doesn't include Austin.
Priority boarding
Austin has a great airport, though. Modern, spacious, plenty of natural light, free Wi-Fi, good restaurant options.
The time passed quickly, and I benefited from priority boarding to be the first on the plane.
Legroom
The seat pitch in the Premium cabin is 43-46″ (109-117cm).
The seat pitch in Economy is 31″ (78cm).
So you get an extra foot of space, which is more than enough for me at 5'8″ to stretch my legs out fully.
Seats
The seating configuration in Premium is 2-3-2, whereas it's a more crowded 3-3-3 in Economy.
The most significant difference with the Premium seats is that you have a leg rest to pop up.
Combined with the recline, you're not going to get to a lie-flat position as you look for in Business class on other carriers. However, it does provide added comfort over the Economy seat.
Another difference between the seats is the location of the in-flight entertainment systems.
In the Premium cabin, the touchscreen HD TVs are pulled out of the armrest, while in Economy, they are on the back of the seat in front of you.
This makes sense given the added space between seats in the Premium cabin. However, it also means you can't use the entertainment system during takeoff and landing as you can in Economy. This didn't bother me.
Lastly, every Premium seat has a dedicated USB and electric outlet, whereas, in Economy, there are two outlets for every three seats. I rarely, if ever, use electrical outlets on flights as I charge my phone by USB.
In-flight Entertainment
Speaking of in-flight entertainment, I've flown a total of three nine-hour flights with Norwegian Air now, and so far, I've enjoyed using their TVs.
I'm able to watch three to four movies in this time.
You can also access a real-time map to track your flight's progress and estimated time of arrival.
All passengers have access to the same entertainment system and media library.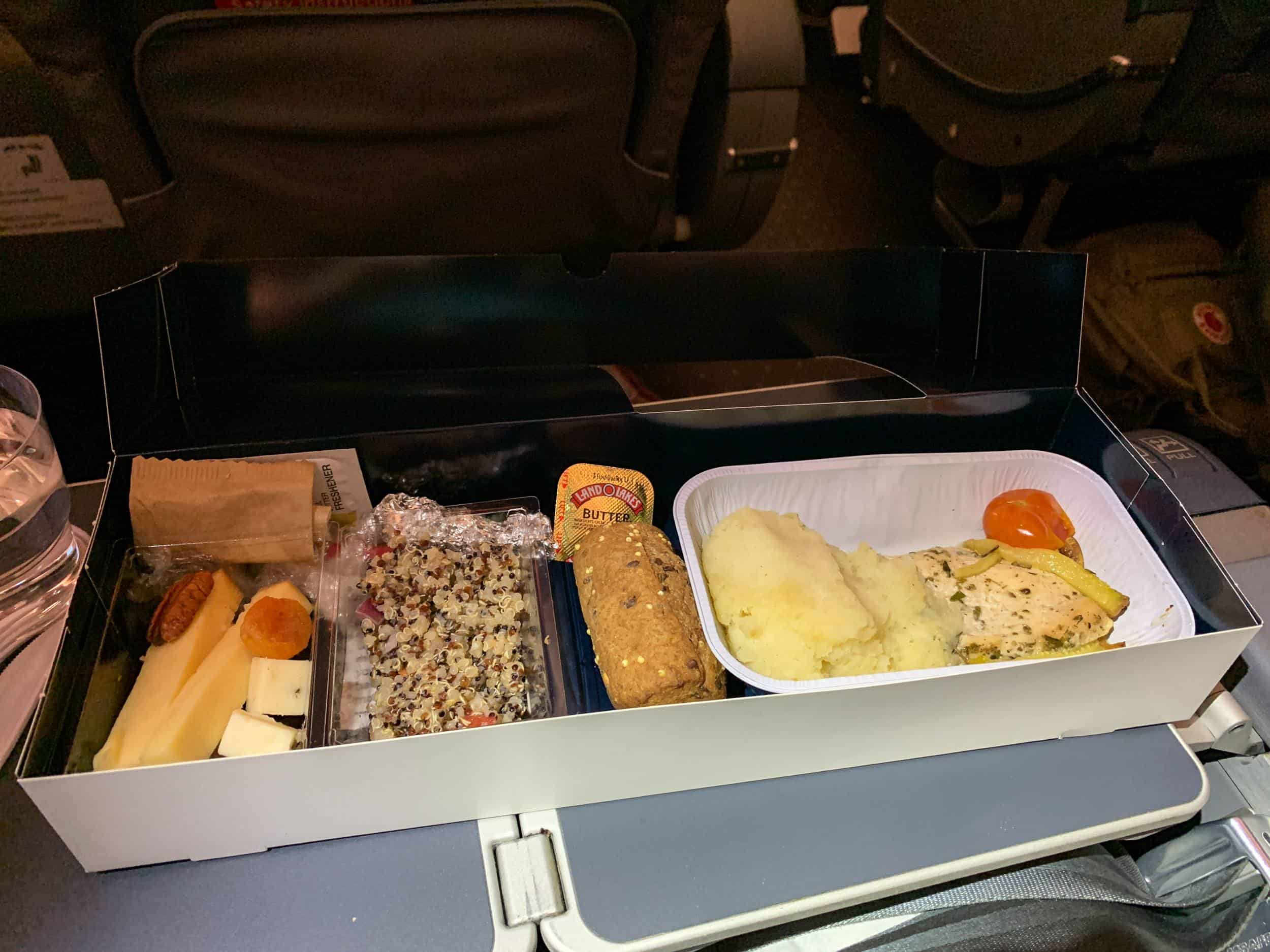 Drink Service
Before take-off, we were offered water or juice, and the drink offers in the Premium cabin continued throughout the whole flight.
I was super impressed with the frequency with which the cabin crew would walk down the aisles with trays of water.
I felt more attended to than on any other flight aside from my business class experiences with Turkish Airlines and Qatar Airways.
Staying hydrated is a huge help when it comes to feeling good after a long flight, and it's also the number one thing you can do to protect yourself from blood clots.
Meals
The cost of meals is included with a Norwegian Air 787 Premium ticket, so that's about an $80 value.
After takeoff and the initial drink service, the food was served. I got the chicken with mashed potatoes, and it came with a healthy side of cheeses, quinoa salad, and bread.
This is the same meal being served in Economy, so you're not getting anything fancier in the Premium cabin. And, frankly, the food is average.
I've had hot meals on all my Norwegian Air flights, and this is what you can expect.
Following dinner, the cabin crew offered passengers complimentary alcoholic drinks, including Bailey's.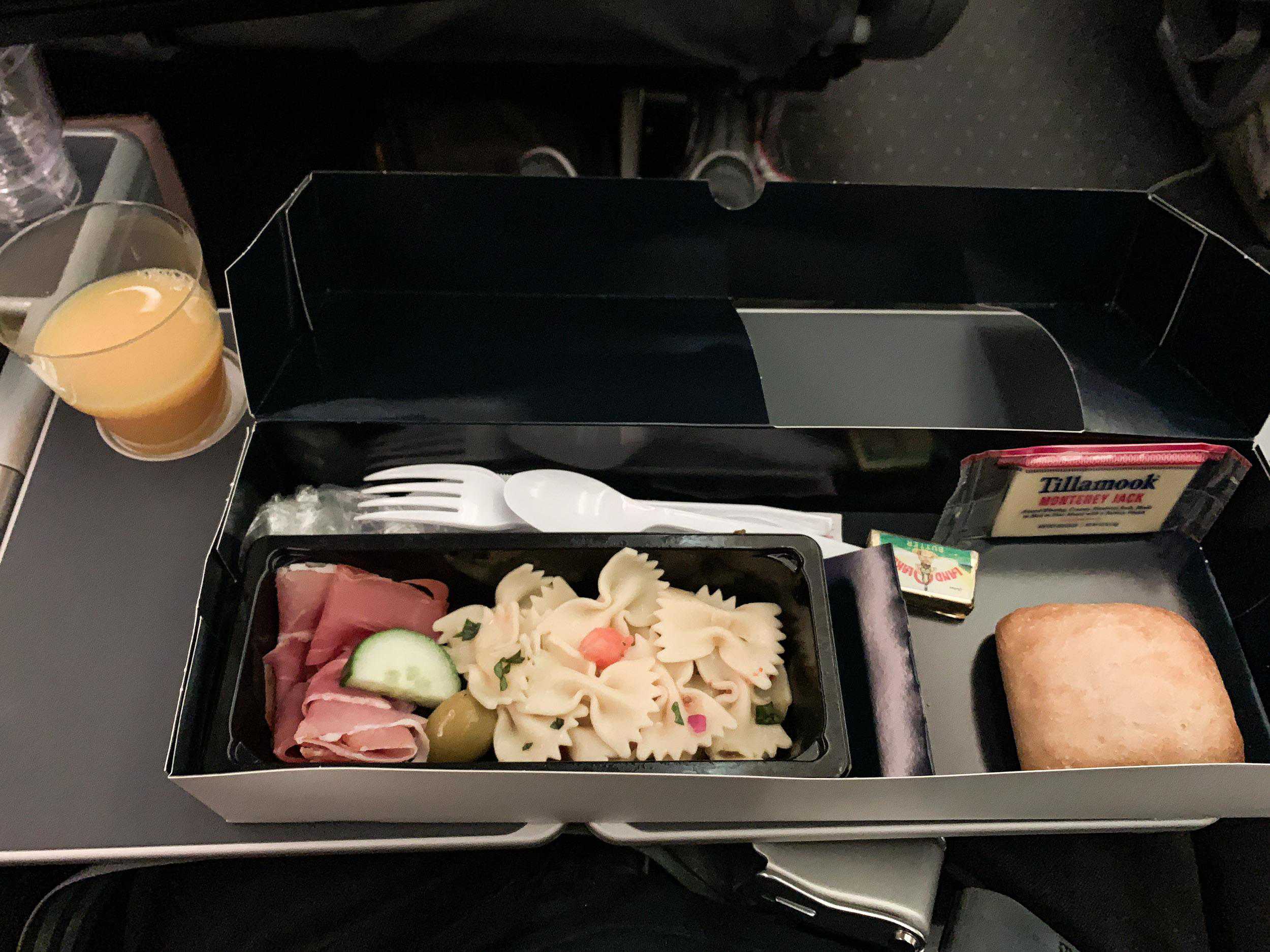 Before landing at 7:15 AM in London, there was a second food service with cold pasta, ham, bread, and cheese. Fine for nibbling on, but nothing special.
I used my six-hour layover between London and a connecting flight to Milan to eat a proper breakfast at Gatwick airport.
Bathroom
To stay hydrated and protect against blood clots, I drink water like a racehorse.
This also means I get up to stretch my legs and use the bathrooms every one and a half to two hours.
Sitting in the smaller Premium cabin means accessing the bathrooms frequently isn't an ordeal.
I don't have to be on high alert to try and time my walk down the aisle.
The Dreamliner's bathrooms are modern and well-designed.
A tiny detail that I appreciate is the slight plastic protrusion on the bottom of the toilet seat. It makes pulling up and putting down the toilet seat ever so slightly less gross.
De-planing
We arrived on time at London-Gatwick airport at about 7:15 AM. It was a long, smooth ride over the Atlantic.
Having the extra space in the Premium cabin when getting luggage out of the overhead bins and everyone is jostling to get off the plane first is a minor thing but still worth mentioning.
Conclusion
As I mentioned initially, I became an instant fan of Norwegian Air with my first Economy flight in 2015.
The Economy experience on a Dreamliner is indeed a step above economy on any other plane.
That said, I found the Premium experience to be well worth the extra money regarding the added value, comfort, and service.
When it came time to fly home after my month in Europe, I booked the nine-hour Norwegian Air 787 from Barcelona to Newark, NJ.
The cost of Premium class for that flight, reserving only a few weeks ahead, was even cheaper at $602.
Between my health concerns since 2015 and the fact that I only visit Europe on average once every two years, these recent flights have solidified my desire to continue flying Norwegian Air 787 Premium class.
***
What to Take on Long Flights
Long flights can be tedious. Here are a few things I've found that can make the ride safe and a little more comfortable.
Apple AirPods Wireless Bluetooth Headphones
These are a game-changer for iPhone-carrying travelers. They're tiny, hold a long charge, and offer good sound quality.
When the AirPods came out in 2017, they instantly became my daily headphones at home and abroad.
I also find they're OK on planes, especially quieter ones like the Dreamliner. Available on Amazon
Beats Studio3 Wireless Headphones
If you still prefer the ultra-quiet experience from over-the-ear noise-canceling headphones, I recommend the Beats Studio3.
I had a pair in matte black I wore from 2013-15. I quickly found they weren't just excellent for blocking jet engine noise; they were nice to have in often-loud departure gates too. Available on Amazon
Compression Socks
The longer your flight, the greater the risk of getting a potentially fatal DVT blood clot.
Compression socks are constructed to constrict your lower legs and feet to help keep blood circulating.
As they've grown in popularity, there are now more playful colors and patterns to choose from. Available on Amazon
External charging device
I don't know what it is, but I'm perpetually afraid of losing a charge on my phone, even when I have plenty of built-in options with my airplane seat.
Sometimes it's easier to pack consistently, so you don't have to keep track of which planes offer outlets and USB ports. Available on Amazon
SUAVS shoes
I was recently gifted a pair of SUAVS shoes from a company based in Austin, TX. They're so lightweight and comfortable; you won't want to wear socks.
I tested them on my nine-hour flight to London and didn't feel any need to take them off.
This saved me from the usual hassle of taking my shoes on and off whenever I wanted to use the bathroom.
Plus, they're easy to compress so that they won't take up much space in your bag. Available at suavshoes.com
Dave is the Founder and Editor in Chief of Go Backpacking and Feastio. He's been to 66 countries and lived in Colombia and Peru. Read the full story of how he became a travel blogger.
Planning a trip? Go Backpacking recommends: