I had the opportunity to fly Turkish Airlines business class direct from New York City (JFK) to Istanbul airport on an overnight flight.
Business-class on long-haul flights is the Holy Grail of air travel, and this was only the second time I'd experienced it.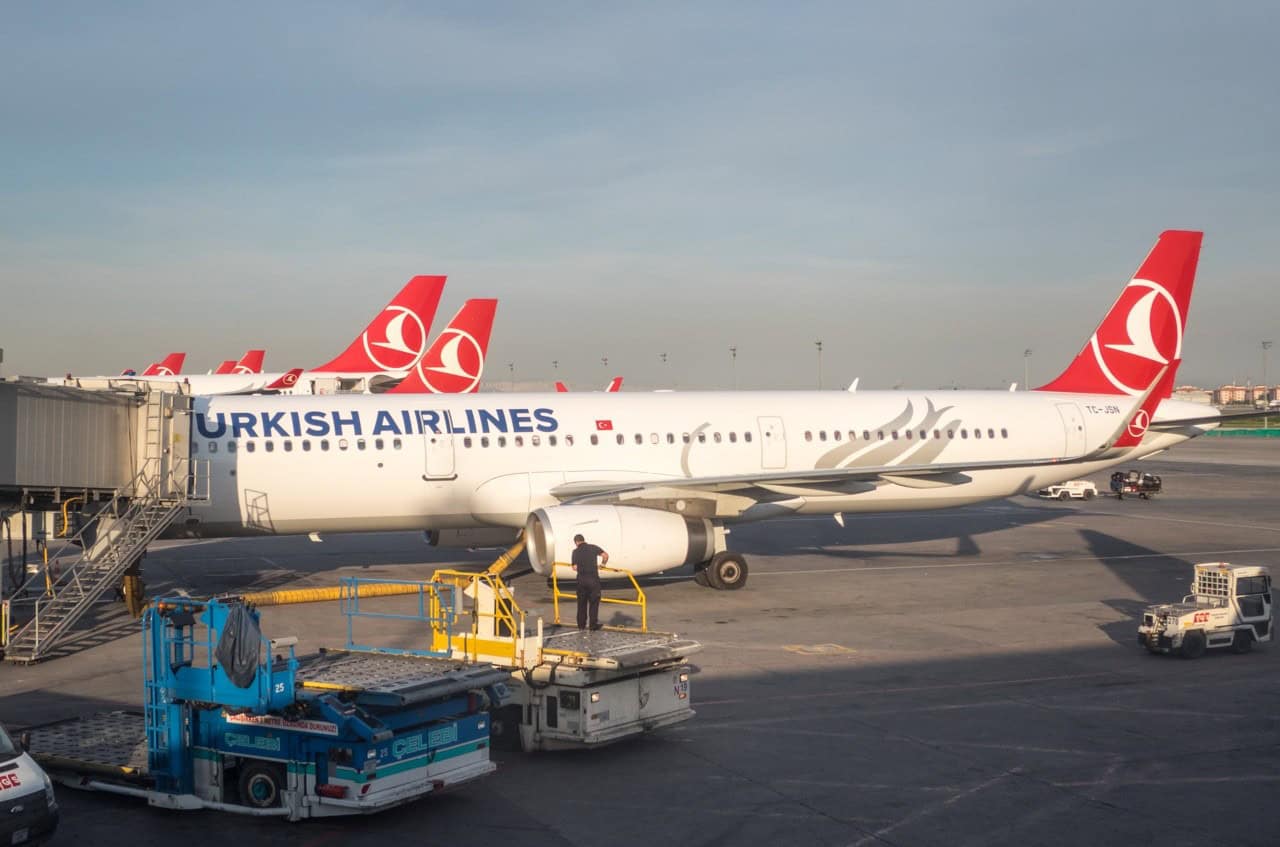 Turkish Airlines, one of the White House Summit on Study Abroad sponsors, generously invited all the bloggers in attendance to fly business class to Istanbul.
They also gave us complimentary Elite status in their Miles&Smiles frequent flyer program, which is entirely new territory for me. Turkish Airlines joined Star Alliance in 2008.
Once the dates were confirmed and my business class ticket from North America booked, I asked a friend who regularly flies business class to Europe what to expect.
He said on overnight flights, everyone immediately goes to sleep.
Given my scheduled departure time of five minutes to midnight, I accepted the possibility that I'd be doing the same.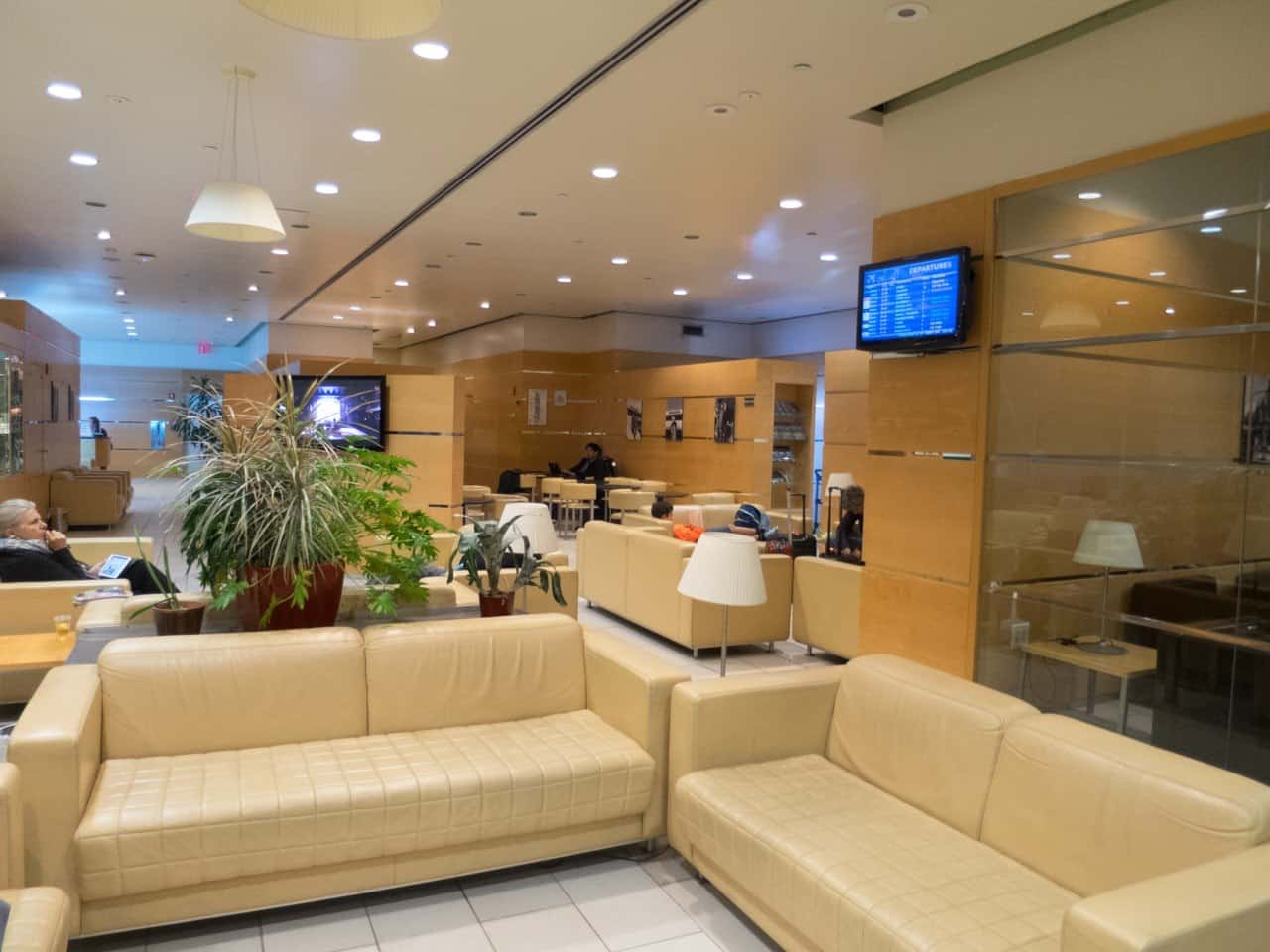 Turkish Airlines Lounge
I arrived at JFK airport three hours early, as recommended for international flights.
Nobody was in line at the check-in counters, though I still made it a point to use the dedicated Turkish Airlines Business Class one. I was traveling carry-on only, so there were no bags for me to check.
I learned my departure would be delayed 90 minutes and was offered a $15 food voucher to use anywhere after the security checks.
Few people enjoy spending more time than required at airports, but it's much more palatable if you're passing the time in a quiet, comfortable lounge with dependable Wi-Fi, free food and drinks, and pleasant lighting.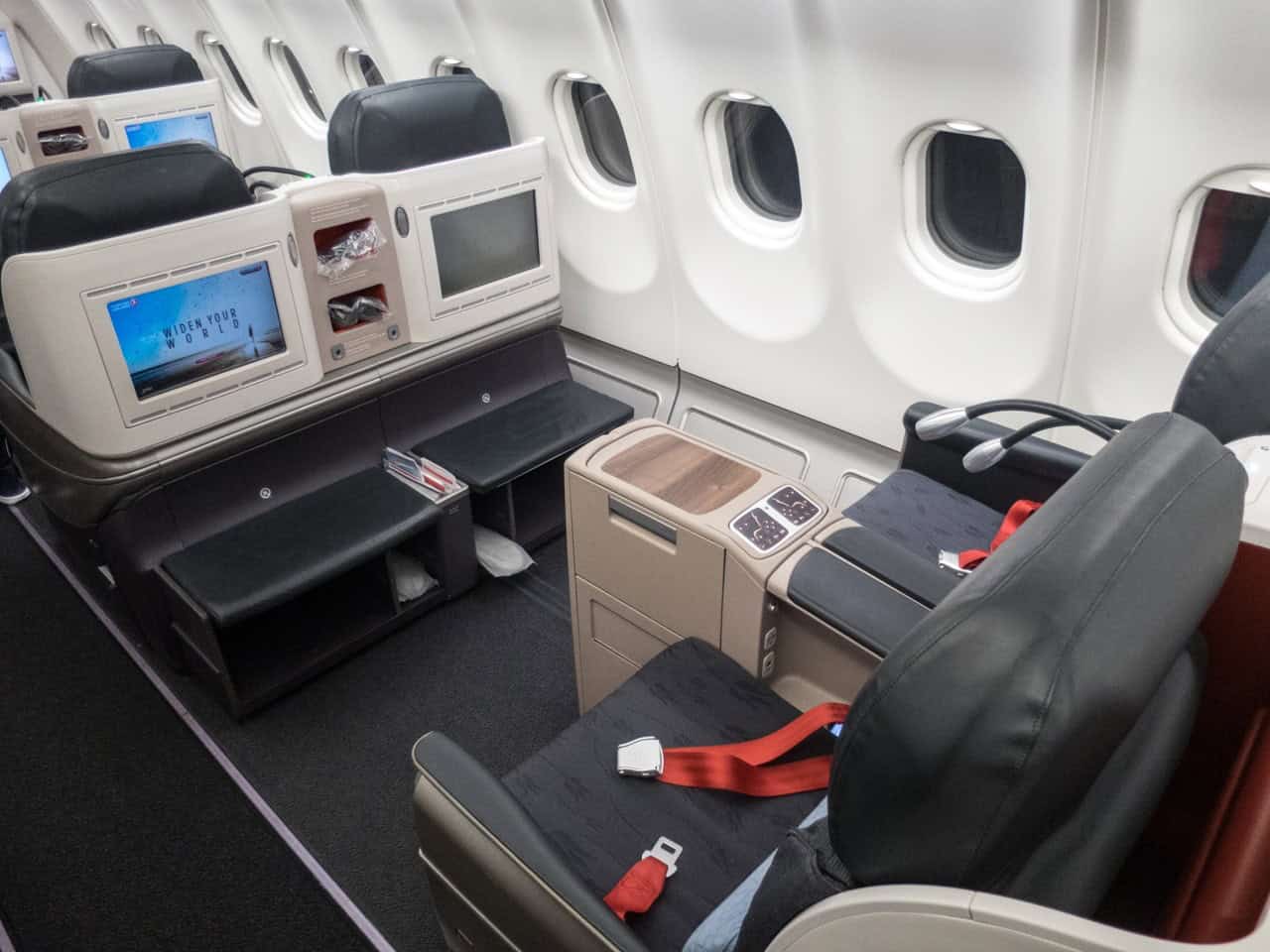 Business Class Seats and Amenities
It was sometime between 1 a.m. and 2 a.m. when we boarded the Boeing 777-300ER plane for our 9-hour and 50-minute direct flight to Istanbul.
The seating arrangement was 2-2-2, with two seats on the left, two seats in the middle, and two seats on the plane's right side. There were no middle seats and plenty of space.
My first impression of the lie-flat seats for business class passengers was that they didn't seem to offer enough width to allow for a comfortable sleep. I'd soon be putting them to the test.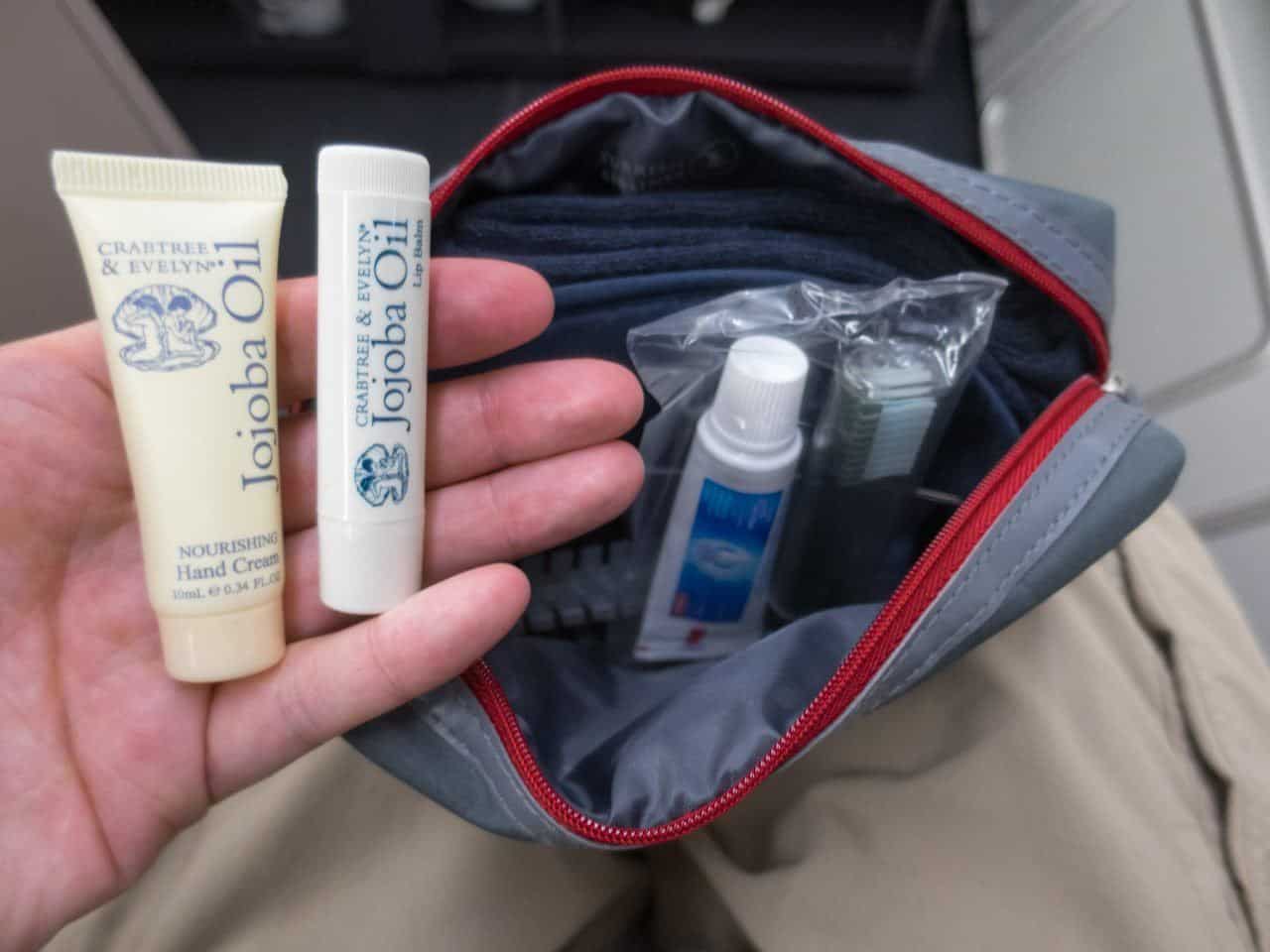 But first, I took stock of the flight entertainment system and amenity kits, which included:
Free access to a vast library of movies and TV shows
USB and AC outlets for charging electronics
Noise-canceling headphones
Toiletry kit with toothbrush, toothpaste, and Jojoba Oil hand cream and lip balm
Socks and slippers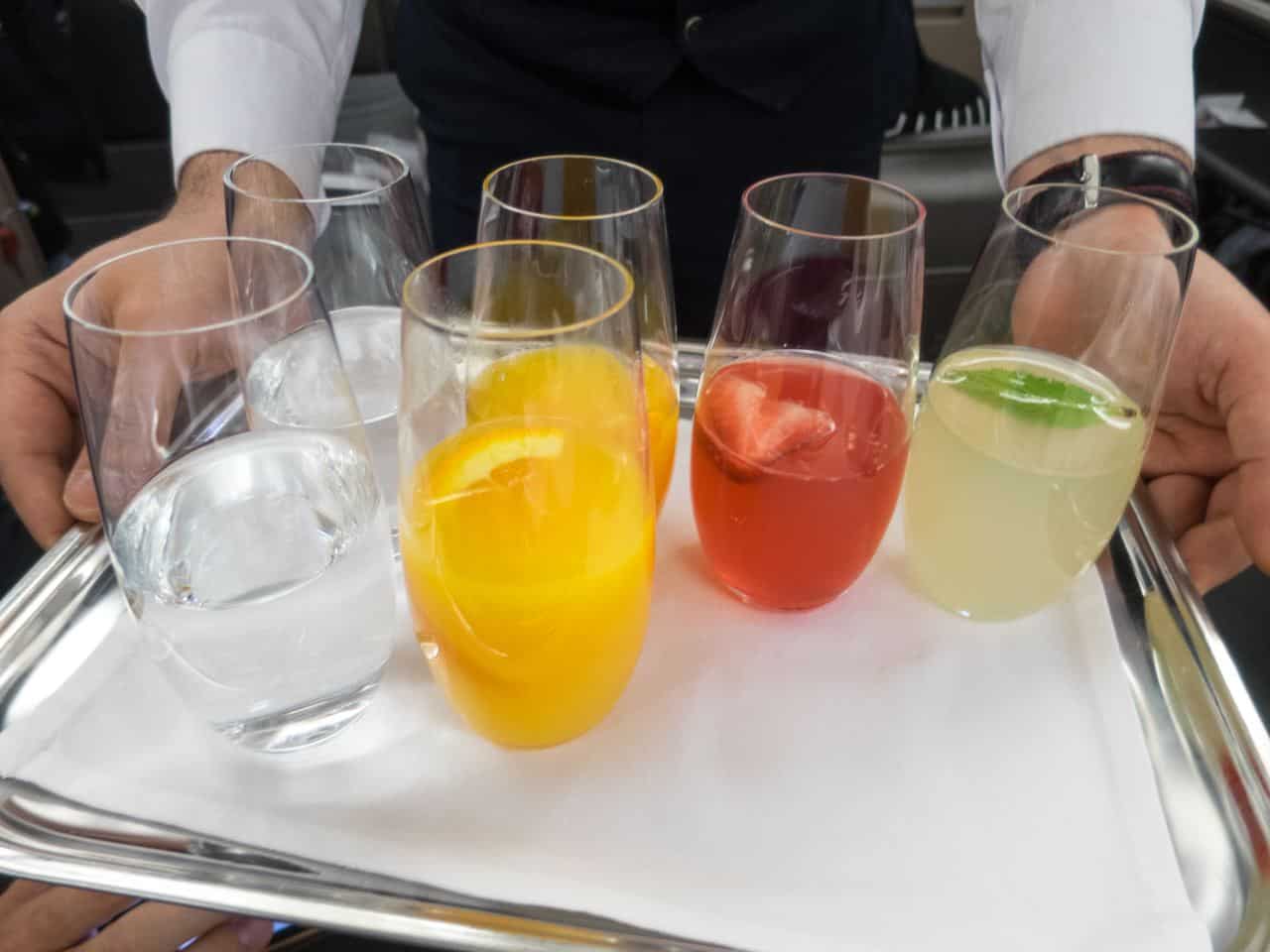 As the rest of the plane was boarding, the flight attendants in the business class cabin were already taking care of us. We were offered our choice of colorful welcome drinks (all fresh juices) and a Godiva chocolate.
The pilot apologized for our late departure, stating it was due to mechanical issues, and then we took off over the Atlantic.
Once the fasten seatbelt sign was turned off, my seatmate, who was in the aisle seat, wasted no time calling one of the cabin staff to help him prepare the chair for sleep.
This involved attaching a soft seat cover and providing a pillow and blanket. I figured it'd be easier to get that taken care of early on and asked the same cabin crew member to prepare my seat.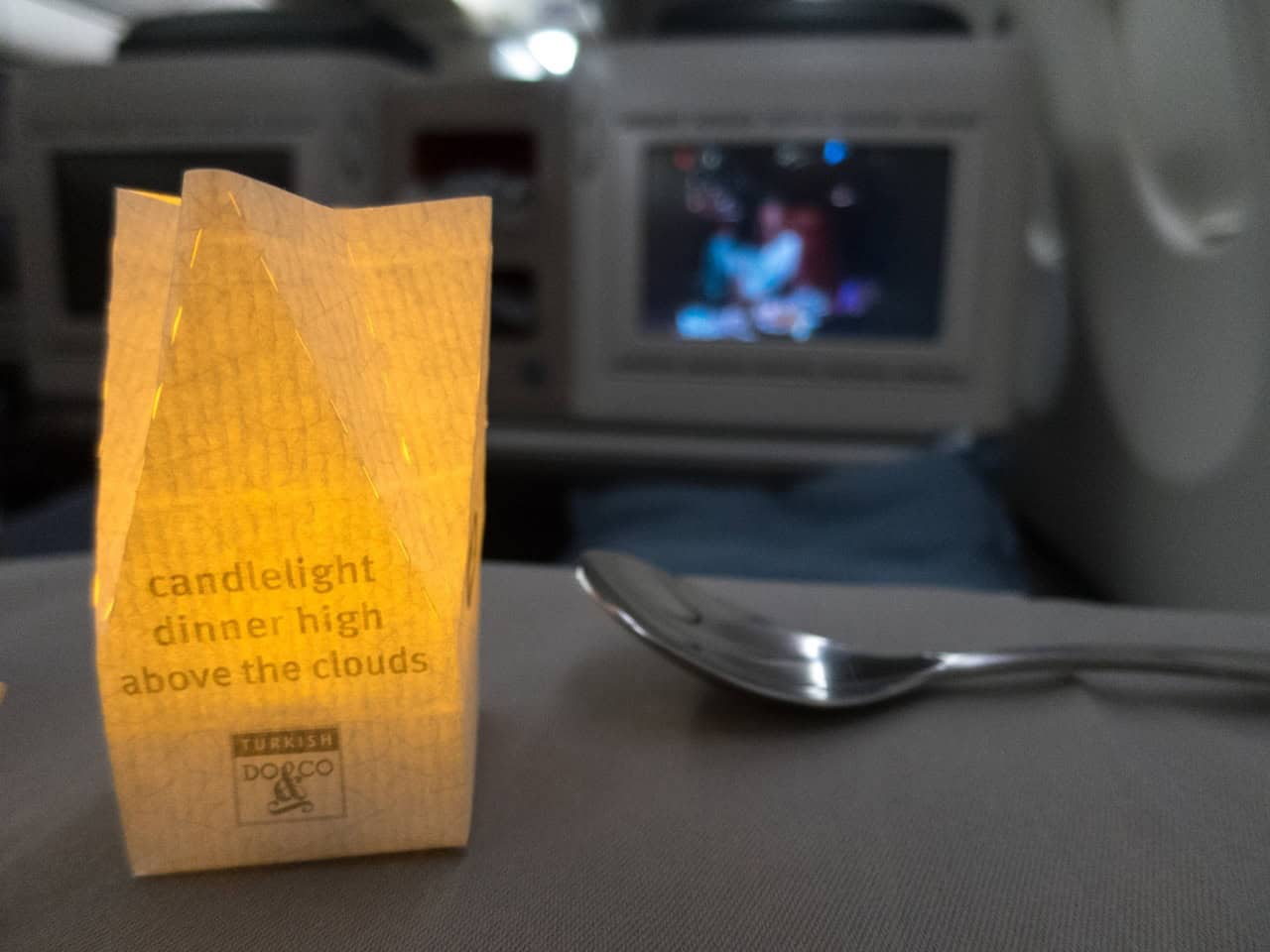 Dinner
By the time my seat was set up, the wine list and dinner and breakfast menus had been distributed. They also gave each person a little electronic candle, a cute detail.
It may seem too minor to mention, but when you're looking at about 10 hours on a plane with little room for movement, every detail to make you feel more comfortable is appreciated.
My seatmate took a pass on dinner while I cued up a movie and waited for the culinary experience to begin. I had high expectations.
Dinner meal service began with a small glass bowl of mixed nuts and continued with mezze, a selection of bite-size appetizers.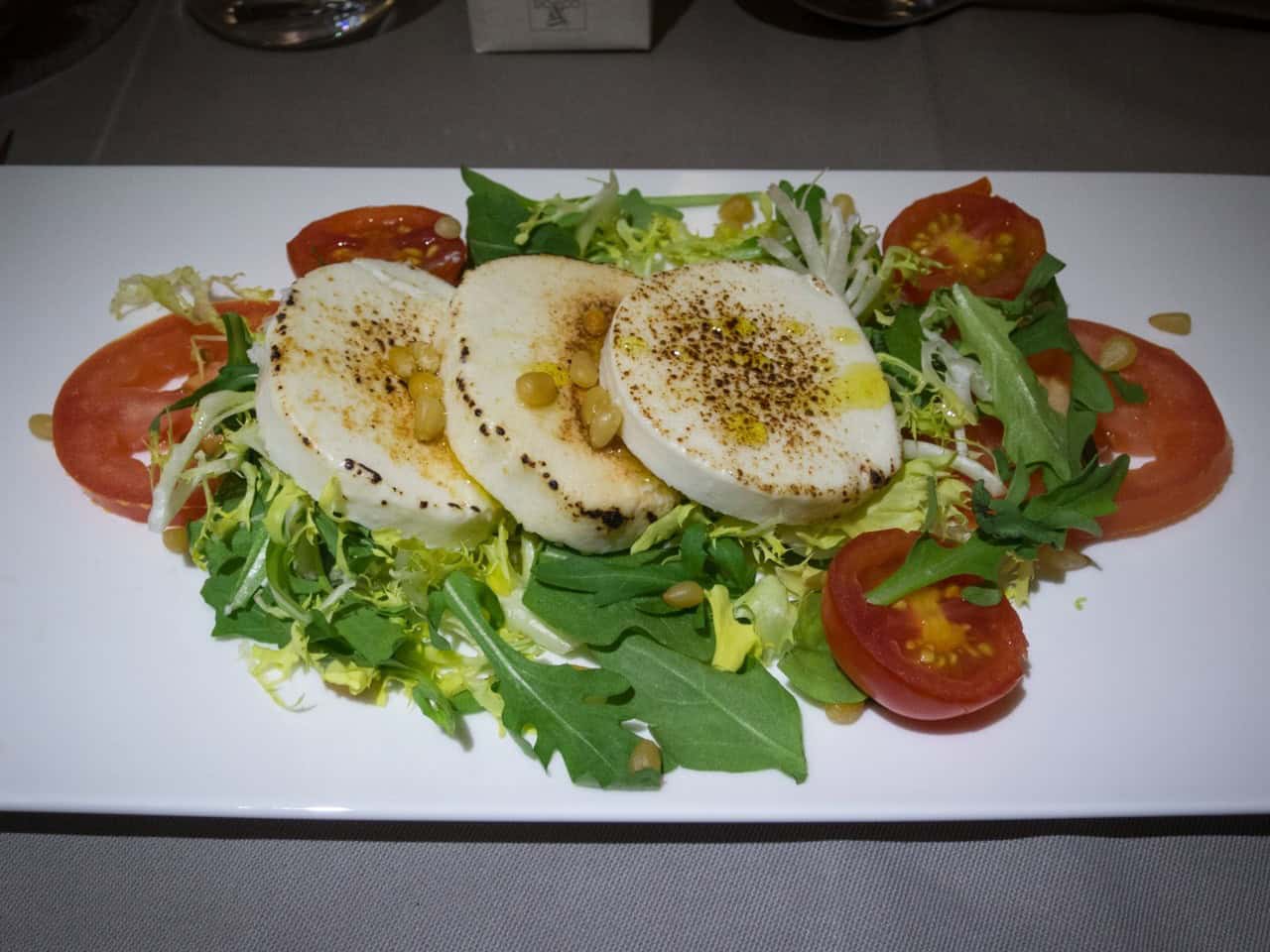 The next course was grilled goat cheese with a mixed green salad.
The presentation of goat cheese on a bed of lettuce and tomatoes was lovely, and the salad itself was delicious.
I suddenly wished I hadn't succumbed to devouring a Snickers bar before boarding.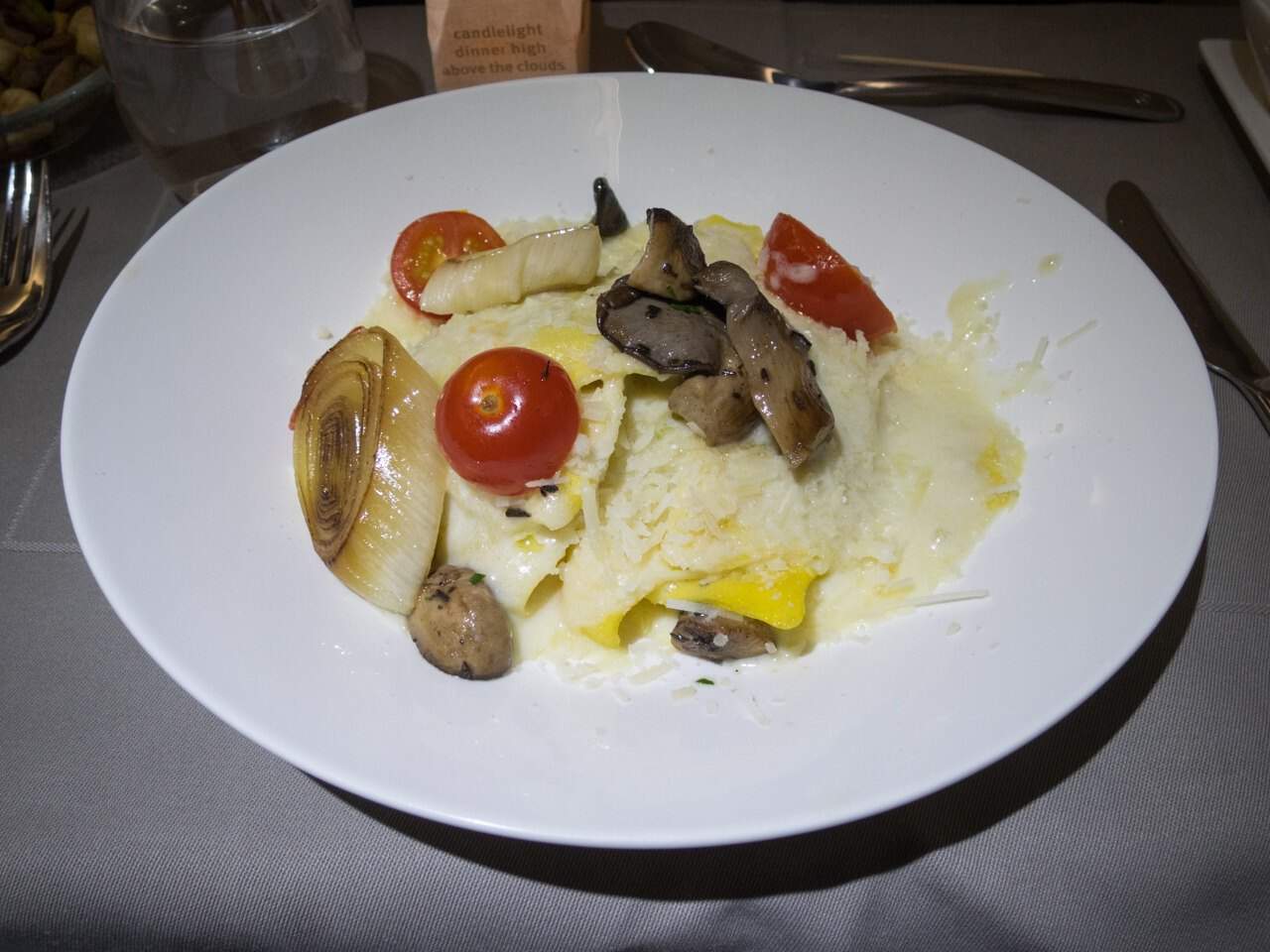 There were three entrees from which to choose, including:
Grilled salmon
Beef filet
Mushroom ravioli with creamy tomato parmesan sauce, sautéed mushrooms, leeks, and cherry tomatoes
I chose ravioli for my main course, and it didn't disappoint. Quite the opposite, I find it incredible food of this quality can be prepared at 30,000 feet in such tight quarters.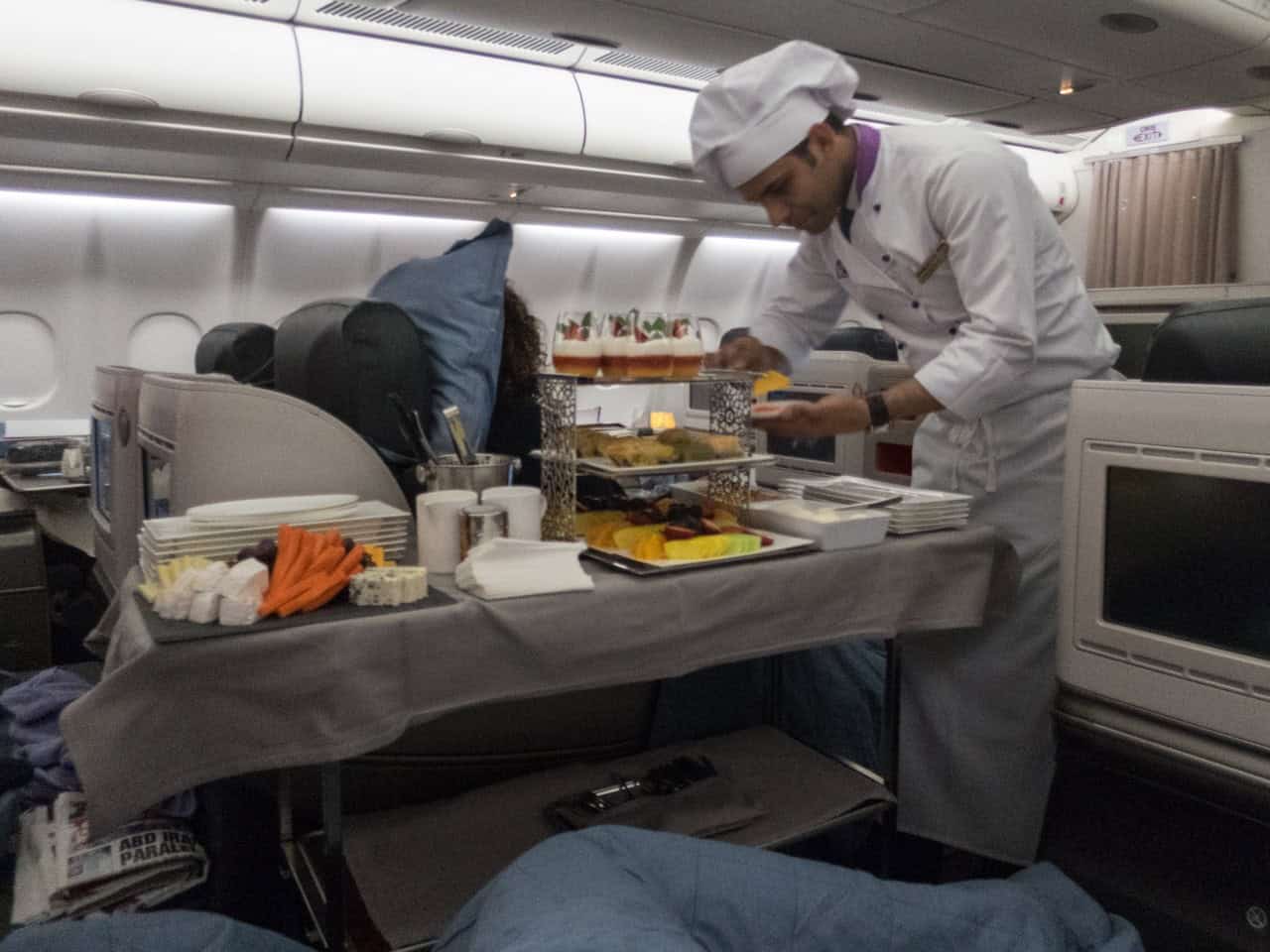 The onboard chef wheeled out a trolley full of fresh fruit, cheese, Turkish sweets, and ice cream for dessert.
Feeling full, I kept it simple with a scoop of vanilla ice cream garnished with a strawberry slice.
Bathroom Breaks
Dinner service and the movie I was watching killed the first few hours of the flight, but there were still seven to eight hours until we arrived in Istanbul.
I'm not one to continually need the bathroom on flights (which is why I always choose a window seat), but I also don't fly ten hours at once very often.
I must've used our business class bathroom five times throughout the flight.
There was plenty of room for me to step over my seatmate's legs when he was asleep, and with the ratio of people to bathrooms, I never had to wait for an opportunity.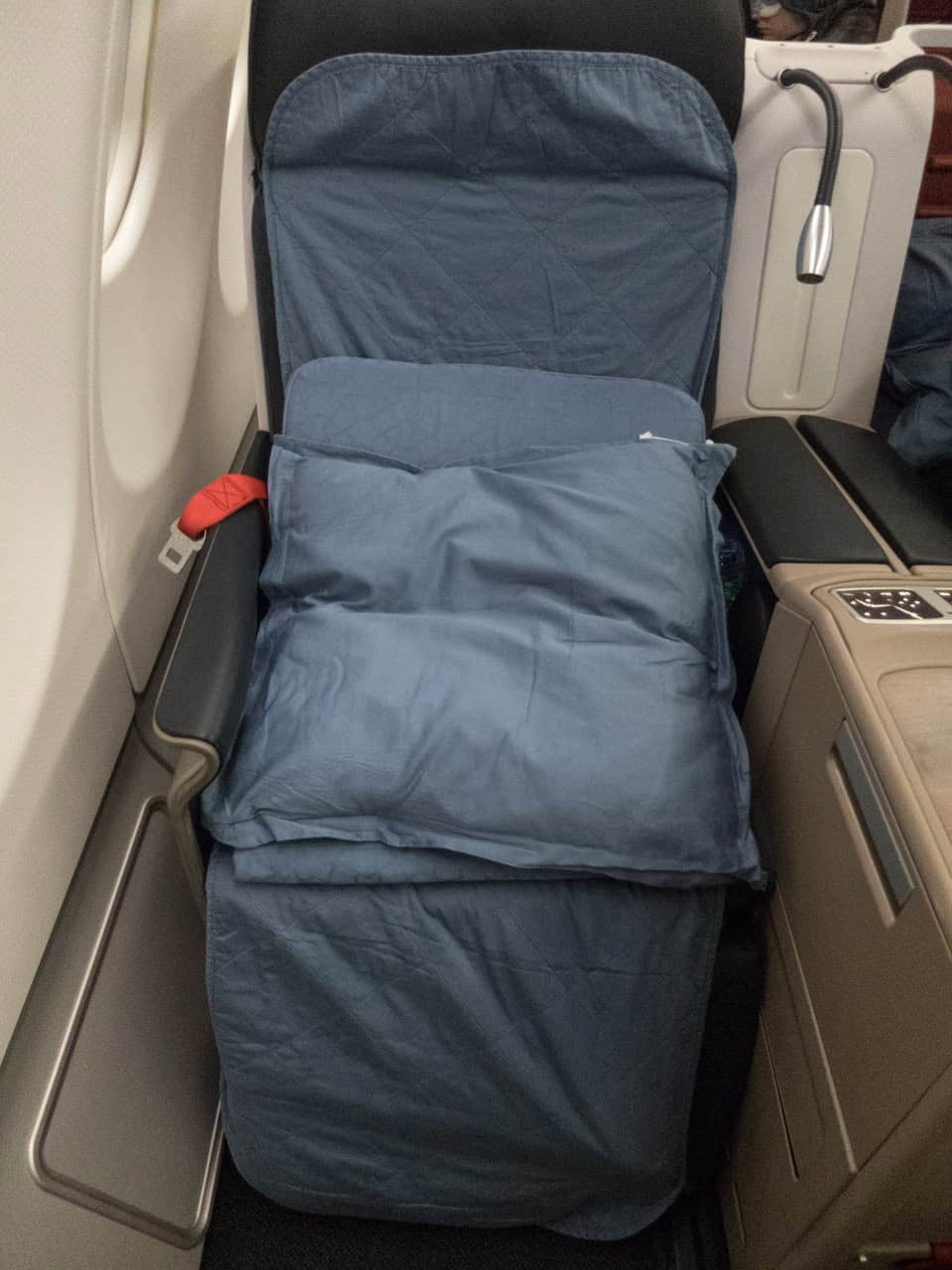 Sleep
The potential for rest, I imagine, is the most significant benefit of flying business class.
Fewer people and a lesser chance of sharing space with crying babies and rambunctious toddlers contribute to a calmer atmosphere.
Add in the fully adjustable seats, and it should be a recipe for catching some ZZZZZs.
As I mentioned earlier, I wasn't optimistic about my ability to sleep comfortably, but once the seat was fully reclined, I drifted off to sleep rather quickly.
I preferred sleeping on my left side as it had me facing the little nook in the armrest where the TV controller and electric port were located. I'll take space anywhere I can get it!
Still, I'm notoriously bad at catching sleep on any moving vehicle, be it a plane, train, ferry, or bus. In total, I enjoyed two to three hours of uninterrupted sleep.
Related: Business Class on Qatar Airways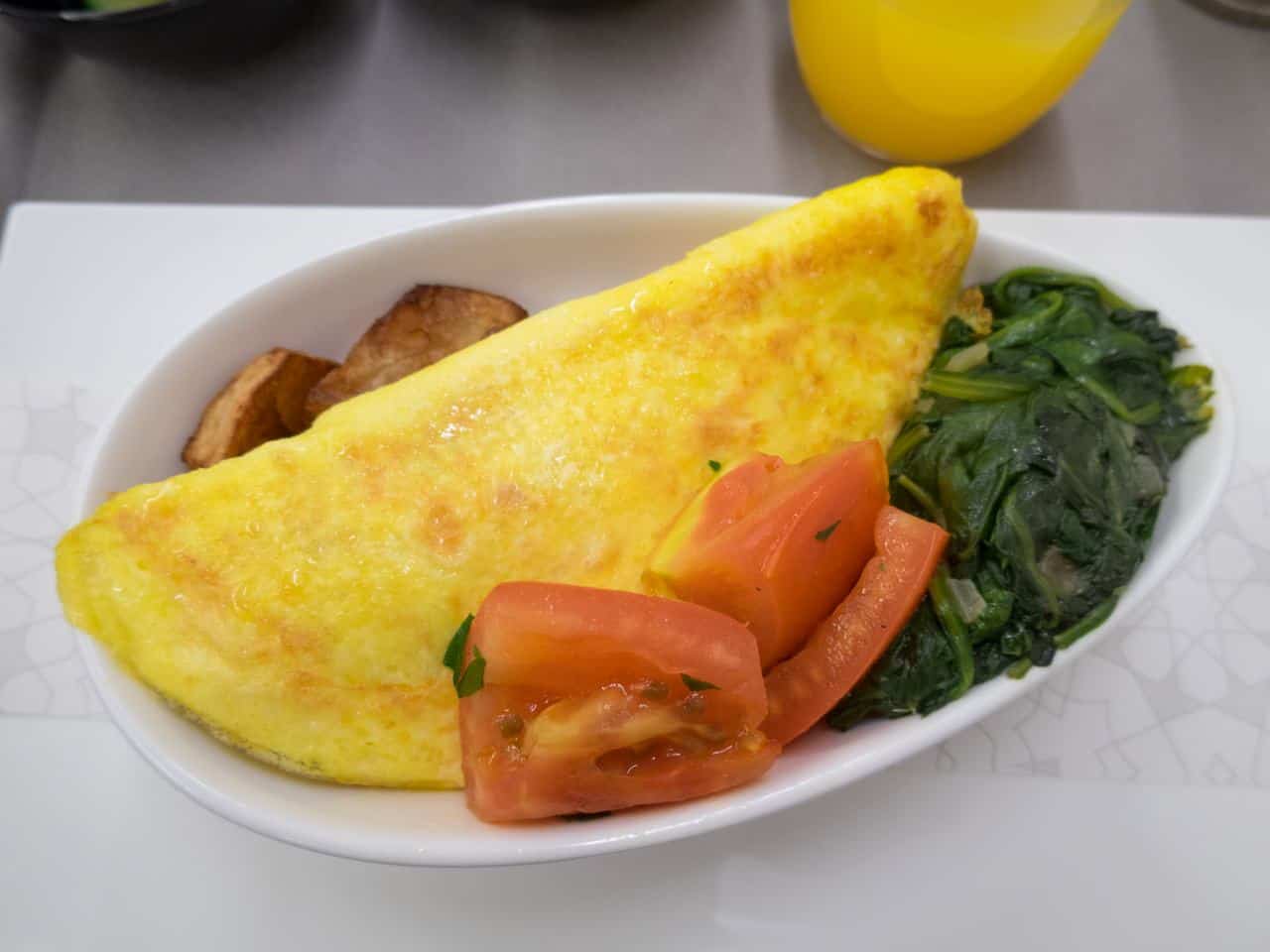 Breakfast
I'd filled out my breakfast selection along with dinner, so the crew didn't need to waste time taking my order in the morning.
First, I received a plate of mixed fruit, cheeses, yogurt, orange juice, and hot chocolate.
Given I was already dehydrated from the flight, I didn't want to drink coffee or tea though they offered a selection of both.
The second course was a choice of either an omelet or free-range fried eggs in butter, and I chose the omelet.
The food in business class was excellent. DO & CO, the catering company behind it, began first as a restaurant in Vienna, Austria, in 1981 before leaping to event and airline catering in the mid-80s.
The service was prompt and friendly too. Overall, my first time flying on Turkish Airlines was a wonderful experience and a terrific way to kick off my first visit to Turkey.
***
Since my business class flight to Istanbul, I've had the opportunity to travel economy class on Turkish flights four times, both within Turkey as part of the blog trip and to neighboring Georgia on my own.
In addition, I've had the Turkish Airlines airport lounge experience at three other airports, all within Turkey. It has inspired me to do what I need to do to maintain my Elite frequent flyer status.
Advertiser Disclosure: My flight to Istanbul was in partnership with Turkish Airlines. As always, all opinions are my own.
Dave is the Founder and Editor in Chief of Go Backpacking and Feastio. He's been to 66 countries and lived in Colombia and Peru. Read the full story of how he became a travel blogger.
Planning a trip? Go Backpacking recommends: