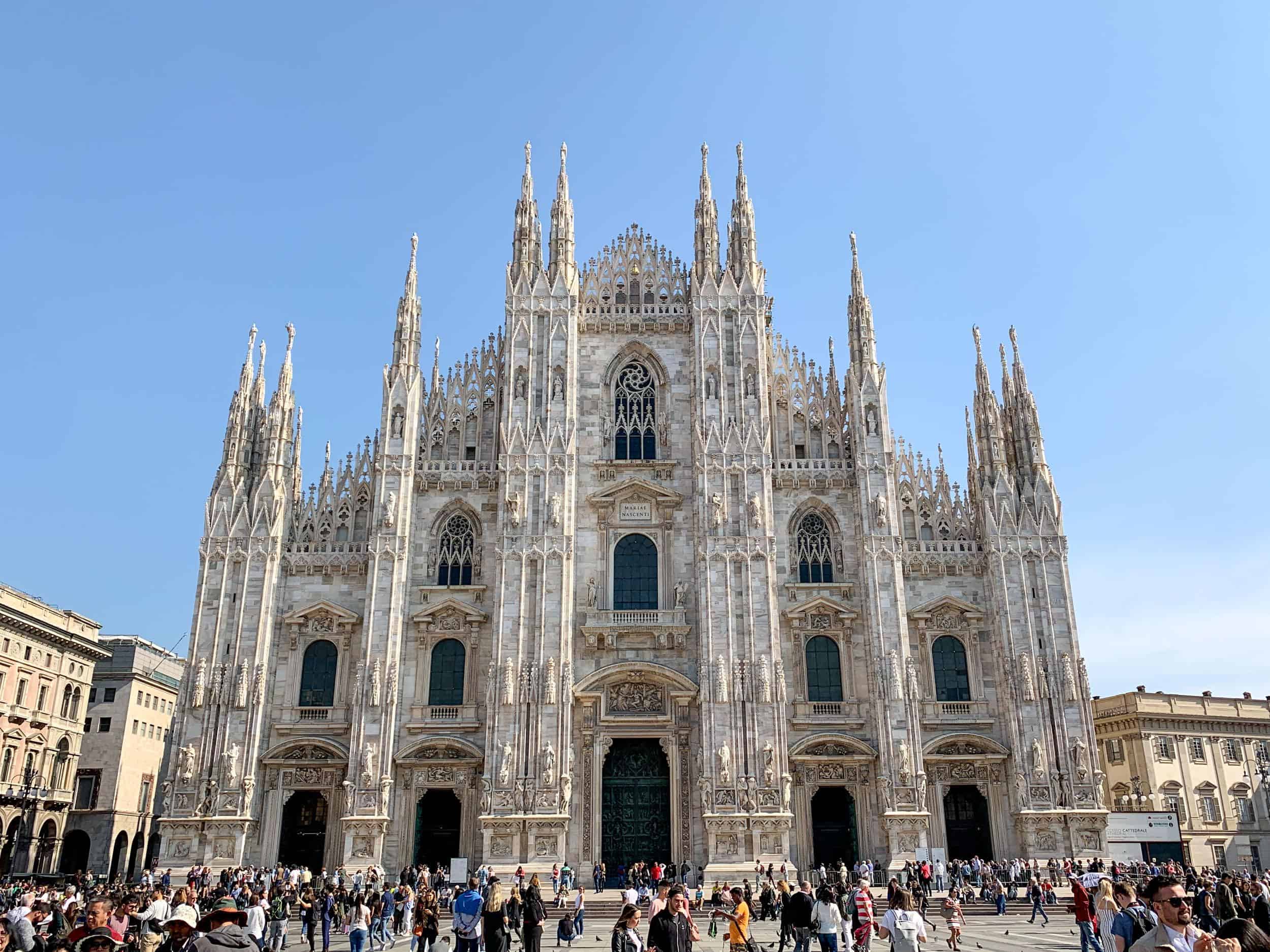 "One day in Milan is enough," my Italian Airbnb host shared as I peppered her with questions upon check-in.
I was excited to hit the ground running, having spent the last two days at airports and up in the air with Norwegian Air and another budget carrier.
It was a friend's wife who'd given Milan a positive plug when I mentioned I was heading back to Italy for the fourth time. She'd studied there when she was younger.
At a minimum, I knew Milan's cathedral was one of the largest in the world, and so with a personal recommendation and a UNESCO World Heritage Site to visit, I gave myself a few nights in Italy's fashion capital before continuing to Florence, Tuscany, and Bologna.
Due to jetlag, I ended up needing two days to see what I mentioned in this article. However, I'm confident travelers already in the region can comfortably see everything in a single day.
The historic area is walkable; however, to get there, you'll likely want to take the metro train as most hostels and budget accommodation is outside the center.
If you plan to stay further away or explore the surrounding region, you may want to consider renting a car in Milan.
The "Duomo" station on the #1 red line is the easiest place to start your day.
Attractions in Milan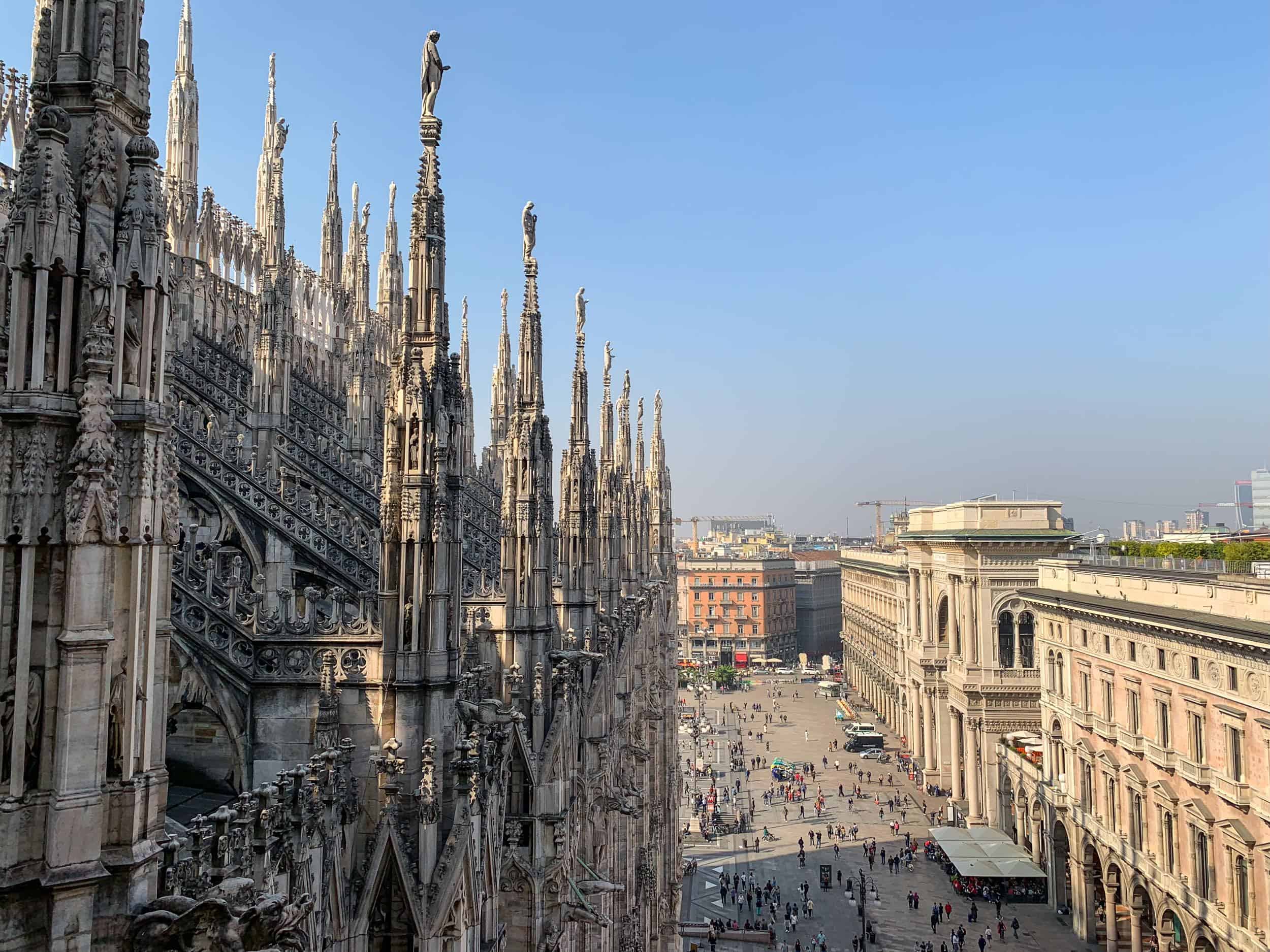 Milan Cathedral (Duomo di Milano)
Exterior View
The Milan Cathedral, or Duomo for short, is the symbol of the city.
Construction on Italy's largest cathedral began in 1386, and it wasn't completed until 1965, nearly 600 years later.
Isn't St. Peter's Basilica more enormous, you may be asking?
Yes, it is. However, it's located in Vatican City, which isn't technically part of Italy.
Overall, Milan Cathedral is the third-largest in Europe and the fourth largest in the world.
The view of the ornate facade from the Piazza del Duomo, the plaza in front of it, is simply stunning.
As incredible as it is to view the cathedral's exterior, the ability to walk around much of the roof is what sets Milan Cathedral apart.
Walking under the flying buttresses that hold up the building gives one a genuine appreciation for the engineering and ingenuity required to construct such structures long before the use of modern technology.
Roof View
While seeing the cathedral's interior is entirely free, I highly recommend purchasing a ticket that includes roof access (referred to as "terraces").
As of 2018, ticket prices that include the roof are:
$14 (€12) – Stairs to the roof, plus Cathedral, Duomo Museum, San Gottardo Church, and Archaeological area
$18 (€16) – Elevator to the roof, plus Cathedral, Duomo Museum, San Gottardo Church, and Archaeological area
$28 (€25) – FAST TRACK: the fastest way to the roof via separate security line and elevator, plus Cathedral, Duomo Museum, San Gottardo Church, and Archaeological area
To save time, check out the Cathedral ticket options on Get Your Guide, some of which include guided tours.
Regardless of how you get there, once you reach the roof, you're in for an experience unlike any other as you wind your way around the perimeter.
You'll see sculptural work up close and get a sense of the level of detail the artisans and architects aimed for that's hard to appreciate from the ground. I tried to take it all in, but it was overwhelming.
My favorite moment was standing atop the nave near the front facade (pictured above).
I've visited a lot of cathedrals in Europe. I can't recall having as much space and freedom to move around atop any of them as I had at the Milan Cathedral.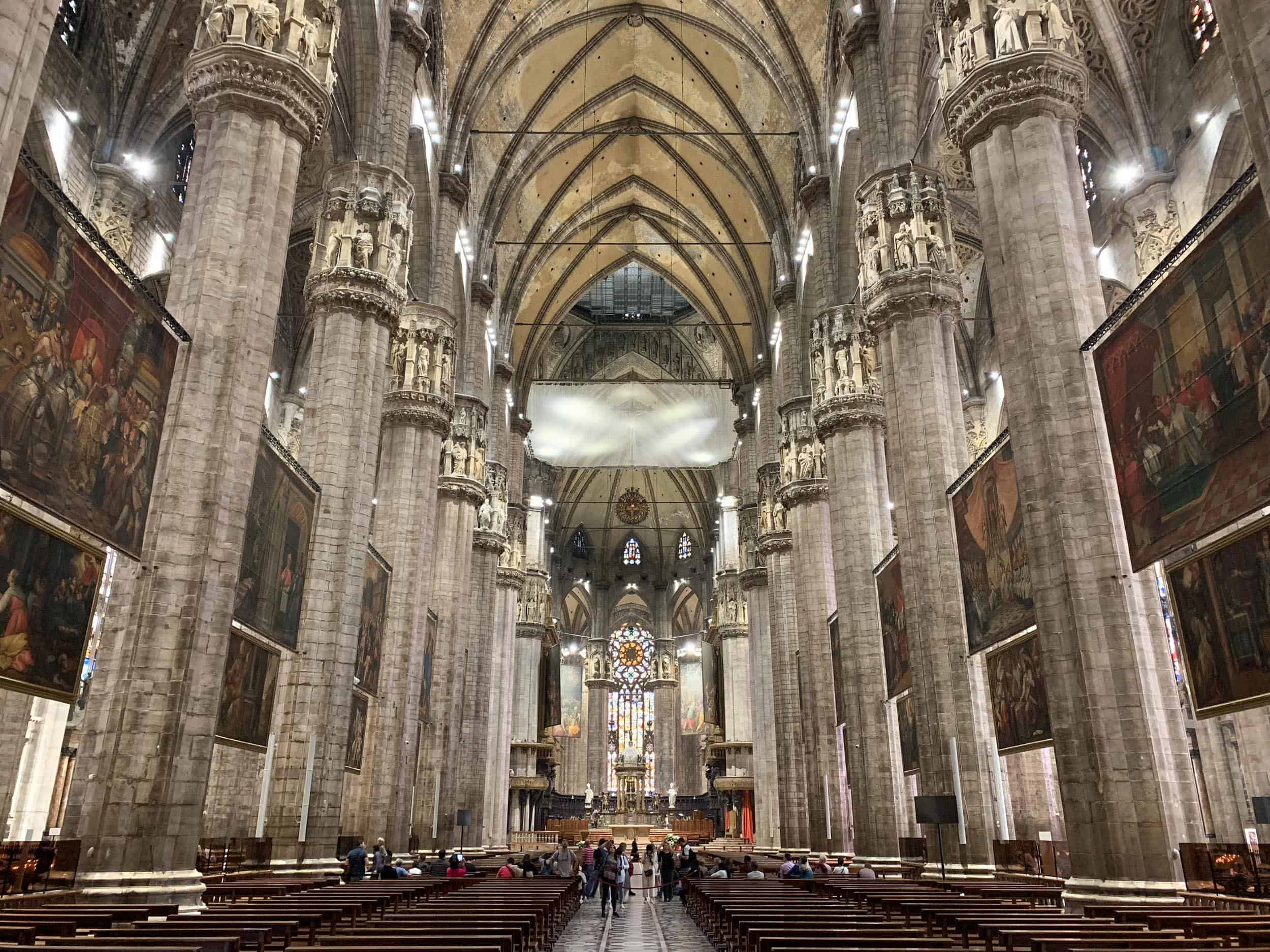 Interior View
If you're like me, you'll head straight for the roof first and walk through the interior on your way down.
The cavernous space created by the 354-foot (108m) high nave is spectacular.
Walking around, feeling mighty small amidst such soaring arches, reminded me of my visit to St. Peter's Basilica 20 years earlier.
The grandeur of such holy spaces has a way of putting our size as individuals into perspective.
The beautifully preserved stained glass windows allow plenty of natural light to enter while adding much-needed color to the walls.
According to Wikipedia, Milan Cathedral has a 40,000 person capacity. Incredible!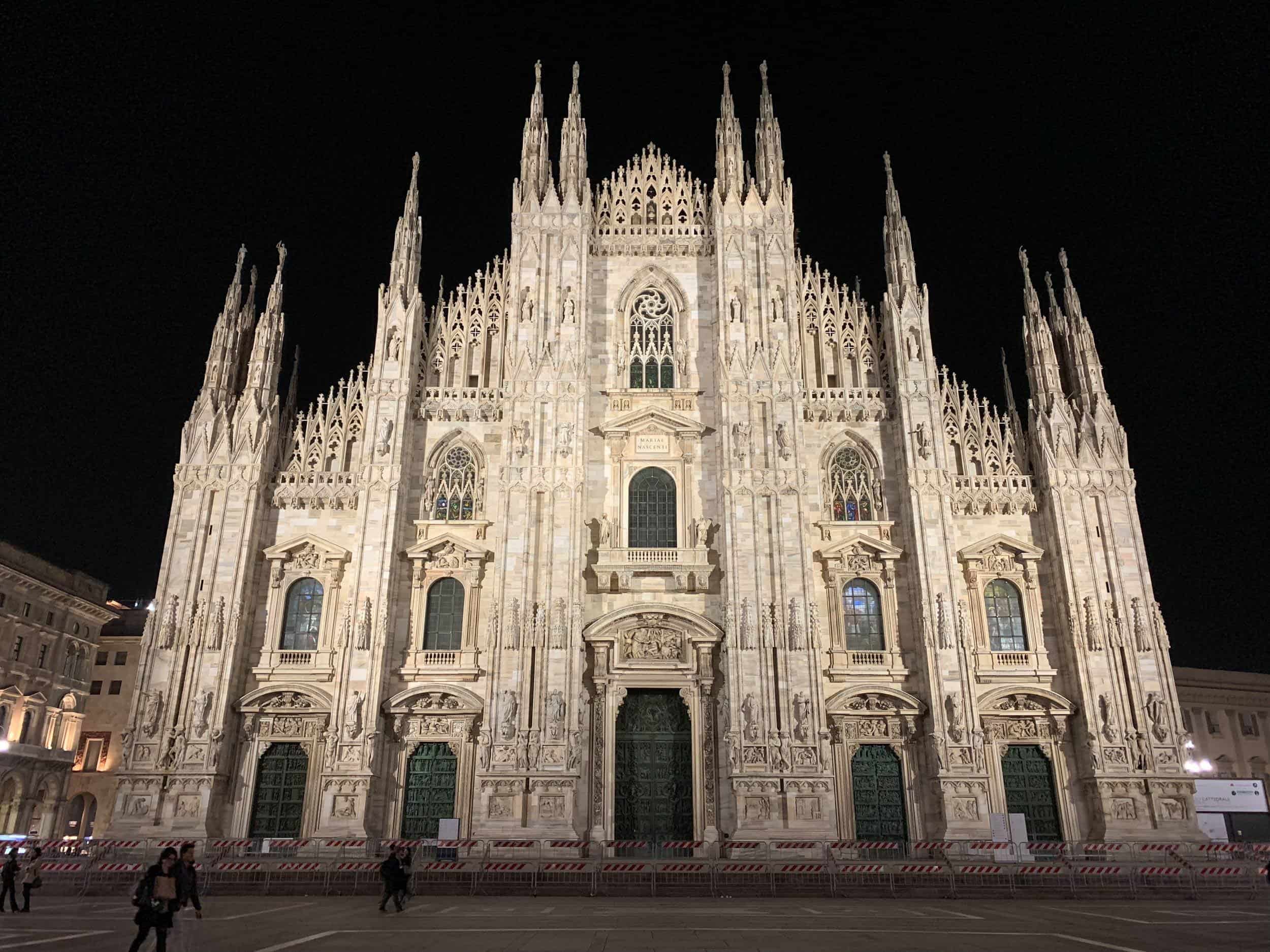 Night View
Before we move on to my other recommendations for spending one day in Milan, I also want to suggest stopping by the cathedral at night.
There will be far fewer people, and you'll see the facade in a whole different light.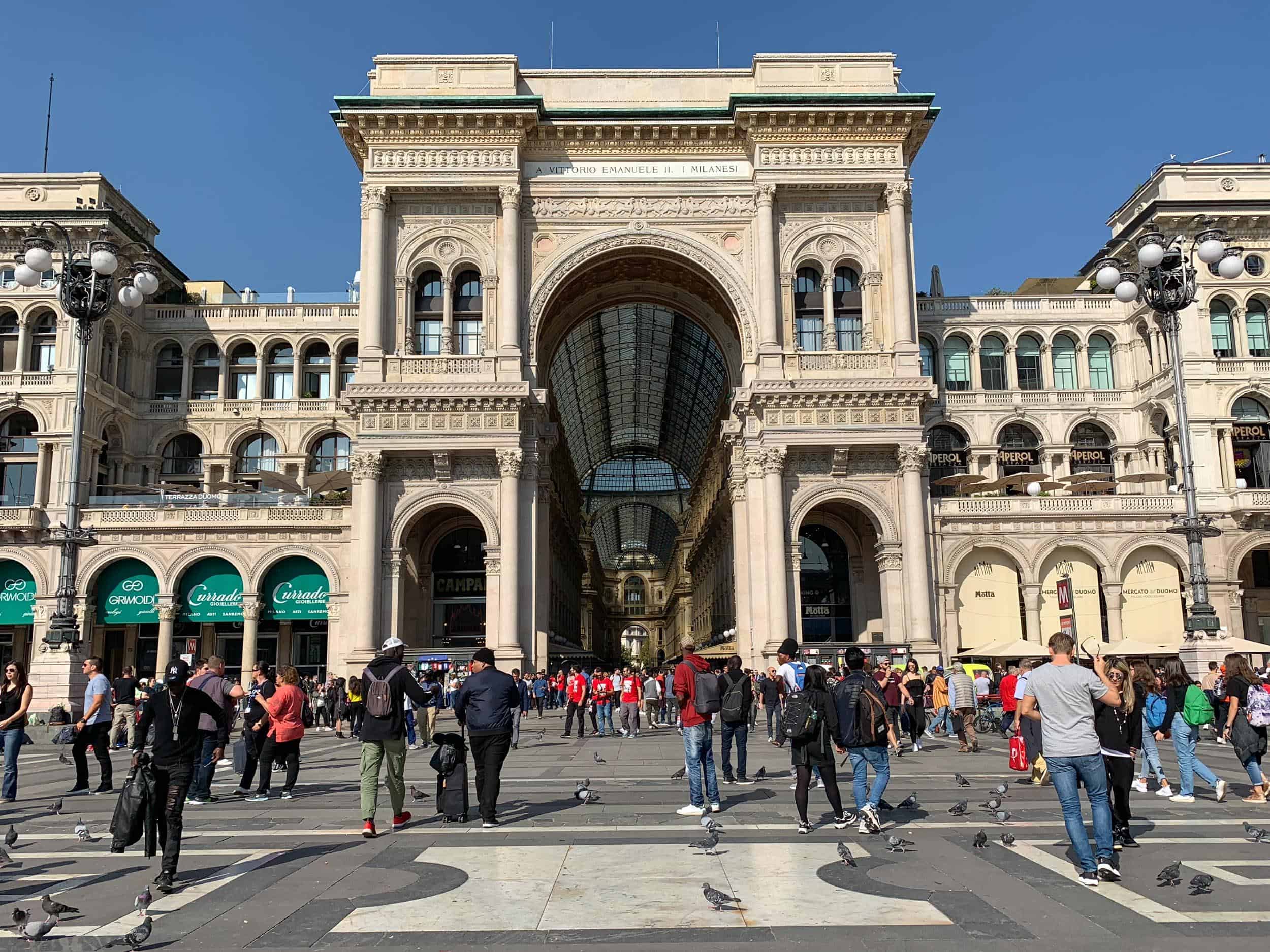 Galleria Vittorio Emanuele II
Once you've seen the cathedral, going for a quick walk through the Galleria Vittorio Emanuele II, Italy's oldest active shopping mall, is another popular thing to do.
You probably noticed the central arch when you arrived at the cathedral, as it faces the Piazza del Duomo.
"Only in Italy," I thought as I walked down the ornate 19th century, glass-covered arcade.
The mall is full of cafes, restaurants, and luxury shops like Louis Vuitton, as well as the mundane, including a TIM shop where you can buy a SIM card for your phone (passport required).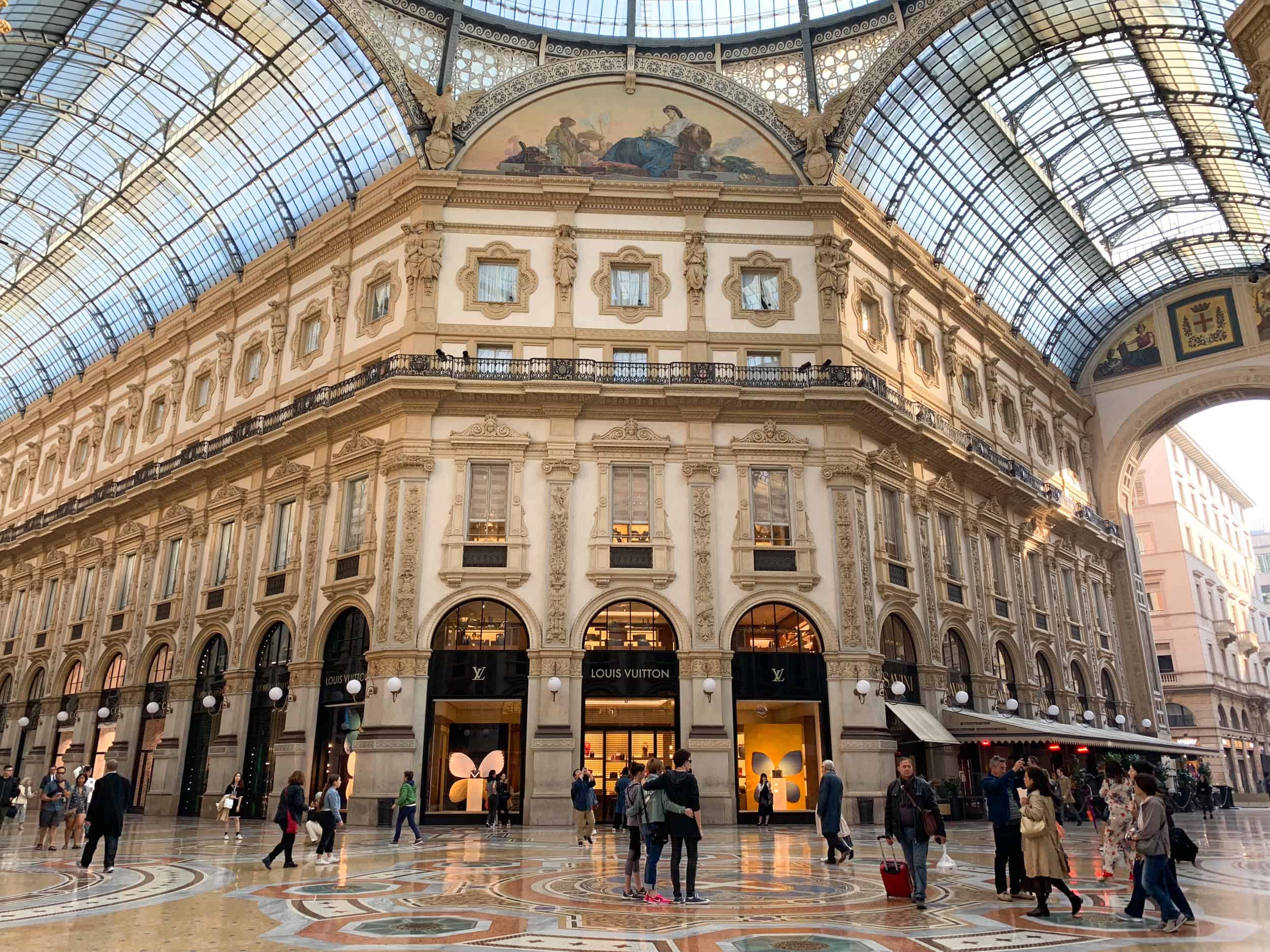 At the north end of the mall is a small park with a monument to Leonardo da Vinci, worth a quick look.
There's also the Leonardo3 Museum dedicated to the inventions of da Vinci. However, the reviews didn't look too good, so I skipped it.
Across the street from the park is the rather plain-looking Opera House.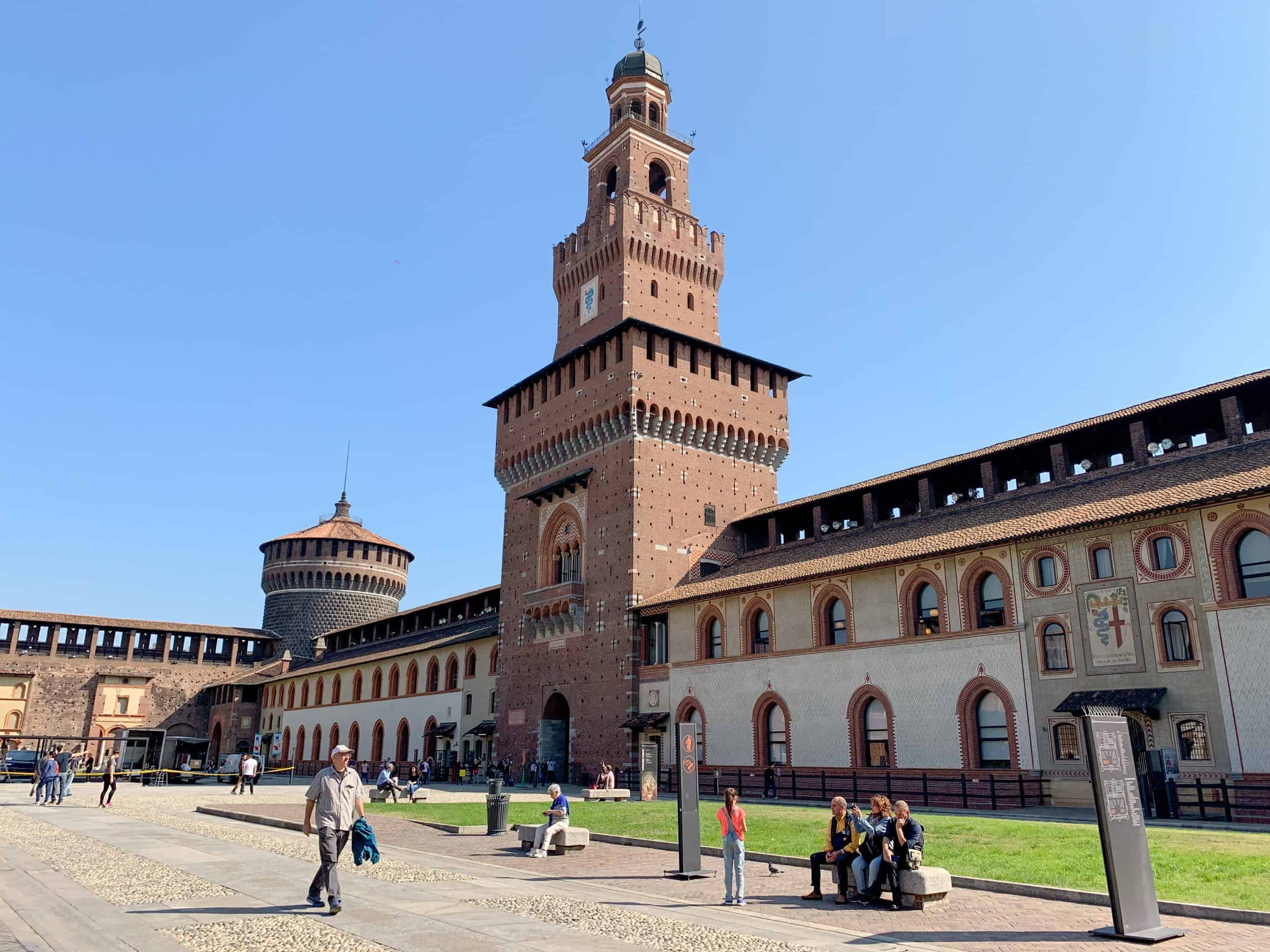 Sforza Castle (Castello Sforzesco)
A 15-minute walk (5-minute metro train ride) northwest of the cathedral is the 14th century Sforza Castle (Castello Sforzesco), Milan's other major historical landmark.
Adult admission is just $5.60 (€6), with free access on the first Sunday and the first and third Tuesday after 2 pm every month.
Inside the massive walls and towers are lots of art galleries and collections.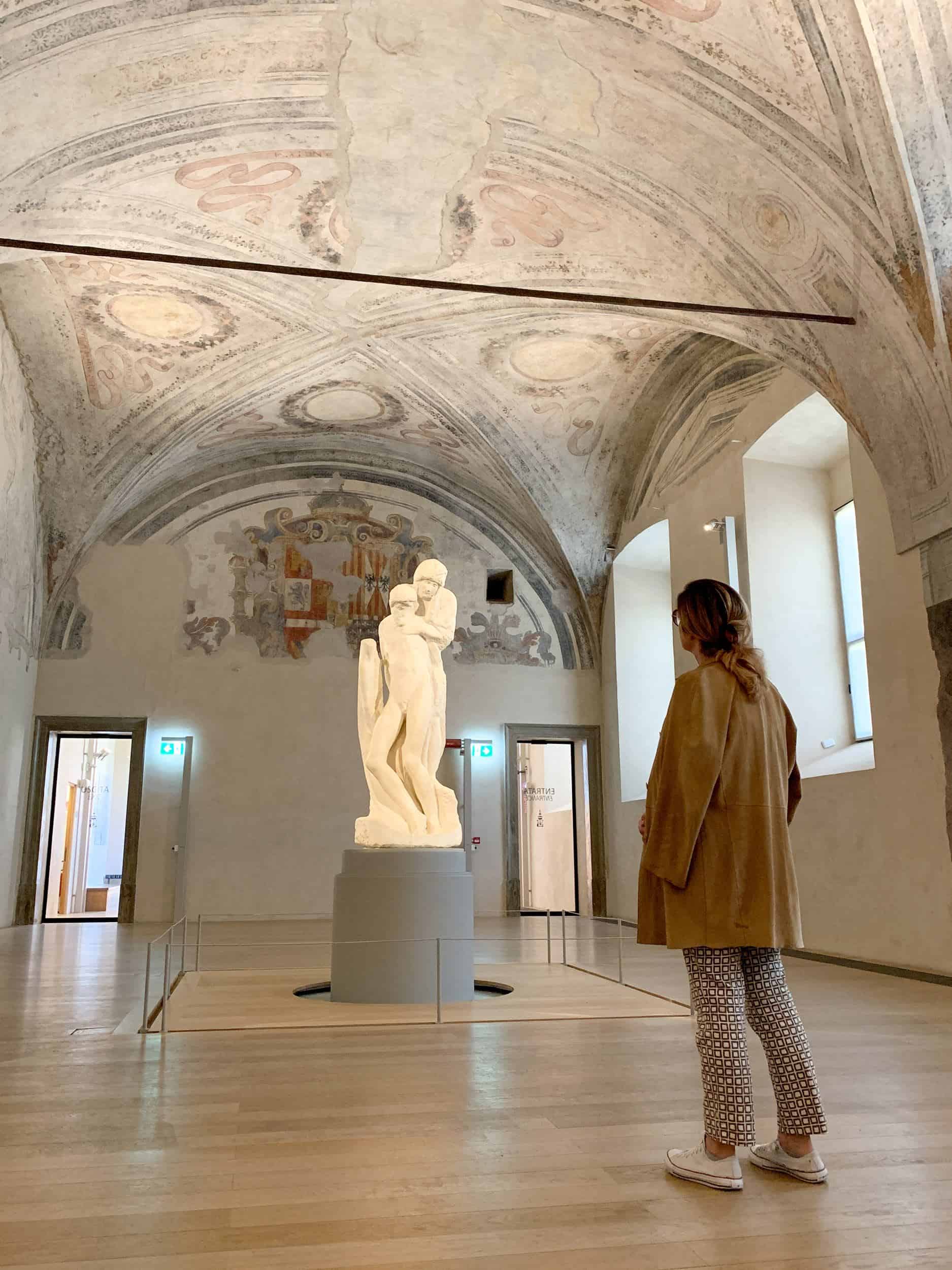 If you're running short on time or energy, head straight for the highlights, works by Leonardo da Vinci and Michelangelo.
Leonardo's artwork is on display in the Sala delle Asse, Room VIII in the Museum of Antique Art.
You can also see a painting by a student of Leonardo da Vinci (which has da Vinci's signature on the back of the canvas, dated 1515).
The second highlight is Pieta, Michelangelo's last unfinished sculpture before his death (pictured above), depicting Jesus dying in Mary's arms.
It's a haunting work and one worth taking the time to enjoy. Several seats are available to admire the sculpture or rest your feet.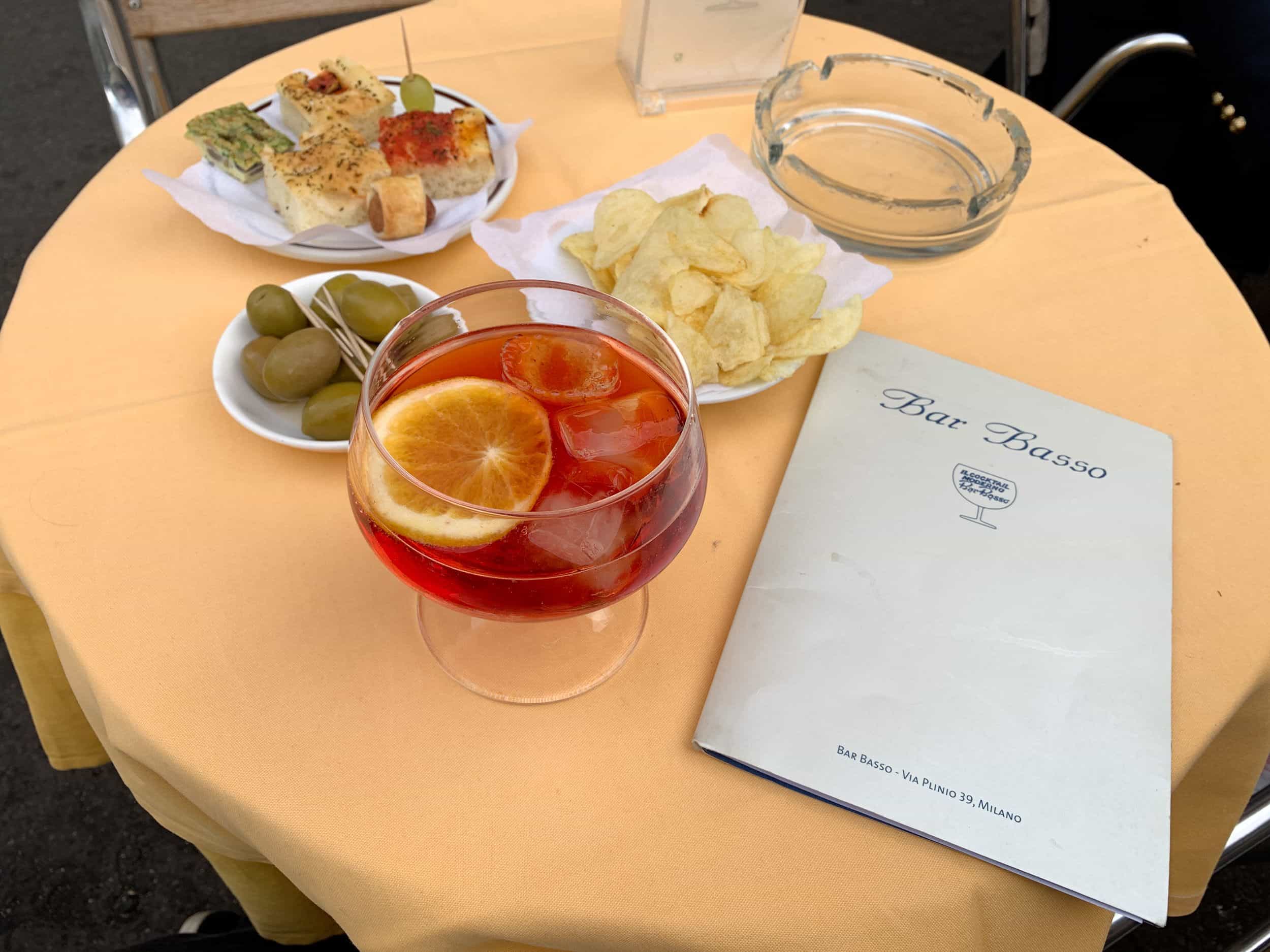 End the Day with Aperitivo
When you've wrapped up sightseeing, take an hour to unwind with the Italian tradition of aperitivo in Milan, a pre-dinner drink enjoyed with light finger food.
The popular custom started in Milan during the 1920s and has slowly spread south over the ensuing century.
Typically from 6 pm to 8 pm, aperitivo is similar to happy hours in the US, only instead of drink discounts, you're likely to pay regular price for a cocktail and receive complimentary food.
The food is either brought to your table or available at a buffet.
This is an excellent time to try one of several classic Italian cocktails:
Negroni – gin, vermouth, Campari, garnished with an orange peel
Negroni Sbagliato – sparkling white wine, vermouth, Campari, garnished with orange
Aperol Spritz – Prosecco, Aperol, soda water
All three of the above are made using bitters, either Campari (which is originally from Milan) or Aperol.
I chose Bar Brosso (via Plinio 39) for my first aperitivo experience as it's where the Negroni Sbagliato was invented when a bartender accidentally added sparkling wine instead of gin to the Negroni he was mixing up.
The bar has been serving drinks since 1947 and currently boasts a cocktail list of more than 500 drinks!
Taking a seat on the sidewalk, I ordered their signature cocktail, presented in a wide glass. The bitterness was a bit too much for me, and I didn't finish the drink.
Small plates of green olives, potato chips, and little pizzas squares were provided. The total cost was $11.50 (€10).
A few days later, I tried a regular Negroni in Florence and also didn't like it too much. The lighter, less bitter Aperol Spritz, on the other hand, I enjoyed.
I also highly recommend checking out Nottingham Forest bar for its experimental drinks if you have the energy.
The Last Supper in Santa Maria Delle Grazie church
Bet you didn't know one of the most famous frescoes of the Italian Renaissance, The Last Supper by Leonardo da Vinci (1498), can be found in Milan. Yes, Milan!
Access to The Last Supper in the Santa Maria Delle Grazie church is tightly restricted. Only 25 people are allowed in the room at a time, and for a maximum of 15 minutes. I didn't plan for it, so I missed the opportunity.
Since you can't just show up and expect to get in, booking a brief tour through a third party is your best bet.
Check out Get Your Guide's well-reviewed 30-minute Last Supper Guided tour.
---
Where to Stay
The historic area of Milan lies at the center, and the city radiates outward in all directions.
Most hostels and budget accommodation are at least a few metro stops away. If you only have one day in Milan, consider these options.
Queen Hostel: For the cost and proximity to the center, this is a good option. A 10-minute walk and two metro stops later will have you at the doorstep of the Duomo. I stayed at Queen Hostel my third night in the city. $29 dorms.
Ostello Bello: Centrally located and within walking distance of the Duomo and Castle, Ostello Bello is an appealing option with a superb 9.7 customer rating through 5,000 reviews. $46 dorms.
Dave is the Founder and Editor in Chief of Go Backpacking and Feastio. He's been to 66 countries and lived in Colombia and Peru. Read the full story of how he became a travel blogger.
Planning a trip? Go Backpacking recommends: