Barcelona is a city alive with culture, the streets buzzing with activity from morning till night; it's no wonder figuring out how to see Barcelona on a budget is a popular topic.
Versatile, Barcelona has something for everyone, but as with most European cities, visiting can leave you with a light wallet.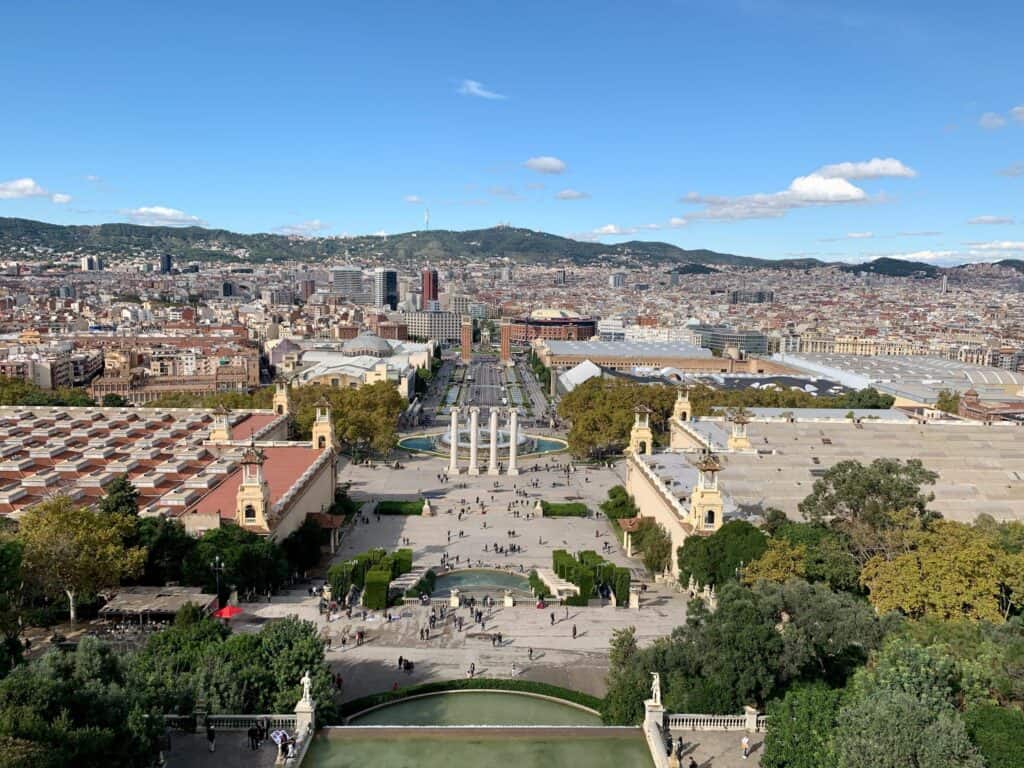 I spent a year teaching just outside of Barcelona and often stayed in the city on weekends.
As an English teacher in Spain, I was paid more in experience than euros, so I quickly learned how to explore Barcelona on a budget. Here are my top tips!
Save Money on Transport in Barcelona
Avoid Taxis – Take the Trains, Metro, and Walk
Barcelona has an excellent public transport system. When you arrive at Barcelona International Airport, the closest airport to the city center, avoid the taxis and cross the enclosed footbridge to the train station.
The RENFE train runs every 30 minutes, and it's a 25-minute journey to Barcelona Sants.
Musicians often busk onboard, playing their guitars and saxophones from carriage to carriage – it's a brilliant way to start your trip by getting amongst the colorful locals.
It's €4.20 ($4.75) for a single ticket from the airport. Alternatively, you can purchase a T10 ticket – see below.
If necessary, you can lighten your load by taking advantage of Barcelona luggage storage services in train stations and around town.
Purchase a T10 Ticket
For travel around Barcelona, I found the most economical option to be the T10 ticket.
Available to purchase from all metro and train stations, it entitles you to 10 journeys within zone 1 of the city, which includes almost everything you'll want to see and do, including travel to and from the airport.
Providing you're willing to walk shorter distances, this should cover you for a weekend break. At only €10.20 ($11.50), it's a steal!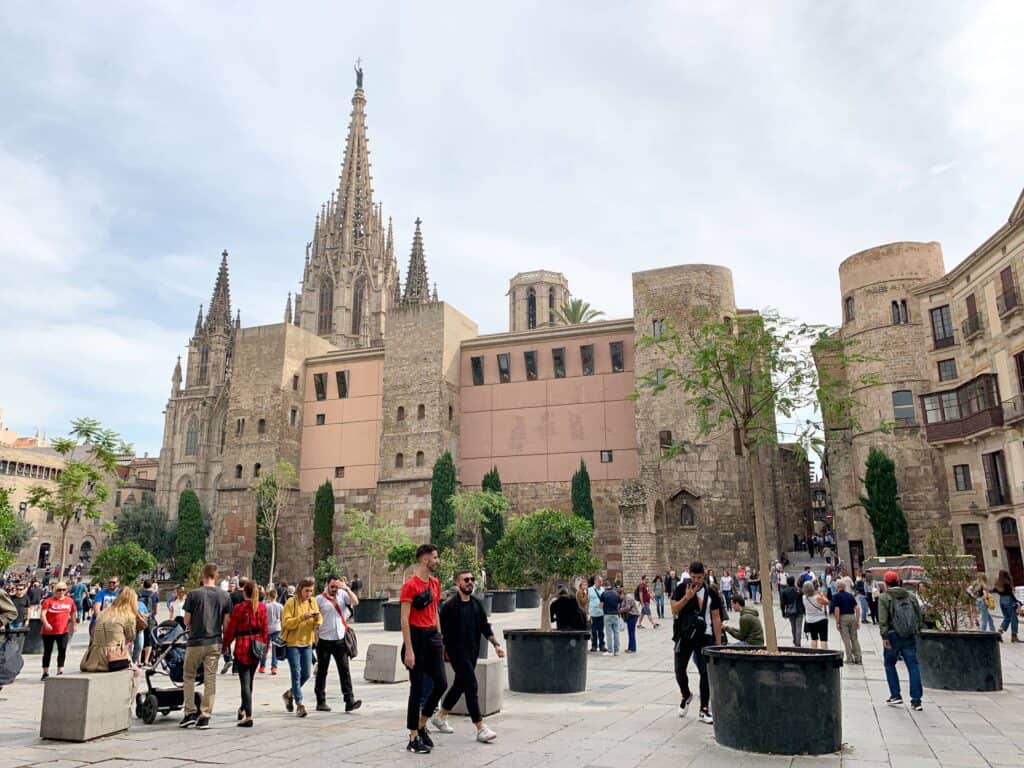 Walk — It's Free!
Not only does walking cost you nothing, but it's also by far the best way to see the city. Barcelona has a hidden treasure around every corner, and there are so many things you'll miss while on the metro.
Las Ramblas is the main wide walkway that snakes through the city. Brimming with market stalls and lined with tall trees that shade you on hot summer days, you can't visit Barcelona without taking a stroll down this iconic street.
Walking in and out of the alleyways to explore cafes and shops and grab a gelato at one of the many vendors is the perfect way to explore Barcelona.
Avoid Hotels — Book Hostels and Try Couchsurfing
Barcelona has thousands of hotels and hostels, so selecting accommodation on a budget can prove challenging.
Hotels are often costly, particularly in the city center, so they are best avoided if you don't wish to spend lots of money on accommodation.
Search for hostels in advance as Barcelona is a popular city, and you may struggle to find a decent deal at short notice. If you don't fancy sharing, I often find deals on private rooms in hostels.
If you plan to venture out in the evening, pick somewhere near the city center to get home quickly at the night's end.
I often booked hostels in the Gothic Quarter as this is an ideal location for daytime sightseeing and nightlife.
If you've never Couchsurfed before, or even if you have, there are plenty of hosts in Barcelona offering free accommodation in many great locations.
Couchsurfing is also the perfect way to mix with fellow passionate travelers, as many hosts have been in your position and are often full of advice that hostels and tourist offices are unlikely to offer.
A fantastic tip for Couchsurfing is to take your host for dinner on the first night. It is a kind gesture, and they often tell you the best spots to visit for the rest of your stay – always listen to the locals!
See also: How to Find a Cheap Place to Stay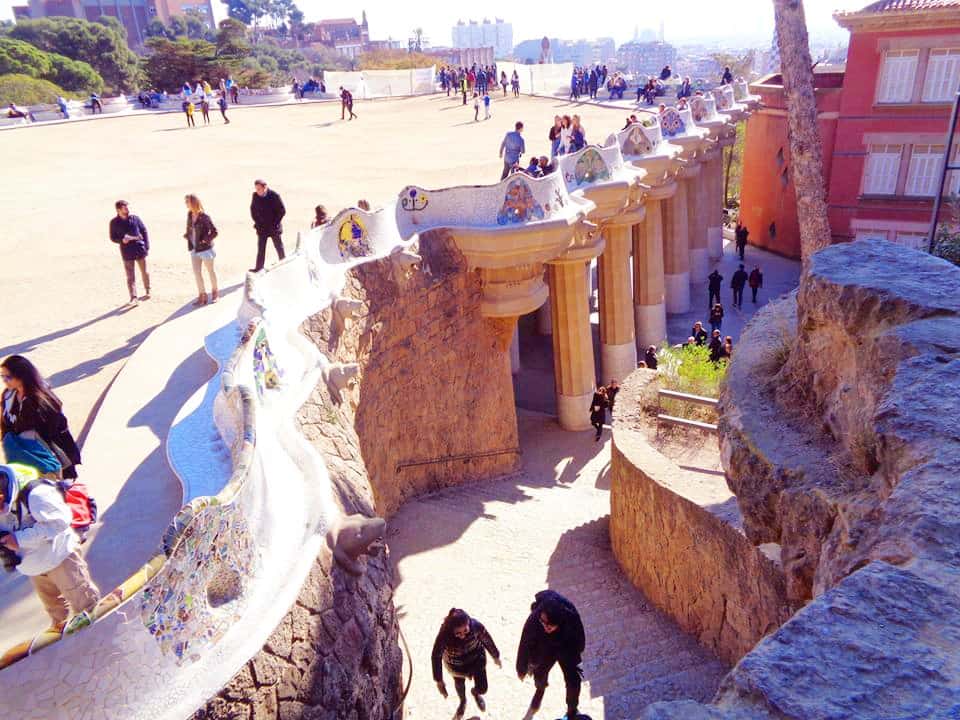 Things to Do in Barcelona
Admire the Art from the Streets
Barcelona is famous for its art scene, home to Picasso and a favorite haunt of Salvador Dali; it is second to none for all art lovers.
Though visiting galleries and museums can offer a fantastic insight into the history of some of its most famous artists, there's nothing like seeing their work in its raw form.
Admire it for free by walking down some of Barcelona's most famous streets.
View Gaudi's weird and wonderful architecture at Casa Batlló on Passeig de Gràcia or venture to Casa Milà, a modernist masterpiece strangely alluring in its peculiar aesthetic.
Park Güell can also be visited free of charge; though the Monumental Zone is ticketed, the park's sections can be explored freely.
Save money by avoiding the Güell bus and instead catch the Metro green line 3 to Lesseps station – although it is a 20-minute walk up lots of steps from here, it is included in your T10 ticket so it won't cost you anything extra.
Las Ramblas is also home to plenty of art, featuring work by Joan Miró, who gifted four public art pieces to the city.
Street artists El Pez and Xupet Negre have also left their mark throughout Barcelona, and the beach promenade and Gothic Quarter are full of street art from names big and small.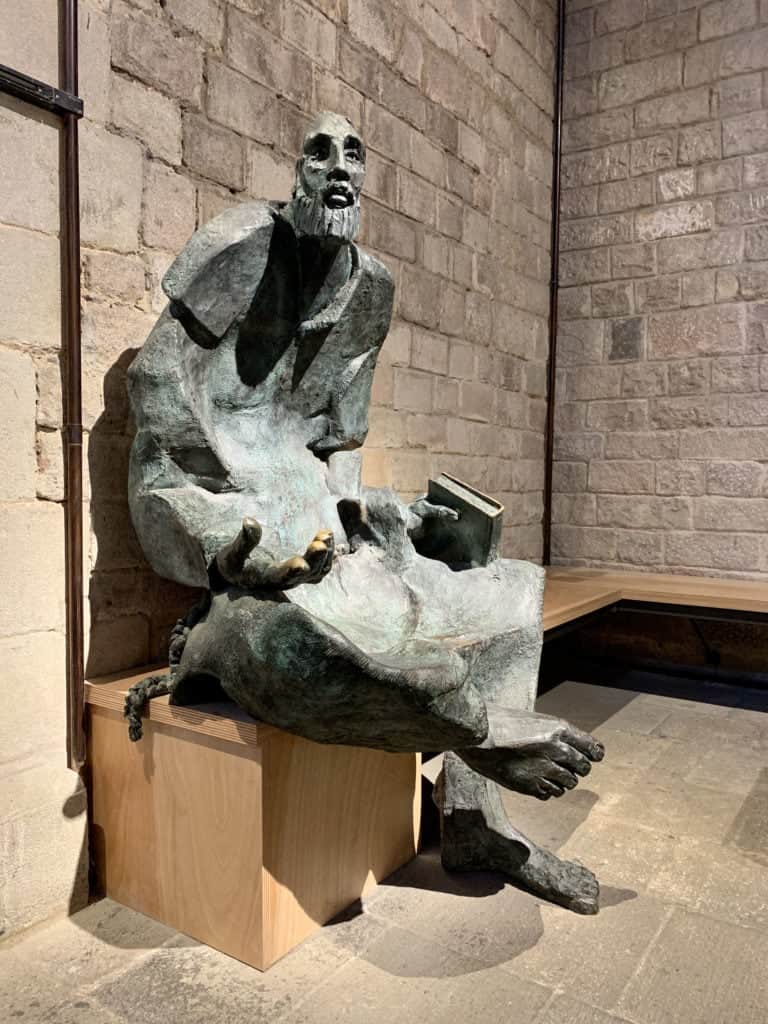 Free Entry to Museums, Get Discounts if You Can
If you plan to visit any of Barcelona's museums and exhibitions, you will always save money by booking online.
Students, be sure to come with your student ID, and you'll most likely get around a fifty percent discount.
For those under 25 or over 60, you'll also be entitled to a discounted price at certain places, so bring proof of age.
If you happen to be visiting on the first Sunday of the month, many venues offer free entry for the main exhibits, so get there early to guarantee access.
You can't leave Barcelona without getting Sagrada Familia tickets. While regular admission is €15 ($17), you can gain free entry by attending one of the international masses if you get there early on a Sunday.
Don't expect a guided tour; however, this is a unique experience if you're respectful. Or admire the building's stunning exterior – which costs nothing!
Budget Tip: Save money in Barcelona with Go City. Buy a 1, 2, 3, or 5-day all-inclusive pass to enjoy tours, museums, and more at a discounted rate. Get your Go City pass here.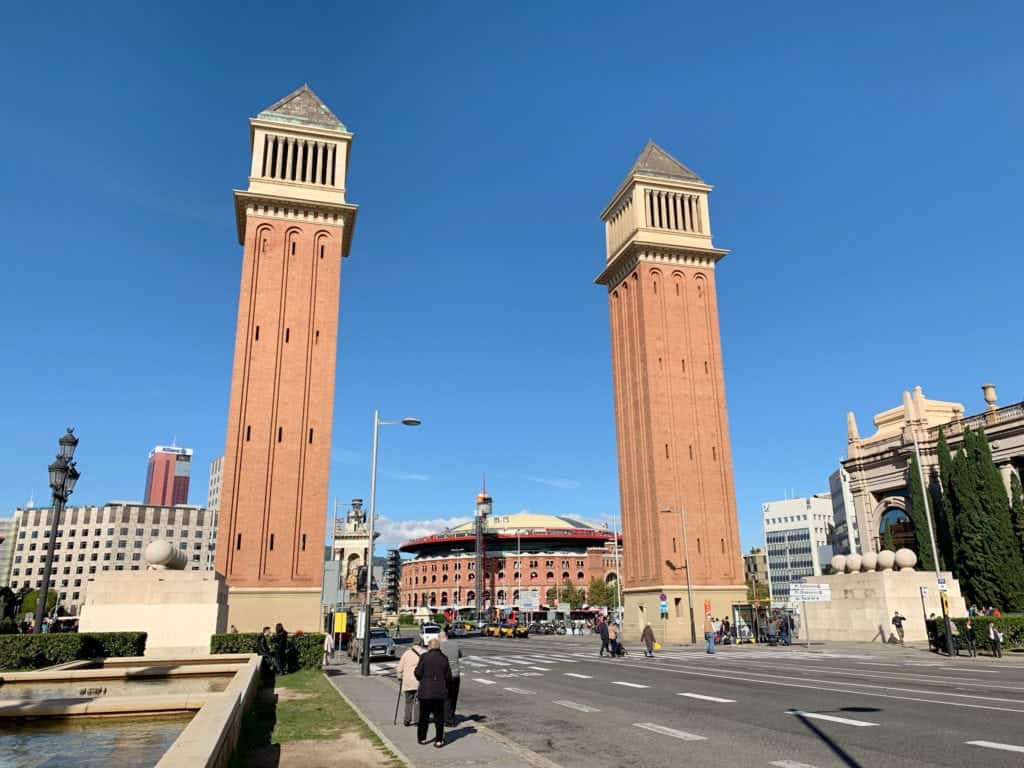 Enjoy an Afternoon in the Park
Some of my most memorable afternoons in Barcelona were spent with a takeaway coffee in the city's prettiest parks.
If you are tired from a morning of sightseeing, pack a drink, a book, and something to sit on and sun yourself in the park.
Parc de Cervantes is one of my favorites, with tall trees for shade and a vast collection of picturesque roses.
The mountain-side park Mirador del Migdia is another must during your stay – quiet, it offers some of the city's best views, away from hordes of tourists.
Start at Plaça Espanya, take the stairs to the Museu Nacional D'Art De Catalunya (MNAC Museum), and walk up the hill.
It's a long but easy walk, best started in the early evening when the weather is cooler, and you can finish off by enjoying the sunset with panoramic views.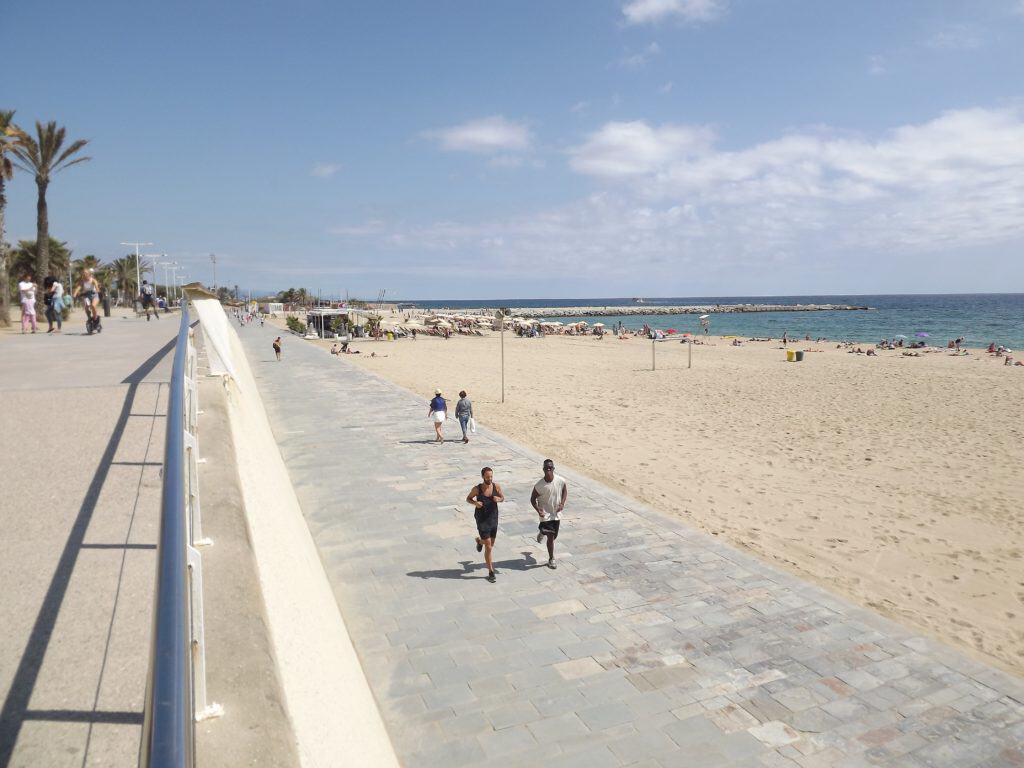 Make the Most of the Beach
One of Barcelona's greatest perks is the city's very own beach, just minutes away from the hustle and bustle of the center.
When I wanted to unwind from a day of sightseeing, I often enjoyed a swim, followed by a couple of hours of lazing on the beach.
Bring a towel and avoid getting caught out by the many vendors wandering up and down the shoreline, selling drinks.
Instead, go to the local supermarket and fill up a backpack with whatever tipple you fancy, even if it's just water.
Though many beach bars look enticing, they often charge a premium for their location, so they are best avoided unless you fancy treating yourself.
Avoid the Tourist Traps
While there are lots of places worth visiting during your time in Barcelona, there are also a few to avoid if you wish to value your time and money.
Barcelona's aquarium is heavily advertised, but with an entrance fee of €21 ($23.70) for an adult; even if you have kids, I recommend taking them to any free spectacles the city offers.
This includes the colorful nighttime fountain show at Plaça d'Espanya (most evenings every 30 minutes) or a walk around the labyrinth at Horta Park (free on Wednesdays and Sundays).
Another venue to be sure to avoid if you don't fancy splashing the cash is Plaza Monumental de Barcelona.
While the outside is impressive and worth a look at, it was the last commercially run bullfighting ring to operate in Catalonia before the ban; the inside is simply an overpriced shopping center.
Don't fall prey to buying souvenirs here or any other of the gimmicky tourist shops.
Instead, grab a bargain at Mercat dels Encants – one of Europe's largest flea markets. It has anything and everything you can think of for unbelievably low prices.
Related: Off the Beaten Track in Barcelona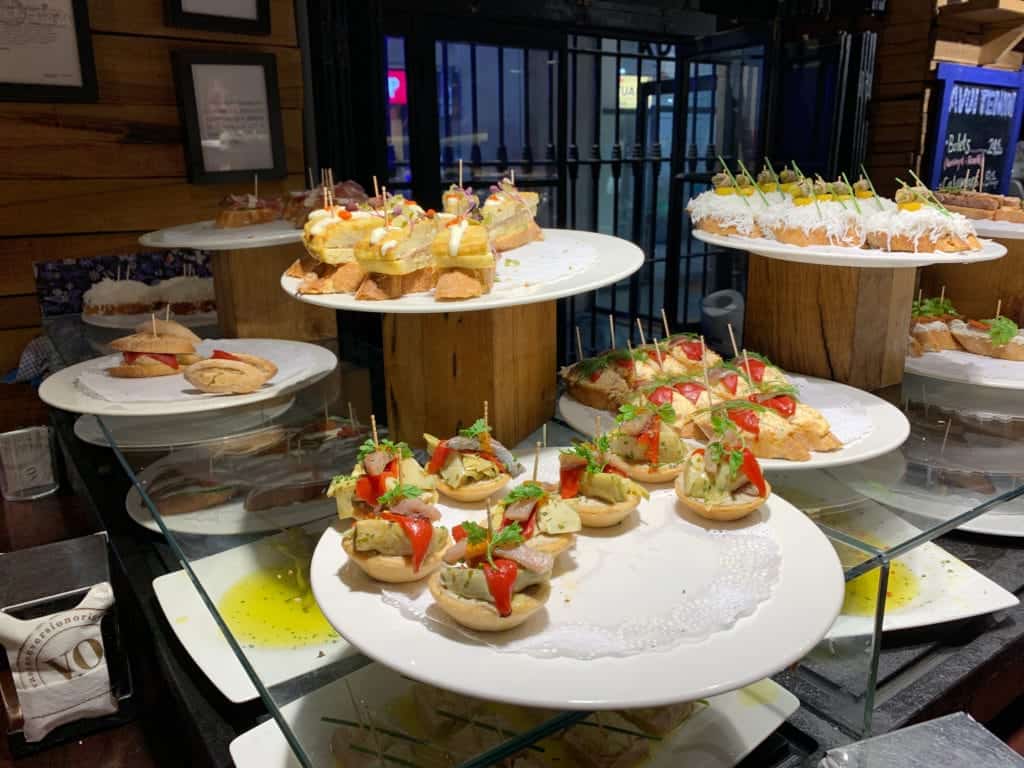 Know Where to Eat Cheaply
Barcelona is a cosmopolitan city; the choice of food is vast, and your price varies hugely. Pintxos are the ideal way to try Spanish cuisine.
Stop off at almost any bar, and they will offer a menu featuring a variety of pintxos – the name refers to the cocktail stick the food is spiked with; these are then counted after you've eaten, totaling up your bill.
These small snacks can be anything from small Spanish omelets to muscles – they are just delicious, and at as little as €1 ($1.12), they don't break the bank.
Taberna Blai Tonight, on Carrer de Blai, is a tasty and popular choice with great sangria.
Many restaurants approaching the beach also have fantastic deals at lunchtime – they advertise their set menus on boards outside, allowing you to decide if you fancy what's on offer.
You can indulge in a three-course meal for around €15 ($17), including a drink. I was never disappointed with the delicious seafood, so be sure to try it yourself.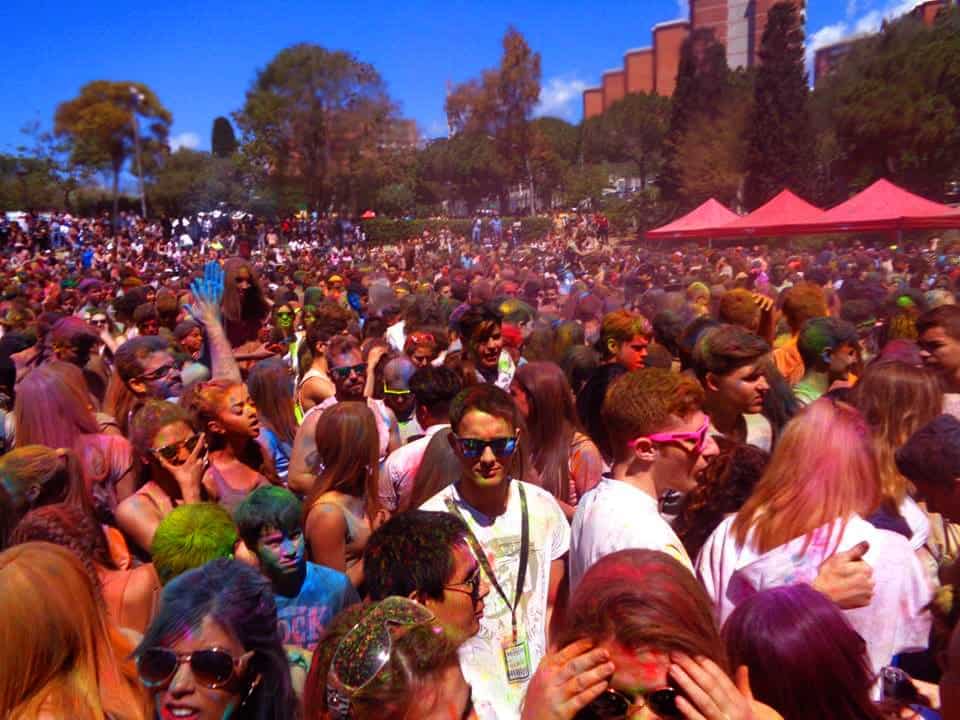 Research Free Events in Advance
Barcelona has a calendar full of free and low-cost events, which can be a fun addition to your stay.
You can soak up Barcelona's culture and meet new people from Blues festivals and fairs to slam poetry events and outside music festivals.
Do a quick search online to see which events take your fancy before you leave, then plan one of your days or nights around the event.
One of my favorites was the Holi Festival of Colour – Barcelona's version of India's Hindu festival. Grab some powder paint, get creative, and have a good old dance amongst the crowds.
So be sure to pick Barcelona for your next European city break and use these top tips to do Barcelona on a budget!

A creative writing graduate from the UK, Tabitha has spent the last four years traveling and currently resides in New South Wales, Australia. Her blog, Tabitha Travels combines her love of writing and travel in a series of engaging guides and curious stories.
Planning a trip? Go Backpacking recommends: