My two-week G Adventures trip through Mexico came to a wonderful conclusion with two days and nights in Playa del Carmen.
Like the islands of Thailand, I felt as though everyone and their mother had already been to Mexico's Riviera Maya, the country's crown jewel of tourism along the eastern edge of the Yucatan Peninsula.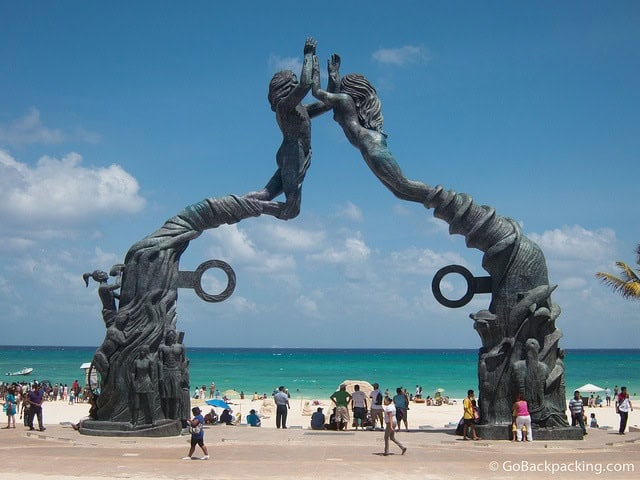 Cancun was the over-developed epicenter, complete with an international airport, dozens of towering hotels, and a reputation for Spring Break partying.
Meanwhile, Playa del Carmen, an hour south by bus, had managed to keep development under control, which is not to say it hasn't been completely transformed over the last 10 to 20 years.
But at least you can walk the length of town along a quiet, pedestrian-only street, and there are no hotels towering overhead or cars to contend with.
Our First Night
We arrived after a long travel day by bus from Merida, taking in the ruins of Chichen Itza along the way.
Once we were checked into our hotel for the next two nights, Gaby, our guide, led us to dinner at 100% Natural.
We walked most of the way along Playa del Carmen's main drag, a pedestrian-only street lined with shops, restaurants, cafes, and bars. One block over was the beach.
The weather was perfect, there were many vacationers out enjoying themselves, and I knew immediately that Playa del Carmen was my kind of town.
100% Natural is a Mexican-owned restaurant chain featuring a menu of health-oriented fruit smoothies and dishes.
I ordered a salmon filet with fruit salsa accompanied by wild rice.
After dinner, we headed over to another Gaby recommendation, a dive bar with cheap mixed drinks served in giant Styrofoam cups.
Everyone liked the place, and we played a drinking game or two to pass the time.
By midnight we were walking around on the streets again, checking out the nightlife scene.
It was early in the week, but there were still people out.
Playa del Carmen is one of those places where time stands still.
Every night feels like a Saturday night because everyone is on vacation, looking to let loose and have a good time.
We began splitting up as some people returned to the hotel, but I managed to last a few minutes in a small reggae bar with a live band before I, too, called it a night.
Day 2
The next day, we had no activities planned, so I slept late and took some time to explore the town independently.
To my surprise, I ran into Will Peach, a British travel blogger, while walking along the beautiful white sand.
We made plans to hang out later and went our separate ways.
That night, Gaby took us to the Fusion Beach Hotel Bar & Grill for dinner.
Oddly, it was one of the few beach bars and restaurants still active at night.
We took a table inside due to the size of our group. A constant Caribbean breeze blew right through the place. I loved it.
I ordered fish tacos, some of the best of my trip, and far better than those I'd ordered way back in Puerto Vallarta for my first lunch in Mexico.
Fusion isn't the cheapest place in Playa, but it's hardly the most expensive either.
And considering the atmosphere couldn't be beaten, I was happy to pay.
My four fish tacos cost 160 pesos ($12).
I'd return to Fusion at least three more times during my stay in Playa.
Some nights they'd have a bellydancer perform, and other nights, fire dancers on the beach. It reminded me of Thailand.
Dinner consumed, we headed back to the dive bar with its styrofoam cups.
Alex, our guide-in-training (who also worked as a ski instructor for the Aspen Ski School during the Winters), taught us a silly drinking game called Moose.
The premise was simple, but it was pretty entertaining.
A person points to another in the circle. The person pointed to has to raise both hands to their head like a moose.
The person on each side of the target needs to raise one of their hands as well. Whoever gets it wrong has to drink.
We laughed so much from the drinking games like Moose that other patrons looked over at us like we were nuts.
It was officially the last night of the G Adventures Mexico Civilizations trip, so we were all in a partying mood.
After the dive bar, we walked down to the club zone and entered La Vaquita (The Little Cow), which had no cover that particular night.
Cows hung from the ceiling, and the music was so loud it was all but impossible to hold a conversation.
I lasted one beer, or about 30 minutes, before excusing myself because of the loud music.
Even though I wasn't there long, I could tell upon leaving that I'd hurt my left ear.
Sounds were muffled. Having experienced short-term hearing loss in my twenties after a deafening Warped Tour concert, I knew it would take weeks, possibly months, for my ear to feel normal again.
Until then, I'd have to avoid loud music and clubs and wear my earplugs.
Day 3
The following day, I checked out of the G Adventures hotel and into the Hotel Delfin.
Covered in green ivy, it was located in the middle of Playa del Carmen, one block from the beach.
I took a room with a window looking out over the main pedestrian street. At $41 per night, it was more than I had planned to pay, but I didn't care.
I knew the Delfin would make a convenient base from which I could enjoy my time in Playa. I also believe I negotiated a discounted rate for a week's stay.
The Wi-Fi was dependable, and they offered free spring water, so I wouldn't have to waste a lot of plastic.
Once I was settled in the Hotel Delfin, I walked over to 100% Natural for whole wheat pancakes with a few of the girls from our trip who were in town a few more days.
That night, everyone still in town met up for dinner at another of Gaby's restaurant recommendations, El Fogon Fiesta Jarocha, a taco place with a loyal following.
El Fogon was easy on everyone's wallets, and both floors were packed when we were there.
If you're still with me, what should come next is no big surprise. We returned to the same dive bar for the third night in a row.
For our loyalty, the manager hooked us up with a free round of blue shooters. I had no idea what it was, but we all took one.
Day 4 and Beyond
The next day, I grabbed a juicy cheeseburger at Fusion before walking down the beach past incredible sand sculptures and local kids playing soccer.
I wanted to check out the ferry prices to Cozumel. On the far side of the pier was Senor Frog's, a famous restaurant and bar known for Spring Break parties.
There were also larger hotels, though their height had been limited, on the southern side of the pier.
In the evening, I met up with a few of our remaining cast for Thai food at Babe's Noodles and Bar.
In addition to a giant strawberry daiquiri, I give them props for their Thai Red Curry with Chicken (148 pesos, $11).
By now, I was in the Playa del Carmen groove. Sleep late, walk around lazily during the day, eat well, have a few drinks with friends each night. It was bliss.
Additional meals and places worth mentioning include:
Grilled fish filet on a bed of green beans, with garlic and walnuts sweet potato puree and mango-ginger sauce at Zabor Restaurant on the beach
Hawaiian pizza on La Azotea rooftop bar
Smoking sheesha at Pita House
Live bands at Fah Restaurant
Spicy Maya chocolate ice cream at Ah Cacao
I also managed to find the time for that day trip to Cozumel, an overnight trip to Tulum (an hour south), snorkeling with whale sharks, swimming with dolphins, driving a Ferrari F430.
Ok, so the latter two I did from Cancun before leaving Mexico, but they're just as easy to do from Playa del Carmen.
I mention them here because I was so unimpressed with Cancun, I'm not going to write about my time there.
If you genuinely want to escape city vibes, you can take a Cancun to Tulum shuttle and skip the more developed parts of the coast.
Playa del Carmen, on the other hand, is one of my new favorite places.
Another reason I wanted to visit it was to evaluate whether it's a place I'd like to spend a few months.
The answer is an emphatic "yes," but I also know my experience would have to be different.
To keep costs down, I'd rent an apartment on the edge of the tourist area, not be in the middle of it.
I wouldn't be able to eat out at the nicer restaurants every night, nor go out for drinks.
In short, if I knew I had to work there, I know it'd change how I view the place.
For that reason alone, I may choose to continue viewing it as a vacation destination rather than the place where I'll sit down to write my next book.
___
My Mexico Ancient Civilizations tour was in partnership with G Adventures.
Dave is the Founder and Editor in Chief of Go Backpacking and Feastio. He's been to 66 countries and lived in Colombia and Peru. Read the full story of how he became a travel blogger.
Planning a trip? Go Backpacking recommends: