As much as I enjoyed the comforts of Playa del Carmen, I couldn't resist taking an overnight trip to Tulum, an hour south by bus.
In the days leading up to my departure, I fantasized about escaping the business of Playa del Carmen for a quiet night in a seaside bungalow.
As I began researching potential places to stay online, I quickly found that bungalows in Tulum are not budget-friendly.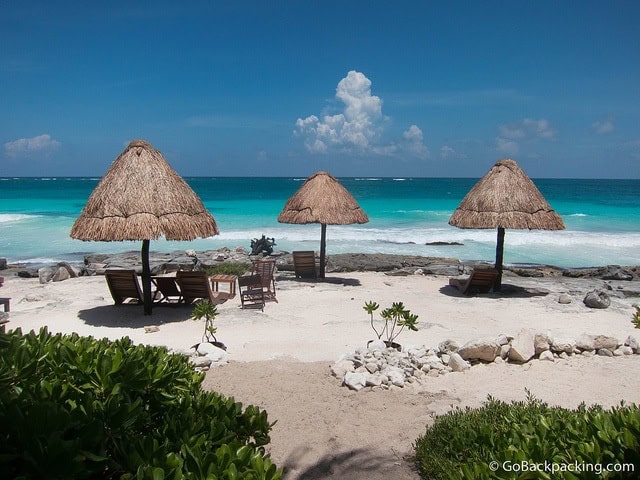 Reviewers on TripAdvisor were finding fault with eco-hotels that charge hundreds of dollars a night.
I was already splurging on my $40/night hotel in Playa del Carmen and didn't feel like shelling out double or triple that for a single night alone in mediocre lodging.
I decided that if I weren't going for quality, I'd go for the cheapest option I could find. I gave up my online efforts and decided to pound the pavement once I arrived.
Note: There are hostels in the town of Tulum, which is located a few kilometers inland from the beaches and ruins. One can rent a bicycle for transportation or take local buses or taxis, but that wasn't the experience I had in mind.
The bus dropped us off near the Tulum ruins, and I began walking toward an access road that runs from the ruins south along the coast.
It was mid-day, and the sun was beating down. I didn't account for how unpleasant it'd be walking around looking for a place to stay in such heat.
Luckily, there was a taxi waiting just outside the ruins. I was already dripping in sweat and opted for the taxi instead of walking any further. It'd cost me $4 but was well worth it.
The first place I checked out had a super cheap room, merely a bed in a concrete box on the beach.
It was around $25 for the night, but there was no restaurant on the premises, so I returned to the taxi, and we continued further south.
The second place, Cabanas Playa Condesa, was better. It offered a variety of cheap bungalows, but only what appeared to be the most ghetto option was available.
I didn't expect to find anything cheaper than $32 and didn't want to lose the afternoon looking, so I took it.
In addition to gorgeous views, a restaurant served a simple menu of Mexican dishes.
After paying for the night and putting my stuff down, I grabbed three chicken tacos with fresh avocado and tomato for $9.
Aside from the rustic construction, this hotel is cheap because Playa Condesa is on a rocky section of the coastline, not a sandy beach.
But a two-minute walk north takes you to perfect white sand beaches, so even if I had planned to hang out on the beach, it wouldn't have bothered me to stay there.
Tulum's coastline is what I imagine Playa and Cancun looked like before the developers, and international hotel chains got their hands on them.
Long, uninterrupted stretches of beautiful white sand beaches set against palm trees and forests.
Thankfully, they're making an effort to keep it that way, but that's also what drives up the cost of accommodation.
After lunch, I booked it down to the Sian Ka'an Biosphere Reserve, which I highly recommend.
By the time I got back, it was sunset. Next door to my cheap hotel was a much nicer one called Hotel Mezzanine.
The rooms here start at $120/night and go up from there, but the view is almost the same.
The mezzanine features an authentic Thai restaurant, which offered a nice break from all the tacos I'd been eating.
I took a table on the deck and ordered a Corona and spicy curry with chicken ($20).
I can't claim to have slept well that night, but I did enjoy falling asleep to the sound of crashing waves.
Related: Best Places to Party in Mexico
The following day, I was awake early enough to watch the sunrise.
The early start of the day turned out to be a blessing in disguise. I took advantage of the hour and walked up the beach to the Mayan ruins of Tulum.
The sand was as soft as talcum powder, and there was barely a person to be seen.
It's the kind of scene that clarifies why Mexico has become such a popular wedding destination for couples. If you need help planning your destination wedding, check out Paradise Weddings.
The actual view of the Tulum ruins, at least from the beaches south of them, isn't much to write home about.
I went as far as I could before cutting left into an access road that took me toward the entrance.
I arrived too early and had to wait for the ticket booth to open. Adult admission is $4.50.
The experience of being the first person inside the ruins was reminiscent of my visit to Machu Picchu.
Due to Tulum's proximity to Playa del Carmen and Cancun, many visitors choose to make a day trip to see the ruins and, therefore, arrive late morning or early afternoon.
Those who spend the night in Tulum have the advantage of arriving early before the day-trippers make their way down.
The Mayan ruins of Tulum aren't as grand as some of the others I'd seen on my travels through Mexico, but their location along the seaside cliffs certainly ensures they have the prettiest setting.
These ruins are the third most visited after Teotihuacan and Chichen-Itza, though unlike those two, it's not a UNESCO World Heritage Site.
Once I'd seen the ruins, I walked back to the hotel along the access road and enjoyed a big breakfast of fresh fruits and an omelet served with rice and beans ($11) before catching the ADO bus ($5) back to Playa del Carmen.
If you want to stay at the beach in Tulum, it's going to cost you. But the views are worth it, let alone the powdery white sand. And if you're into kite surfing, there's that too!
How to get to Tulum?
When you arrive at the Cancun airport, you'll see many options for ground transport. However, it's best to book your Cancun airport transportation to Tulum in advance using a service such as eTransfers.
Dave is the Founder and Editor in Chief of Go Backpacking and Feastio. He's been to 66 countries and lived in Colombia and Peru. Read the full story of how he became a travel blogger.
Planning a trip? Go Backpacking recommends: