If you fancy combining backpacking with exploring the open roads of the east coast of America, then fly-drives are a great way to experience the States as they're meant to be experienced: overland.
A three-week road trip on Highway 95 takes you fifteen hundred miles, ten states, and Washington, DC, all the way down to Miami.
From the old center of Boston to the Latin-influenced Miami and all the fun holiday attractions of Florida, the East or Atlantic Coast of the U.S. stretches through fourteen states, so it's a lot to take in.
A good place to begin is by looking at Boston on a map and marveling at the familiar names of English towns and cities dotted around: Oxford, Worcester, Marlborough, Enfield, Glastonbury, Plymouth, Northampton, Manchester alongside New London, New Britain, and the wonderfully named Woonsocket.
After a day exploring the pleasant cobbled streets of Boston itself, driving south on Highway 95 and passing through Connecticut, you will hit New York.
Spend a couple of days here to bite into and savor the Big Apple for yourself, whether you want to stroll through Central Park, go to the Museum of Modern Art, or get lost in its avenues.
Carry on driving south on Highway 95, and you'll pass through Philadelphia: rich in history, this city will captivate you with its colonial charm.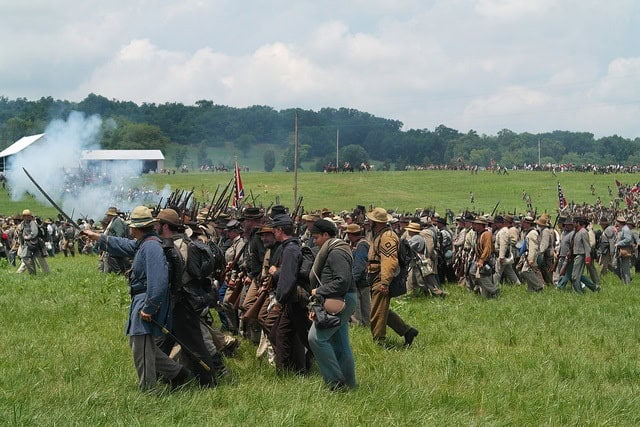 Make sure you stop at Gettysburg in Pennsylvania and witness the monument paying homage to the 50,000 Union and Confederate soldiers killed in the Civil War of 1863.
Further down the road, a one hundred and the forty-mile drive takes you to Washington, the world's most powerful city.
You can, if you wish, pick up the famous Route 66 here and head west into West Virginia.
But we recommend carrying on south, exploring the Colonial Parkway, and aiming for the Outer Banks of North Carolina, the world's longest stretch of barrier islands.
After driving through Charleston, you will reach Savannah.
Spend an evening and a day here visiting the lighthouse and looking at the lovingly restored colonial properties before heading down to Jacksonville.
Jacksonville is the largest city in Florida.
Its deep port played a strategically important part in the Civil War, changing hands between the Unions and the Confederates several times.
After you've been dazzled by the length and breadth of Florida state – the beaches, Kennedy Space Center, the amusement parks – carry on down to the glamorous nightlife and art deco buildings of Miami.
Here you can park your automobile ready to be collected, kick off your backpack and lose yourself in everything Miami has to offer.
Go and see the parrots in Jungle Island Miami, stroll down Ocean Drive, or use Miami as a base to go off and explore the Bahamas; the holiday atmosphere of this warm southern state is sure to be a reward for all those weeks of driving.
________
This post was brought to you by Smartsave.
This post was written by a guest contributor. Please reference the author's byline in the post above for more information. If you would like to guest post on Go Backpacking, please read our submission guidelines. For information on advertising opportunities, go here.
Planning a trip? Go Backpacking recommends: