The beautiful (and underrated) country of Croatia is home to some of the best natural sites in the world, including Plitvice Lakes National Park.
There are numerous reasons why you should add a trip to Croatia to your bucket list.
From relaxing on gorgeous islands to strolling through Roman-era cities to enjoying seafood dishes like black risotto, there is truly something for everyone in this Mediterranean country.
If there is one experience you should make a priority while visiting Croatia, it's taking a trip to see the natural wonder of Plitvice National Park.
In this article, you'll discover insider tips about how to plan your visit to the park, the best time to go, and a secret viewing point where you can take arguably the best photo in the entire park.
What Are the Plitvice Lakes?
The Plitvice Lakes are an astounding natural wonder of 16 terraced lakes connected by many waterfalls, each flowing into the next lake.
It's truly a sight you will see nowhere else in the world.
This UNESCO site has been transformed into a highly organized and efficient national park hosting 1.3 million visitors every year.
In the park, you'll experience crystal blue lakes, rushing waterfalls, and vibrant greenery as you walk along the wooden boardwalks touring the park.
Where Is Plitvice Lakes National Park Located?
As mentioned above, Plitvice Lakes National Park is in Croatia, a European country located in the Mediterranean.
While many visitors stick to Croatia's coast, the Plitvice Lakes are inland, close to the border of Bosnia and Herzegovina.
The park is a two-hour drive from the country's capital, Zagreb, or an hour and a half drive from Zadar.
I'll explain more about getting to the park later, though.
If you've never heard of or considered Croatia as a destination in your travels, then now is the time to change your mind!
This country boasts unique coastal cities, national parks, and exciting experiences.
Because so many people desire to make the country their home, the government introduced the Croatia digital nomad visa allowing remote workers to live in the country for one year.
Now, that says a lot about this wonderful destination.
When Is the Best Time to Visit?
The weather is quite ideal throughout Croatia, therefore you have a large window of opportunity for the best time to visit Plitvice Lakes National Park, which is between April and October.
If you want blossoming flowers and sunny weather, with a comfortable temperature, visit the park in May or the beginning of June.
Of course, the park is most enjoyed during the summer. However, be aware that swimming is prohibited, and this is peak tourist season.
If you're a lover of autumn weather and seeing the leaves change colors, then consider visiting Plitvice Lakes National Park towards the end of September into October.
Dress warmly, though, as the temperatures begin to drop during this time of the year.
Overall, the best time to visit Croatia is between May and October.
Peak tourist season where you'll encounter higher prices and more crowds is from July to August.
If you want to visit during the shoulder seasons, I suggest going in either May/June or September/October.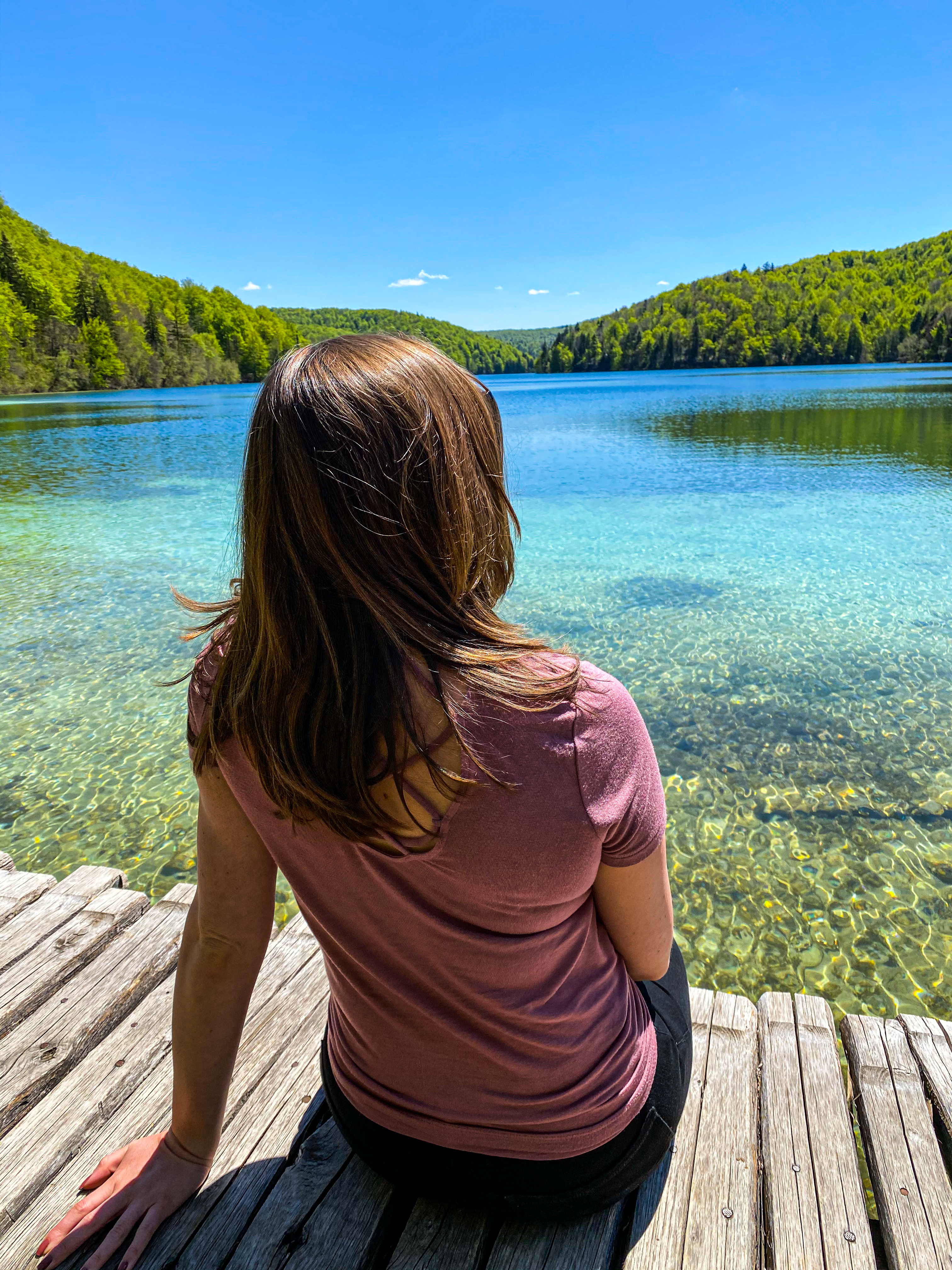 How To Get to Plitvice Lakes National Park
There are three main ways to get to Plitvice Lakes National Park. The first way to get there is to drive.
It's pretty easy to drive yourself in Croatia as the roads are well-maintained, and the highways are easy to navigate.
Be aware of paying tolls (which you can pay by card or cash) when using the highway.
There are two parking lots available on the site, which you can expect to pay a few euros for the entire day.
You'll want to arrive early, so you get a good spot, though.
There are bus routes that will take you directly to the park if you don't feel comfortable driving or want to rent a car.
Taking a bus from Zagreb takes about two and a half hours and costs between 5€ and 11€ one way.
Lastly, you can choose to book an organized tour that facilitates the transportation and tour of the park.
You can reserve tours easily online or at a local tourist office in Croatia.
Where to Purchase Tickets
You can purchase Plitvice Lakes National Park tickets online through the park's official website.
It's important to note that you cannot reserve same-day tickets; you must purchase tickets at least a day in advance.
However, because only a certain number of people are allowed in the park each day, I recommend purchasing a few days in advance to ensure availability.
Ticket prices fluctuate depending on the season.
A one-day adult ticket ranges between about $12 to $30. Two-day tickets are available, but one day is plenty of time to see the park.
What to Bring With You
There are restaurants and food stands within the park, but I recommend bringing water and snacks with you in case you get hungry during your hike or tour.
If you forget, though, a convenience store is located in the parking lot.
Concerning what you should wear to the parks, make sure to bring comfortable walking shoes.
If you choose to stay on the boardwalk and dirt paths, sneakers are your best option.
Avoid wearing open-toe sandals as you may trip. Be sure to dress for the weather too.
You'll also want to make sure you pack your camera or free up some storage space on your phone.
There are plenty of photo opportunities that you won't want to miss!
Choosing Which Route to Take
Plitvice Lakes National Park spans 184 square miles (296.8 square kilometers) – so it's pretty big.
There are eight different routes that you can take throughout the park, and they range in difficulty and length, from two to eight hours.
There are plenty of signs throughout the park and along the paths to help you follow your desired route and stay on course.
It's important to note that there are two entrances to the park, Entrance 1 and Entrance 2. Each entrance has four routes you can take.
When you purchase your tickets, you'll choose your preferred entrance. From there, you will take a panoramic bus to the starting point.
No matter which entrance you pick, you'll see everything along your chosen route as they go in a circle. It just determines where you'll begin and end.
Other Activities While Visiting the Park
You can participate in numerous activities while visiting Plitvice Lakes National Park.
If you're a more active soul and want to do more than tour the park, you can take hiking or cycling routes to see these great lakes.
You can also rent a rowboat and experience what it's like to be on one of these incredible lakes.
You'll pass small waterfalls flowing into the lake, see fish swimming beneath you, and have some time to relax and soak in nature.
Where to Stay When Visiting
If you purchase the two-day tickets or don't want to drive after a long day of walking, there are plenty of places to stay in and near the park.
Inside the park, there are four hotels that offer packages, including tours and tickets of the lakes.
There are also two campsites with rustic cabins you can rent on the grounds.
Since Plitvice Lakes is such a popular tourist attraction, there are plenty of hotels and independently-owned bed and breakfast places within minutes of the site.
I used Booking.com to find an adorable accommodation with a fantastic breakfast and gorgeous views just 15 minutes from the park.
Secret Photo Spot at Plitvice Lakes National Park
When many of us travel, we like to capture memories by taking photos of what we're experiencing and seeing.
So, I'm going to share with you a secret place to get the absolute best photo of the Plitvice lakes.
Search "Veliki Slap" in Google Maps, which translates to "big waterfall." It will take you to a road with some ruins of a building.
Park here and find the sign that says "Rent a bike/Rent a quad" and turn left down a dirt path.
Keep walking down the path for a couple of minutes.
You'll find a lookout point on the righthand side with an incredible view overlooking the terraced lakes and numerous waterfalls.
This spot is relatively unknown, so you'll be able to escape the crowds and get a crystal clear photo of the beautiful nature that is Plitvice Lakes.
Planning a trip? Go Backpacking recommends: