Taking a road trip to Zion National Park in Utah can be a wonderful experience in fall or winter.
Nearby day hikes and places to camp make the city of St. George a worthy stop on your journey.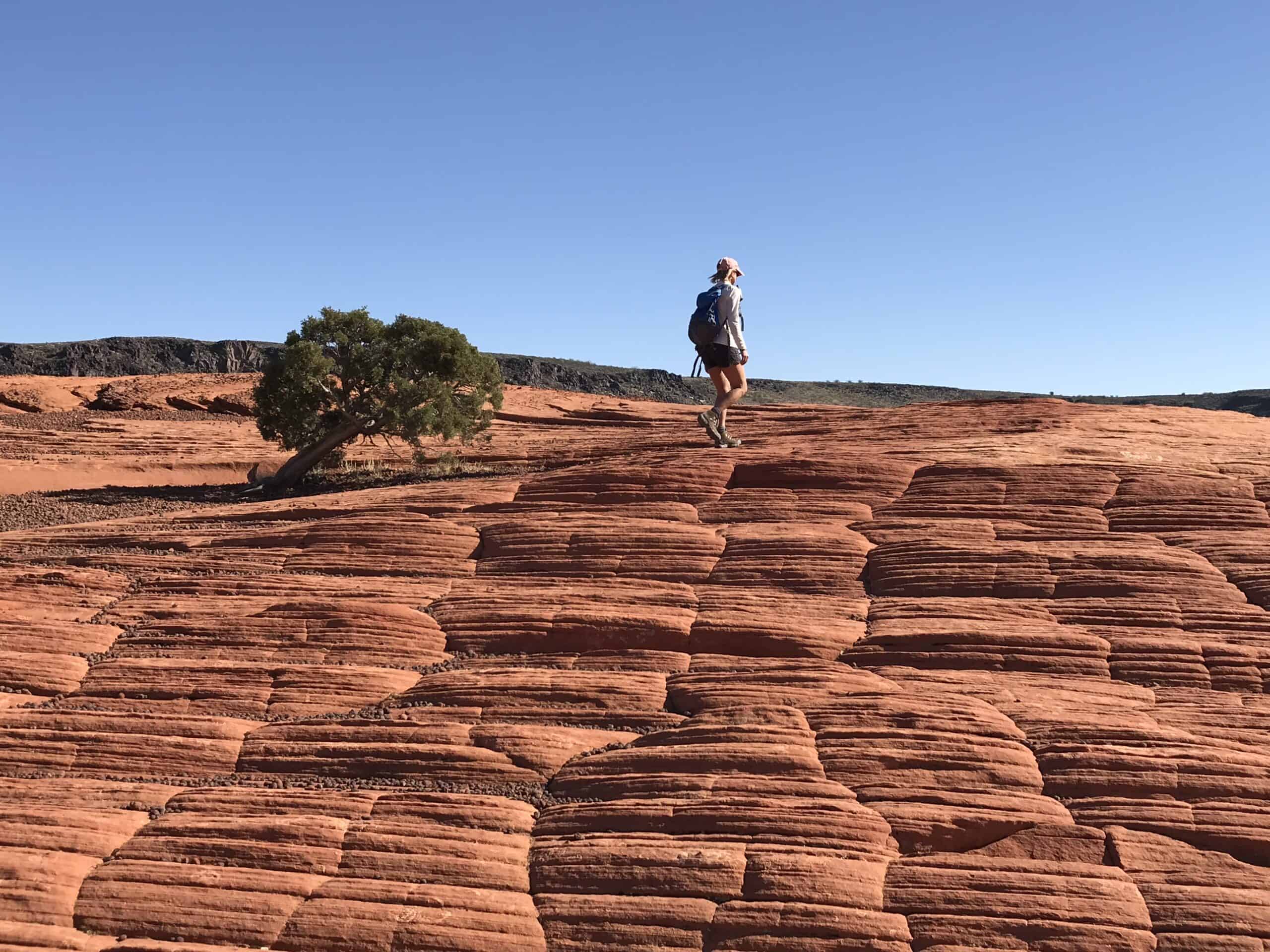 Snow Canyon State Park
Just north of St. George is a state park that has been lauded by locals as a place that would be a national park if it were in any other state in the United States.
Utah's Snow Canyon State Park comprises more than 7,000 acres of hiking and biking trails and a scenic and dramatic campground for travelers en route to Zion National Park.
Spend the day hiking and exploring, or spend the night in the campground on your way to Zion National Park.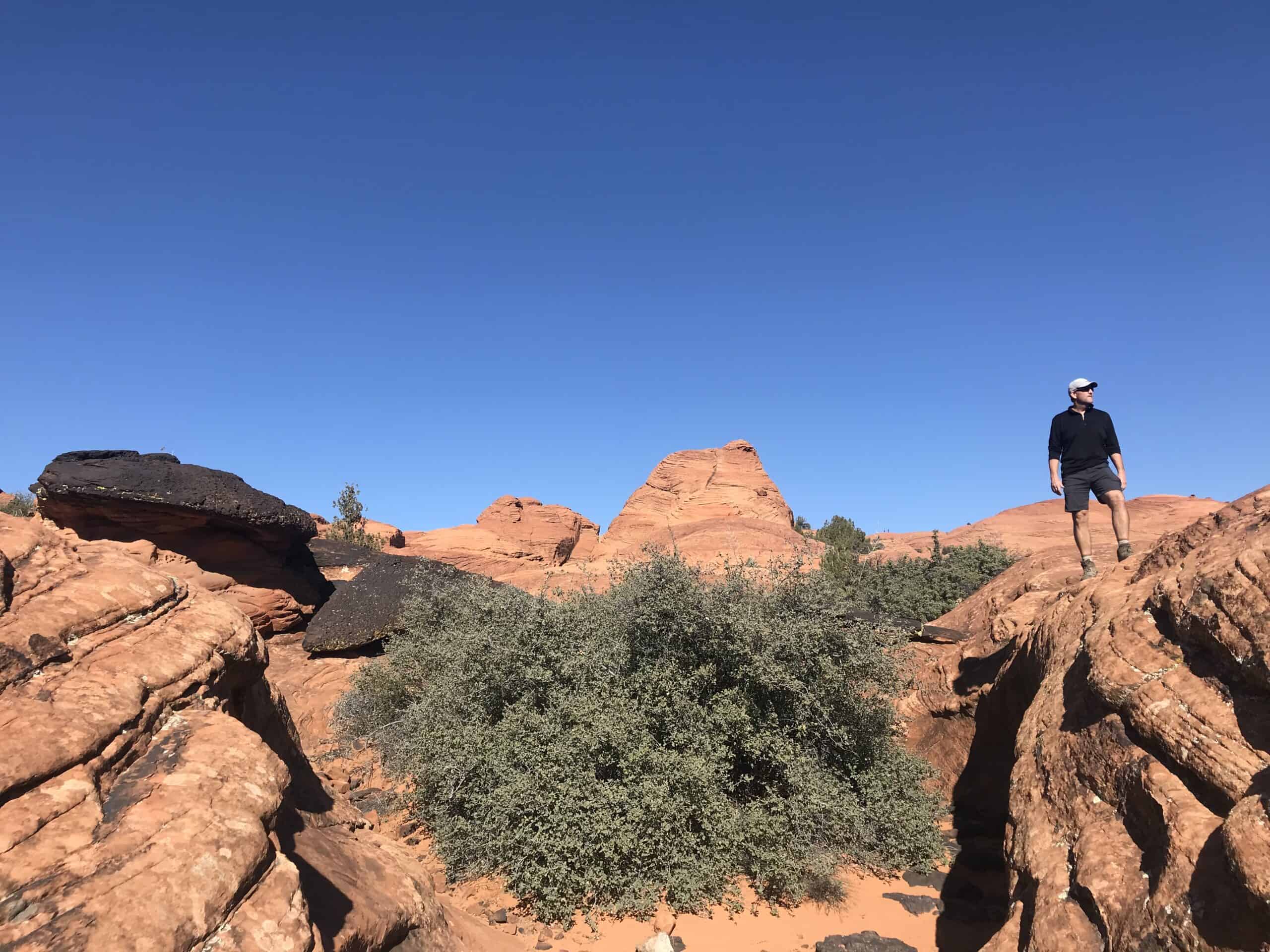 True adventurers will not be disappointed as they hike the lava formations, caves, and colorful sandstone cliffs.
Zion National Park's boundaries are some distance away, but stopping at Snow Canyon State Park before or after your Zion's stay should be mandatory.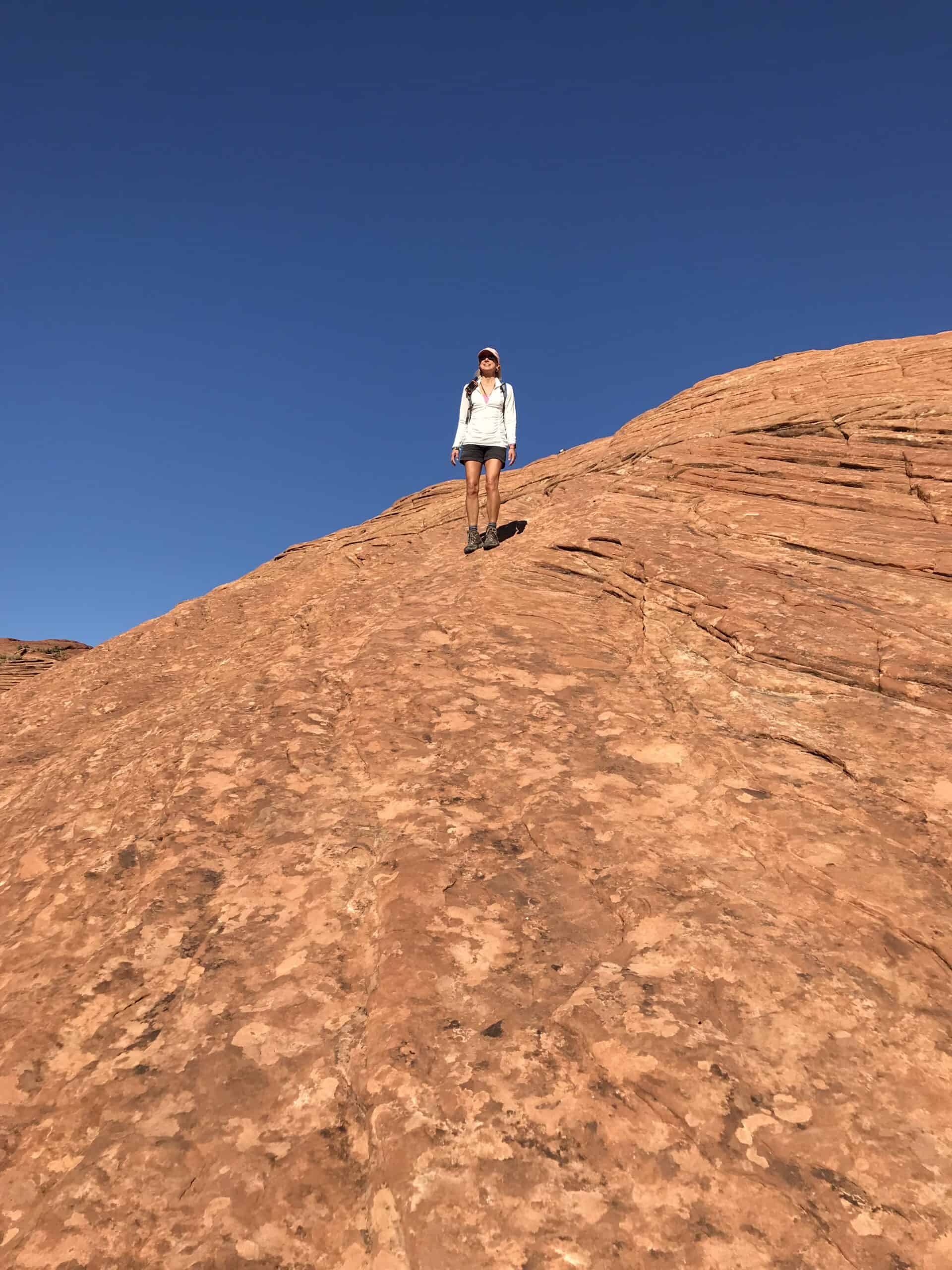 Hiking on the Rocks
My favorite hike takes you through gorgeous scenery and sandstone and white limestone rock formations that we were allowed to walk and climb upon.
The Snow Canyon Loop Trail took us through most of the park's features in a 3.5-mile moderate loop.
Check out trail guides here.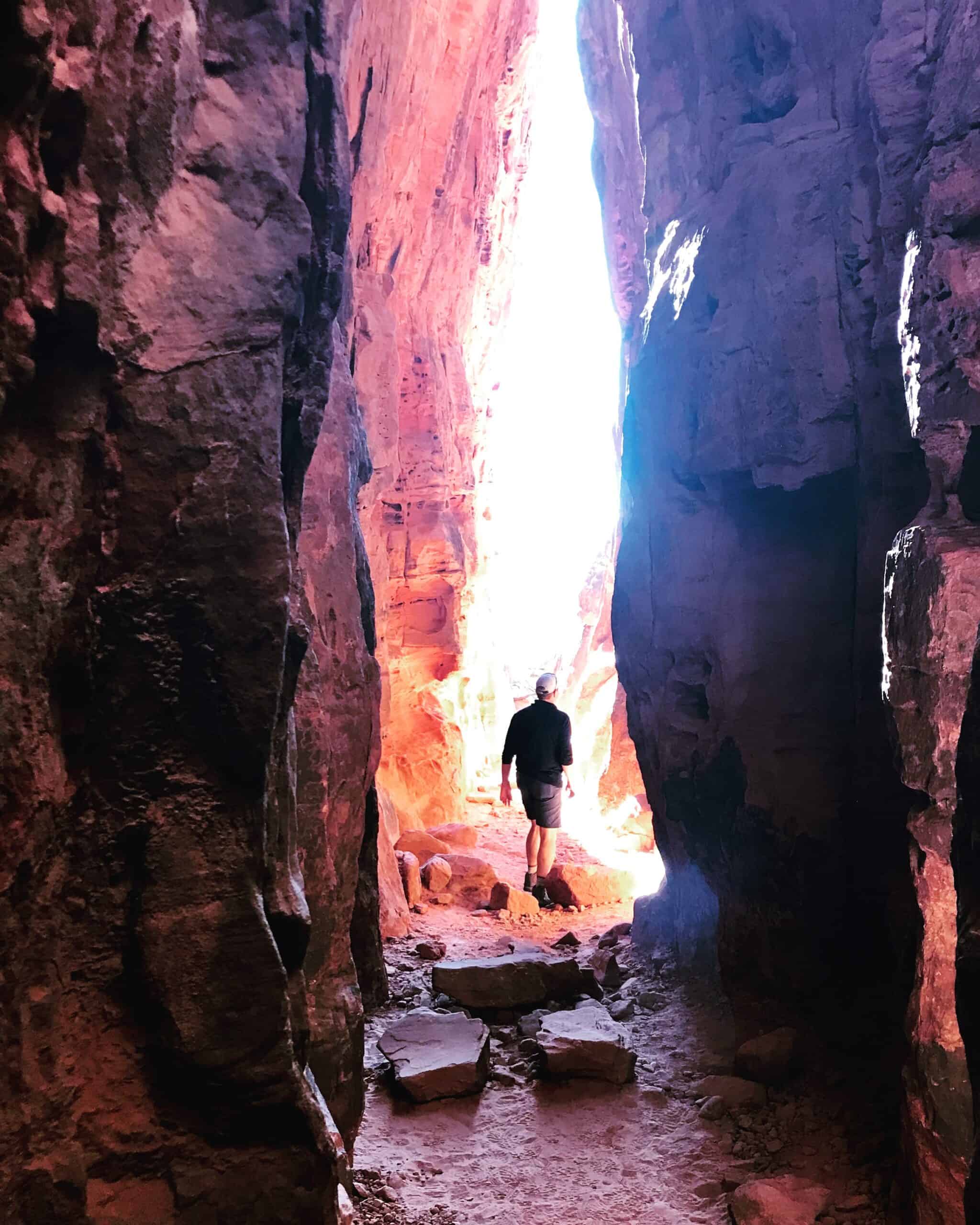 Exploring Slot Canyons
During our exploration of Snow Canyon State Park, we hiked in and out of mysterious slot canyons.
This one pictured above is often referred to as Utah's most accessible slot canyon.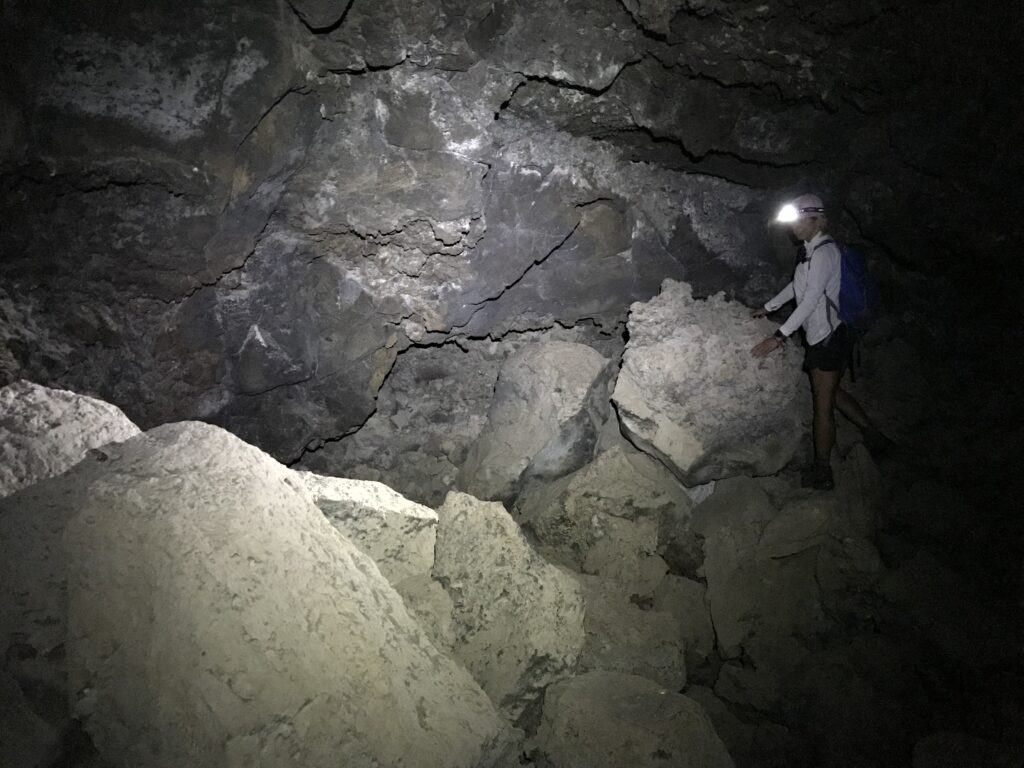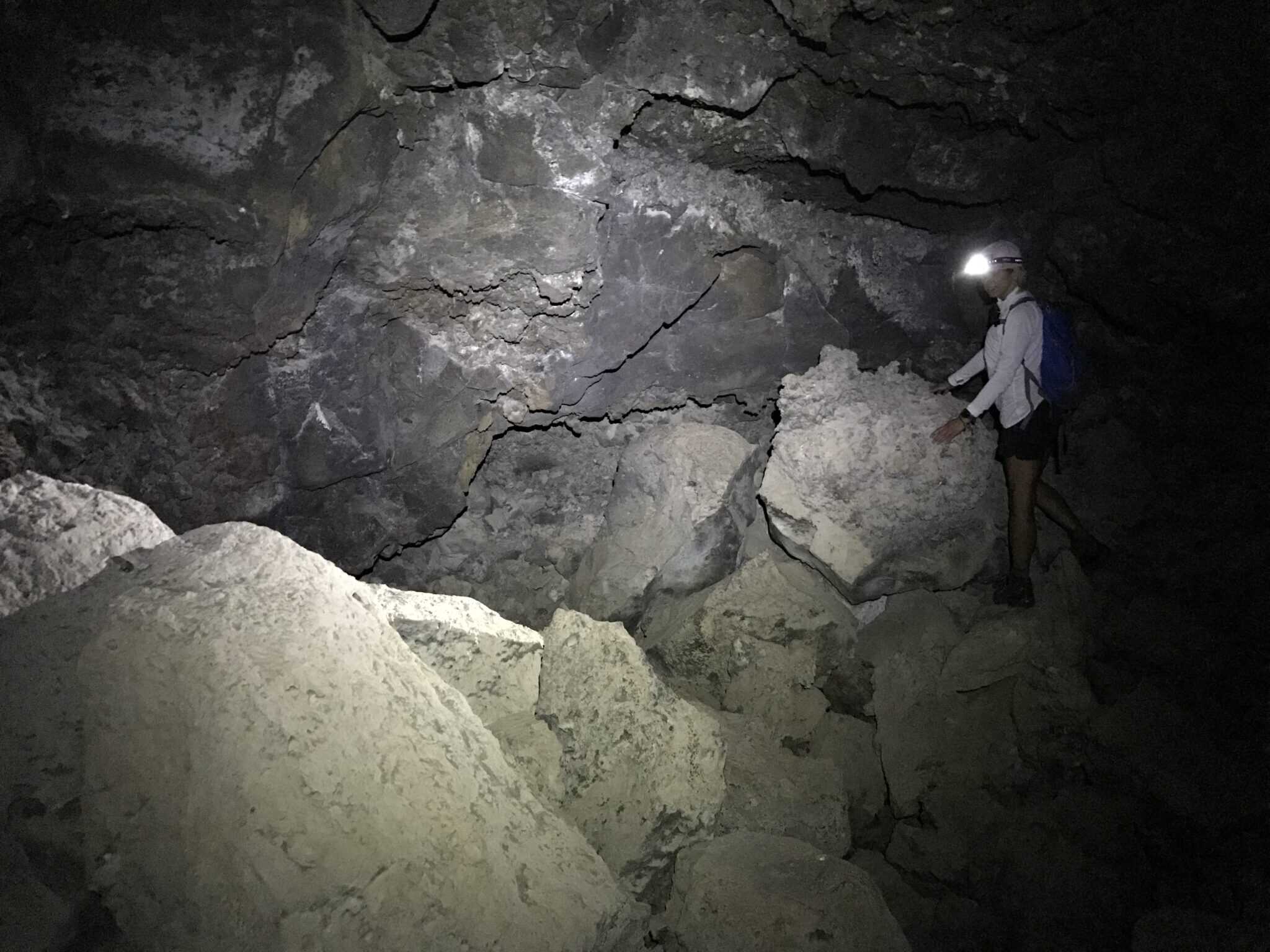 Lava Tubes
One of the highlights of the Snow Canyon Loop Trail was our journey into a huge lava tube. We took our headlamps!
Lava tubes are formed by the hot flowing lava traveling underneath the layers of already hardened rock above.
When the lava stops flowing, a cave or tube is left behind.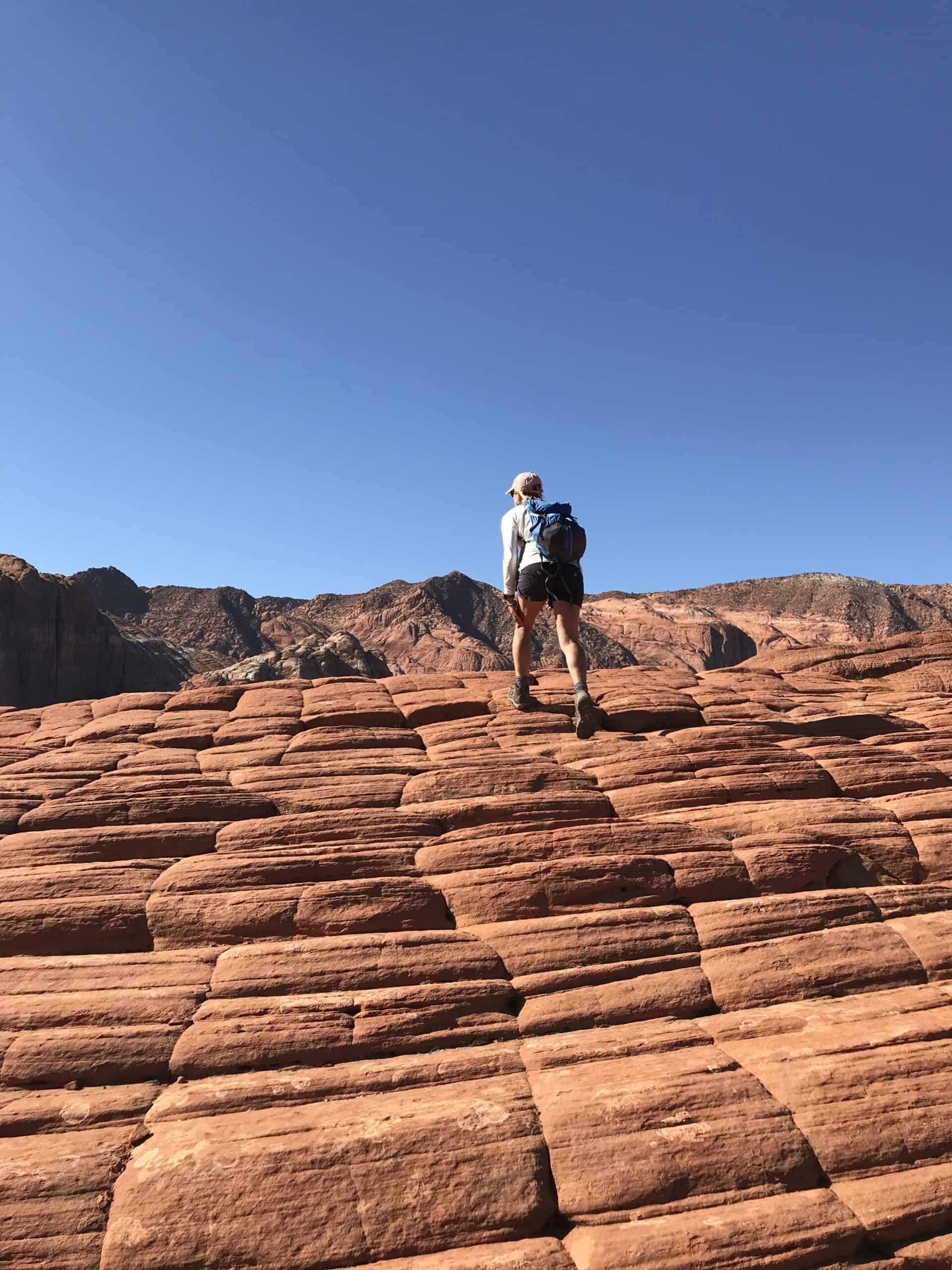 Neverending Fun
Hiking over the red rocks, taking in beautiful vistas, and spending time together with very few people around us was fun.
Snow Canyon State Park is an excellent place for photographers to get that unusual shot.
Snow Canyon is as scenic for photography as any place I have visited, hiked, or backpacked in the Western United States.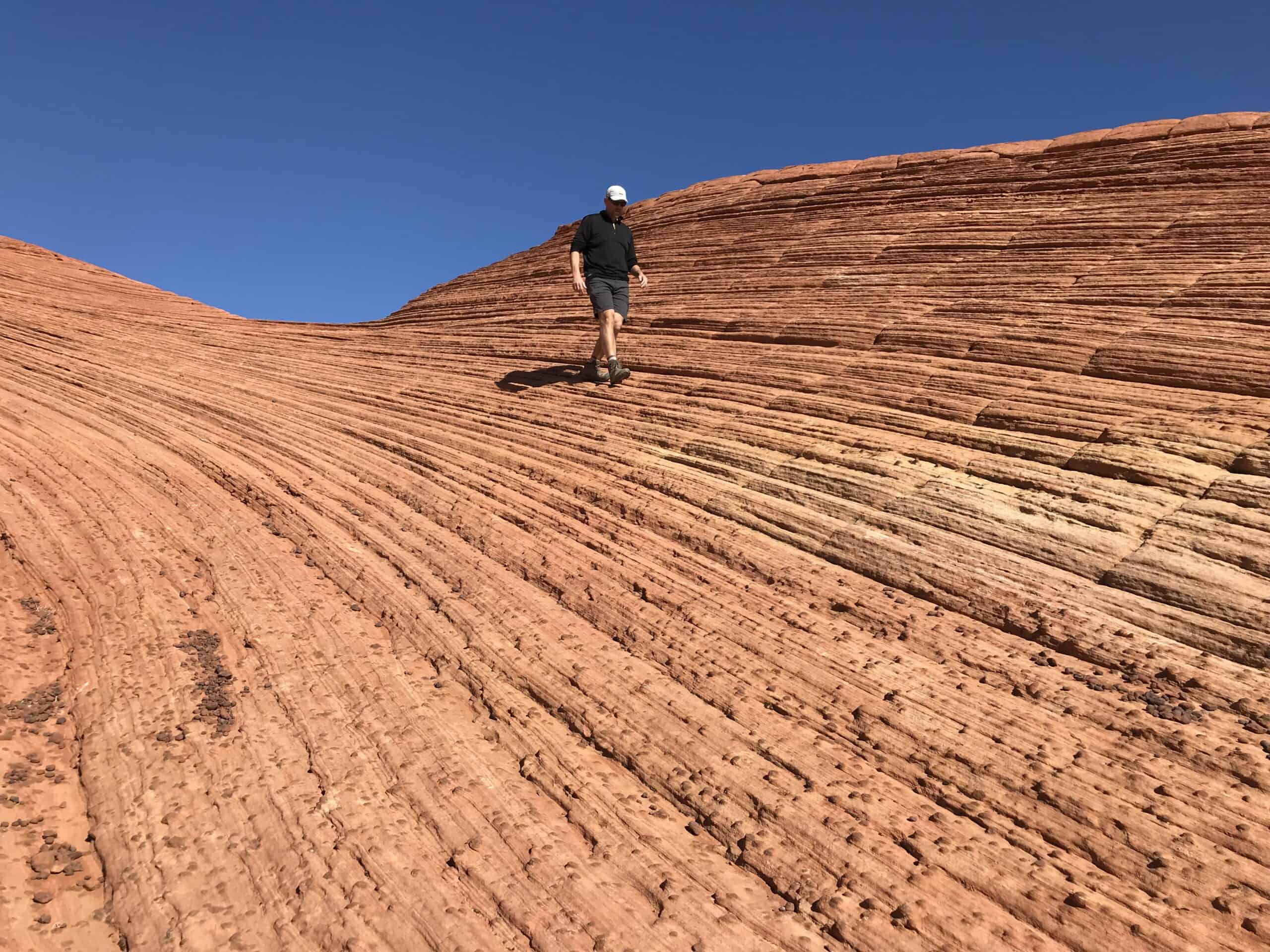 Snow Canyon State Park is just the right place to warm up your body and mind before visiting Zion National Park.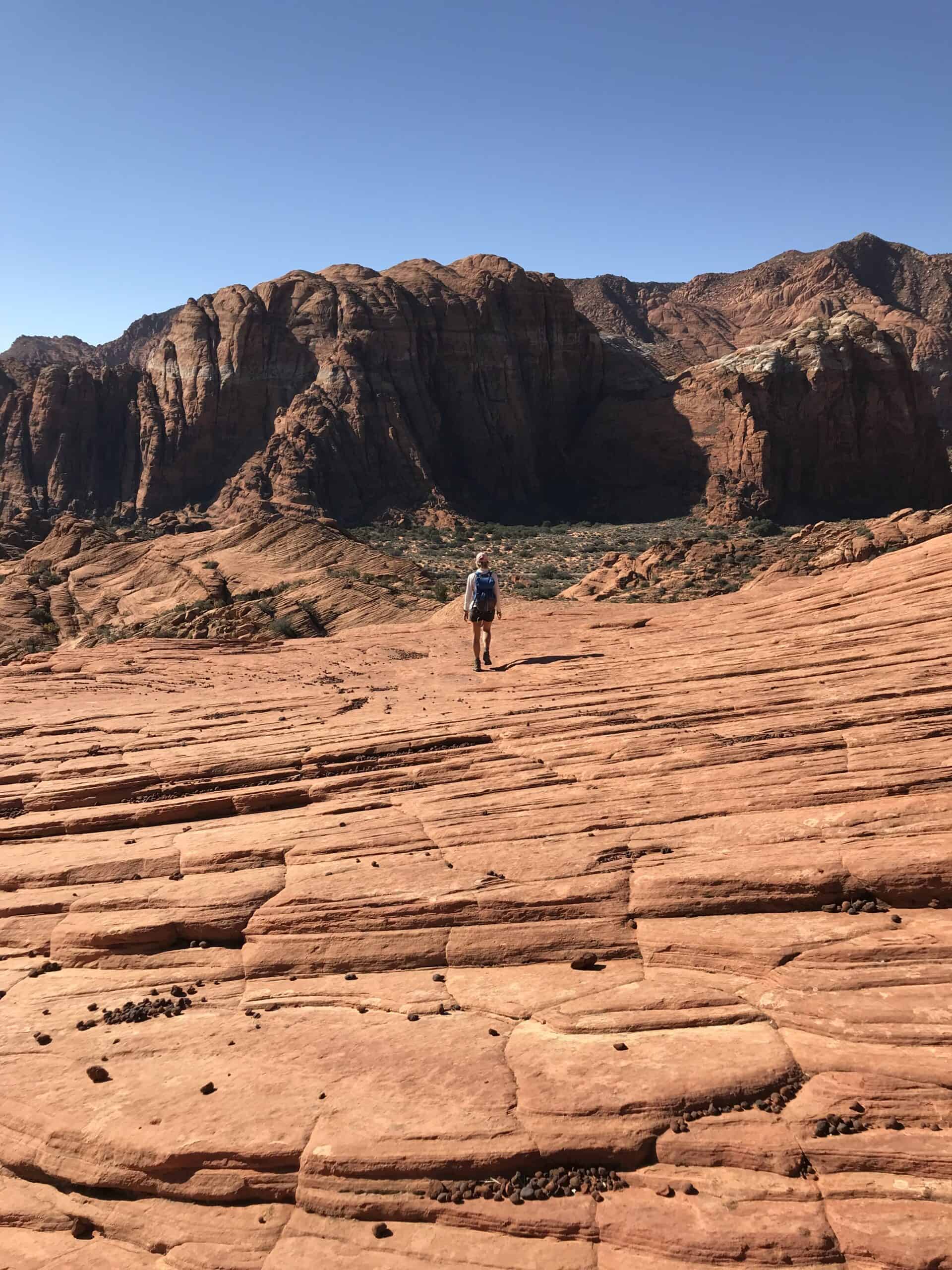 Beautiful Views
Snow Canyon State Park, Utah, has great views any time of year and day.
We hiked in the middle of the day during one November, but we soon realized that sunrise or sunset would be stellar, too, as the rocks would glow in the low setting or rising sun.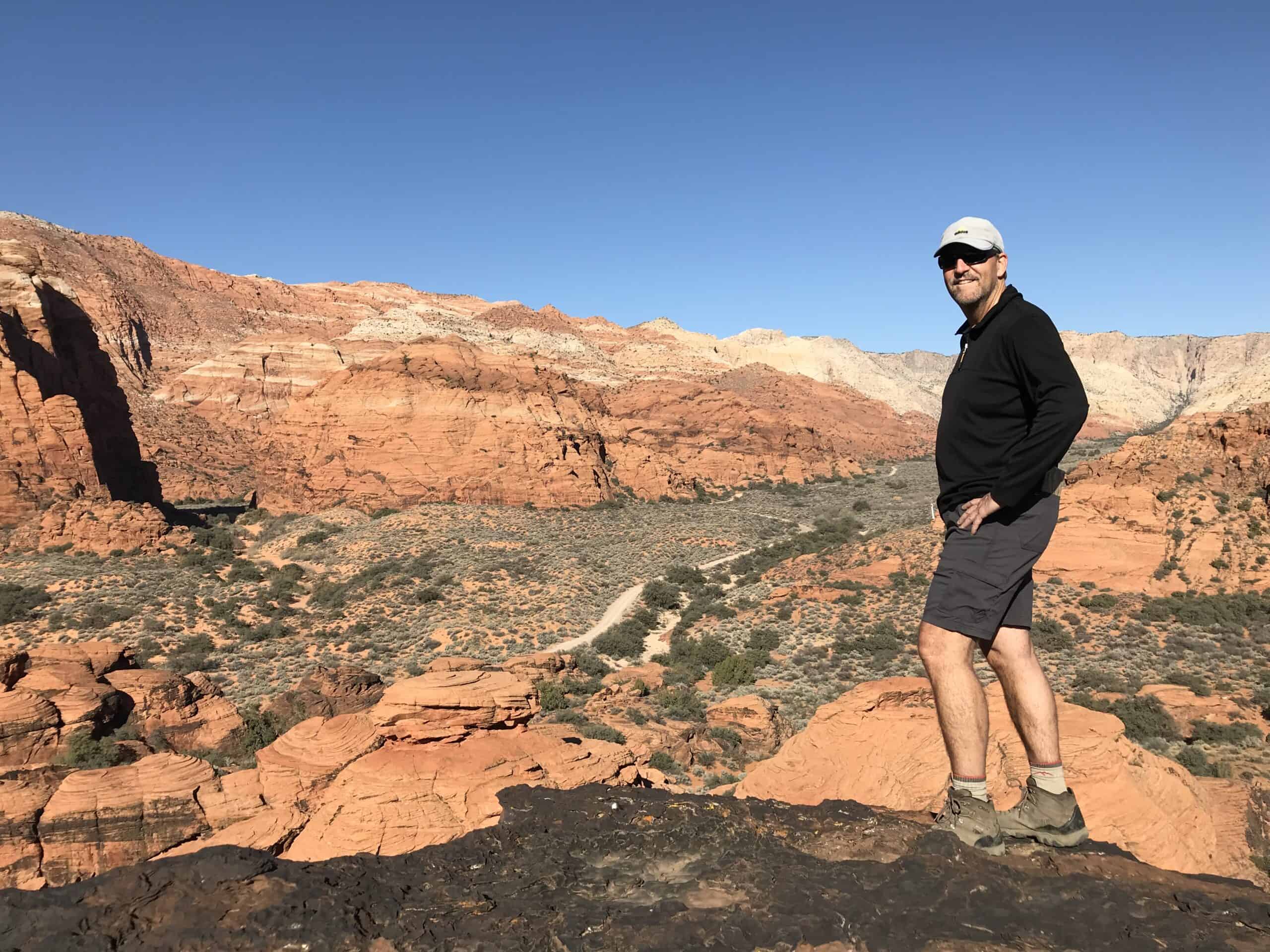 Any time of day is a great time to hike in this majestic place. The red rocks and white limestone are so beautiful – it was very emotional for me.
Making a road trip stop at Snow Canyon State Park is an easy way to make your visit to Zion National Park even more memorable.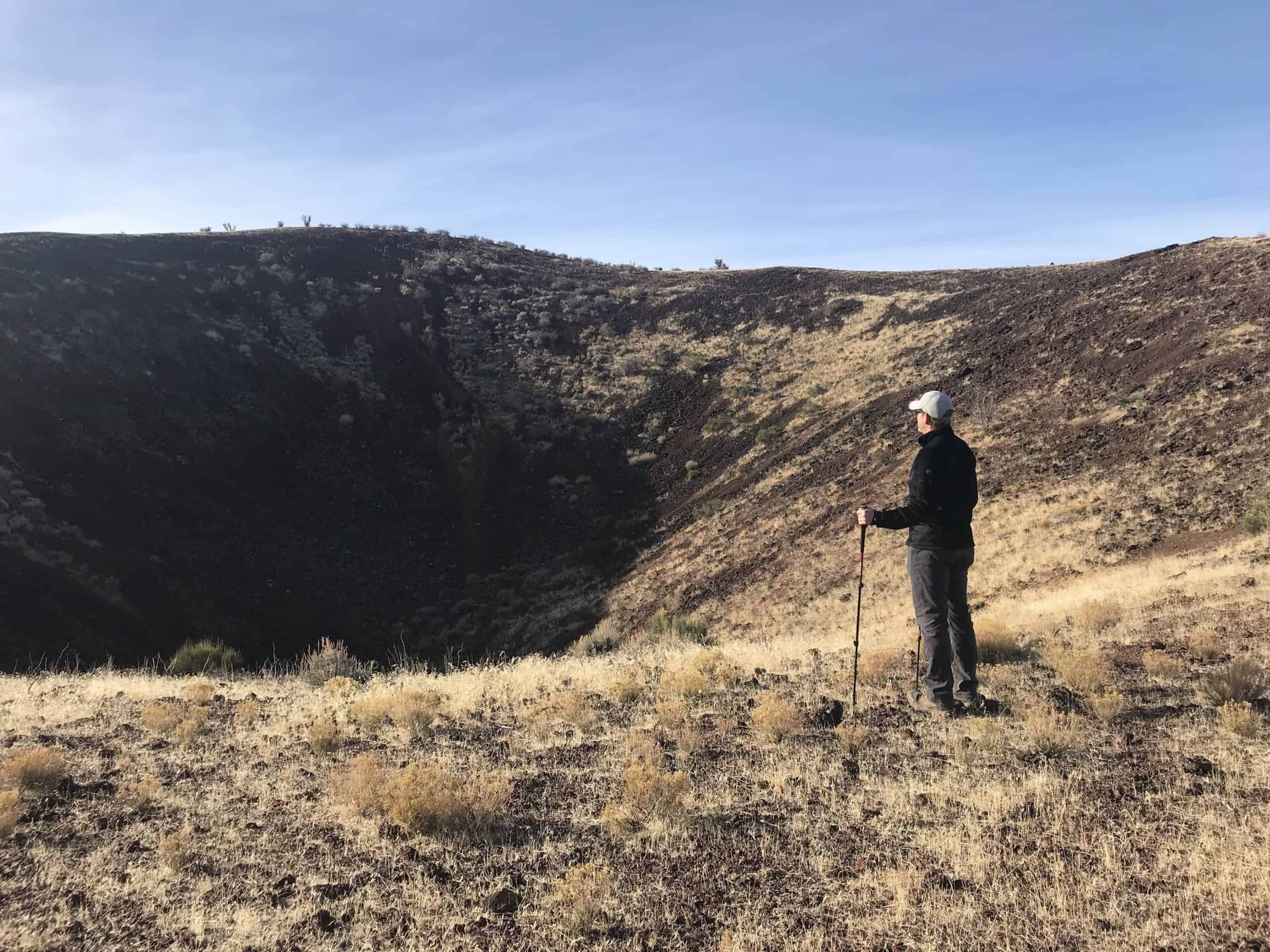 Climb a Volcano
Just a few miles north of Snow Canyon State Park on Highway 18 sits two very distinct and impressive extinct cinder cone volcanoes that you can climb and explore.
This cinder cone volcano is about 500 feet above the valley floor below.
From downtown St. George, it is just a short 15-minute drive to the parking area and trailhead.
It is a great stop before you continue to Zion National Park.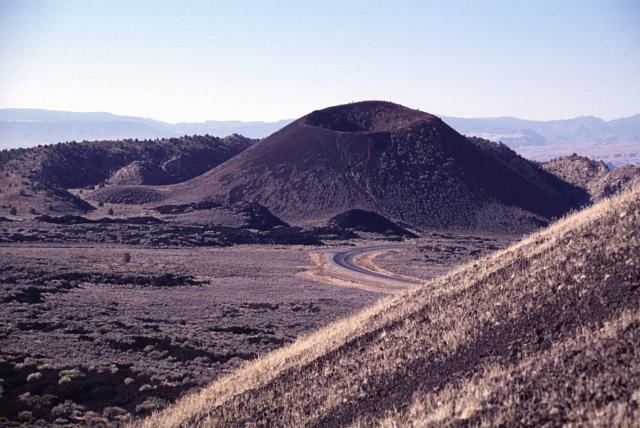 Standing on the crater's edge, I saw Snow Canyon State Park and the entire Santa Clara volcanic field.
Although this field of lava and cinder cones is inactive, it is one of the most recent active fields in the Colorado Plateau.
Use your favorite internet map and enter "Cinder Cone Trail" on Highway 18, and it will direct you to the parking lot. It is a steep hike but worth it.
Hike or Bike Red Rocks
Zion National Park has many great trails, but it is not a place for mountain biking.
So, if you are on a road trip with your MTB's make a stop and get a nice ride in just outside the park.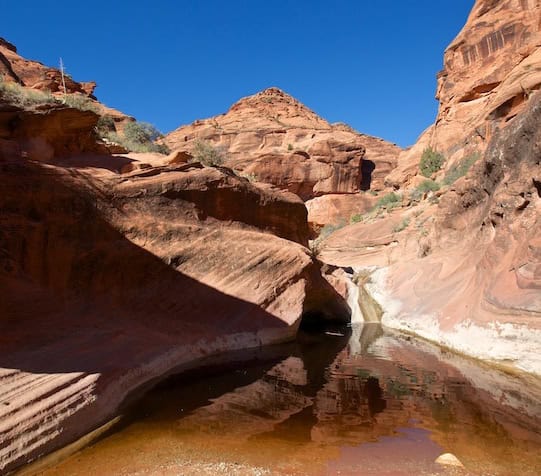 Red Reef Canyon and Prospector Trail Loop
One of the most popular places to go hiking near Zion National Park is the Red Reef Canyon and Prospector Trail.
While these two trails merge and form a loop, it may be better as an out and back for less experienced hikers, and bikers as the trail can be more than difficult in certain parts.
During Spring and early summer water run-offs, this trail can be a swimming area. Late summer, fall, and winter are your best bets.
In 2009 the US Congress designated this area as wilderness.
Named the Cottonwood Canyon Wilderness, it is managed by the Bureau of Land Management.
Related: Fun Things to Do on a Utah Road Trip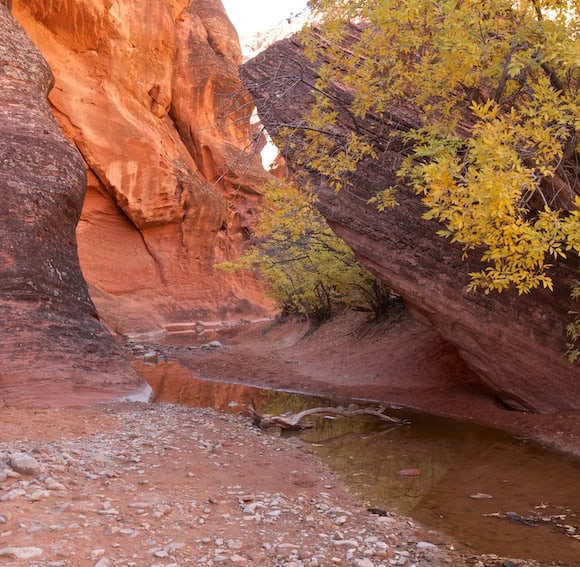 Red Reef Canyon and Prospector Trail are not far from Zion National Park, right off Interstate 15, just north of State Highway 9.
There is no direct exit, so use your internet mapping software to follow the directions for north and southbound approaches.
Sometimes, even Google Maps or Ways does not work. So, I have found the following directions helpful.
Take I-15 Exit 16 to Hurricane City (SR 9).
Take the exit ramp south toward Hurricane and continue to the first traffic light in 0.8 miles.
Turn left at the light onto 6300 West and continue for 2.0 miles as 6300 West turns into Old Highway 91.
Just past Winkle Distributing, turn left onto a gravel road between Winkle Distributing and the Rocky Mountain Power maintenance building.
Continue through two freeway tunnels to reach the trailhead.
I hope these tips inspire you to make the most of your road trip to Zion National Park.
Traveler, Adventurer, Writer, Photographer
Planning a trip? Go Backpacking recommends: