When most travelers plan a visit to the USA, high on their list of places to see are California, Las Vegas, Grand Canyon, New York, Chicago, and Disneyworld. It is not often you hear travelers planning fun things to do in Utah on a road trip.
"Utah? What's there? Isn't that the Mormon state?"…was my reply to Craig when he suggested this be part of our road trip from North Carolina across to LA.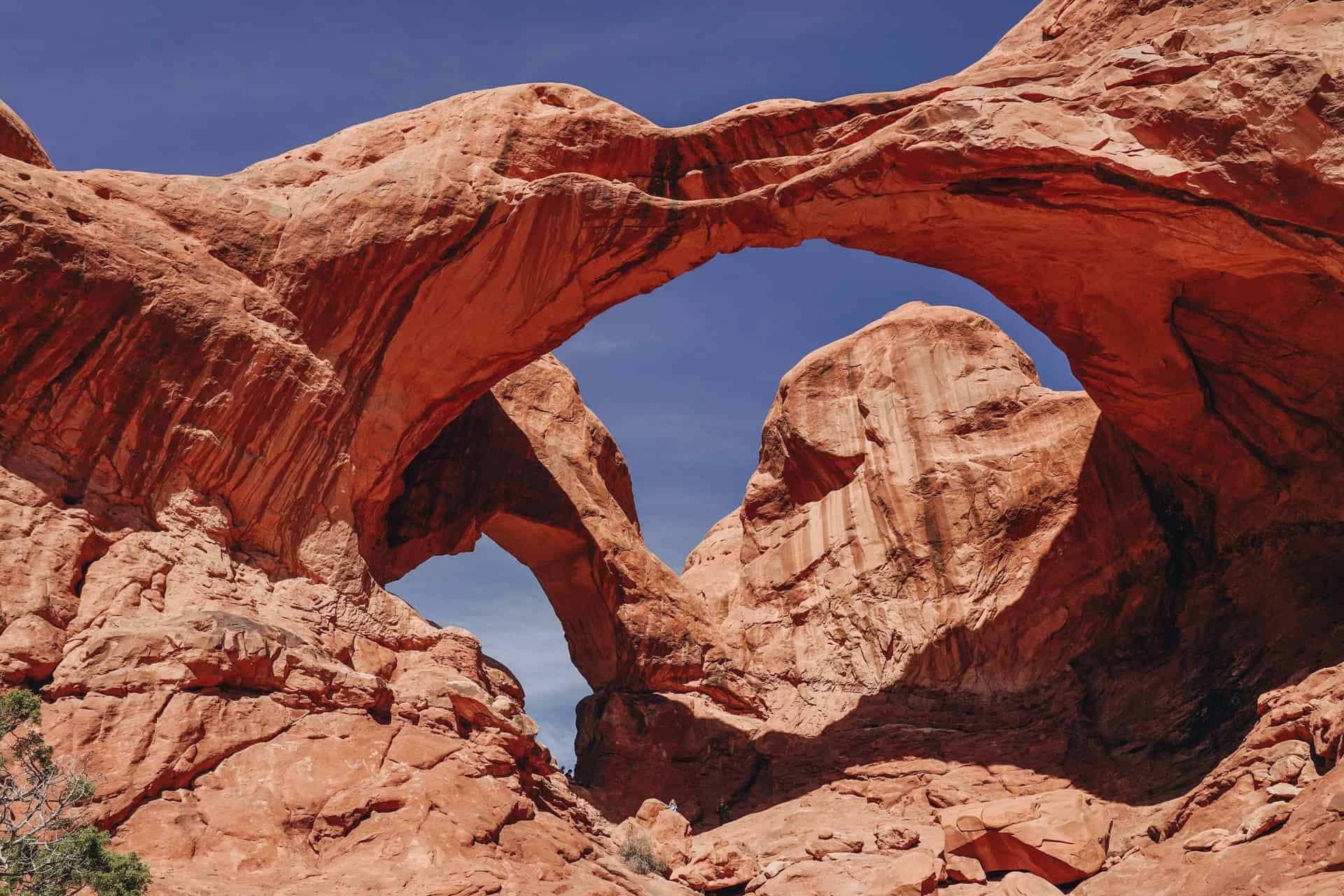 Utah was filled with surprises and turned out to be one of my favorite US states. It is what I consider to be the Creator's Art Studio.
Its vibrant colors and dramatic sculptured landscapes provide an absolute feast for your visual senses; you will be blown away by its beauty.
Hire a car, throw some camping gear in the back, and spend a couple of days exploring Utah's many National and State Parks.
Here is a small sampling of the fun things to do in Utah.
Bryce Canyon National Park
I thought I had died and gone to fairy kingdom land when I first saw Bryce Canyon. Who had been keeping this a secret?
A kingdom of bright orange and pink pastel spires and towers, archways and paths leading deep into the enchanted forests of the canyon.
We spent a day taking a walk along the fairy trail, deep into the canyon walls, under archways, running around spires, exploring nooks and crannies, and kicking up the orange dust of the path beneath our feet.
It wasn't this or the sunrise that we witnessed in peaceful solitude that made this one of the most extraordinary moments on our road trip.
It was the horse ride through the canyon, led by none other than an honest-to-God real cowboy named Cash, complete with studs, leather pant protectors, a cowboy hat, and whiskey jokes spewing forth from a heavy western accent.
There is no more stunning way to experience the canyon than by trotting through its narrow tunnels and steep paths on the back of a horse.
Zion National Park
A river slowly winds through the lush forested valley of Zion National Park, where pink and red sandstone cliffs and peaks beckon you to climb for amazing views.
Zion is the place to come for those with an adventurous streak, as some of the hiking trails here are fit only for the brave-hearted.
Angels Landing
Angels Landing is one of the park's most strenuous nail-biting trails.
It is not until the last half mile that you start walking along narrow cliff faces holding on to chains for balance and security.
The final ascent is up a thin, tall cliff on three-foot-wide paths with sheer drops down either side.
I am sad to say that once we looked up at that treacherous path, we decided we had reached the end of our Angels Landing road.
The Narrows
The Narrows is Zion's most famous walk taking you through the refreshingly cool Virgin River.
As the walk progresses, the canyon walls begin to shrink until they reach a distance of about 20 feet apart.
It is an adventurous hike that will show you a different and beautiful side to Zion, but you need to be careful.
Should a sudden downpour occur, flash floods happen very quickly, and with steep canyon walls on either side of you, you have nowhere to go but under.
Arches National Park
Arches National Park is famous for, not surprisingly, over 2,000 natural sandstone arches.
Many of the different rock formations and archways have names such as North and South Window, Devil's Garden, Courthouse Towers, Balanced Rock, the Fiery Furnace named for the way it becomes fiery when the light hits it at the right time and place.
The most visited and photographed of the Arches is Delicate Arch, a lone, standing symbol of the National Park.
In the scorching, desert sun, the hike can be immensely challenging up slick rock and around a narrow ledge, but it is well worth it.
You cannot get a real sense of Arch's enormous size until you stand underneath it for your obligatory photo.
It is not just the gigantic red slick rock sitting on two towering pillars that make the hike here worth it; the views of the surrounding mountains are also pretty impressive.
Canyonlands National Park
Canyonlands is not as popular or well known as the Grand Canyon but could be considered just as spectacular.
The storms that rip through here during the summer months are worth the trip alone.
While driving from one section of the park to another amidst a terrifying storm, a lightning bolt hit the ground only meters from our car and sizzled the air around us.
It was a frightening display of Mother Nature, but one that was pretty awesome to see.
The Colorado River and its tributaries have divided the park into three separate areas, each having its own distinctive character and opportunity for exploration.
There are plenty of hiking and biking trails to take advantage of and areas for river rafting.
Be forewarned that traveling between the park areas can take several hours due to the indirect roads that join them.
Related: Best Hiking Trails in the United States
Dead Horse Point State Park
Dead Horse Point State Park, not far from Canyonlands, is the place to visit for a stunning vista of Canyonlands.
Grab a couple of beers and sit and watch as the sun sets, casting a soft glow over the sculpted pinnacles and buttes carved by the winding Colorado River below.
Kiss your beer and send cheers to the Universe for allowing you to witness such a magical panoramic.
We camped here on the evening of July 4. While most Americans were watching fireworks and eating hot dogs, we were marveling at the stunning beauty of Utah.
Scenic Highway 12
After all the hard work hiking and horse riding, it might be time to take in the stunning Utah landscape from the comfy seat of your air-conditioned car.
Scenic Highway 12 is the place for you to go.
You may, at some stage throughout the drive, think that you have been abducted by aliens and transported to another planet, so surreal is the landscape in its unearthly lunar appearance.
The colors of the boulders and bizarre sculptured rock turns from red to orange, to gray, to white, to black, and then a whole rainbow mixture of everything.
This is where the Creator did most of his experimentation with color as he splashed it from one end of the studio to the other.
I had to close my eyes at times as the visual onslaught was a little too much, and I needed my brain to take a break from all that absorption.
Living and traveling around the world since '97 solo, as a couple and now with a 3-year-old, Caz Makepeace believes life is all about the memories and travels to create more of them. She shares her travel stories, tips, and inspirations at y travel blog and through her fanpage community.
Planning a trip? Go Backpacking recommends: