The 21st century has made our life better and more fun in many ways, mainly by making smarter technologies available to the average citizen.
Smart TVs gave a previously rigid, one-way experience an interactive dimension.
Smartphones, on the other hand, have put the entire world of information in our pocket and made previously impossible things as simple as "open, unlock, tap."
Smart homes are gradually changing our lives by bringing more flexibility and more comfort with much lower energy consumption.
Now there is a better and easier way to travel, too, thanks to smart travel articles.
What is a smart article?
While traditional articles consist only of text and pictures, smart articles add a few extra layers of technology and open up new possibilities to travelers.
Exactly how is that done?
Well, first, a traditional article consisting of text and images is GPS-encoded.
Then a digital map is added to make the sights and attraction points described by the author easy to find.
Last but not least, a navigation engine is used to connect the content of the article and the map to the traveler to make the experience interactive.
Are smart travel articles computer-generated?
Modern technologies have brought a lot of improvements to our lives, but the human touch of a travel writer in describing his/her experience can never be replaced.
Smart travel articles are still written by professional travel writers and bloggers who want to share their unforgettable experiences through their own unique perspective.
Articles cover a broad range of topics.
From quick tours of the main attractions that you may want to check out during a short business trip or blitz vacation to lists of sights that would take days to explore.
From the most famous museums and historical buildings, restaurants, or clubs that you can find in most travel guides to local artisan workshops, flea markets, and underground stand-up comedy establishments that only locals know about.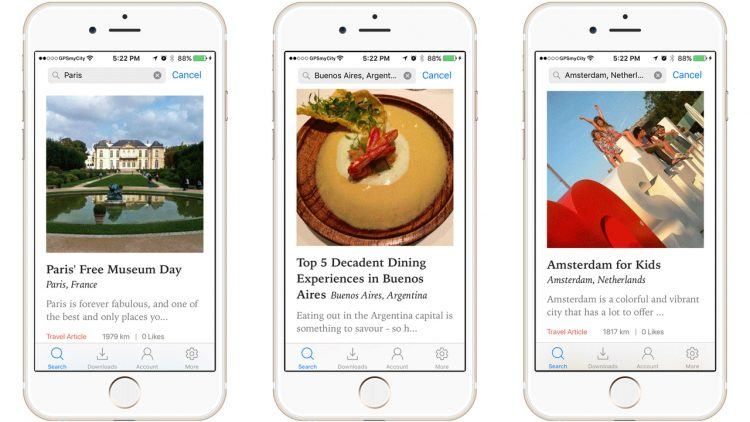 How does a smart travel article work?
A smart travel article can be downloaded as a mobile app so that you can read it offline in case you have no connection during your trip.
When you make up your mind about which attractions you would like to see, a simple tap of a button will show you the desired location on the map.
The built-in navigation system can help you identify your current position and the precise location of your chosen destination using your smartphone's built-in GPS even when you are not connected to the internet.
Does this sound interesting? Why don't you give it a try yourself?!
GPSmyCity, the company that makes smart travel articles, offers a free upgrade for any travel article to all the readers of our blog until February 15th.
To get a free upgrade, write an email to the following address and mention that you're coming from Go Backpacking.
A smart travel encyclopedia
The GPSmyCity team has partnered up with hundreds of travel bloggers and writers to harness their knowledge of travel destinations and present it to travelers through an easy to carry iOS app.
Containing more than 6,000 city travel guides covering more than 750 cities around the world, this app is becoming the world's first GPS-powered Travel Encyclopedia.
The authors of the smart articles
What's in it for travel writers? Each of these thousands of articles can be downloaded to a smartphone and read offline free of charge.
For a small fee, one can get a premium version that combines an offline map with navigation capability. Most of the upgrade fee goes to the article author.
Travel writers and bloggers have embraced this travel article monetization platform.
Today over 1,200 travel writers and bloggers have joined forces with GPSmyCity to have their travel articles converted into GPS-powered ones.
Lifetime Membership
If you like the app, don't miss your chance to get the exclusive reward offered by GPSmyCity to the backers of the current crowdfunding campaign – lifetime membership at only 1% of its current market value.
Buying each one of the smart articles available in the app today would cost you over $6,000, and the market value increases every day as new cities and articles are added.
By pledging only $60 to the crowdfunding campaign, you can get full access to all the currently available as well as future articles:
_________
This story was brought to you in partnership with GPSmyCity.
LC is an ex-expat who is currently re-exploring her home country of Australia. Follow her adventures at home and abroad via her blog Birdgehls, where she writes about travel, expat life, gushes on about various animals and bemoans her often futile attempts to go completely green. Or, you can look her up on Facebook.
Planning a trip? Go Backpacking recommends: