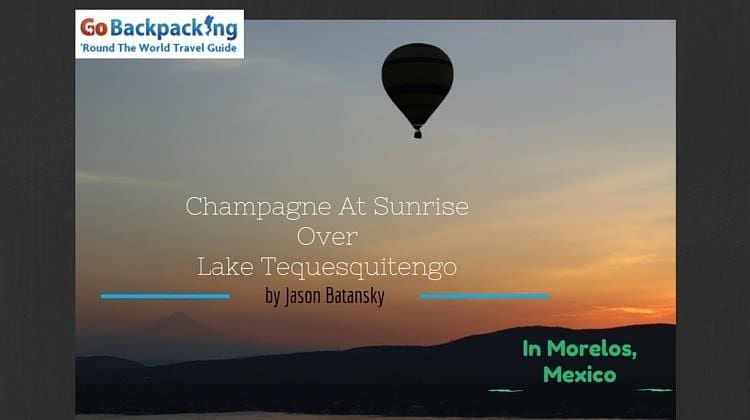 There are a few good reasons to wake before sunrise. Floating in a helium-powered hot air balloon as the orange-tinted Mexican sun rises over Lake Tequesquitengo is one.
The floating sensation is unlike any other aerial adventure experience because safely navigating the skies means avoiding the wind. I felt virtually no wind, hardly even a breeze.
Instead of an adrenaline rush, floating in a wicker basket has a calming experience akin to the feeling of Enya.
Suddenly the wind ceased. The air seemed motionless around us. We were off, going at the speed of the air-current in which we now lived and moved. Indeed, for us there was no more wind; and this is the first great fact of spherical ballooning. Infinitely gentle is this unfelt motion forward and upward. The illusion is complete: it seems not to be the balloon that moves, but the earth that sinks down and away… — Alberto Santos-Dumont, My Air-Ships, 1904.
I won't eat, drink, or sleep ballooning anytime soon. I'm not a balloonatic.
Santos-Dumont, however, does make a point in his description above as he describes my emotions from the get-go as the PIC (Pilot in Command) pulled down on the levers to release the helium.
The simple hand motion started a series of complex processes that lifted our crew of adventurers from across the United States and Mexico above the Mexican state of Morelos.
Opposite of our balloon, a happy couple celebrated their engagement while we rose higher above the mystical lake.
Lake Tequesquitengo had submerged a 19th-century colonial village.
Over 150 years later, the lake is an important getaway for wealthier Mexicans from nearby Cuernavaca and Mexico City to relax or party with margaritas and micheladas at the many marinas, beach clubs, restaurants, and hotels.
Rather than sipping cocktails down below, we grabbed our chilled bottle of champagne; the cork popped the cork off gently.
With glasses in hand, the five of us softly mumbled "salud" as we took our first sip with the sun rising at eye level.
Each time our PIC pulled the lever, the heat briefly lit our faces, and we rose higher and away from the vicinity of Lake Tequesquitengo toward the fields and nearby cities.
We continued to float a while more as daylight finally appeared, and the horns from the city below sounded, a signal that our flight was ending.
But not before our balloon glide over Jardines de México, the largest botanical gardens in the world.
Our multicolored balloon lowered minute-by-minute until we were only a few feet above a large open field of grass before calmly touching down on earth.
Half the art of ballooning is to make your crashes so gentle that you can fool yourself into calling them landings. — Richard Branson, In his book Reach For The Skies, 2011.
________
My hot air balloon ride in the Mexican state of Morelos was coordinated by English-speaking adventure tour operator Rogelio Teliz of Tlacuache Adventures. The experience was provided thanks to ATMEX, Morelos Secretary of Tourism, and Adventure Travel Trade Association. All opinions expressed above are my own.
Jason Batansky is a 29-year-old entrepreneur, blogger and occasional Daily Beast contributor in constant motion since his first solo trip abroad over 10 years ago.
His three online businesses have allowed him to travel and live throughout South America, South East Asia, and Europe, while working here and there wherever he found reliable Wi-Fi access and motivation, two elements necessary to running online businesses that can be difficult to obtain simultaneously in the world's most beautiful locales.
Planning a trip? Go Backpacking recommends: