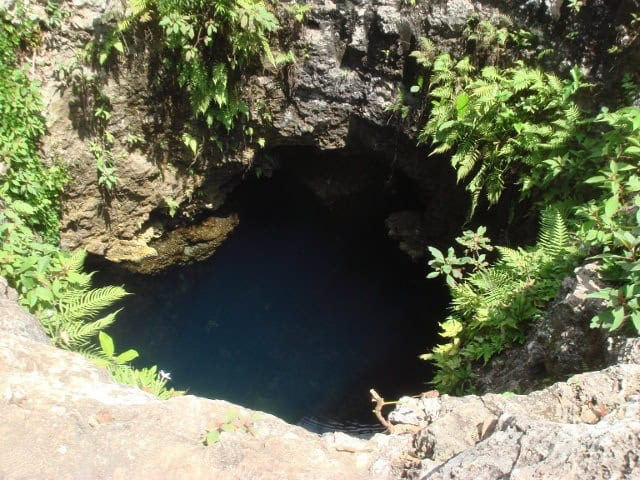 If you're vacationing in Cancun or other parts of Mexico along the Riviera Maya, such as Playa del Carmen or Tulum, you're bound to see tours and advertisements for visiting cenotes.
Most cenote visits consist of snorkeling or swimming in a cenote. You can get to them with a Cancun car rental or by paying for a tour.
Since cenotes are deep sinkhole caverns in the earth typically filled with teal hued water and framed by rocks and swinging vines, this will undoubtedly be memorable.
But here's a little secret: scuba diving is the best way to see a cenote. Here's why.
Cenote Scuba Diving Means Fewer Crowds
First off, it gets you away from the crowds. If you work with a local divemaster, he or she may know a cenote that is more off the beaten path.
Even if other people are swimming in the cenote when you arrive for your dive, the chances are good that there won't be any other dive groups there.
And you'll find seclusion in the depths of the cenote far below the splashing legs of swimmers and snorkelers.
Cenote Serenity and Sights
Down in the deep part of the cenote, you'll discover a nearly meditative type of quiet.
Away from the people on the surface, you'll find it's just you, your dive partners, and your systematic breathing.
Darkness descends over much of the cenote, and you'll want to bring a flashlight with you to shine on the walls of the cenote and into cracks and fractures.
While some cenotes have underwater life, many are mostly devoid of fish or other sea creatures.
What you'll find instead are underwater stalagmites, stalactites, fossils, and other rock formations, plus an incredible play on light.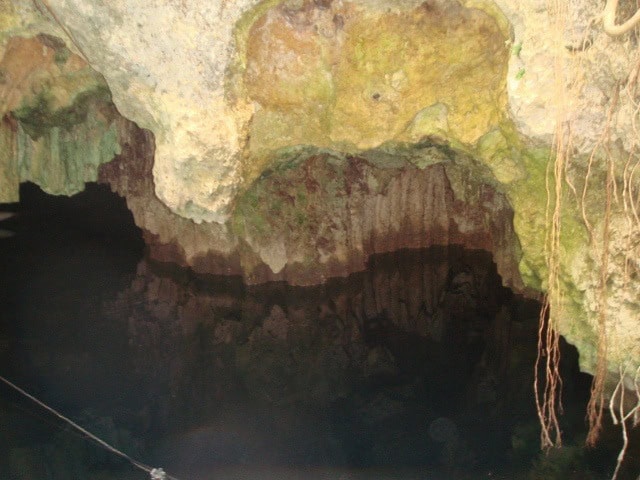 Cenotes are often partially covered at the top.
When the sunlight can break through into the water, it results in long streams of shimmering light that reach far into the depths of the clear cenote.
These light beams are delightful to swim in and around.
The water will be highlighted a vibrant blue around these rays of light, and the light itself will act as a delightful kaleidoscope in the water.
Some cenotes have other ethereal aspects as well. Siete Bocas Cenote, where I went scuba diving, has a marine layer located 90 feet below the surface.
If you've ever wondered what it might feel like to float on a cloud, this natural phenomenon may be your closest chance of discovering the feeling.
Favorite Cenote Scuba Diving Features
The marine layer was the highlight of my own Riviera Maya cenote dive, though I thoroughly enjoyed every moment of the dive.
It was incredibly peaceful, much more so than my other ocean dives where I'm always scanning the water to look for a sea creature, not wanting to miss out on seeing a turtle, eel, or rare fish.
Knowing there wasn't much of anything live to see down in the cenote meant I was more present in simply enjoying the serene, floating aspect of scuba diving.
I could take my time to leisurely explore the rock formations and crevices, while taking in the soothing blue beauty of the water where the light hit it.
The rays of light were also a highlight of the dive, and I spent quite a bit of time lazily drifting among them.
Scuba Gear and Guides
If you're interested in doing a cenote dive, consider hiring a divemaster to take you out.
Even if you're adept at scuba diving without a guide (always dive with a partner, though), a cenote is very different from an open water ocean dive.
For example, the divemaster pointed out that it wasn't good to spend more than five minutes at the marine layer – not just because of the deep water, but because the chemicals that make up that layer consist of nitrogen, which isn't good to be around for too long.
The divemaster also guided my husband and me to the best underwater rock formations, which we might not have found otherwise since it was so dark where the light rays didn't hit, even with our flashlights.
After our dive, he told us what opening of the cenote is fun for cliff jumping, so we ended our excursion with more adventure.
Your divemaster can make it easy on the equipment side of things as well by knowing where to rent reputable dive gear.
To find a divemaster or a place to rent equipment for your dive, check with your hotel or resort.
Chances are, they'll know of a reputable company to recommend.
If where you're staying isn't of help, check out the Riviera Maya section of scubadiving.com.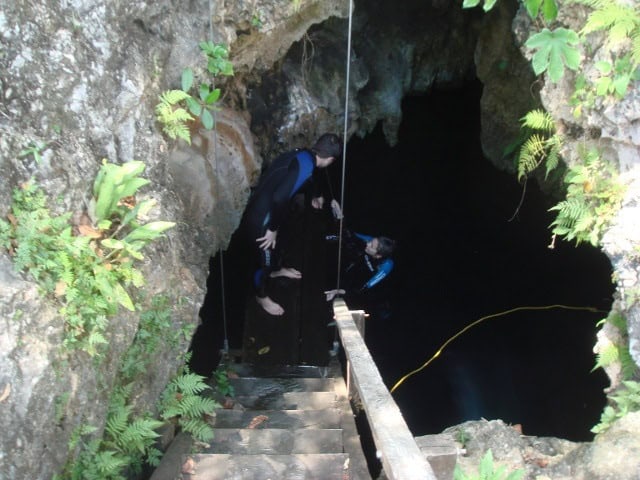 Getting Scuba Certified in Mexico
Want to scuba dive in a cenote, but aren't scuba certified?
You'll be hard-pressed to get a guide or equipment without your open water dive certification, but luckily there are many opportunities to get certified during your vacation in Mexico.
Most resorts have some sort of dive certification program – either onsite or through a partner – in which you can participate.
There are also local dive shops in Cancun and Playa del Carmen that offer certification courses.
For those choosing to stay further away from the crowds, you can take a Cancun to Tulum shuttle to one of the many eco-resorts two hours south of Cancun.
Keep in mind you won't be starting your diving career with a cenote dive.
You'll have to take a written test followed by a pool dive and then several ocean dives.
Once you're certified, which you can usually get done in a week (be prepared to spend a majority of your days dedicated to that), you'll be all set to experience the magical atmosphere of a cenote dive.
Gina Tarnacki is a travel writer and marketer whose writing has been published on USA TODAY, Matador and many other sites. She believes traveling should be cherished whether you have one day of vacation or one year. She shares travel tips for when time is short plus other stories from her travels on her blog, www.OneDayinaCity.com.
Planning a trip? Go Backpacking recommends: