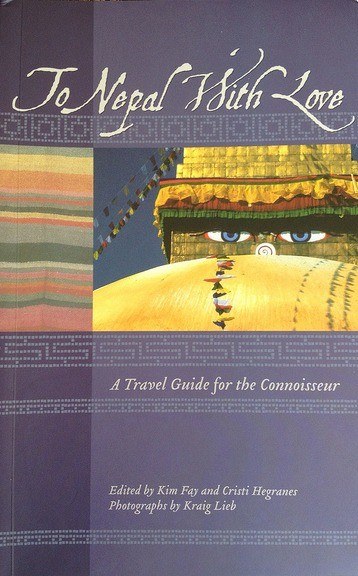 [T]oday, I'm excited to share several of my stories from Nepal, which first appeared here on Go Backpacking in 2008, and are included in a new book, To Nepal With Love: A Travel Guide for the Connoisseur.
Nepal was one of the highlights of my trip around the world, and more than five years later, the country and its rich mix of cultures and scenery continues to hold a special place in my heart. It's a similar sentiment shared by everyone who's spent time there.
In early 2010, I was contacted by Kim Fay, Editor of the To Asia With Love guidebook series about contributing several stories.
Together with her help, we revised and improved two of them, the first about my experience at a weekend meditation retreat in Pokhara, and the second about my decision to leave the hectic tourist hub of Thamel in Kathmandu for the more spiritual and peaceful Boudha.
Until I arrived in Florida last week, I had no idea who else was featured in the book, therefore it was a fun surprise to see two friends and fellow travel bloggers, Shannon O'Donnell and Sherry Ott, also contributed.
Shannon's story is about her time in Pokhara, while Sherry has several related to her trek in the Annapurna mountains.
Plus, there are dozens more stories from other authors, as well as commentary from the editors and color photos, all of which come together to paint a beautiful portrait of a country we all know to be quite unique and wonderful.
If you're looking for inspiration to visit Nepal, or simply want to experience the country as an armchair traveler, To Nepal With Love is the book for you.
Unlike traditional guidebooks, which are filled with maps and detailed lists of hostels and restaurants, this guide and the whole series it's a part of serve to inform and entertain you through storytelling rather than facts and figures. In this respect, it serves to compliment, not replace, guidebooks from companies like Lonely Planet.
Book Giveaway
To celebrate the release of To Nepal With Love, which is represents the first time my stories have appeared in a printed book, I'm giving away four copies ($20 value each). Participation is limited to residents of the continental United States.
To enter, simply share a comment below about 1) why you want to go to Nepal, or 2), if you've already been, what was your fondest memory.
Terms and Conditions
Contest ends at 11:59pm (EST), Friday, December 27, 2013. Winners will be chosen at random, and notified on December 28, at which point I'll request a shipping address. Books will be mailed December 30. The prize is transferable, as long as the shipping address is within the continental USA.
Dave is the Founder and Editor in Chief of Go Backpacking and Feastio, a food blog. He's been to 65 countries and lived in Colombia and Peru. Originally from New York, Dave now calls Austin, TX home. Read the complete story of how he became a pro travel blogger.
Planning a trip? Go Backpacking recommends: