How much does it cost to travel Cambodia? In this guide, we'll help you understand the travel cost in Cambodia, share Cambodia accommodation prices for various budgets, give you our best tips for finding cheap places to stay and help you choose the best budget for your style of travel.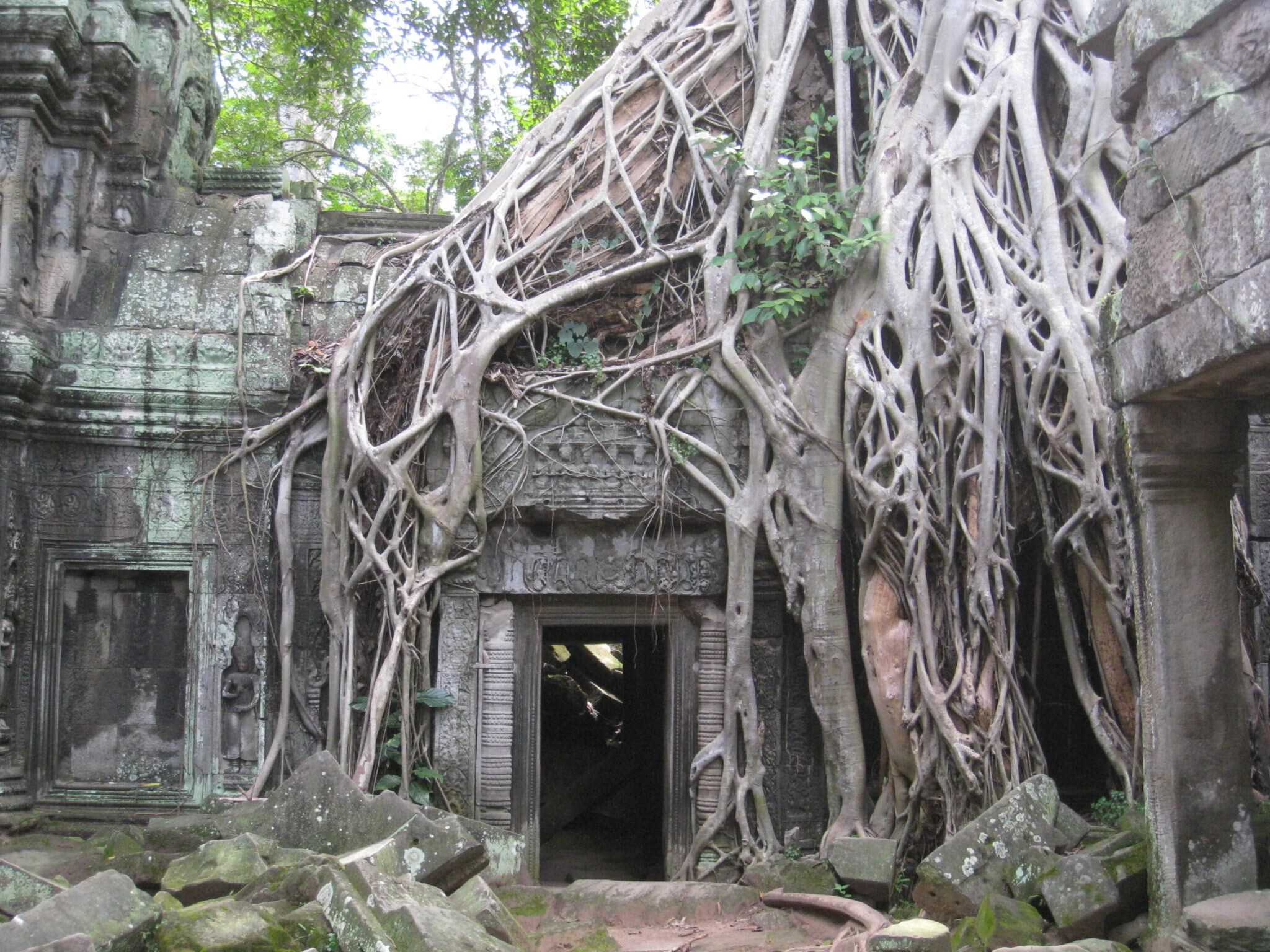 Introduction to Cambodia Travel Costs
Cambodia is a thrilling SE Asia destination, and though most travelers are attracted by the stunning temple complex of Angkor Wat, the Kingdom has so much more to offer.
The costs of travel in Cambodia are toward the lower end of the budget spectrum.
However, be careful as some may try to get more money from you by charging US dollars for small things like food. For example, a coconut might cost 2,000 KHR ($0.50), but a vendor might say $1 to a foreigner.
Cambodia uses the Riel (KHR) currency, though US dollars are almost the preferred monetary currency throughout the country. It's wise to carry a supply of US money when visiting Cambodia.
1 US dollar = 4,107 Riel (KHR) (July 2019)
Getting a tourist eVisa to Cambodia is easy and can be handled online for stays of up to 30 days.
Cost of Transportation
Motorcycle taxis
Throughout the cities of Cambodia, random men with motorcycles will pull up and offer a ride on their motorcycle for a fee.
This method of transportation relies squarely on your judgment as to whether the price is worth it or not. It's not much money, but it's not as safe.
I'd say somewhere around $1 for a 5-10 km ride and less for a tiny 1 km ride.
Motorcycle tuk-tuks
Carts pulled by motorcycles are the most common form of taxi around towns. Rates shouldn't be much more than a dollar for a short ride.
Buses
Bus from Siem Reap to Phnom Penh: a six to seven-hour journey to a popular destination on the local bus can cost $5-6. On the more tourist-oriented bus, the trip can run around $10.
The bus from Phnom Penh to Sihanoukville (five hours) is $5 (20,500 KHR).
How to Get Cheap Flights in Cambodia
Cambodia has a few discount airlines that can get you from place to place quickly and comfortably.
It's a good idea to use Skyscanner to compare the best deals. Here is an example of the average prices of domestic flights between major cities in Cambodia.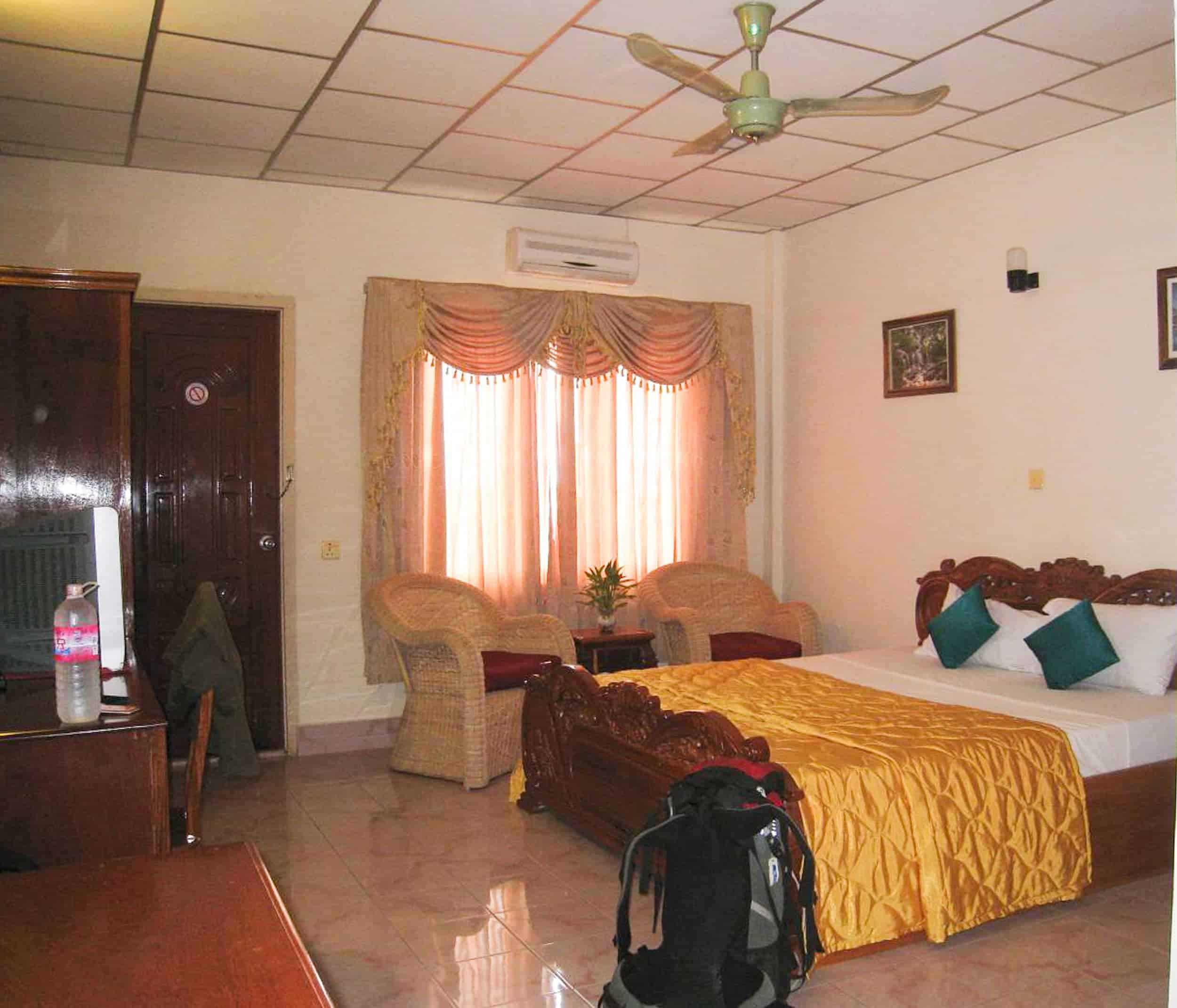 Cost of Accommodation
Most accommodation options in Cambodia deal only in dollars.
Siem Reap, the entrance town of the famous temples of Angkor Wat, and Phnom Penh are loaded with all sorts of accommodation options.
As with much of Southeast Asia, finding a friend and paying for a double room is usually easier than finding a dorm room.
Double fan room for two: around $4 – 5 (16,430 – 20,500 KHR)
Double air-con rooms: $6 – 8 (24,600 – 32,900 KHR)
Step up to medium range accommodation: $10 – 20 (41,100 – 81,200 KHR)
How To Find the Best Accommodation Deals in Cambodia
The best way to find cheap deals on hostels and hotels in Cambodia is to use Hotels Combined to compare prices with Hostelworld.
Hotels Combined is a meta-aggregator that compares the deals offered on other popular booking sites to find the best price for the best places.
It doesn't include Hostelworld, so you'll need to compare that site on your own.
We estimate a 10-day trip through Cambodia will cost you between $50 and $258, depending on your travel style (from "on the cheap," "upscale budget" and, "flashpacker").
Sample Accommodation Budget in Cambodia
Here's a sample 12-day itinerary for the different travel styles and budgets and how the types of accommodation could impact your trip.
We've looked at different Cambodia hostel and hotel options for this itinerary:
3 Nights in Siem Reap
1 Night Battambang
3 Nights Phnom Penh
3 Nights in Sihanoukville
1 night in Phnom Penh (before your outbound flight)
Siem Reap (Angkor Wat)
On the cheap
Hostel Salakamreuk for those who want a bit more space in a quieter spot, $3 (12,500 KHR) a night for a dorm, or Boutique Dormitory Kochi-ke is a bit closer to the center and its nightlife also for $3 per night for a dorm.
If you can stretch it and want to party, grab a bed at Funky Flashpacker for $5.
Total for 3 nights = $9 (37,000 KHR)
Upscale Budget
Highly rated Onederz Siem Reap has bunks in dorms for $9 a night. It's right in the center and has a pool, bar, and restaurant on site.
One Stop Hostel is another well-liked spot for $7 for a dorm, and it's super close to all the nightlife.
Total for 3 nights = $20 – $26 (82,000 – 107,000 KHR)
Affordable Flashpacker
For a quiet spot to relax after a long day, double rooms at Golden Takeo Guesthouse are $15 a night, with breakfast included.
If you prefer to be in the action, Siem Reap Pub Hostel has great-looking private rooms with private bathrooms for $14 a night. Swimming pool and restaurant on site.
Total for 3 nights = $43 – $60 (177,000 – 247,000 KHR)
Battambang
On the cheap
In the old center and cheap, rooms for $5 a night at Chhaya Hotel.
You could also try Shang Hai Guest House; it's a further walk from the river and the center, but quiet and friendly, $5 a night for a double room.
Total for 1 night = $5 (20,500 KHR)
Upscale Budget
A double room with a private bathroom at the Royal Hotel Battambang can be had for $12 a night.
It's nicely located close to both the river and the historical center and has a rooftop restaurant.
Total for 1 night = $12 (49,000 KHR)
Affordable Flashpacker
The Asia Hotel gets some great reviews, is close to Boeung Chhouk Market, slightly away from the historical center, but tuk-tuks are cheap and always plentiful, or hire a bike from the front desk.
Cheaper rooms are fan only, a bit extra for a/c.
Total for 1 night = $11 – $16 (45,000-65,700 KHR)
Phnom Penh
On the cheap
A well-located and well-liked place like 19 Happy House Backpacker has bunks for as little as $5 per night.
Cheap beds and good vibes can also be found at Velkommen Backpackers (now rebranded as Riverside Backpackers) for $6 a night.
Total for 3 nights = $15-18 (61,600 – 74,000 KHR)
Upscale Budget
Lovely Jubbly Villa is well located close to many tourist attractions, has a swimming pool, bar and restaurant on-site, and many different room options.
Great-looking comfortable bunks in dorms can be had for $6 a night.
Total for 3 nights = $18 (74,000 KHR)
Affordable Flashpacker
A private double room with a shared bathroom is a super modern place like Sla Boutique Hostel; go for $21 a night.
Alternatively, the popular Alibi House has large double rooms with private bathrooms for $23 a night and has a very nice garden and terrace area.
Total for 3 nights = $63 – $69 (258,800 – 283,400 KHR)
Sihanoukville
On the cheap
Backpacker Heaven Hostel has a swimming pool, bar, and restaurant, and overall good vibes.
Bunks can be had for $4 a night. The Big Easy is another popular and lively spot where bunks in dorms are about $5 a night.
Total for 3 nights = $12 – $15 (49,200 – 61,600 KHR)
Upscale Budget
Onederz Sihanoukville is highly rated for its cleanliness, location, and its value. It has a swimming pool and shared kitchen, dorms for $18 a night.
Or, if you want to be a bit more remote, head out of town and get a bungalow at Mama Clare's for $20 a night.
Total for 3 nights = $54 – $60 (222,000 – 246,500 KHR)
Affordable Flashpacker
Quiet beachside bungalows at Hi5 Bungalows are $20 a night and are close to beach bars, local restaurants, and entertainment.
If a beach resort feel is what you're after, check out the 3-star Sok Sabay Resort with beautiful air-conditioned bungalows for $25 a night.
Total for 3 nights = $60 – $75 (246,500 – 308,000 KHR)
Phnom Penh (Airport Options)
On the cheap
Back in Phnom Penh for a night before you fly out, obviously you can stay where you stayed before, a cheap bunk somewhere in town and take a taxi, or check out KOL House for a double room for $15 and a quick ride to the airport in the morning. Or try TOP Hostel for $20 a night.
Total for 1 night = $15 – $20 (61,500 – 82,100 KHR)
Upscale Budget
S-Susheel Mart Guesthouse is the best-rated guesthouse we could find close to the airport in a decent price range.
Free airport shuttle, breakfast included, and the owner takes good care of the guests. Not much around the airport, but if you have time, they can arrange transport into the city, $21 a night.
Total for 1 night = $21 (86,000 KHR)
Affordable Flashpacker
Spend a comfortable night near the airport at the 3-star 9 Dragon Hotel & Restaurant.
It has a pool, fitness room, restaurant, and all breakfast is included, and there is a market quite close to get a little something else. Double rooms go for about $38 a night.
Total for 1 night = $38 (155,800 KHR)
The total accommodation budget for this 12-day/11-night sample itinerary was:
"On the cheap" (bunks as cheap as possible) $50 – $58
"Upscale budget" (bunks in 'boutique' and well-located hostels) was $100 – $109
"Affordable flashpacker" (private rooms in boutique hostels, or 3-star hotels) was $215 – $258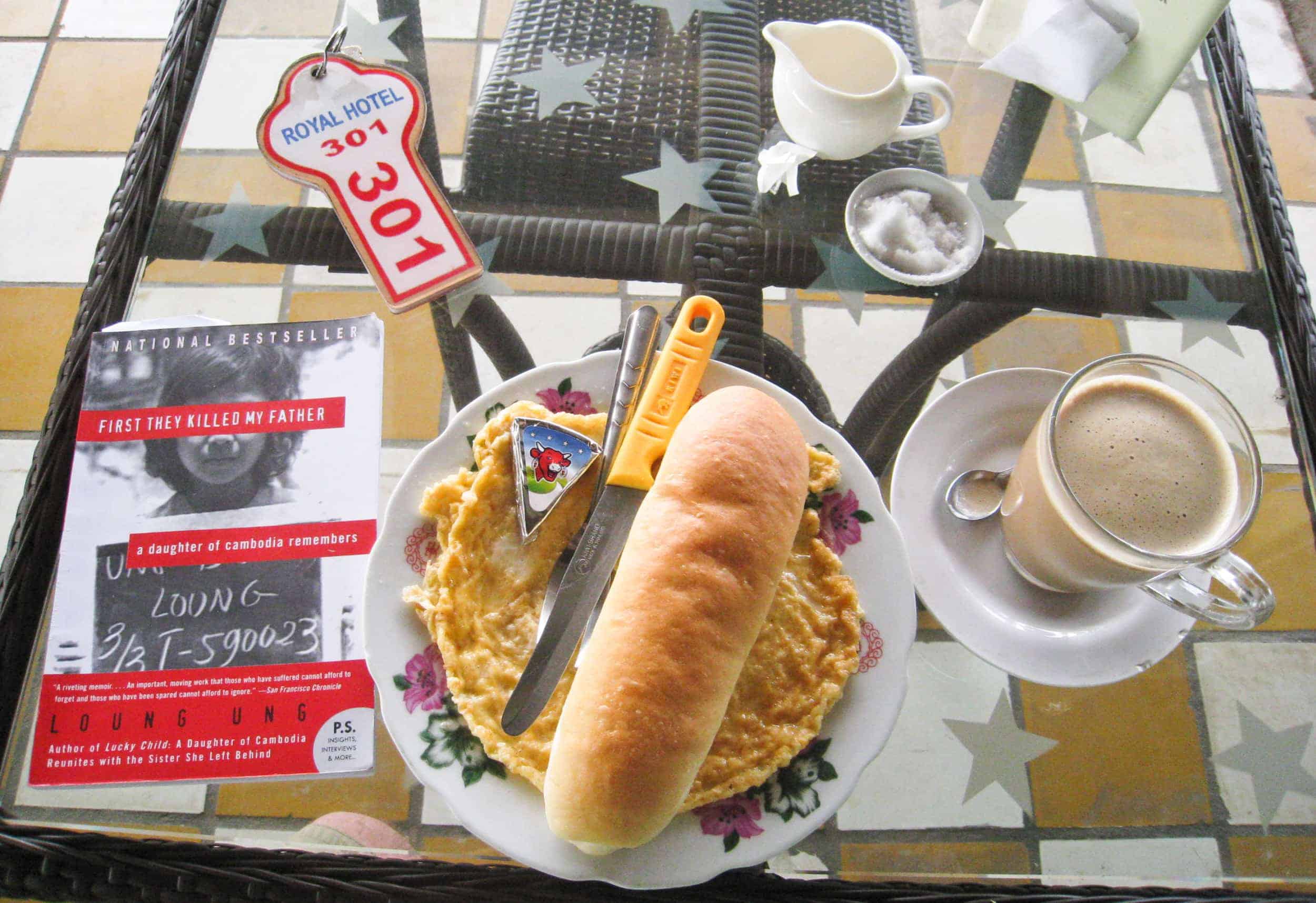 Cost of Food
Around the major tourist attractions (namely Angkor Wat), prices for everything are inflated.
Local food can still be found relatively cheap if you look where the locals eat.
If you like to dine at restaurants with nice seating environments designed for foreigners, food prices can be relatively high.
Street food is not as sanitary as in Thailand, but I ate it every meal and never had a problem.
Cambodian food is a delicious combination reminiscent of a Thai and Vietnamese fusion, along with a few fantastic noodle dishes.
I ate most of my meals in local markets, a plate of rice, and a selection of tasty dishes: 6,000 KHR ($1 – $2)
Single plate dishes including rice should cost: $0.75 – $1.25 (3,000 – 5,000 KHR)
Cambodian version of baguette sandwiches on the street: $0.50 (2,000 KHR)
I ate some decent Indian food in Phnom Penh for $2 (8,000 KHR)
For nicer sit-down restaurants, it's common to eat meals for anywhere from $2-5 (10,000 to 20,000 KHR). A big bottle of water: $0.50 (2,000 KHR)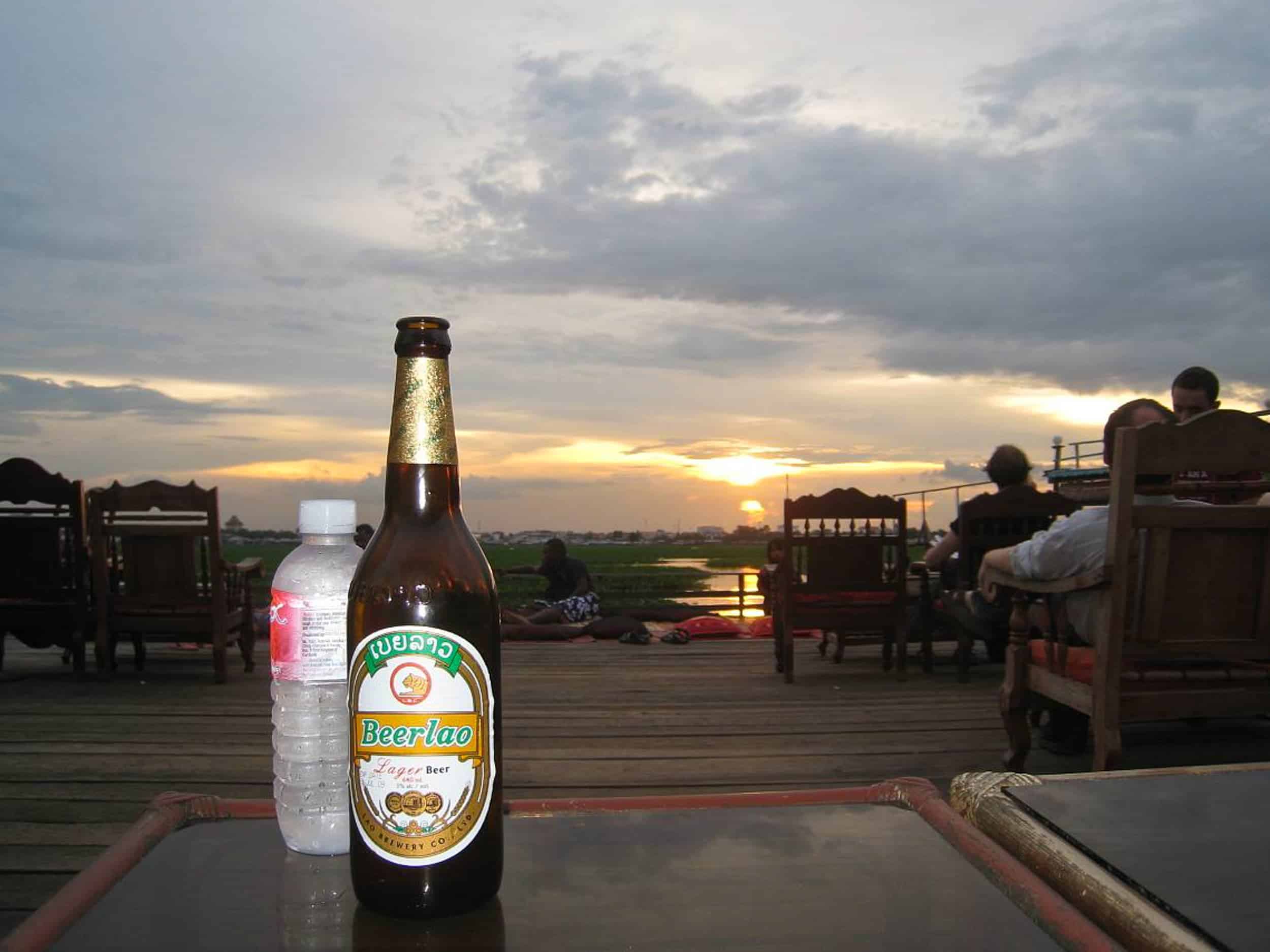 Cost of Going Out / Drinking
Most of the drinking and partying is done at small guest house bars and hangouts around the area.
There are plenty of clubs and nightlife options within Phnom Penh if you are up for it.
A big bottle of Angkor beer: $1 (5,000 KHR), while some places will charge $1 for a beer or drink.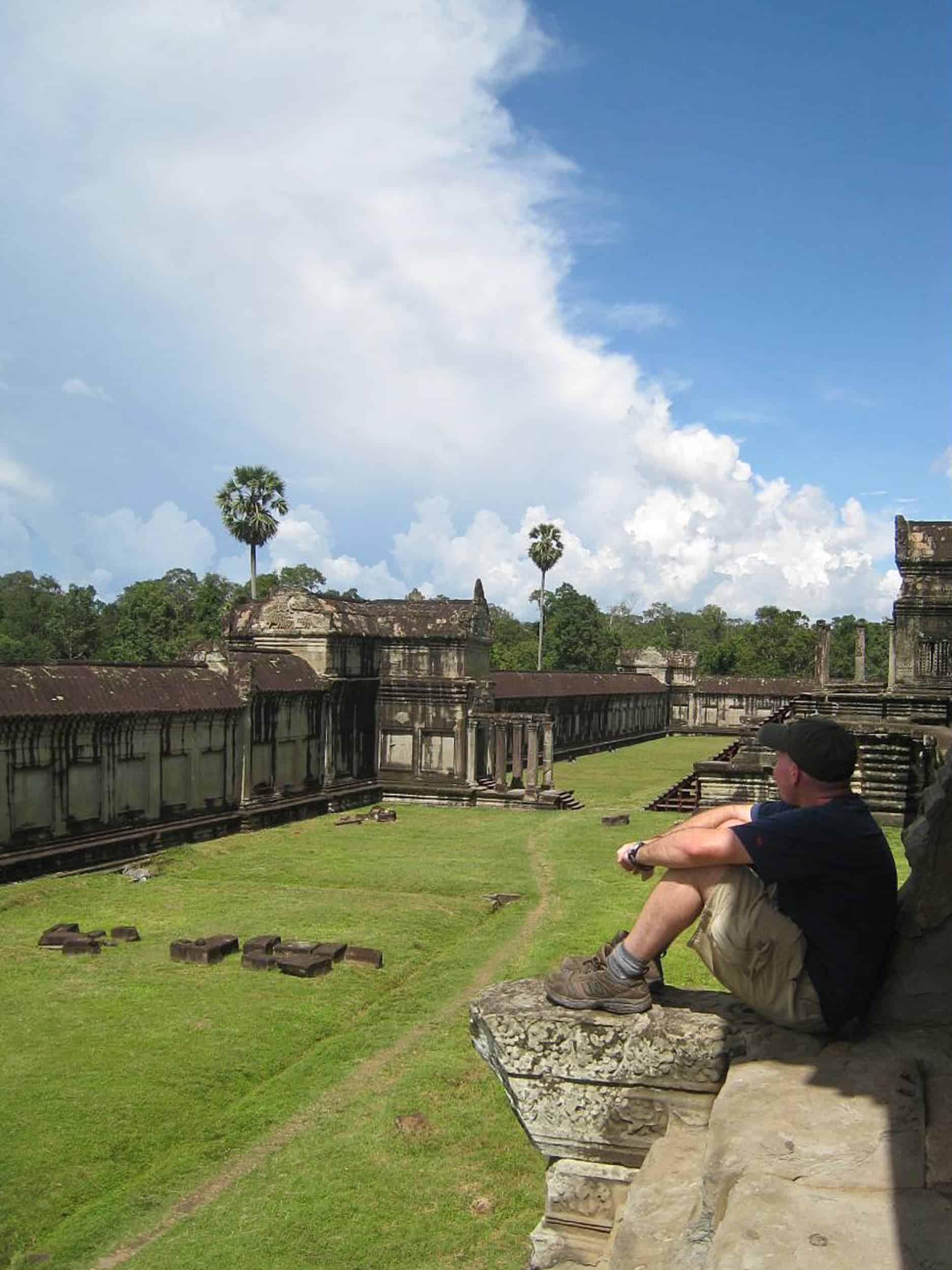 Cost of Activities & Attractions
Angkor Wat entrance (as of April 2019):
$37 (152,000 KHR) for a 1-day pass
$62 (254,500 KHR) for a 3-day pass
$72 (295,600 KHR) for a 7-day pass
Hiring a tuk-tuk all day to visit the temples around Angkor: $13 (53,400 KHR)
Killing Fields: $2 entrance + $13 tuk-tuk to get there (61,600 KHR total)
Museums in Phnom Penh: $2 entrance (8,200 KHR)
While Cambodia is famous for a few attractions, the most interesting sites can be seen just walking around, visiting with Cambodians, and sampling the local cuisine.
Add to the experience and go with a guide. Check out these amazing tours:
Siem Reap: Full-Day Small-Group Temples Tour
4.8 / 5 from 50+ reviews
From $17 (70,000 KHR)
Siem Reap Jeep Tour to Angkor Wat and Ta Prohm
4.9 / 5 from 65+ reviews
From $48 (197,000 KHR)
Half-Day Tour of Tuol Sleng and Choeng Ek Killing Field
4.4 / 5 from 8+ reviews
From $29 (119,000 KHR)
Overall Cost Travel in Cambodia
The low cost of food and accommodation in Cambodia makes it a great budget travel destination.
Except for Angkor Wat, I could get away with spending around $10 – $12 per day on average.
If you do plenty of activities and drink, your cost of travel in Cambodia may be anywhere from $15 – $30 per day.
If you're paying by credit card, check the exchange rate before you pay.
While the cost of living is low, entrance fees to tourist sites in tourist areas can quickly add up to a lot of money.
The growth in tourist-focused luxury hotels and tour companies in recent years has also made it harder for budget travelers on a mid-range budget to find a good deal.
Even if you're going off the beaten track in rural areas, your overall costs can mount up. But the good news is that following these tips is a great way to have a good time for a reasonable price.
***
Need a hand making your Cambodian trip a reality?
Check out the following small group tours from G Adventures:
Ultimate Cambodian Adventure is a 14-day trip that starts and ends in the capital of Phnom Penh.
Additional stops include Battambang, Siem Reap (Angkor Wat), the Mekong River, and several days on a private beach.
Essential Vietnam and Cambodia is a 17-day trip from Hanoi to Bangkok, including Phnom Penh and Siem Reap (Angkor Wat) in Cambodia.
Cambodia & Vietnam: Campfires and Banh Mi is a 20-day trip from Bangkok to Hanoi, including stops in Siem Reap (Angkor Wat), Phnom Penh, and a private beach on Koh Rong.
Click here to see prices and availability for all of the Cambodia tours.
Last Updated on June 13, 2023 by Dave Lee
Mark was raised in central Africa before migrating back to the U.S. for University. After graduating, he decided to continue traveling the world. On Migrationology, he shares the cultural side of travel from a slow-paced local perspective that often revolves around his love for eating all forms of food. Join him on Facebook and follow him on Twitter @migrationology.