Colombia nightlife offers something for everyone, from sipping mojitos in the plazas of old Cartagena to dancing the night away in the salsa clubs of Cali.
Every big city features a host of theaters for inexpensive music and dance performances.
And the rural pueblos in Colombia offer the opportunity to escape the noise and relax in the country.
Colombia Nightlife – How to Party in Colombia
Every Colombian city features a Zona Rosa, or central nightlife district, where you'll find the highest density of bars, discotecas (clubs), and restaurants. In Medellin, it's Parque Lleras.
In Cali, it's La Sexta. The more popular pueblos, such as Guatape and Jardin, can have a surprisingly lively bar scene, usually focused around the central plaza.
Best Colombia Hostels for Nightlife
Medellin
Hostel Rango – Arguably one of the most popular hostels in Medellin. A bit more expensive, a minute's walk from Parque Lleras, but it also has nightlife all on its own.
Lleras Park Hostel – Located in Parque Lleras, the city's famous area for bars and clubs, about $8.00 for a bunk, private rooms available also.
Hostal Lleras Calle 8 – Located just one block from Parque Lleras, dorms from $12.00, and private rooms available.
Cartagena
Hostel Mamallena – Located in the popular Getsemani district, this hostel is big on 24-hour a/c. It has a great-looking patio and a bar on-site, free pancake breakfast, dorms from $12.00, private rooms available also.
Republica Hostel – Located in the old walled city. It has a swimming pool, bar, and patio with great music and great vibes, and breakfast is included. Dorms are available from $16.50, private rooms also available.
Bogota
The Cranky Croc – A favorite spot with backpackers, it has a bar and cafe on site, has lots of social events, and is nicely located in the city's La Candelaria district. Dorms from $11.50 a night, privates available.
Casa Bellvista Hostel – Nightlife surrounds this fun and social hostel, also located in La Candelaria.
Split over two buildings located a block from each other, it offers a daily complimentary continental breakfast. Both dorms and private rooms are available. Dorms start at $9.00US a night.
Calí
Local House Hostel – Offering complimentary breakfast and free salsa lessons, this hostel is super close to the "La Sexta" party district in Barrio Granada.
Dorms from $8.50 a night, private rooms are available as well.
El Viajero Cali Hostel & Salsa School – Entertainment aplenty on the stage in their bar area, there is an outdoor swimming pool.
Breakfast is included, and the hostel is located in the San Antonio area, the historical center. Dorms from $11.
When to Go Out
Colombia nightlife is pretty quiet Sunday through Wednesday unless you know the right places to go to (ask the locals).
Otherwise, Wednesdays and Thursdays offer ladies' nights at certain discotecas, which can help bring out the locals.
Friday nights are popular. However, Saturday nights are the busiest nights of the week.
Arrive early (before 11 PM) to get a good table at discotecas on the weekends, and avoid any lines at the popular places.
Closing times vary by location. However, most regular bars close by 2 AM, while discotecas stay open until 4 AM.
Some late, late-night venues in big cities remain open until dawn.
What to Wear
Dress codes apply to a tiny minority of high-end clubs in the big cities. 99% of the time, you won't need to worry about dressing up for a night of partying.
For both men and women, jeans, t-shirts, and sneakers are fine.
Colombian women take great care in their appearance and tend to dress up more than men.
Crossover Clubs
The majority of bars and discotecas in Colombia play what's known as "crossover" music.
This means the DJs mix up various genres of Latin music, including salsa, merengue, vallenato, reggaeton, bachata, and cumbia.
This can be a little confusing if you're not already familiar with Latin music. However, the variety is appreciated by most Colombians (versus going to an all-reggaeton or all-salsa club).
Social Dynamics
Most Colombians go out partying in groups mixed with friends, boyfriends/girlfriends, and family.
It's not unusual to see women out drinking with their sisters, cousins, aunts, and moms.
At the start of the night (9 – 11 PM), everyone will be inside the bar or discoteca, drinking and talking within their social groups.
As more alcohol is consumed and the venue fills up, there's a tipping point where more and more people start getting up to dance.
If you get to a club early, don't be surprised if you see everyone sitting around.
Give it time, and an hour or two later, the women may be dancing on the tables and chairs without abandon.
As a result of the group dynamic, it can be challenging for travelers to meet Colombians at bars and clubs.
The best approach is to be friendly and straightforward. The guys should ask a woman to dance or start a casual conversation.
Offer the people at the table next to you shots of Aguardiente to help break the ice. When all else fails, have fun and go with the flow.
Dancing
Dancing is central to the Colombia nightlife experience.
To get the most fun out of your nights, take a few salsa lessons ($10 – $12/hour for private lessons).
Colombians are polite, and most will dance with someone when invited (out of proper etiquette).
For the guys, reggaeton music is easy to dance to — ask the woman to dance (Bailamos?).
For foreign women, even if you're used to inviting guys to dance in your home country, it's not customary in Colombia, and the Colombian guys *might* feel uncomfortable if you ask them.
Dating Tips
Colombian Women
Overall, Colombian women have a positive reputation as being very friendly and approachable.
The prettier the woman, the more important it is to speak Spanish if you expect to talk with her and build rapport.
The most beautiful ones know it and may not be patient with a foreigner who can't speak the local language.
Unlike in some English-speaking countries, women will more freely give out their phone numbers, which is in no way an assurance that you'll see her again.
The man is expected to initiate calls and texts, at least in the beginning.
Colombian society is still patriarchal, and many women are on the lookout for their knight in shining armor.
Or at least a proper first date (dinner, drinks, dancing, movie) before things get physical.
Colombian Men
Colombian men are passionate, have an incredibly macho persona, and are known to be jealous (just like the women).
There's a high degree of infidelity in Colombia (which works both ways).
While foreign women date (and marry) Colombian men, most foreign women I've talked to are not interested in the local guys. Of course, there are always exceptions.
Sex in Colombia
Most Colombians live with their parents or extended family until they are married.
Unless you're dating a professional, it's unlikely you'll be spending the night at a Colombian man or woman's home.
Out of necessity, love motels are widely available throughout the country and offer privacy and comfort for couples looking for intimacy.
Always use protection. Condoms are available at all pharmacies and drug stores, and even the cheap ones from a bar bathroom are better than nothing.
If possible, bring your favorites from home as the selection is limited.
You may even want to consider bringing a small sex toy for a lady to make the night unforgettable.
The morning-after pill is available at pharmacies. Abortion is illegal.
In all seriousness, Colombian women are often left to raise children as single parents, supported by their parents and grandparents.
The lack of choice women have to terminate unwanted pregnancies in this heavily Catholic country means many younger ones get stuck in a generational cycle of poverty.
Be responsible. Don't contribute to this situation.
There's a lot of fun to be had once you get the hang of Colombia's nightlife. Be safe and have fun!
***
The 138-page, all-original Medellín Travel Guide by David Lee is available for Kindle and PDF.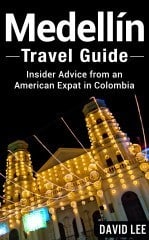 Last Updated on October 21, 2021 by Dave Lee
Dave is the Founder and Editor in Chief of Go Backpacking and Feastio. He's been to 66 countries and lived in Colombia and Peru. Read the full story of how he became a travel blogger.