Colombia's big-city dwellers from Bogota, Medellin, and Cali love to get away from their noisy urban landscapes whenever possible.
Weekends, holidays, and school breaks are all cause for them to head to nearby pueblos usually no more than an hour or two away by car or bus.
Vacation homes or apartments in these pueblos are called fincas, and if you're lucky enough to be invited to stay in one — go!
In August, Troy and I accepted such an invitation to Guatape, a popular weekend destination for Medellin residents.
Carrying the basics in a daypack, we paid no more than $10 for a one-way bus ticket.
We left on Friday afternoon, the trip is about 2 hours.
My seatmate was a real estate broker in Medellin who offered me a 10% finder's fee for anyone I could refer to her.
She said she made the trip to Guatape every weekend.
I tracked our progress in real-time using GPS and Google Maps on my BlackBerry.
As we neared Guatape, the landscape turned into rolling hills, with small lakes surrounding them.
Geographically, I hadn't seen anything like it before.
The bus dropped us off in Guatape's central plaza, which was bustling with the usual mix of people, motorbikes, cars, and buses. Unlike big cities, there were also tuk tuks.
I immediately had flashbacks to Southeast Asia and India, though my first ride in one was actually in another Latin American country, Guatemala.
We dropped off our bags and grabbed a few beers and arepas con queso in the central plaza.
People continued to arrive via bus as it got dark, including another friend joining us for the weekend.
In the evening, the four of us went out dancing at a small bar.
It was crowded. However, we managed to get a table in a back corner, where a speaker was in the perfect position to blast us with popular salsa, merengue, and reggaeton songs.
Around 11 pm, police walked into the bar, and an announcement was made, followed suddenly by a mass exodus of people.
The message was that kids under 18 needed to leave!
There must be a local ordinance or curfew, because the following night at the town's larger lakeside club, the same thing happened.
Whatever the reason, it left more room for the rest of us.
On Saturday, we awoke to beautiful blue skies. While walking along the lake, we were approached by several guides hawking boat tours.
At the mention of Escobar's farm, I knew we'd be getting on one of those boats to visit the vacation homes of Pablo Escobar.
Other lakeside activities include a reasonably long zipline and renting jet skis.
The rest of Saturday afternoon was spent walking around Guatape — it's not large; however, it's very idyllic, and as such, lends itself well to lingering around without purpose.
There were a lot of little observations to be made.
The popular gambling game in a tent across the street from the church.
The teenage kids are walking around with gallon bottles of Aguardiente or cheap wine, again, across the street from the church.
The variety of panel art on the facades of homes and businesses, each depicting unique aspects of the regional geography, culture, and lifestyle.
Saturday night, we found ourselves in a larger club more reminiscent of what you'd find in Medellin.
It's safe to say a lot of the kids in there drinking and dancing that night were from Medellin.
Sunday afternoon was spent visiting El Penol, a monolith in a nearby town by the same name.
Check back tomorrow for more about our visit to this giant rock, which is also a popular day-trip destination from Medellin.
____________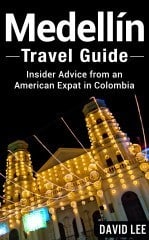 My 138-page, all-original Medellín Travel Guide is available for Kindle and PDF.
.
Dave is the Founder and Editor in Chief of Go Backpacking and Feastio. He's been to 66 countries and lived in Colombia and Peru. Read the full story of how he became a travel blogger.
Planning a trip? Go Backpacking recommends: