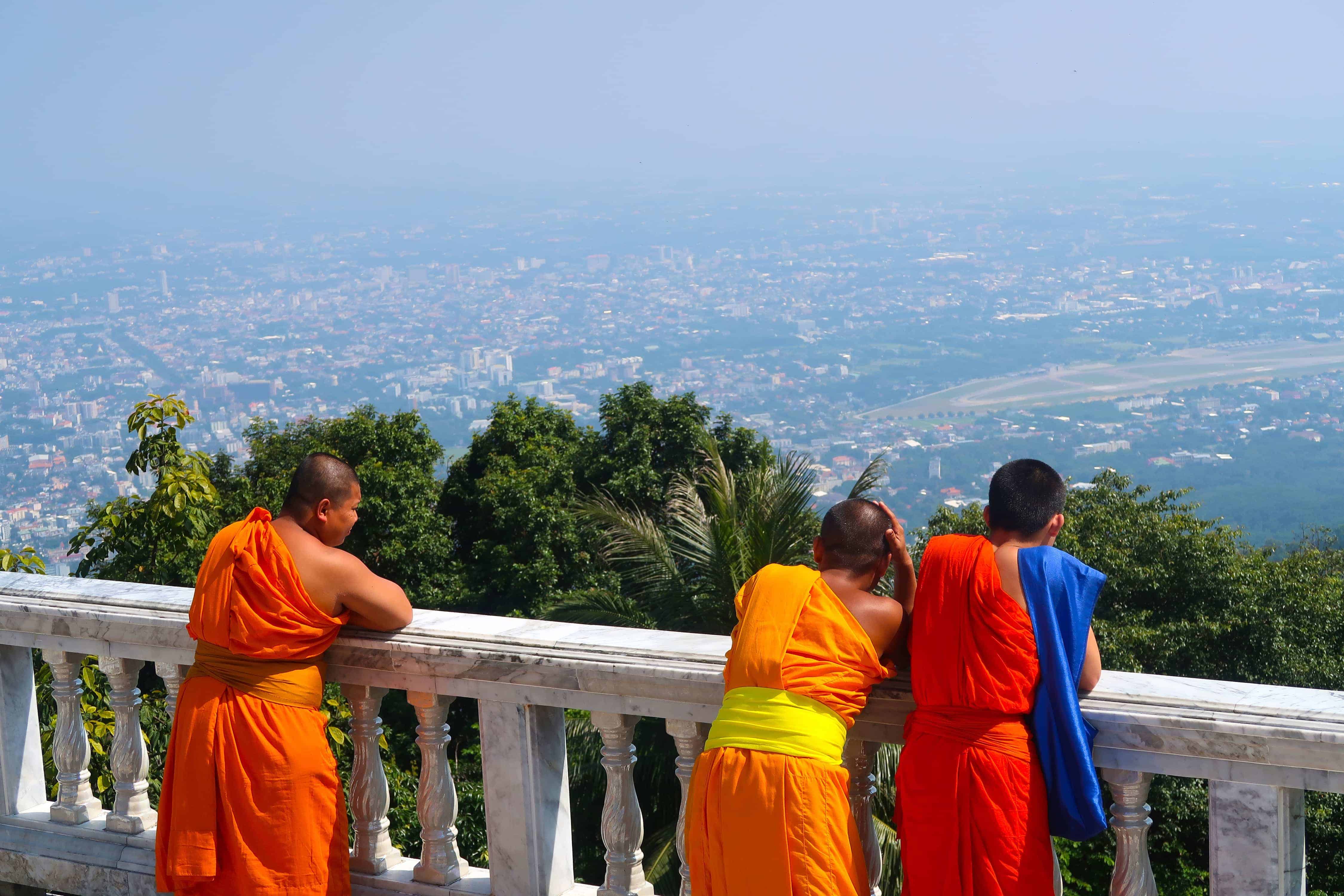 An assortment of adventurous outdoor activities, a rich culture, fantastic food, and an all-around laid-back attitude makes Chiang Mai one of the most attractive cities to visit in Thailand.
We've put together a Chiang Mai city guide to help you get started planning your trip.
Getting There and Away
By Plane
The Chiang Mai International Airport is small, low-key, and very manageable. International flights are mostly to surrounding countries like Myanmar, Laos, Malaysia, China, and Singapore.
Flying in and out of Chiang Mai is very convenient if you don't have a lot of time and need to get from the North to the South of Thailand (or vice versa) in a hurry.
A few months back, I needed to get from Chiang Mai to Phuket with a friend who only had a few days to spare.
I purchased a flight with Air Asia about one month prior at the cost of 1400 THB ($46.74). The flight took 2 hours; the bus would have taken two days.
By Bus
Chiang Mai Arcade Bus Station is the central hub that handles long bus hauls from city to city around Thailand. If you take a bus from Bangkok to Chiang Mai, you'll get dropped at this station.
You can easily jump in the back of a covered pick-up truck and pay around 20 THB ($0.67) to get to the city center. Alternatively, you can take a tuk-tuk for about 50 – 80 THB ($1.67 – $2.67).
Chang Pheuak Bus Terminal is the station used for short bus trips, mostly to destinations in the same province as Chiang Mai.
By Rail
If you have the time, one of the most popular ways to travel in and out of Chiang Mai is by train. The route from Bangkok offers a few different options, ranging from 2nd class seats to VIP sleeper beds.
Chiang Mai Train Station is located just a few kilometers outside of the city and is easily accessible by tuk-tuk and songthaew.
Plane, bus, and train tickets in and out of Chiang Mai can be booked online at Bookaway.
Getting Around Chiang Mai
Walk
Chiang Mai is a great place to get out and walk around. The city center is small, and the traffic is much more friendly than in Bangkok. The air is fresher too.
Lot Songthaew
Unlike the roaring public buses of Bangkok, Chiang Mai mostly uses small covered pick-up trucks called songthaews for public transportation.
If you don't know the routes, ask the drivers to direct you to the correct truck as they are generally helpful. Journeys cost 15 – 60 THB ($0.50 – $2) per ride, depending on your destination.
Tuk Tuk
Small, 3-wheeled tuk-tuks are also a common form of transportation in Chiang Mai.
Make sure you agree on a fare before taking one. Journeys should cost 30 – 100 THB ($1 – $3.34) depending on your destination.
Rent a Motorbike
Chiang Mai is an excellent place to rent a motorbike/scooter for getting around town and the surrounding countryside.
You'll probably have to put a deposit down and maybe even leave behind your passport, but the rate should be around 150 – 250 THB ($5 – $8.36) per day. Make sure you are supplied with a suitable helmet.
Where to Stay
Chiang Mai has loads of accommodation options, and prices, on the whole, are lower than in Bangkok.
It's more common to get a twin or double room as opposed to a shared dorm bed.
Hostels
Quick recommendations:
Quiet Night — S*Trips the Poshtel
Social Atmosphere — Thailand Wow Hostel
Partying — Bodega Chiang Mai Thapae
Amenities — Family Home Chiang Mai
City Entertainment — Na La Da Hostel
Cheap Stay — Hug Hostel Rooftop
See also: Best Hostels in Chiang Mai
Short Term Accommodation
If you are interested in spending a little more time in Chiang Mai, there are plenty of places to rent short-term or long-term.
I would also recommend just walking around Chiang Mai and checking out suitable apartments.
Couchsurfing
There is a large Couchsurfing community in Chiang Mai, so be sure to make some contacts before arriving (if you are interested).
Things to Do and See
Temples / History – Chiang Mai is famous for a few impressive Buddhist temples and royal palaces. Wat Chedi Luang is a beautiful ruinous temple that dates back to the 14th century. A more modern temple with an ornate interior and intricately painted murals is Wat Phra Singh.
Museums – The Chiang Mai City Arts & Cultural Center is a museum that depicts the history of the area around Chiang Mai through an artful multimedia approach. Open Tuesday – Sunday, 8:30 – 17:00.
Learn to Cook Thai Food – For its size, Chiang Mai has an extremely high concentration of cooking schools that will give you a tasty lesson on cooking excellent Thai dishes. Check out Baan Thai, Siam Rice, or the unique Thai Farm Cooking School.
Markets and Shopping – The biggest daily fruit and vegetable market, called Warorot Market, is located in the middle of town. It's a great market to leisurely walk around, take photos, and sample the food. For clothes and souvenirs, the Chiang Mai Night Bazaar that sets up on Chang Klan Road every night is a sprawling shoppers paradise.
Get a Massage – There is an abundance of places in Chiang Mai to relax and get a soothing Thai massage. One hour massage should cost 150 – 250 THB ($5 – $8.36).
Outside of Chiang Mai
Doi Suthep Temple and Bhuping Palace – Just outside Chiang Mai, on the top of the nearby mountain, is this famous temple and palace. Going there makes for a great day trip and provides incredible views over the entire valley of Chiang Mai.
Trekking – Many adventure tour companies offer packages to trek around the hillside region near Chiang Mai, stay in a local home, and visit a hill tribe.
Nature and Animals – If you enjoy wildlife and animals up close, Chiang Mai will supply you with some thrilling animal interactive activities.
Elephant farms like Maesa Elephant Camp and Patara Elephant Farm are set up to let you interact with elephants and marvel at their beauty.
For those who like slithering snakes, there are several snake shows where handlers demonstrate how to catch a cobra with bare hands.
Food & Drink
Like the rest of the country, Thai food is delicious and supplied in abundance throughout Chiang Mai.
Taking a walk around the Warorot main market is one of the best places to get started sampling the assortment of best Thai dishes.
Some regional Chiang Mai foods to sample include sai ooah (spicy sausage), khao soi (curry noodle soup), gaeng hanglay (hanglay curry), and nam prik ong (chili sauce and vegetables).
Restaurants
Aroon Rai – 45 Kotchasarn Road. A good cheap restaurant serving an extensive array of Thai food and regional specialties.
Huan Huay Kaew – 31/2 M.2. T.Suthep, Huay Kaew Rd. A nicer sit-down restaurant near Doi Suthep temple that serves delicious Northern Thai food in a natural environment.
Nightlife
The nightlife scene in Chiang Mai is not quite as diverse and crazy as Bangkok, but there are many small bars, chill spots, live music venues, nightclubs, and go-go bars.
Overall, Chiang Mai is a pleasant town to indulge in relaxed nightlife activities, meet other travelers, and enjoy a quiet drink.
The Red Lion – 123 Loi Kroh Rd., Night Bazaar, T. Changklan, A.Muang, Chiang Mai 50100, Thailand. A famous English-style pub in the center of Chiang Mai.
Discovery Night Club – Huay Kaew Road. One of the most happening nightclubs in Chiang Mai usually plays Thai-style rock and pop. Popular almost every night of the week.
Monkey Club – Monkey club. 7 Nimmarnhenin 9 Rd. Suthep. Muang. Chiang Mai 50200. A lively nightclub in Chiang Mai.
Roots Rock Reggae – A venue for reggae music and a crowd of happy foreigners and Thais.
Last Updated on April 20, 2021 by Dave Lee
Mark was raised in central Africa before migrating back to the U.S. for University. After graduating, he decided to continue traveling the world. On Migrationology, he shares the cultural side of travel from a slow-paced local perspective that often revolves around his love for eating all forms of food. Join him on Facebook and follow him on Twitter @migrationology.