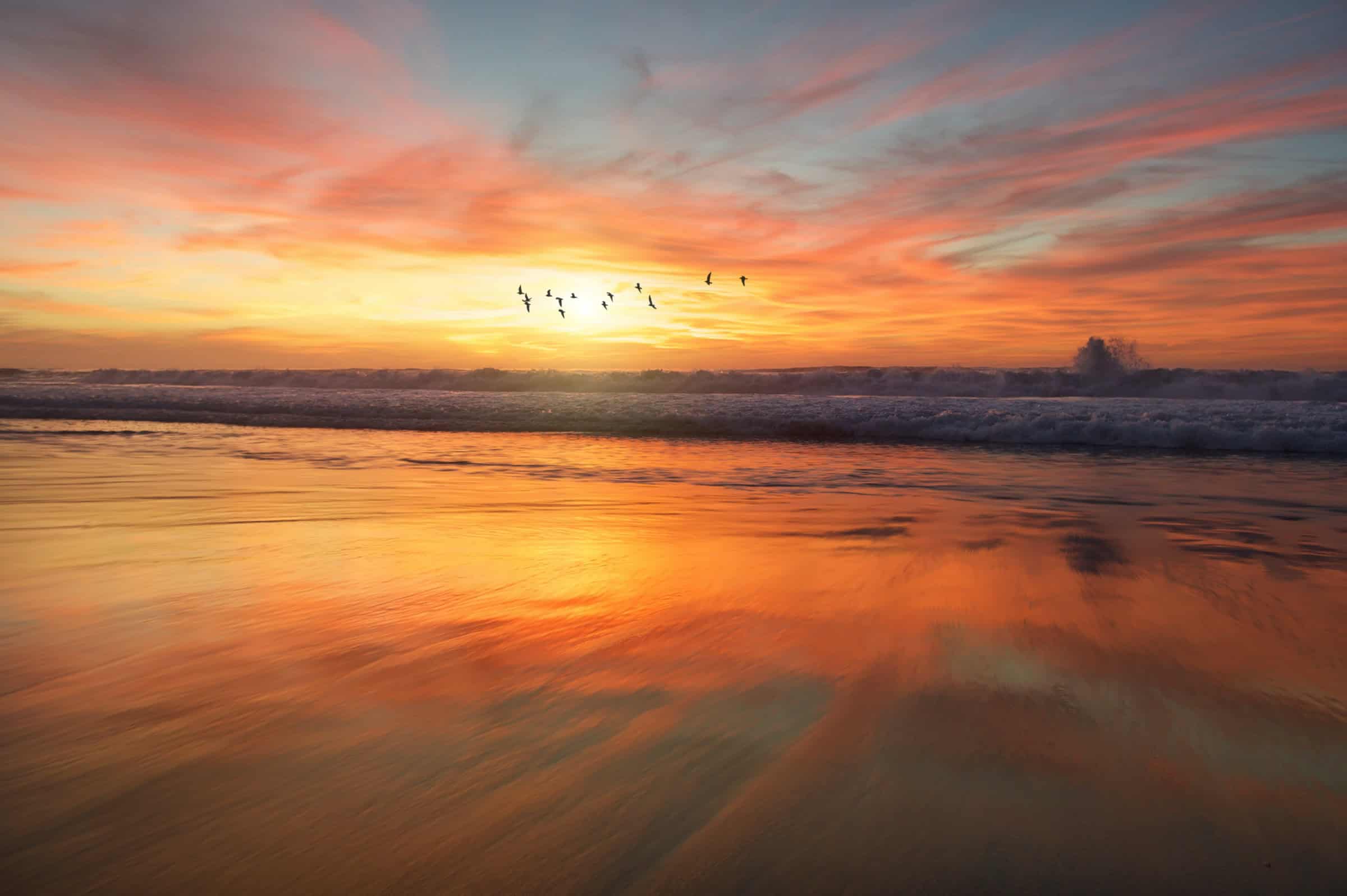 Sunrise is a magnificent moment that can take your breath away with its beauty.
It symbolizes the start of a new day, and only you decide how to spend it.
Unfortunately, it can be hard to catch a rising sun, especially for those living in urban areas with many tall buildings.
Therefore, many travelers, who like exploring the world by car, decide to stop somewhere in a remote area to enjoy the sunrise.
Coastlines and deserts are the top areas to observe the sunrise. The desert terrain is typically flat, as is the ocean's surface.
Have a stop in these areas and you can enjoy the best sunrise of your life.
Below, you will find the best ways to comfortably watch the sunrise in the desert or on the coast while traveling by car.
Hammock
It is one of the most comfortable ways to watch the sunrise.
You can sleep in a hammock, then wake up and watch the magnificent sunrise being 100% relaxed.
Also, you can share a hammock with your partner to make the moment even more unforgettable.
Unfortunately, there is one drawback. You need to have at least two sturdy points to install a hammock. Three are better.
Having a viewing spot in the desert, you will hardly find a single tree.
Making a stop along the coast, you will have to find at least one tree.
Then, you need to attach one end of a hammock to the tree and the other one to your car's roof rack.
However, if you have racks installed on your vehicle, there is a better and more convenient way to watch the sunrise.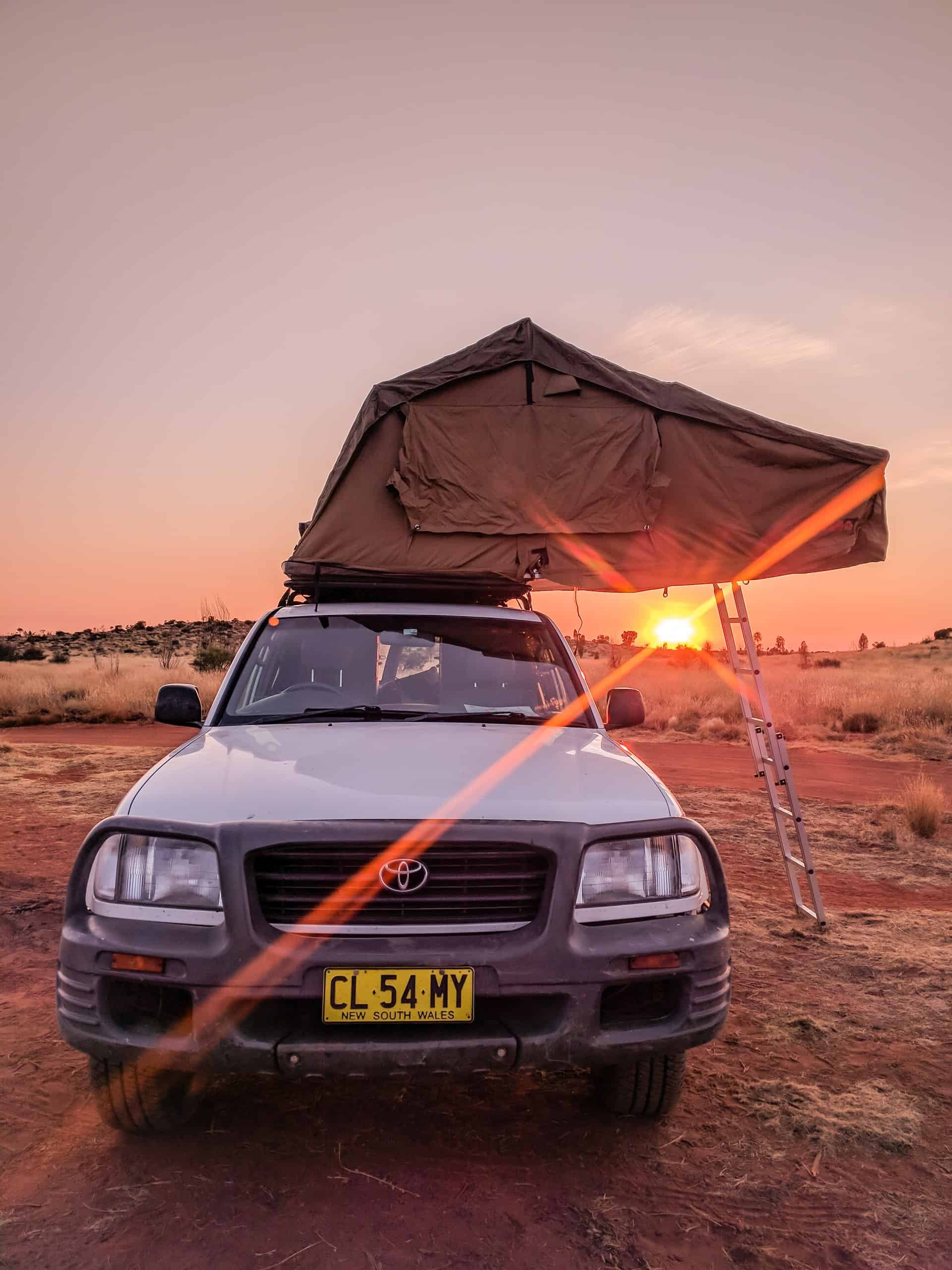 Rooftop Tent
The most convenient and safest way of sleeping and passing the time while traveling by car is using a rooftop tent.
It can be easily attached to racks on a car and can provide an outstanding camping experience.
A tent that is attached to a car's top keeps you safe.
Since the tent is placed more than six feet above the ground, wild animals and reptiles won't be able to reach it while you're sleeping.
It's very convenient to lay on a plain surface on top of a car and watch the sunrise.
The best rooftop tents are equipped with a ladder to get into them with no hassle. Rooftop tents are spacious and can keep you safe from strong winds and cold weather.
Don't forget to bring a light source if you want to read before getting some sleep.
Outdoor Seating
It's certainly not convenient to enjoy the sunrise through the windshield, sitting in a car.
If you want to meet a new day conveniently, bring large camping chairs. They can be easily folded and packed in a vehicle.
After arriving at a great viewing spot, just set up your chairs to enjoy the sunrise.
Note that it might be quite cold and windy in the morning as sand loses heat rapidly, and the plain terrain of the desert and coast doesn't weaken the wind.
Therefore, an open fire will enhance your outdoor seating.
First, it will be an additional source of heat. Second, you'll be able to brew some coffee and prepare breakfast.
Deserts and shores aren't rich in dried wood for an open fire. Therefore, don't hesitate to bring some wood with you.
Sunrise Viewing from Car
If you have a van, you can easily set it up for comfortable sunrise viewing.
Feel free to cover the cabin's floor with plywood to make the surface flat.
Also, wood has a bad heat conductivity value, so it will save heat. You can also put down an air mattress and lie inside your van.
To watch a spectacular view, you will only need to open the rear door of your van.
Tips for Car Travelers
Do you want your trip to be comfortable and problem-free? If so, don't be shy about using these tips from experienced travelers.
Bring Cash
The more remote places you go, the harder it may be to find ATM machines. Also, stores in remote areas may not accept credit cards.
Therefore, it's always a good idea to bring cash on your road trips. It can be a life-saver if you need to purchase water, gas, or pay someone for help.
Carry a Lot of Water
Water is the most important resource for living.
Planning a trip, especially to the desert, necessitates that you bring plenty of filtered water, preferably in a reusable container.
Always bring enough water to cover any possible needs, as well as the potential for your car or van to break down unexpectedly.
Create a Playlist
If you have to drive many hours to reach the final destination, don't forget to create a playlist of your favorite songs. Also, music can make camping more fun.
Final Words
Traveling by car is a great way to pass a weekend, especially during an outbreak, when most international flights are canceled.
If you live in a crowded area, head to the nearest coast or dessert for one or two nights.
It can help distract you, if only temporarily, from everyday stresses and routines.
When a new day begins with witnessing a sunrise in natural surroundings, it'll be worth all the effort.
_____
This story is brought to you in partnership with RoofTopTentGuide.com.
This post was written by a guest contributor. Please reference the author's byline in the post above for more information. If you would like to guest post on Go Backpacking, please read our submission guidelines. For information on advertising opportunities, go here.
Planning a trip? Go Backpacking recommends: