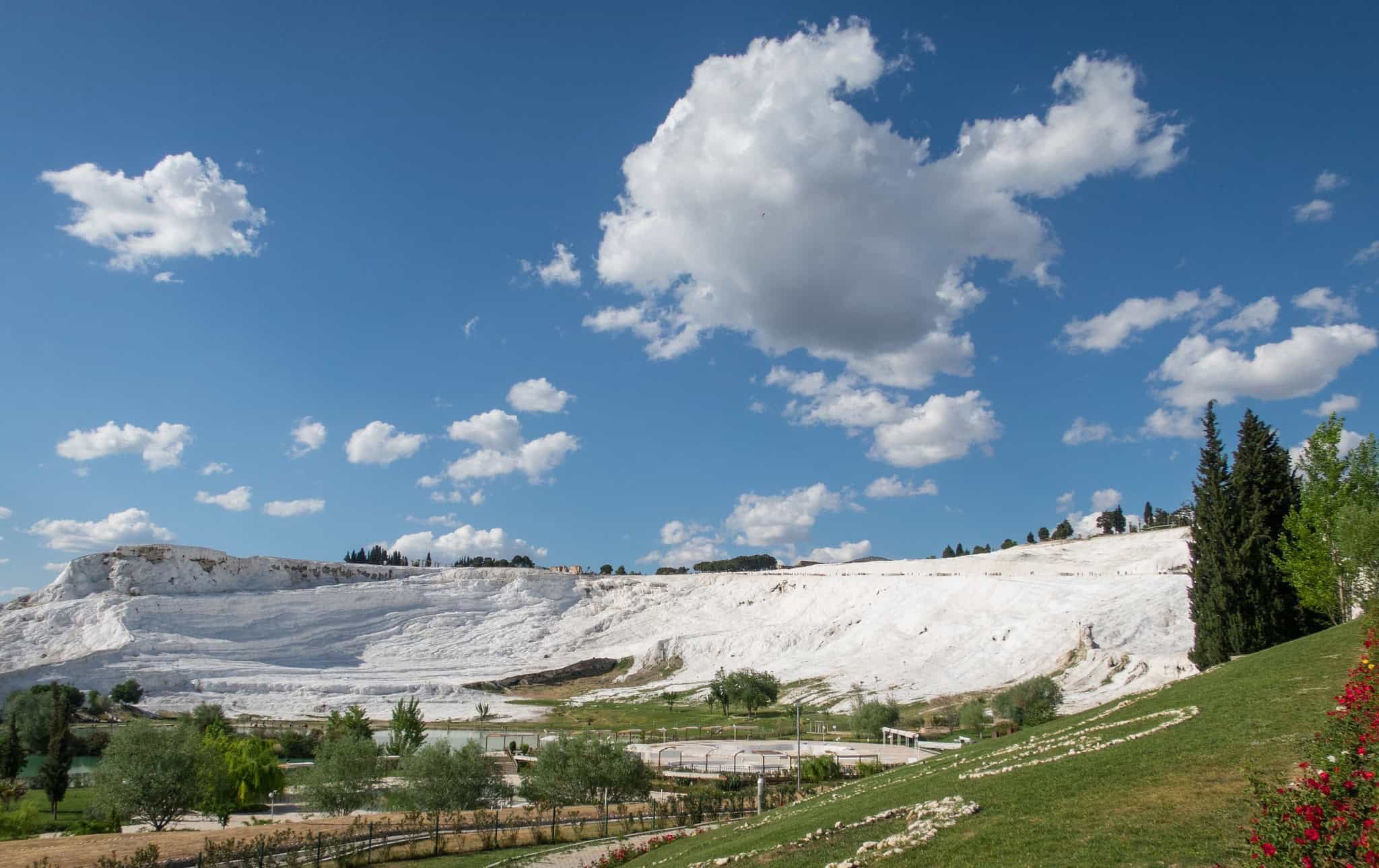 Have you already hit up Big Ben and rolled your eyes at Las Vegas? Have you admired the backs of people's heads next to the Mona Lisa at the Louvre? If you're looking for unique travel destinations, we have 17 unusual suggestions that should make your future travel plans a little more memorable.
1. Cat Islands, Japan
The island of Tashirojima, a quick ferry hop off the east coast of Japan, has a small population of 100 humans and about six times that number in cats.
Why so many feline friends? Tashirojima (and the other ten cat islands) was known for its silk production.
Unfortunately, it also had a mouse problem, and mice like to munch on silkworms. So the cats were brought in as the guardians of the local silk-based economy.
Today you can visit the island and stay in a cat-shaped cabin between April and November.
2. Pamukkale Thermal Pools, Turkey
Pamukkale ("Cotton Castle") is the site of a series of cascading hot springs located in western Turkey.
Over time the calcium-rich springs have shaped the underlying white limestone, creating a magical white world.
And as if the springs weren't enough eye-candy are their own, Pamukkale also boasts a World Heritage Site status for its well-preserved Roman ruins.
3. Goblin Valley State Park, USA
Found in the state of Utah, the Goblin Valley State Park's valley is filled with rock formations that look like, you guessed it, hordes of goblins just waiting to get up to some mischief. Talk about a unique travel destination!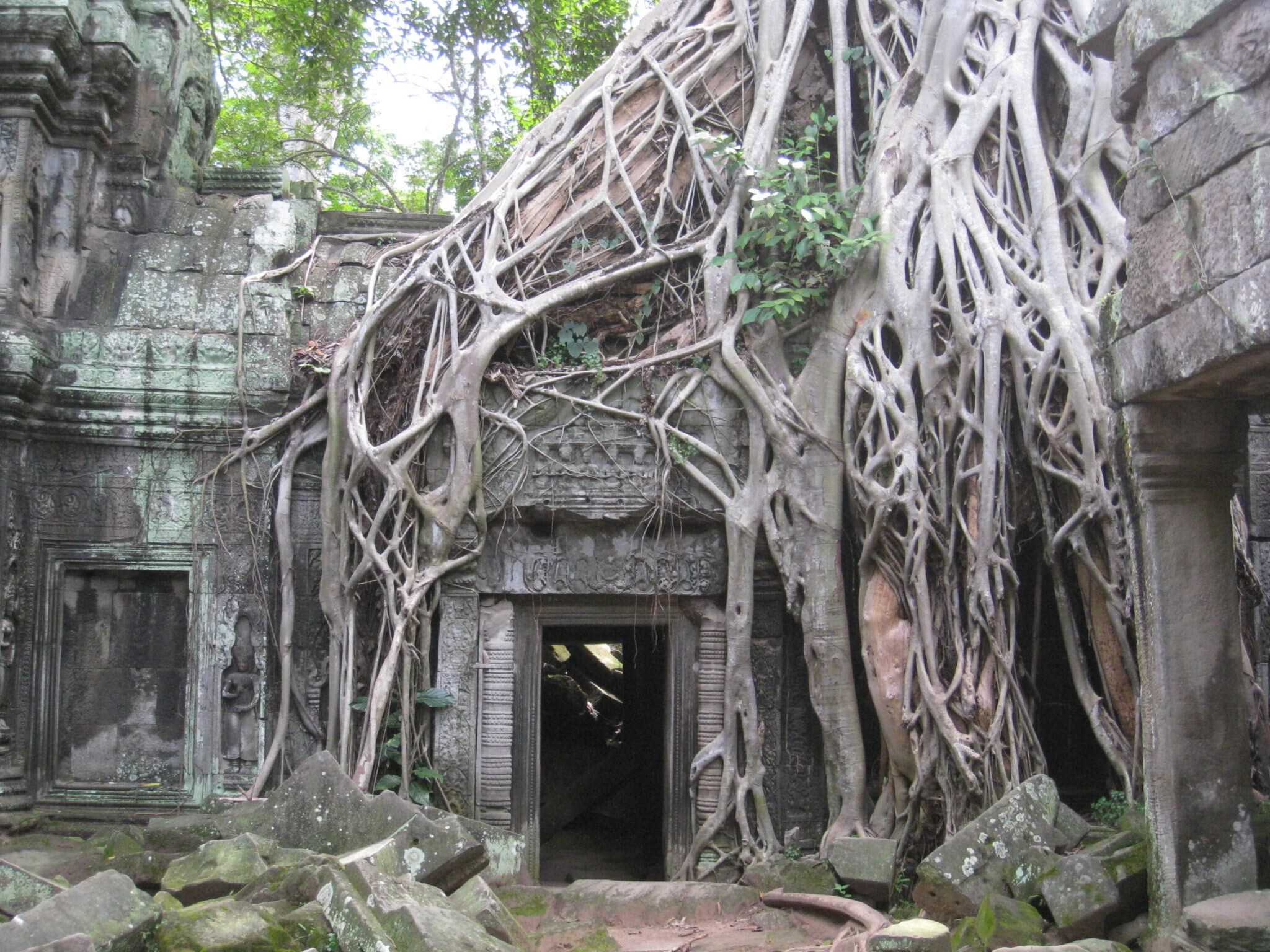 4. Angkor Wat, Cambodia
Sitting in the heart of the Angkor Archaeological Park, the majestic Khmer temples, dating back to the 800s through to the 1400s, have deliberately been allowed to become intertwined with the surrounding jungle.
The result is a stunning mix of human-made and natural architecture.
5. Bhutan
Resting high up in the Himalayas, Bhutan is the world's newest democracy.
Along with this new form of government, Bhutan boats classic Oriental architecture all its own, set against the sweeping forested Himalayan vistas.
6. Catacombs, France
Paris' Catacombs present a uniquely macabre spectacle – the bones of 6 million Parisians arranged in repeating patterns in tunnels that twist and turn under the old city.
7. Cancun Underwater Art Museum, Mexico
Over 400 life-sized sculptures rest on the ocean floor just off the coast of Cancun, Mexico.
While swimming amongst the sculptures makes for a unique adventure, the museum also serves another purpose – the statues are there to help promote the growth of the coral reefs.
8. Panda Inn, China
If you can't get enough of the furry black and white bundles of cuteness, you might want to spend a night or two at Sichuan, China's Panda Inn.
Everything is panda-themed – the wall art, the bed-spreads, even the staff dress as oversized and attentive panda bears.
9. Kiribati, Micronesia
Kiribati is a collection of 33 coral-based islands, 32 of them boasting rich blue lagoons.
A textbook tropical paradise, the islands also offer the chance to visit the remains of WWII's great battles on the shores of the capital, South Tarawa.
10. Mosquito Bay, Puerto Rico
Don't let the name put you off. Found in Vieques, Puerto Rico, Mosquito Bay offers you the chance to experience something truly magical – swimming amongst bioluminescent dinoflagellates.
11. Plain of Jars, Laos
Nobody knows for sure why the hundreds of human-sized jars were strewn across Xieng Khouang Province of Laos.
Some believe that they were used to brew wine for giants; others say they used to be used for ancient funeral rites.
12. Icehotel, Sweden
There are multiple ice buildings worldwide, but the Icehotel found in Jukkasjarvi, Sweden, sets the standard.
Available in the winter (obviously), the hotel is a carved architectural wonder.
And it's not just the walls and ceiling carved from the cold stuff – even the beds and bar glasses are carefully cut ice.
13. Sewer Museum, France
We're heading under Paris again, this time to explore the Musee des Egouts de Paris, the Paris Sewer Museum.
The sewer system, dating back to the 1200s, is an interesting record of the city's growth as a whole. And not to worry, raw sewage doesn't reach the areas you'll be exploring.
14. Blue Lagoon, Iceland
Relax in a steam bath with a drink while snow gently settles down on the rugged mountain beauty of the surrounding Icelandic landscapes.
15. Emperor Penguin Rookeries, Antarctica
Emperor Penguins are one of only two species of flightless bird that live year-round in Antarctica.
Found further inland than other species, you'll have to book an Antarctic cruise that offers a helicopter ride into the interior (don't worry, the cruise companies land far enough away not to disturb the breeding birds).
16. Red Beach, China
An autumn treat, the beach near Panjin, China, is covered by a form of seaweed known as "sueda."
Come the fall, the sueda turns color, transforming the beach into a surreal strip of red.
17. Human Towers, Spain
Going back 300 or so years, Tarragona, Spain hosts a competition involving several teams that attempt to build the tallest Castell – a tower made up entirely of human beings.
***
As you can see, there's no shortage of unique travel destinations on our beautiful planet.
We hope this article gives you some new places to daydream about, and hopefully visit one day.
_______
This story was brought to you in partnership with Oceanwide Expeditions.
This post was written by a guest contributor. Please reference the author's byline in the post above for more information. If you would like to guest post on Go Backpacking, please read our submission guidelines. For information on advertising opportunities, go here.
Planning a trip? Go Backpacking recommends: