"We keep moving forward, opening new doors, and doing new things, because we're curious and curiosity keeps leading us down new paths." – Walt Disney
Like a mouse in a maze, I wandered the back streets of Vico del Gargano.
Every narrow, twisted alley I encountered, my eyes opened a little wider. In years I was 37, but in spirit, I was a little kid again.
I knew nothing of Vico del Gargano upon arrival, yet it was as though everything I expected of Italy was suddenly before me. The mundane was fascinating.
The colorful doorways became the focus of my attention.
I have a thing for painted wooden doors and ornate archways, and Vico was full of them, adding splashes of color to the otherwise ancient stone facades.
Looking up, laundry lines hung from windows.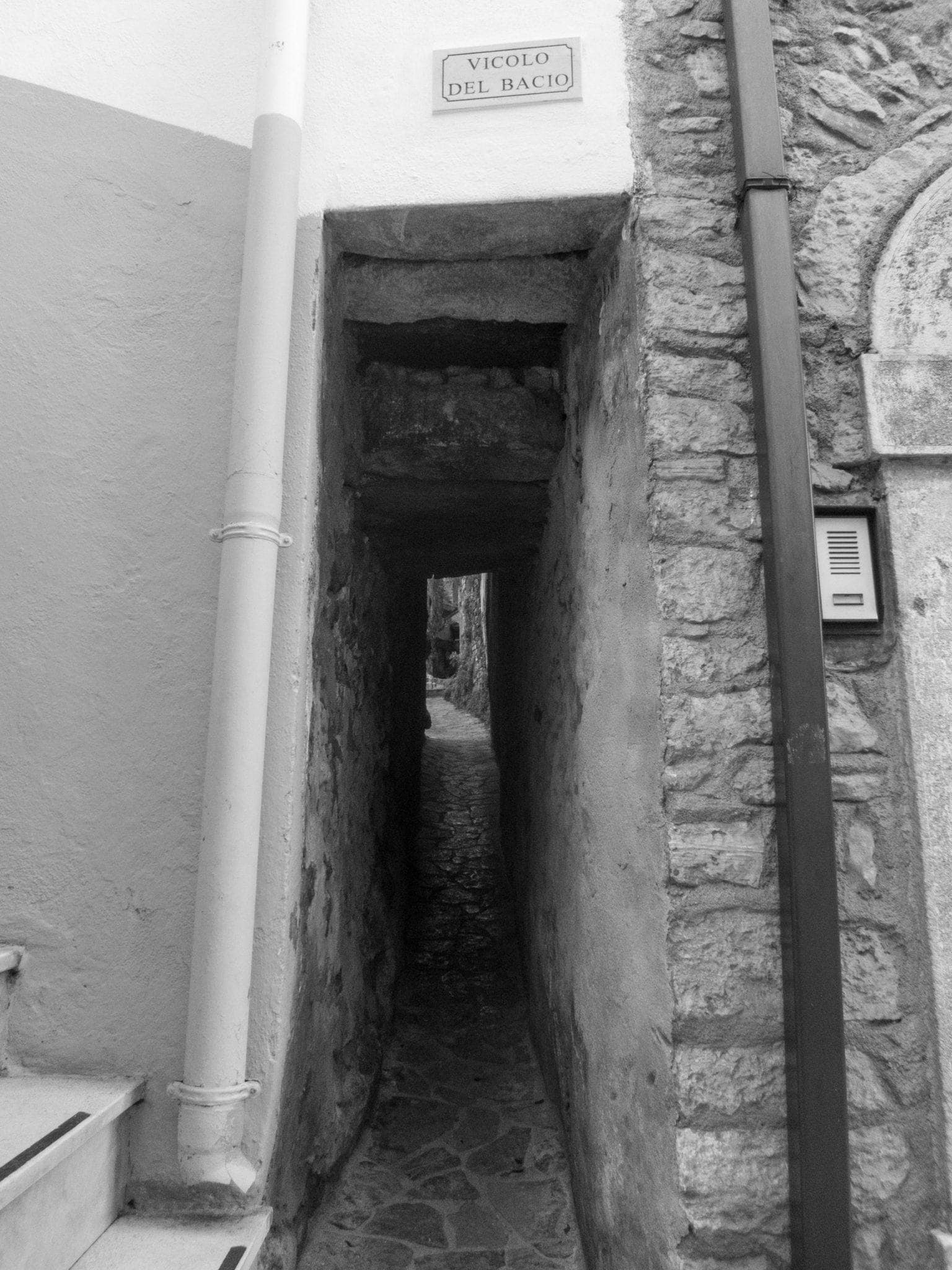 Vico del Gargano is known as the "Village of Love," and wandering the old center, it wasn't hard to see why.
One alley, in particular, Vicolo del Bacio ("Alley of the Kiss"), is entered through a 30-foot tunnel, barely wide enough to fit a single person.
Given the close confines, legend has it that whoever you enter the alley with, you'll end up kissing.
I imagine every guy in Vico takes his first date through Vicolo del Bacio.
Related: Touring the Sea Caves of Gargano
Upon exiting the covered section, you're treated to a small enclosed plaza on the lefthand side.
A romantic scene featuring a seated woman and a male suitor is painted into a niche in the wall.
A nearby plaque indicates the painting was restored on August 13, 2013.
It was a Thursday morning, and there were few residents to be seen.
An old Italian woman, surely someone's grandmother, stood in her doorway dressed in black, watching my fellow bloggers and me.
She was kind and patient, and willing to pose for photos despite the language barrier.
A few small sculptures lead my attention to a doorway. Above it was an old wooden sign with "Mastro" (Master) etched into it.
I entered the door to find myself in the middle of the craftsman's workshop. He stood before me with a lit cigarette and a smile.
He encouraged us to come in and look around. I continued through the workshop and up a staircase filled with old photos and a large phonograph.
Exiting the other side, I was now back near the start of where the walk began. A Norman castle loomed large, though there wouldn't be time to explore it.
A few of us took a bathroom and coffee break at Manita Cafe.
Nearby, a street vendor was selling the most colorful mushrooms I'd ever seen.
Once our group had reunited, we entered Museo Trappeto Maratea, an old underground olive mill built inside a natural grotto.
Opened in 1317 and used as a working mill until the 1950s, it now fills the role of Gargano's agricultural museum.
The entrance is free, so there's no reason not to visit.
The most impressive feature was the giant wooden presses built into the limestone walls. The rest of the cave showcased old agricultural tools and machines.
High up on one of the walls, a quote caught our collective attention, "What is not eternal is nothing."
Related: The Whitewashed Homes of Peschici
To leave the mill, we climbed the stairs to find the rain from the day before in Monte Sant'Angelo had returned.
I felt grateful for the few hours we had to get lost in Vico del Gargano, a village stuck in time, which had captured my imagination and reminded me of what it's like to be a kid again.
As we drove away in the pouring rain, all I could think about was the opportunity to continue exploring villages like Vico.
________
My trip to Gargano, Italy, was in partnership with Gargano OK.
Dave is the Founder and Editor in Chief of Go Backpacking and Feastio. He's been to 66 countries and lived in Colombia and Peru. Read the full story of how he became a travel blogger.
Planning a trip? Go Backpacking recommends: