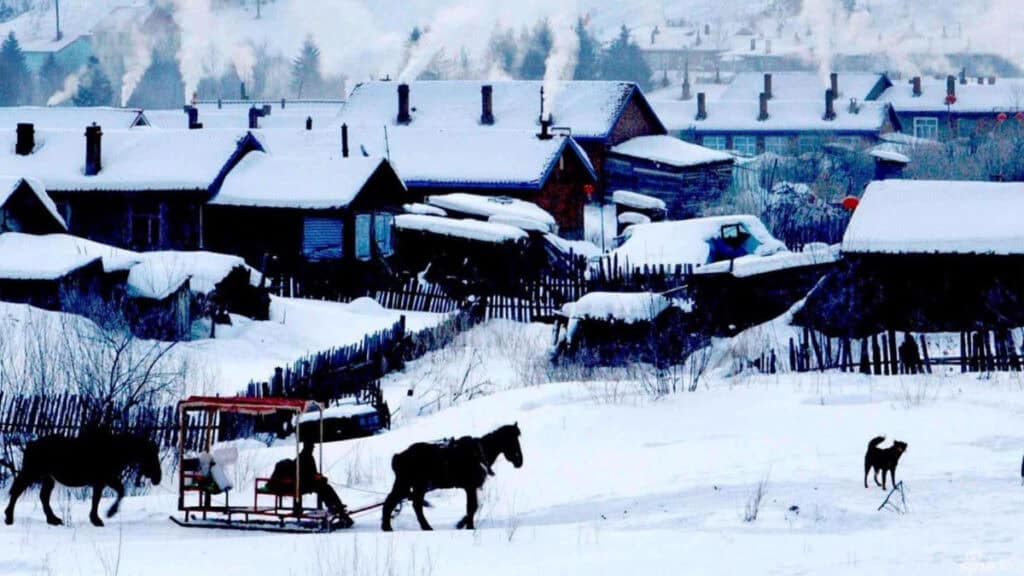 If you are thinking of traveling in China, visiting Heilongjiang Province might not feature as part of your travel plan.
However, this remote province in northeast China has a wealth of culture, tradition, activities, and sights to 'wow' any traveler.
In this article, we will talk about what you can expect from a trip to one of China's lesser-known corners during its famed winter months.
Heilongjiang In A Nutshell
Where Is It Located?
Heilongjiang is simultaneously China's most northern and eastern province, making it one of the more remote areas in China.
Heilongjiang shares a border with Russia to the north and east.
Within China, the western edge of the province borders Inner Mongolia, and the southern edge borders Jilin.
The province is home to more than 38 million people, 10 million of which live in the provincial capital of Harbin.
What's The Landscape?
Heilongjiang is one of the most mountainous regions in China, with its highest peak of Mount Datudingzi standing at 1,690 meters (5,544 feet).
Along with the vast mountain ranges, Heilongjiang also has some of the largest forest reserves in China.
Its low lying areas have also remained relatively agricultural, outside of the major cities.
What's The Weather Like?
Heilongjiang is the coldest province in China, with temperatures averaging below -4C (24.8F) across the year.
The winters are some of the longest and coldest around.
The Provincial capital of Harbin has earned the nickname 'The Ice City,' with winter temperatures averaging around -15C (5F) during the day and dipping below -30C (-22F) at night!
During the summer months, temperatures average around 20C (68F) around July.
However, you can only expect temperatures this high for a couple of months during the year.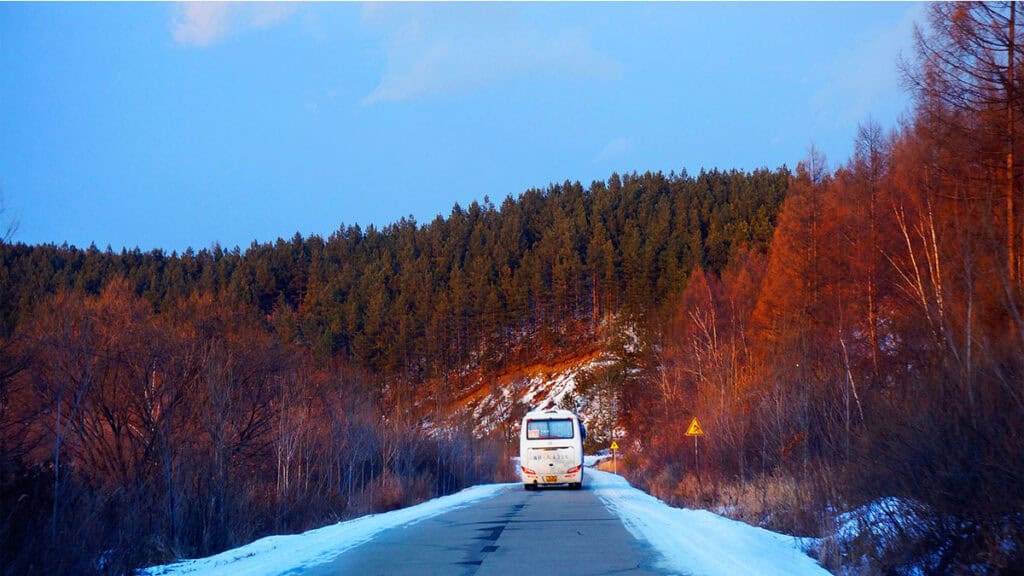 How Do You Get Around?
Heilongjiang houses 15 airports, with the largest and most well known of them located in Harbin.
Although Harbin is a larger airport, it is still limited to predominantly internal flights.
Harbin is reachable by flight from Beijing in two hours, or from Shanghai in three hours.
Once you have reached Harbin, the best way to explore the province is by rail.
The train network is reasonably well connected and makes most of the major cities and attractions accessible.
However, the trains can be cold, old, and busy, so don't expect to travel in luxury!
Once you reach the area you wish to explore, taxis are readily available and inexpensive.
The Best Things To See And Do In Heilongjiang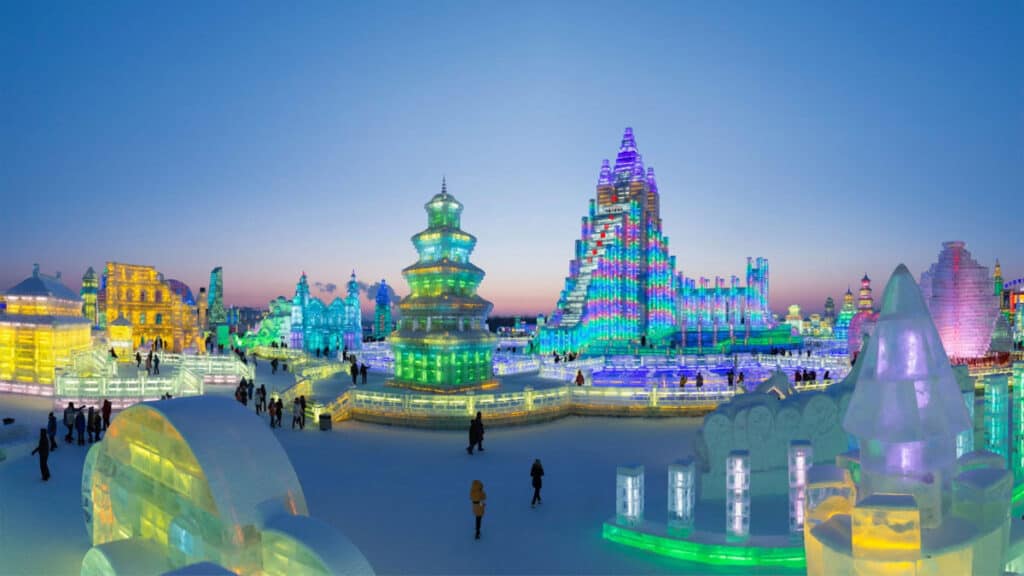 Harbin Ice Festival
The Harbin Ice Festival is an annual event that runs from December until February.
It is both the most famous and the largest tourist event that can be found in Heilongjiang, drawing between 10-15 million visitors each year.
The Ice Festival consists of monumental sculptures made from ice, some of which reach more than 40 meters in height!
The festival is split into two sections; snow sculptures and ice sculptures.
The snow sculptures are to be visited during the day.
Each sculpture is a work of art, with everything from animals, buildings, historical figures, and more recreated in life-like detail.
Once the sun has set, the ice sculptures become the main event.
Carved from blocks of ice, the 'ice city' is built. It features buildings, towers, palaces, and even a re-creation of the great wall.
Adding to the spectacle, every sculpture is covered in bright multi-colored lights, making for a surreal experience.
The only thing that can detract from the Ice Festival experience is the temperature, which is often around -30C (-22F) during the evening.
This makes ultra-warm clothing a must if you want to enjoy the experience.
The Harbin Ice Festival is likely to be the highlight of any trip to Heilongjiang.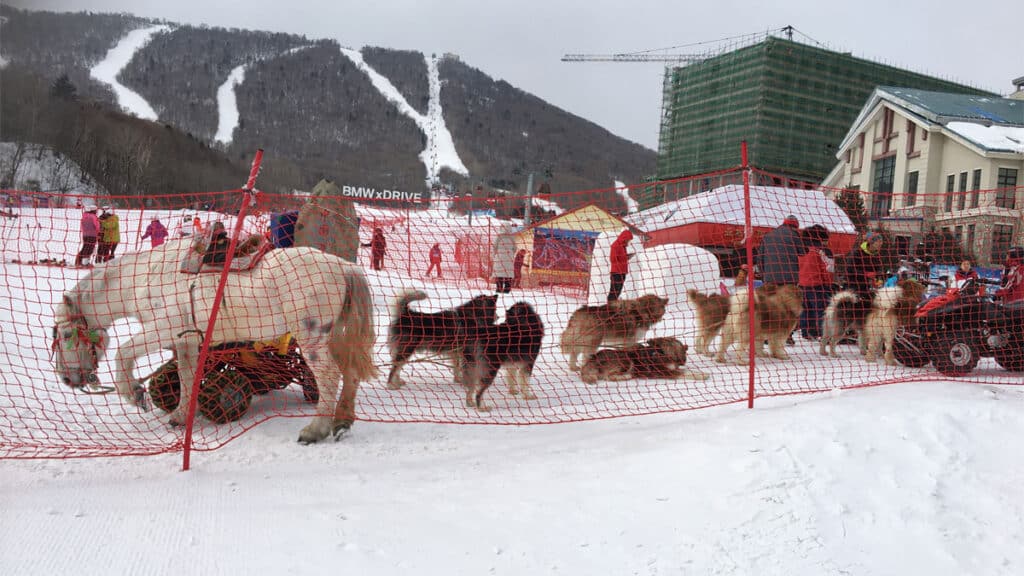 Yabuli Ski Resort
Yabuli ski resort is situated around two hours outside of Harbin.
It's the largest and most well-known ski resort in China, making it a popular destination for ski tourists from both inside and outside the country.
With 35km of ski pistes, 11 ski lifts, and a mixture of high end/budget accommodation: Yabuli has the most well-developed ski facilities in Heilongjiang.
Yabuli also has some of the best snow conditions in China. Consistent natural snow can be found between early December and late March.
As well as offering some of the best skiing in China, Yabuli is also thought of as one of the coldest ski resorts in the world.
Temperatures on the mountain are known to go well below -30C (-22F) during the day.
When you factor in wind chill, you might be in for some exceptionally extreme conditions.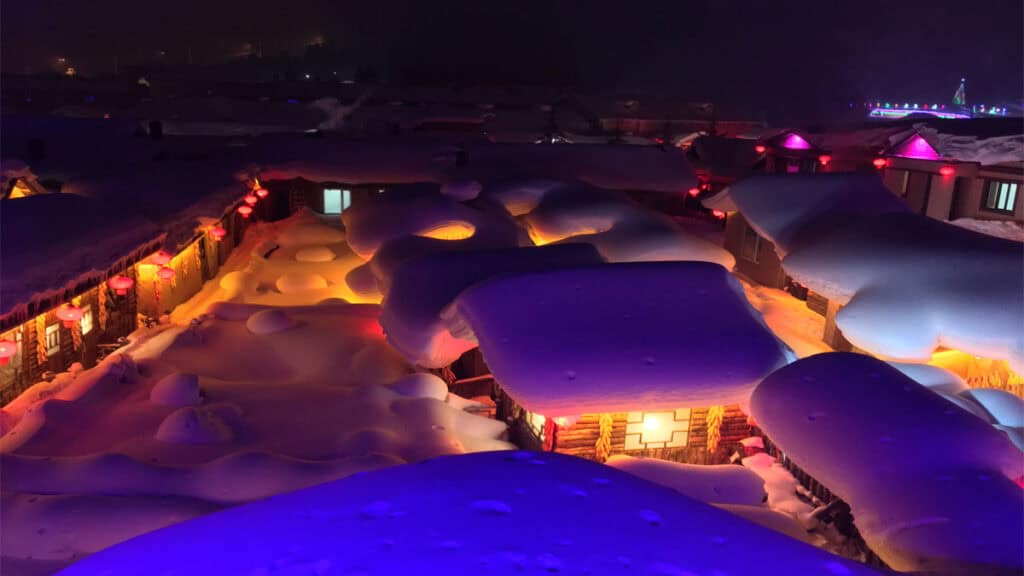 China Snow Town
China Snow Town is a picturesque village famous for receiving the highest amount of snowfall in China.
The town is set deep in the heart of a forestry reserve and was initially designed to be a small ski resort.
However, its traditional wooden architecture and unique fluffy snow have turned the town into a tourist attraction.
When visiting the snow town, you will find the streets filled with pubs, restaurants, shops, and street food vendors selling all sorts of local food and handicrafts.
If you are more active, you can also find activities here, such as snow tubing, hiking, dog sledding, and ice-skating.
One of the best times to view the town is in the evening, when the buildings are lit up with multi-coloured lights and lanterns.
The Snow Town is located in one of Heilongjiang's remote forest reserves, 350km northeast of Harbin.
It's reachable by bus, taking six hours from Harbin.
The remote location of China Snow Town makes it a difficult place to access as a day trip, so you may need to make it a two-day trip.
The accommodation available is just as traditional as the town itself, so don't expect to find a Holiday Inn!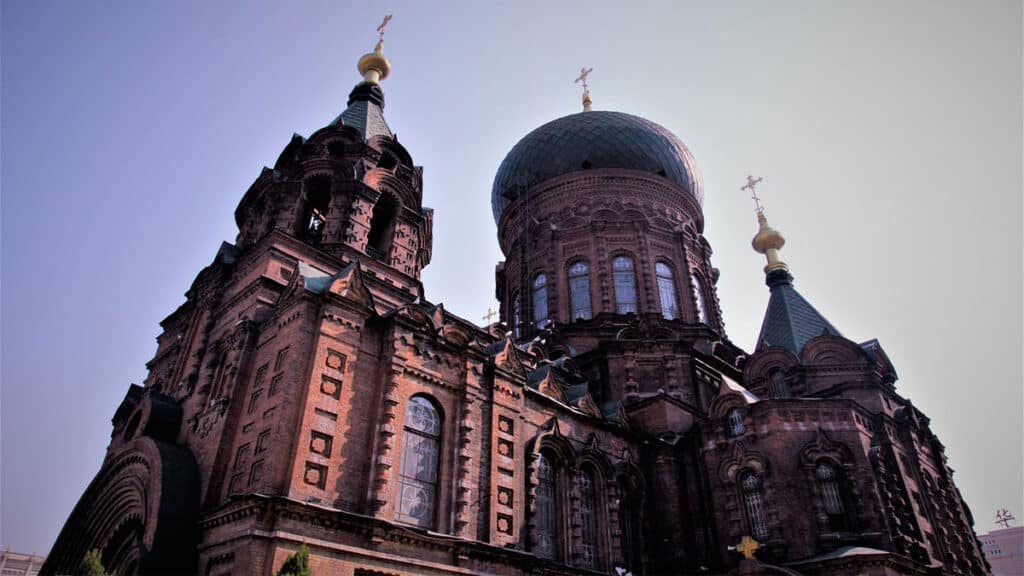 Exploring Harbin City
The city of Harbin is unlike most regions you will find in China.
Its geography, specifically, is in close proximity to Russia. The influence is evident as you explore the city.
One of the most famous sights in Harbin is the St. Sophia Orthodox Church.
The church was built by the Russians in 1907 and has remained the largest Orthodox church in the Far East.
This Russian influence continues throughout the city.
The main street, called 'Central Street', is a one kilometer-long cobbled road lined with shops and restaurants.
The buildings here are built with prominently Russian features, with many shops selling Russian memorabilia and food.
Harbin is also home to the world's largest indoor ski centre, The Harbin Wanda Indoor Ski Resort.
The sheer size of the building is difficult to miss when you are walking around the city.
Inside the 'ski resort,' you will find six ski slopes serviced by four ski lifts covering a total area of 80,000 square meters.
Even if you do not plan on skiing, the stature of the resort certainly makes it a place that is worth visiting.
Local Food Choices
China is a country of many cuisines. Each province offers its delicacies; Heilongjiang is no different.
The most popular dishes in Heilongjiang are dumplings and hot pot.
Traveling around the province, it's easy to find dumpling specific restaurants with a huge selection of flavors and fillings.
The most popular fillings consist of pork or vegetables (or both!).
Another favorite food choice is hot pot. This Chinese cuisine consists of a large pot of boiling water placed on a portable 'stove' on the table.
You will then be provided with a selection of raw meats, vegetables, and noodles, which you can place in the pot and cook yourself.
Hot pot is commonly eaten as a group meal. However, many restaurants will provide single potions, or even cook it on request.
Throughout Heilongjiang, sausage, seafood, and Russian-influenced food are also prevalent.
If you've never tried real Russian vodka, this is the place to do it!
Summing Up
If you are looking for a China experience that is out of the ordinary, Heilongjiang will certainly provide what you are looking for.
It has a unique culture and a rugged landscape that is ready to be explored.
If you are a snow season enthusiast, then this is an adventure that you will remember.
However, it's certainly not for everyone.
The freezing winter temperatures, limited 'western-style' facilities, and difficulties involved with transport can make it a challenging trip from start to finish.
In my opinion: If you are the adventurous type, the challenges are certainly worth overcoming.

James King is a ski instructor, world traveller, writer and founder of ski website SnowSunSee. James became a ski instructor 9 years ago and has been working and travelling across Europe and Asia ever since.
Planning a trip? Go Backpacking recommends: