Ziplining is like riding a bike, I told myself nervously as my Uber dropped me off at Empower Adventures Tampa Bay, an adventure park in Oldsmar, Florida.
I'd been once before at the Monteverde Cloud Forest Preserve, back in 2005, when I was backpacking through Costa Rica.
It was an unforgettable experience, although I often couldn't see the ends of the zip lines as they disappeared into the mist.
But that was nearly 20 years ago, and I could feel my mind weighing my fear of heights with the confidence that comes from having ziplined before.
About Empower Adventures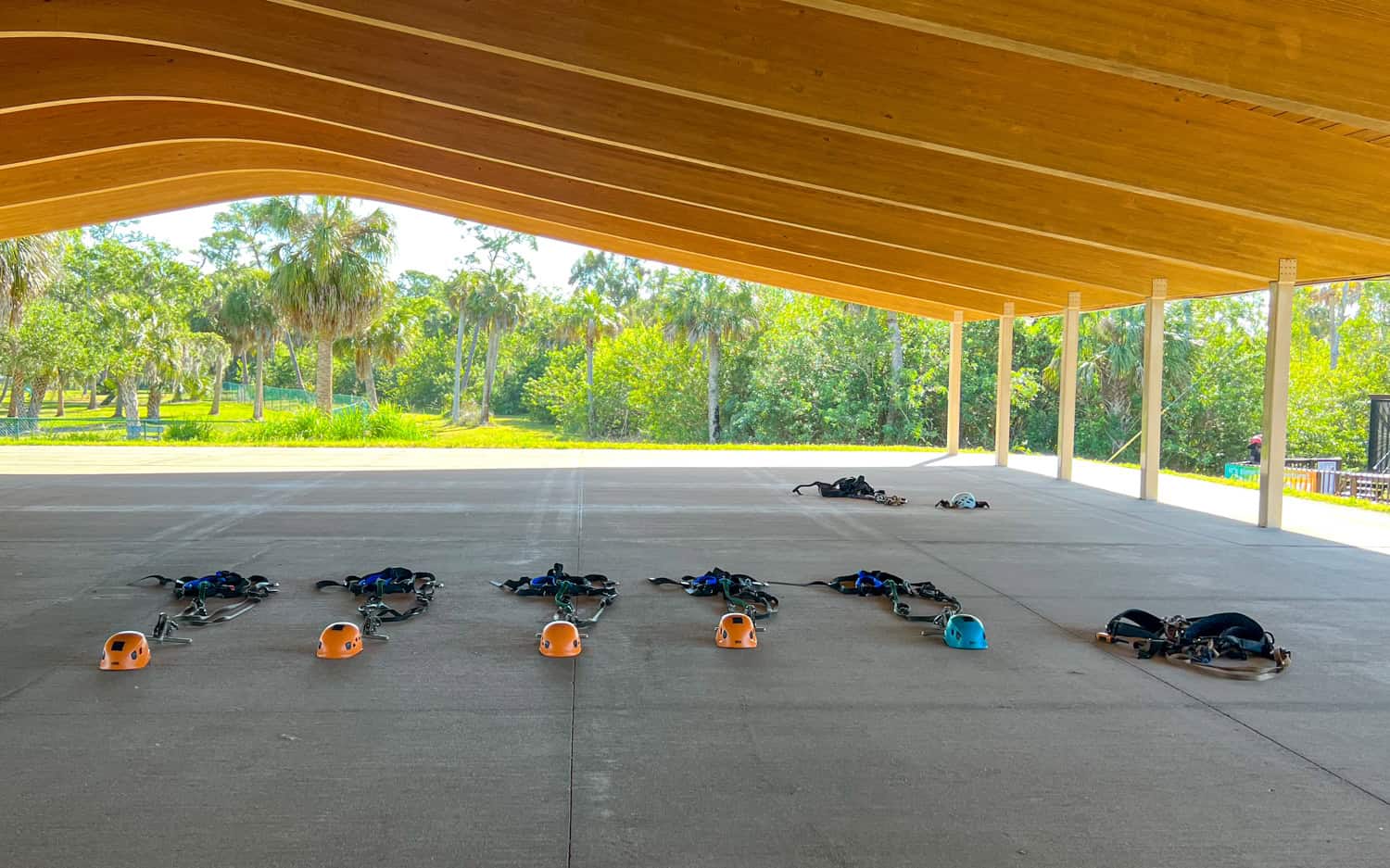 Empower Adventures was founded by Joe Dering, a U.S. military veteran, and two partners who strongly believe in building individual and team confidence through physical challenges.
It's a mission I wholeheartedly agree with as I've tried to face fears head-on, whether it's a tandem skydive in Virginia, a canyon swing in Queenstown, or scuba diving in Australia.
There's something primal about putting yourself in challenging situations and taking a leap of faith, knowing trained guides and high-quality safety equipment support you.
The Empower Adventures zipline course was built in the peaceful Mobbly Bayou Wilderness Preserve at the north end of Old Tampa Bay.
It's about 16 miles and a 30-minute drive northwest of downtown Tampa and about the same distance east of Clearwater Beach.
Zip Line Adventure: My Experience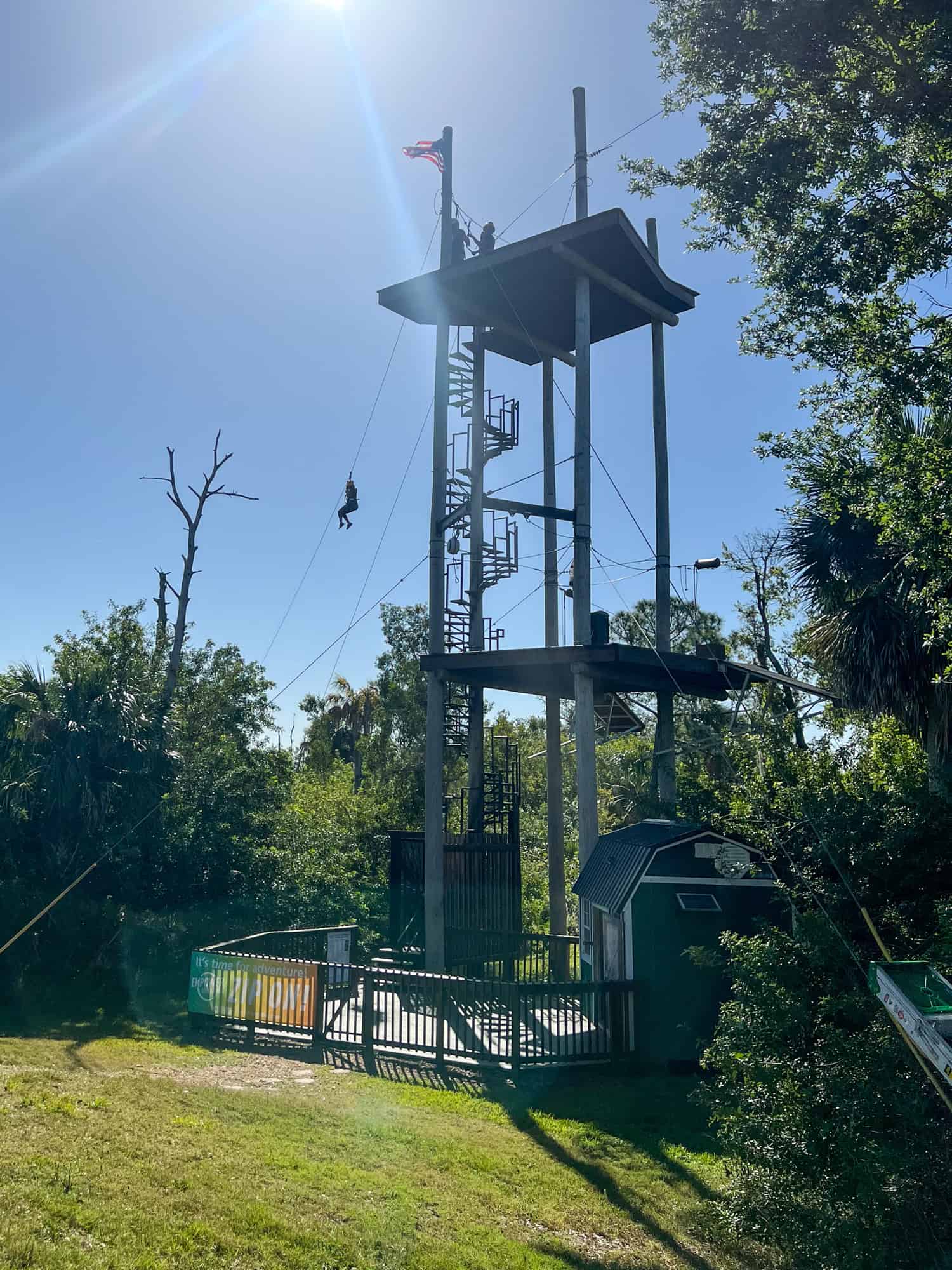 I arrived 30 minutes early for my 11 a.m. Zip Line Adventure and I watched the group before me zip off the 60-foot-high tower that marks both the beginning and end of the course.
The harnesses and helmets for my group were laid out neatly on the covered concrete patio where we would greet our instructors. First, I had to sign a waiver (standard operating procedure!).
At 11 a.m., our guides, Alex and Ethan, joined us and helped us put on the safety gear. Over by the starting tower, they also gave a brief overview of the adventure course and what we could expect.
The four other people on my tour included a young man who bought the adventure for his wife's birthday and a small girl (no more than 10 or 12 years old) with her mom.
First Two Ziplines
After the briefing, we were clipped into a safety wire and climbed up the 60-foot spiral staircase to the top of the wooden platform.
When Alex asked who wanted to go first, I noticed some hesitation from the others and so raised my hand. I knew I'd feel less anxiety if I went first versus waiting for the others to go before me.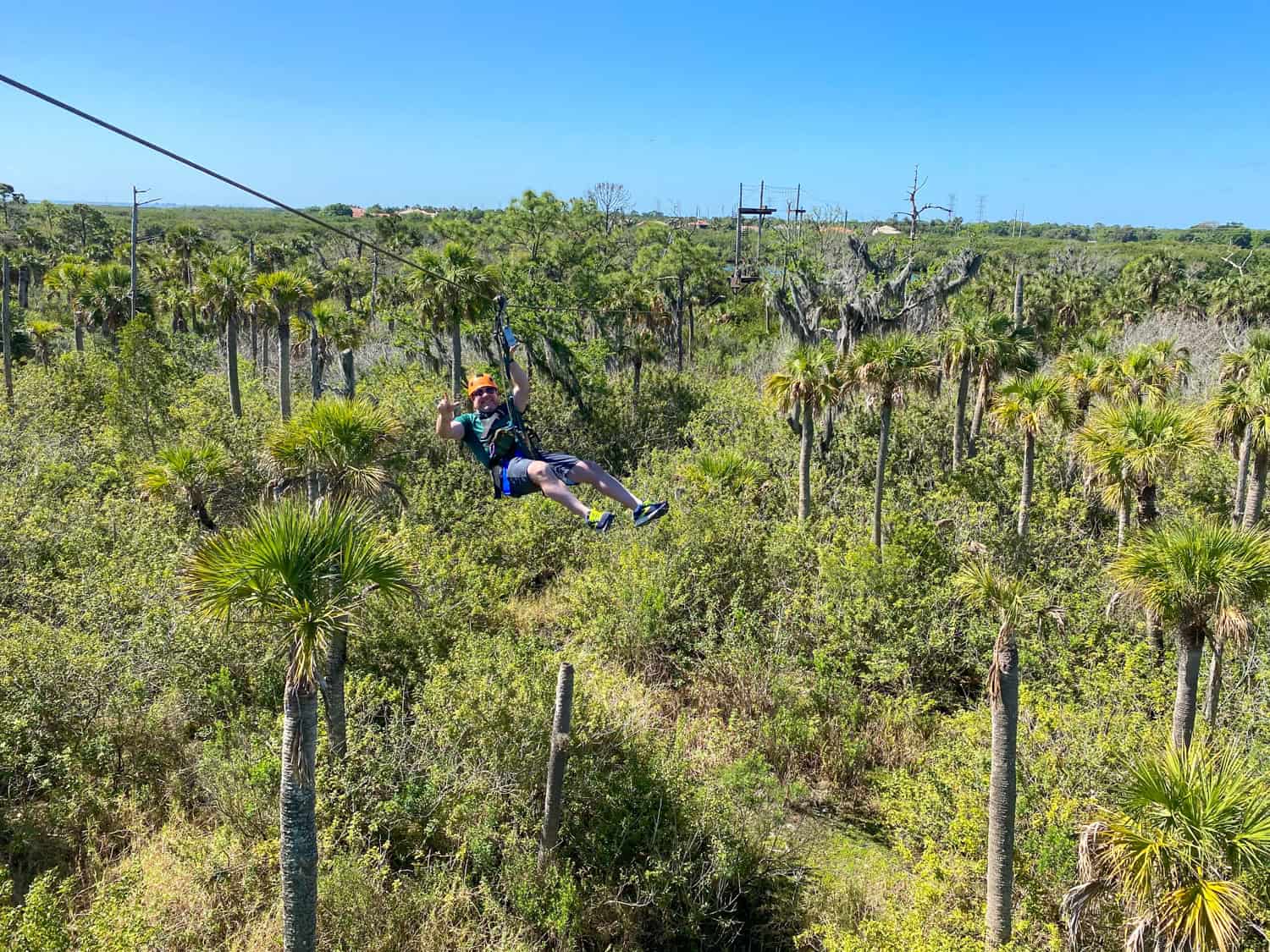 Alex then zipped over to the second platform to receive each of us as we took turns. Ethan attached my harness to the zipline, including a safety clip (used as a backup in case the primary connection fails).
Once he'd radioed Alex to confirm he was ready, I was given the green light to "zip on!" At that point, all I had to do was leap off the platform enthusiastically and zoom over the park.
The braking system at the other end gives you a bit of a jolt, but it's the easiest way for beginners to navigate the course. Our guides controlled their braking themselves and didn't need it.
Everyone in our group managed the first and shortest zipline without trouble. The second was easier, as we were gaining confidence. That was until we hit the obstacle course!
Obstacle Course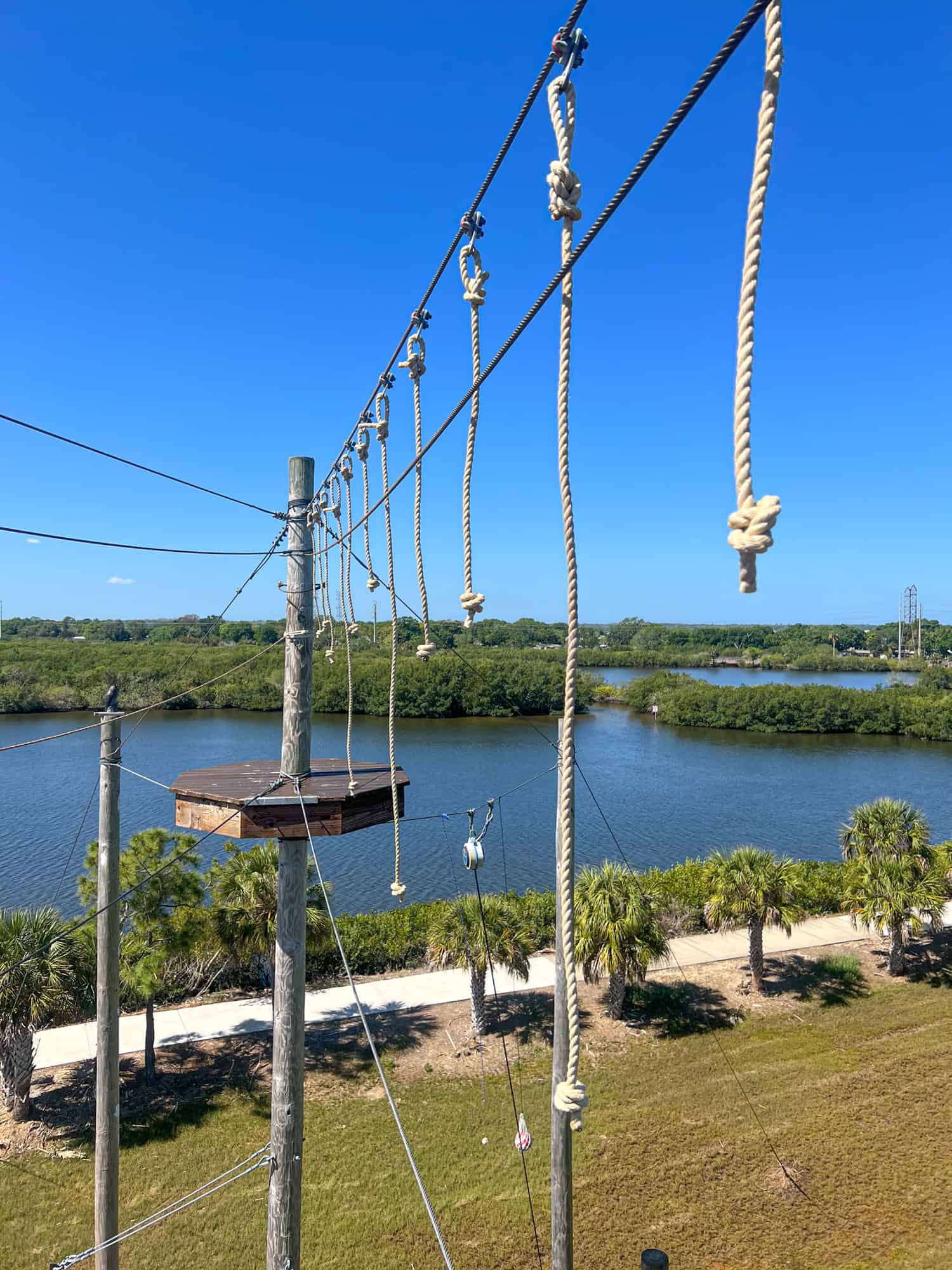 After the first few ziplines, you'll probably be feeling a sense of relief and exhilaration. You're ziplining! It's fun, more straightforward than you might've expected, and quite beautiful on a clear day like ours.
However, the course creators at Empower Adventures Tampa Bay don't want you resting on your laurels. And so they built an obstacle course in the air.
There are four challenges to conquer before you can resume ziplining:
Rope bridge
Swinging log
Hanging ropes
Cable traverse
The first two are lower to the ground to help build your confidence. The third and fourth are more challenging and twice as high.
Since I had volunteered to go first on the ziplines, I was also the first to do each obstacle, beginning with the rope bridge.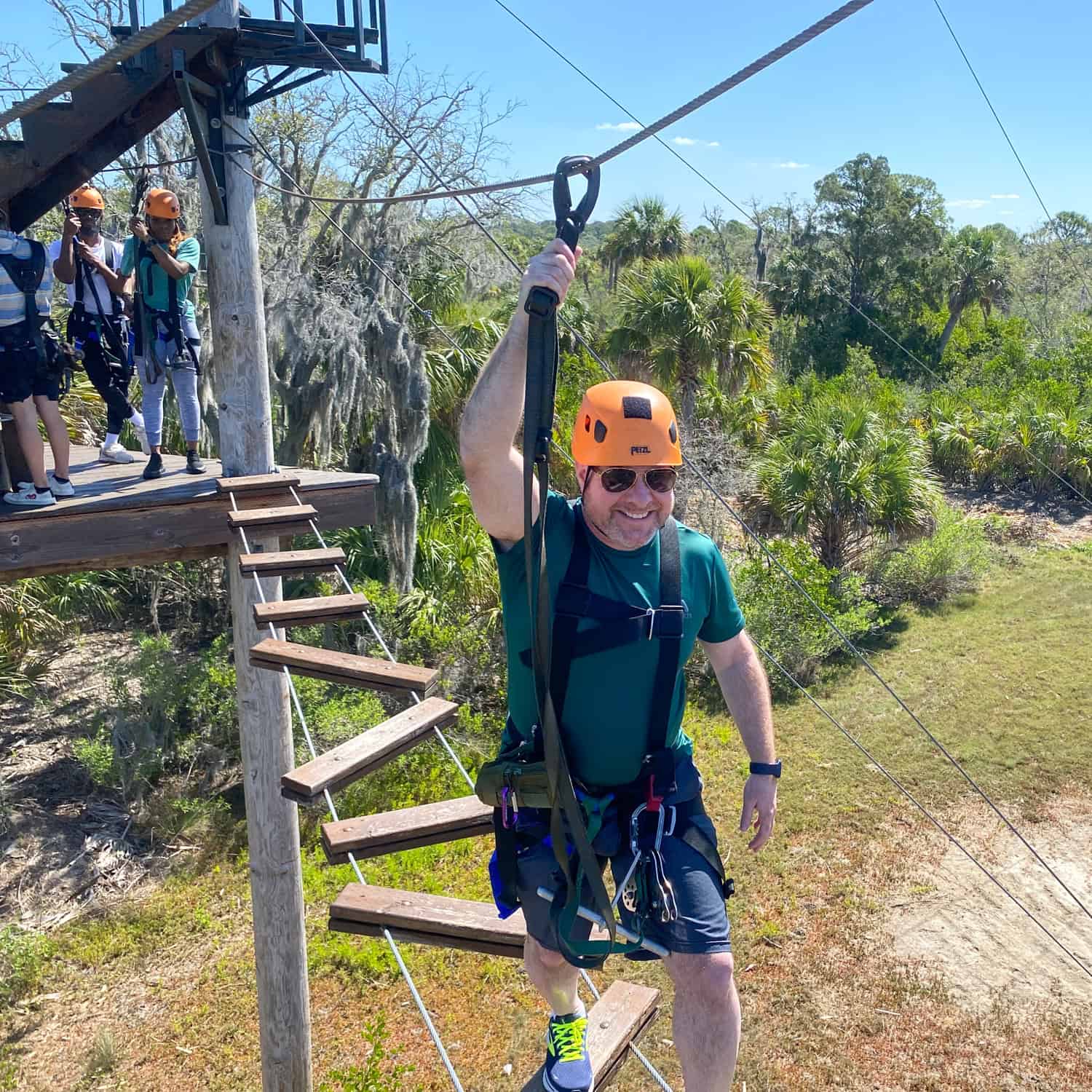 The guides clipped my harness to a wire, and I had to walk the uneven bridge, reminiscent of scenes from Indiana Jones movies. This was the easiest of the obstacles, and I made it across with a smile.
Next was the swinging log bridge, which swayed enough to keep me on guard the entire way across.
Related: Outdoor Activities in Tampa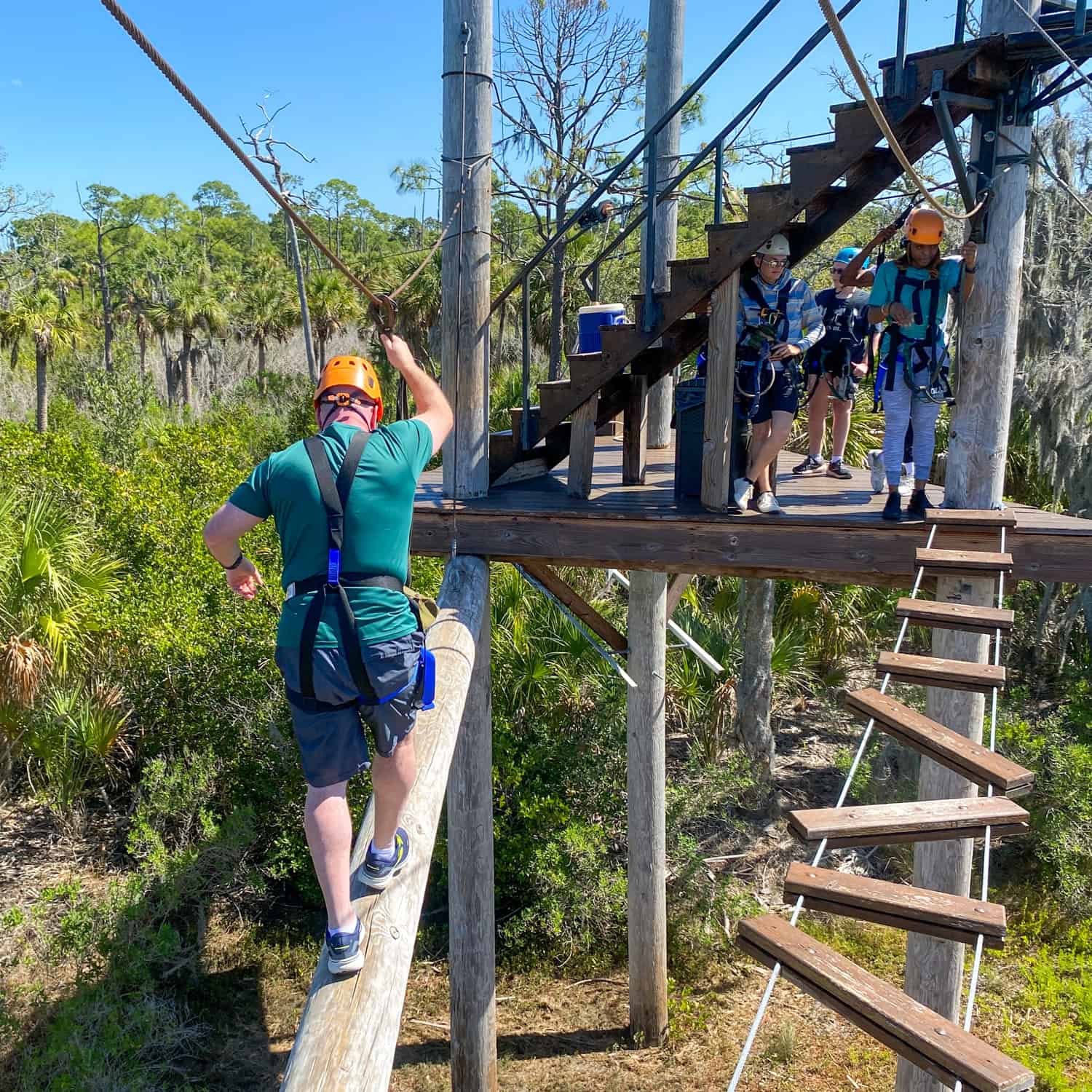 I was reminded of the "slick shoes" scene from The Goonies, one of my all-time favorite movies.
To their credit, the young couple and the mother-daughter duo made it through both obstacles without falling. The mom impressed me, as it was her daughter's idea to go ziplining.
The third obstacle was a Tarzan-like cable traverse about 50 feet off the ground. The ropes of varying lengths hung down from a wire.
I held them tightly as I gingerly walked across the steel cable below my feet.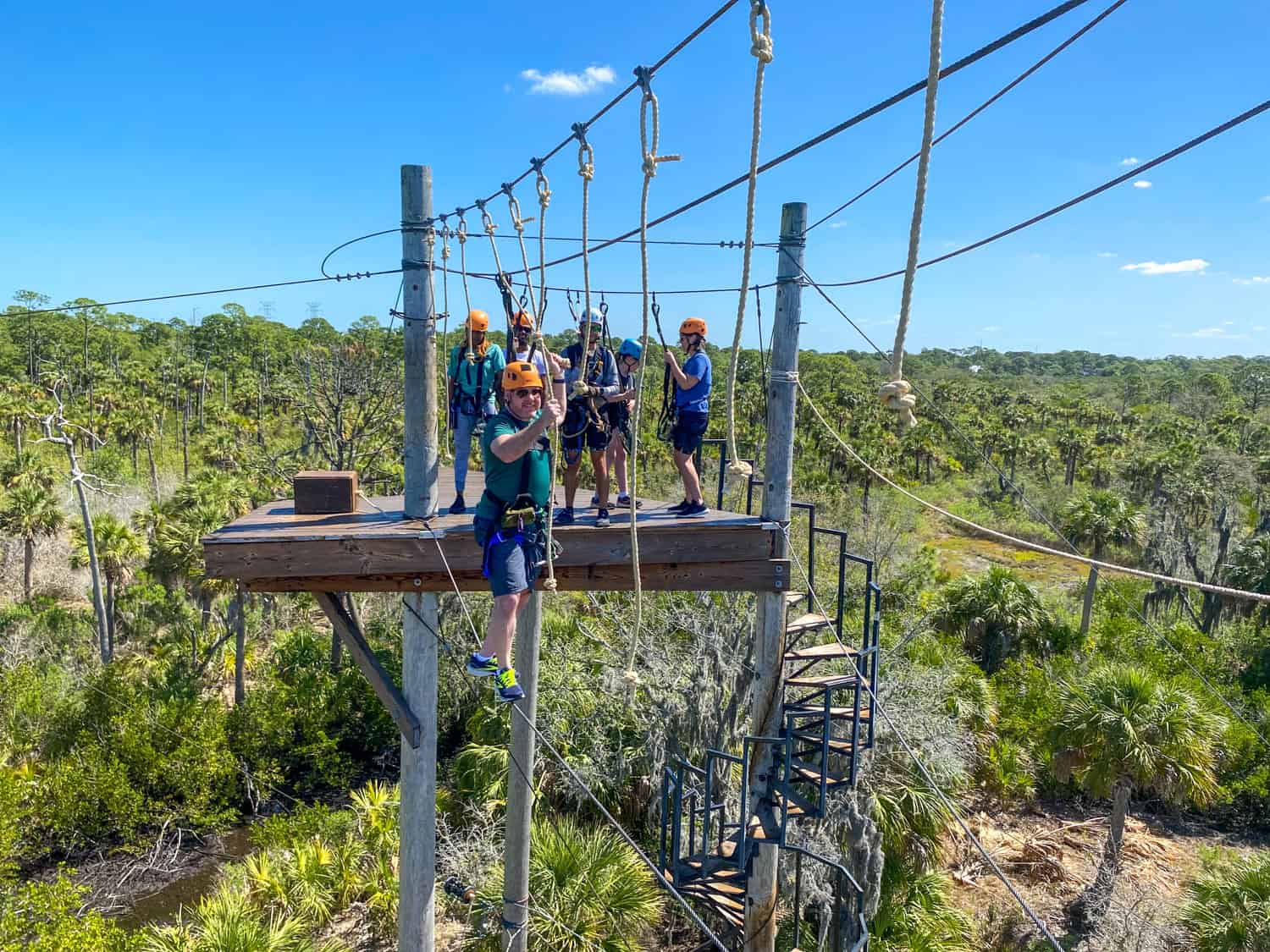 Once across, there was only one obstacle left until sweet freedom. This fourth and final challenge consisted of a steel cable we crossed and a rope we had to lean against to do so.
Unless you're a professional tightrope walker, you won't get more than five steps across without the rope. Surprisingly, this was easier than it looked, though it still required my full attention.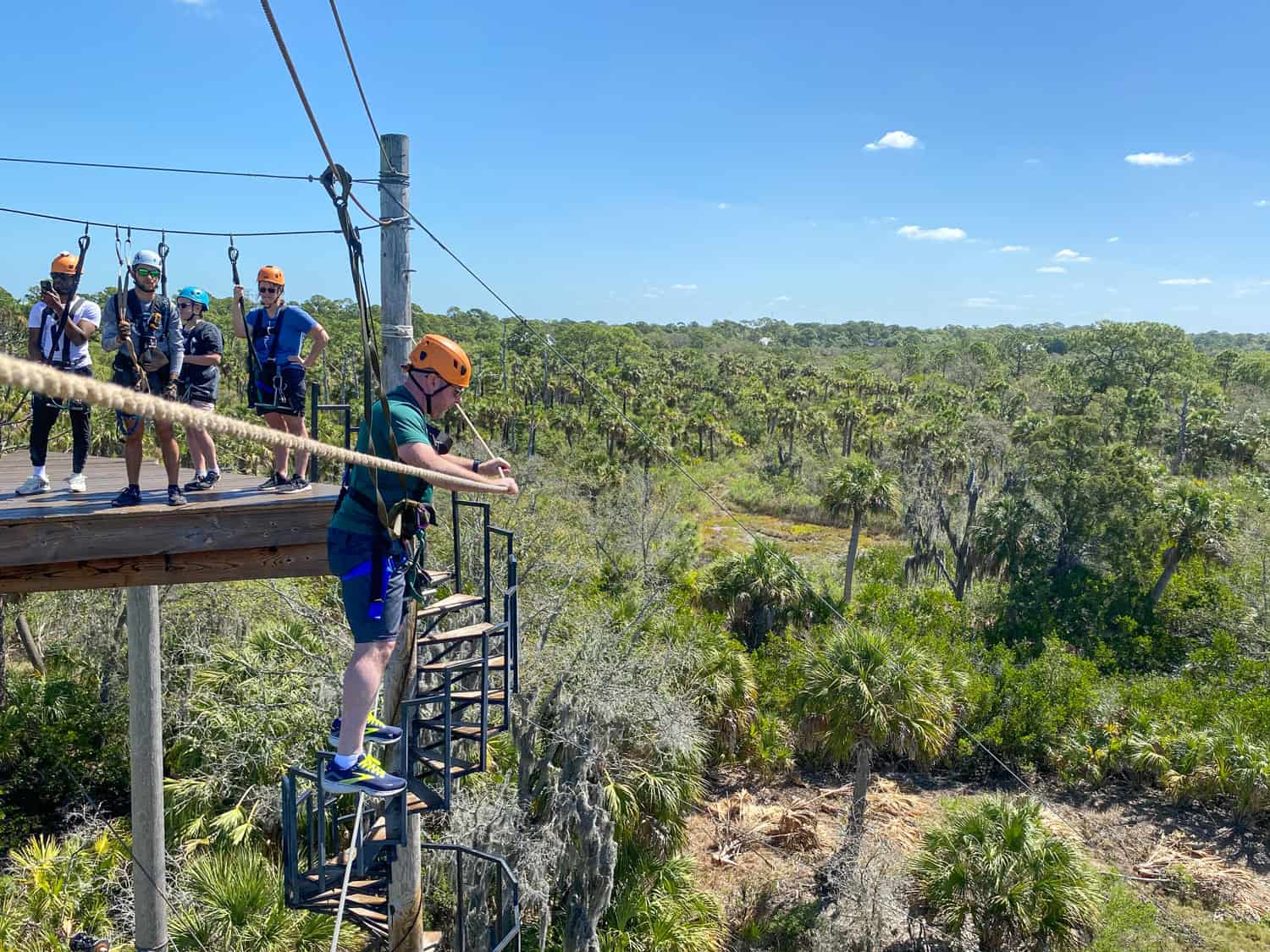 Ziplining to the Bridge
Upon completing the Empower Adventures Tampa Bay obstacle course, I felt like the most challenging part of the tour was over.
Our third zipline took us 600 feet across the water to Flight of the Osprey, a 200-foot suspension bridge.
Due to the length, we went faster on this one than the previous zips, which was fine by me. I was having a great time by this point.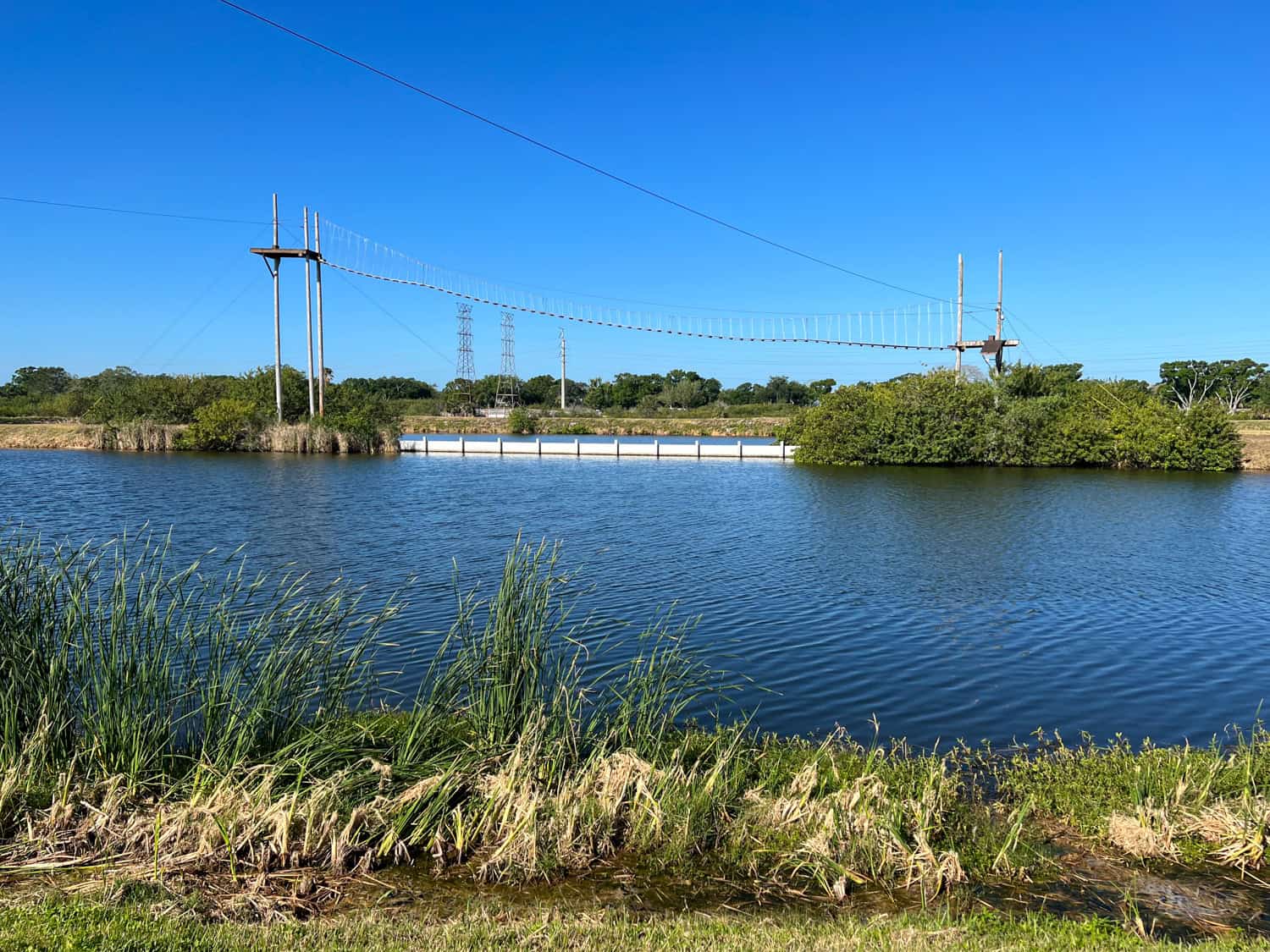 Once we'd all made it to the bridge, Ethan gave a short talk about the local wildlife, which included:
Ospreys – seafood-loving raptors found throughout the world.
Water moccasins, Florida's only venomous snake.
American alligators which can grow up to 14 feet long and weigh 1,000 pounds.
White-tailed deer
Wild turkey
He mentioned an alligator that's been seen under the bridge, and I'm still not sure whether he was serious!
One by one, we were clipped into the safety wire that ran the length of the suspension bridge, and we walked up it.
The incline may look gentle in the photo below, but add in the wobbliness of the bridge, and it was giving my legs a mini-workout.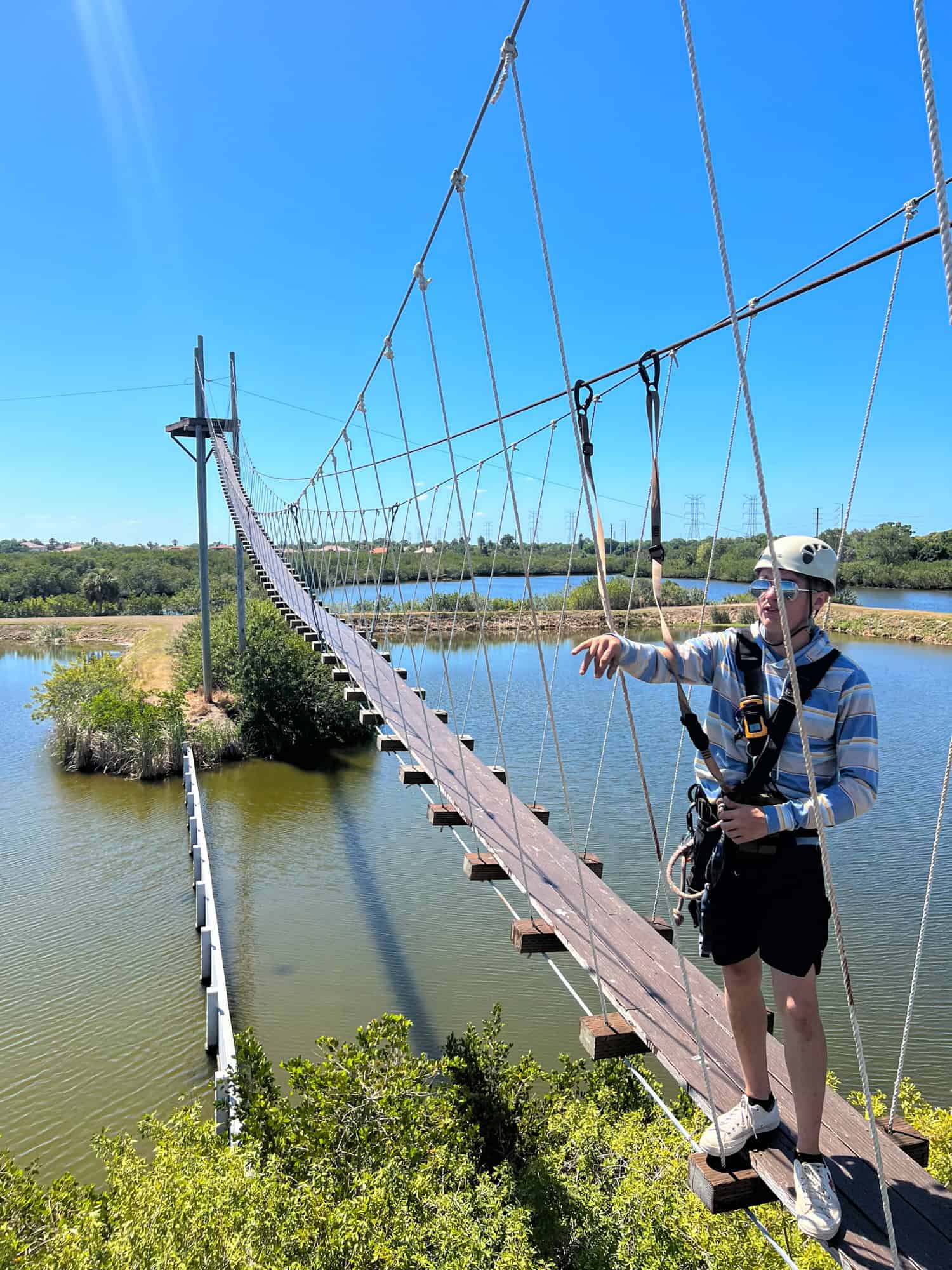 At the other end, one by one, we were clipped into our last zipline of the two-hour tour by Empower Adventures Tampa Bay.
This final zipline was the longest at 650 feet and delivered us back to the 60-foot high platform where we began.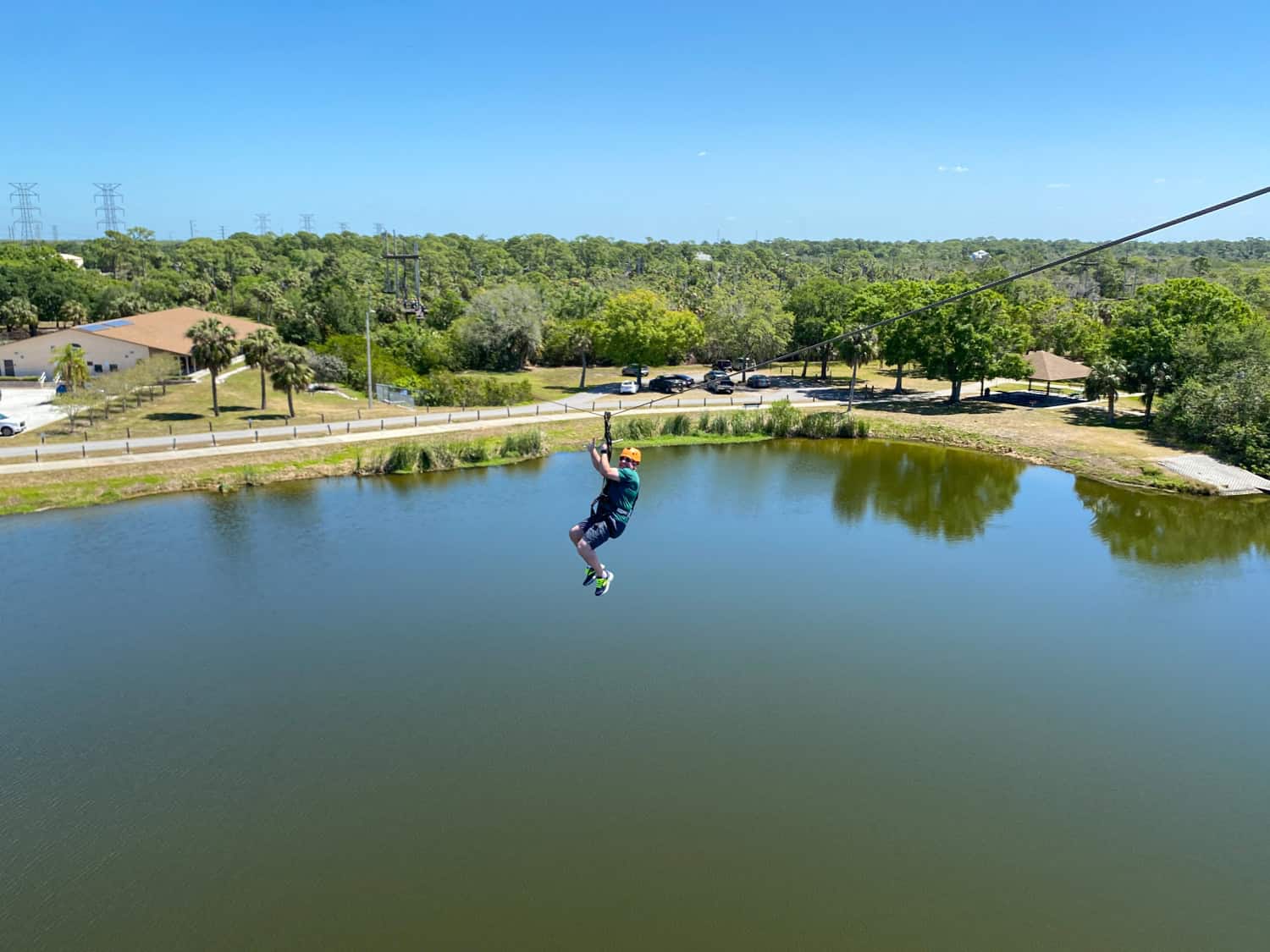 One last fear to overcome before you complete the tour: jumping off the platform in a fun rappel. It's a genuine little leap of faith, but nothing you won't be able to handle by that point.
After all, you've come a long way, ziplining through a park, navigating an obstacle course, and avoiding hungry alligators below a rope bridge!
Plan Your Visit
Empower Adventures Tampa Bay
423 Lafayette Blvd.
Oldsmar, FL 34677, United States
zipontampabay.com
Ziplining is a great activity for adventure seekers of all ages, from kids to adults, and older people, too!
In talking to Alex, he mentioned Spring Break every March is a popular period for them, as groups of friends in high school and college sign up for zipline tours together.
Below are the tours available, with the price per adult:
Zip Line Adventure (my tour) – $84
Sunset Zip Line Adventure – $79
Moonlight Zip Tour – $89
Leap of Faith – $20
Stand-Up Paddleboarding (including lesson) – $79
The Leap of Faith add-on involves climbing up a pole, standing on top, and then jumping off to hit one of two objects suspended by ropes in the air.
You are in a safety harness, which arrests your fall, but it still sounds intense. The woman whose birthday it was on my tour went to do this at her husband's urging after our experience ended.
The guides take photos during the experiences, so you can also preview and purchase any you like afterward. Camera rental and digital video footage are also available for $30.
_____
I received a complimentary zip line tour at Empower Adventures during a press trip organized by Visit Tampa Bay. The Empower Adventures Tampa Bay staff took all the photos of Dave used here.
Dave is the Founder and Editor in Chief of Go Backpacking and Feastio. He's been to 66 countries and lived in Colombia and Peru. Read the full story of how he became a travel blogger.
Planning a trip? Go Backpacking recommends: