One of the best ways to see and experience downtown Tampa is to explore the Riverwalk, a 2.6-mile waterfront pedestrian walkway.
The Tampa Riverwalk extends west along the waterfront from The Florida Aquarium near the port and cruise terminals and north up the Hillsborough River to Armature Works, a food hall and event space.
Along the way, there are more than a dozen points of interest to complement the pretty views.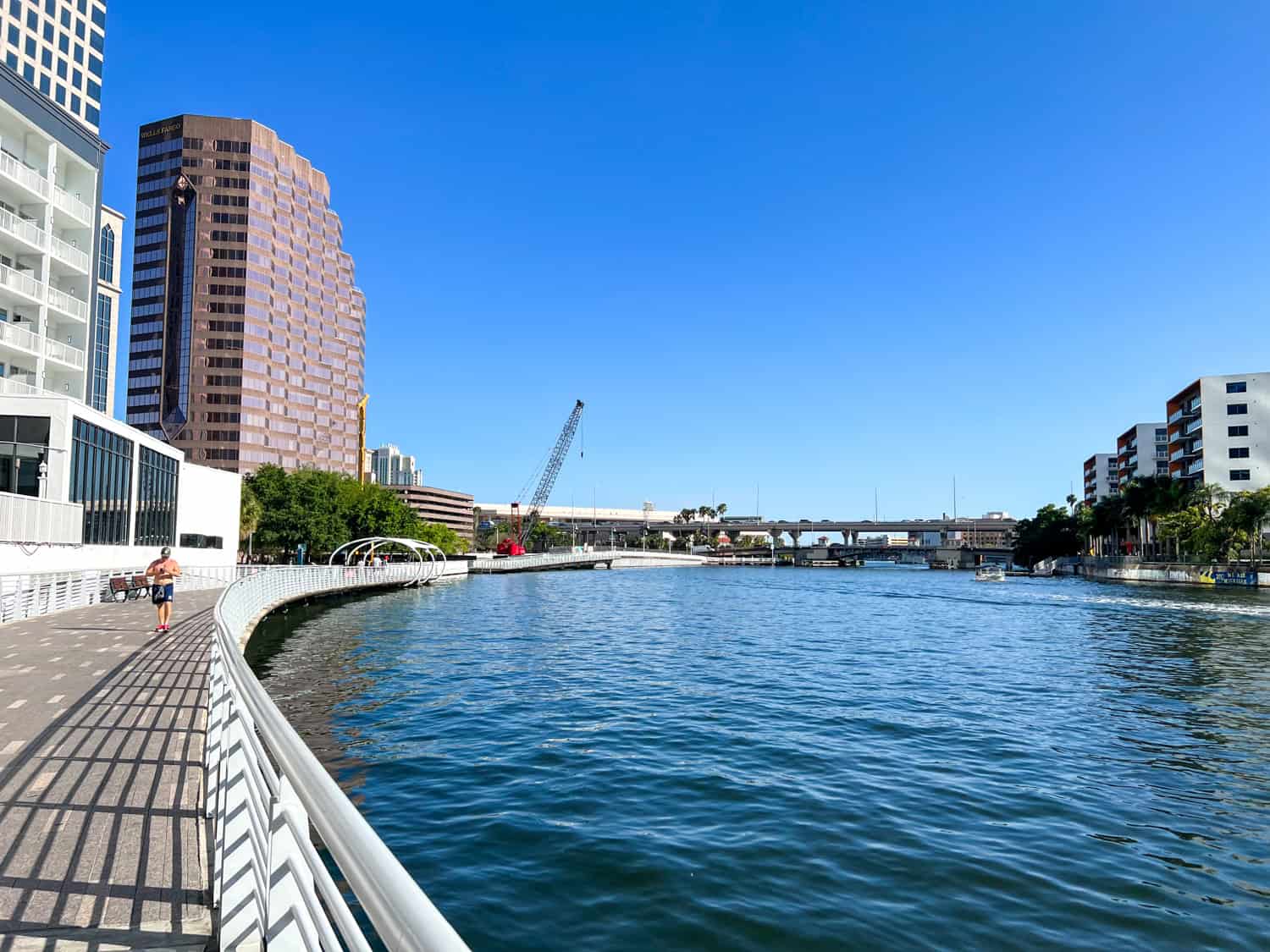 Whether you walk, bicycle, or hop on/off the Pirate Water Taxi, leave yourself plenty of time to see what the city of Tampa offers.
Visiting every museum along the waterfront trail would require at least a full day. If you pick and choose, as I did, then a half-day should suffice.
The Tampa Riverwalk Attraction Pass can help you save up to 50% on museums and water taxis. It's available as a 1-day or 3-day pass.
[Disclosure: I received one at no cost as part of my collaboration with Visit Tampa Bay.]
Attractions on Tampa's Riverwalk
The following attractions and outdoor activities are listed in the order I experienced them on the trail.
1. The Florida Aquarium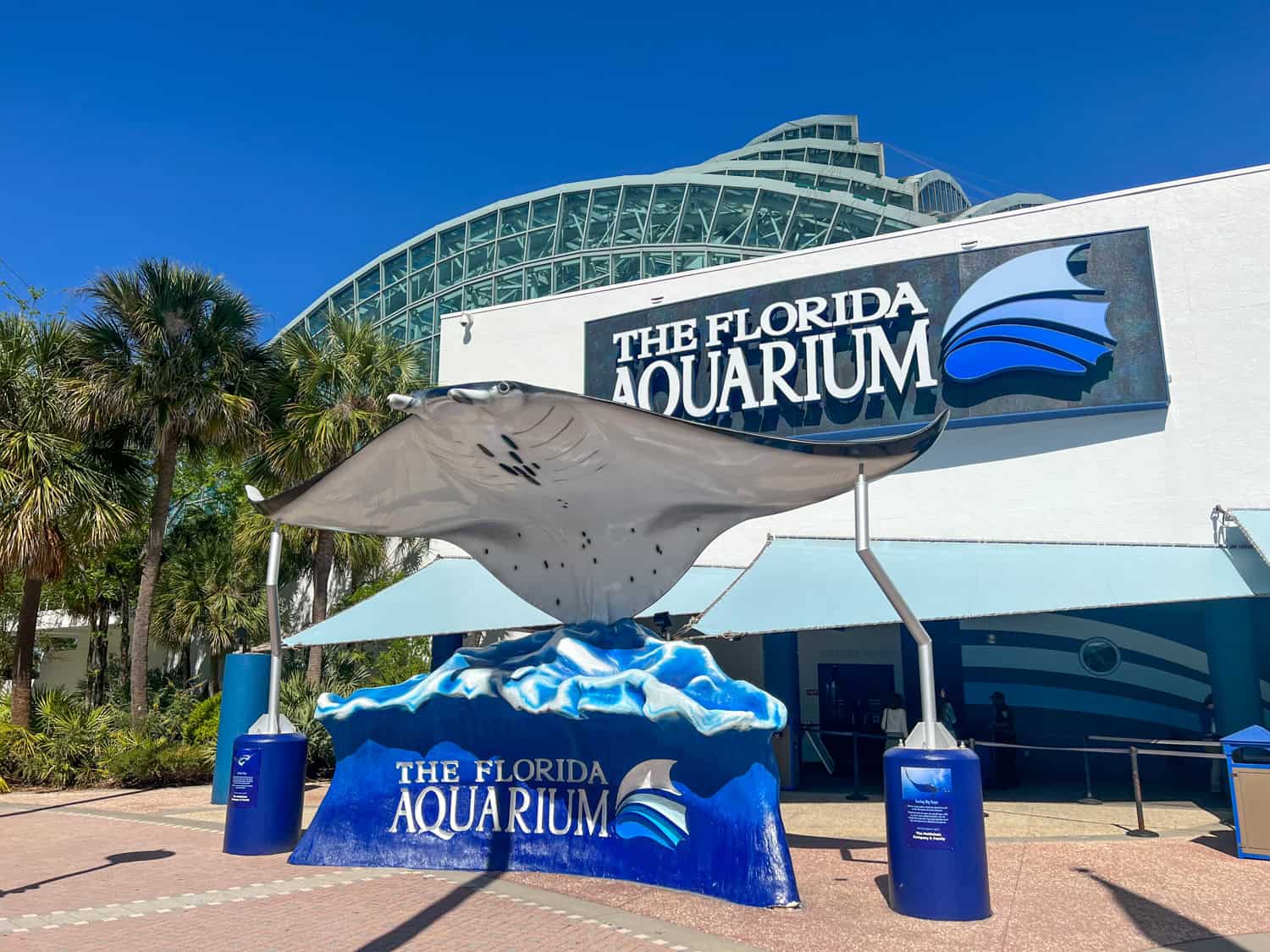 The Florida Aquarium in Tampa is a leading non-profit organization that aims to conserve and protect marine life and habitats through its educational and research programs.
The aquarium features diverse exhibits showcasing over 14,000 aquatic animals, from playful otters and colorful corals to sea turtles and sharks. I was surprised to find they have adorable ring-tailed lemurs, too!
Visitors can enjoy interactive experiences such as touching stingrays, snorkeling with fish, and diving with sharks. The aquarium also offers outdoor activities, including eco-tours.
With its commitment to sustainability and conservation, The Florida Aquarium is an excellent destination for those looking to learn more about marine life and the importance of protecting our oceans.
2. American Victory Ship & Museum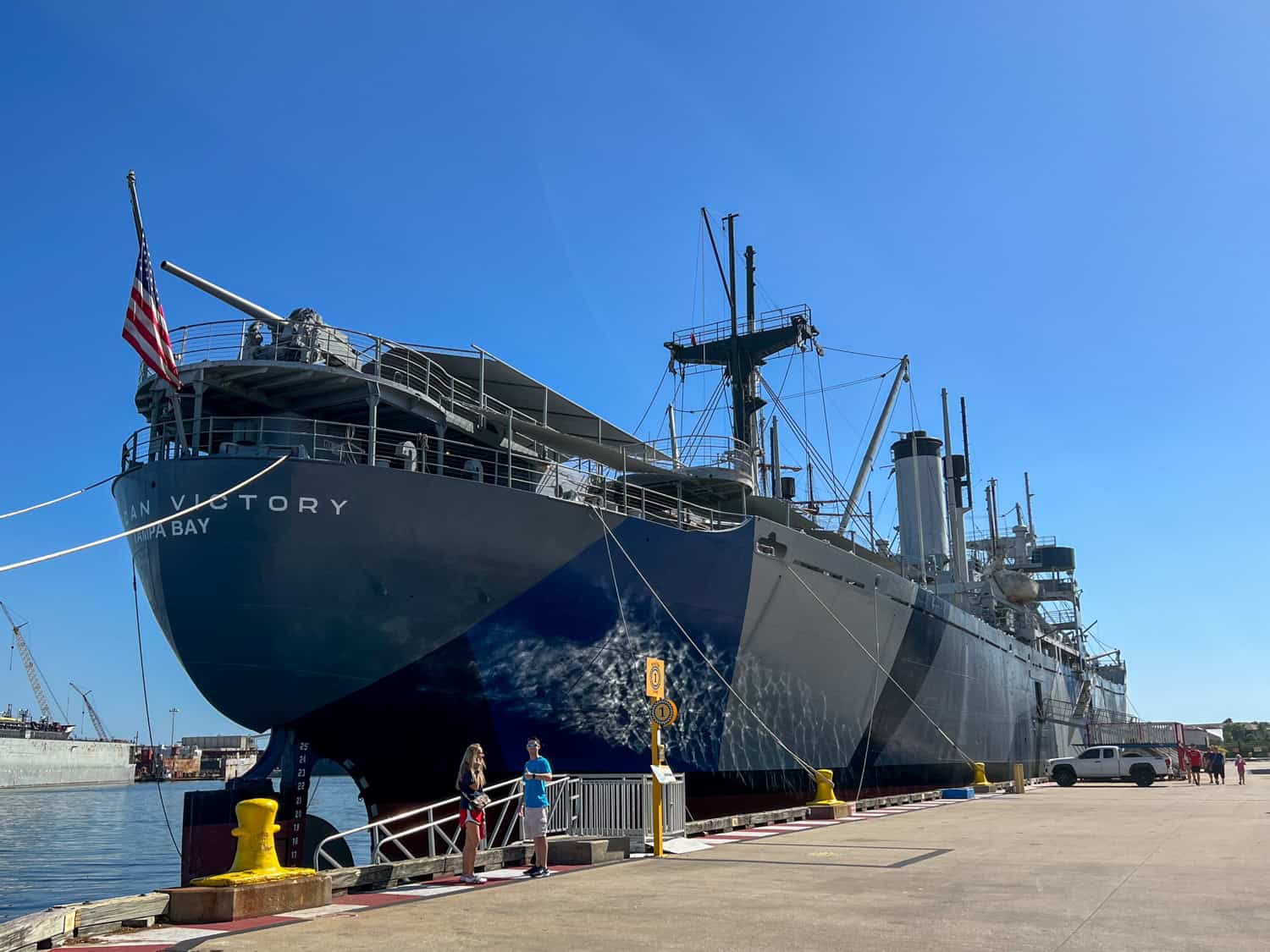 Exiting the aquarium, I turned to the right and walked behind it to visit The American Victory Ship & Museum, a national historic landmark.
The American Victory Ship is a floating museum that honors the legacy of the United States Merchant Marine and its contributions to the country's wartime efforts.
The museum is housed in the SS American Victory, a fully operational World War II-era cargo ship that served in the Pacific theater.
Visitors can explore the ship's various decks and compartments, including the engine room, bridge, and cargo holds.
The museum also features exhibits showcasing the Merchant Marine's role in World War II, as well as the history of the ship and its crew.
While I didn't find this historic ship quite as exciting as other naval museums like the USS Midway aircraft carrier (San Diego) and the USS Missouri battleship (Pearl Harbor), I enjoyed the unique vantage points from the top deck.
3. Sparkman Wharf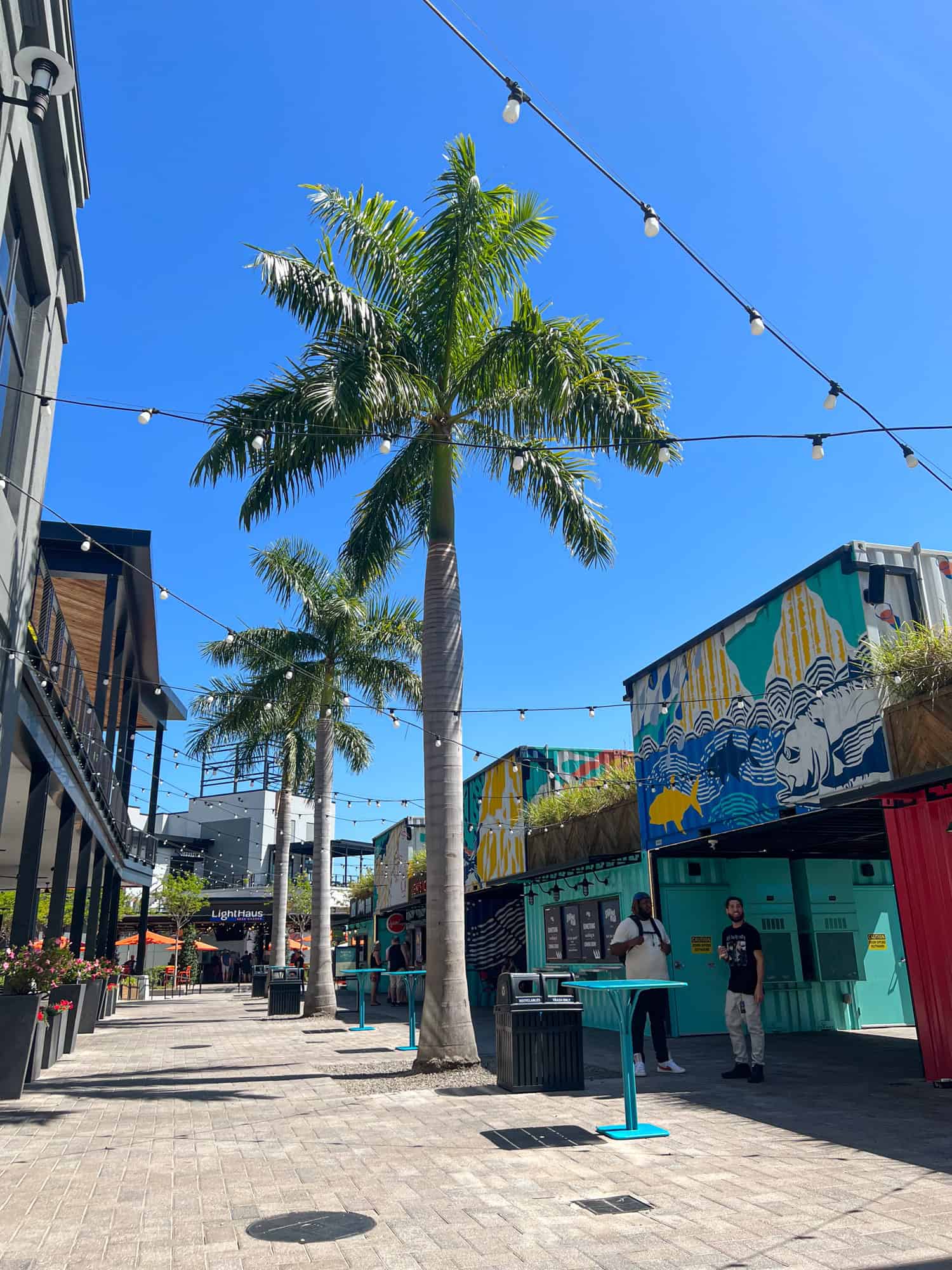 After viewing the ship, I walked a block west on Channelside Drive to grab lunch at Sparkman Wharf, an outdoor food and event space on the waterfront.
Here at one of the best places to eat in Tampa, vendors sell Asian, Mexican, and American foods from colorfully painted and repurposed shipping containers.
LightHaus anchors the development at the far end and looks over a spacious beer garden with picnic tables and umbrellas.
Restaurants with indoor seating are also available and include:
JOTORO Kitchen & Tequila Bar (Mexican)
Splitsville Southern + Social (American food and a bowling alley)
Battery (bourbon bar, steaks, and seafood)
If tequila and bourbon aren't your speed, check out Shortwave Coffee, a craft coffee shop and roaster with creative specialty lattes like cardamom, strawberry basil, and vanilla sage.
4. Tampa Bay History Center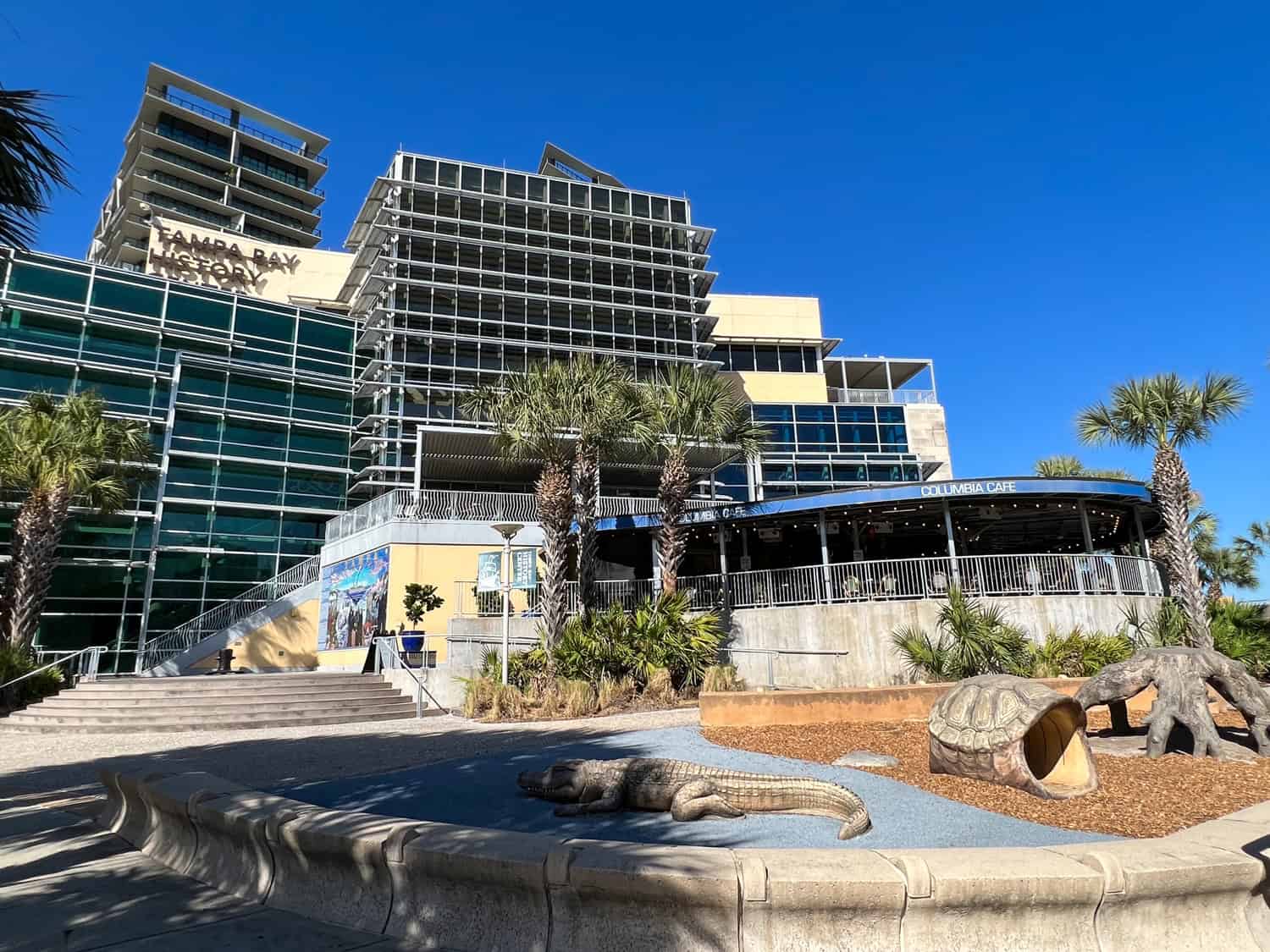 Once you've grabbed a drink or bite to eat at Sparkman Wharf, walk a block west along the Tampa Riverwalk to reach the Tampa Bay History Center (TBHC).
The Tampa Bay History Center showcases the rich history and culture of the Tampa Bay area.
The museum features interactive exhibits, artifacts, and multimedia displays that take visitors through the region's past, from the earliest native inhabitants to the modern era.
Highlights include a replica of a 1920s cigar store, a 60-foot timeline of Tampa Bay history, and a hands-on children's exhibit.
Columbia Cafe at the TBHC, an extension of Columbia Restaurant in nearby Ybor City, Florida's oldest continuously operating restaurant, offers waterfront dining on a covered patio.
5. Cotanchobee Fort Brooke Park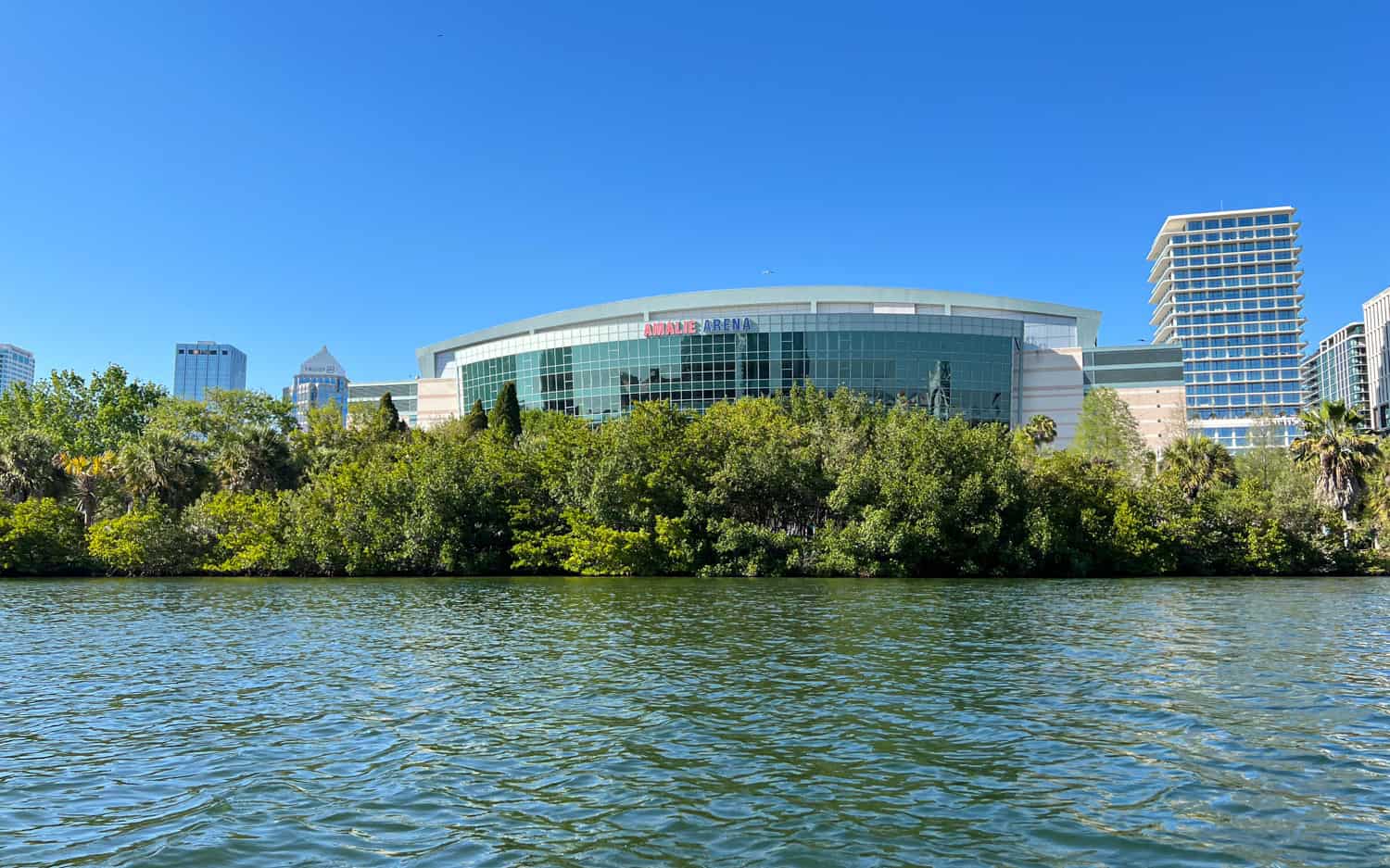 The history museum is adjacent to the 4.5-acre Cotanchobee Fort Brooke Park, which runs about one block along the Garrison Channel waterfront.
Towering over the park to the north is Amalie Arena, home of the three-time Stanely-Cup Champion Tampa Bay Lightning ice hockey team (2004, 2021, 2022).
The arena also hosts concerts by A-List performers such as Taylor Swift, Madonna, and Blink-182.
The park's west end is bordered by Tampa Marriott Water Street, the city's largest hotel.
The hotel's Anchor & Brine restaurant has a lovely outdoor bar and patio that overlooks the Tampa Riverwalk and water if you're looking for a frosty beverage or a casual bite to eat.
6. Tampa Convention Center Marina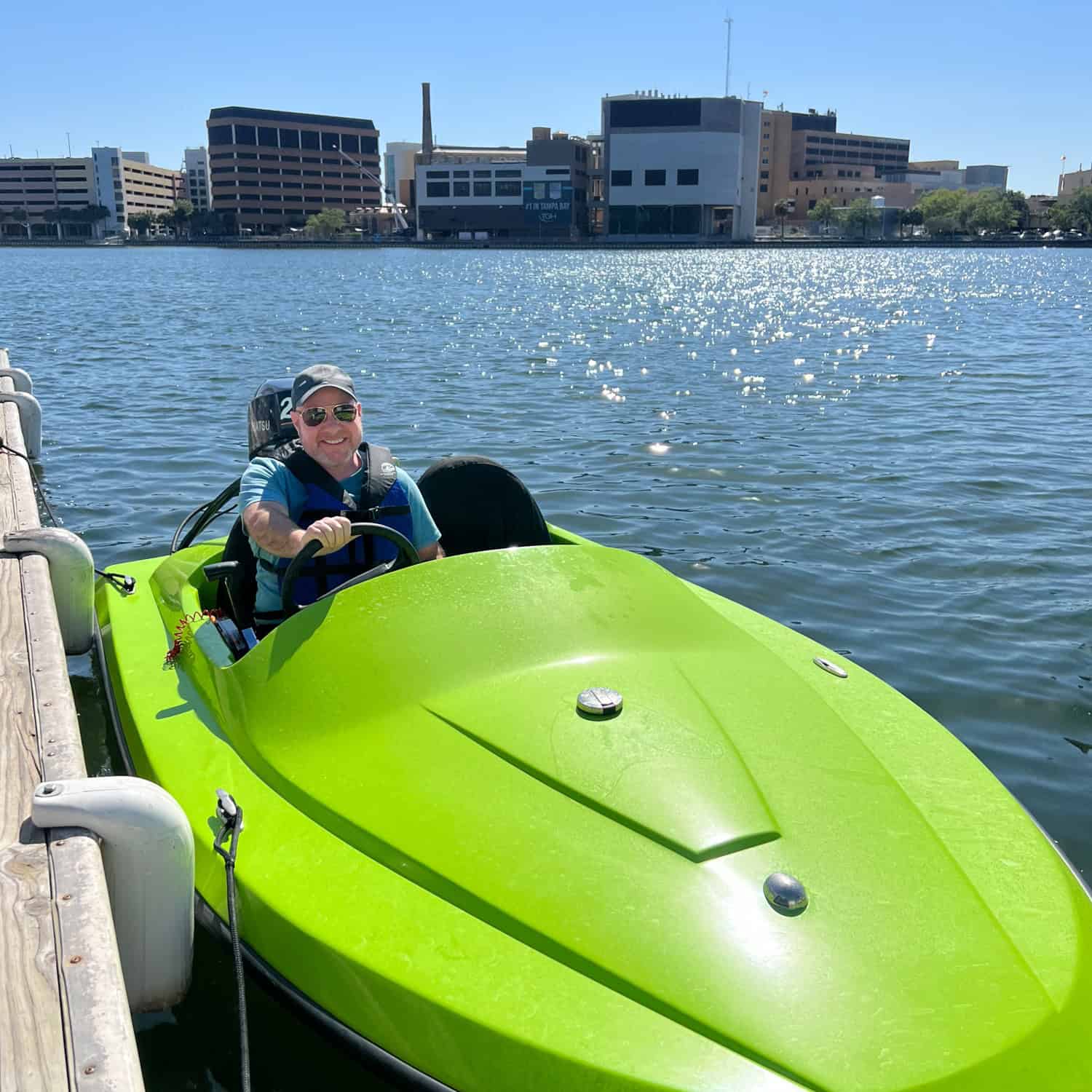 Further west, after the bridge to Harbour Island, is the Tampa Convention Center Marina.
Rent a mini-motorboat from Riverwalk Boating Company, and cruise around Davis Island in Hillsborough Bay, or go north up the Hillsborough River; no experience is necessary.
The marina is also a stop for the Pirate Water Taxi, which you can pay for on your own or is included with the Riverwalk Attraction Pass.
Kayaks, stand-up paddleboards, and Kraken CycleBoats are also available for rent if you want to exercise on the water. Bike rentals are available here as well.
7. MacDill Park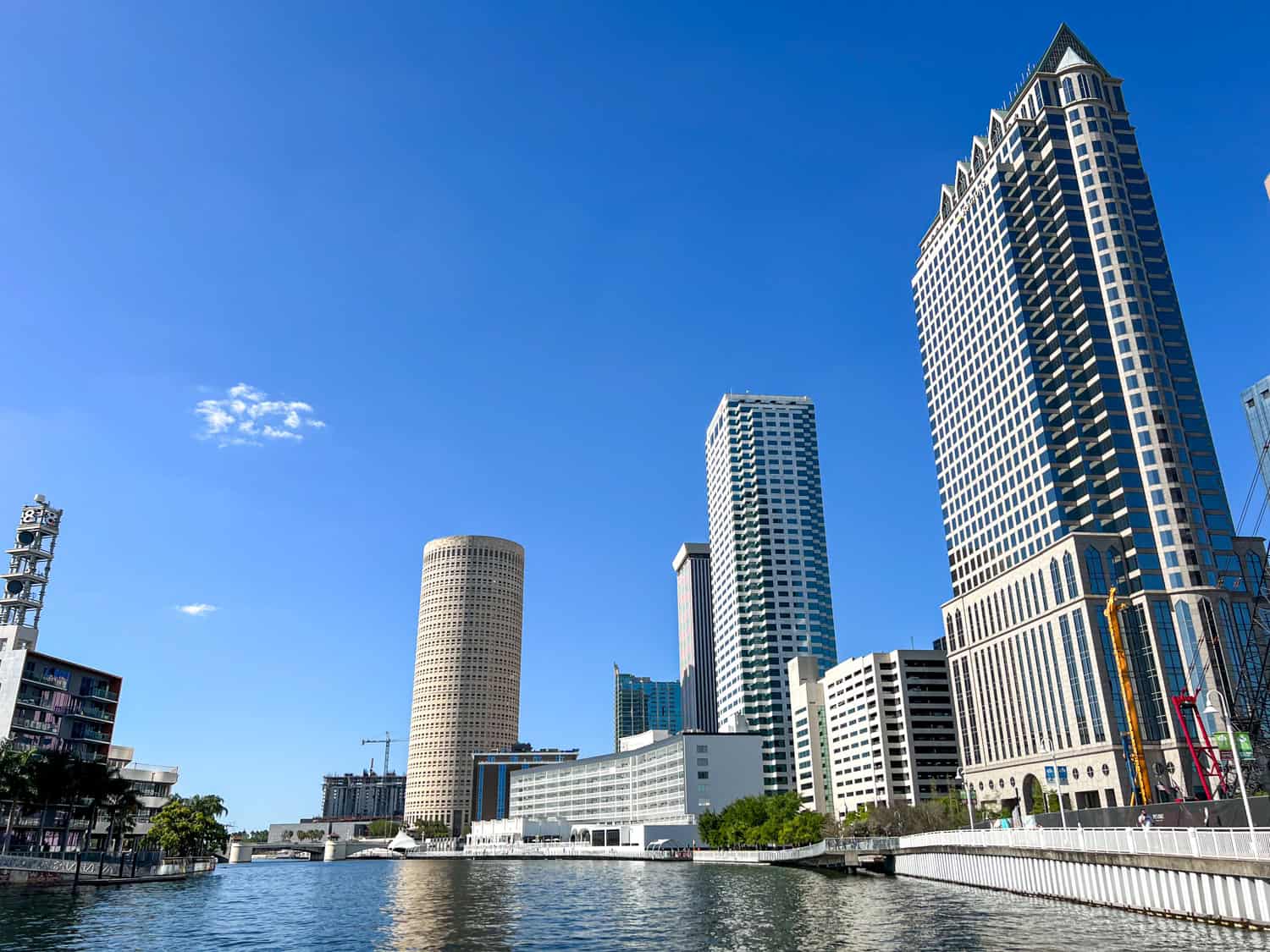 Continue on the Tampa Riverwalk past the immense convention center, and you'll start heading north along the banks of the Hillsborough River.
Several parks are connected by boardwalks along this stretch, including MacDill Park, a small memorial to MacDill Air Force Base's contributions to the community.
MacDill Air Force Base is an active military base in South Tampa and home to the United States Central Command (USCENTCOM).
8. Curtis Hixon Waterfront Park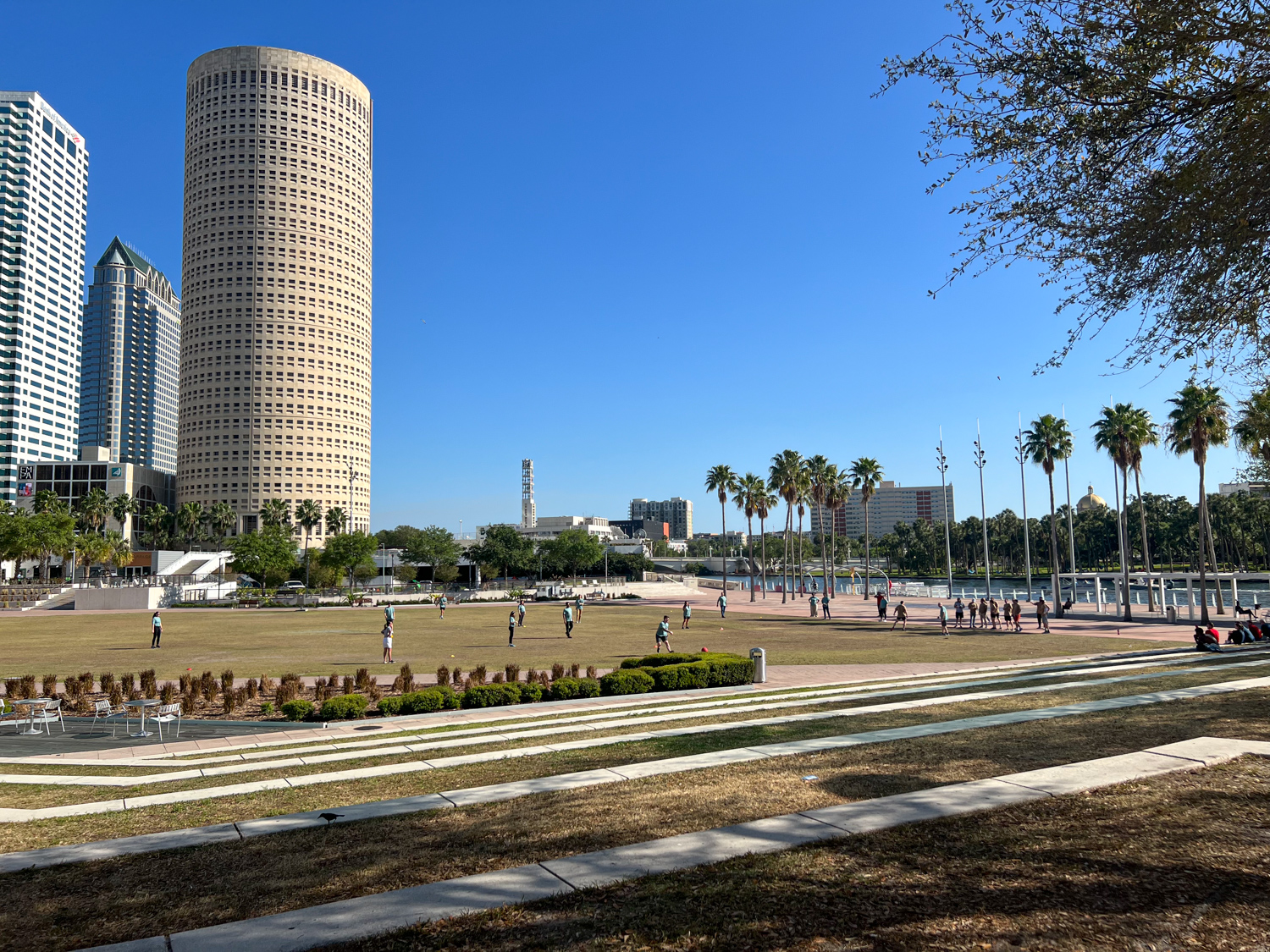 Continue walking north past the cylindrical Rivergate Tower to reach the Curtis Hixon Waterfront Park. An adult kickball game was in full swing when I came upon it on a Thursday afternoon.
Events held here bring more than one million people to the park annually. The Curtis Hixon Dog Park is a spot for pets to play.
On the west side of the Hillsborough River, you can glimpse the silver minarets of the Henry B. Plant Museum on the University of Tampa campus. The museum is in the former Tampa Bay Hotel, operated from 1891 to 1932.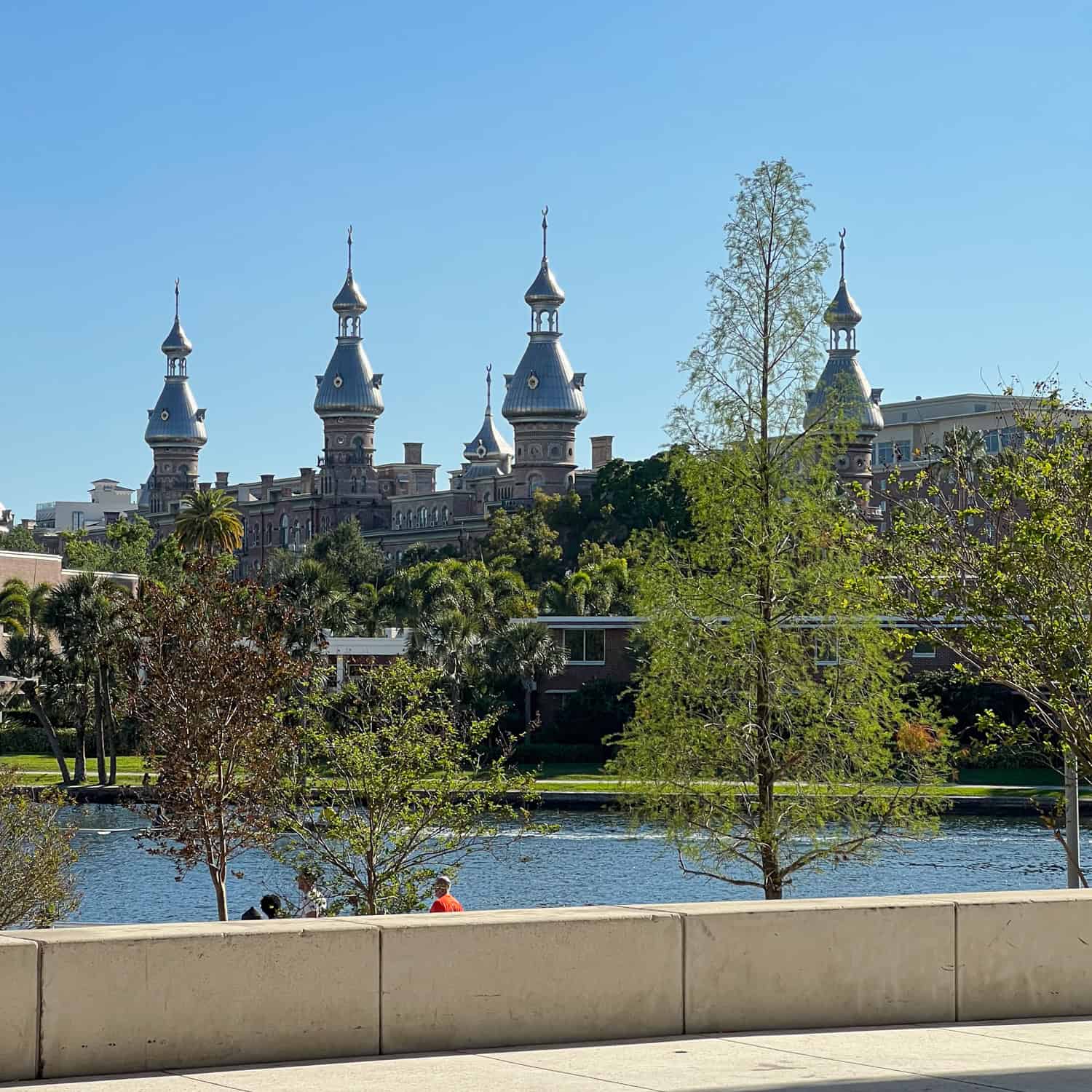 The Tampa Museum of Art and Glazer Children's Museum are along the north end of the park.
9. Tampa Museum of Art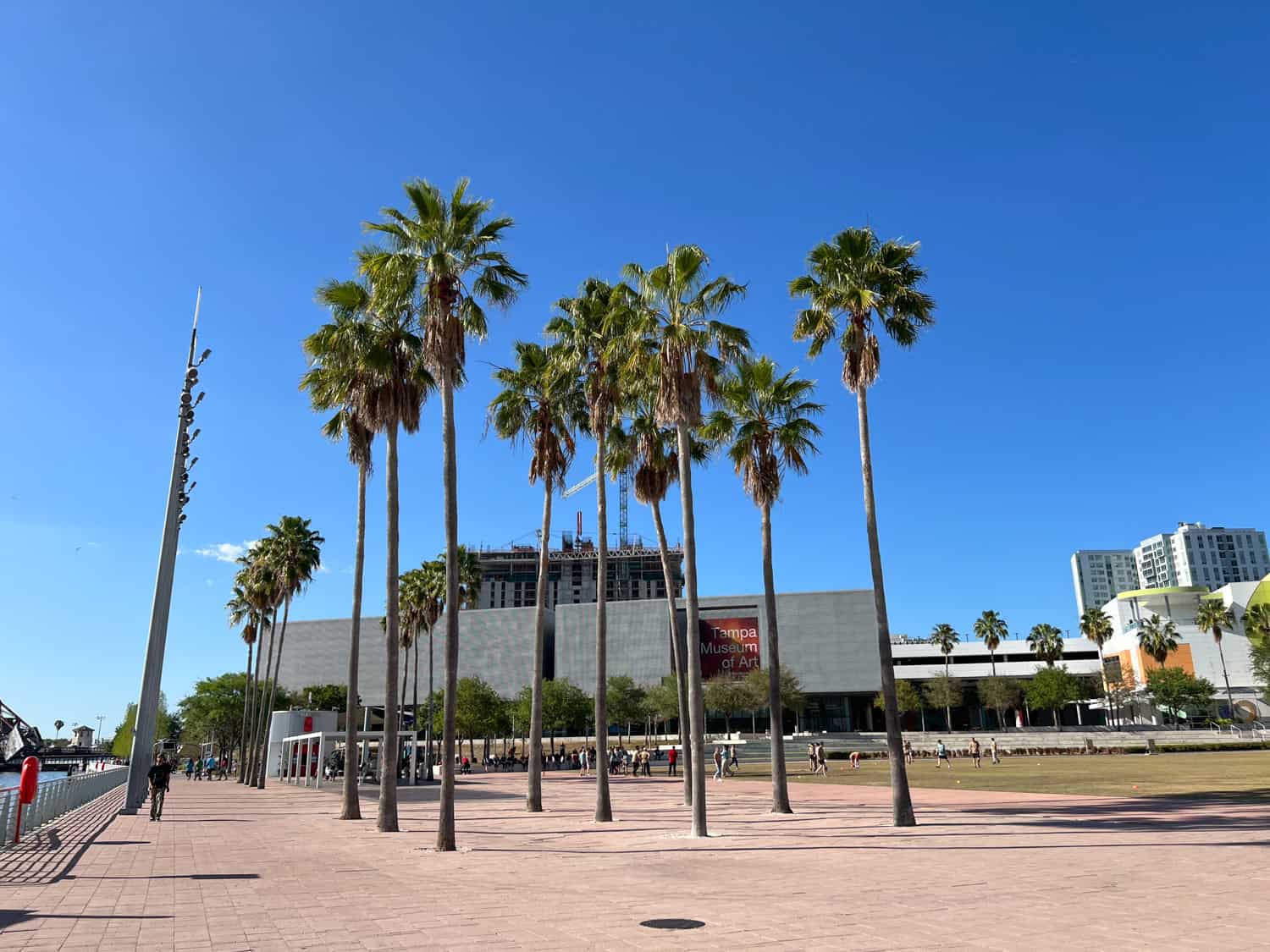 High on my Tampa Riverwalk to-do list was a visit to the Tampa Museum of Art. Founded in 1920, this impressive and recently renovated museum features contemporary art and Greek and Roman antiquities.
The building's form and aesthetics are fascinating. It was designed by California architect Stanley Saitowitz to appear as though a giant metal box is floating atop a glass base.
And according to the museum website, a "14,000 square-foot LED installation of Leo Villareal's Sky (Tampa) illuminating the south facade" turns the building itself into a work of art (though I wasn't there at night to see it).
Inside, I enjoyed the two floors of galleries, including works by fashion designer Naeem Khan, a neon piece by Hank Willis Thomas, and a sculpture by Cuban artist Esterio Seguro.
10. Glazer Children's Museum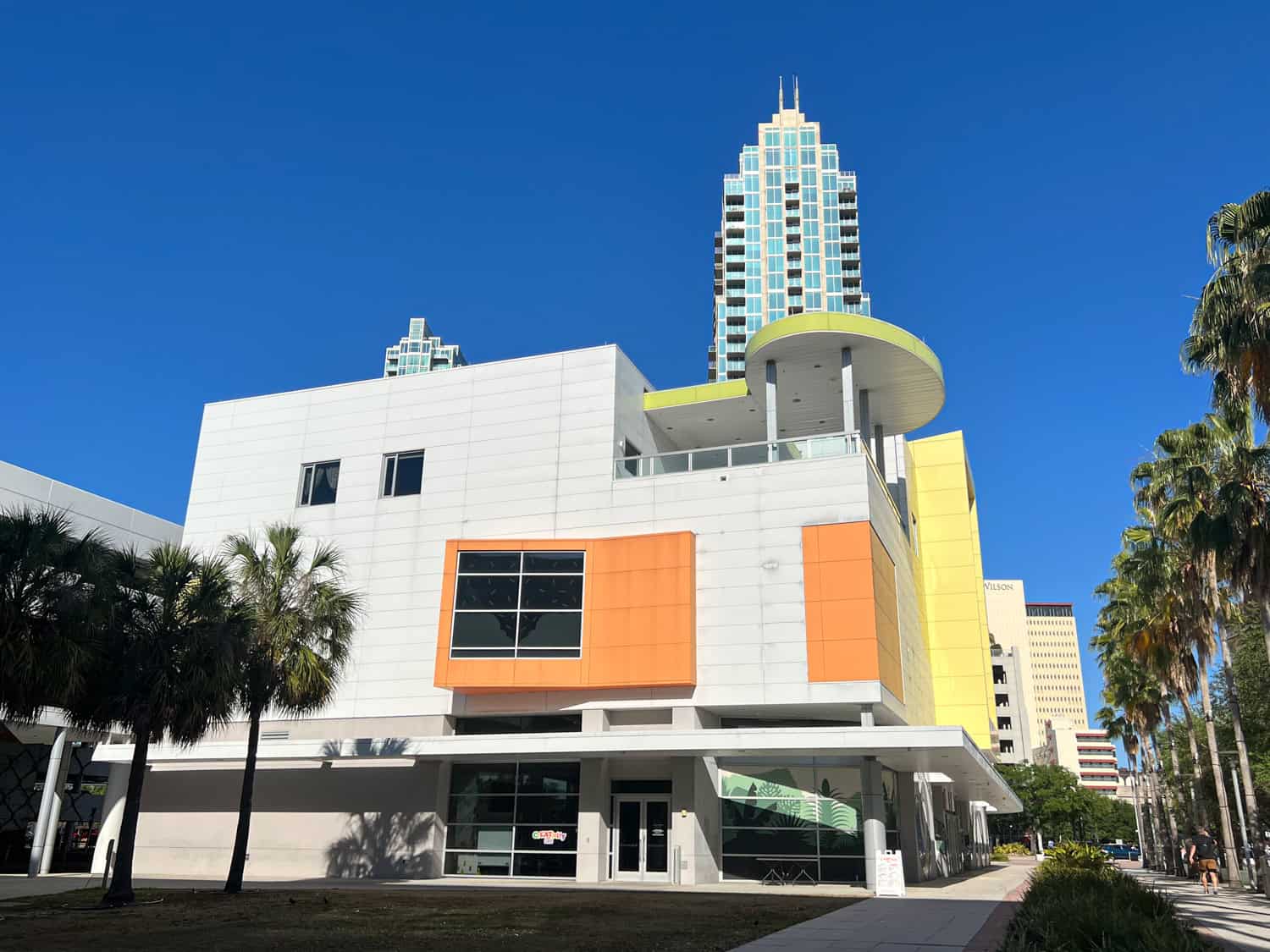 Next door to the Tampa Museum of Art is the Glazer Children's Museum, a vibrant and interactive museum designed to engage, educate and inspire children of all ages.
The museum features various exhibits, programs, and events focused on science, technology, engineering, art, and math (STEAM) concepts.
Children can explore, play and learn in a safe and welcoming environment. The museum's exhibits are hands-on and interactive, encouraging children to use their creativity and imagination.
11. Straz Center for the Performing Arts
A few minutes walk north of these two museums is The Straz Center for the Performing Arts, which showcases world-class performances in theater, music, and dance.
The center is comprised of five state-of-the-art theaters, including the 2,610-seat Carol Morsani Hall, which is used to host popular Broadway productions like Hamilton.
The center also features an outdoor performance space, a visual arts gallery, Maestro's Restaurant, Maestro's Cafe, and SteamHeat Cafe.
12. Water Works Park and Ulele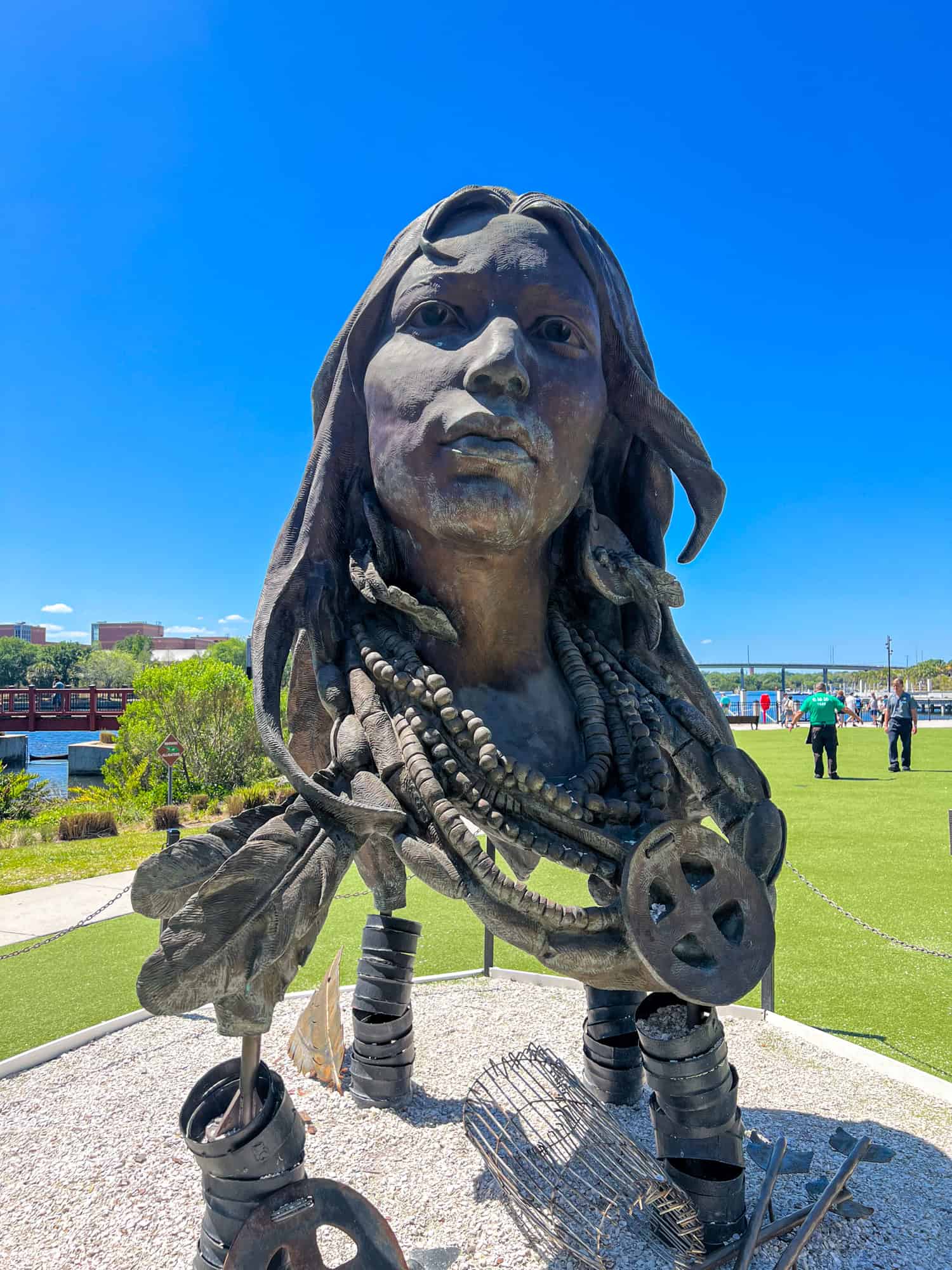 Continue north on the Tampa Riverwalk for another ten minutes to reach the Water Works Park. Here you'll find an open green space, the Ulele Springs, a dog park, and a playground and splash pad for kids.
Across a tiny bridge is Ulele, a Michelin-recommended restaurant and craft brewery inspired by and named after an Indian princess.
There's a sculpture of her on their patio and refurbished Disney characters rescued from the TampaZoo at Lowery Park.
If you have the chance to dine here, do it. It's one of the best restaurants in Tampa right now, and if you time your meal with sunset, you'll have a nice view of it over the river, too.
13. Armature Works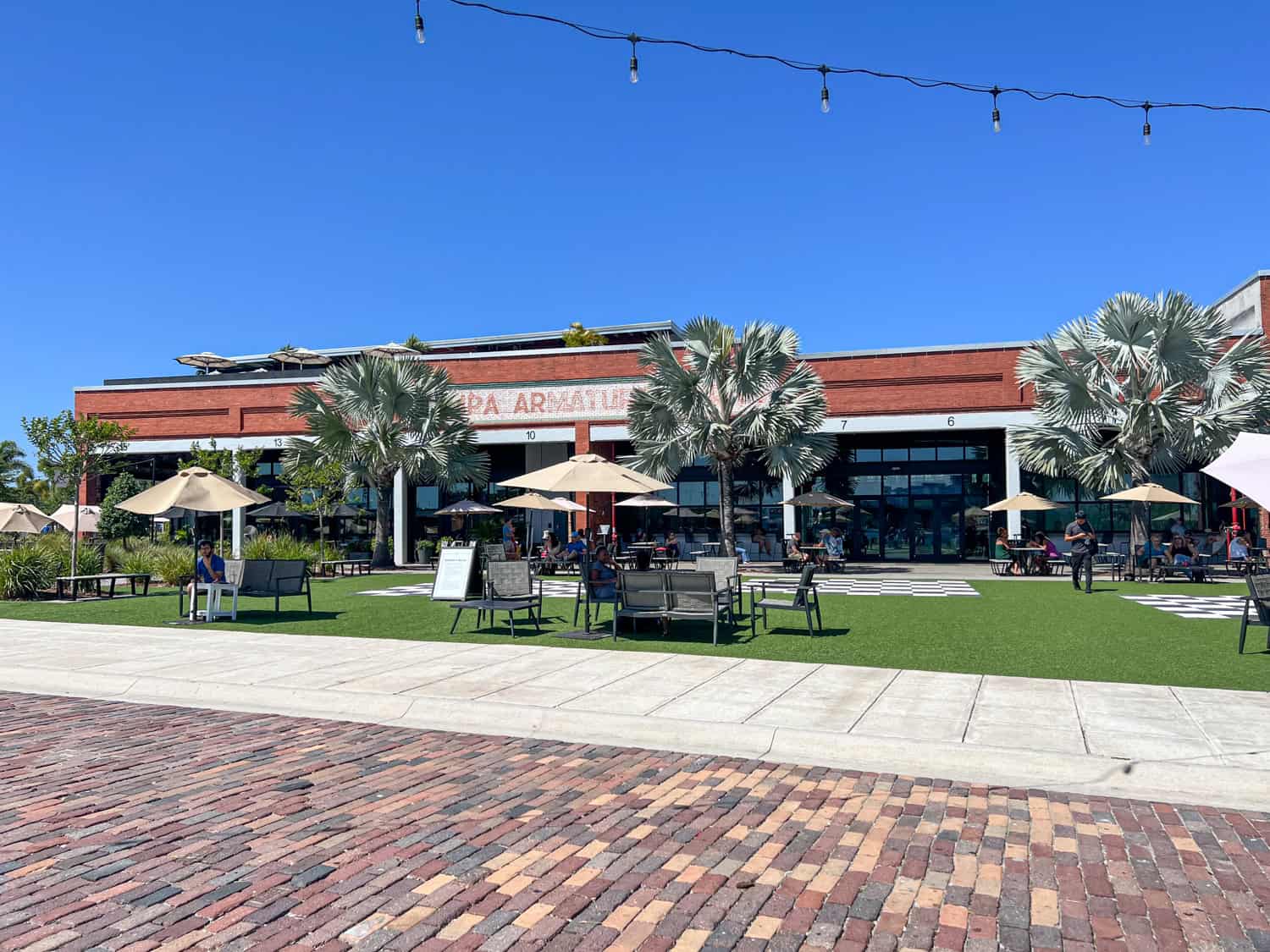 The Tampa Riverwalk ends at Armature Works, a former streetcar warehouse in the Tampa Heights neighborhood that was repurposed into a thriving food hall (Heights Public Market) and event space.
The interior is full of history, metal cranes, and exposed brick. Old machine parts have been turned into tables, and the space is abuzz with people enjoying the food and drink offerings.
Armature Works is also home to Steelbach and Oak & Ola, two Michelin-recommended restaurants.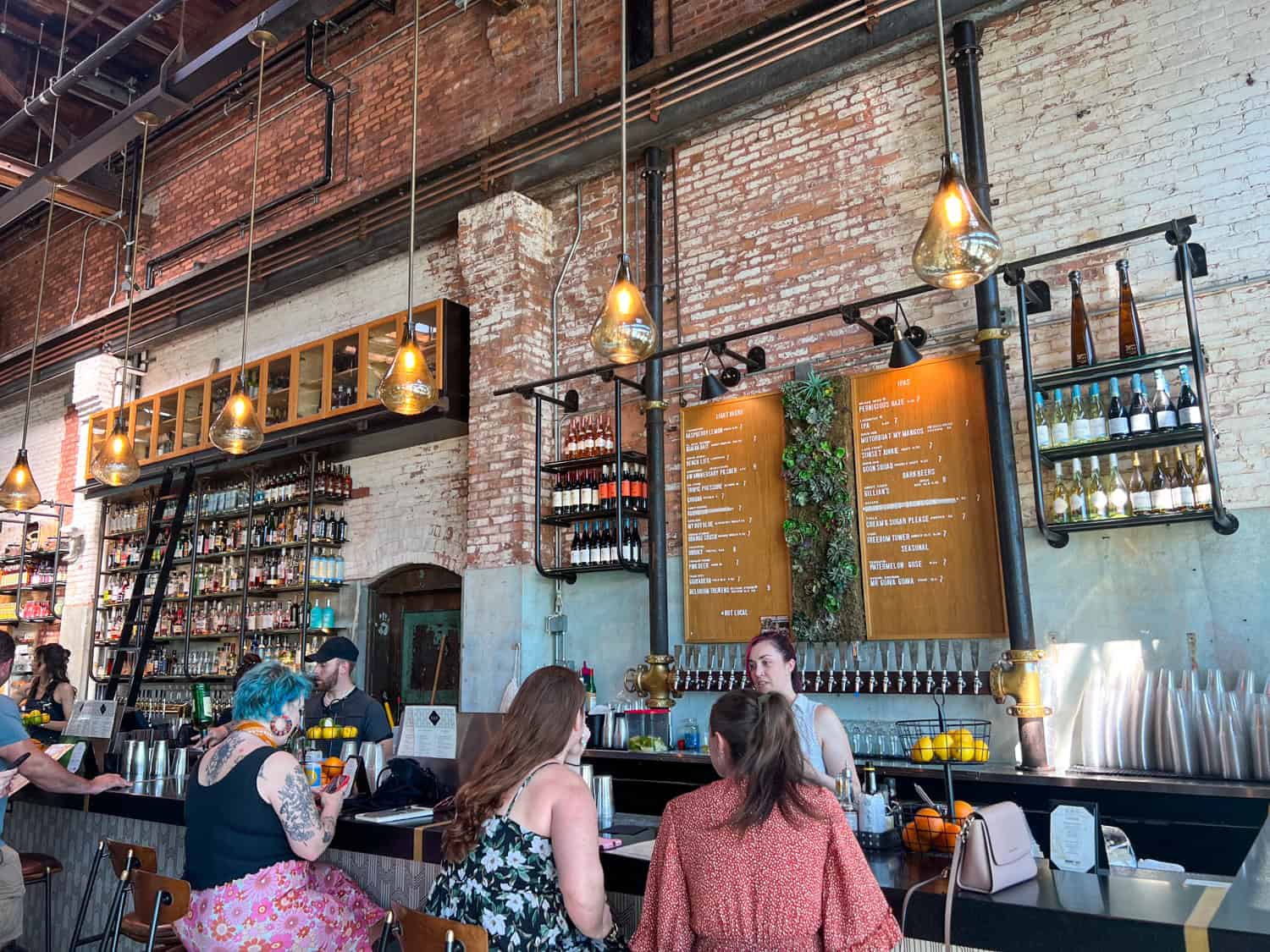 ***
Overall, the Tampa Riverwalk offers a great way to experience downtown Tampa.
If you're on a tight budget, walk the trail and get some exercise, enjoying what's visible outside. And if one or two museums look appealing, it's probably cheaper to pay as you go.
To visit all five museums, plus the Florida Aquarium, and have access to the Pirate Water Taxi, you'll save money with the Tampa Riverwalk Attraction Pass.
_____
I received a complimentary Riverwalk Attractions Pass during my stay in the city organized by Visit Tampa Bay.
Dave is the Founder and Editor in Chief of Go Backpacking and Feastio. He's been to 66 countries and lived in Colombia and Peru. Read the full story of how he became a travel blogger.
Planning a trip? Go Backpacking recommends: