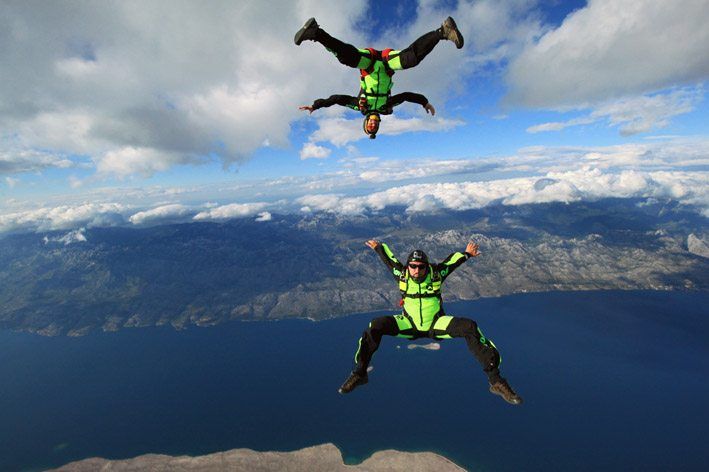 It may not be the first European destination that springs to mind, but the beautiful country of Croatia in Europe has plenty of activities to keep travelers entertained.
For starters, there are festivals, which are held every summer and are full of beach and boat party craziness.
And for those who prefer more of an adrenalin rush, there are plenty of adventure sports too.
Skydiving
If skydiving is on your bucket list, how about skydiving in Croatia?
You can't get more freeing than throwing yourself out of a perfectly good plane, and there's more than one spot in the country to do it, including Hvar, Istria, and Zagreb.
Skydiving in Zadar is the most popular place in the country, and with such an amazing coastline, you can see why.
Once you've experienced the party island that is Hvar from the ground, soar over it and see it from above instead.
Tandem skydives start at $252 (€229) for one hour, and they're offered year-round.
Taking a tandem skydive means that you're strapped to an instructor, so there are no worries about forgetting to pull your ripcord.
Plus, the instructor goes through all the steps before you take off, so you'll know exactly what to expect.
However, skydiving is weather-dependent and can be canceled if there are high winds or rain.
Make sure you book this at the start of your trip to allow yourself enough time if it needs to be rescheduled.
Panoramic Flights
Jumping out of a plane isn't the only sport you can do here.
As well as paragliding, there are panoramic flights if you want to experience the views from inside a plane and not outside of one. A scenic flight starts at $98 (€89) for an hour.
If you don't mind being thrown around, you can experience an acrobatic flight.
At $428 (€389), it may be out of your budget, but you can guarantee it'll be one of the wildest hours of your life.
More Adventure
Other fun things to do in Croatia include ATV'ing on the islands of Krk and Cres, where you can meet other backpackers and cruise through muddy terrain.
Or, try your hand at go-karting near Porec, at one of the best tracks in Croatia.
There's even an entire park dedicated to getting your blood pumping called Adrenaline Park.
Here you'll find the flying fox and giant swings to test out your stamina and courage as you move from pole to pole.
Experience an off-road adventure by taking a buggy safari tour where you'll also be stopping in local taverns to taste the local cuisine.
There are also three-day motorcycle trips of the Balkans from $540 (€490) if you have time.
Then there's free climbing in Istria or cave climbing as you descend on ropes into a maze of stalactites and stalagmites in Porec.
In fact, there is so much to do in Croatia. You may find one trip won't be enough!
____________
This story was brought to you in partnership with Adventure Driven Vacations.
Lisa Eldridge is a travel journalist specialising in solo travel. Her background in the travel industry fuelled her passion to see the world and for the last seventeen years, she has travelled extensively as a solo traveller, living and working in numerous countries. She has now been to 100 countries and 60 of these solo.
Planning a trip? Go Backpacking recommends: