As I recently discovered, there are plenty of free things to do in San Francisco, California, whether you're visiting for the first time or living there.
Twenty years ago, I visited Golden Gate City for the first time. My spur-of-the-moment decision to fly across the country for a long weekend with someone I barely knew was more a social visit than a sightseeing experience.
I've wanted to go back and explore more of the city ever since.
That opportunity came when my girlfriend and I planned a week in Oahu, and I spent a weekend in San Francisco before meeting her in Honolulu.
Free Activities in San Francisco
The city of San Francisco may have one of the highest costs of living in the United States, but I found plenty to do at no cost.
Additional activities I found worthwhile were $20 or less, and I'll mention those, too. However, the emphasis here is on free things for you to do in San Francisco.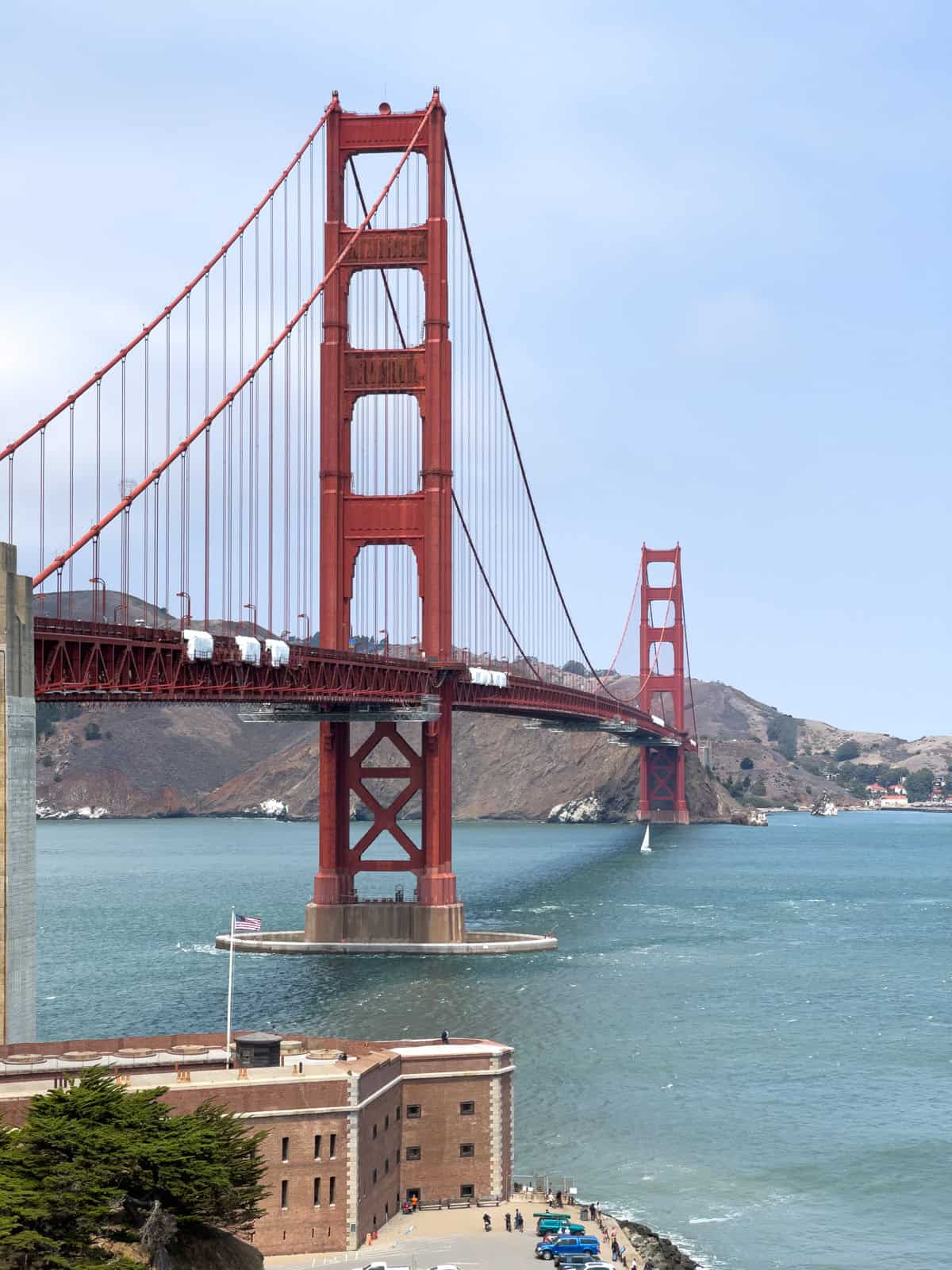 1. Golden Gate Bridge
First and foremost, I knew I had to see the Golden Gate Bridge in person. I'd been kicking myself for twenty years that I didn't see it the first time I visited.
I was unsure if I'd get any pretty pictures because my visit coincided with an unusual cold snap in August.
Around noon on my second of two full days in the city by the bay, the clouds began to part, and bluish skies emerged.
I took a break from visiting the best bakeries in San Francisco and headed by Uber to Battery Godfrey, an old gun battery dating back to 1895.
There are many places to choose from for scenic views of the Golden Gate Bridge. I wanted to do a little hiking, so I picked that one.
I walked north, passing under the bridge, before visiting a few more outlooks on the east side.
If I had more time, I would've loved to spend an hour walking across the bridge to take in the detailed craftsmanship and best views from the north side. Bicycling will get you across faster.
The white tarps in the photo above are related to work on installing nets, a deterrent for would-be jumpers trying to commit suicide.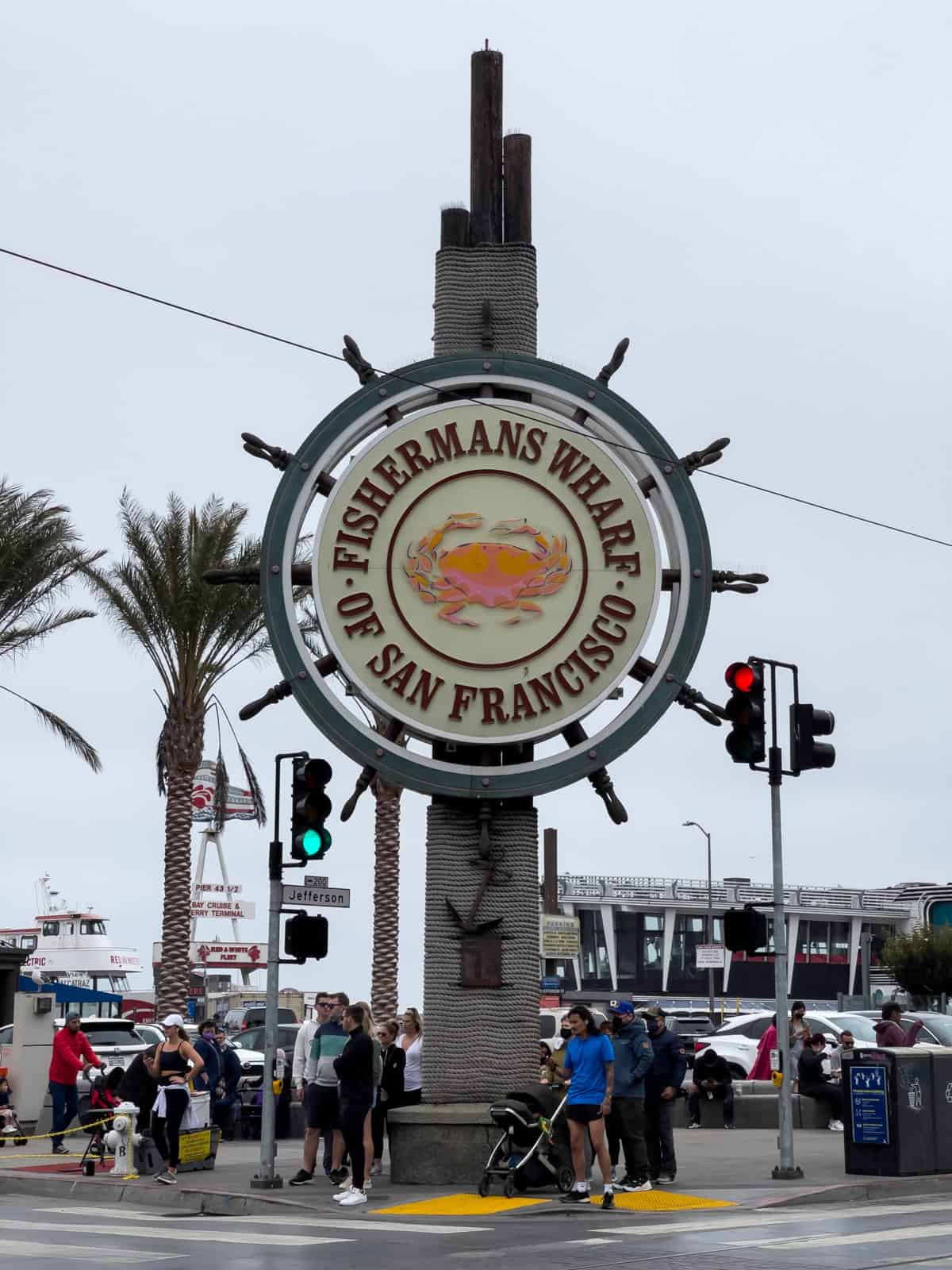 2. Fisherman's Wharf
The day before the Golden Gate Bridge, I walked around Fisherman's Wharf while San Francisco was overcast and moody.
This bustling neighborhood is full of seafood restaurants. I got crab chowder, served in fresh-baked sourdough bread, for $12.
The historic Boudin Sourdough Bakery & Cafe is just a block from the large Fishermans Wharf sign. They've been baking bread since 1859.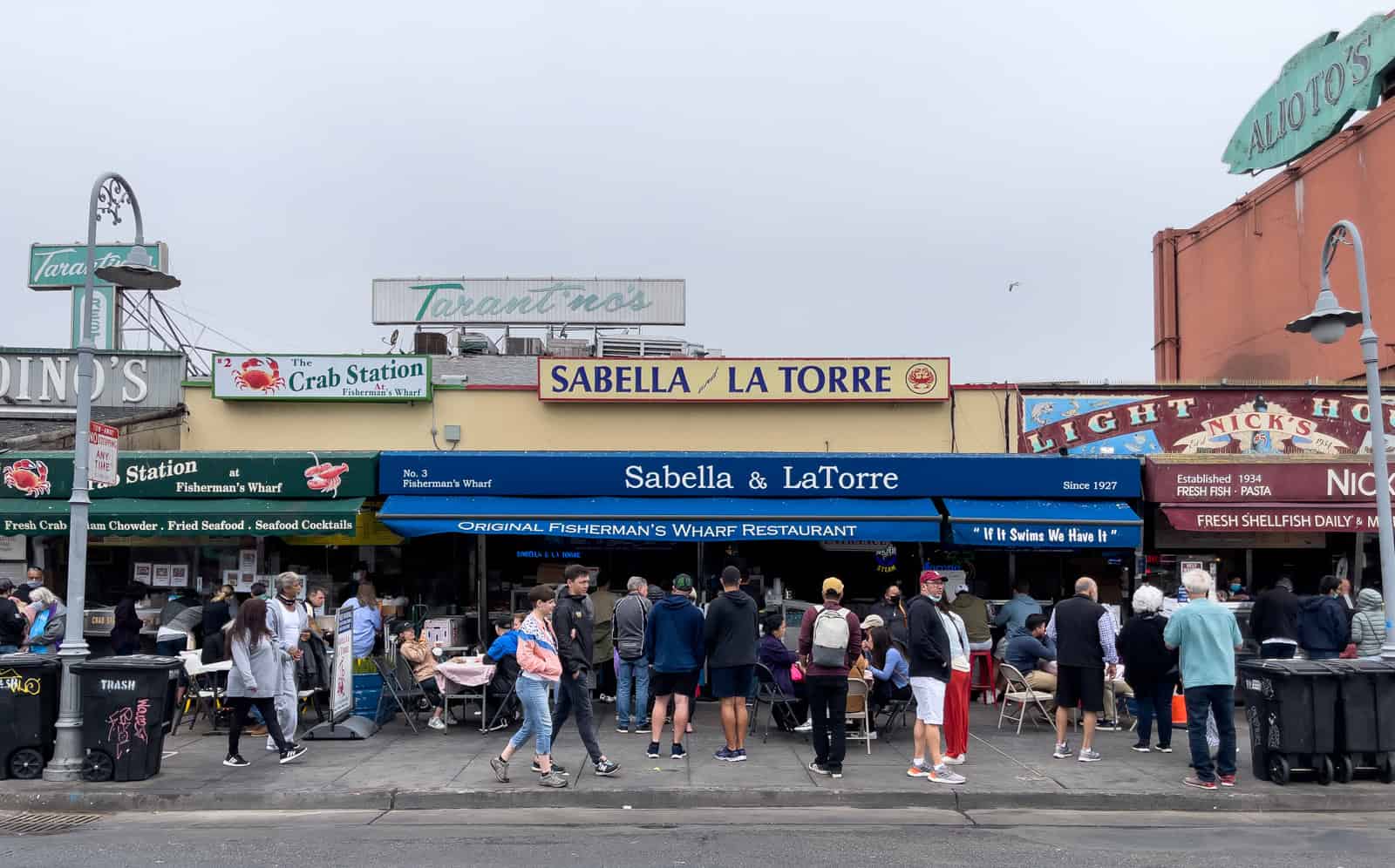 Additional historic attractions include the USS Pampanito, a WWII submarine, and the SS Jeremiah O'Brien. Both vessels are at Pier 45, which you can walk down for free.
A self-guided tour of the submarine is $20. I did it; however, if you've walked through a WWII submarine before (as I had in San Diego), there's not much new to see.
Save your money unless you want the photos standing on top of it.
Pier 45 is also home to Musée Mécanique, a free museum filled with classic arcade games. And by classic, I don't mean Pac-Man.
Games so old you'll get a kick out of what used to pass as cutting-edge entertainment.
Bring quarters or small $1 or $5 bills to use in the change machines if you want to play. I didn't have any or see any that took debit cards, so I missed the opportunity.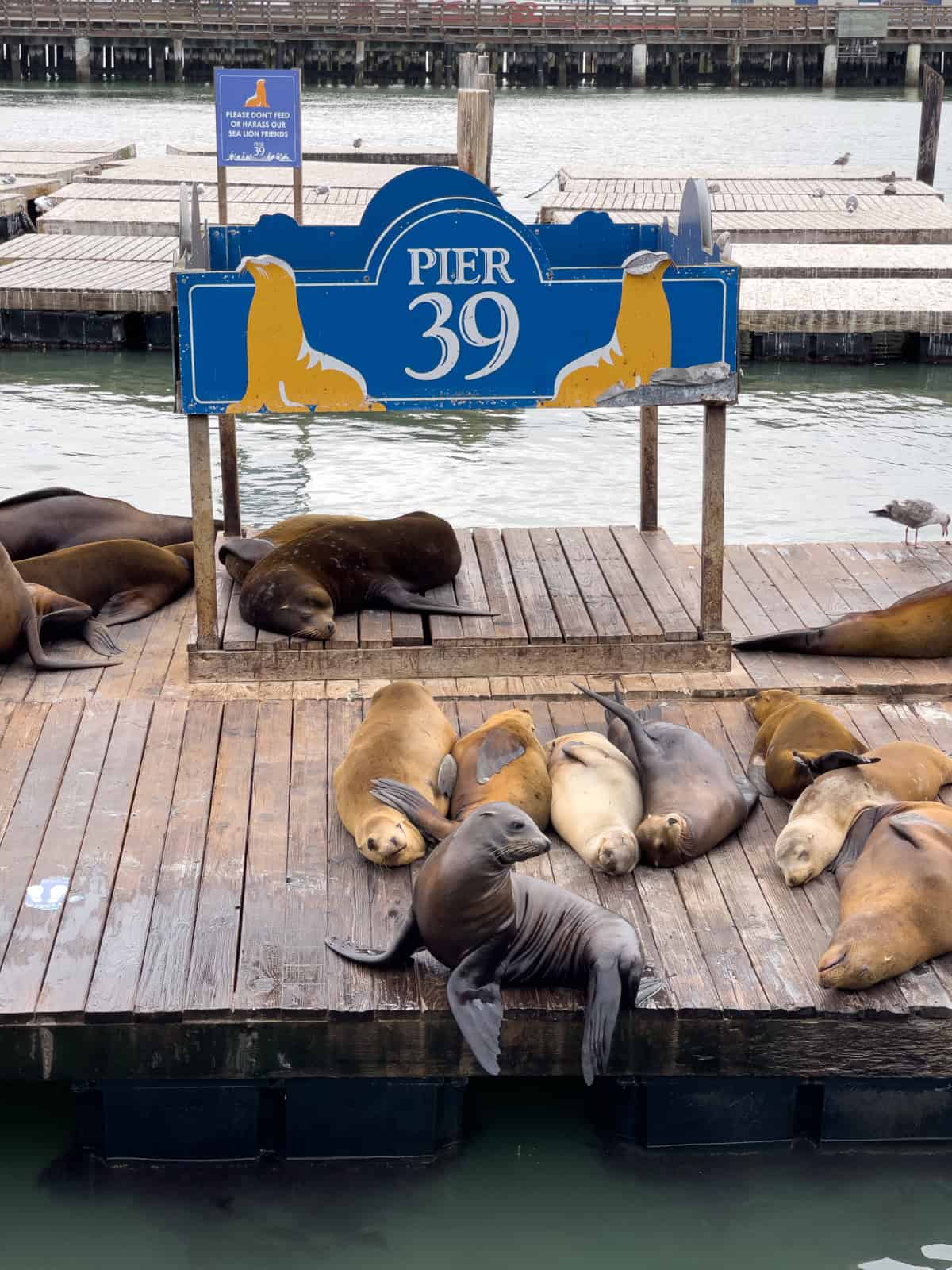 3. Sea Lions at Pier 39
Another fun and free thing to do in San Francisco is to visit the sea lions at Pier 39.
I LOVE sea lions. They're adorable, make silly sounds, get testy with each other, and are generally neat to observe. Swimming with sea lions in the Galapagos Islands was a highlight of my week there.
But you don't need to fly to Ecuador to get up close and personal with these cute mammals.
You have to survive the gauntlet of commercialism that exists at Pier 39. Walk through this sizeable outdoor mall to reach the sea lions.
Then, take all the time you want to watch them from the observation deck.
Thankfully, it was possible to walk off Pier 39 without passing by all the shops again.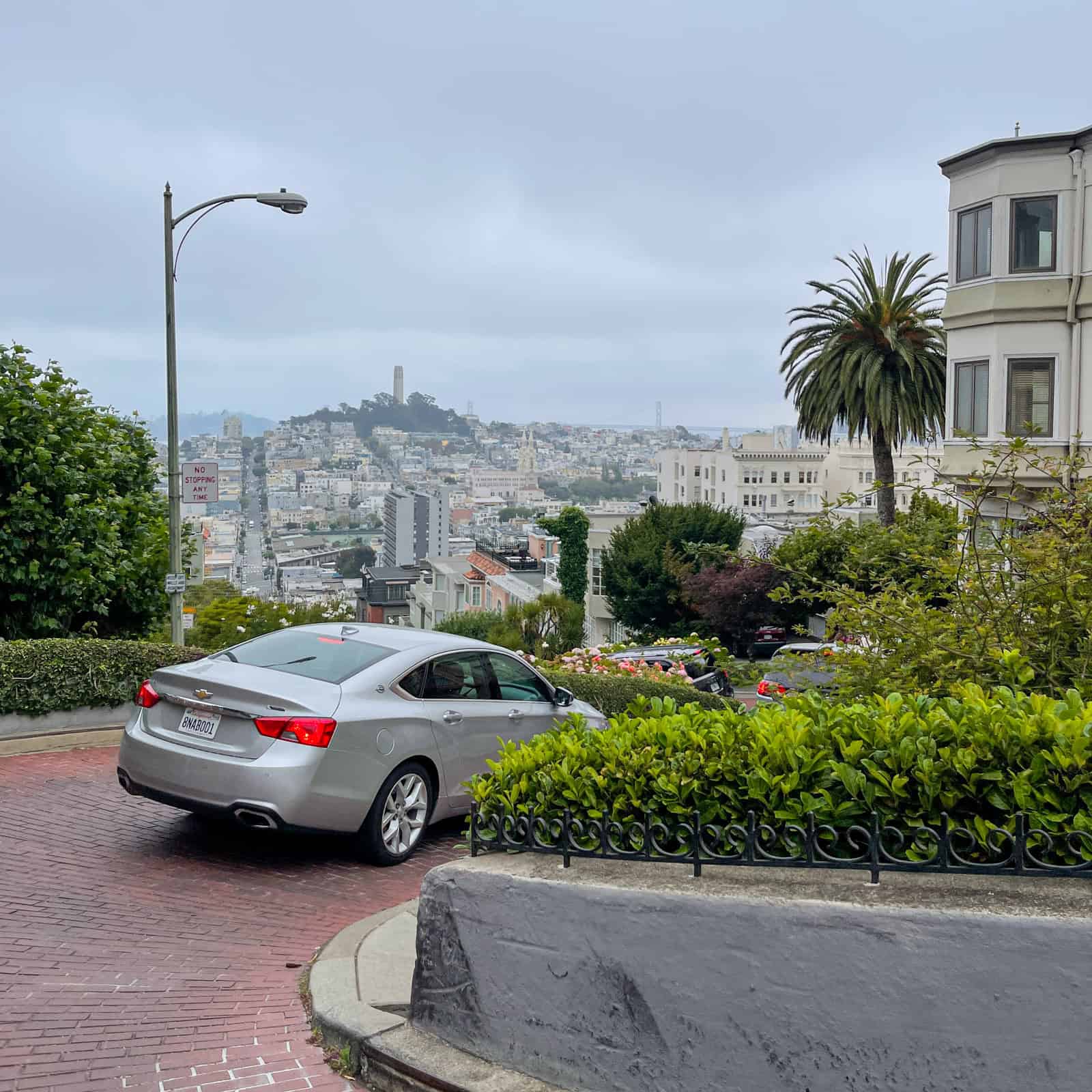 4. Lombard Street
My awareness of Lombard Street, one of San Francisco's most popular tourist attractions, dates back to childhood.
I don't know precisely when or where I learned about it, but I knew I had to see what's been dubbed the "most crooked street in the world" because of its eight hairpin turns.
Walking up or down Lombard Street is possible, depending on your preference for physical activity.
The benefits of walking are that it's free, and you can take your time and enjoy the eccentricity of this short but winding street in San Francisco.
In the interest of time, I took an Uber down it on my way from Coit Tower ($10 scenic view) to the Beat Museum ($8).
I quickly learned this is not an original idea. There was a continuous line of cars doing the same thing!
Perhaps that's unsurprising, considering the street sees two million visitors annually.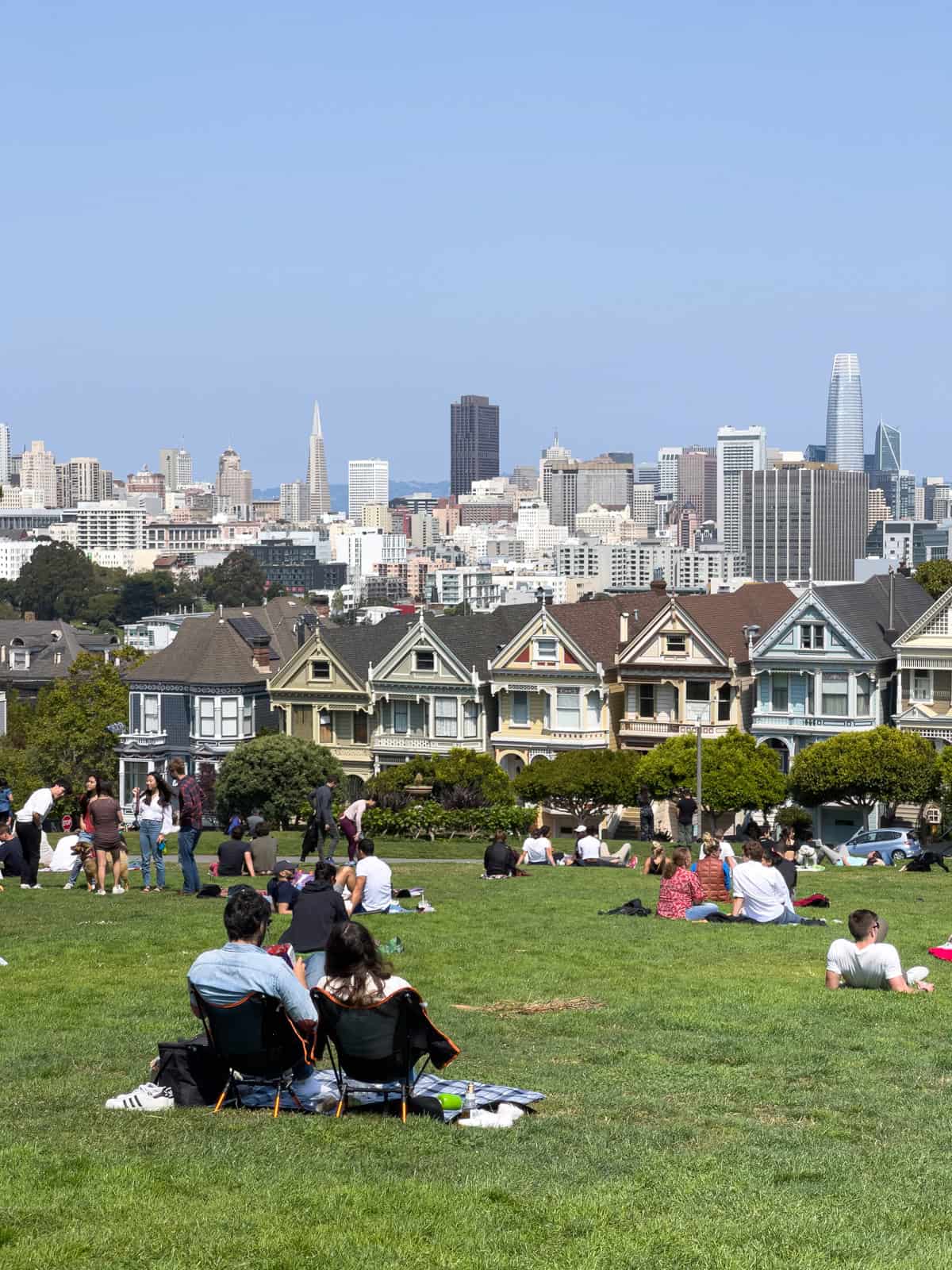 5. Alamo Square Park and the Painted Ladies
Any child of the 80s likely remembers the Full House sitcom, set in San Francisco.
The opening features scenes of the fictional Tanner family playing in Alamo Square Park, across the street from beautiful old Victorian houses, known colloquially as The Painted Ladies.
Hanging out in Alamo Square Park with the Painted Ladies was one of my favorite free things to do in San Francisco.
Sure, there were travelers like me there to snap photos. However, plenty of locals with blankets and chairs enjoyed the weather and view.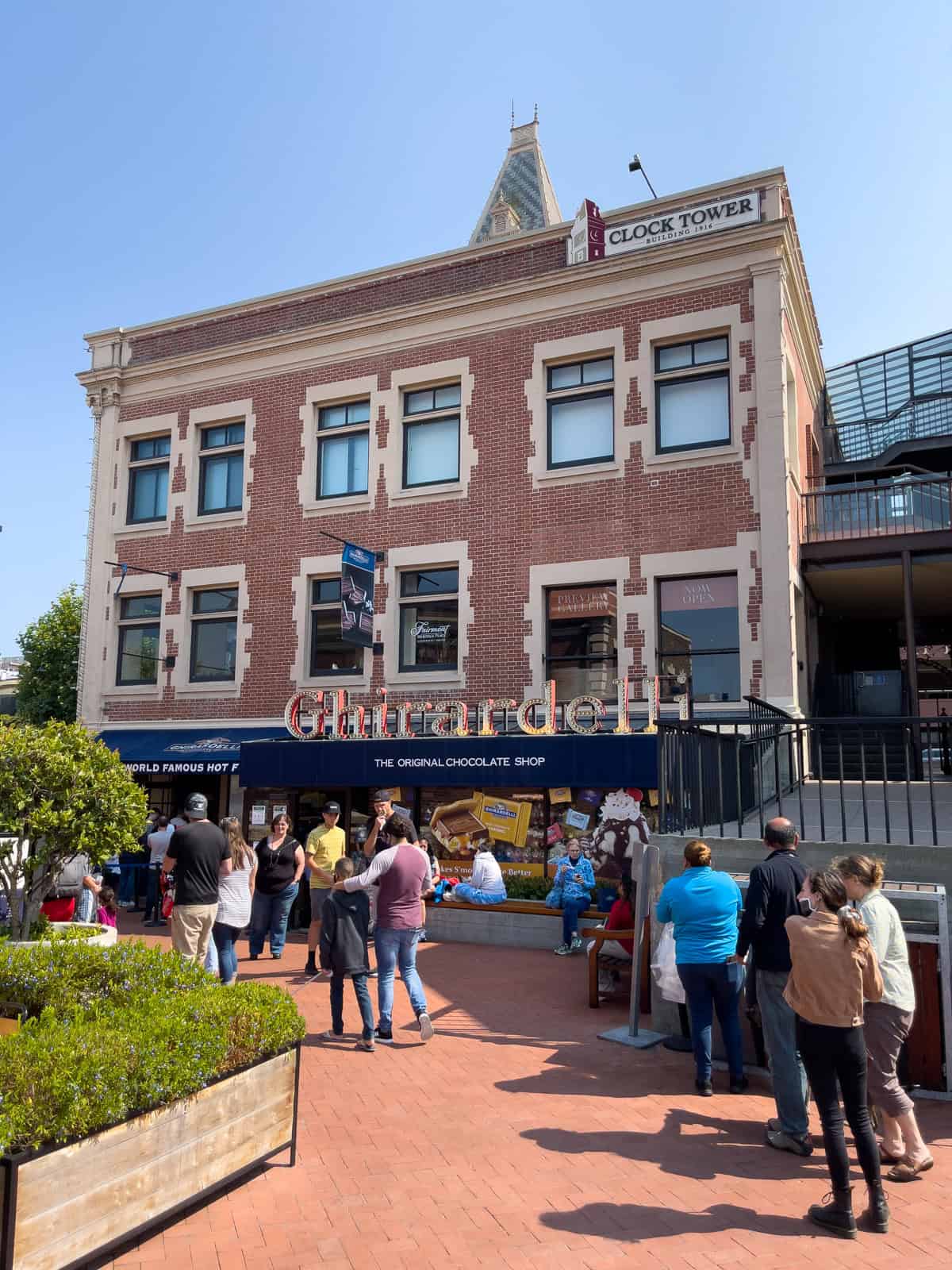 6. Ghirardelli Square
I love chocolate almost as much as sea lions, so walking through Ghirardelli Square near the San Francisco Maritime National Historical Park was a no-brainer.
This complex, which now features restaurants, bars, a cheese shop, and a sweet gift shop, was once a 19th-century chocolate factory belonging to Domenico "Domingo" Ghirardelli.
Today, it's been preserved and protected as a site on the National Historic Register.
Since I indulged in one of their famous hot fudge sundaes at a Ghirardelli cafe in San Diego, I skipped one here.
I was content to walk around and take in the views, including a distant Alcatraz Island.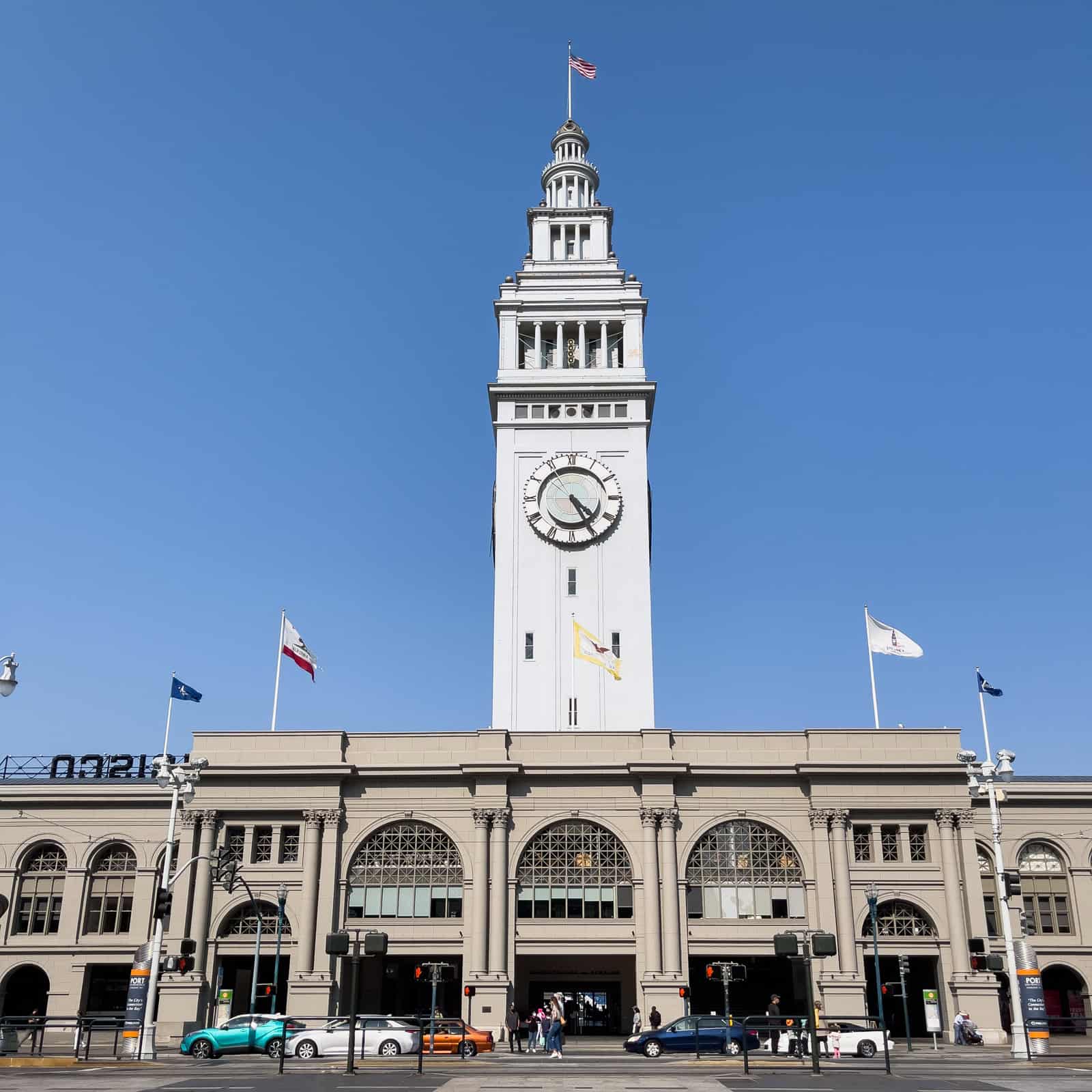 7. Ferry Building
Across downtown, on the eastern coast, is another historic landmark that's free to walk around–the Ferry Building.
Opened in 1898, the Ferry Building was once a transportation hub for people traveling to and from San Francisco. As the name suggests, travelers took ferries.
In 2003, this historic building was fully restored. Today, it houses a marketplace (a mall) full of restaurants, cafes, and food and wine shops.
Book Passage is a small but well-known bookstore that hosts an annual travel writing conference.
While you're here, walk across the street to Embarcadero Plaza for a quick look at the Vaillancourt Fountain, a fascinating 1971 sculpture.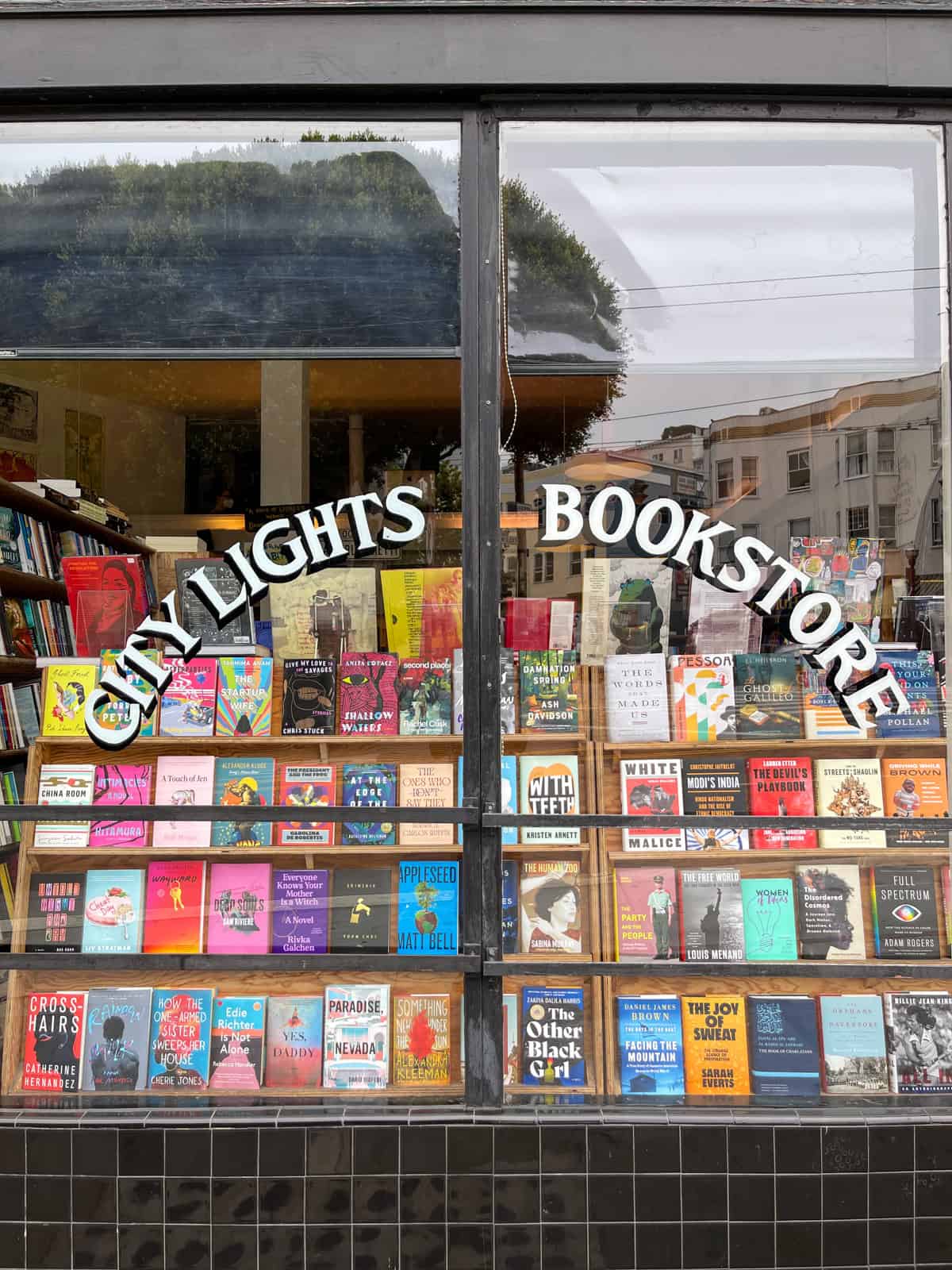 8. City Lights Booksellers & Publishers
No bookstore was more influential than City Lights Booksellers & Publishers during the Beat Generation.
Founded in 1953 by poet Lawrence Ferlinghetti and Peter D. Martin, City Lights is one of the few truly great independent bookstores in the United States, a place where booklovers from across the country and around the world come to browse, read, and just soak in the ambiance of alternative culture's only "Literary Landmark."

City Lights website
Ferlinghetti passed away in February 2021 at the ripe old age of 101.
His bookstore was an important meeting place for the Beat-era writers and poets like Jack Kerouac and Allen Ginsberg, writers I read, studied, and grew fond of in college.
A dedicated poetry room on the second floor is full of beatnik literature. There's a basement, too, in addition to the street-level space.
Perusing a historic Beat Generation bookstore is one of the best free things you can do in San Francisco.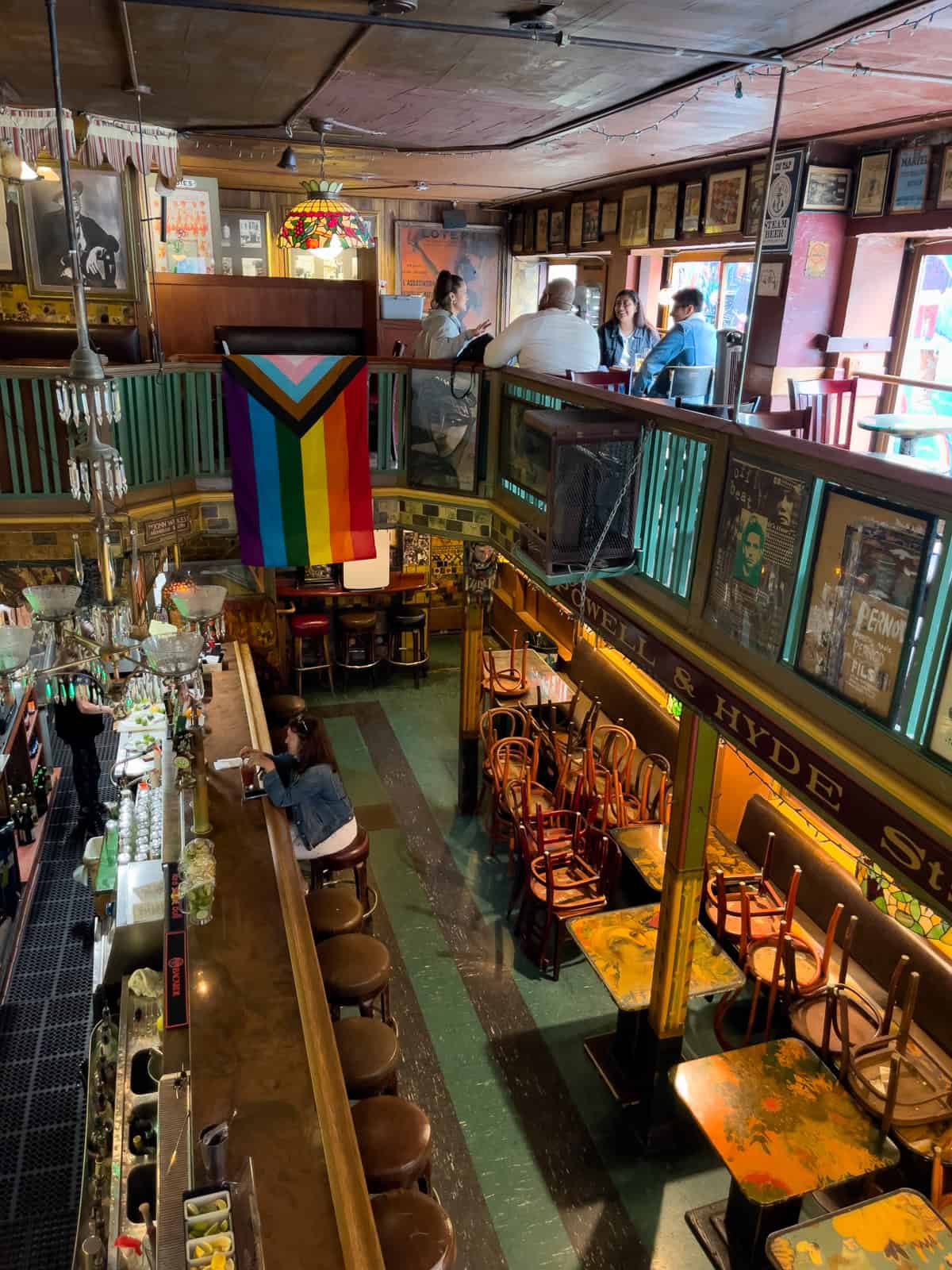 9. Vesuvio Cafe
If I've sold you on City Lights, take a minute to walk down Jack Kerouac Alley, which separates the bookstore from Vesuvio Cafe, another worthy destination on this list.
Vesuvio is a bar and cafe that used to be popular among the Beat poets and writers. It's a symbiotic relationship, having a restaurant and bar across an alley from a groundbreaking bookstore.
Inside, you'll see old photos and memorabilia on the walls. Walk up the creaky old wooden staircase to glimpse even more on the second floor, which looks down on the first.
Whether you stop in for a quick look or grab a drink to soak up the atmosphere, Vesuvio Cafe is worth a minute of your time in San Francisco.
Related: San Francisco's Coffee Culture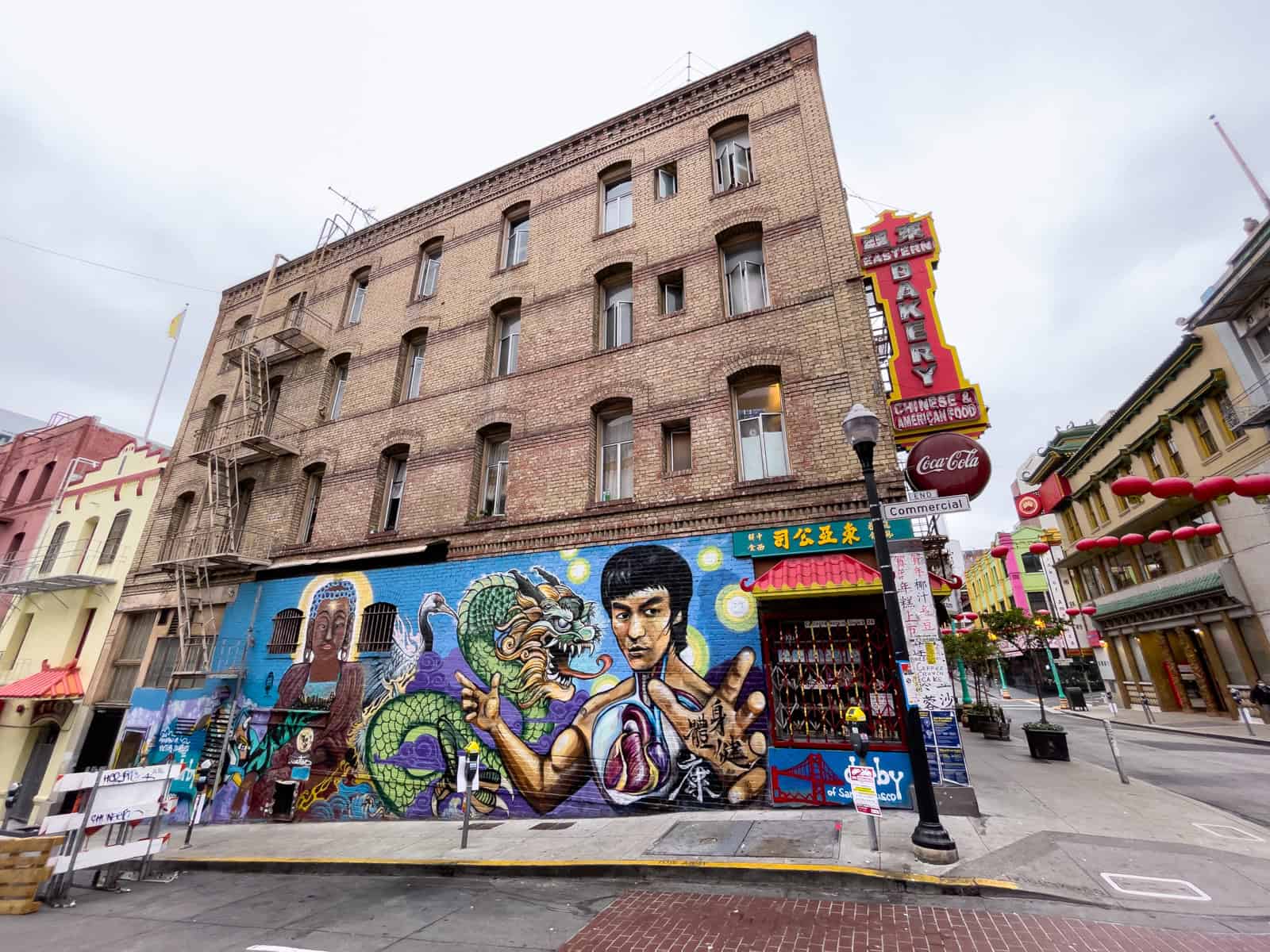 10. Chinatown
I will round out my list with a walk in Chinatown, which I learned is more of a ghost town on Saturday mornings.
I walked past the Golden Gate Fortune Cookie Factory, which I'd hoped to visit but was closed.
Still, I enjoyed multiple street art murals depicting dragons and Bruce Lee and getting a feel for the Chinese shops and restaurants here.
On my last night in town, I returned for a Chinese Mai Tai at Li Po Cocktail Lounge, which Anthony Bourdain featured on his show The Layover.
***
Proud as I was to see and do so many things in San Francisco, there was much more I missed out on during my visit.
Next time, I'd love to explore Golden Gate Park, including the San Francisco Botanical Garden, the Japanese Tea Garden, and the Clarion Alley Street Art in the Mission District. All of these places are free.
Dave is the Founder and Editor in Chief of Go Backpacking and Feastio. He's been to 66 countries and lived in Colombia and Peru. Read the full story of how he became a travel blogger.
Planning a trip? Go Backpacking recommends: