By all accounts, Buenos Aires is one of the best cities in the world to grab a steak, but a man (or woman) cannot live on steak alone.
At least not this man.
During the month I spent in the upscale Palermo Soho neighborhood, I sought out alternative dining options to enjoy between my visits to the best parrillas in Buenos Aires.
Below are five of my favorite restaurants, if you're ever looking for alternatives to the parillas in Palermo.
1. bBlue (Deli & Natural Bar)
I happened across bBlue soon after I moved into my Palermo apartment.
It was a lovely Saturday afternoon, and the locals were out in force to shop, eat, and enjoy the weather.
bBlue was busy, but after waiting for a few minutes, a two-person table opened up inside.
I was immediately given complimentary carrots, with a purple (radish?) dip.
The first thing that caught my attention on the menu was the array of fresh fruit shakes they offered.
I went with a mango, ginger, and orange juice shake ($5.39).
For lunch, I chose to go light, with a chicken wrap.
It wasn't until it arrived that I realized just how light a portion size it was. At least there were some boiled potatoes on the side.
When I returned to bBlue for another healthy lunch, I opted for the Caesar salad with chicken, and another mango shake.
Despite the small portions, I enjoyed the overall atmosphere and healthy-eating mission of bBlue.
bBlue Deli & Natural Bar
Address: Armenia 1692, Buenos Aires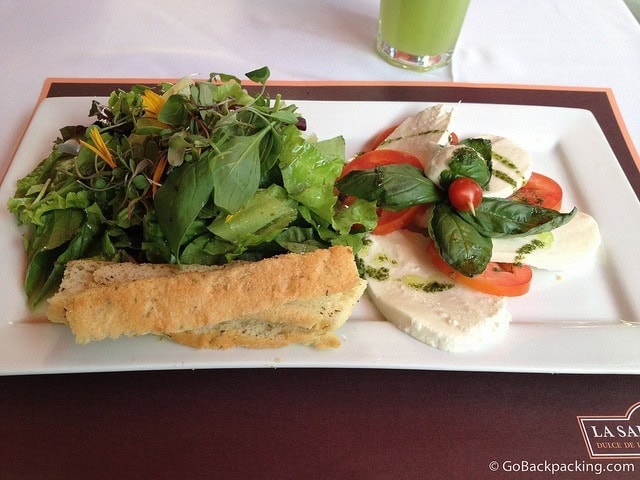 2. La Salamandra (Dulce de Leche & Mozzarella Bar)
Once again, I was walking around Palermo with no particular destination in mind when I discovered La Salamandra.
The sidewalk tables looked too inviting to pass up, and I grabbed a seat under the awning.
Like bBlue, the menu inspired me to eat healthily. I ordered a Caprese salad, which was wonderfully presented.
All the ingredients were fresh. I can't remember the last time I'd eaten fresh mozzarella. It was a treat.
The salad was made up of a variety of leafy greens, which I prefer over the standard lettuce.
During my second visit, I sat inside, and a friendly guy next to me struck up a conversation.
That time, I also made sure to try their freshly baked dulce de leche alfajores.
La Salamandra
Address: El Salvador 4761, Buenos Aires
3. Phuket (Thai)
Phuket was located around the corner from my apartment, but because it didn't open until 9 pm each night, it took me a while to get there.
Eating dinner late is a cultural norm in Argentina, and not one I was easily able to get used to.
I resisted, though if I were ever to live there, I'd have to try to adapt.
I decided to check out Phuket on a weeknight, and I'm glad I did.
Authentic Thai food is not easy to come by in South America, and though I know it exists in Lima, I hadn't bothered to seek it out.
All the classic dishes were on the menu and even written in Thai, as well as Spanish. The spiciness was indicated with between one to three Thai chiles.
I ordered my favorite, spicy Panang curry with chicken and rice. At $13.60, it wasn't cheap, but it also turned out to be the spiciest dish I'd eaten in South America until that point (a good thing).
Phuket
Address: Honduras 4169, Buenos Aires
4. Little Rose (Sushi)
The Little Rose was a sushi recommendation I received via Twitter.
Located in the heart of Palermo Soho, it's easy to find thanks to an awning with the restaurant's name.
Walk up a flight of stairs, and you'll find yourself in what appears to be a former residence. The restaurant's decor is intimate and comfortable.
I stopped by for lunch one afternoon and ordered one of their set menus, which included a soup, and sushi/nigiri/sashimi combo, heavy on the salmon.
During the time I was in Buenos Aires, I'd heard rumors of a salmon shortage.
Chile supplies Argentina with its salmon, and for whatever reason, it was in short supply.
It was so bad some Japanese restaurants weren't even serving salmon, which is hard to swallow given tuna isn't on a lot of menus as it is.
Thankfully, the Little Rose came through, and I got my salmon nigiri fix. The fish was fresh and nicely presented. The price was $14.65.
Little Rose
Address: Armenia 1672, Buenos Aires
5. Sarkis (Armenian)
Sarkis may very well have been the first time I've eaten Armenian food.
The restaurant was a recommendation of Amy, an expat blogger, and editor living in Buenos Aires.
We met one afternoon for lunch, and I let her take the lead on ordering. The servings were family-style.
Our first entrée was chicken on pita bread, which was then smothered with yogurt.
The second was a platter of meatballs in a rich and flavorful tomato sauce.
By the time we were ready to go, I could barely move.
Sarkis
Address: 11oo Thames, Buenos Aires
Dave is the Founder and Editor in Chief of Go Backpacking and Feastio. He's been to 66 countries and lived in Colombia and Peru. Read the full story of how he became a travel blogger.
Planning a trip? Go Backpacking recommends: