Phoenix, Arizona, is one of the best places for hiking in the United States. Located in the middle of the state, Phoenix is a major metropolitan area surrounded by pristine nature trails and parks in the wild Sonoran Desert.
While Phoenix is world-famous for hot weather and desert landscapes, it can also be a hiker's paradise.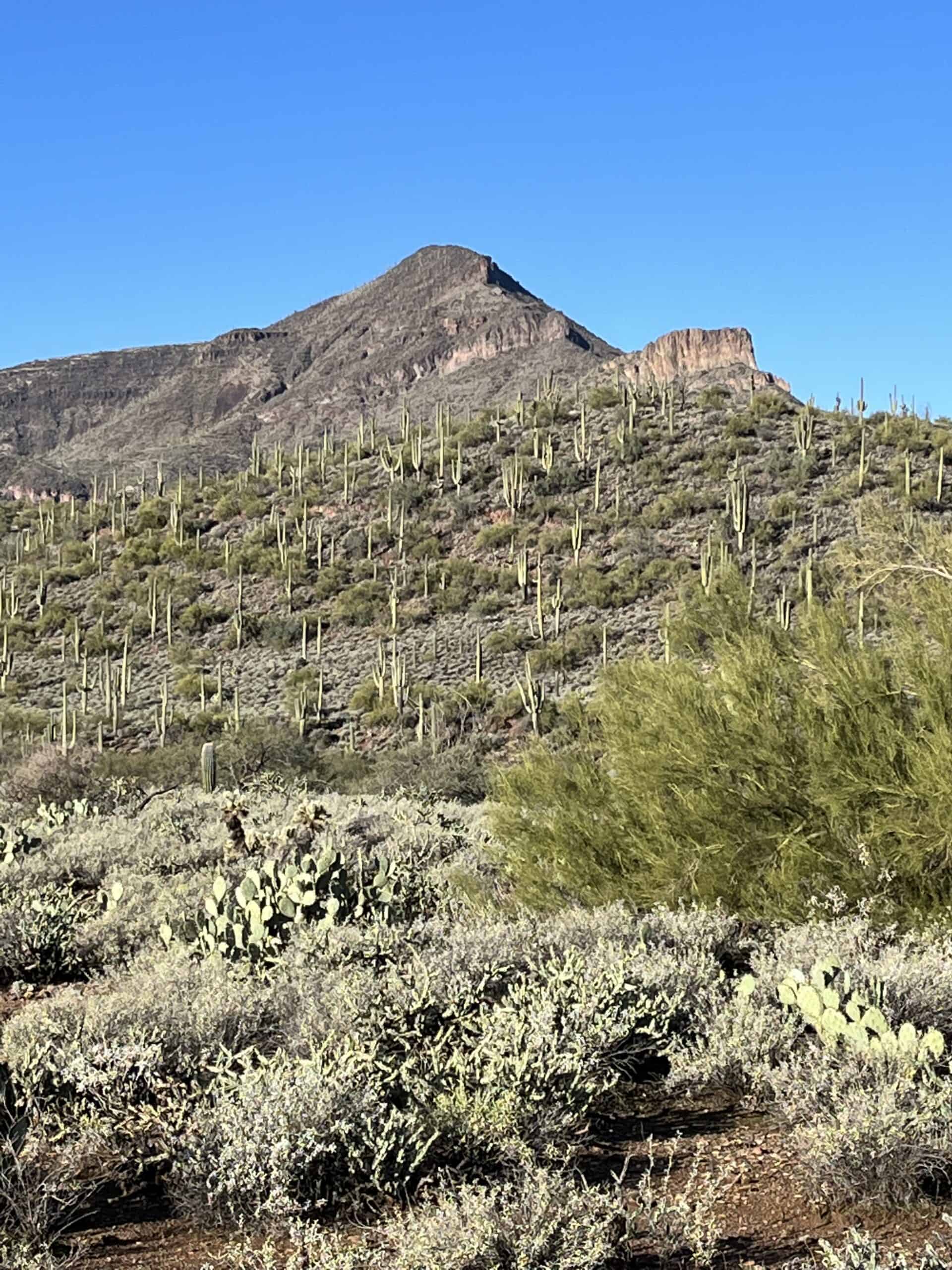 Weekend fitness buffs can hike, bike, and walk all over the Valley of the Sun.
There are many parks and trails in the Phoenix area, but the hike I recommend stands out as a challenge.
Spur Cross Ranch Conservation Area
I have visited Phoenix more than 20 times over the last 15 years, and I go on a hike nearly every time.
My favorite areas are the Spur Cross Ranch Conservation Area and the Elephant Mountain Trail.
I even add the Metate and Tortuga trails to create a "super loop" and get a route totaling nine miles (15 kilometers).
My Elephant Mountain Super Loop Trail is a sure way to get a great workout and spend time on the trail with very few people around.
The last time my better half and I made the circuit was New Year's Day. The weather was clear and cold – it was just 43 F (6 C) at the trailhead.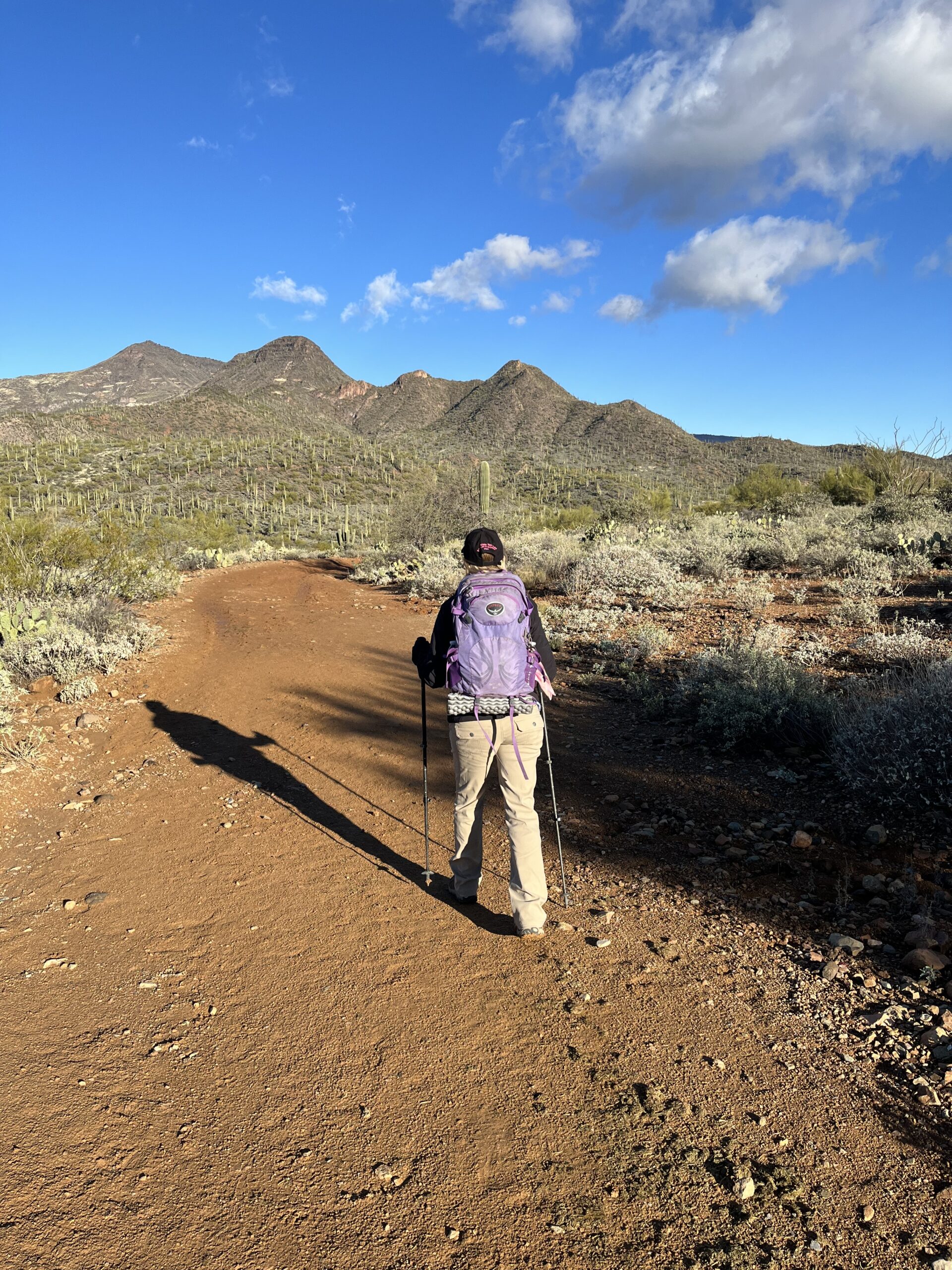 Dangerous but Beautiful
Half of the year, this trail is hot and dangerous.
Signs at the trailhead warn of heat and not hydrating enough to make it back to the car.
Additionally, diamondback rattlesnakes are a common reptile in this area.
There are warnings on the trail map that state that much of the route is steep in places, unmaintained, and not for novice hikers or equestrian travelers.
Dogs on a leash are welcome at Spur Cross Ranch, and we see several pups near the start and the end of our hike.
There are perhaps more than 80 dirt and gravel parking spaces at Spur Cross Ranch Conservation Area entrance, but few spaces are taken on this New Year's morning.
Spur Cross Conservation Area is the newest edition to Maricopa County's Regional Park System.
The area was an old cattle ranch and mining claim, and several archaeological sites are still present on the 2,154 acres (870 hectares) of Sonoran Desert land.
This time of year, there are very few animals around, but the Arizona Audubon Society says this area is important because of the diverse species' habitat.
It is part of a global network of places recognized for its outstanding value to bird conservation.
See also: McDowell Mountain Hiking in Phoenix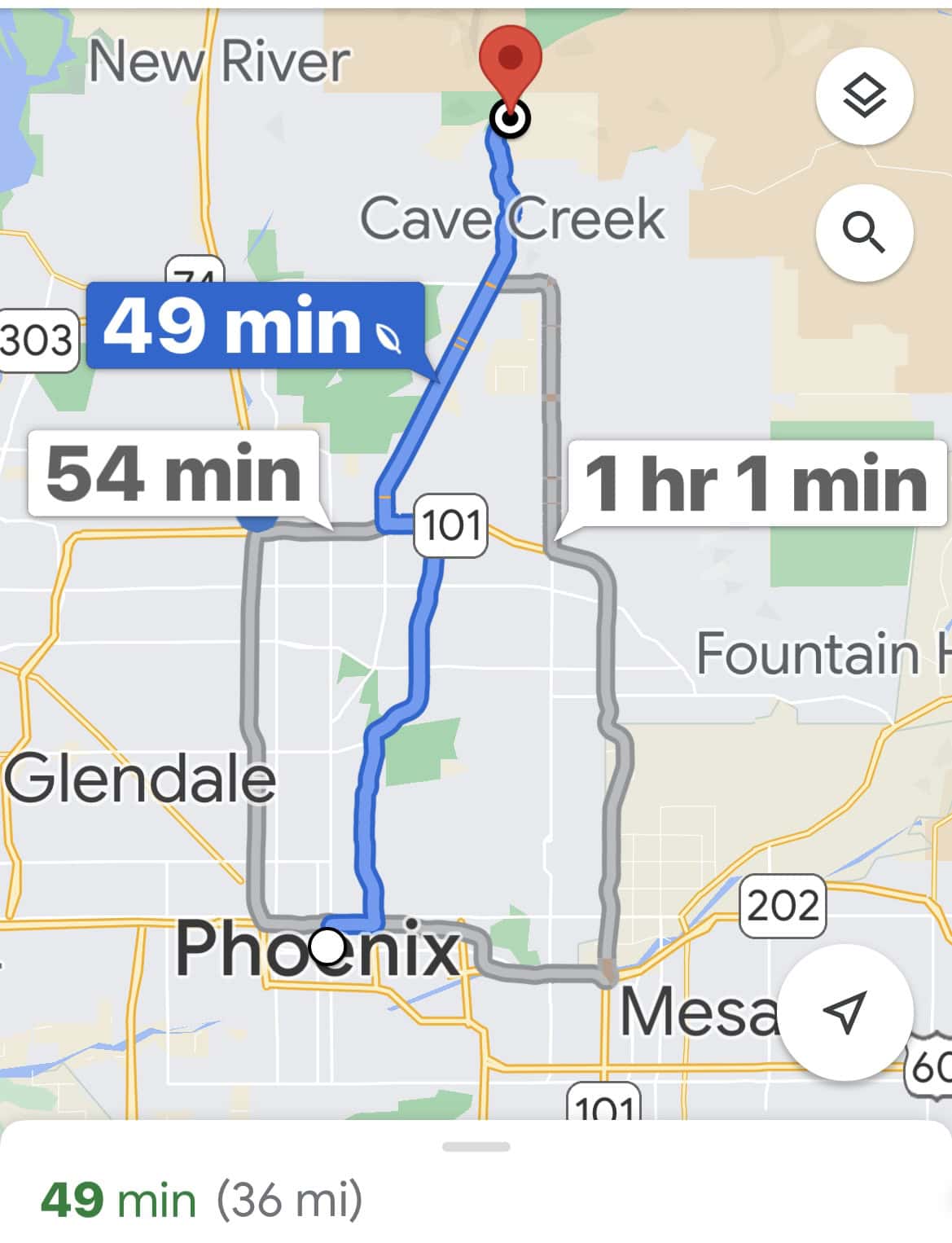 Where is Spur Cross Ranch?
The Spur Cross Conservation Area is less than an hour north of Phoenix, just past the upscale but quaint historical towns of Cave Creek and Carefree.
A simple request on your directional map app for: "Spur Cross Trailhead" will take you there.
The drive is mostly freeway, but later changes to the back roads of "Old Town" Cave Creek, where a post-hike stop for lunch, dinner, or art gallery shopping is a must.
Cave Creek and Carefree have several hotels and motels.
We stayed at a lovely Airbnb in Carefree with a view of Elephant Mountain and the gorgeous open space in every direction.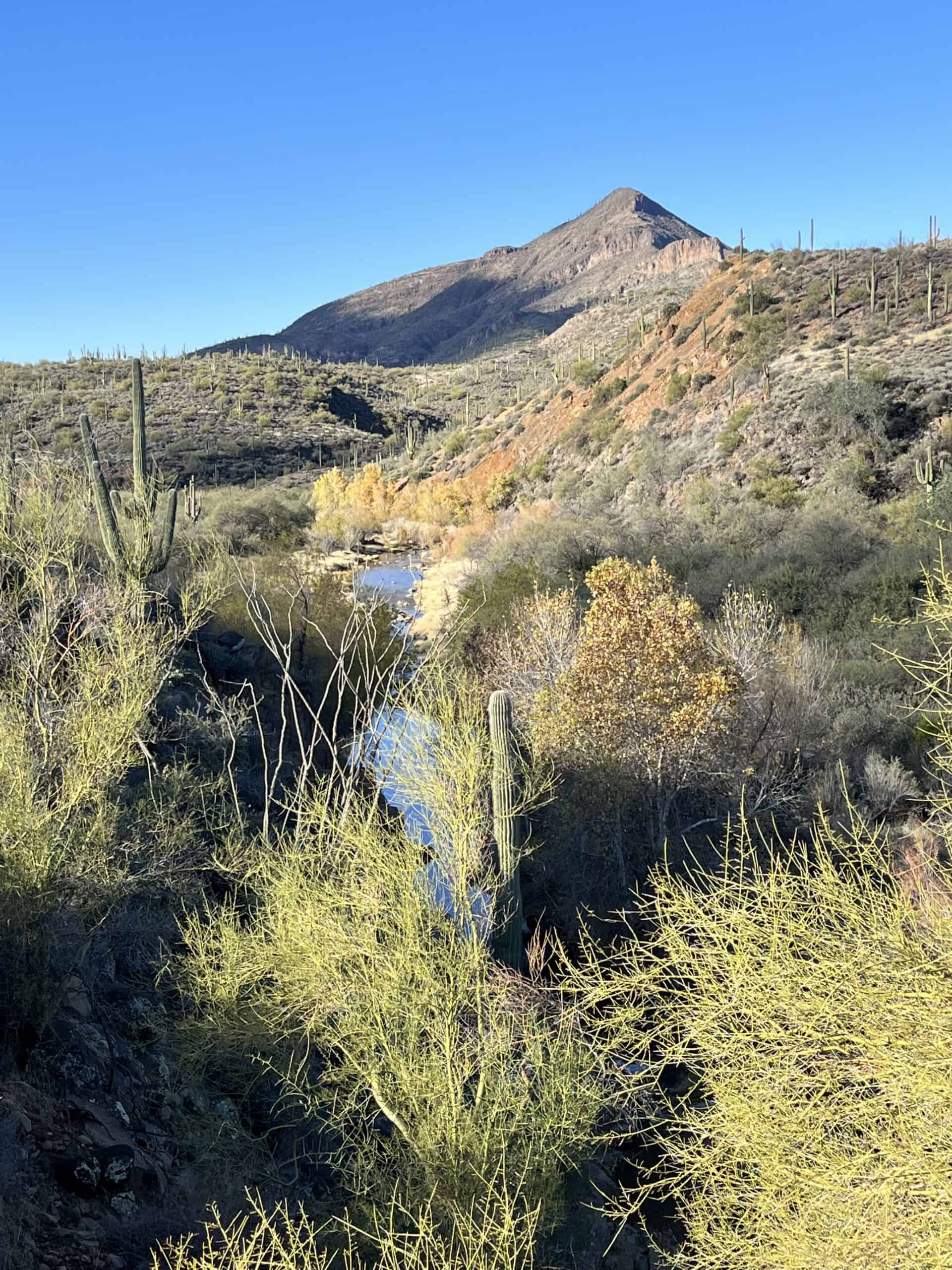 As you arrive at the trailhead for the best hike near Phoenix, there is no fee for parking, but a $3 fee per person entrance is collected by a volunteer docent at the gate.
We asked for a map and information about current conditions and hazards.
This is a dream hangout for snakes during the warm months, but on New Year's Day, they are tucked underground for the winter.
Cactus is Everywhere
The trail is filled with healthy examples of an endless variety of cacti.
The dominant saguaro is everywhere and is hard to miss at every turn because it is as big as a tree.
However, the area is also littered with barrel cactus, beehive and Santa Cruz cacti, prickly pear (paddle) cactus, and several cholla and hedgehog cactus varieties as well.
Since Cave Creek runs right through the area, everything seems well-watered and lush.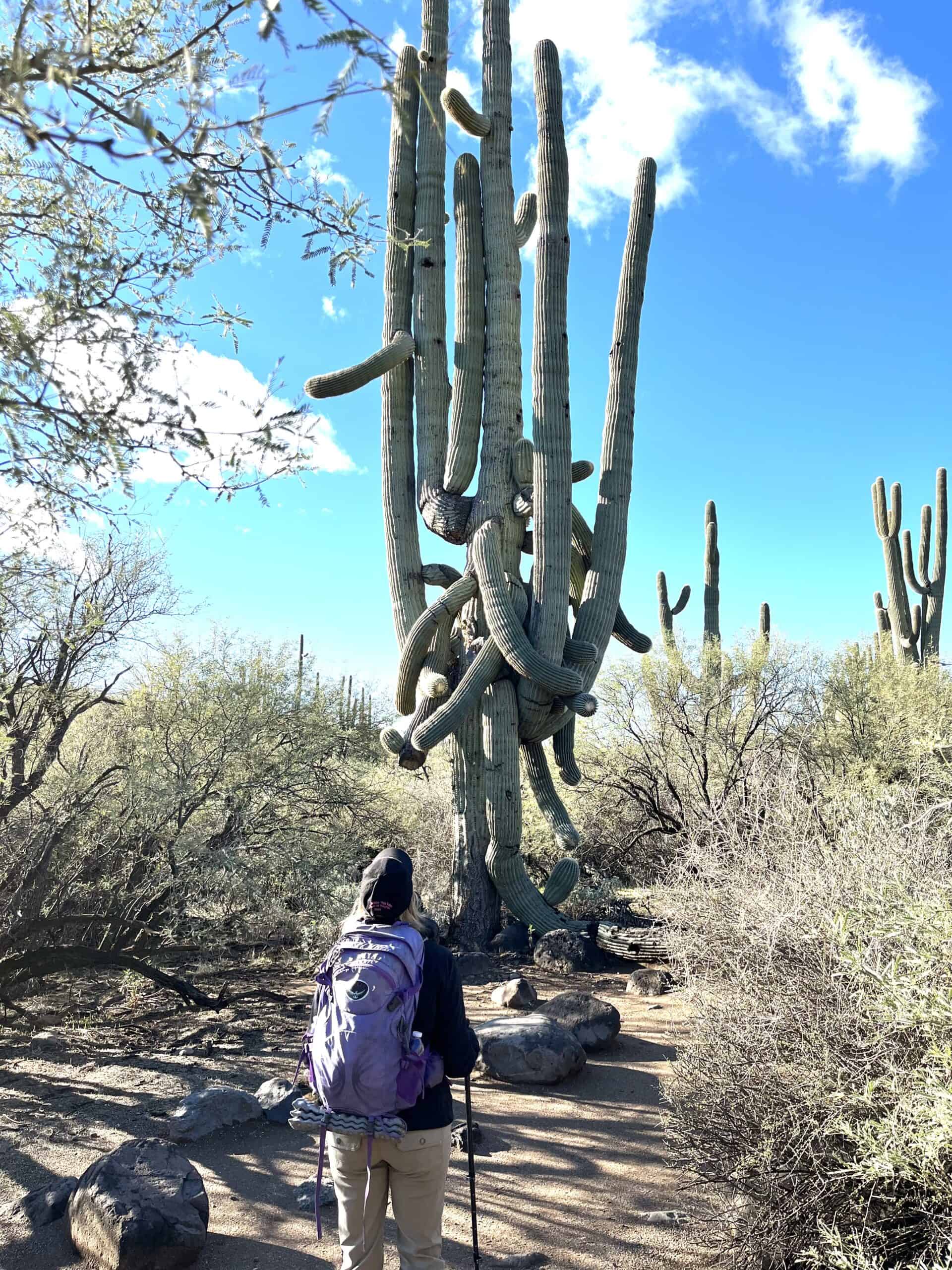 Nine-Mile Elephant Mountain Trail
After picking up your map at the trailhead, hike past the restrooms and picnic area and stay on the dirt road labeled Spur Cross toward the "old gate."
This section of trails is mostly downhill and gives the hiker an overall perspective of what is to come.
After about one mile (1.6 kilometers), a sign directs you to take an almost hairpin turn to the left on the Metate Trail, which runs along Cave Creek and into the heart of the old Dude Ranch site and through the Solar Oasis. This is an enjoyable and beautiful part of the trail.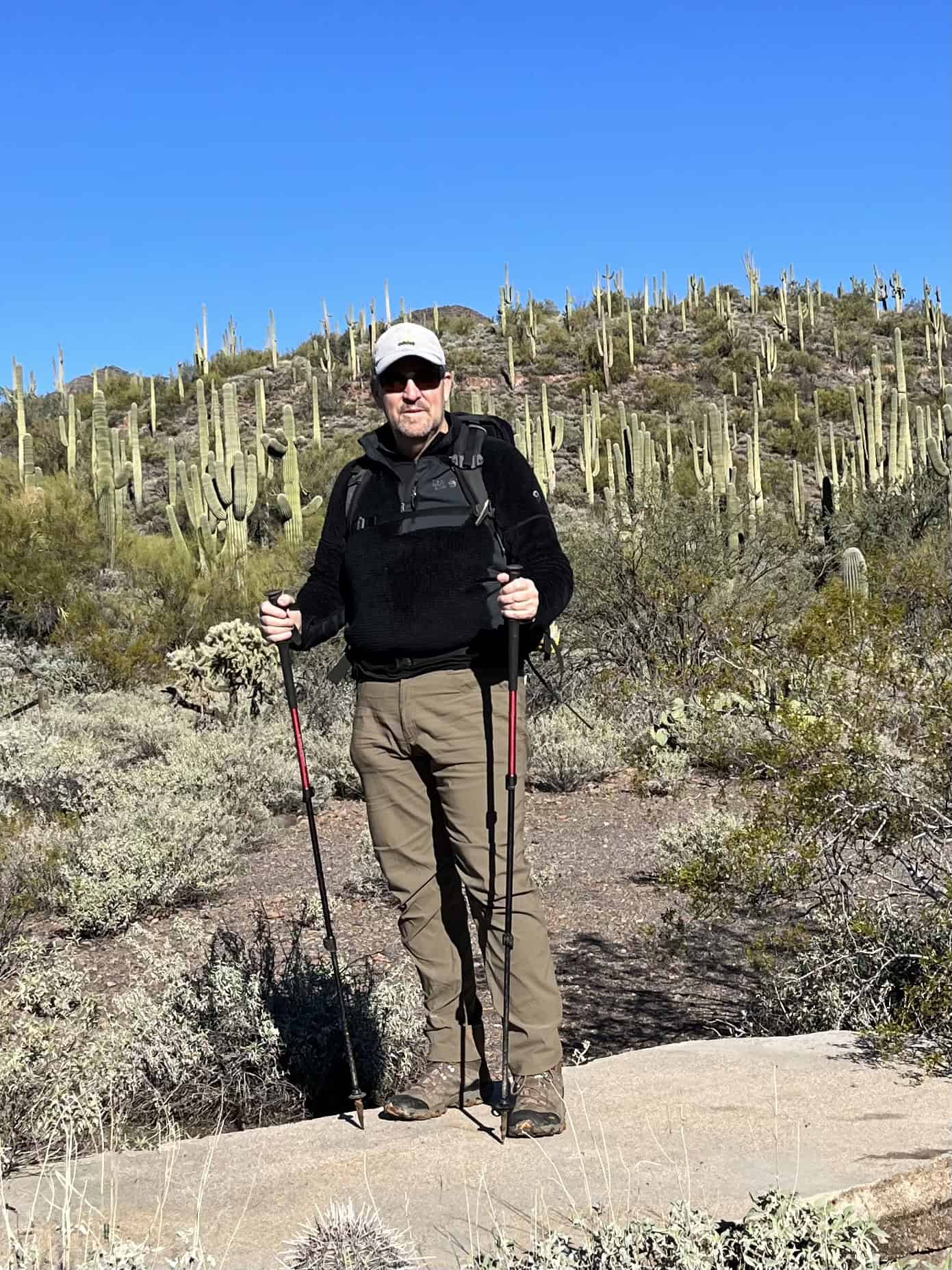 After passing the Dude Ranch, make a right turn going up, up, up, and follow signs to Tortuga Trail.
Tortuga Trail rises quickly to a vantage point over the whole area but then falls again rapidly into the valley made by another tributary creek.
Once we are hiking on Tortuga Trail, we see no other people for nearly two hours.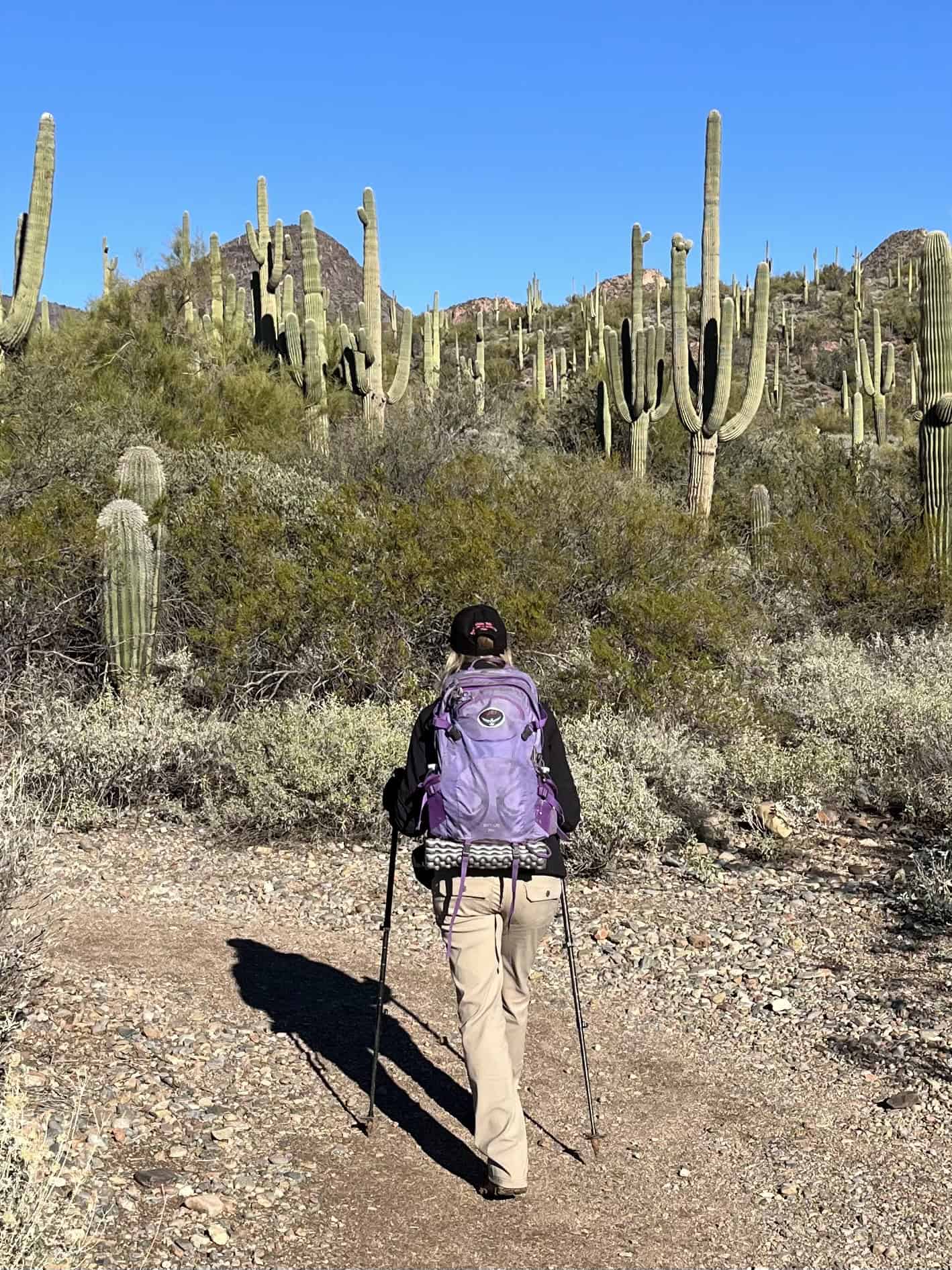 Much of the trail is rocky and steep, and parts of the route even go through a dry creek bed.
Eventually, Tortuga Trail joins Elephant Mountain Trail.
Take a right turn and mark 3.6 miles (5.8 kilometers) down, 5.4 miles (8.6 kilometers) to go.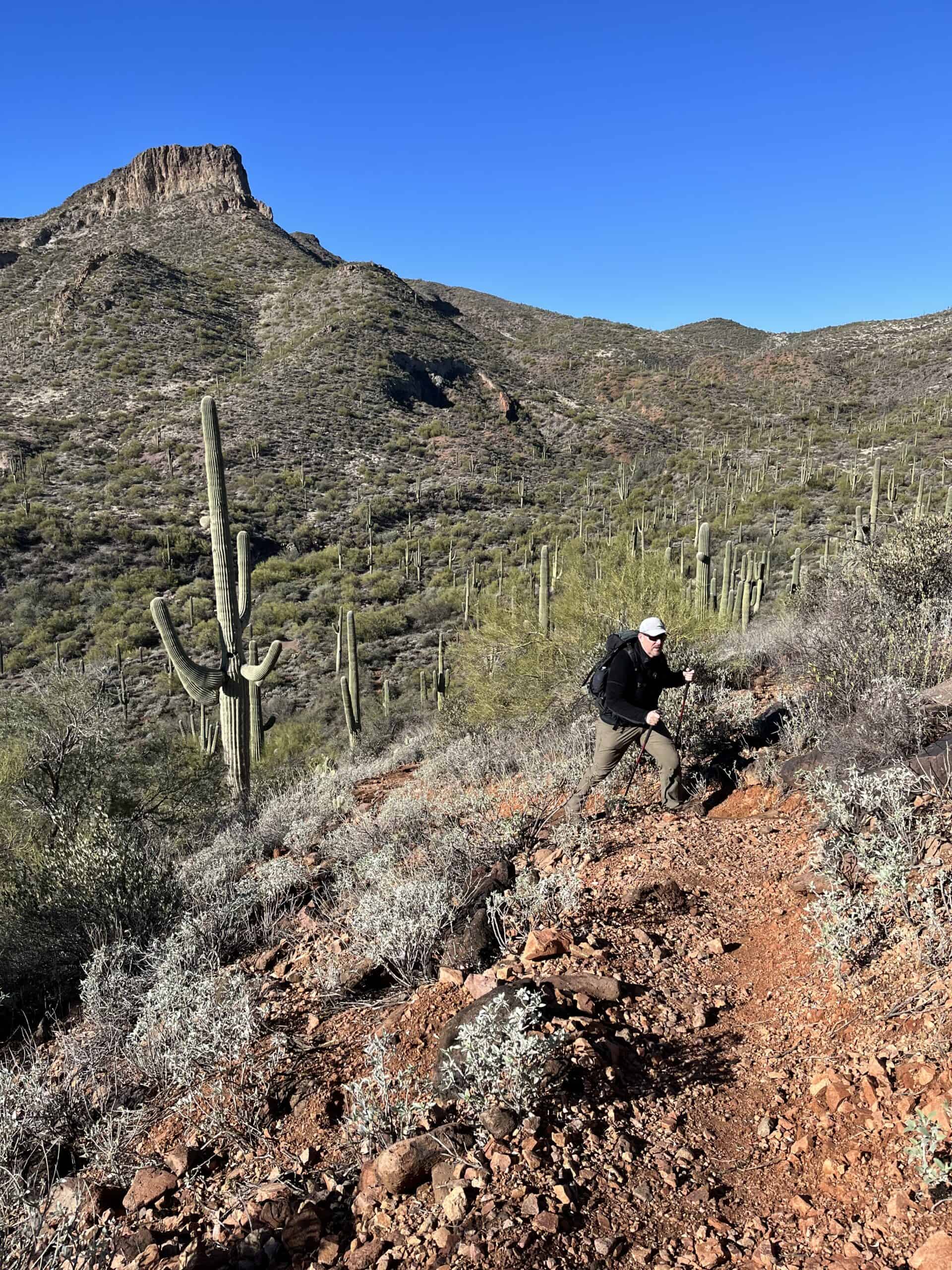 Elephant Mountain Trail is steep and rugged – just the kind of challenge we like, and another reason it's the best hike near Phoenix.
No horses or bikes are allowed here, and the final mile to the base of the final climb to the mountain is straight up.
See also: Sierra Nevada Adventure – White Mountain Peak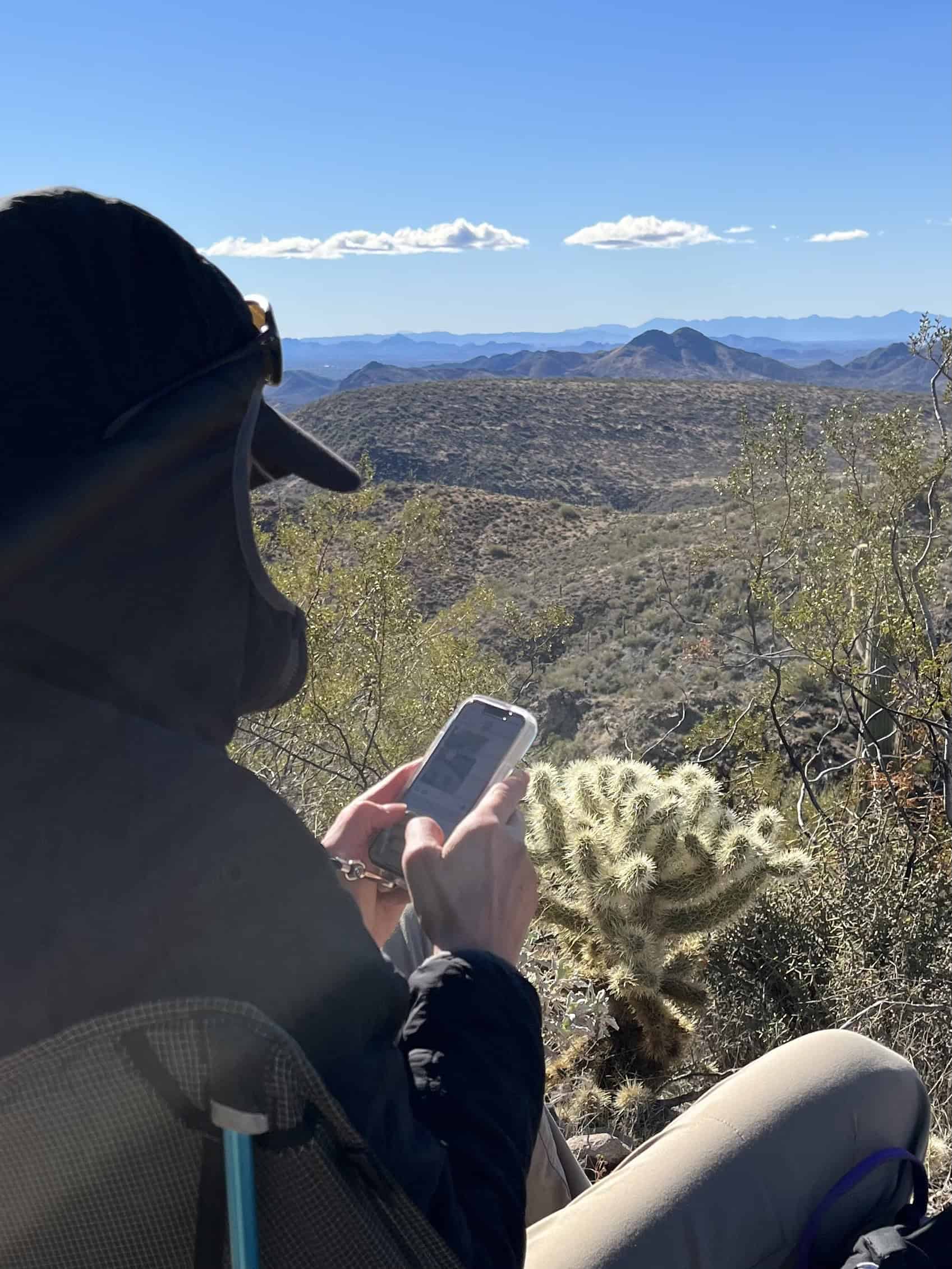 We stop for a meal break and take in the views at the pass. It is the halfway point.
Downtown Phoenix is just visible to the naked eye, but the wilderness area feels rare – so close to a major city like Phoenix.
We are just a half-hour hike from the summit of Elephant Mountain.
An unmaintained trail seems to lead up to the peak, but an official sign states that the path is closed.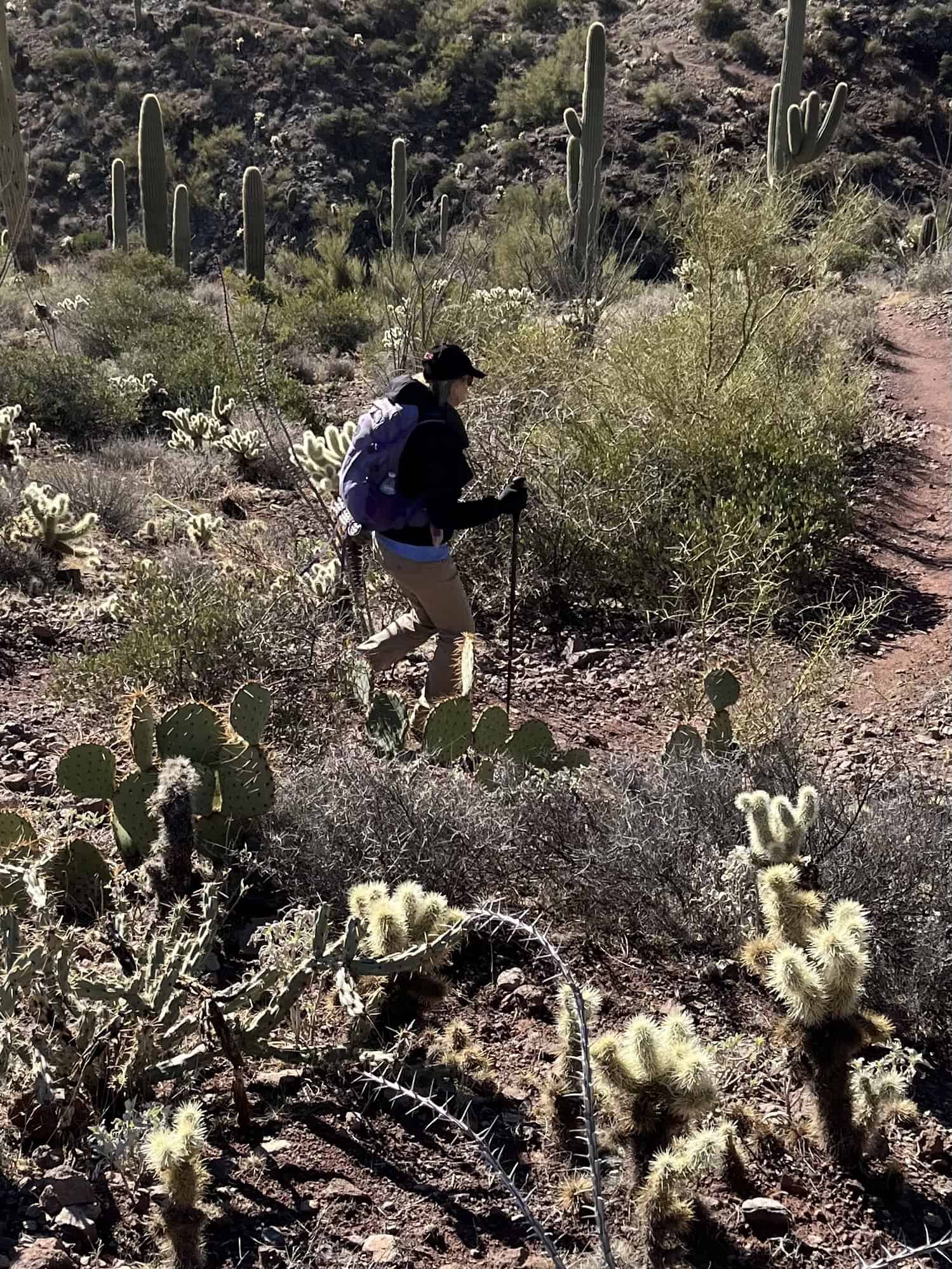 After our rest and food stop, we complete the Elephant Trail Super Loop and go full speed down the mountain for 4.5 additional miles (7.4 kilometers) directly to the truck.
Our hike was four hours of pure bliss; it's the best hike in Phoenix.
***
The next time you're in Phoenix, Arizona, strap your boots on and make your way to Star Cross Ranch Conservation Area.
My Elephant Mountain Super Loop Trail may just become your favorite too.
Traveler, Adventurer, Writer, Photographer
Planning a trip? Go Backpacking recommends: