For a man, packing birth control for long-term travel is easy. Pop a handful of condoms in your medical kit and one in your wallet, and you're good to go.
For women, birth control often goes beyond just protection for sex, and having a back-up in case other methods of control fail in their time of need.
It's also about regulating periods and hormones.
I don't know about you, but I like to know the exact day I'll be needing to worry about Aunt Flo on my travels.
With birth control, I know when she'll be arriving, and that gives me peace of mind.
When addressing birth control for travel, women have to consider packability, the shelf life of the product, side effects, and maintenance on the road.
I know — sounds like a lot of extra thought, right?!
Plan in Advance
The best plan of attack is to address the issue early on.
Talk to your medical care provider and let them know that you plan to travel for an extended time and will need easy birth control.
If you need to switch to a new method, it is best to test it out for a few months to make sure the hormones work well with your body.
Some questions to ask:
Will this method store well in my backpack, in hot or damp weather?
How can I make sure I have enough for my entire time on the road?
Will it be easy to remember (for those that are always forgetting to take their pills)?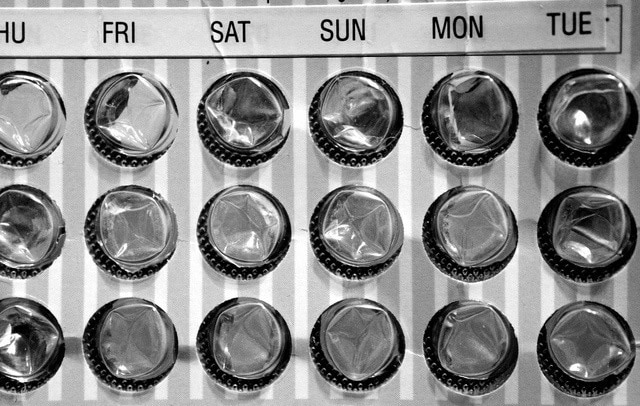 Pills
Pills continue to be the most standard option for birth control for travelers.
Taken daily, however, they can be easy to forget when moving and repeatedly packing — and when figuring it all out for time differences!
Still, pills keep well, are reasonably cheap, and pack without taking up much room.
Nowadays, birth control pills can go beyond the monthly ritual to provide months of period regulation.
Seasonale, for example, provides women with periods only once every three months, which can be a good idea for the traveling female.
Seasonale is a specific brand of pill that allows women to skip their periods.
Still, it is possible to skip periods with other types of birth control pills by heading straight into the second pack of active pills instead of taking the placebos.
A word to the wise: Check with your health care provider first.
Some types will not work. Instead of skipping your period, you could just give yourself spotting for a month until your next proper cycle rolls around.
Shot
The shot, or Depo-Provera, prevents pregnancy for three months, so you will need a shot every 12 weeks.
As this can be tricky when planning to travel, they say a shot up to one week before or after this 12-week point can also keep you covered.
The benefits of the shot are clear: You don't have to take a pill every day, and you don't have to pack months of pills or other methods in your bags.
However, the major downside is that you have to get an injection every three months, which could be hard to acquire in some parts of the world — unless you plan to carry your own vial and needles around (not for me!).
Some women also find they have irregular bleeding, or no periods at all, during the entire use of Depo-Provera.
Ring
If you're on the "ring" (NuvaRing), you'll have to consider the longevity of your travels and the style.
The NuvaRing was like a gift from God in my eyes since I only had to think about it on a monthly, instead of daily.
You simply insert the flexible ring into your vagina, leave in for three weeks, take out for a week, and insert a new one for the next month's cycle. Simple, simple, simple!
Unfortunately, with travel plans looming, I had to switch up my options. The NuvaRing is a birth control method that goes "off" faster when exposed to heat.
I was told to store my rings in the fridge to make sure they maintained their protection level of hormones.
So, if you're planning to travel — especially backpack — for months on end, then tossing these bad boys in your bag through all sorts of weather conditions is just asking for trouble down the road.
However, if you will be traveling to one place for a few months, with access to refrigeration, you might be able to continue using the ring.
Patch
The Ortho Evra patch was another favorite birth control method of mine years ago.
It is a sticky patch, much like a nicotine patch, that stays on the skin to release a steady and constant flow of hormones.
Instead of a daily need to address your birth control, the patch was replaced weekly, for three weeks, with one week off.
However, after maybe a year of use, I was advised by my health care provider to come off the patch as there were health concerns with using it.
Even though the patch is still on the market today, I suggest doing your research before starting on this method and also reading this article on Today Health.
IUD
The IUD, short for intrauterine device, is a semi-permanent birth control method.
There are several variations of the IUD to choose from, but the two categories include a copper (non-hormonal) device and a hormone device (Mirena).
The IUD is inserted into the uterus, where it can act as birth control for up to five years.
The IUD is not for every woman, and it is often recommended for women that are older and are done having children.
But, every woman and body is different, so it is worth consulting with your health care provider about if looking for something more long-term.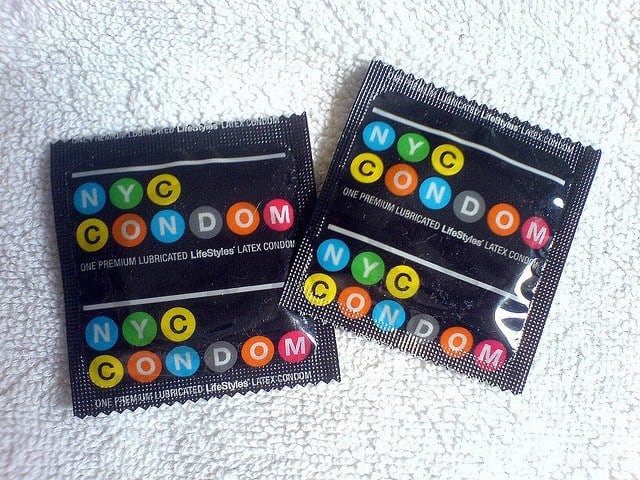 Condoms
Even if you're traveling with your monogamous partner, condoms are recommended as a back-up.
Did you know that certain medications and antibiotics can render your birth control useless? It's true.
What birth control method did you use on your travels, and why?
Brooke lives a thrifty lifestyle so that she can travel the world at every possible opportunity. Find more of her writing on her website: Her Packing List. Or follow her on Twitter.
Planning a trip? Go Backpacking recommends: