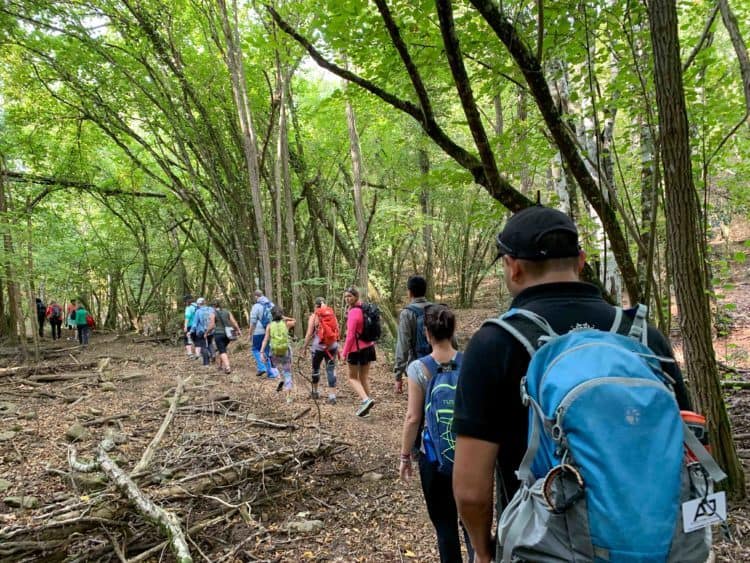 Chianti, one of Italy's best-known wines, was born out of central Tuscany. Following my week of walking on the Via Francigena, I had the opportunity to spend a day on a Chianti wine tour, learning about the origins of this famous wine.
The tour departed Montecatini Terme, where I was staying, by bus on a Monday morning in October for the one hour and forty-five-minute drive south toward Ricasoli winery.
It's a shorter one-and-a-half-hour trip from Florence and just 45 minutes from Siena.
The Ricasoli family has a long and storied history in the Chianti region.
Written records exist as evidence they owned Brolio Castle, a symbol of the region, and produced wine as far back as 1141.
However, it wasn't until 1872 when Baron Bettino Ricasoli, two-time Prime Minister of Italy, came up with the original formula for Chianti wine, now known as Chianti Classico.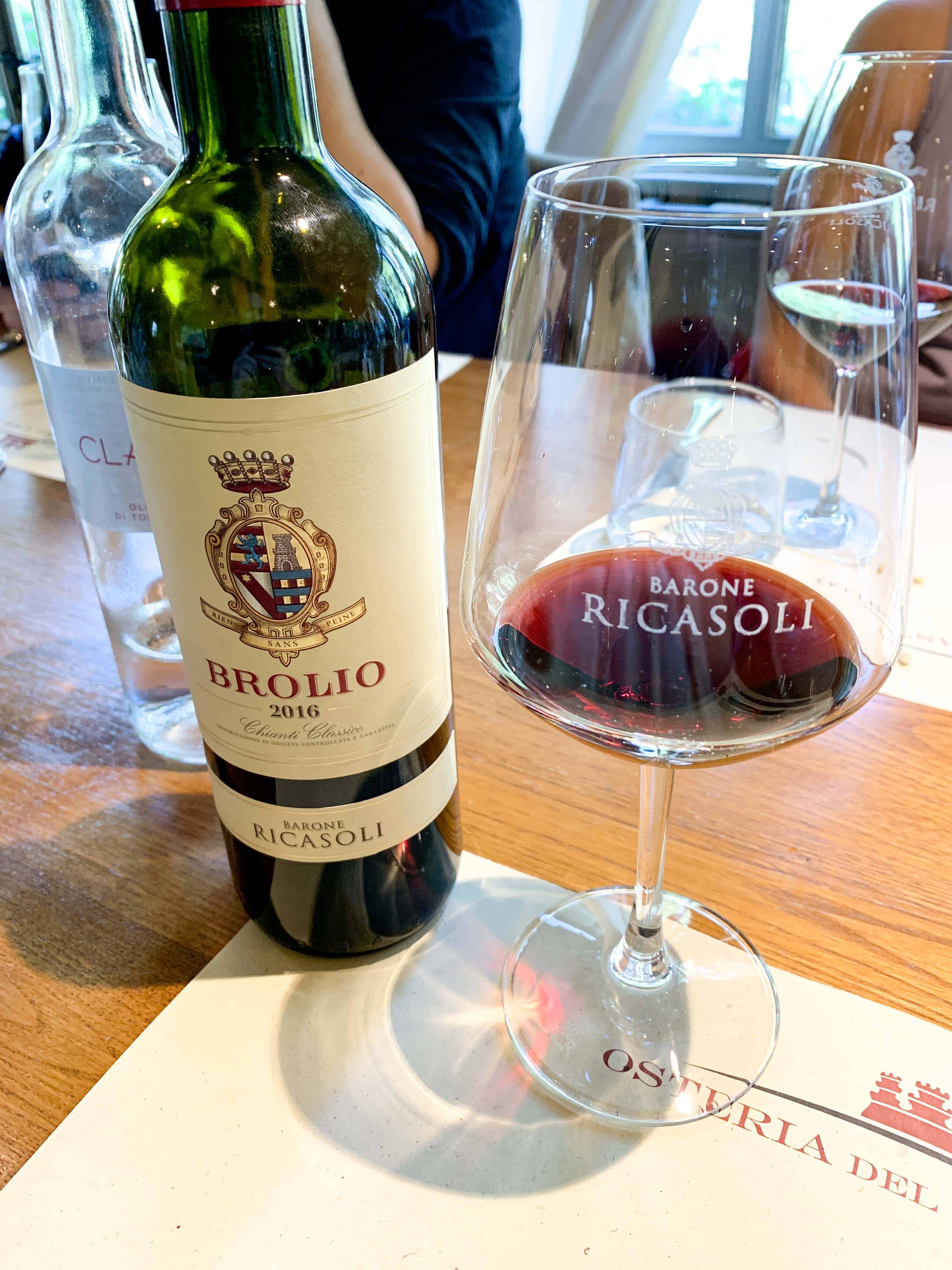 Our tour began with a one-hour hike through the forest surrounding the castle.
It was an easy way to get some physical activity into a day otherwise devoted to eating and wine tasting.
Our guide mentioned the trend of increasingly warm autumns and drier rivers in the region as we passed by a small stream and an old stone mill that was no longer in use, a reminder that global warming is affecting wine regions.
Lunch
On a lighter note, once we'd worked up an appetite, it was time for a traditional lunch at Brolio Castle's restaurant.
The interior was open and spacious, with large windows allowing lots of natural light.
We were offered a Brolio Chianti Classico 2016 and an Albia white wine from the estate.
I was excited to be drinking Chianti on the land where it was first developed.
Lunch began with a pudding covered in cheese sauce, followed by a main course of pasta with rabbit ragout and pistachio semifreddo for dessert. And espresso, of course.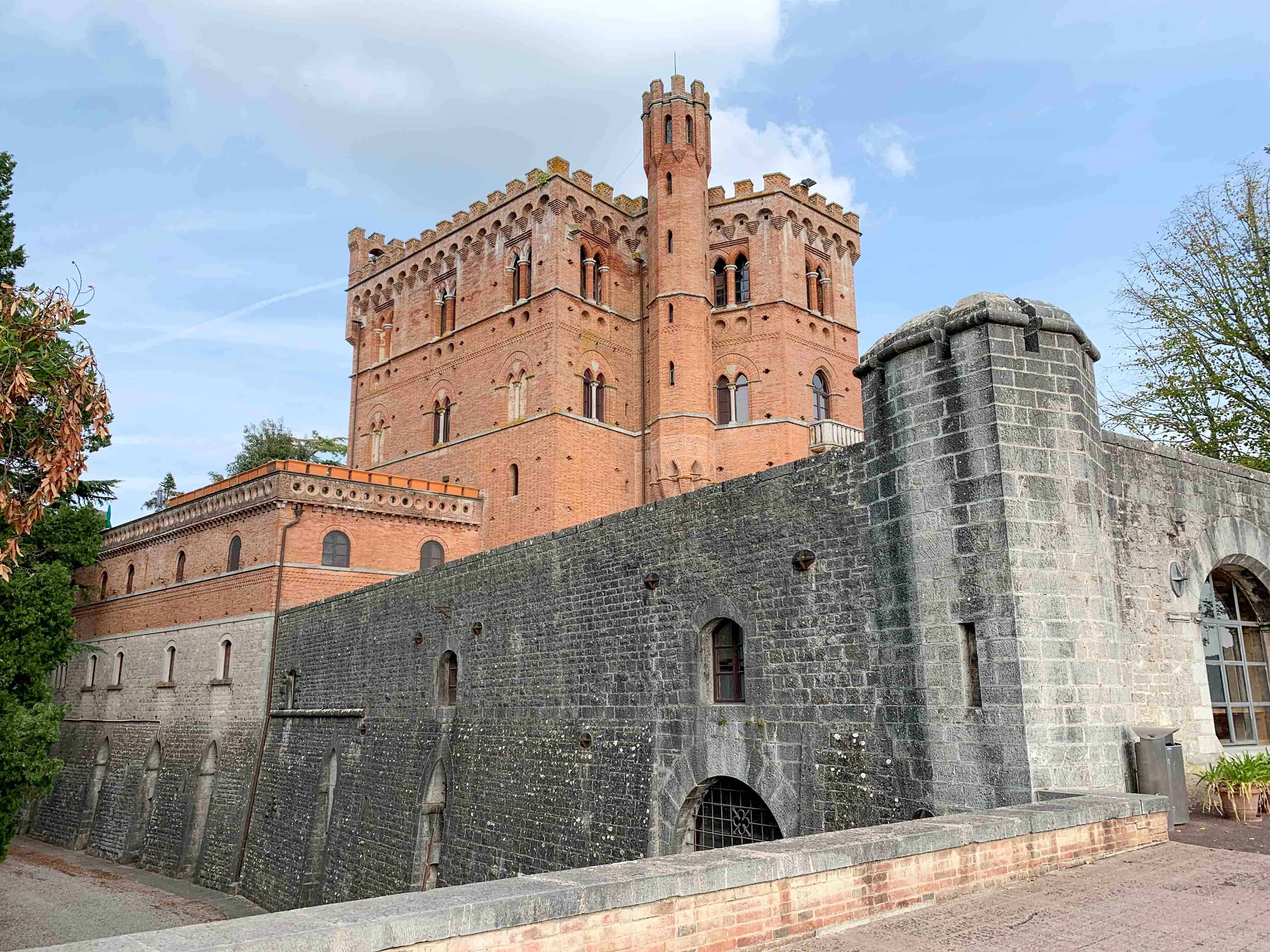 Touring Brolio Castle (Castello di Brolio)
Following lunch, we began a tour of Brolio Castle, the second oldest family winery in the world.
Castles always fascinate me, and this one was in excellent condition, though it has been destroyed and rebuilt several times over its 900-year history.
I especially liked the contrast of the thick grey outer defensive walls with the thinner red walls of the upper levels and interior structure.
Related: Napa Valley Wine Train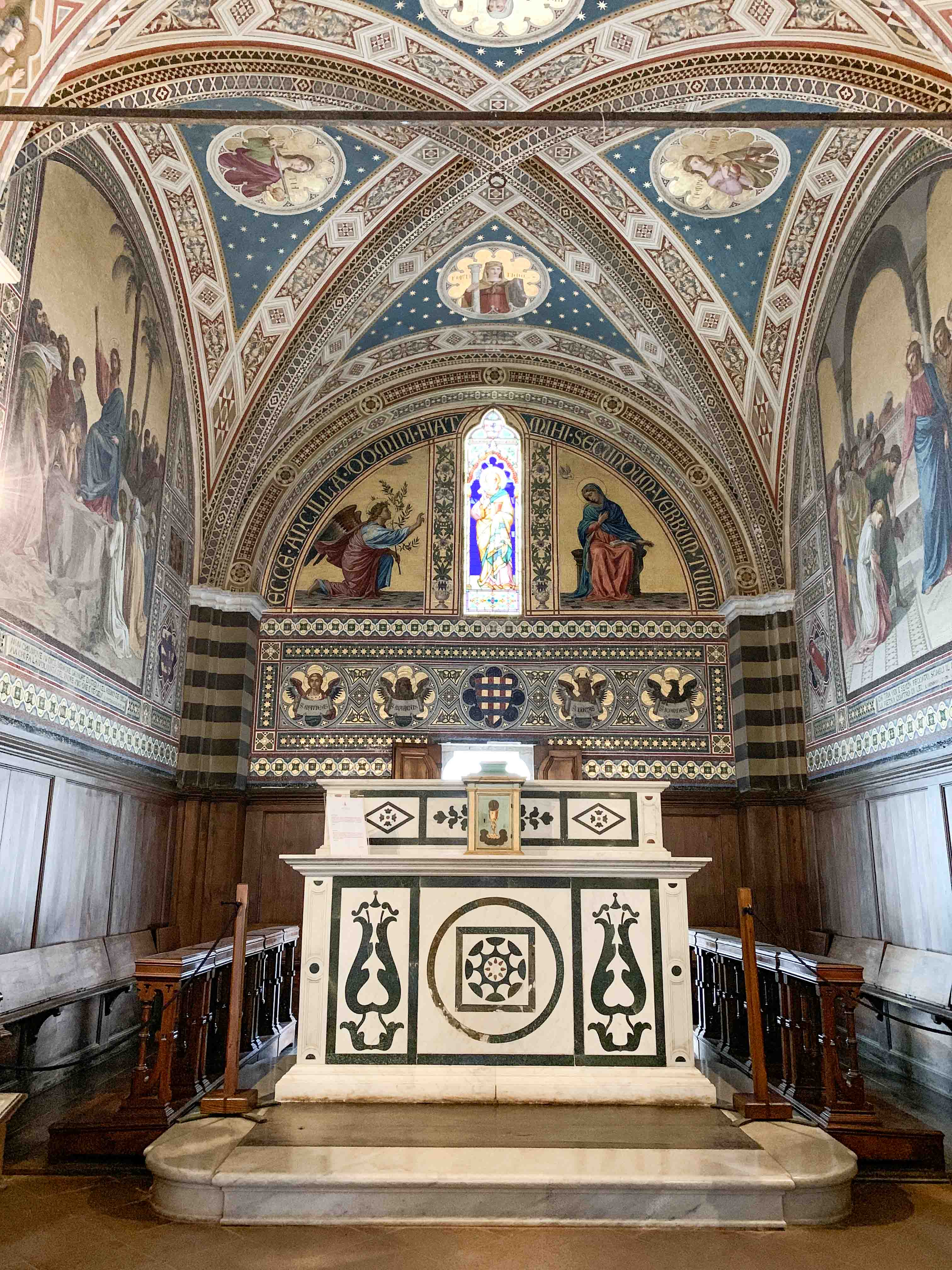 We entered through a large portal and walked further in until we reached the Chapel of San Jacopo.
Beautiful golden frescos cover the upper walls and ceiling.
Beneath the chapel is the family crypt, with a large metal cross and at least 20 members of the Ricasoli family lying in rest.
Next, we visited several interior rooms of the castle, which their elegant wallpaper.
There was at least one old portrait of Baron Ricasoli and many display cases with his mineral and fossil collection from the region. No photos are allowed in these rooms.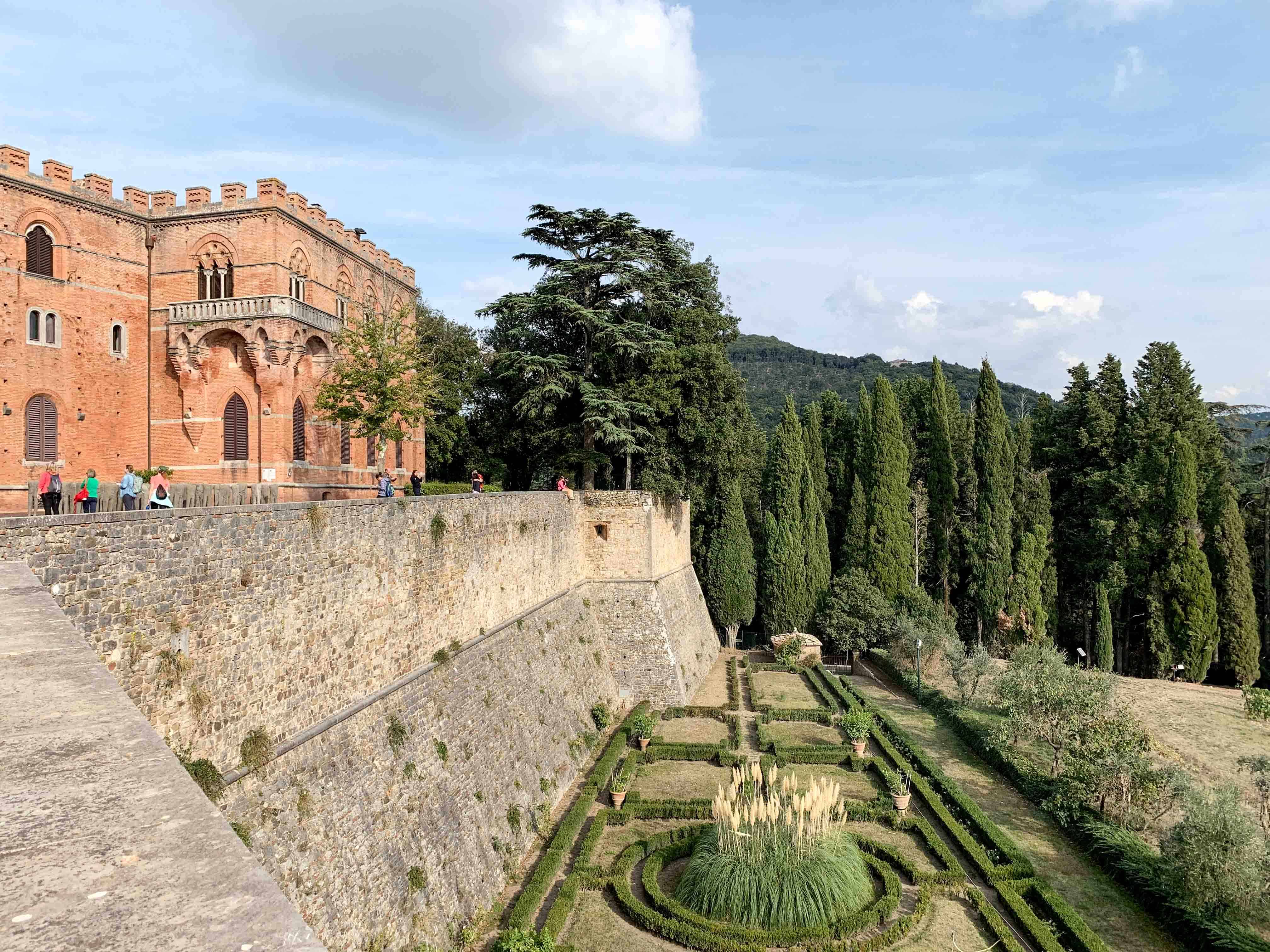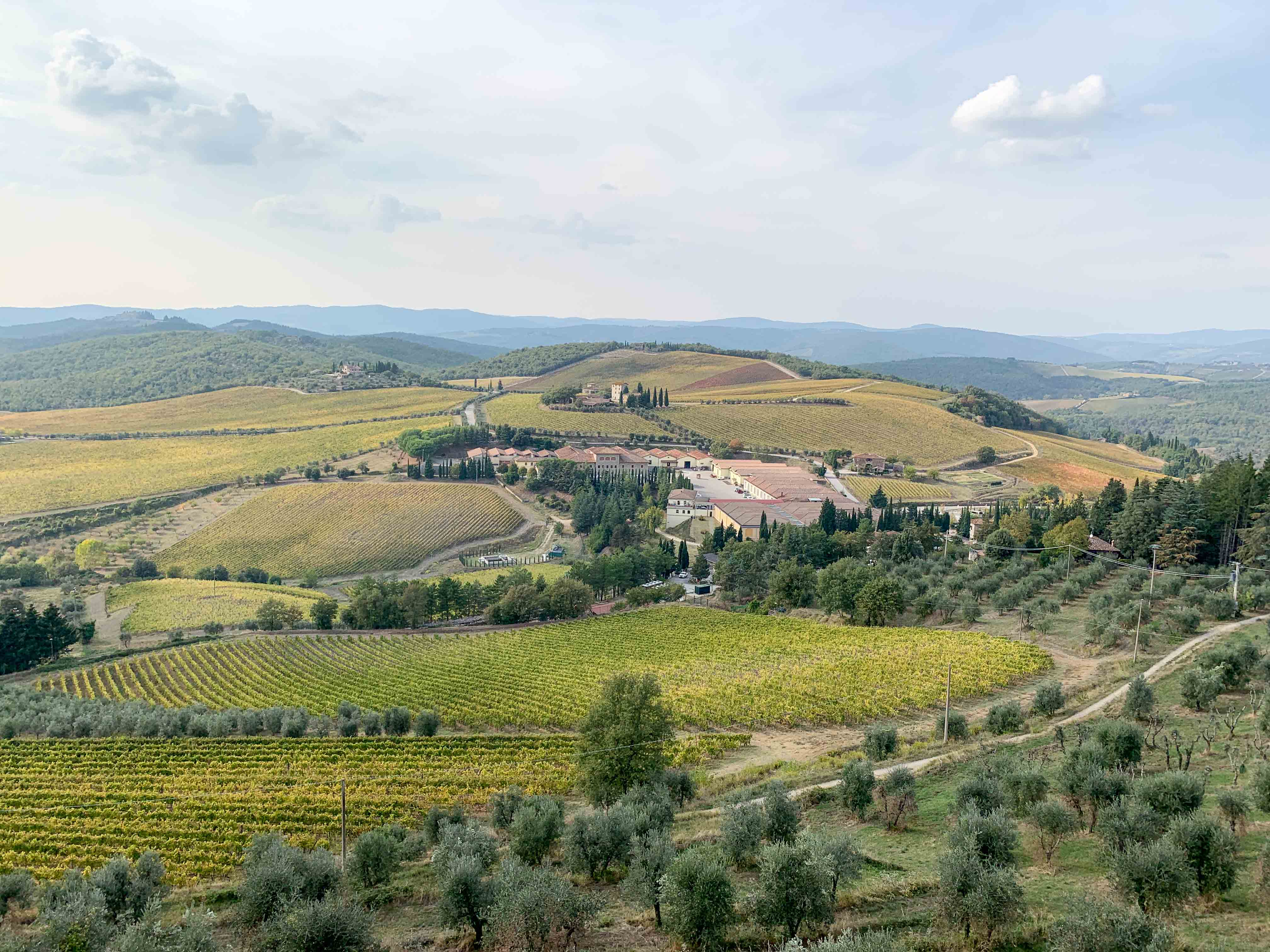 The tour continued with a gorgeous view south over the estate, which covers 2,965 acres, of which 593 acres are vineyards, and another 64 acres are olive trees.
Ricasoli winery produces three million barrels of wine per year!
Related: Working in an Italian Vineyard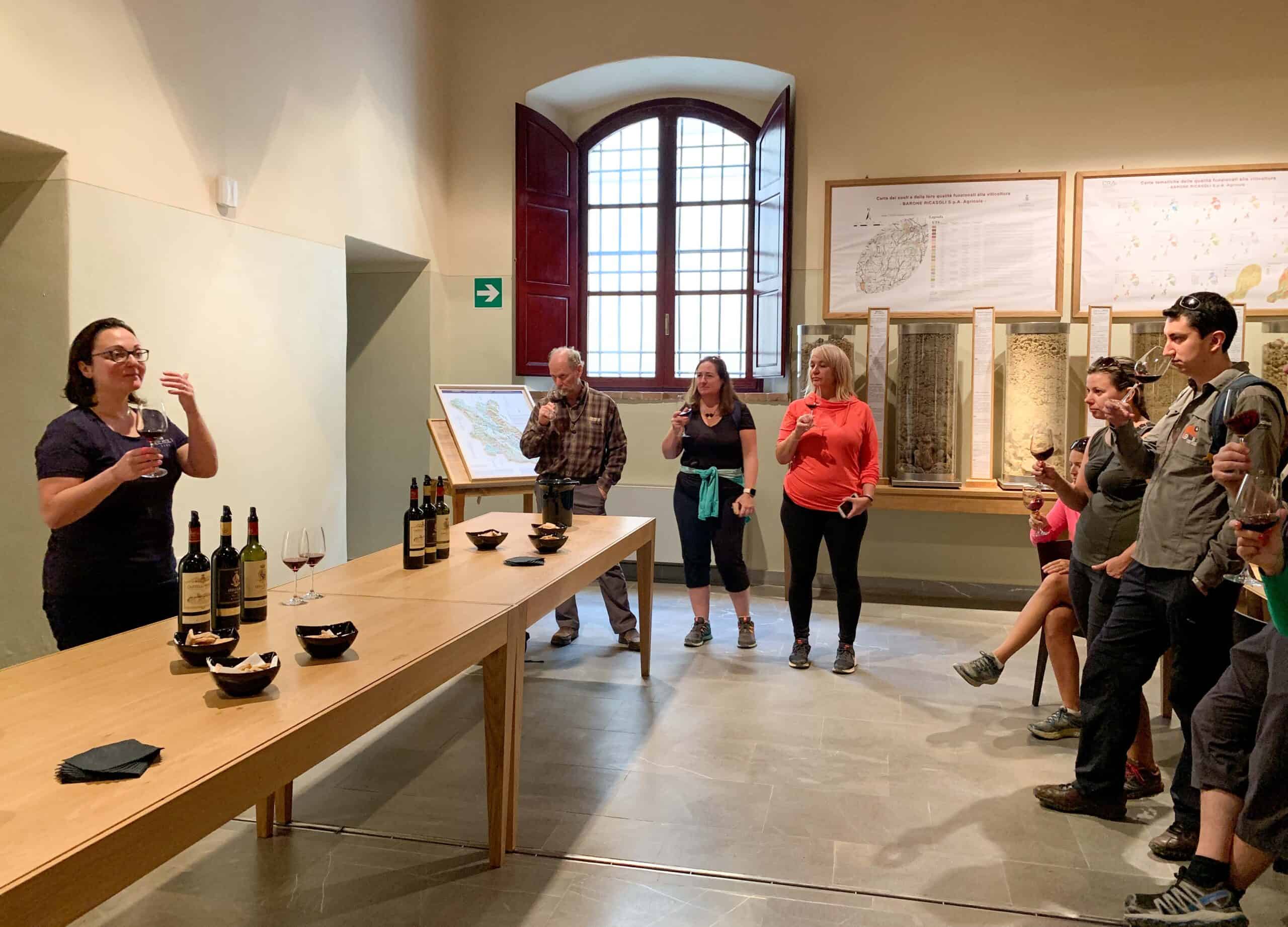 Wine tasting at Enoteca del Castello di Brolio
Our last stop on the Chianti wine tour was a wine tasting in the Brolio Castle's wine shop, a short walk downhill from the castle itself.
We tried three of their award-winning wines, all Chianti Classico:
Castello di Brolio 2015 – made of Sangiovese 90%, Cabernet Sauvignon 5%, and Petit Verdot 5%, and aged 18 months. It was bottled in June 2017.
Brolio Riserva 2015 – made of Sangiovese 80%, Merlot 15%, and Cabernet Sauvignon 5%.
Brolio Classico 2016 – the same that we had with lunch, made of Sangiovese min 80%, Merlot 15%, and Cabernet Sauvignon 5%.
I didn't take notes on which I liked best. However, I'm also not the most discerning wine drinker.
The wine tasting, for me, was just one part of the overall tour. I was there for the experience as a whole, and it had been a wonderful day trip.
Tip: Brolio Castle can't be visited using public transportation, so unless you're renting a car, it's best to pick a tour that includes it on the itinerary.
---
My Chianti wine tour was arranged by S-Cape Travel in partnership with the Adventure Travel Trade Association and Toscana Promozione Turistica.
Dave is the Founder and Editor in Chief of Go Backpacking and Feastio. He's been to 66 countries and lived in Colombia and Peru. Read the full story of how he became a travel blogger.
Planning a trip? Go Backpacking recommends: