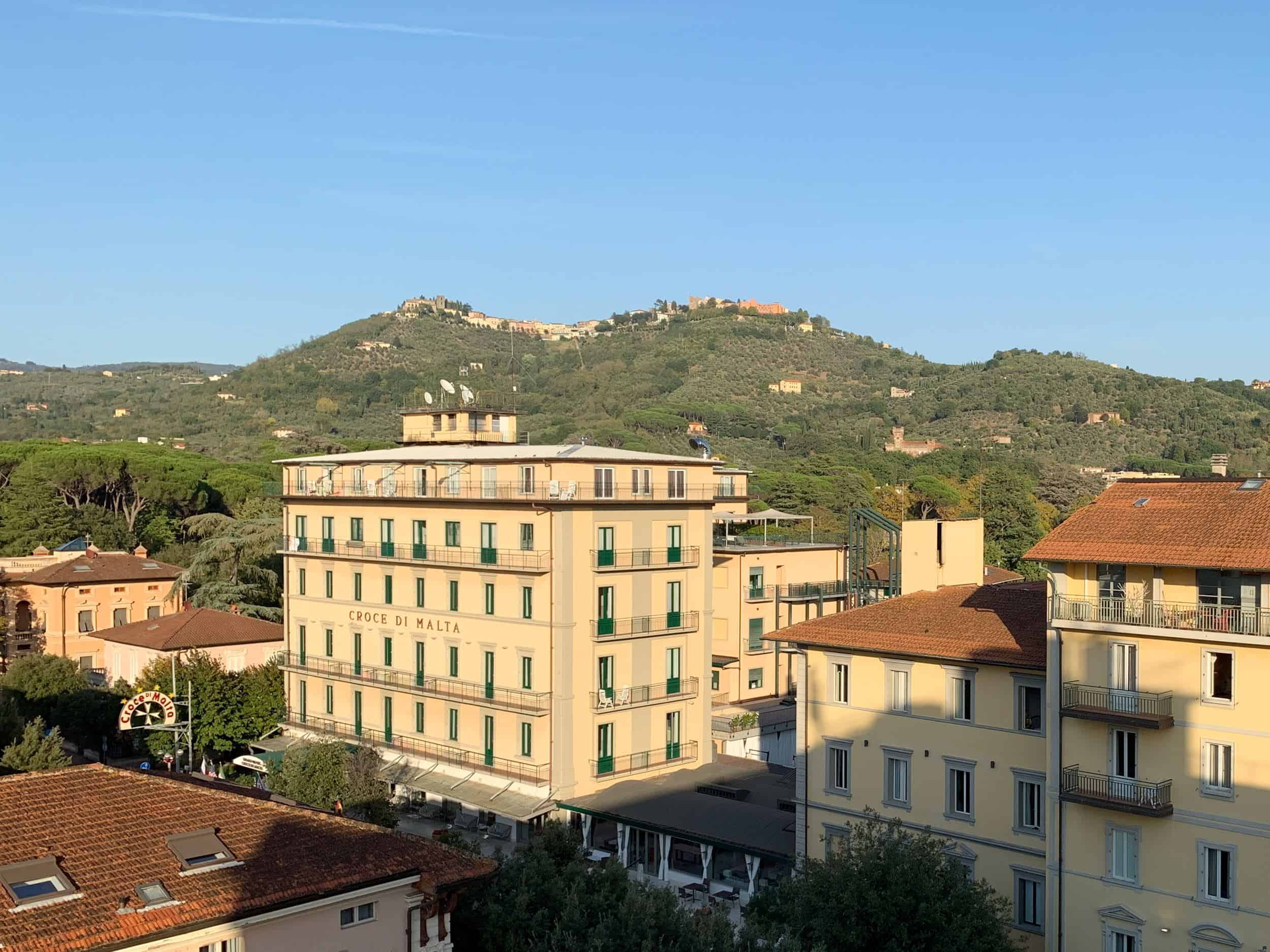 My return to Florence after 20 years allowed me to revisit one of Italy's most beautiful cities.
However, it was only a prelude to the main event: a one-week tour of Tuscany along the Via Francigena.
The Via Francigena is an ancient pilgrimage route that runs from Canterbury, England, through France, Switzerland, and Italy. The journey ends in Rome.
Tuscany is home to 400km of the Via Francigena, offering visitors the chance to experience the countryside as pilgrims have for over 1,000 years.
My week on the Via Francigena was organized by S Cape Travels in partnership with Tuscany tourism and the Adventure Travel Trade Association as part of my attendance at the 2018 Adventure Travel World Summit in Montecatini Terme.
Our guides included the wonderful Ottavia of S Cape Travels Italy and knowledgeable Roberta Ferraris, author of the official Via Francigena guidebook.
As you'll see, the itinerary they created for us included time spent on the Via Francigena in northern, central, and southern Tuscany.
As that would've been too much distance to cover in just six days, we relied on van transfers to bridge the gaps.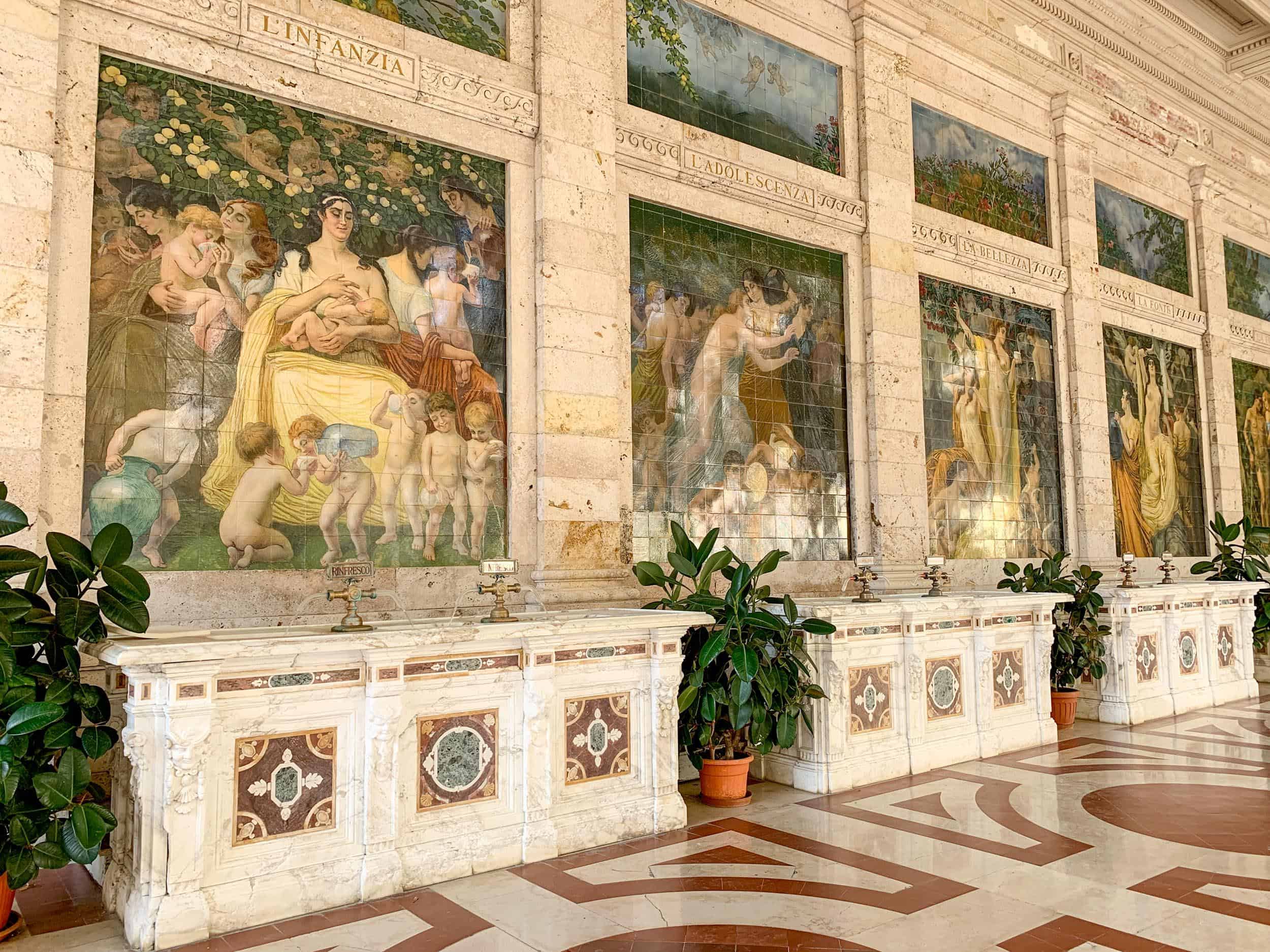 Day 1 – Arriving in Montecatini Terme
Our tour began in Montecatini Terme, an 18th-century spa town centrally located in Tuscany, a little over an hour's train ride west of Florence.
Arrival day would be the easiest of the trip, as the only walking we did was from Hotel Tuscany Inn by the train station to the 19th century funicular for a ride up the hill to Montecatini Alto.
The original town was located on a hilltop, which made sense in medieval days, as it was easier to defend.
We had the first of many delicious meals highlighting regional Tuscan cuisine at Ristorante La Torre.
Courses included bruschetta (tomatoes, basil, and olive oil on bread), vegetable soup, Tuscan peasant food (made by mixing leftover bread with tomatoes into a mushy consistency), and various cheeses and ice cream.
There was plenty of red and white wine, as would be the norm for us at all the following lunches and dinners.
Tip: A room with a view doesn't have to cost a lot. Check Booking.com for last-minute deals. I recommend getting a hotel with a view north toward the old town. I did this for a night after the conference and was so glad I did.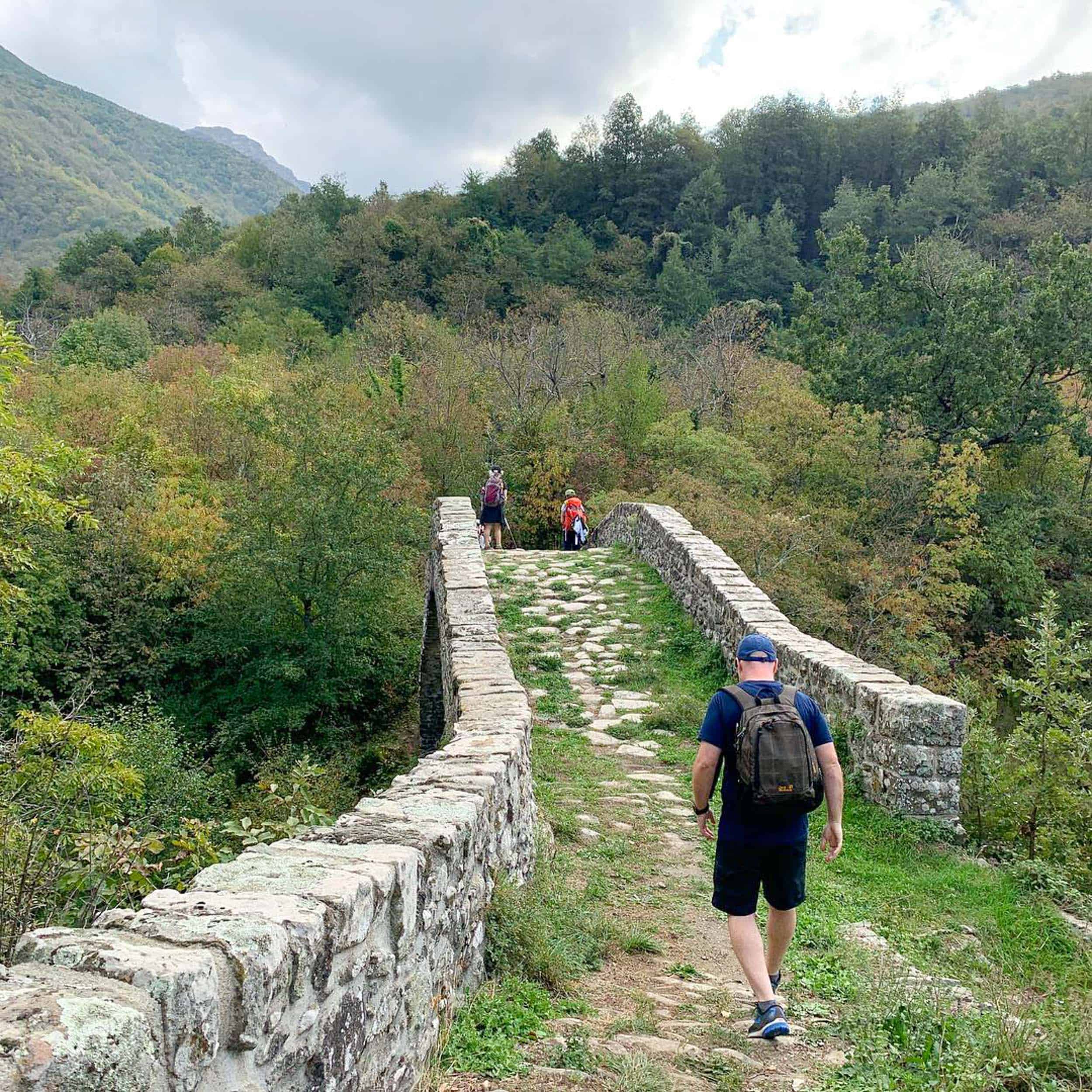 Day 2 – Lunigiana to Pontremoli
The following day, we were up early for breakfast and a transfer by van to Cavezzana d'Antena in northern Tuscany, near the Emilia-Romagna border.
Dropped off just shy of 11 am local time, we followed the well-marked Via Francigena route through olive farms, the dirt trail hugging the hillside.
Our guides informed us that northern Tuscany is less visited than the south, and I could understand why.
We were immersed in the forest much of the day, not walking amongst the rolling vineyards so commonly associated with this region of Italy.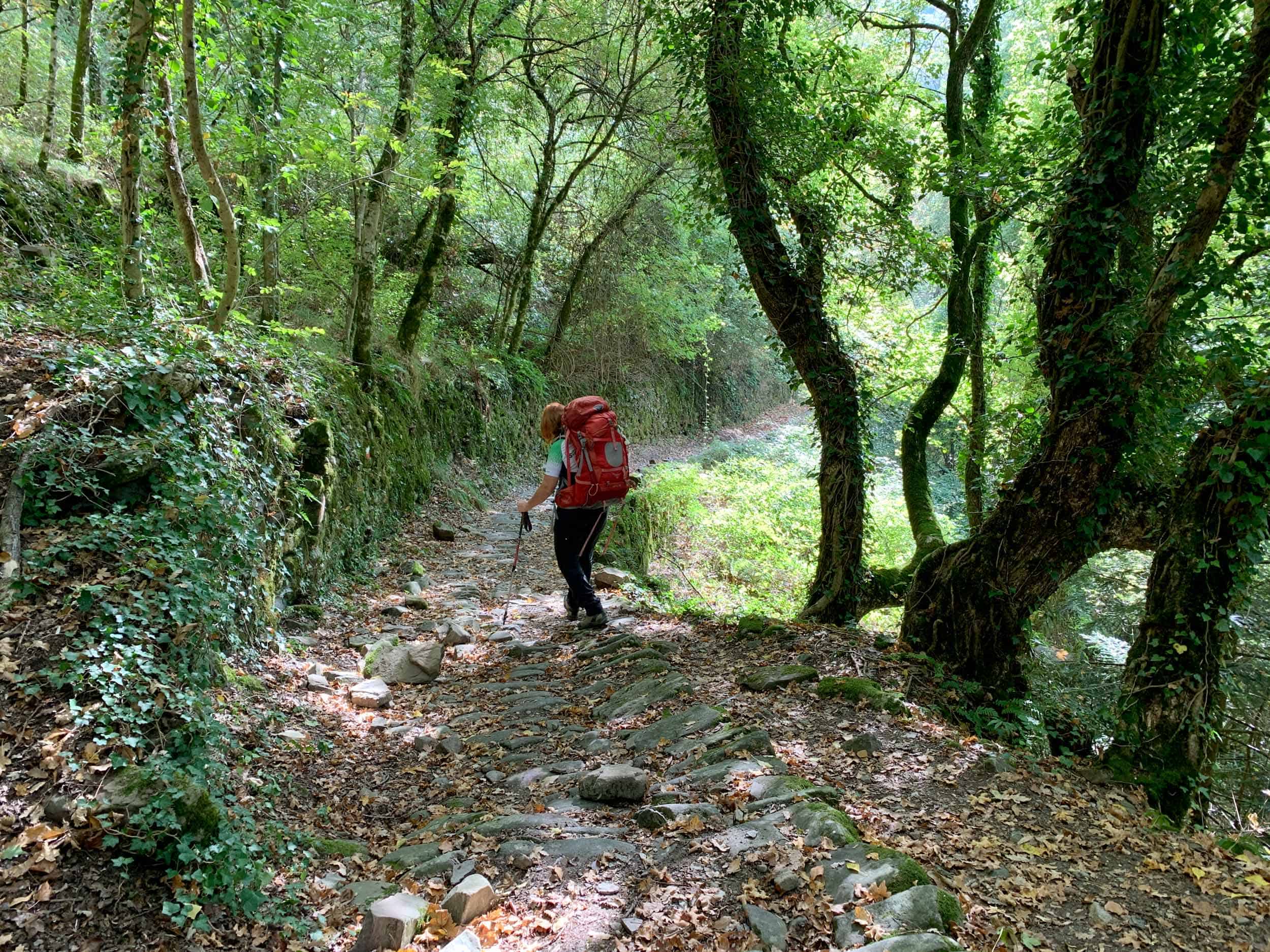 However, the trail and scenery were at their most varied on this day, something we'd only come to appreciate by the end of the tour.
One moment I'm taking a photo of Roberta in what looks like a lush green forest, and no more than ten minutes later, we're walking through multi-colored fall foliage, chestnuts crunching below our feet.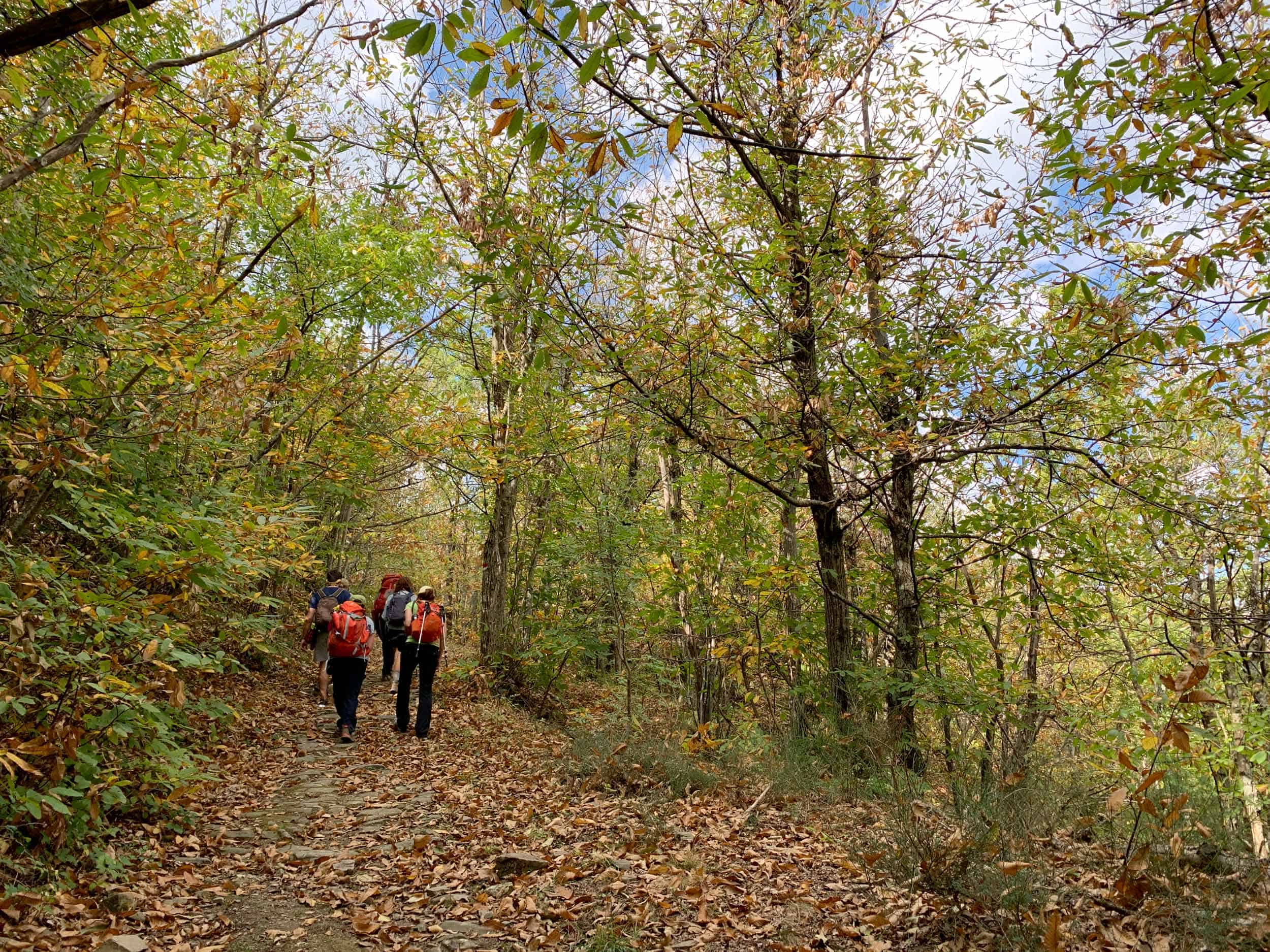 It was also our most physically active day. There were a handful of short but steep inclines, and I was huffing and puffing up all of them.
Using my Fitbit Versa, I tracked our daily hikes, in addition to the total distance traveled.
On our second day, we walked 9.58 miles (15.4 km) over five hours and twenty-two minutes (including an hour break for lunch) on the trail.
This amounted to 21,000 steps, about three to four times my average daily step count at home.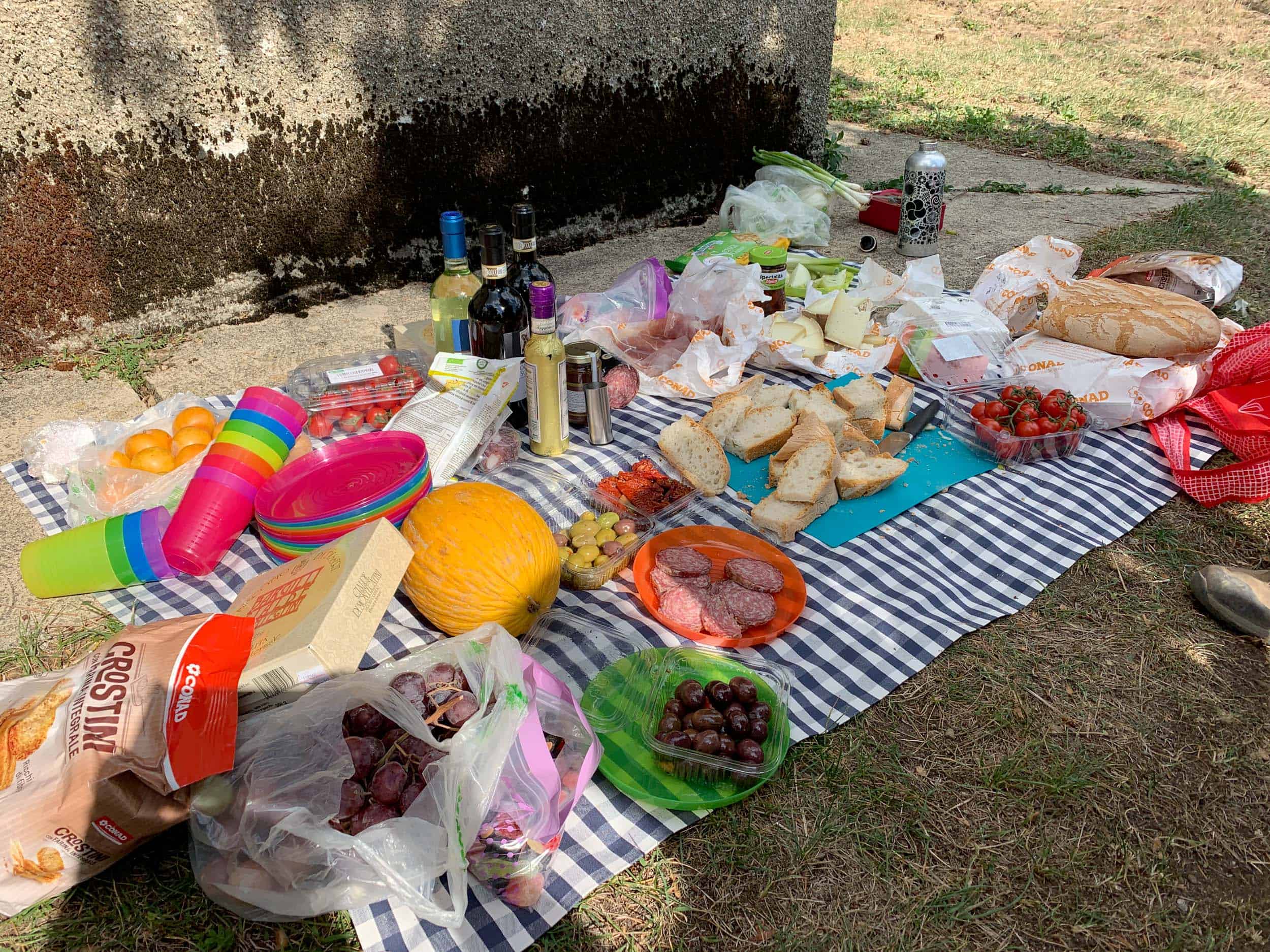 We were all grateful when we reached the spot for our picnic lunch overlooking the valley.
Ottavia and Roberta got to work slicing bread and unpacking all the food we'd brought with us, including plenty of cheese, prosciutto, olives, grapes, and tomatoes.
After an hour of chowing down and resting our feet in the sun, we packed up for the final downhill stretch to the medieval town of Pontremoli.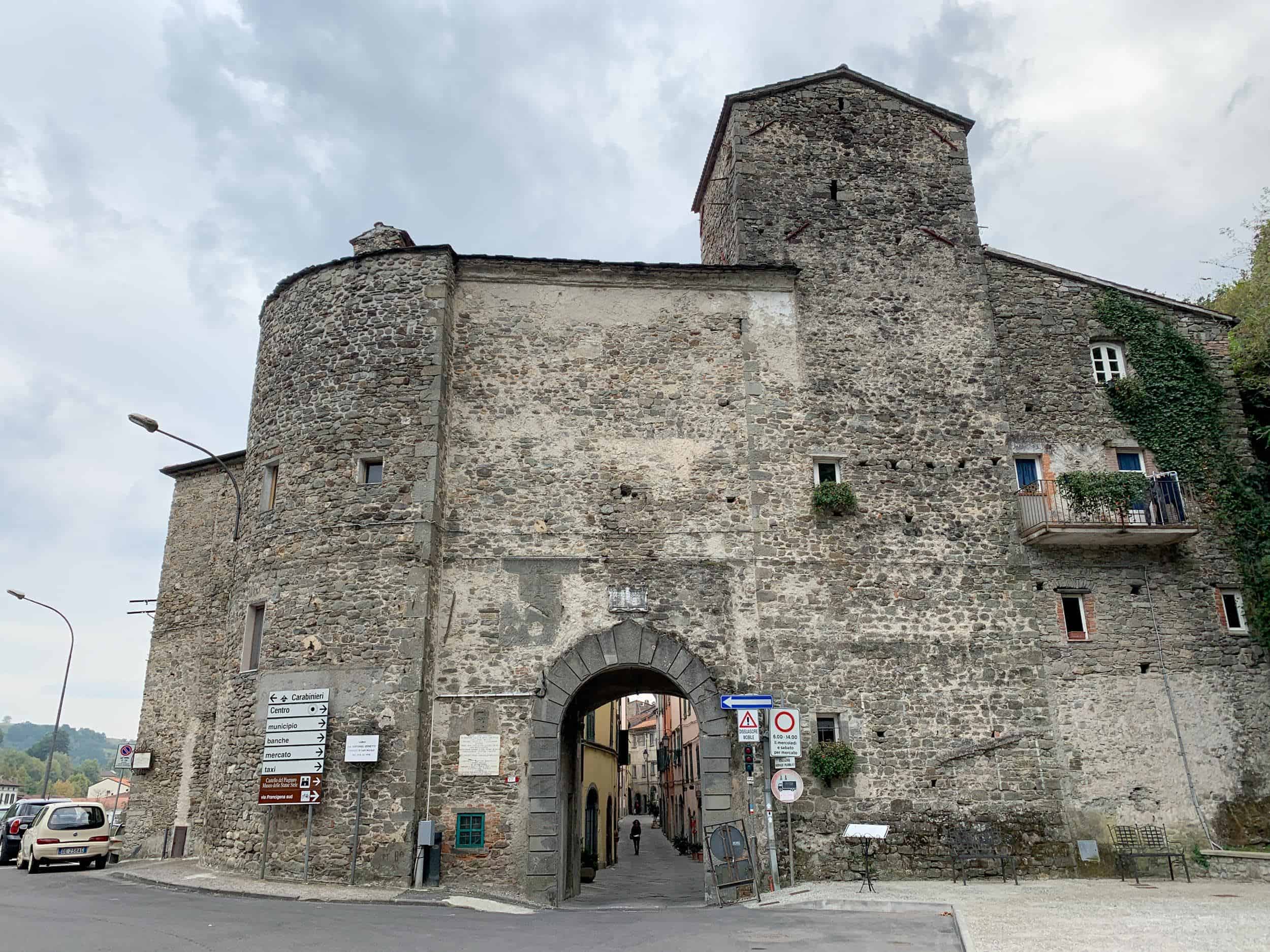 Pontremoli
Pontremoli means "trembling bridge" in Italian, a name it got from a bridge that once crossed the Magra River, which runs through town.
The most dramatic entrance into town is the Porto Parma, which we walked through on our way to the 1,000-year-old Piagnaro Castle.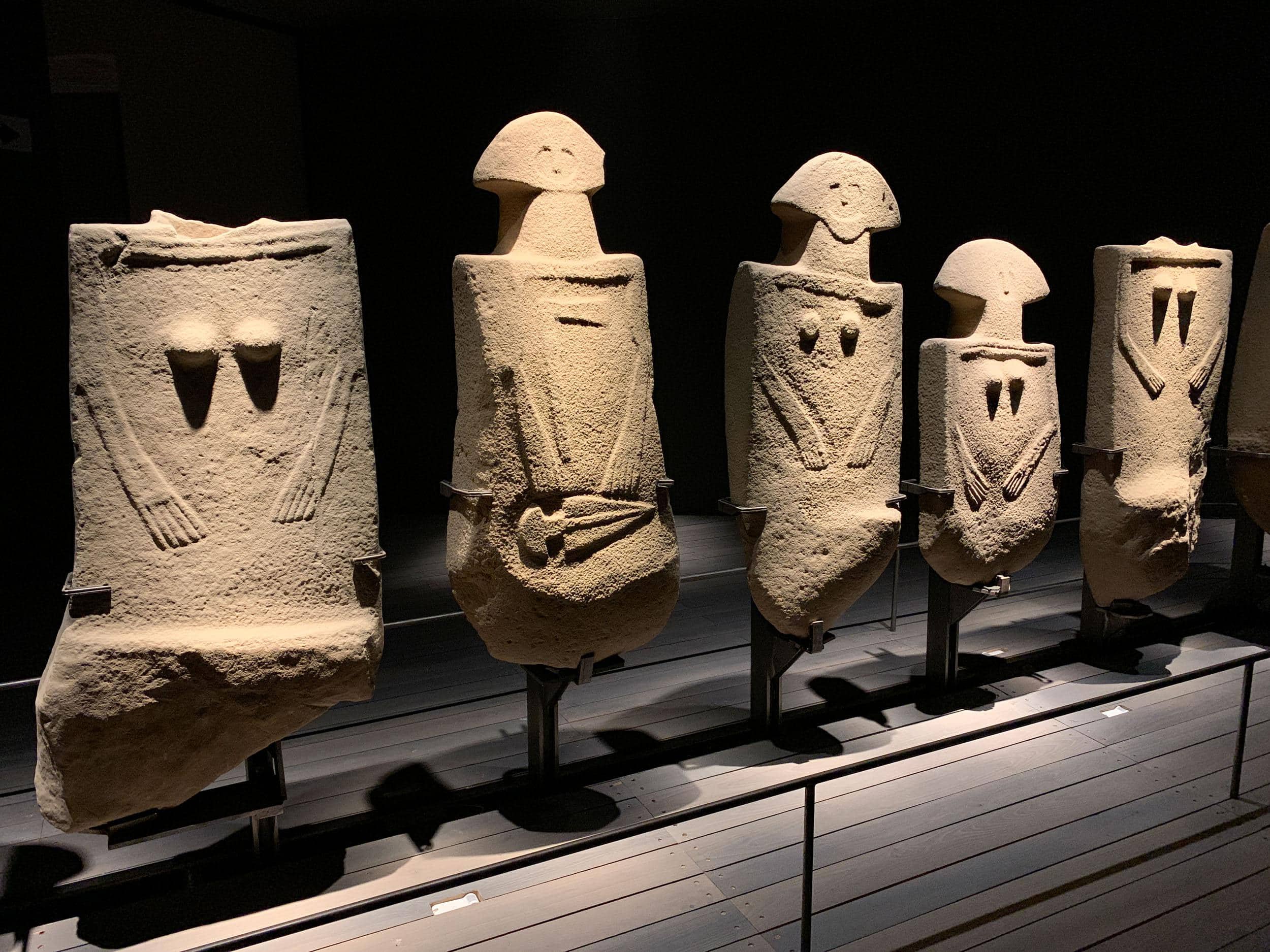 Statue Stele Museum
The castle houses the Statue Stele Museum, which has become a repository for ancient stone statues found in the region, some dating back to 4,000 BC.
Following a brief tour of the museum, we walked further into town to the main square before being scooped up by our van for the 15-minute ride to the hotel.
Dinner at the hotel highlighted regional favorites, including Lunigiana testaroli with pesto, beef tagliata with rocket and parmesan, and apple cake with hot cream for dessert.
Exhausted from a long day two of our walking tour in Tuscany, I fell asleep quickly after dinner.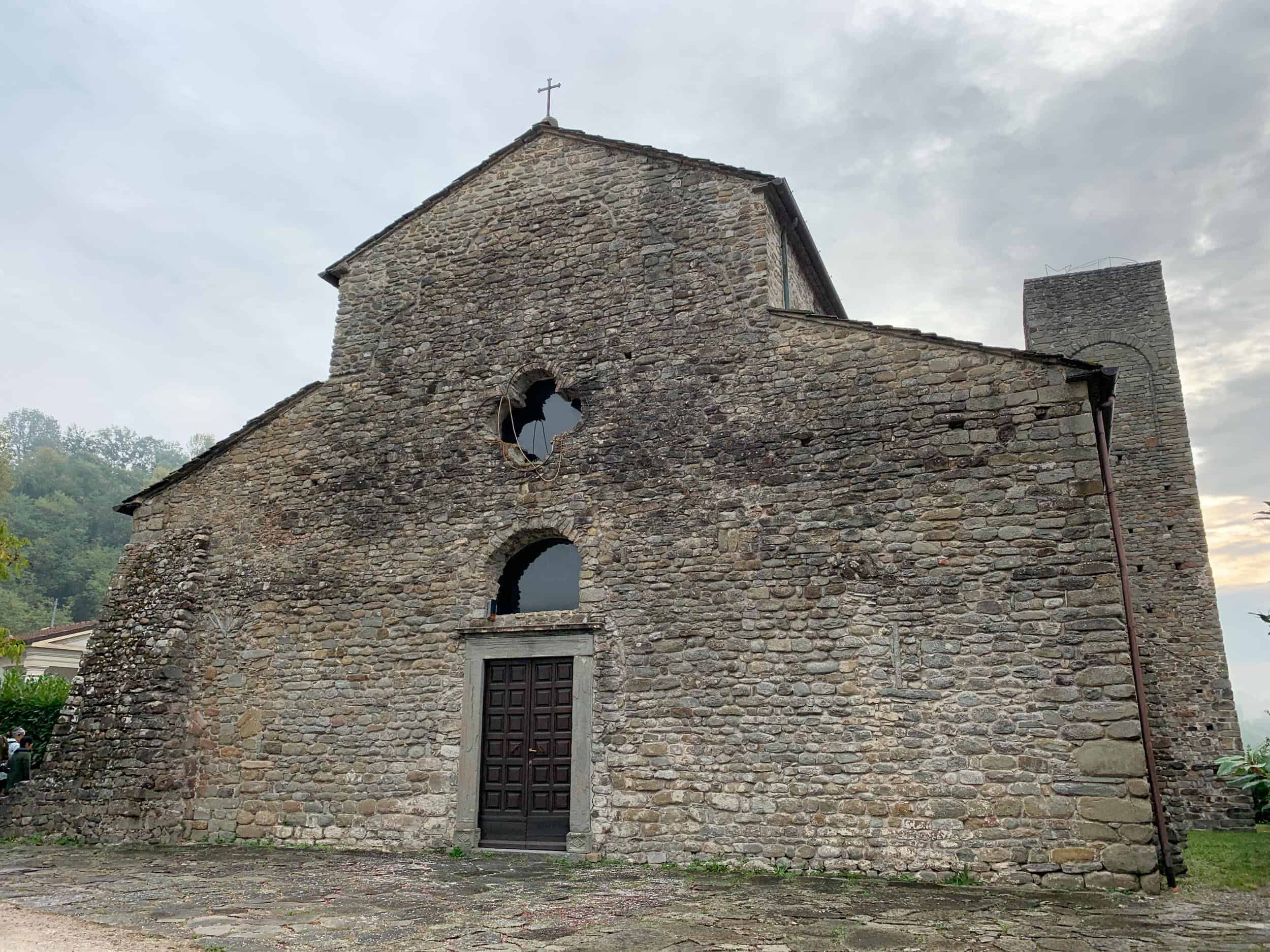 Day 3 – Filetto, Pietrasanta, and Lucca
We woke up to grey skies and light rain on our third day.
Following breakfast at the hotel, we took the van to visit Pieve di Sorano, a 10th-century Romanesque church in Filattiera.
Pilgrims would stop in churches like this as they made their way south on the Via Francigena to Rome.
This particular church has been robbed in the past, so the interior can only be viewed by appointment.
Due to the rain, our guides offered us the choice of spending the rest of the morning doing an olive oil tour and tasting we didn't have time for the second day or walking a short section of the Via Francigena as planned.
I chose the olive oil experience, as it's a product I use almost daily to cook with at home.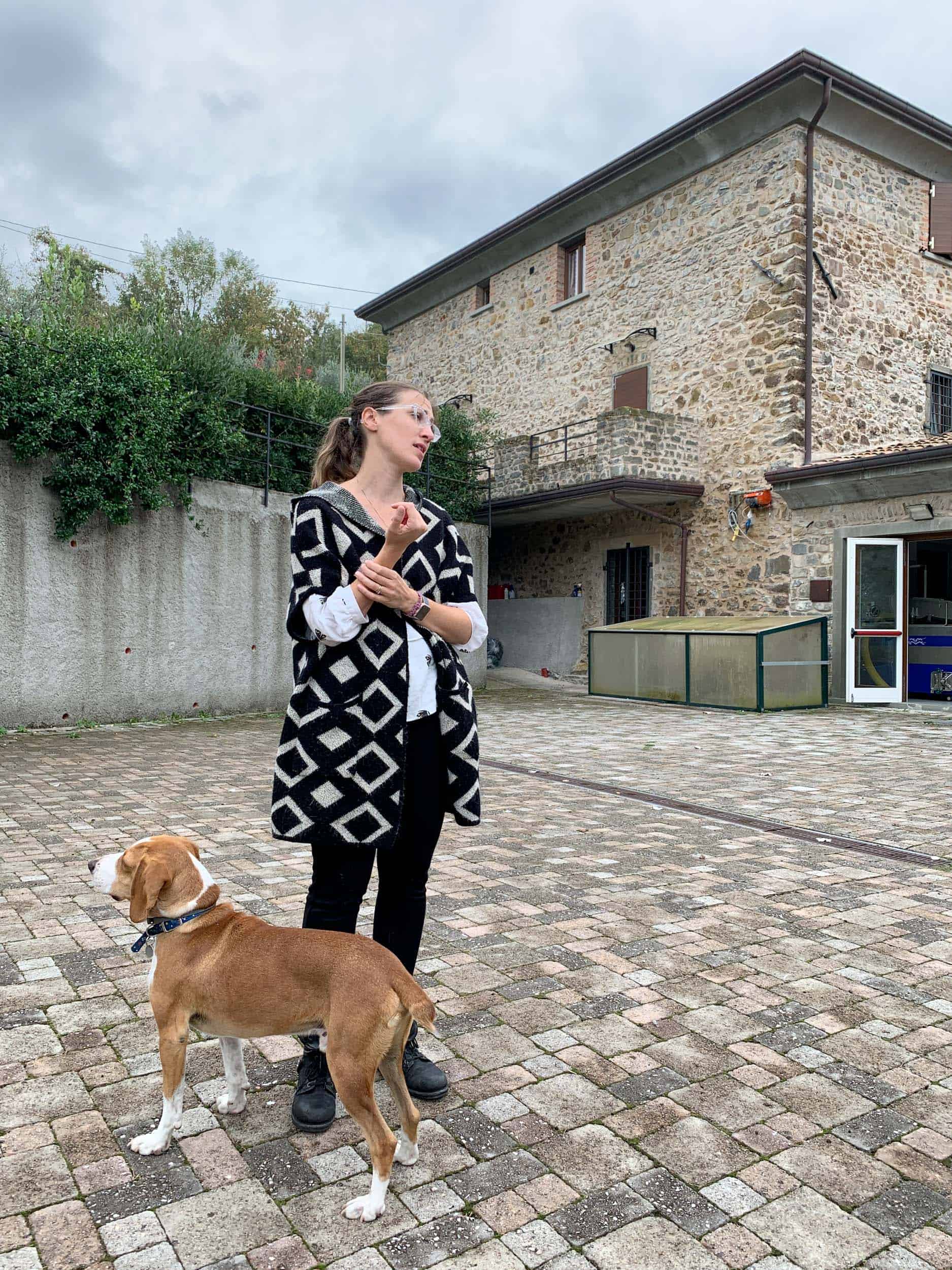 Olive Oil Tour and Tasting
Perched above Pontremoli, along the section of the Via Francigena we'd hiked the day before, is Francesca Ferrari's olive farm which she runs with her husband Paolo (and adopted dog Homer).
After they purchased the old stone house and property in 2005, it took the couple several years to clean it up as it had been left in terrible condition.
In 2009, they began using the basement and former wine cellar as an educational and training space, and in 2011, they started renting four guest rooms to visitors.
At just nine hectares, it's a small family-run business focusing on quality over quantity
. They do everything on-site, from growing and pressing the olives to packaging the extra virgin olive oil.
We were visiting a few weeks before the annual harvest in early November.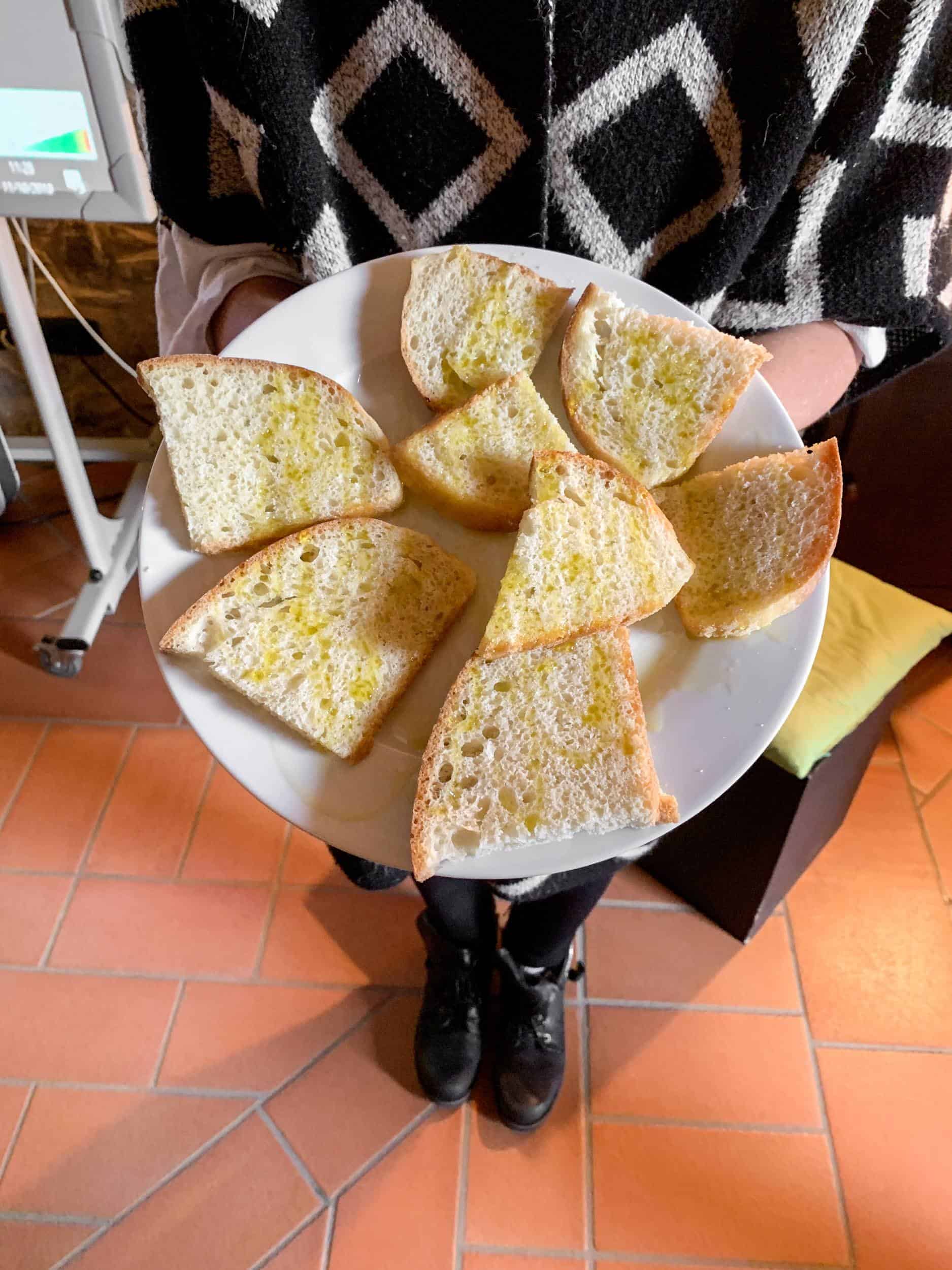 While we were outside, Francesca gave us the history of their company, Lucchetti Ferrari, and then led us into the basement, where she explained the olive oil-making process.
For the tasting, we first sipped the extra virgin olive oil straight from a clear shot glass.
Then she presented us with homemade honey chestnut bread drizzled with oil and a small container of their oil to take home.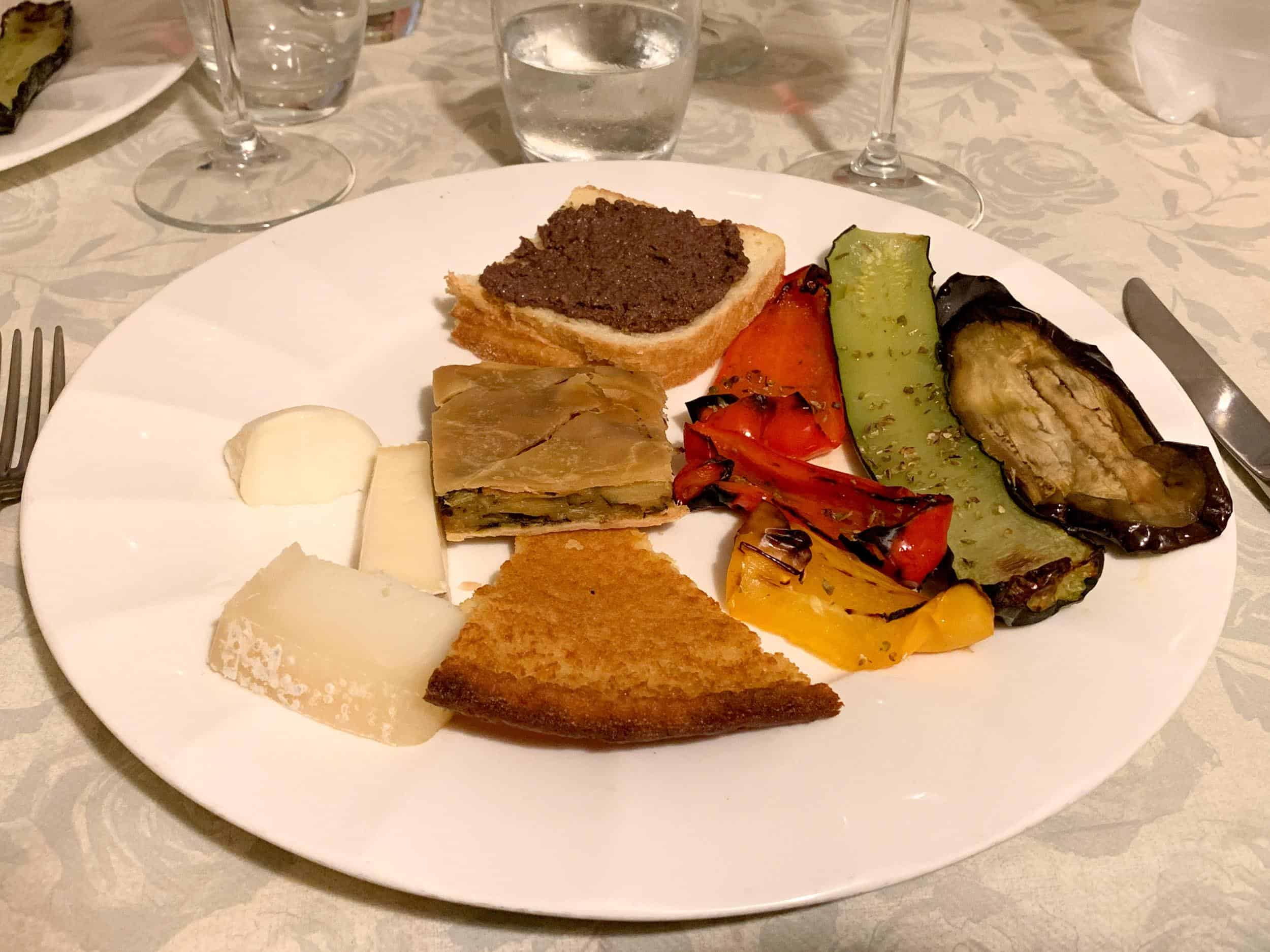 Lunch in Filetto
Once the tour was over, we reunited with the rest of our group for lunch at Alla Piazza di Sopra, a charming spot in the town of Filetto just south of Filatteria.
As you can tell from the photo above, lunch was made up of many little things, including a variety of local cheeses (always my favorite), pastries, and colorful grilled vegetables.
For dessert, we were served warm almond-flavored cake.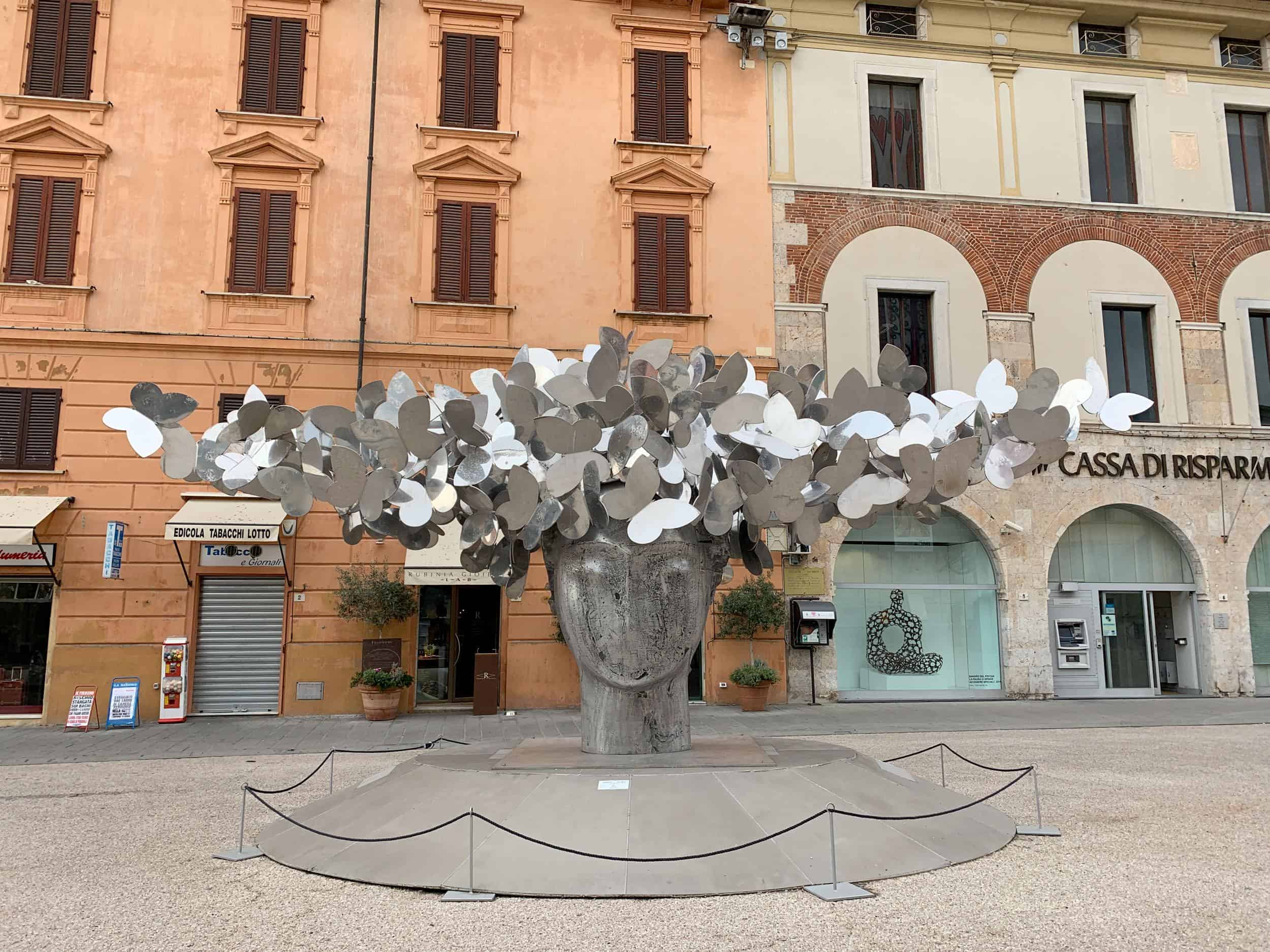 Pietrasanta
Following a relaxing lunch, we left Filetto by van for the one-hour drive south to Pietrasanta, an ancient Roman town located a few miles inland from the coast at the base of the Apuan Alps.
During the drive, we were able to see evidence of the marble quarries carved into the mountains.
The region was an essential source of marble for artisans during the Renaissance.
At the center of Pietrasanta is the Piazza Duomo, a historic plaza lined with churches and museums.
The plaza is regularly used to display art, such as the collection of sculptures depicting heads in various forms and materials pictured above.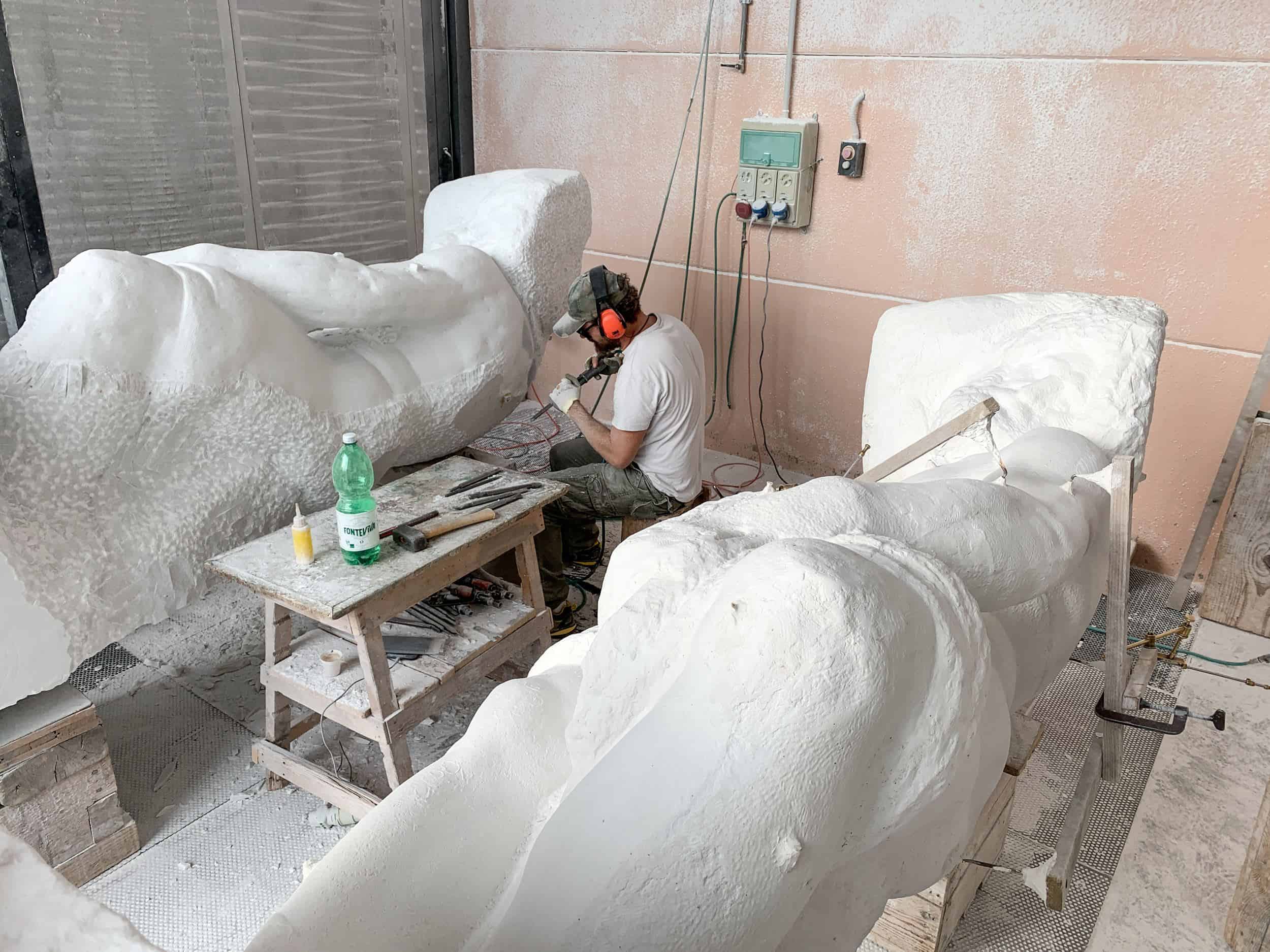 Marble Studio Tour
In keeping with what the region is known for, we had the opportunity to tour a working marble studio.
Cervietti Franco S.N.C. has been a family-run business for generations.
Walking through the warehouse with the owner, training his son to take over the family business, was a novel experience.
The studio uses local marble and a mix of traditional and modern methods to serve clients worldwide.
The sizes of the sculptures they produce range from small to monumental. Many were religious figures, though I spotted the face of Michael Jackson, too.
Raw marble is exported worldwide as well, and we were told the mines are controlled by a handful of powerful families.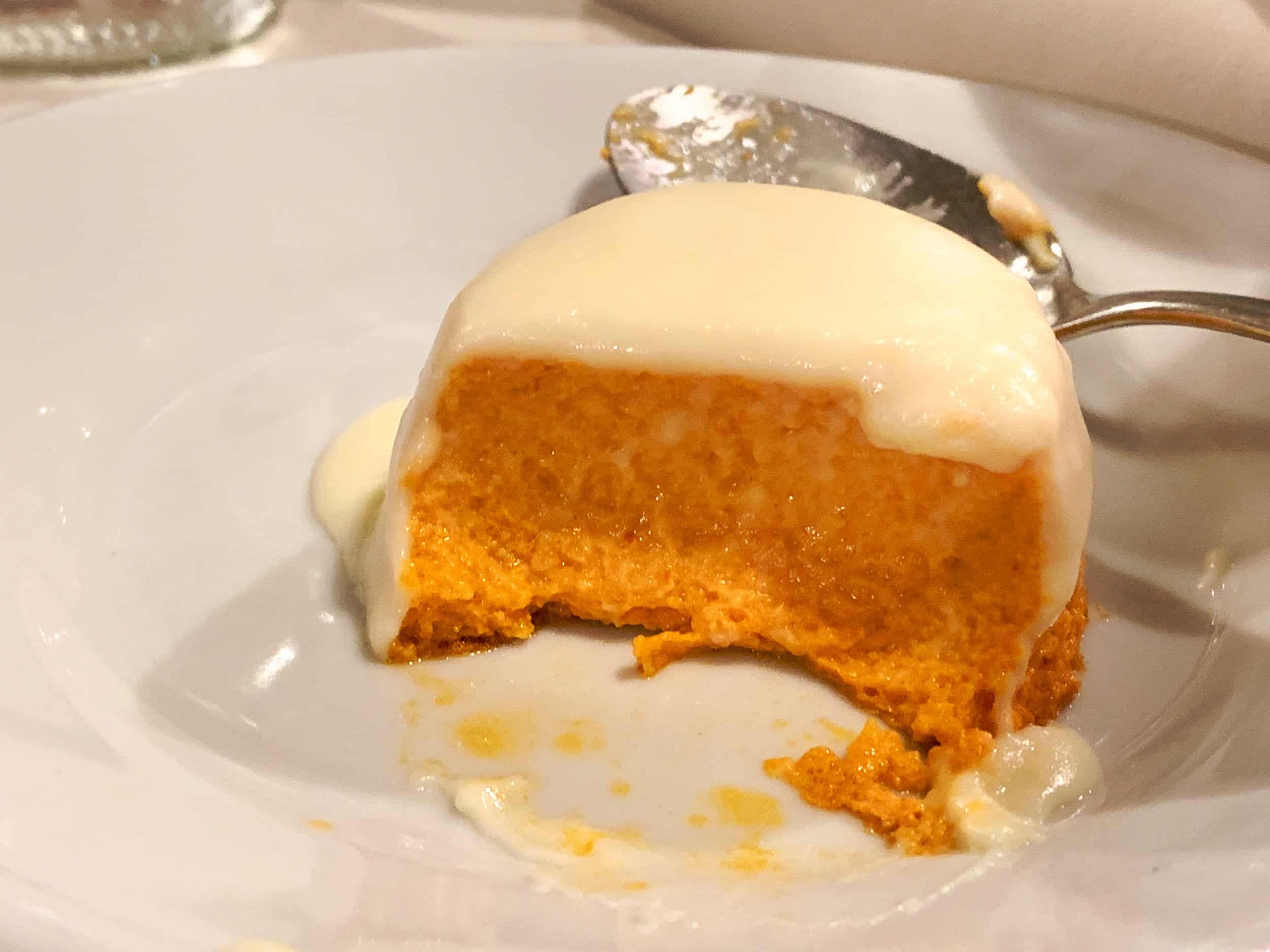 Dinner in Lucca
We left the marble studio for the walled city of Lucca, a UNESCO World Heritage site 40 minutes away.
After checking into our hotel just outside the city walls, we walked into the old town for dinner at Ristorante Mecenate.
On the menu tonight, a delicious caramelized onion tart, prosciutto, a red pepper pudding you smear on bread, testaroli pasta with pesto, breaded and fried beef topped with tomato sauce and capers, and custard for dessert.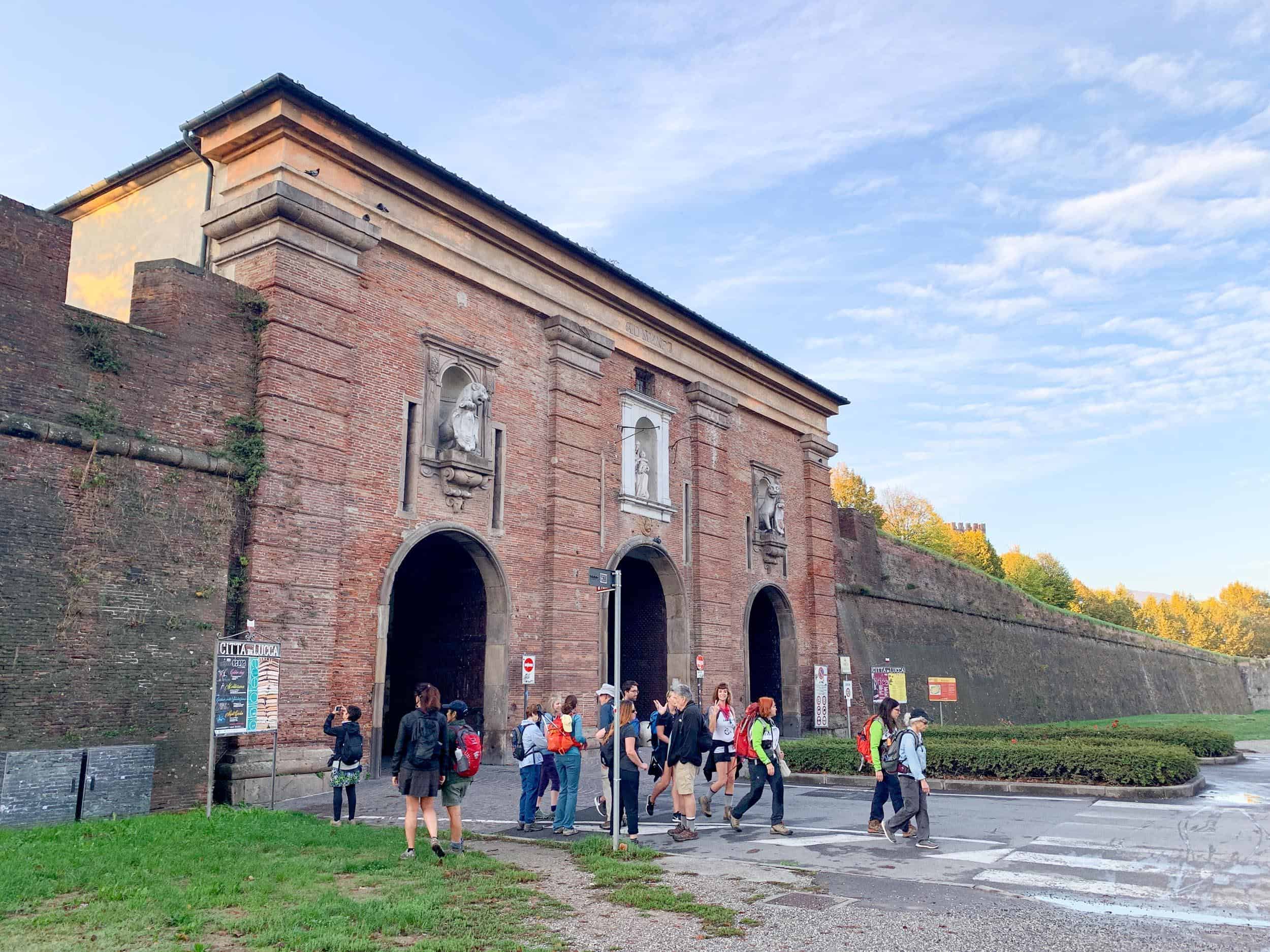 Day 4 – Lucca to Gambassi Terme
Guided tour of Lucca
Our morning began with a guided tour of Lucca, a city that became a Roman colony in 180 BC.
The three miles (five kilometers) of walls were built for defensive purposes in the 16th century.
When the need to defend the city passed, the tops of the walls were repurposed as streets and pedestrian walkways.
Highlights of our walk included:
Lucca Cathedral
Chiesa di San Michele in Foro (church) and Davino, the mummified remains of an 11th-century pilgrim from Armenia enshrined at the altar
Basilica di San Frediano Lucca (there's a beautiful gold mosaic on the facade)
Piazza dell'Anfiteatro, a plaza at the center of an old Roman coliseum that once sat 10,000 people
12th and 13th-century towers
Lucca is a city I could easily spend a few days exploring.
Tip: Lucca is an easy day trip from Florence. Check out Get Your Guide for tours of Lucca.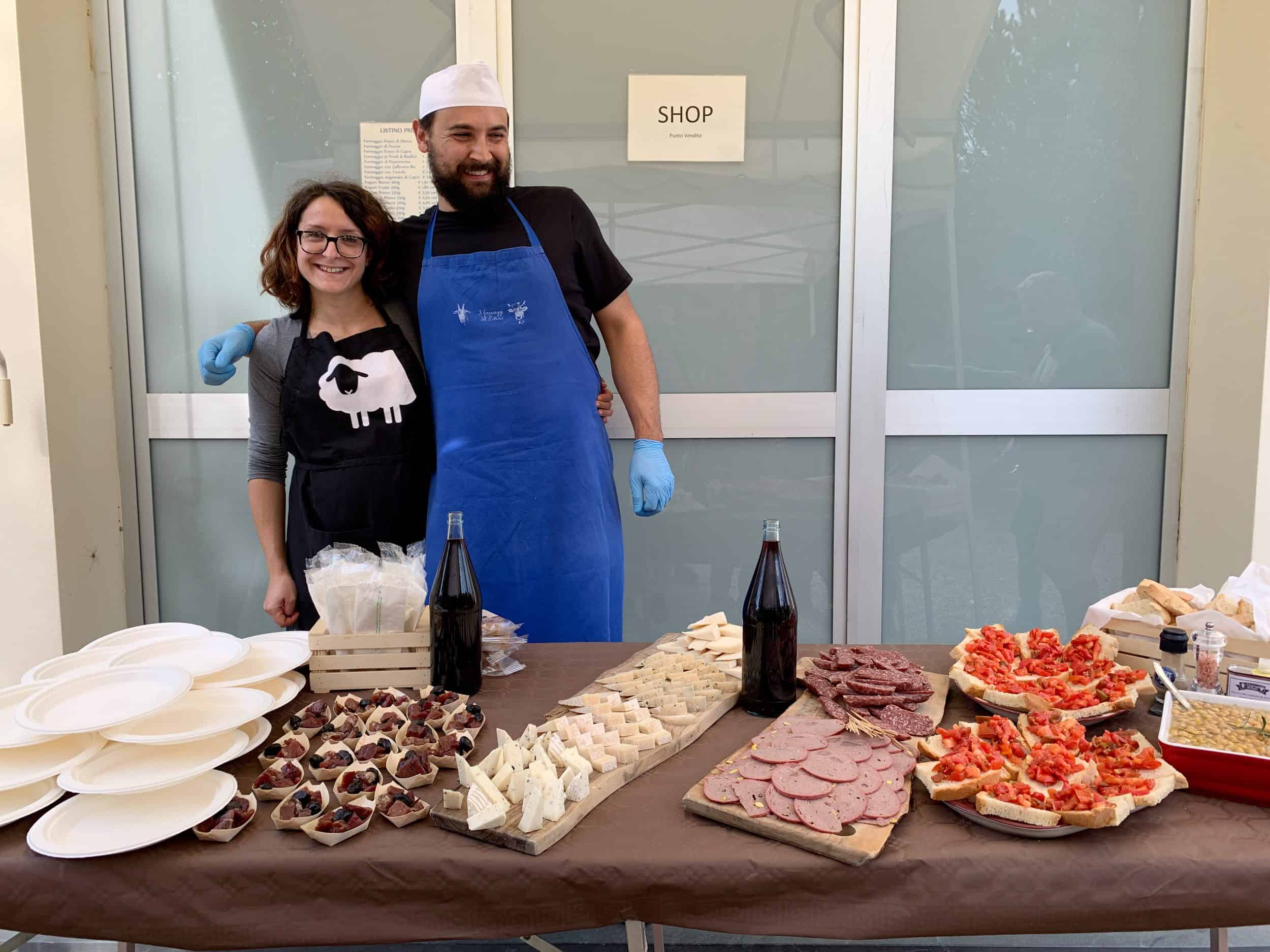 Lunch on an Organic Farm
It was an hour's drive southeast from Lucca to reach our lunch spot, The Doctor's Cheese in Coiano.
Since 2009, Guido and his wife Stefania have produced high-quality organic cheeses using cow, goat, and sheep milk.
They welcomed us with big smiles and an even bigger spread of their cheeses, including an earthy truffle cheese (my favorite) and ricotta with honey (I had more than one serving of that too).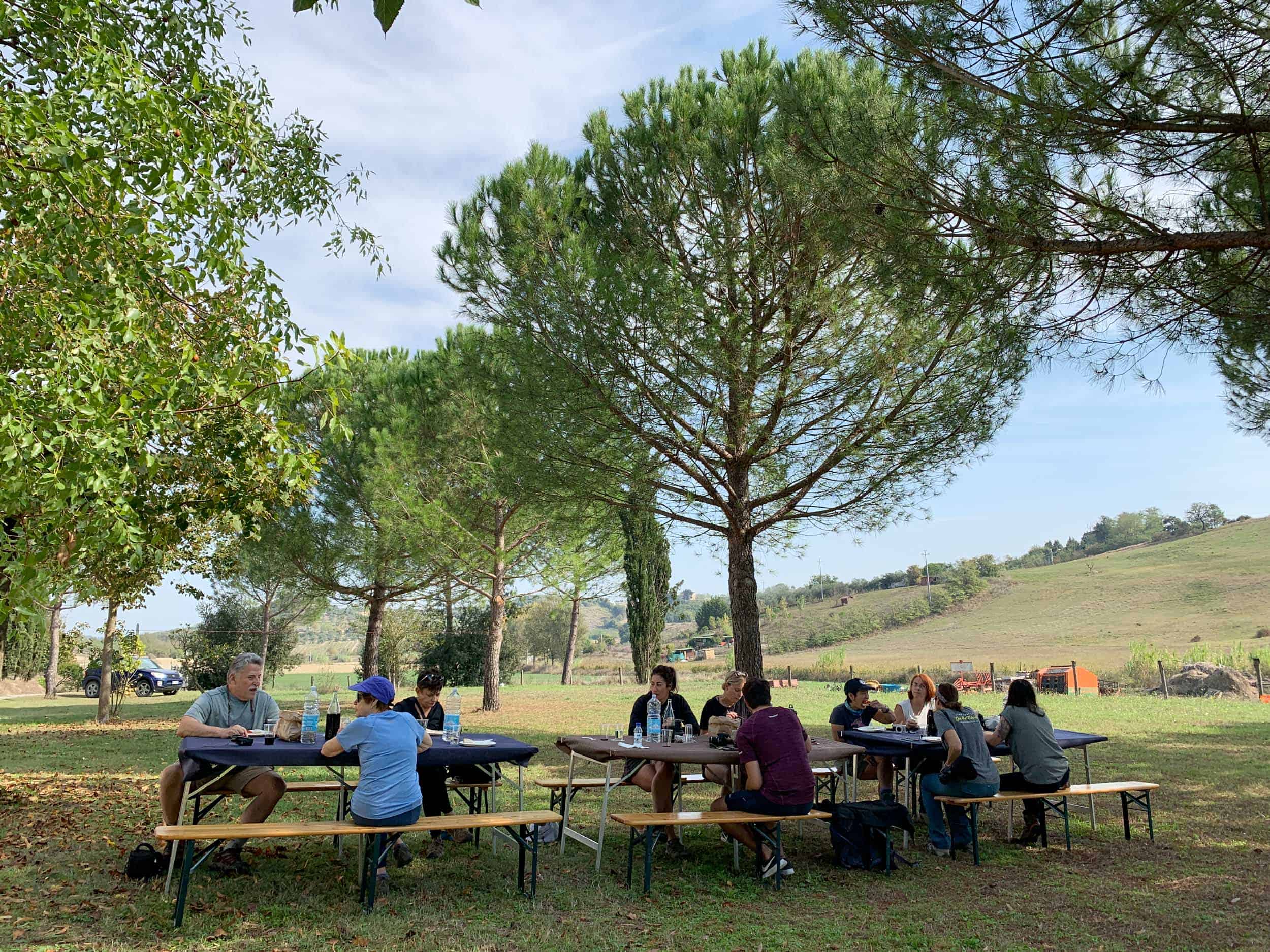 Since man and woman cannot survive on cheese alone, they also provided bruschetta, raw wild boar marinated in olive oil, boar sausage, and bruschetta.
The setting for lunch was idyllic–a few picnic tables in front of the farmhouse with views of the surrounding hills.
It was one of the many "pinch me; I can't believe this is real" moments from our walking tour in Tuscany.
Read more about my lunch on an organic farm in Tuscany on Feastio.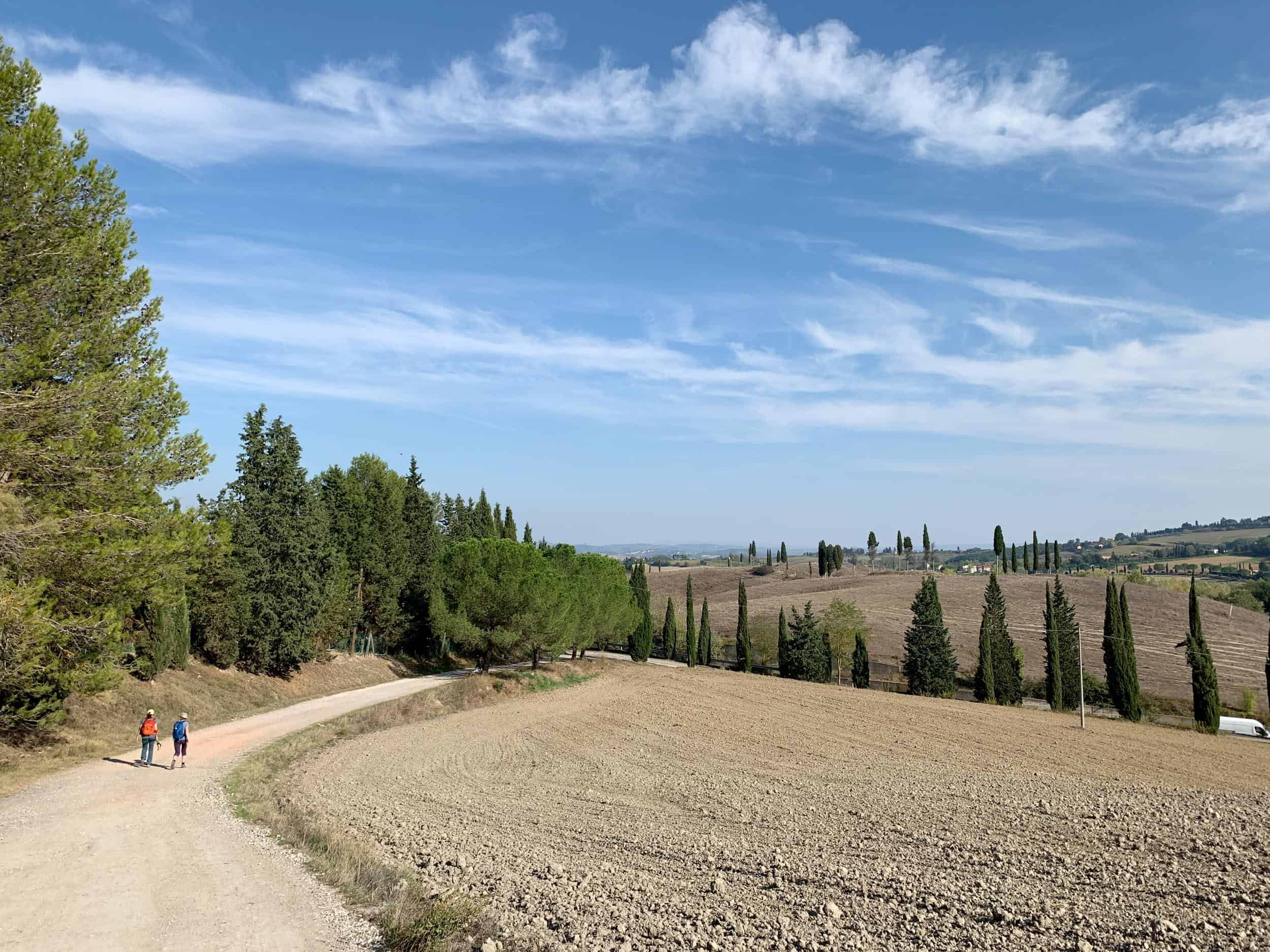 Walk from Coiano to Gambassi Terme
After lunch, it was time for us to put in some miles on the Via Francigena.
Roberta opened her map and gave us a quick briefing on our afternoon walk from Coiano to Gambassi Terme.
We set off on foot from the farm, walking uphill through olive trees until we reconnected with the trail.
Soon, we were walking briskly along ridges with panoramic views of the Tuscan countryside.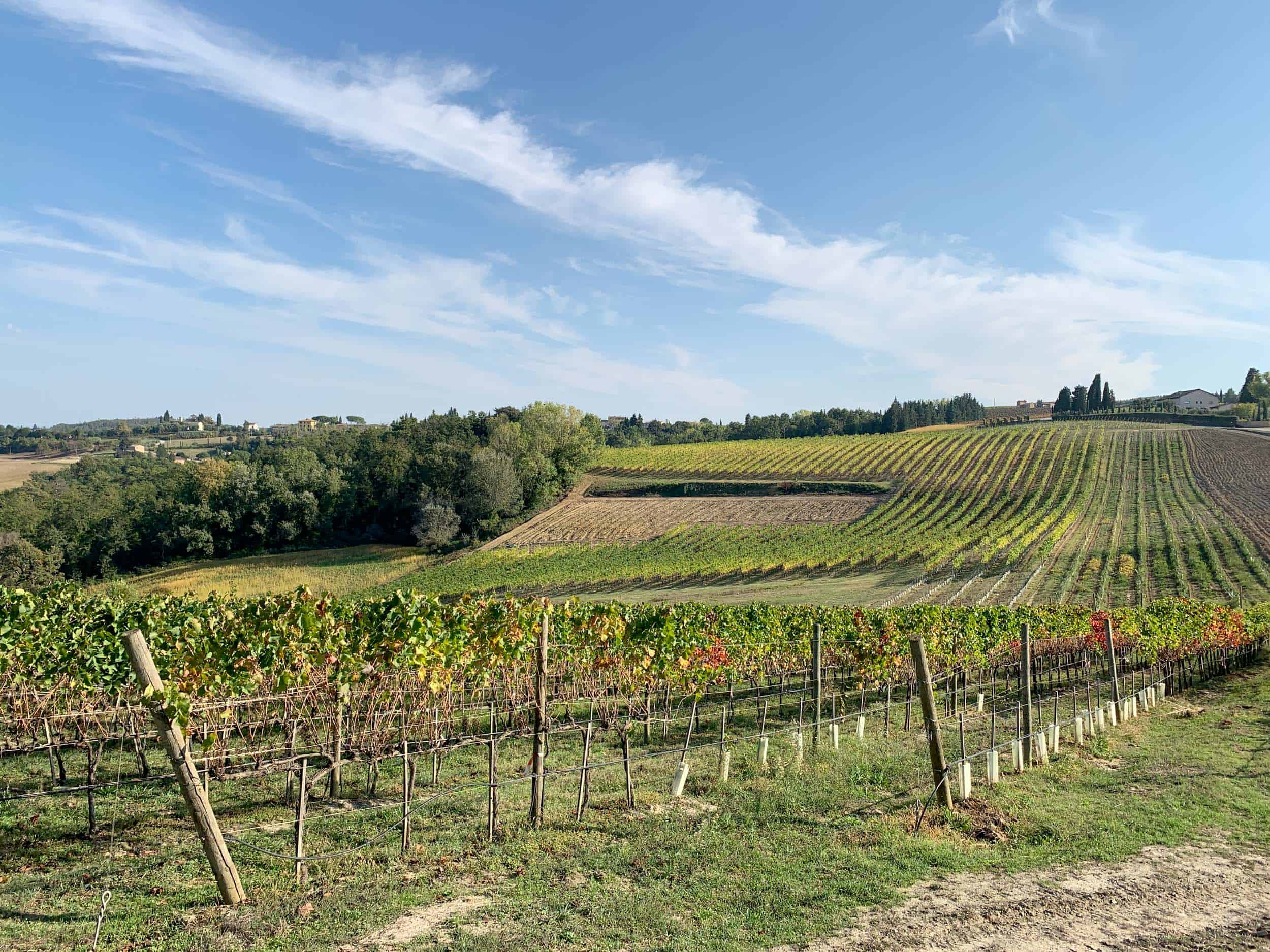 It was a reasonably easy and relatively flat stretch of the Via Francigena, ending with walks through several vineyards.
But between the warmer than usual weather and sun exposure, I worked up quite a sweat.
In total, we covered 6.4 miles (10.3 km) over two and a half hours.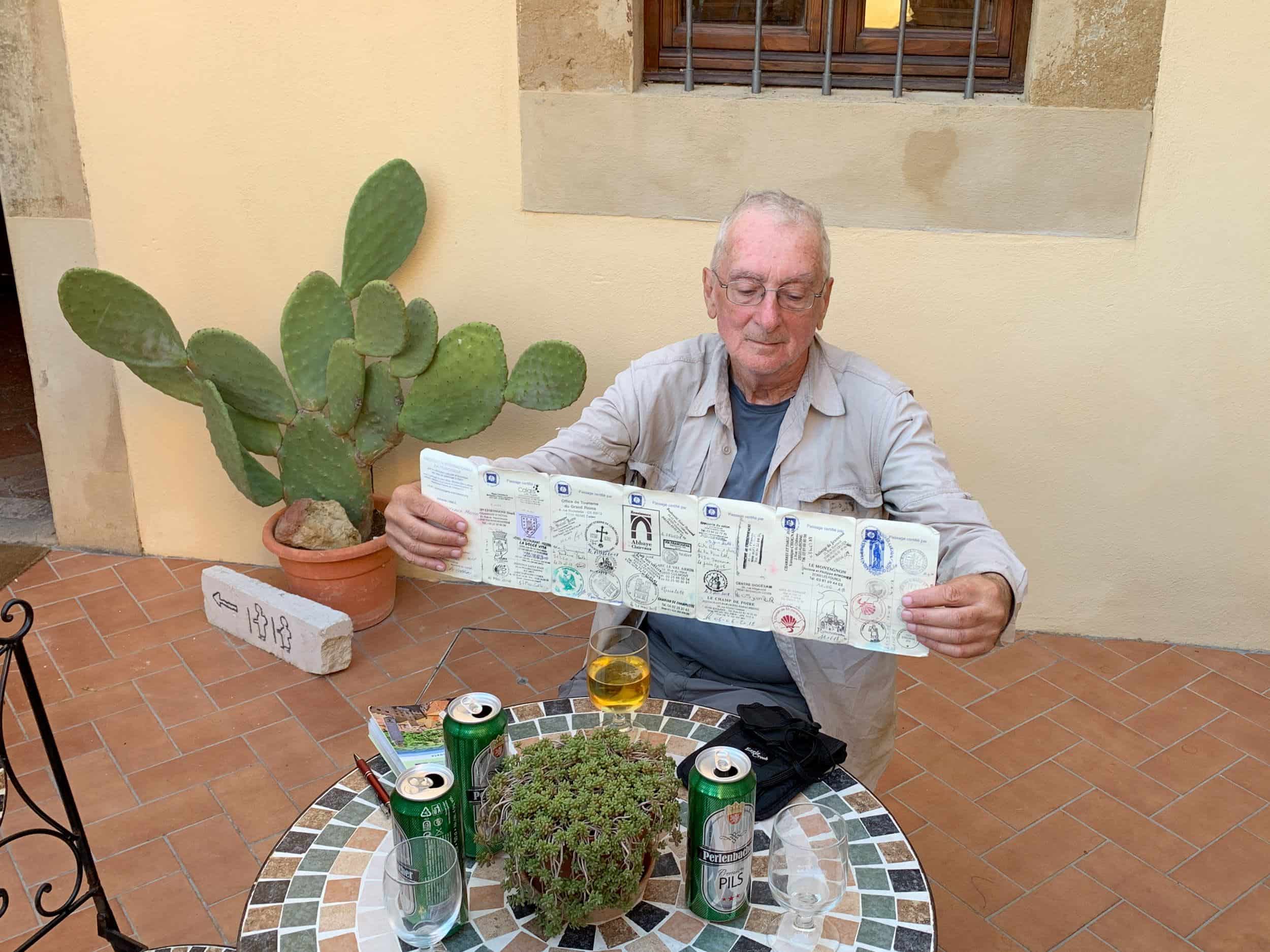 Pieve of Saint Maria
We hopped in the van for the 15-minute drive to Pieve of Santa Maria, another Romanesque church visited by pilgrims on the Via Francigena.
Adjacent to the church is Ostello Sigerico, a hostel where we met an Irish pilgrim walking the length of the Via Francigena from Canterbury to Rome.
He estimated it would take another two weeks for him to finish, making his full traverse of the trail a three-month affair.
We couldn't help but notice he was using the official guide for the Via Francigena, written by our guide, Roberta.
We brought this detail to his attention, which delighted him, and he then asked for her autograph.
He also showed us his Pilgrim Passport. This informal ID serves as both a souvenir and a way to identify one's pilgrim status on the Via Francigena.
The benefit of carrying the Pilgrim Passport is that it can help you gain access to churches and monasteries and benefit from discounts from some hotels, B&Bs, hostels, and restaurants.
Meeting this gentleman brought the whole experience to life in a new way.
The Via Francigena wasn't just a trail used a thousand years ago. It's alive and well today, too.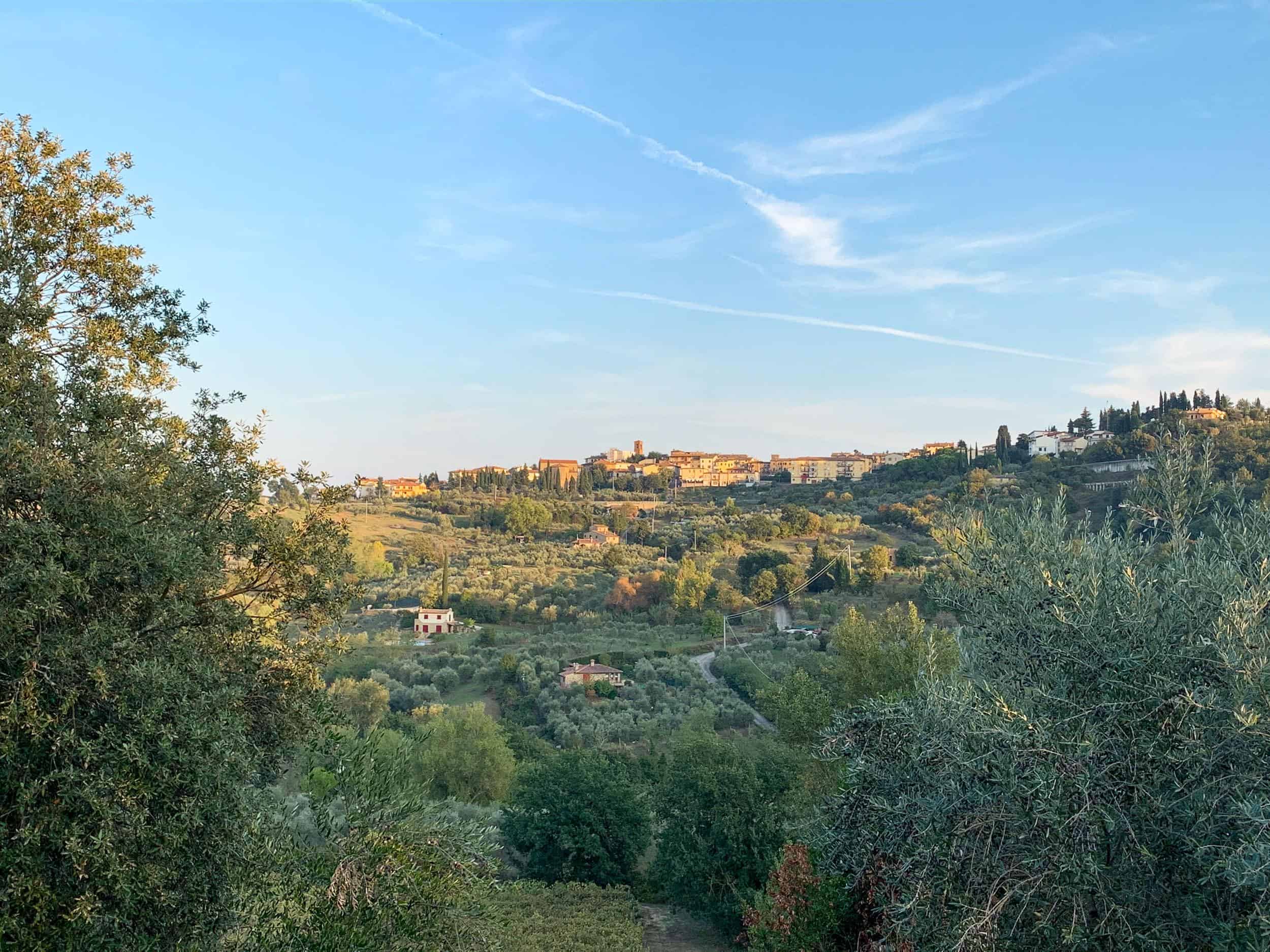 Our accommodation for the night was Tenuta Sant'Ilario, a gorgeous family-run agriturismo hotel in an old stone farmhouse.
The hotel produces olive oil and wine, and there's a small restaurant on the property where we had a delicious three-course dinner (ricotta cheesecake, pork loin, and pannacotta).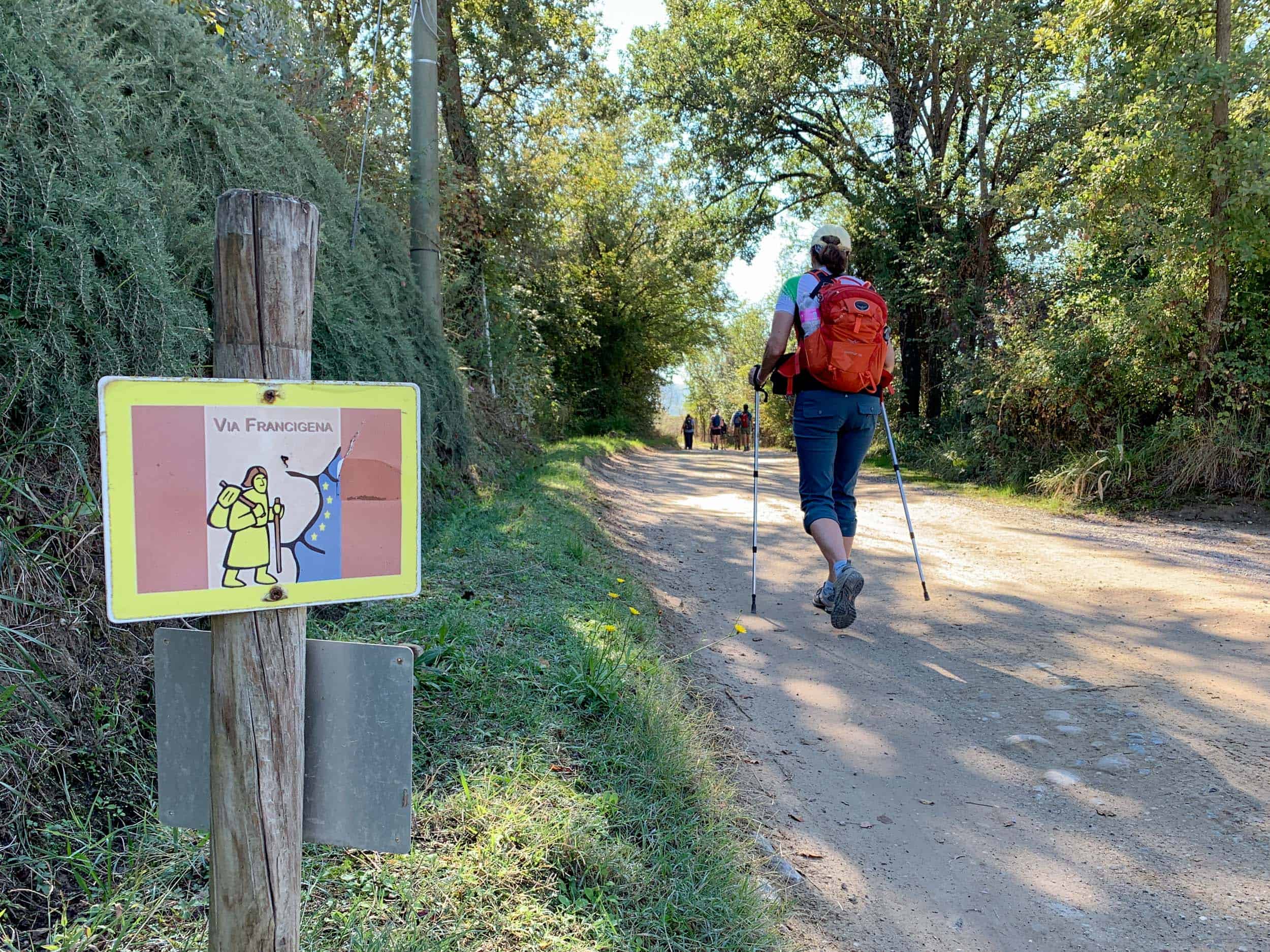 Day 5 – Pieve di Cellole, San Gimignano, and Siena
On our fifth morning, we began walking straight from the hotel after breakfast.
It was nice not having to get in the van. And I much prefer walking in the morning when the sun isn't so high in the sky.
The weather was beautiful, and the trail this day was pretty flat.
We mainly walked along dirt roads past vineyards, precisely the kind of imagery I had in mind when I decided to attend the Adventure Travel World Summit in Tuscany.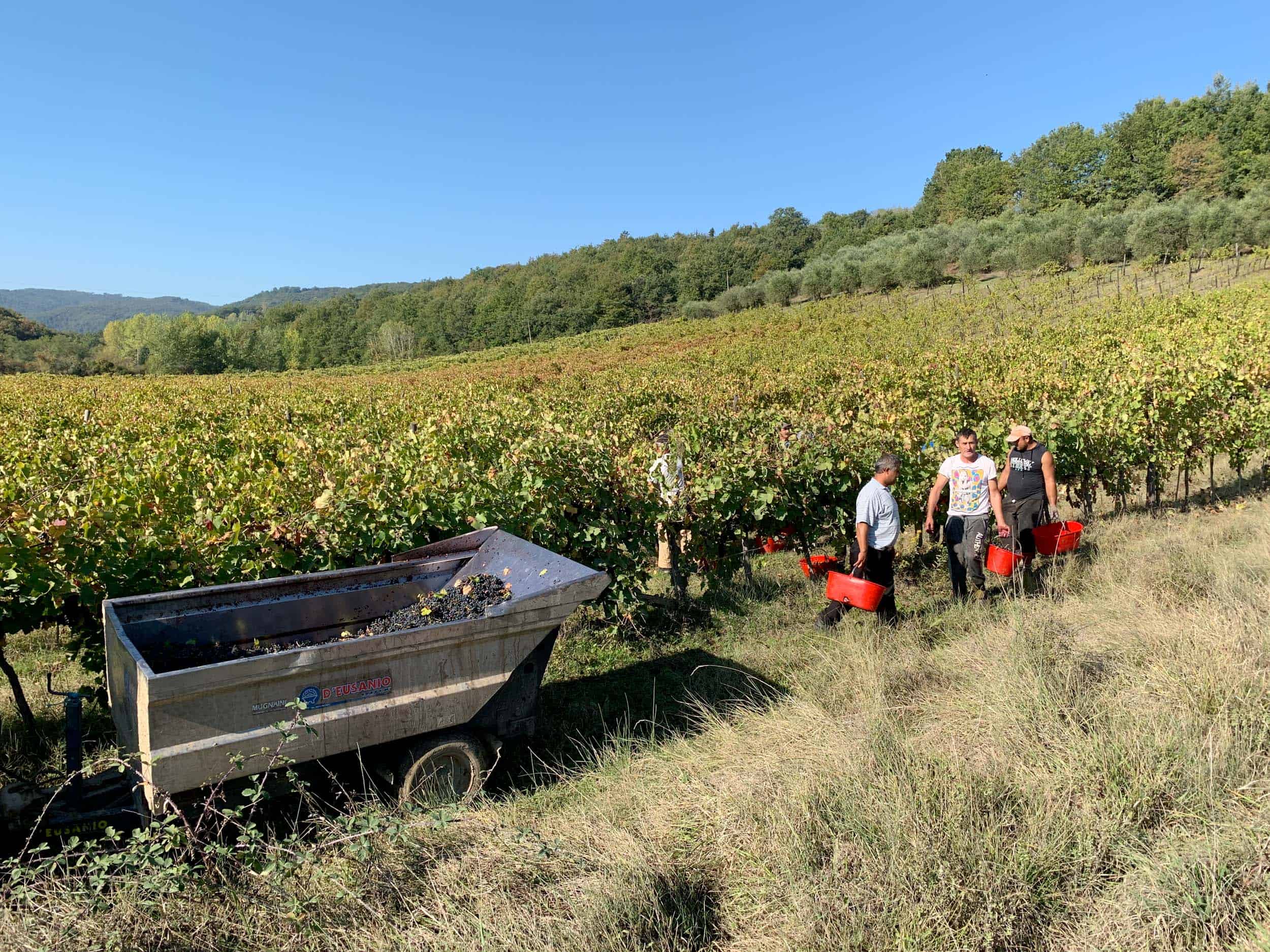 We even ran across some men picking grapes by hand in one vineyard (and they were okay with us taking photos of them too).
These scenes always remind me of the I Love Lucy episode where Lucy is seen smashing grapes in a barrel with her feet.
We walked down cypress-lined roads, past old stone homes now rented out on Airbnb.
I know this because one owner was in his yard and all too happy to come out and chat with us.
We also passed hunters who were out with their dogs searching for wild boars, rabbits, and other game.
In total, we walked just shy of three hours, covering 7 miles (11km) at a 25-minute pace.
As some in our group (me!) were feeling a bit knackered, we hopped in the van for the final stretch to a thousand-year-old church.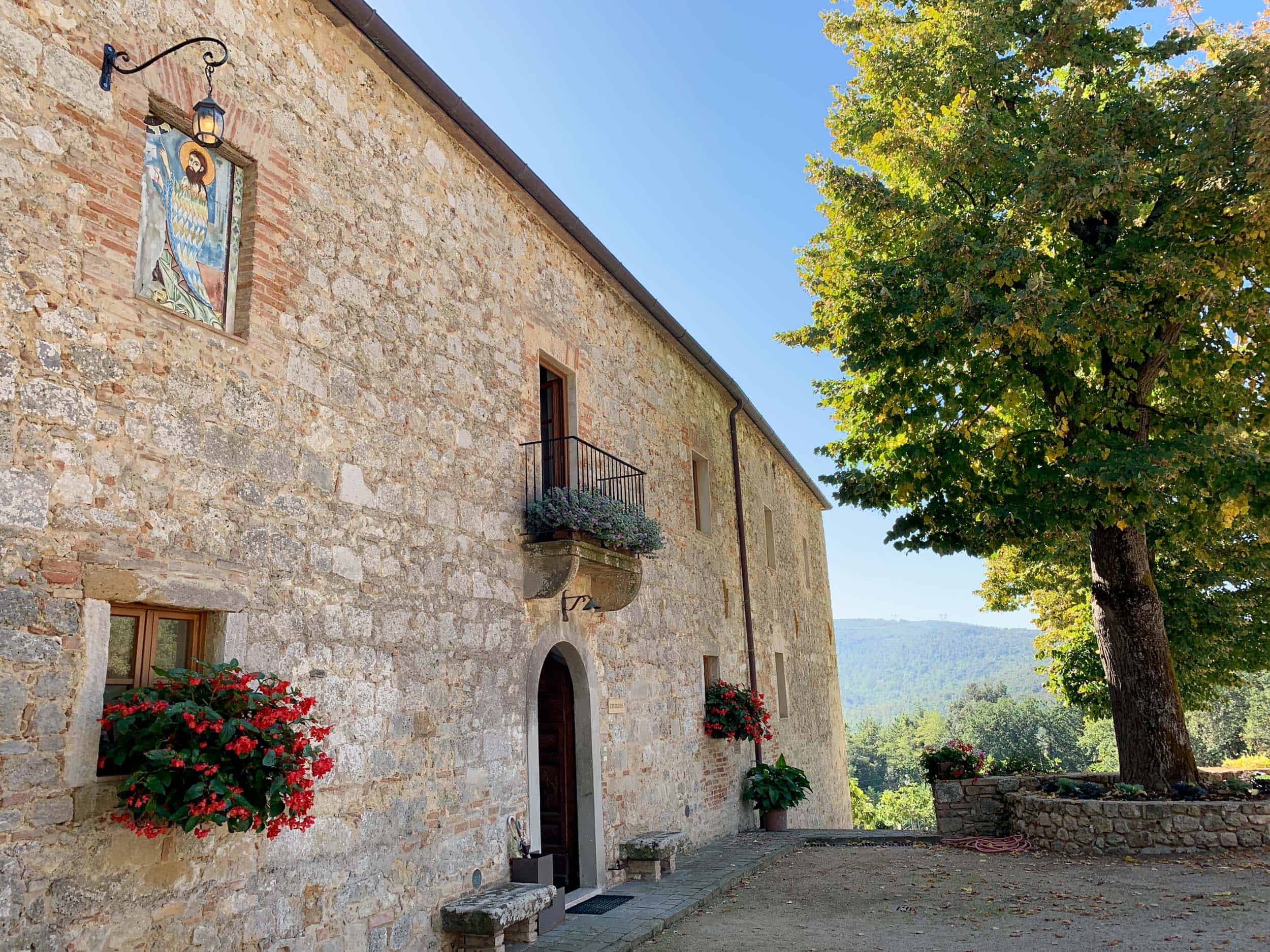 Pieve di Santa Maria Assunta a Cellole
The Pieve di Santa Maria Assunta a Cellole is another church along the Via Francigena that was visited by pilgrims en route to Rome.
It's now part of the Monastery of Bose, which was built around it.
When we peeked into the church around noon, monks were praying and chanting; therefore, we couldn't enter.
It's a peaceful setting to pursue religious studies and undoubtedly worth a brief visit.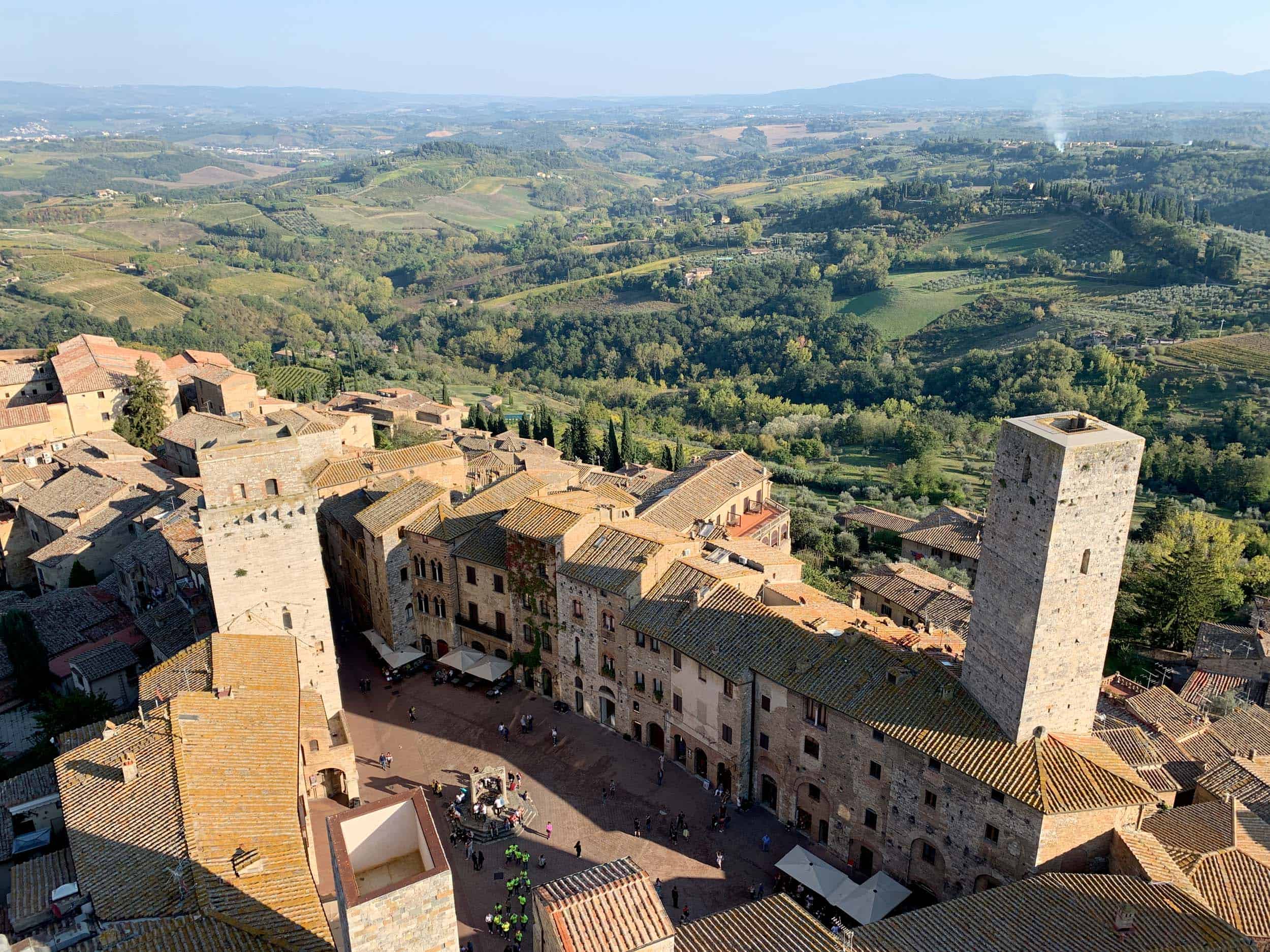 Visit San Gimignano (UNESCO)
The church and monastery are on the outskirts of the UNESCO World Heritage Site of San Gimignano.
The city lies 35 miles (56km) southwest of Florence and was an essential stop for pilgrims. The proximity also makes it an easy day trip from Florence.
The ruling families who once oversaw San Gimignano built towers as signs of wealth and power.
It's estimated there were once 72 such towers in the town, though only 14 remain standing today.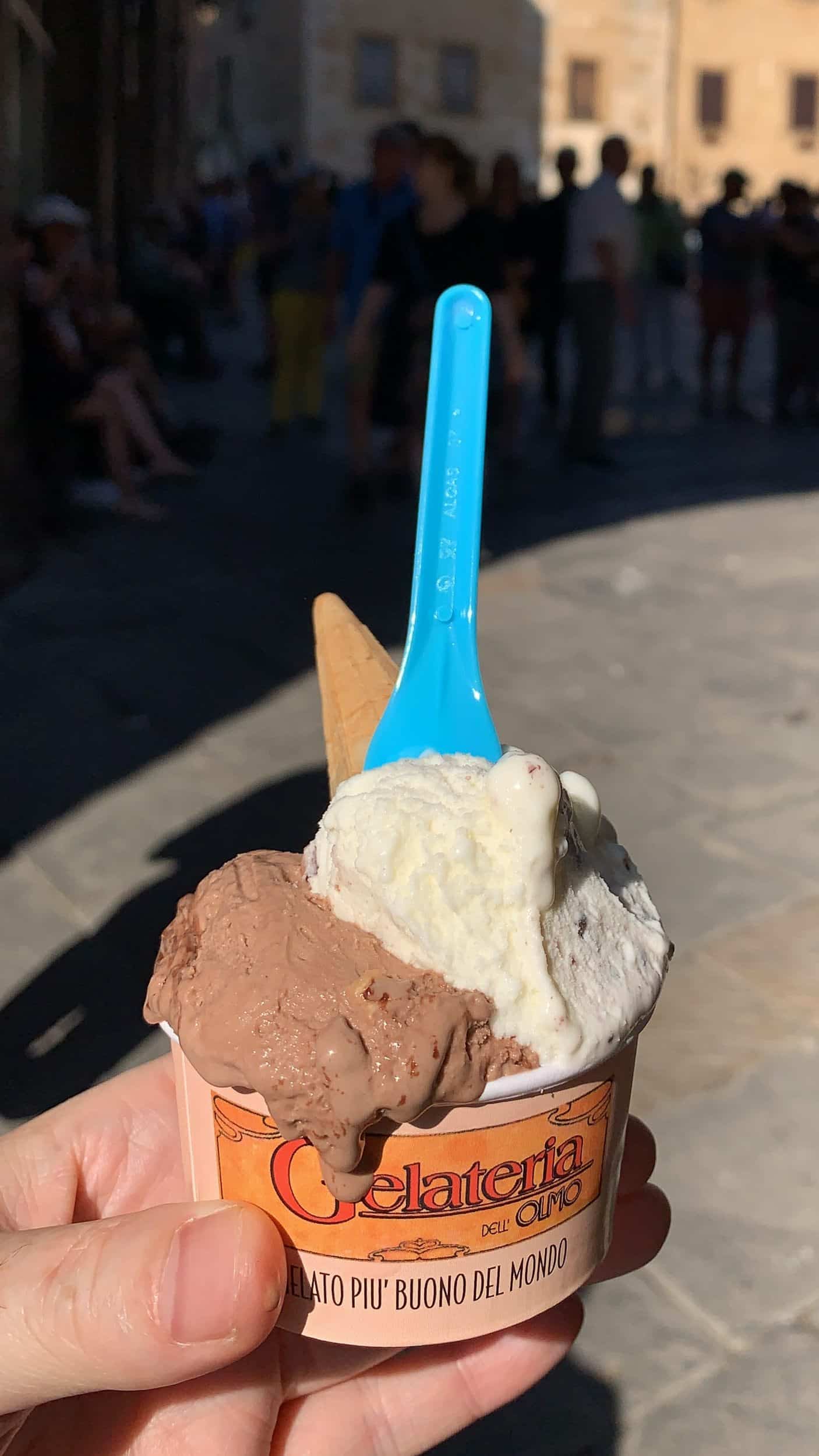 Before touring the town, we had a relaxing and well-deserved lunch at Ristorante Osteria Delle Catene, featuring local wine, bread, cheese, soup, and incredibly delicious white beans.
For dessert, a cake smothered in lemon cream. And a cappuccino, because this is Italy.
It was also recommended we try the gelato in the main square.
There are two popular options: Gelateria Dell'Olmo, which bills itself as the best gelato in the world above the door, and Gelateria Dondoli, which is owned by Sergio, a world champion gelato maker.
The latter had a longer line, and our guide, Ottavia, recommended the former, so that's where I went.
I can't recall exactly what I ordered, definitely chocolate, and the other flavor was either vanilla or mascarpone. Delicious.
A sign of high-quality gelato is that it melts slowly, even in the sun or warm weather.
This is good news for those trying to take photos with our phones before we make a mess!
Powered by coffee and gelato, it was time to climb the 177-foot (54m) Torre Grossa.
The top offers spectacular views of the town and countryside. I highly recommend it!
Tip: If you're based in Florence, you can visit San Gimignano directly or as part of an extended day tour with additional stops in Tuscany. Check out Get Your Guide for options.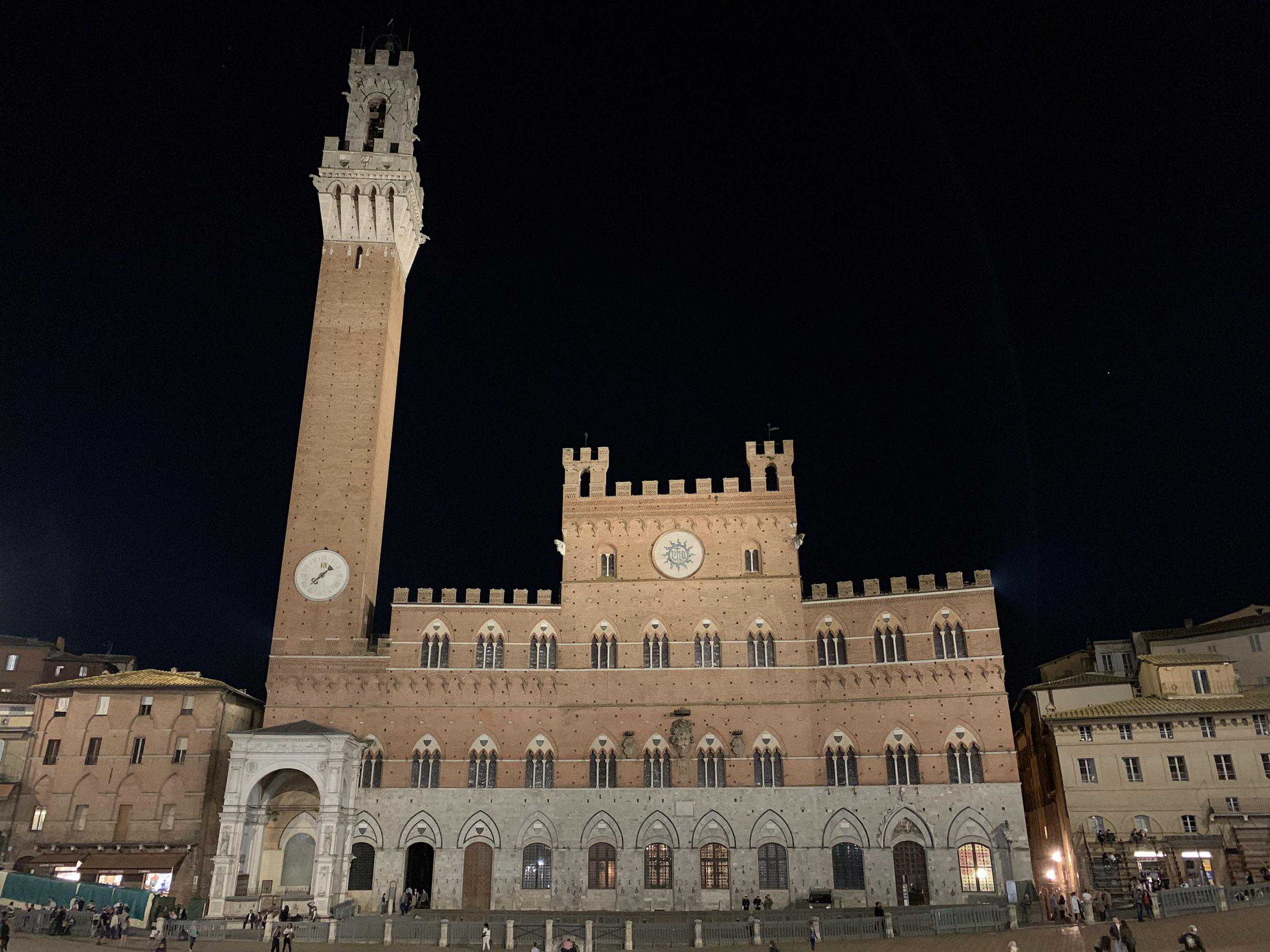 Dinner in Siena (UNESCO)
We left San Gimignano around 5 pm by van for a one-hour drive to Siena, another UNESCO World Heritage city.
With less than two hours to spare between checking into our rooms at La Villa di STR and dinner, I showered and went for a walk on my own to see the impressive Siena Cathedral (Duomo di Siena) and iconic Piazza del Campo (above).
The plaza hosts the Palio di Siena, an annual horse race where dirt is laid down, and jockeys ride bareback around the track for three laps.
The competition lasts about 90 seconds. Such events date back to medieval times.
As much as I wanted to see Siena by day and spend more time there, I have to admit it's incredible by night, and I'm glad to at least have a small taste of it. Along with Lucca, I'd love to go back one day.
Speaking of taste, we dined al fresco at Il Pomodorino with views of the cathedral in the distance.
An insane amount of antipasto (mixed meats, cheeses, olives) and pizza was served. My mouth waters just looking at the photo of the white pizza above.
Day 6 – Walk San Quirico to Bagno Vignoni
San Quirico d'Orcia
Our final morning of the trip began with breakfast at the hotel and a one-hour drive south to the quaint little town of San Quirico d'Orcia.
We took our time walking down the main street and ducking into the pretty Community Gardens (Horti Leonini).
As we were on our way out, we ran straight into a parade coming from the opposite direction.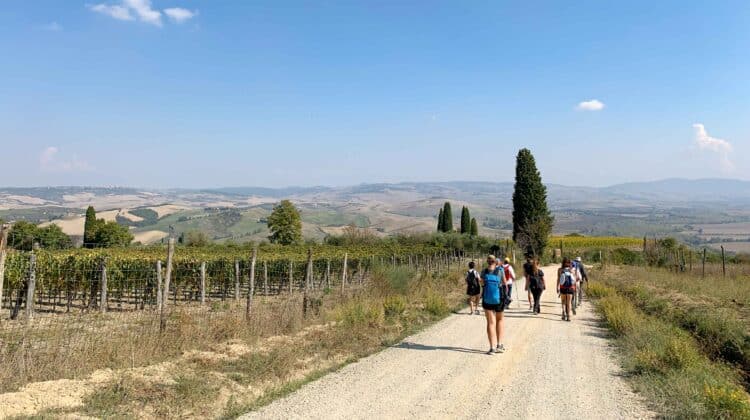 Walk through Val d'Orcia from San Quirico to Bagno Vignoni (UNESCO)
Once the parade had passed, Roberta led us out of town to re-join the Via Francigena.
On our sixth and final day, we walked for 6 miles (10km) through the Val d'Orcia, a UNESCO World Heritage Site.
Per UNESCO:
The landscape of Val d'Orcia is part of the agricultural hinterland of Siena, redrawn and developed when it was integrated in the territory of the city-state in the 14th and 15th centuries to reflect an idealized model of good governance and to create an aesthetically pleasing picture.

The landscape's distinctive aesthetics, flat chalk plains out of which rise almost conical hills with fortified settlements on top, inspired many artists.
Once again, we were walking on relatively flat dirt roads.
Related: Walking the Camino de Santiago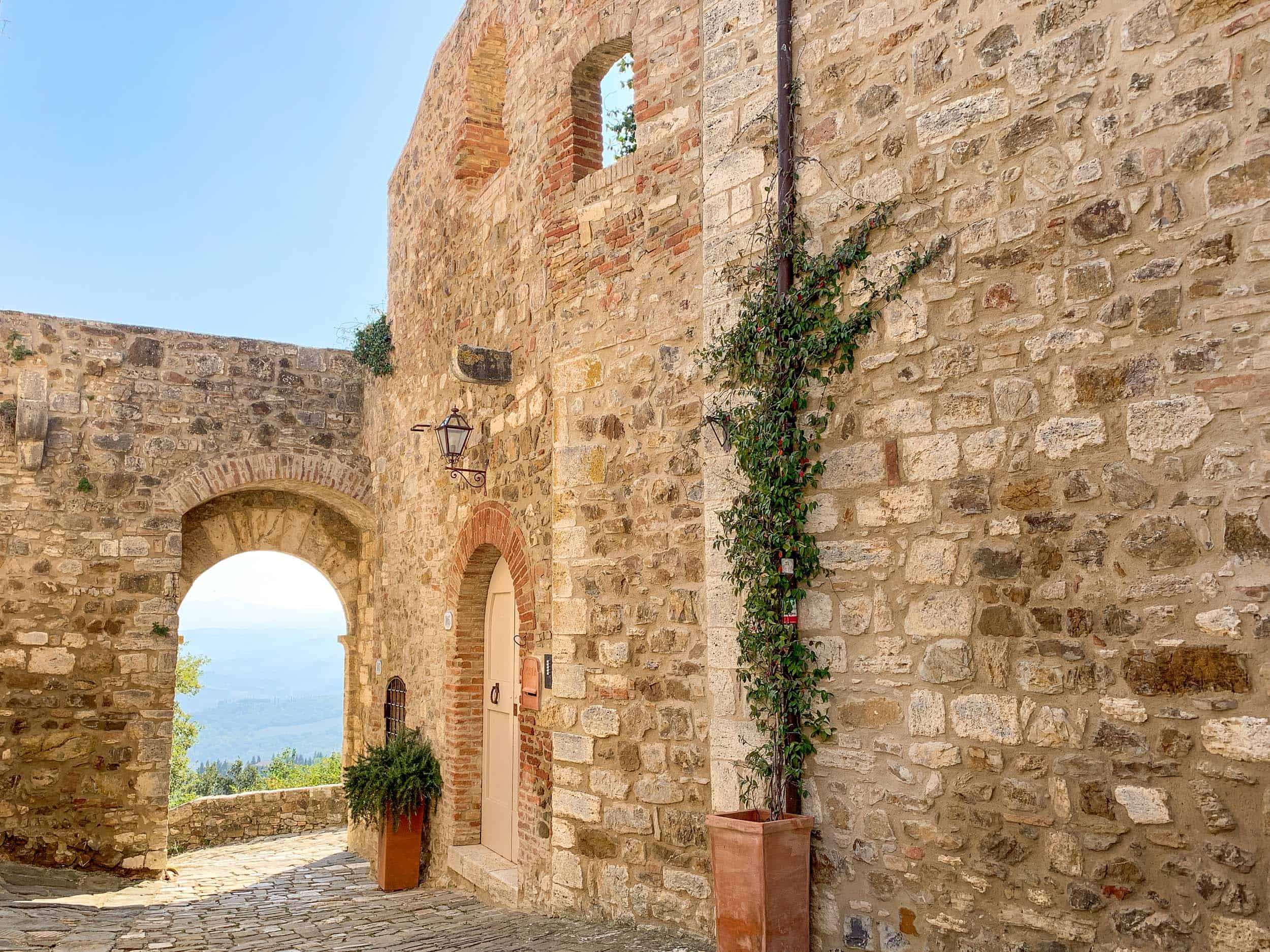 We stopped in a picturesque hamlet for a picnic lunch on the steps of the small San Biagio church.
A friendly cat quickly endeared himself with everyone as we gobbled down our last helpings of bread, cheese, prosciutto, and fruit from the tour.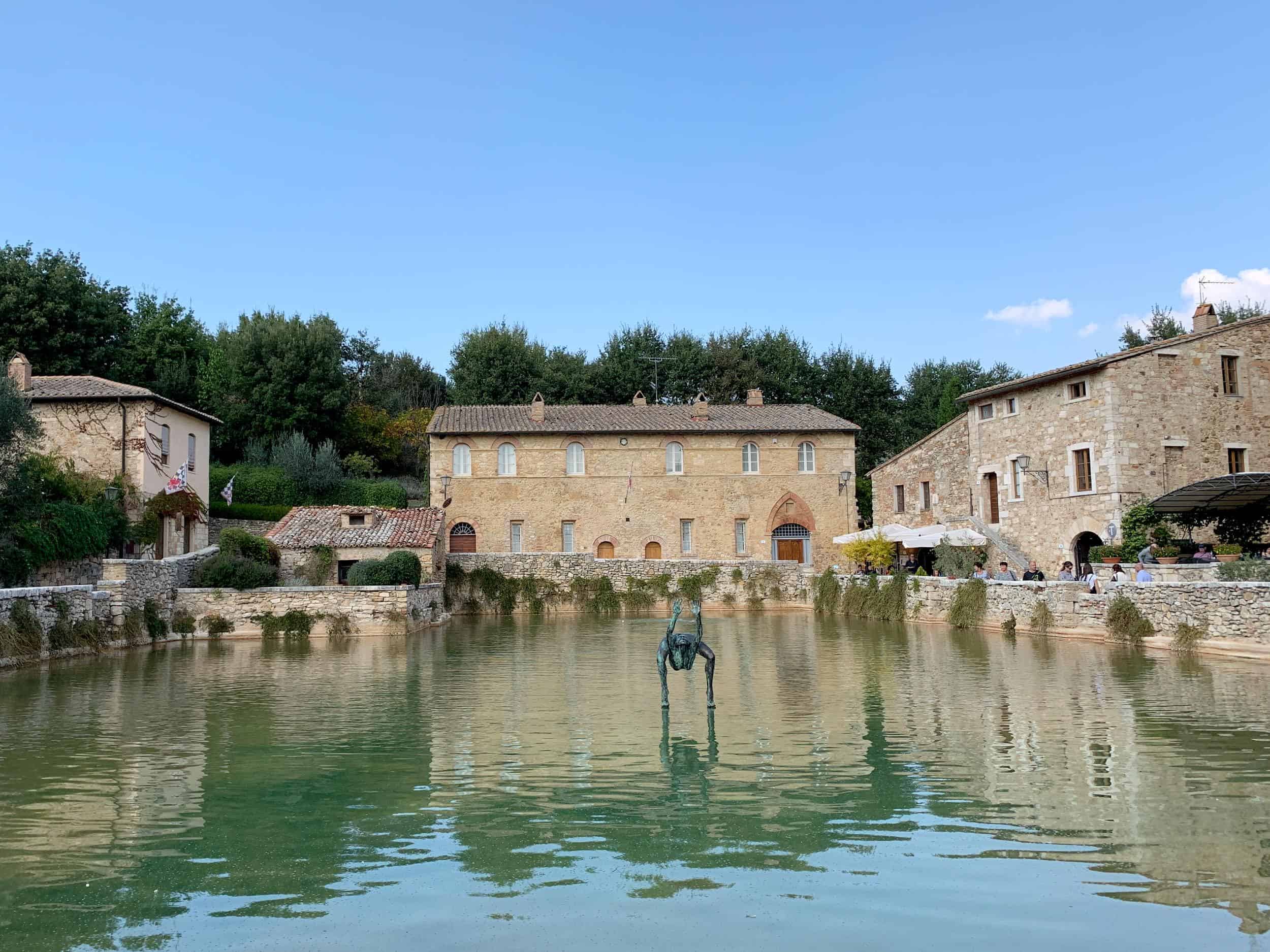 Bagno Vignoni
Our walk concluded in Bagno Vignoni, known for its thermal pool in the central plaza.
There wasn't much to see beyond the pool, which would be a sweet spot to grab lunch, so we mainly hung out in a gelato shop.
I broke with tradition, ordering strawberries instead of chocolate.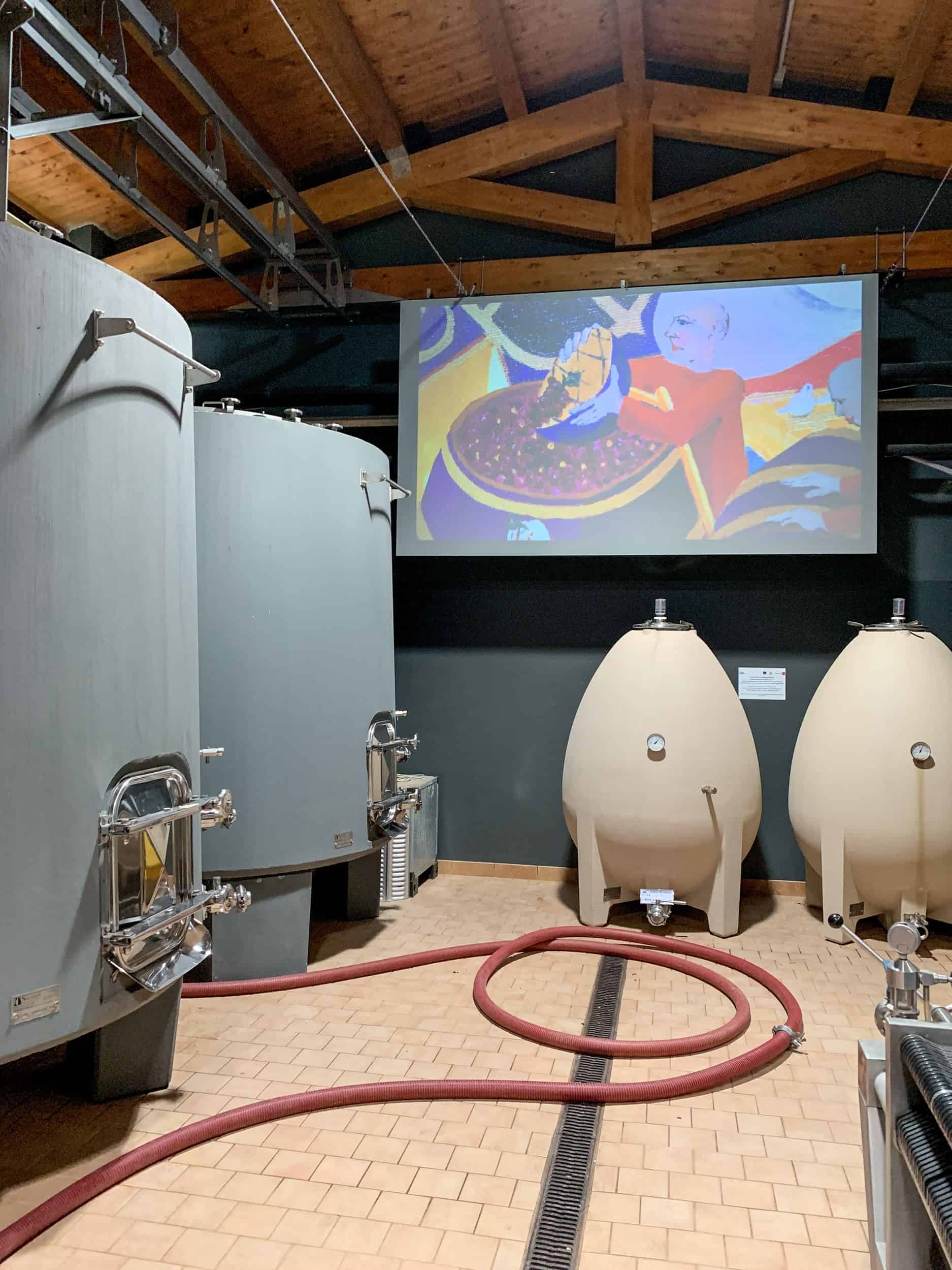 Wine Tasting at Casato Prime Donne
Our last stop of the day was a wine tour and tasting at Casato Prime Donne in Montalcino, a 30-minute drive north of Bagno Vignoni (and about 50 minutes south of Siena).
Casato Prime Donne was Italy's first all-female winery and artwork by women featuring inspiring quotes dot the grounds.
The land we were on has been in Donatella Cinelli Colombini's family for 500 years.
The tour began with our first tasting in the gift shop, after which we left the main building to taste our second wine next to the Tinaia "del Vento" or Windy Fermentation Room.
Eight stainless steel vats positioned under a shed-like roof face the vineyards from which the grapes are grown.
According to their website, this area was designed to "experiment with indigenous yeasts out in the open."
Our third tasting was in the wine cellar, where we saw something I'd never seen before in a fermentation room — concrete vats.
I learned concrete was used long before stainless steel to make wine.
Roberto Turchi, a painter, is projected onto the vats and a screen as classical music plays.
The history, music, and visuals made our visit to Casato Prime Donne one I won't soon forget.
Our tour came to an end with a two-and-a-half-hour drive back to Montecatini Terme, where it all began.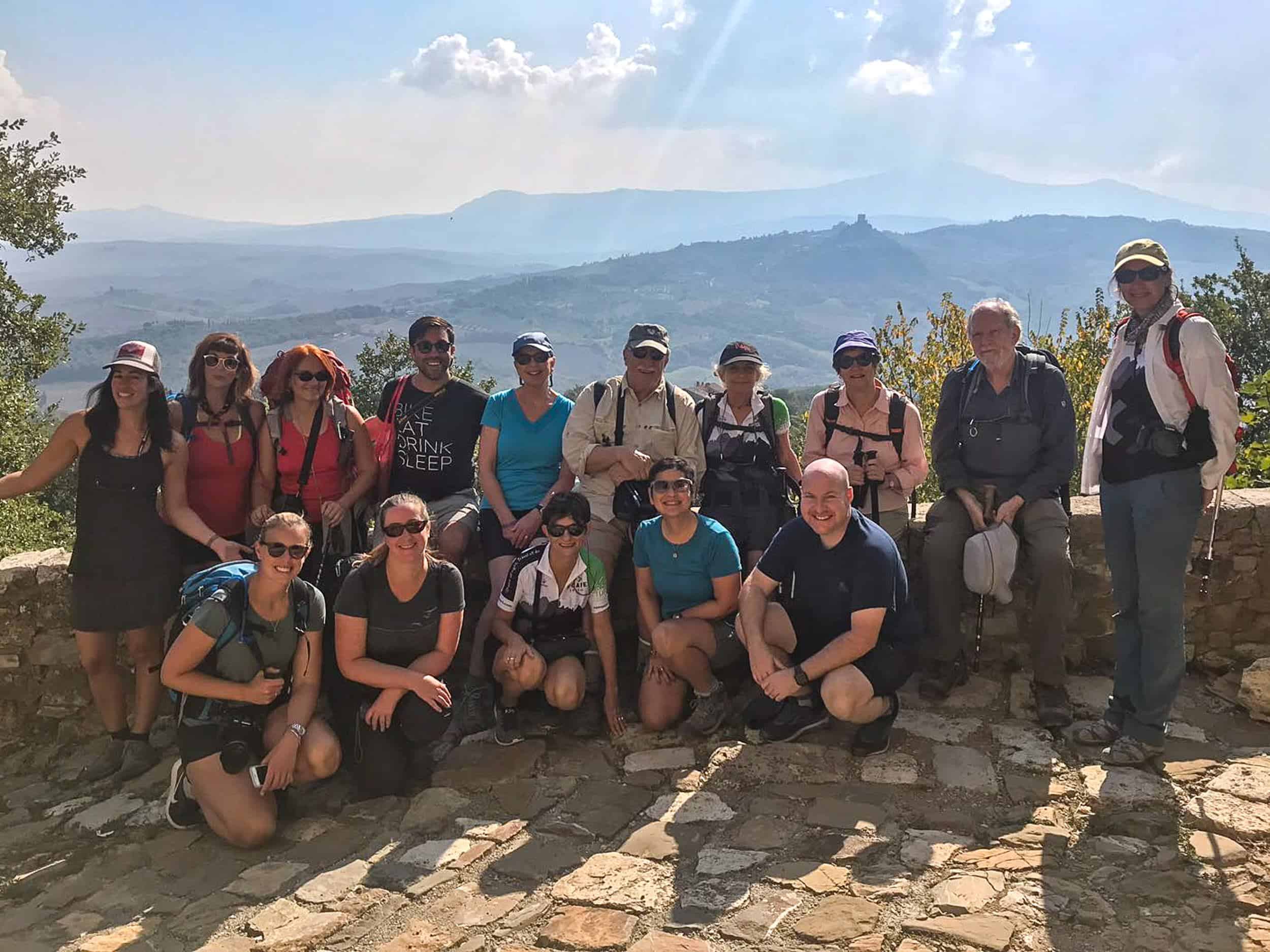 Final Thoughts on the Via Francigena
As this article grew in size by the day, I debated breaking it up into several smaller stories.
I stuck with one to demonstrate how much there is to see, do, and eat if you go for a walking tour in Tuscany along the Via Francigena.
My week was rich in landscapes, culture, history, food, wine, and new friends.
One thing I haven't mentioned yet is the trail markings. They were everywhere on the sections we walked.
Tuscany has taken the lead on improving and promoting the Via Francigena in Italy, and it shows.
I have little experience hiking without a guide, especially on multi-day trips.
However, based on what I saw, I would feel comfortable stretching my comfort zone and doing some solo hiking using the official guidebook.
More experienced hikers and trekkers would likely find it easy.
Another option is the self-guided trips offered by S-Cape Travel.
The tour price includes logistical support and hotels, along with a mobile app that providers your GPS location on the trail.
Dave is the Founder and Editor in Chief of Go Backpacking and Feastio. He's been to 66 countries and lived in Colombia and Peru. Read the full story of how he became a travel blogger.
Planning a trip? Go Backpacking recommends: