There are a lot of beautiful and unique places in the world, but if you haven't seen the Tuscany hills or taken a sip from the Tuscany wines, you've missed something "meraviglioso".
Apart from being the cradle of the Renaissance, Tuscany offers a fertile land for growing juicy grapes, amazing food, and people ready to host you even if they don't know your language.
In Tuscany, most of the wine is made in small family vineyards according to ancestral traditions.
Not only the wine respects rigorous traditions, but the people as well, and even the time obeys a different kind of rules, the "unspoken rules" of the land.
Although for us – the habitants of the noisy cities, the rural parts of Tuscany may seem too quiet and too simple, life in Tuscany has a certain charm which some of you may recognize in the movies of Benigni.
With a rich history, splendid sceneries and plenty of quality wine, Tuscany can be the perfect place for a unique holiday.
Working as a grape picker, or just enjoying the harvest season in Tuscany, is a wonderful way to experience life in its purest form: sun, bread, olive oil and a glass of Chianti.
This is what the Italians call "La dolce vita!"
If you want to spend your holidays working in an Italian vineyard, in a job such as a grape picker, first of all, you need to know that in Italy the harvest season starts from late summer and lasts until September/October.
You may not receive money in exchange for your work, but the Italian families will do their best to provide you with comfortable lodging, delicious local food, and plenty of fun.
Also, you may not need a work permit, because such an activity is part of the agricultural tourism and you'll be regarded as a tourist.
Picking grapes can be quite a challenging activity, not to mention that the weather in Tuscany can be rather difficult to stand.
Most of the grape pickers start work early in the morning and take a break during lunchtime when the sun is scorching.
All the sweat and hard work are forgotten when you enjoy a glass of red wine from the wine you've helped make. It's a fantastic sensation!
The really fun part starts when the picking activity is over, and the entire community takes part in the making of the wine.
Making wine is a fantastic experience, which can be both fun and rewarding, and which for certain will enrich you from so many points of view.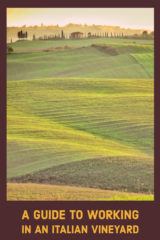 ___________
About the Author: Oana is a gadget lover with a vivid interest for traveling and good food. Although until now she has visited mostly Europe she plans to travel to Turkey – the Asian part and Morocco, and she would return every time to Italy.
This post was written by a guest contributor. Please reference the author's byline in the post above for more information. If you would like to guest post on Go Backpacking, please read our submission guidelines. For information on advertising opportunities, go here.
Planning a trip? Go Backpacking recommends: