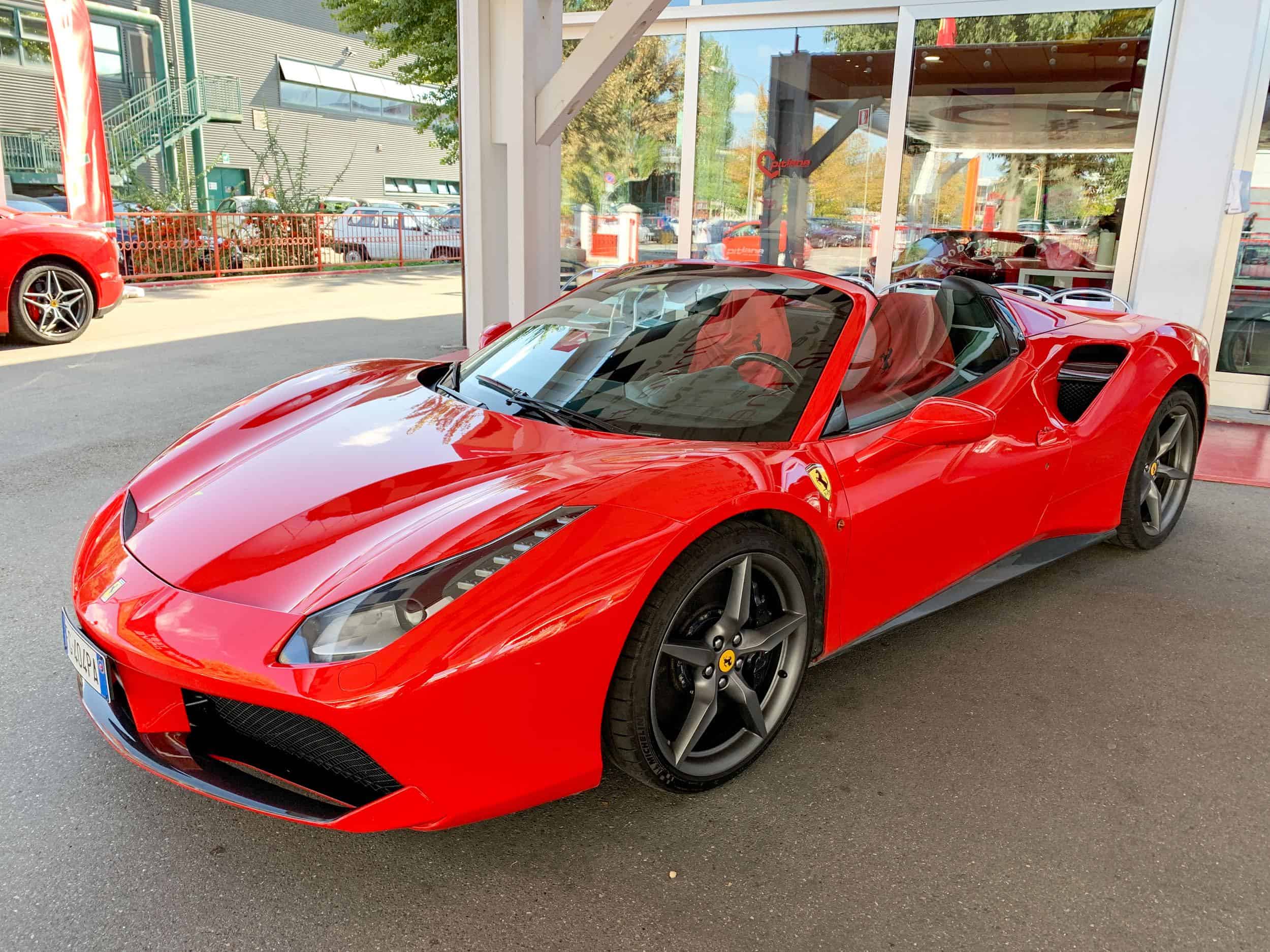 Driving a Ferrari in Italy was a dream come true, especially as it was in the city of Maranello, where the automaker has been based since the early 1940s.
Frankly, any opportunity to drive a Ferrari, including my two previous experiences driving a Ferrari in the French Riviera and on a race track in Cancun, is a dream.
Nothing makes me feel like a seven-year-old kid again, like getting up close and personal with beautiful Italian sports cars.
Following my incredible time in Tuscany, I took a train north to Bologna to visit my friends Michael and Stephanie.
They'd made the capital of the Emilia-Romagna region their new home.
To make the best use of my limited time, I booked a full-day food and Ferrari tour from Bologna on Viator that included everything the region is known for:
Parmigiano-Reggiano cheese
prosciutto
balsamic vinegar
Ferrari driving experience (optional)
Ferrari Museum
It turned out to be one of the best single-day tours I've ever taken!
In this story, however, I want to focus on what it was like to drive a Ferrari in Italy.
I'll cover the food and museum portions of the tour separately.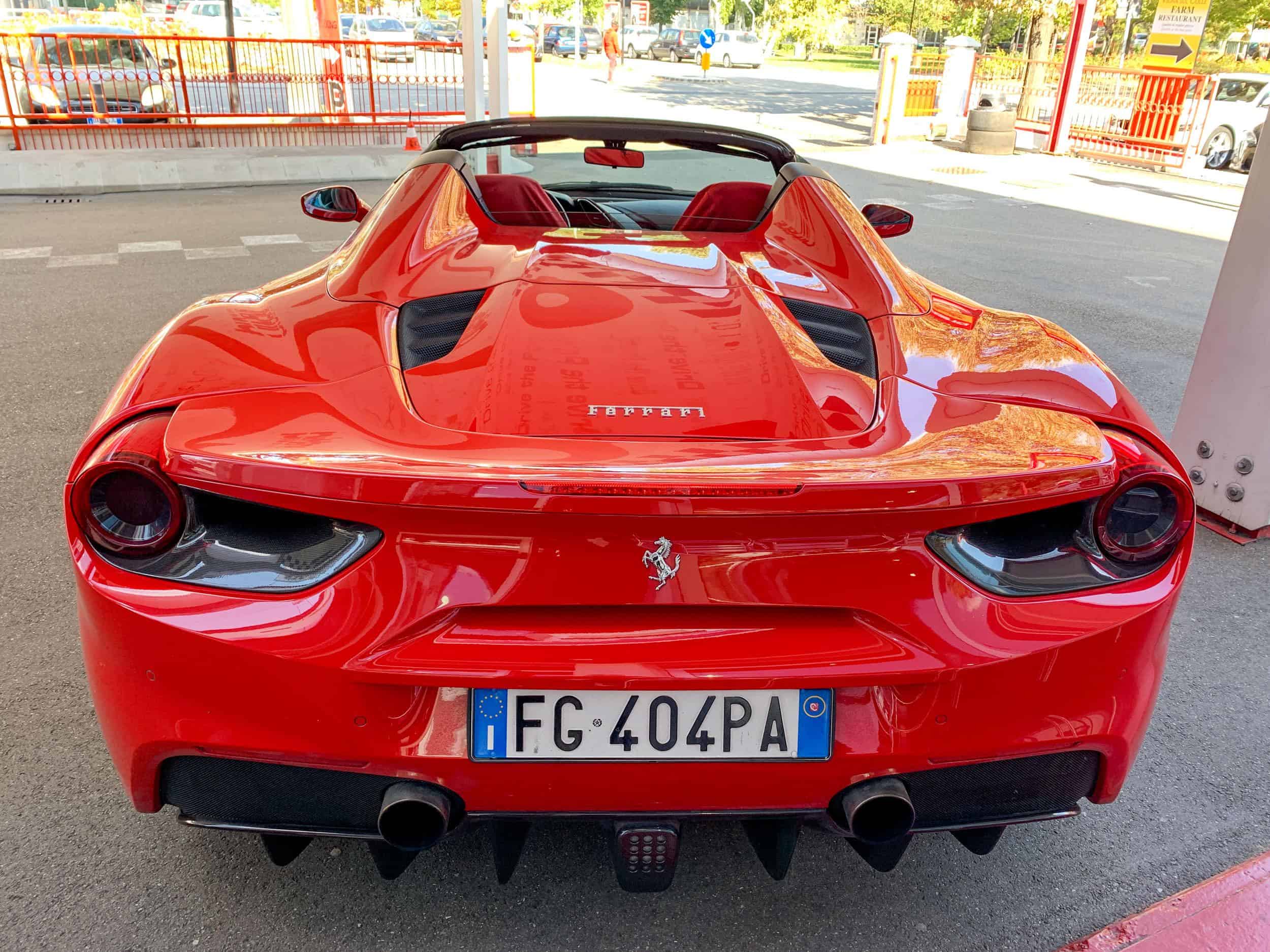 Arriving in Maranello, Italy
Our tour group pulled into the small town of Maranello (pop: 17,000) at about 1 pm, having already completed our food stops.
We drove past a sculpture of Ferrari's famous prancing horse before passing Ferrari related buildings and the track where they test drive cars.
Unfortunately, we could only catch glimpses of these sites as our time was limited.
I was okay with the tradeoff as it was easier to be on a tour than make the trip independently.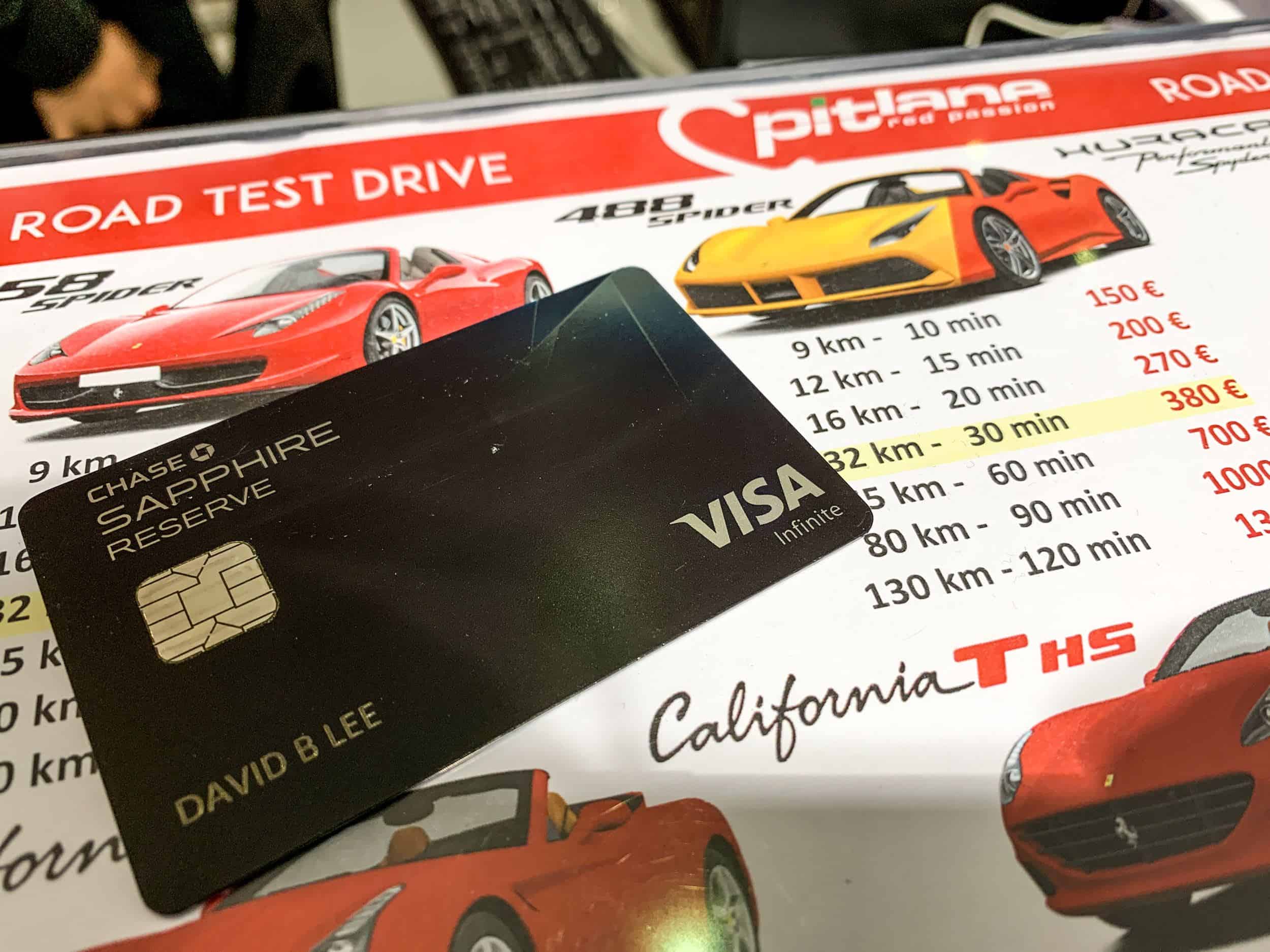 Choosing a Ferrari to Drive
Finally, the moment I'd been waiting for arrived when we pulled into Pit Lane Red Passion, a block from the Ferrari Museum.
A beautiful row of red and yellow Ferraris was lined up on display, plus a brand new white Lamborghini Huaracan.
I knew it would be expensive, but I'd already made up my mind that driving a Ferrari in Italy was an experience I'd never forget.
As of October 2018, Pit Lane Red Passion had several models to choose from, including:
Ferrari California T
Ferrari California T HS
Ferrari 458 Italia
Ferrari 488 Spider
Lamborghini Huaracan
The rate sheet showed the cost per duration of the drive for each car.
The cheapest option was a 9km, 10-minute drive in the California T for €100 ($114), but I didn't come to Italy to drive a basic Ferrari.
The Ferrari 458 Italia is the successor of the Ferrari F430, the model I'd driven twice previously, so at €120 ($136) for 10 minutes, it would've been a step up. But, I wanted the latest and greatest.
That thinking led me to the Ferrari 488 Spider, which was introduced in 2015 as the replacement for the 458.
At the cost of €150 ($170) for 10 minutes, it was only a little more than the 458. Sold!
It may have been a costly purchase, but I used my Chase Sapphire credit card, so at least I earned 3x points on the travel-related transaction.
Those 510 points would eventually help me save money on a future flight.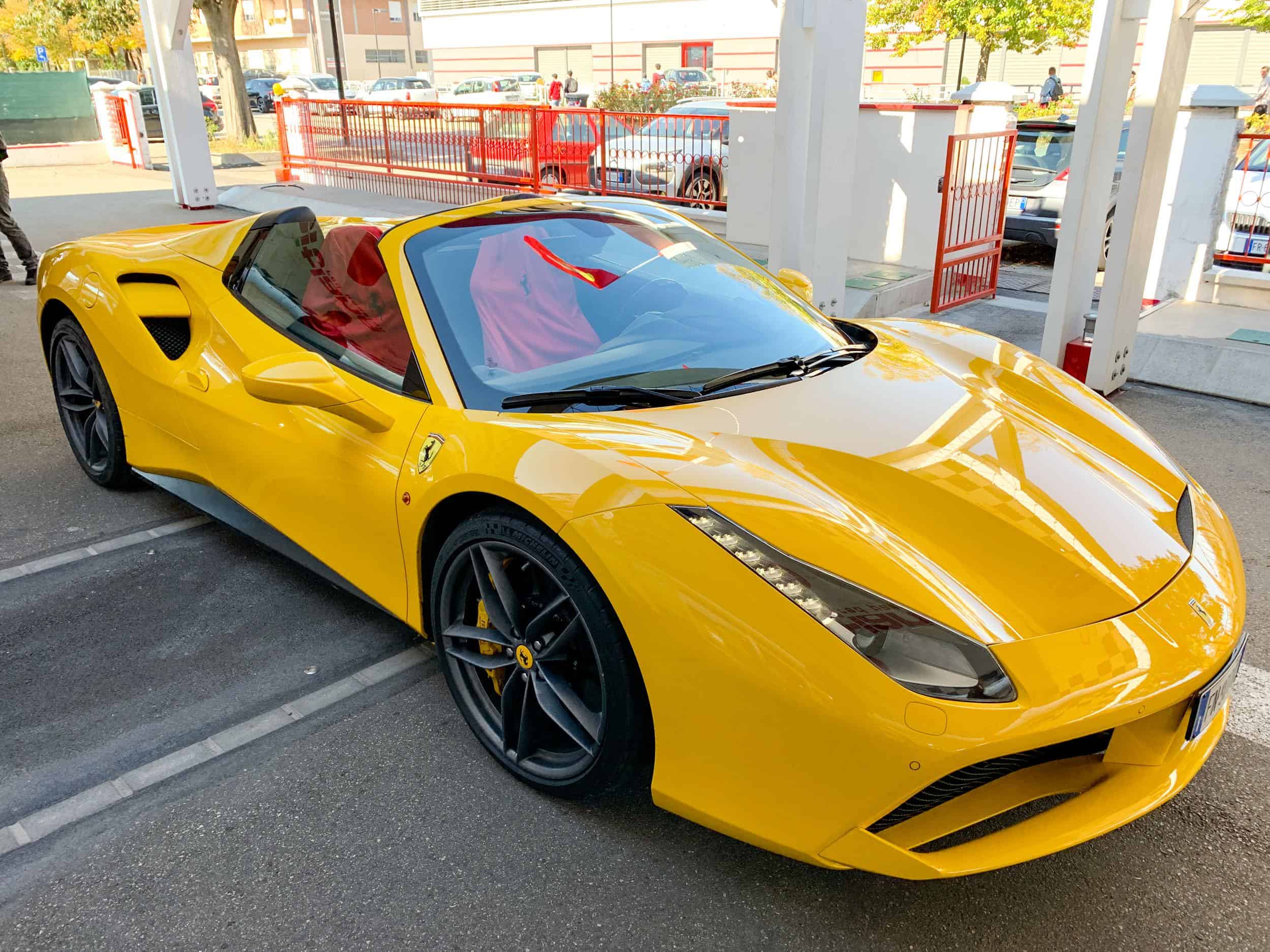 The Ferrari 488 Spider
The 660-horsepower Ferrari 488 boasts a twin-turbocharged V8 engine and can reach a top speed of 203 miles per hour (325 km/h).
It can accelerate from 0-62 mph (0-100 km/h) in 3.0 seconds flat!
The "Spider" in the name signifies it's a convertible.
My two previous Ferrari driving experiences were also in convertibles, but I wasn't able to drive with the top down on either occasion (in France due to drizzle and in Mexico because I was on a racetrack).
The 488 GTB (the hardtop version) was named "Supercar of the Year" for 2015 by Top Gear magazine and "Best Driver's Card" by Motor Trend in 2017.
And the cost? A new Ferrari 488 Spider will set you back a cool $280,000.
I was thrilled at the opportunity to drive one in Maranello.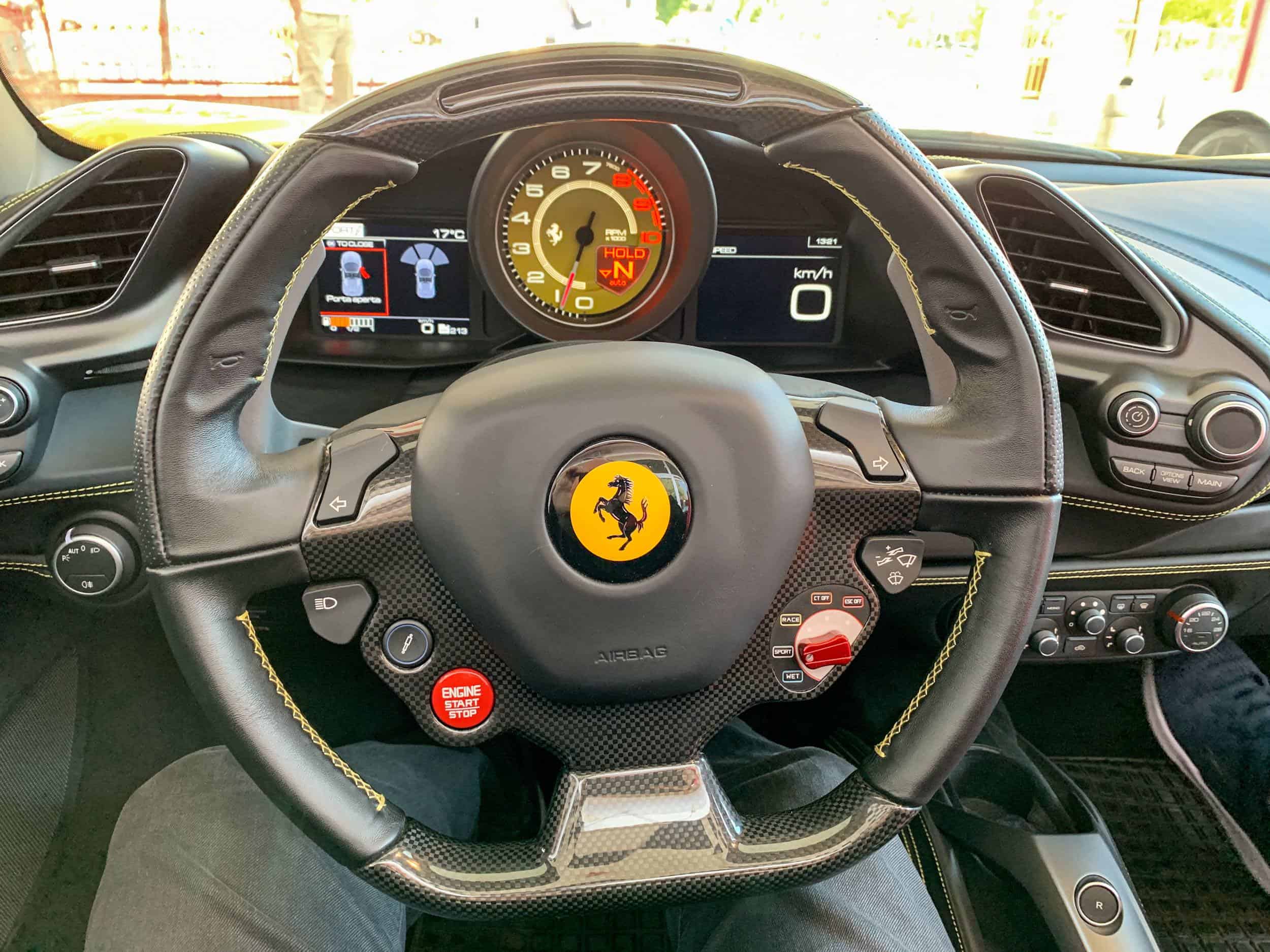 Safety Briefing
When it was my turn to drive the yellow Ferrari 488 Spider, the sun was shining, and the top was down.
A photographer from Pit Lane Red Passion came out and took some photos of me in the car (which I didn't buy), and the instructor introduced himself.
At this point, my life seemed to be moving in fast-forward. As I'd learned before, time is money when your business revolves around putting tourists behind the wheel of high-end cars.
The instructor sat in the passenger seat and gave me a quick rundown of what I was looking at behind the wheel. He also had me test the horn.
He explained the car had two driving modes, automatic and paddle shifting, and that I'd experience both during the drive.
The seat, inspired by Ferrari's long history of Formula 1 racing, held me snuggly.
I pulled out of the driveway and onto the road. And so began my 10-minute drive around Maranello.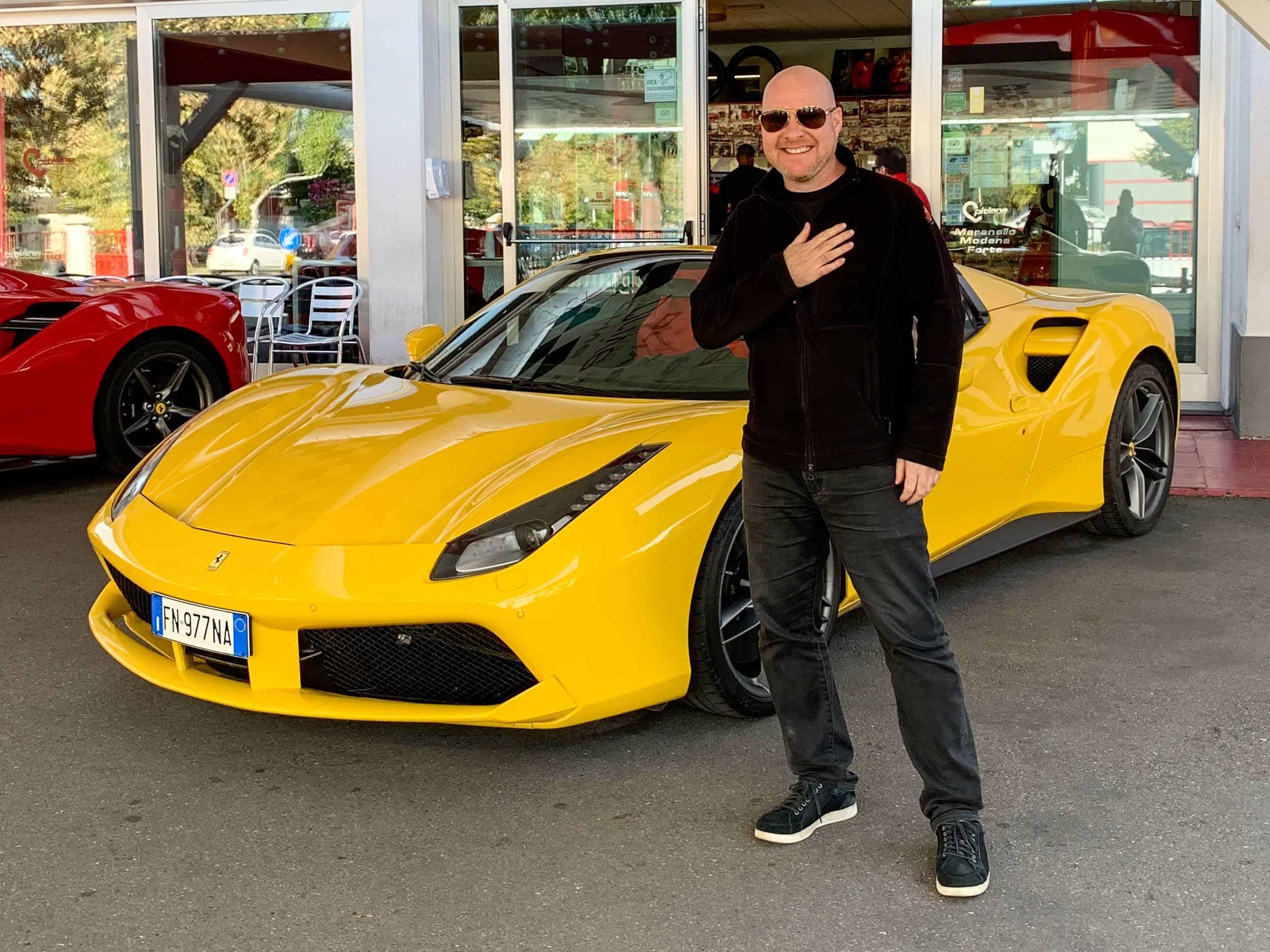 My Experience Driving a Ferrari in Italy
When I was looking at the rate card earlier, 10 minutes didn't seem like much time, but given the cost, I couldn't justify spending more time in the car. An extra five minutes would've been another €50 ($57).
Yet once I was on the road, it felt like just enough time to get a feel for the car, its acceleration, braking, and overall drivability.
Despite not having time to leave the city limits, the instructor had me slow down to a near stop on several occasions to experience the acceleration.
This allowed the cars in front of us to get some distance, and as the gap opened up, he'd tell me to gun it, and I'd press the gas pedal down.
As we accelerated, I'd see the numbers on the digital speedometer increase rapidly, but I couldn't tell you what my top speed was. I was focused entirely on the road ahead of me.
The instructor was excellent at telling me when to brake while driving in automatic and when to downshift while using the steering wheel's paddles.
Overall, I felt more comfortable during this Ferrari driving experience than either of my previous two.
While I didn't buy the photos taken of me, I did purchase the 360-video of my 10-minute drive for €30 ($34).
>>> Click here to watch my 360-video
For the best quality, click the gear icon in the lower right corner of the video player and make sure it's set to 1080HD.
Tour Details
While I was partaking in the Ferrari driving experience, others in my tour group went straight to the Ferrari Museum a block away.
Once I'd wrapped up, I had about 20 minutes to take a quick walk through the museum, which I'll also cover in a separate article. It's a beauty.
As I mentioned, my experience driving a Ferrari in Italy was just one part of a full-day tour, one of the best I've ever done.
The exact tour is the Italian Food and Museo Ferrari tour from Bologna, available daily through Viator.
To see all the Ferrari-related activities and tours on Viator, click here.
Dave is the Founder and Editor in Chief of Go Backpacking and Feastio. He's been to 66 countries and lived in Colombia and Peru. Read the full story of how he became a travel blogger.
Planning a trip? Go Backpacking recommends: