El Salvador is a small Central American country that's often passed over for better-known ones like Guatemala and Costa Rica. In this article, I'll share my El Salvador travel tips based on my short visit.
My original plan was to spend one of six weeks on my Central America backpacking trip in El Salvador.
But, when I spent $400 on airfare to Roatan in Honduras, I wanted to make sure I had at least a week there.
Ironically, by spending less time in El Salvador than planned, I arrived during a very wet week in Roatan.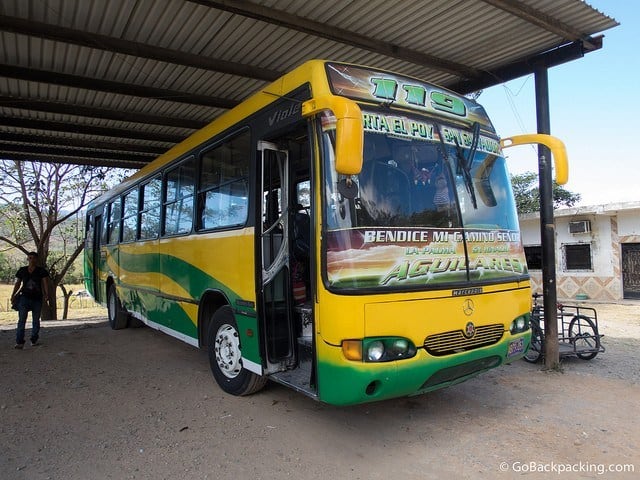 If I had spent more time in El Salvador, I would've arrived five days later and probably had a few more nice days during my time there.
Read my Honduras travel tips to see what's involved with reaching San Salvador by public transport from Copan.
San Salvador
By the time my chicken bus from the border arrived in San Salvador, the sun had set.
I stepped off the bus into the darkness of what was supposed to be a bus terminal.
It didn't take long for a taxi driver to approach me. I was anxious, but I didn't have a choice at that point.
Once we agreed on the fare to Joan's Hostel ($10), he pointed me toward his car, which was parked in what must have been the darkest corner of the street, behind both a giant garbage container and a parked bus.
I laughed nervously, shook my head "no," and said I'd wait where I was until he brought the car around.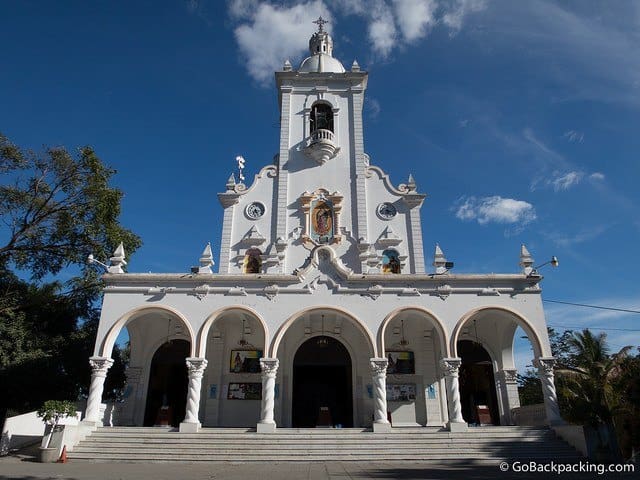 I began chatting with him in Spanish. During the ride, I learned he was in his 10th (and hopefully final) year of trying to get a visa for the United States.
He'd visited several times before and wanted to live and work in Los Angeles.
He needed to stop three times to ask for help with directions to the hostel, and each time I was worried I'd get robbed while he was away from the car. We would've arrived faster had I noted the hostel's phone number.
Due to gang violence, San Salvador is one of the most dangerous cities in the world.
I had every desire to reach the hostel as quickly as possible.
I realize my concern for safety in San Salvador is ironic, considering I'm based in Medellin, but at least I know my way around the latter.
I always find it unsettling to arrive in a new city after dark, regardless of the country.
Where to Sleep
Joan's Hostel lived up to the positive reviews on Hostelworld. The owner used to live here, and she's furnished it to feel like you're staying in somebody's home.
The WiFi is some of the strongest I've found on this trip, and it's located around quite a few restaurants and ATMs, as well as a large, modern supermarket, so you don't have to go far to resupply. A dorm bed costs $15/night.
Where to Eat and Drink
Italian Restaurant and Cafe
Across the street from Joan's Hostel is an inexpensive Italian restaurant and cafe serving excellent personal pizzas. I ate here on my first night.
Things to Do
The main thing I wanted to see from San Salvador was Joya de Ceren, El Salvador's only UNESCO World Heritage Site.
Some reviews on Tripadvisor stated there's nothing much to see, but I found it worth the effort.
It's not every day you visit a 1,400-year-old village buried and preserved by 10 to 12 meters of volcanic ash.
The instructions to get there using public transport are posted at Joan's Hostel, and it's easier than it seems.
In short, you walk about five blocks from the hostel, catch the 201 bus toward Joya de Ceren ($1).
Tell the driver where you're going, and he'll signal when you need to get off. From there, walk a little bit around the traffic circle, and hop a collectivo for $0.25.
The entrance costs $3, and there are signs in both English and Spanish.
I was joined by two young guys from California, making it a little more fun than going on my own.
El Tunco
El Tunco is a popular surf beach about an hour south of San Salvador.
You can get private shuttles direct from Antigua. Otherwise, you'll need to take public transport (unless you rent a car) from San Salvador.
The beach is considered reasonably safe for tourists to visit.
Taxi to/from the Airport
Taxis to the international airport cost $30 and can be booked through Joan's Hostel. The trip takes 45 minutes without traffic.
Dave is the Founder and Editor in Chief of Go Backpacking and Feastio. He's been to 66 countries and lived in Colombia and Peru. Read the full story of how he became a travel blogger.
Planning a trip? Go Backpacking recommends: