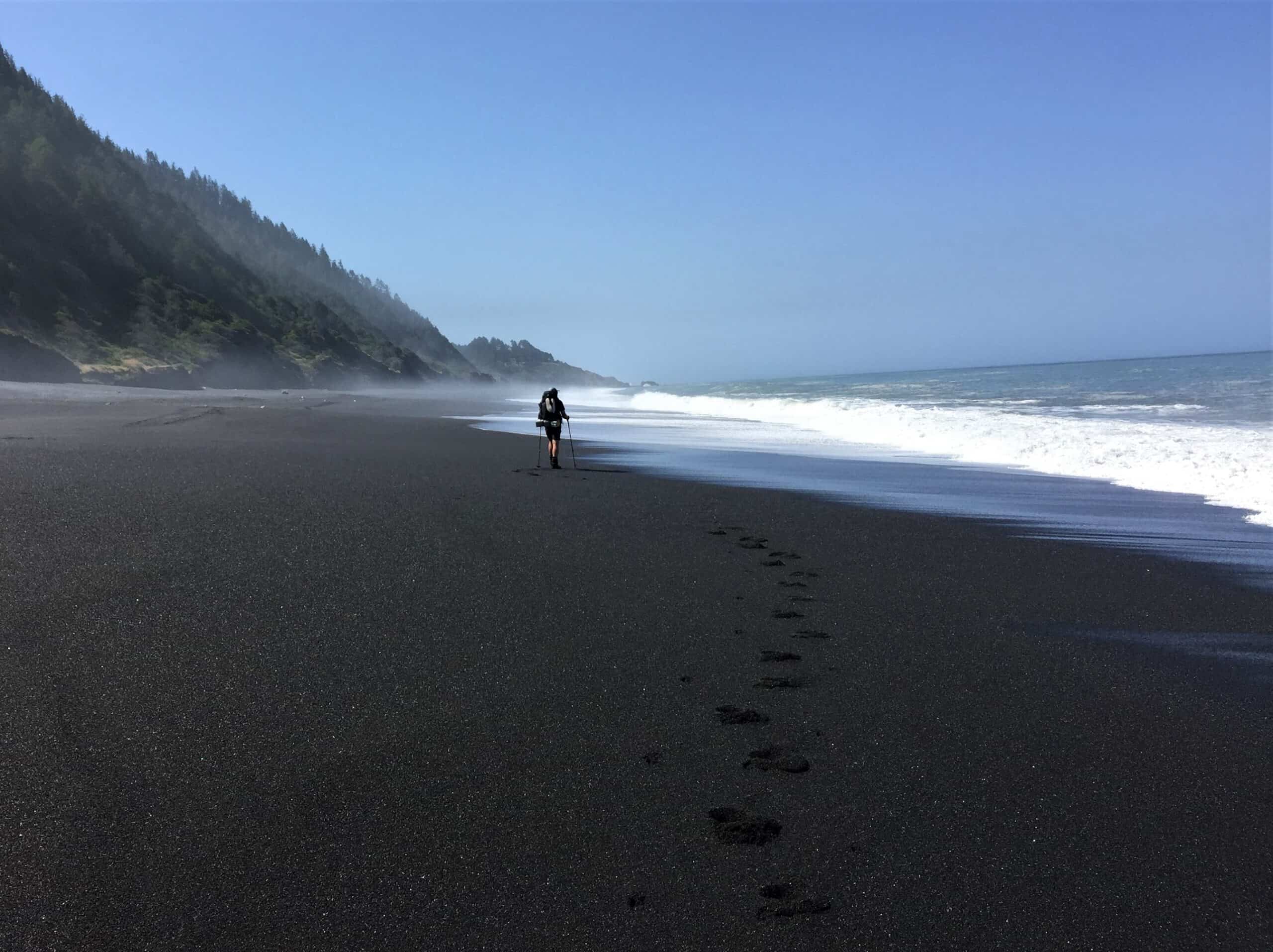 When the opportunity to backpack into a rugged and isolated black-sand coastline comes along – the call of the wild is, for some, too hard to resist. This was the case for me and a group of five other adventurers who were game for a completely new experience this time out while backpacking California's Lost Coast Trail.
My backpacking companions, Cynthia, Paul, Jim, Sam, and his friend Tim, planned and executed a four-day, three-night sleep-on-the-beach excursion which has been placed on a world list as "one of the fifty places you must hike before you die."
This dramatic 68,000-acre conservation area, 200 miles north of San Francisco, is part of California's 'Lost Coast.'
It is a 35-mile stretch, where land and sea converge, a spectacular blend of primeval mountains and unspoiled seashore – almost untouched by civilization.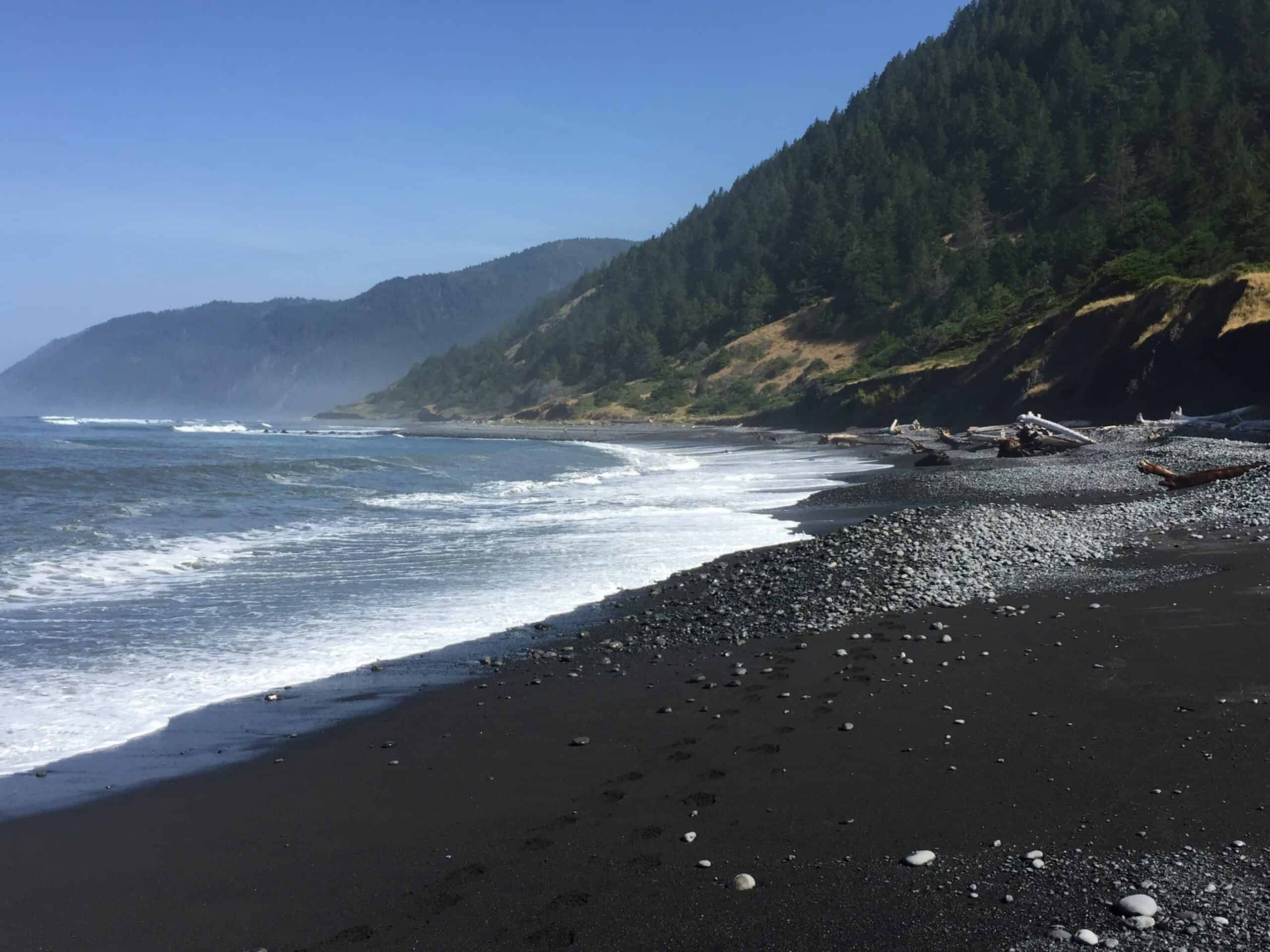 Known for its diverse geography and ecosystems, this breathtaking coastline is one of the longest stretches of pristine beach anywhere along the Pacific.
The Lost Coast Trail, as I discovered, is mostly not a trail at all but more of a trek along the water's edge in wet sand, rocks, and boulders.
However, a significant portion does divert into forest, grassland, and meadows above the rocky cliffs.
Most of my beach days near home are not a time for finding solitude and wilderness.
Southern California's lakes and ocean coastlines are typically lined with homes, boat docks, businesses, and parking lots.
My hope is that this trip will bring a totally new experience.
Backpacking the Lost Coast Trail
The Village of Shelter Cove
The Lost Coast Trail begins with a stay at the village of Shelter Cove, 200 miles north of San Francisco.
We drove up Interstate 5 until we reached the Bay Area, where the route changed to the 580 and then the 101 Freeways.
It is a full-day journey, but our weariness is quickly alleviated over the final 80 or so miles as the road skirts the South fork of the beautiful Eel River.
It is one of the most beautiful stretches of road I have ever driven.
We are trying to move fast, but it is tempting to stop and enjoy the sights as we road trip through the Russian River wine country and coastal redwood forests.
We arrive in Shelter Cove just in time for dinner and a good night's sleep at the Inn of The Lost Coast.
Starting at Mattole Beach: Day 1
After a quick breakfast at the inn, the six of us load into a hired van with a very experienced local (lostcoastadventures.com) who takes us on a two-hour drive through the King Range of coastal mountains.
The destination is north of Mattole Beach. We have determined that starting at Mattole will allow us to hike the trail back to Shelter Cove, and the prevailing wind will be at our back the whole way.
After a dizzying mountain ride, we tip generously and then wave goodbye to the shuttle driver as we heft our loaded packs onto our backs and set off into the windy morning.
None of us would see another car, truck, or road for nearly four days.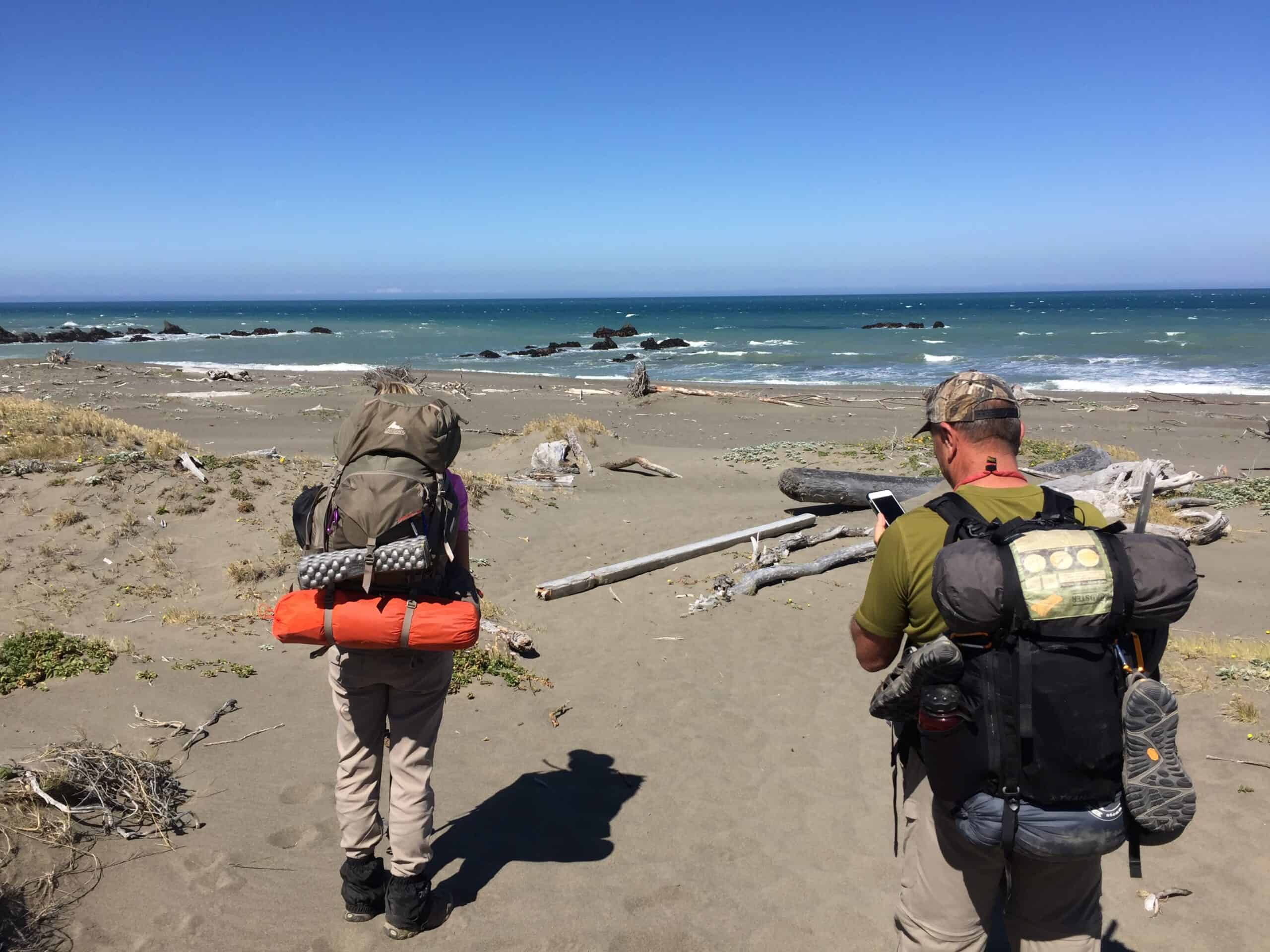 At Mattole Beach, a sign at the trailhead reads: "Allow at least three days to backpack the wilderness coastline. Hardy hikers are rewarded with solitude and ever-changing vistas."
This sign is more than accurate, as the views are constantly changing and other hikers are encountered rarely.
After negotiating a series of dunes, we are greeted by sunbathing sea lions and endless blue-green water.
We are stunned by the grand expanse of wild beach, the Hawaii-like black sand, and the realization for some of us that this once-in-a-lifetime hike is finally underway.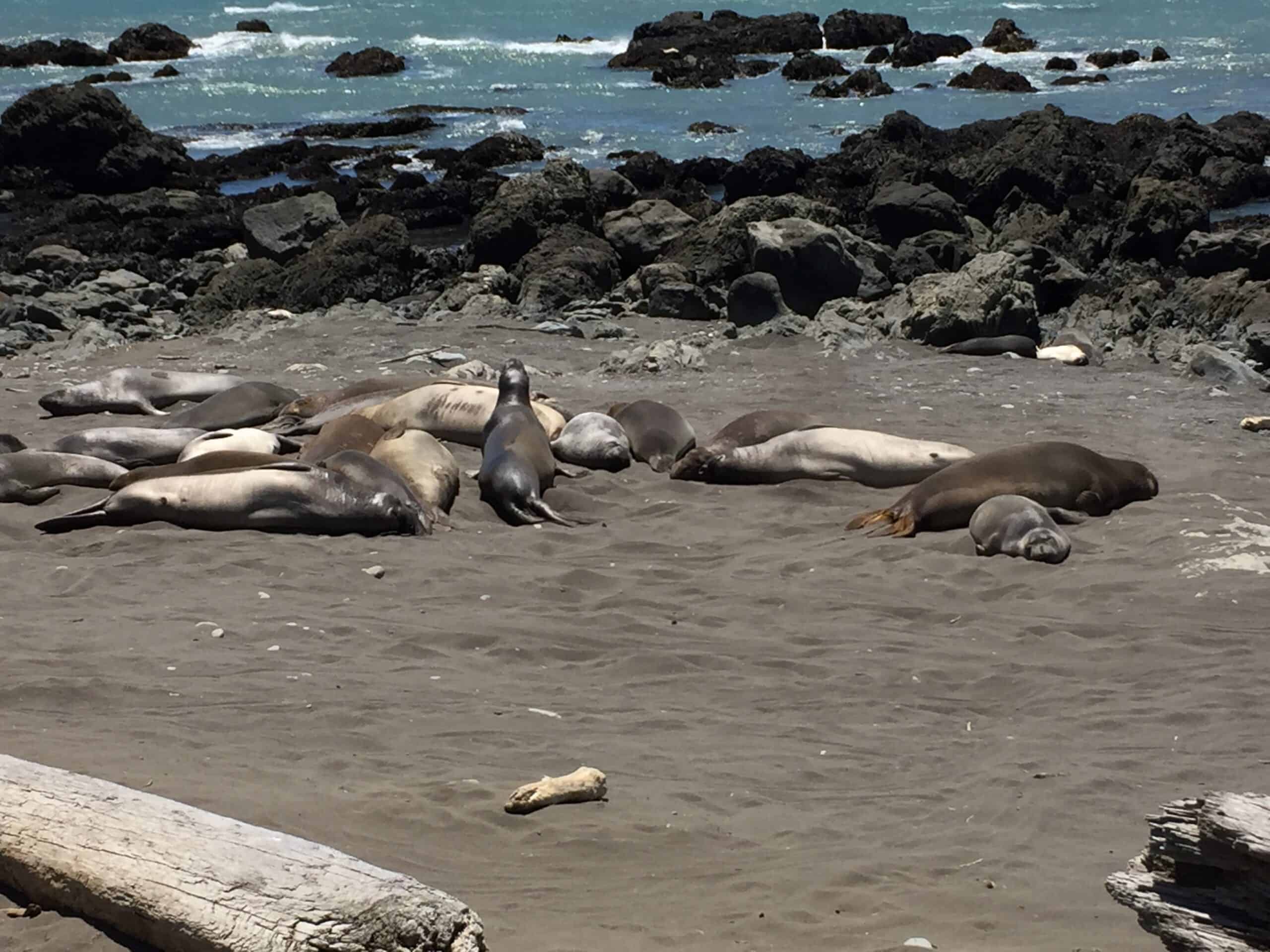 Later, in the noon-day sun, we navigate the trail as it winds its way high above the sea.
We skirt poison oak, skip over small streams and climb up cliffs, where we can finally see the 100-year-old Punta Gorda Lighthouse – our perfectly timed break for lunch.
Related: Hiking to the Makapu'u Lighthouse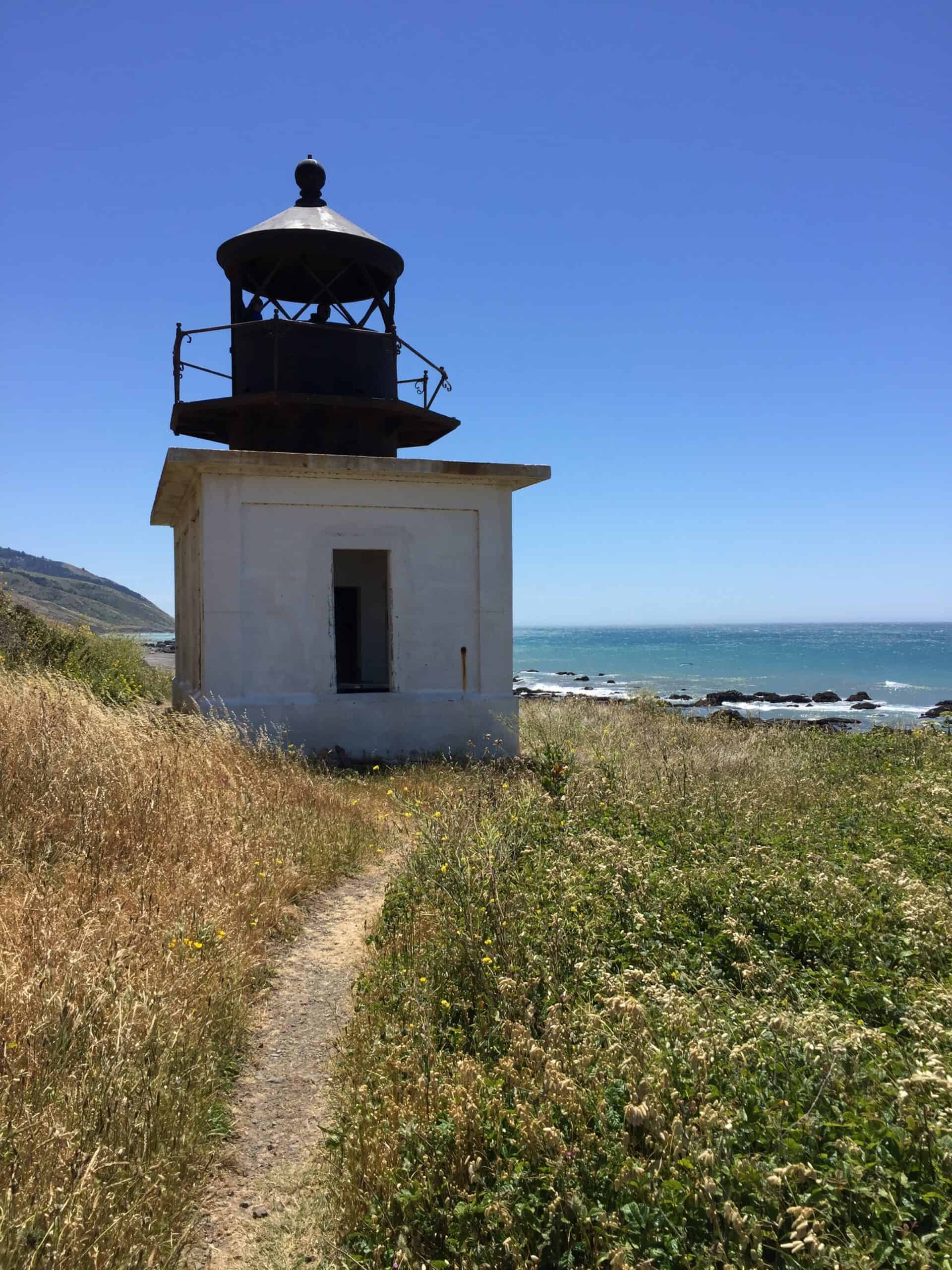 The building has stopped being lit up to warn ships many decades ago, but it still serves as a beacon for Lost Coast hikers.
Relieved from our heavy packs and with our weary backs propped against the white walls of the tower, we eat and watch the seals play in the surf below.
Our original plan for day one is to hike about five miles to the start of the first impassable zone.
However, it is still early afternoon, and high tide is more than an hour away, so a discussion, which turns to a mild argument, begins over whether we should continue or not.
There is no suitable campsite to be found, so a few of us insist that we push on. As a less than cohesive group, we start out into the unknown.
Several parts of the trail go underwater at high tide, so a tide chart is essential to traverse through this area.
Our lost coast trail permit instructions include a warning that people have died after getting caught in the rocks and surf.
So, we hustle along as we are not sure about the conditions.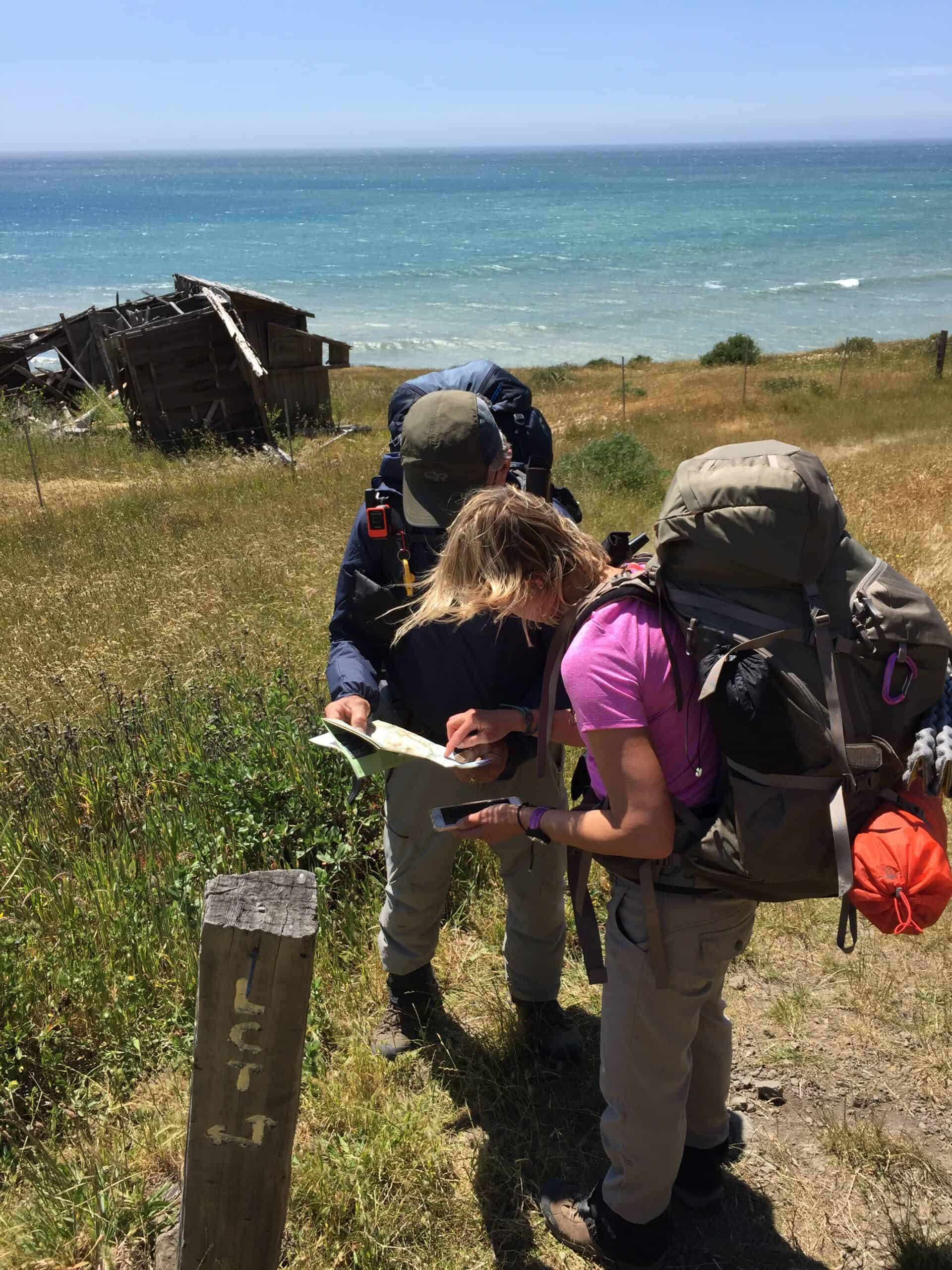 As we near our newly projected campsite, some 2.5 miles into the impassable zone, the tide is beginning to reach the cliffside, and our hustling soon becomes a series of desperately timed dashes over rocky terrain and the surges of high tide.
I begin to grow concerned over the ability to reach our objective as the water surges over our ankles and the loose rocks we must step on for the final mile.
Around the final cliff face, we settle in a remote canyon along Cooskie Creek and pitch our tents a few hundred feet from the ocean.
We have the camp to ourselves – except for a few deer.
As soon becomes the norm, we gravitate to the water's edge every evening and watch the sunset before heading back to the campfire.
On this first night, Cynthia and I have packed in a special surprise to celebrate Sam's birthday – two bottles of wine and the ingredients to make s'mores!
This little surprise birthday party lifts everyone's spirits after a day of travail and fear.
Later, sleeping is not difficult as the rumbling waves, and the din of a babbling brook soothes our slumber.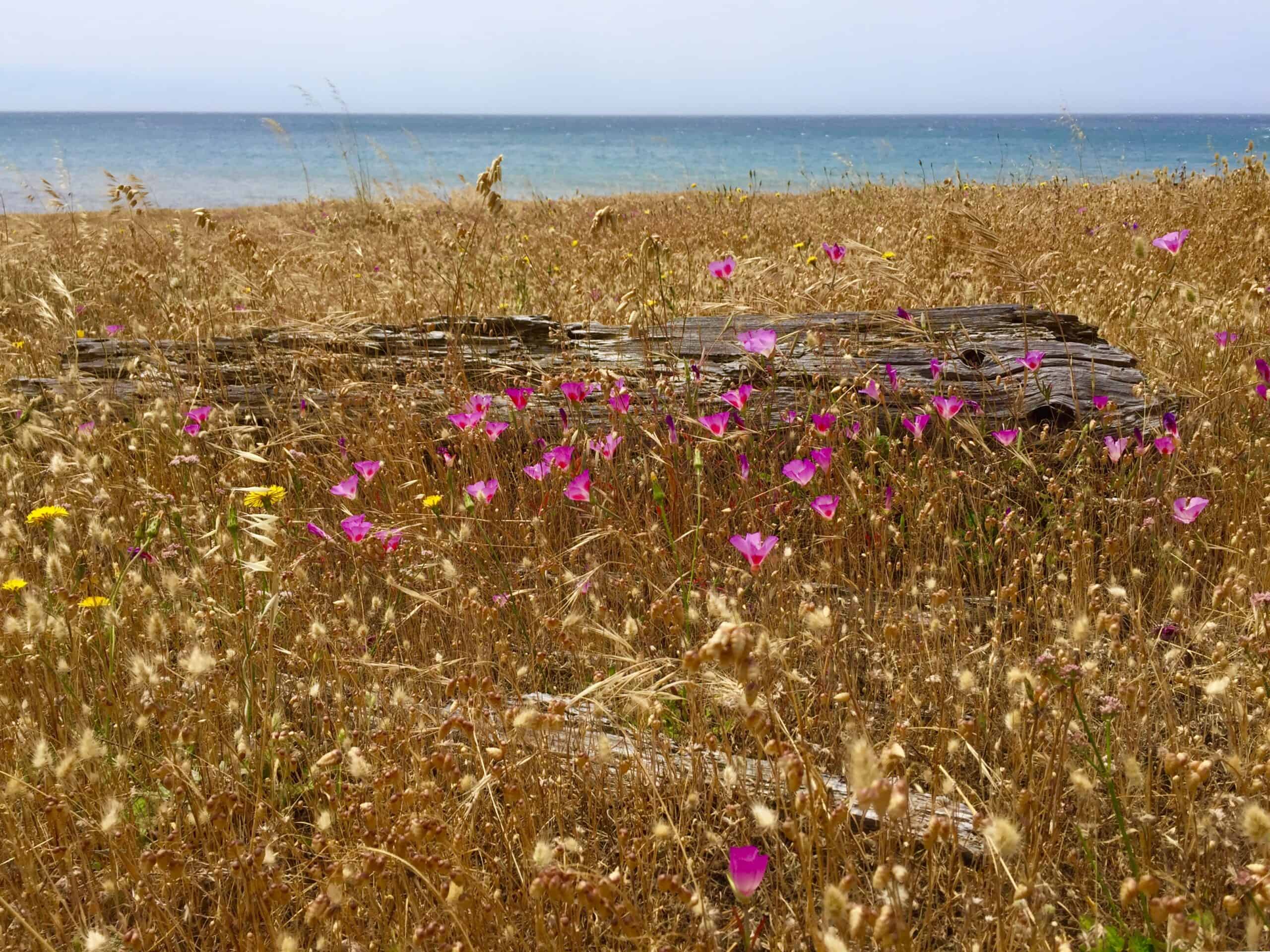 On to Big Flat: Day 2
Low tide this week is during the mid to late mornings.
Since we are already halfway through the first impassable zone, we only have two more miles until we are in the clear for the day.
After coffee, breakfast, and a morning campfire, we set out for what will be our longest day.
We alternate between traveling as a group or in pairs. Jim always wants to get a little head start in the morning, as this is his very first backpacking trip.
He claims to be slow but hikes like a champ. He is so methodical, however, that he earns the trail name 'Metronome.'
By 10 am, we are at the end of the first impassable zone. We all take a break, enjoy a drink out of Randall Creek, refill our water bottles, and take in the scenery.
Only ten more miles to go to get to our next camp at Big Flat.
Our second day changes with each mile, and we experience a variety of conditions. The morning starts out calm and cool.
After our first break, the cold blast of wind picks up considerably, and although it is at our backs, it sometimes pushes us along whether we like it or not.
It is tricky crossing creeks, balancing yourself on a log bridge only to have the wind catch your backpack and almost toss you in the creek.
Footing conditions change quite a bit on this stretch, too – from sand to sand and rocks to boulders and hard pack trails.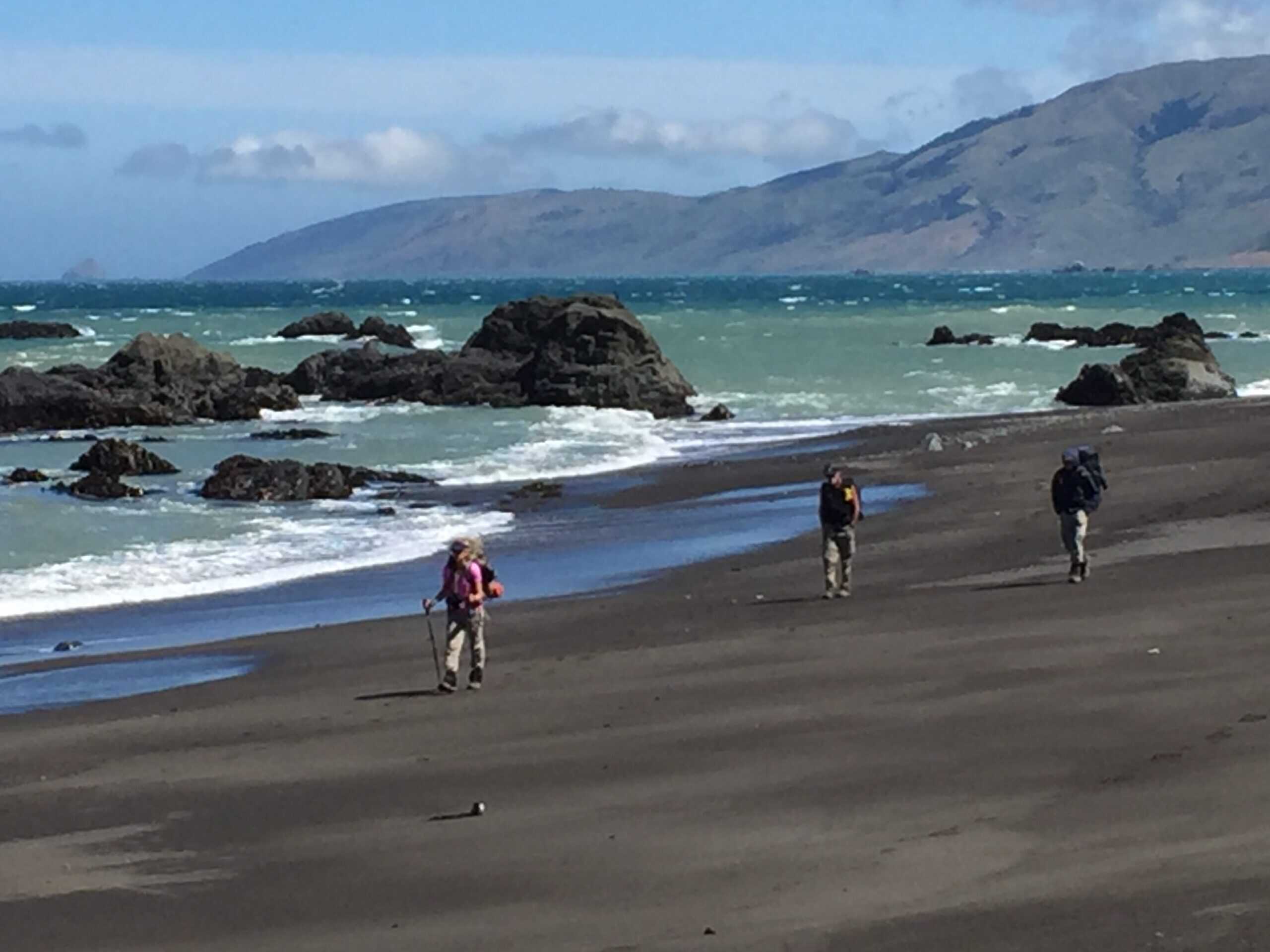 We discovered a stash of huge whalebones in the late morning, the only remnant of a beached giant on this lonely coast.
Each of its vertebrae is larger than basketball, and we can only imagine the scale of the entire animal.
By afternoon, we have an unending, strong, cold wind coming in from the sea, and our only relief is found in a creek canyon or very large rock.
In addition to the wind, we struggle to walk mile after mile, hauling heavy packs in the sand.
Our feet sink and slide with each stride. Sometimes we can walk in each other's footprints to make it a bit easier.
Other times we seek out rocks that are flat and which provide some traction. When we are on a hard trail, we feel like superman.
By late afternoon we find ourselves on a grassy plateau.
This turns out to be the beginning of Big Flat, an area that is the drainage from Kings Peak, a mountain Cynthia, Sam, Tim, and I hiked earlier in the week, and the highest point in Humboldt County at 4,088 feet.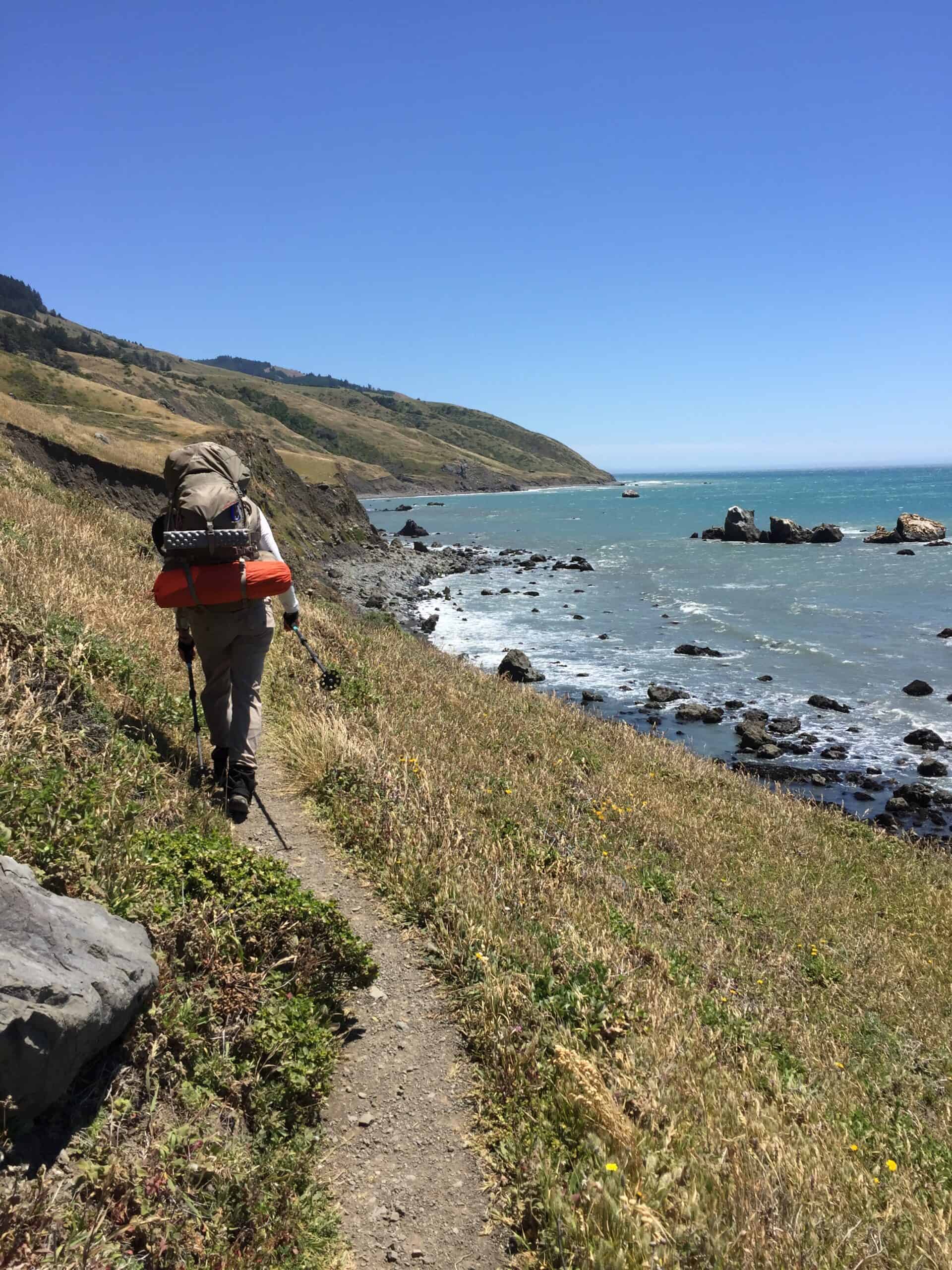 We find a flat and windless place to set up camp along the creek.
After dinner, we stand on the beach again and look to the west as the sun settles below the horizon. It was about a 12-mile day. We are beat and ready to sleep.
Before climbing into our tents, however, we enjoy the last of the fire as it dies down, and we look in the direction of the trail, where we see the distant shimmering lights of Shelter Cove – our goal in two days.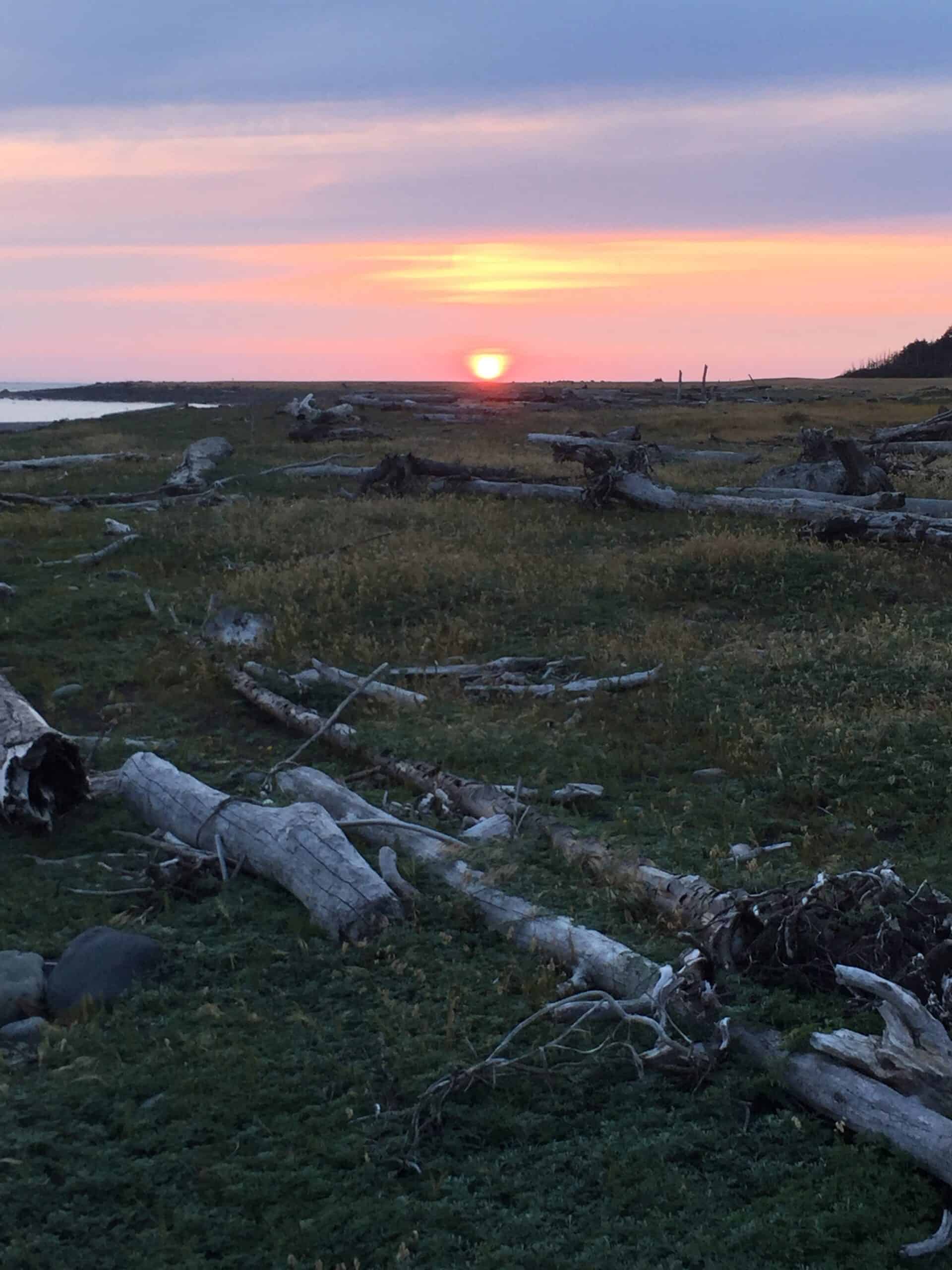 Black Sand and Redwoods: Day 3
We wake to another gorgeous sunrise. The air is cool, and the sky is misty, but we are warm around our campfire as we laugh together and share stories from the trail over coffee and breakfast.
By now, the routine of breaking down camp and repacking our gear is streamlined.
Many of us regard this day's hike to be the most scenic part of the trail. The sand is cleaner, darker — the mountains greener and steeper.
A graveyard of gigantic bleached-out redwood trees up to six feet thick and as much as a hundred feet long, washed out to sea in flash floods, have been returned to the beach as barge-like driftwood during high tide or big surf and now remain strewn along the beach as a memorial to their greatness.
The fog this morning floats in and among the hills and beach in a mystical, otherworldly setting.
Last evening's high tide has smoothed out the beach from the water's edge to the base of the mountains.
There is not a footprint in the sand for miles. We feel like we are alone in the world.
After a mile or so, Cynthia and I turn up the heat and power-hike to secure the next campsite by lunchtime.
After arriving, we eat lunch, go for a swim, fly a packable yellow kite and get sunbaked in the now clear and torrid blue sky. We see the others much later.
Sam is a loyal friend and slows his pace to keep company with Tim as he struggles with an injured knee.
Parts of the trail, over the last 20 miles, have been very challenging, and we are grateful there have not been more injuries.
At this camp, we pitch our tents about 100 feet from the rolling surf and then spend the rest of the afternoon relaxing on the sand and wading in the water.
This beach has no parking lots, no lifeguards, no rules, no signs, no trash, and no people. This beach, in every direction, is ours.
Our time here is spent as if we have traveled to a different time. A time and place unchanged for millennia.
Our campfire, dinner time, and evening comradery are felt more deeply as we know this is our last night in this land of the Lost Coast Trail.
There is a bond that forms in the sharing of struggle, the primacy of privation, and the enjoinment of joy.
The six of us feel this bond tonight, the way we all feel the soreness in our muscles, the need for a shower, and the longing for a cold beer. We sleep like babies.
Sunrise over the King Range: Day 4
Morning brings the awareness that everything is wet. The night's coastal humidity and dense fog have soaked everything completely.
As the sun rises over King Range, the towering pine trees split the sun's rays into streaks of focused light the way a spot shines down upon the actor on a stage.
The black sand is lit up by these streaks of light, and we move our tents, sleeping bags, and wet clothes to these areas to dry.
Soon thick, smoke-like steam rises from our gear as though it will combust at any moment.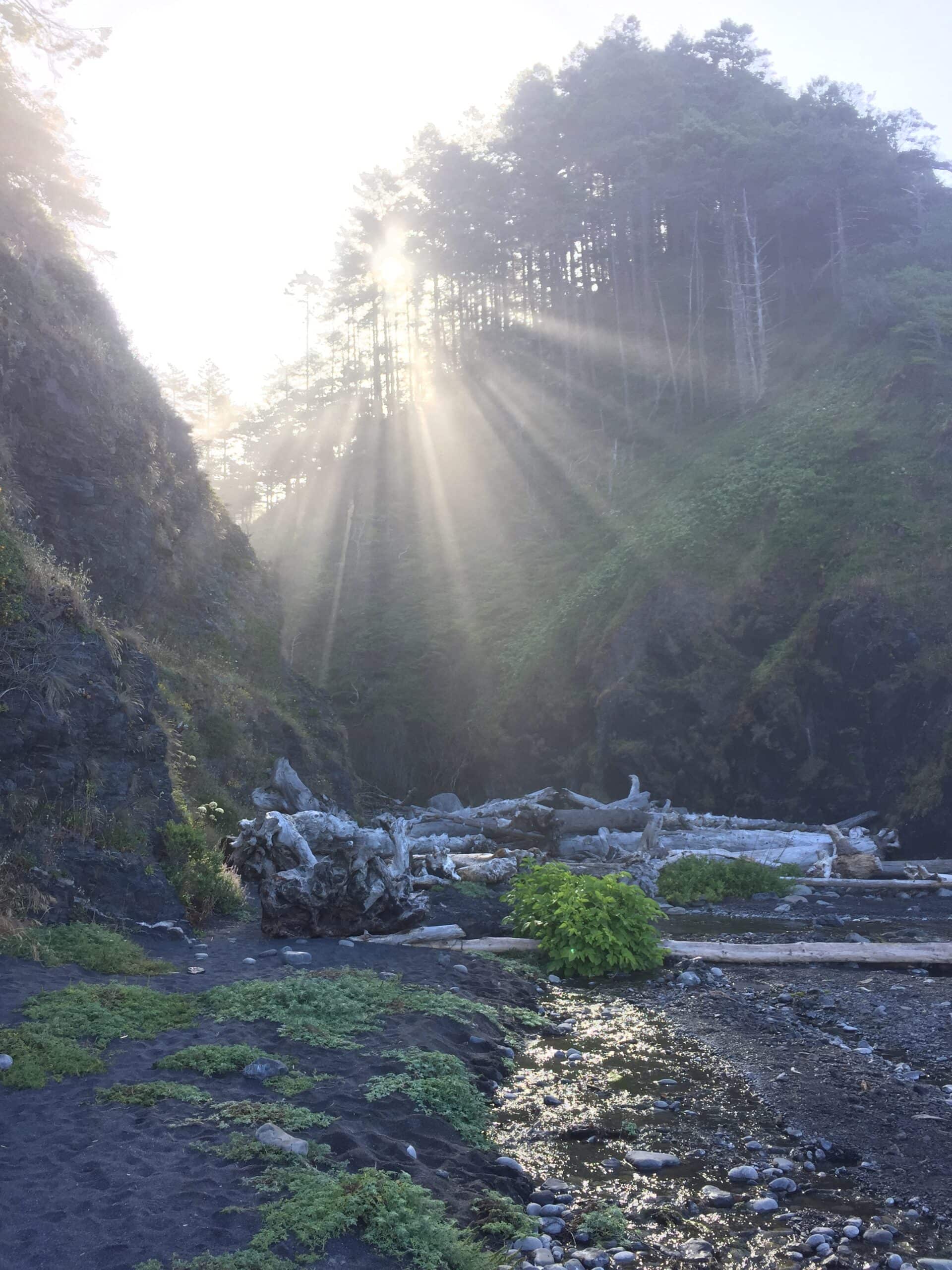 As our gear dries out, we eat our final meal on the trail.
Our bear canisters are now empty of food, and we stuff whatever we can in them to create room in our packs.
The bear-proof containers are an entry requirement on the trail, and indeed a necessity as these wild beaches can be visited by the local bear population in search of an easy, hiker-provided meal.
Over the 35 miles, we did not see any bears or bear tracks. To some of us, this is a good thing.
To me, it is a missed opportunity. I have seen many bears while backpacking, but to see one on the beach would have been fantastic.
Our final miles are difficult. We are tired, and the rest of the route is nothing but soft, hot, black sand.
Trudging along Shelter Cove grows nearer, and we spread out over the last few miles.
Still, a cheer rings out for each of us as we climb the steep incline and cross the finish line into the parking lot.
At the trail's end, we celebrate and begin the conversation about lunch in town.
The beauty of this rare expedition should be enjoyed by anyone who loves adventure and solitude.
For the six hikers on this trip who do enjoy those things, we have a new story to tell, a new voyage to expand our experiences, and a big wilderness checkmark to clear our bucket list.
When it comes to The Lost Coast Trail… Sometimes you just have to go.
Information and permits for the Lost Coast can be found at www.recreation.gov/permits/72192.
Traveler, Adventurer, Writer, Photographer
Planning a trip? Go Backpacking recommends: