Despite growing up in New York, I never spent time in Boston, which is why I gave myself a few days to explore while there for TravelCon. I discovered dozens of free things to do in Boston.
Upon arriving at Boston Logan International Airport, I hopped in an Uber for the short ride to HI Boston Hostel.
Located downtown, HI Boston is just a few blocks from Boston Common and Boston Public Garden, two beautiful green spaces in the heart of the city.
It's the perfect place to base yourself.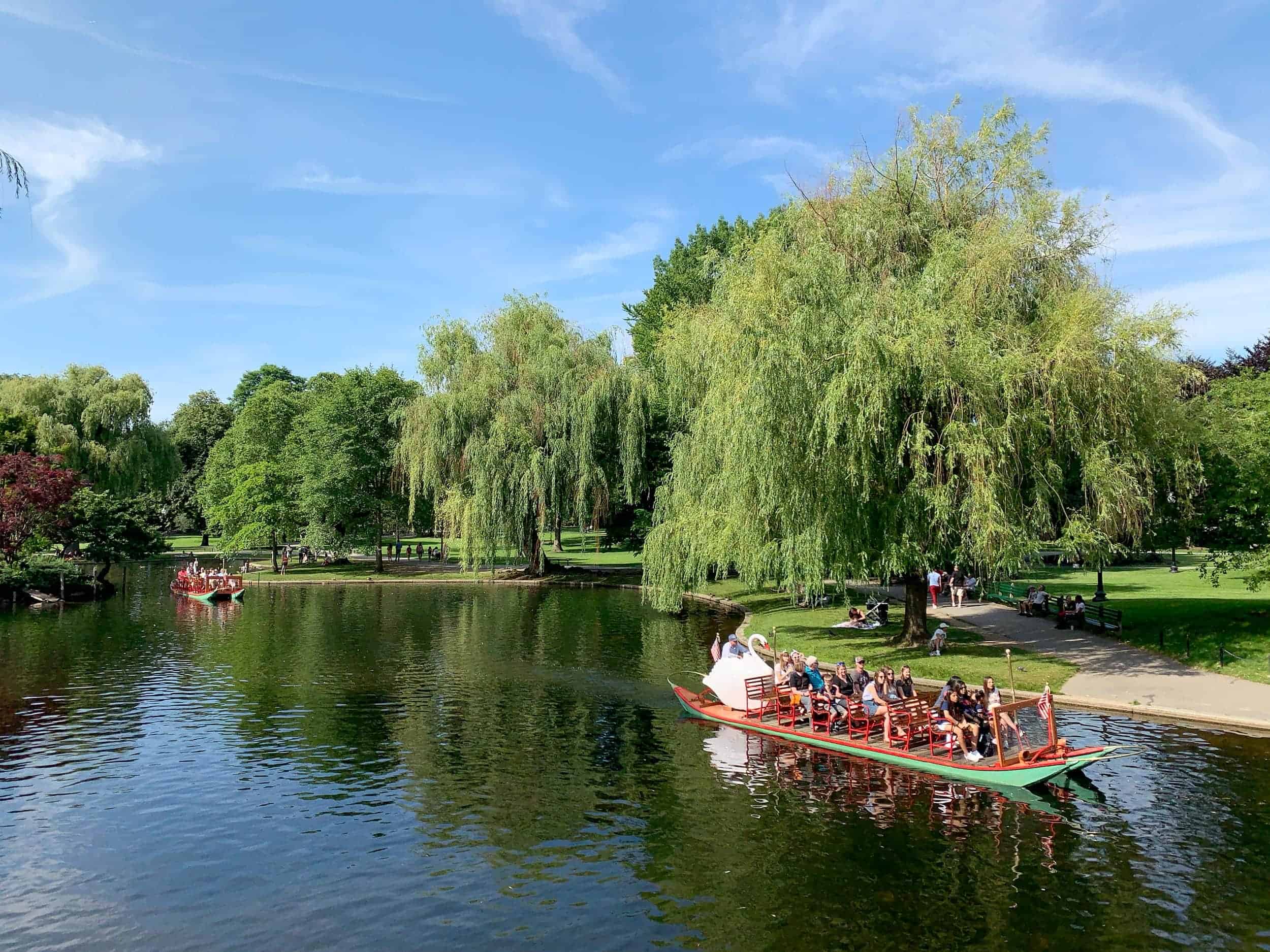 Many of the free things to do in Boston listed below are within walking distance.
And if you need guidance or people to go with, HI Boston offers free volunteer-led tours daily!
Parks, Walks, and Historic Landmarks
Founded in 1630 by English settlers, Boston is one of the oldest cities in the United States.
It has played a prominent role throughout the country's history.
Relax in Boston Public Garden
Established in 1837, Boston Public Garden was the first botanical garden in the United States.
The park features a lagoon and plenty of green space for hanging out, whether you prefer sun or shade.
Historical figures are memorialized as statutes, including George Washington and Charles Sumner.
The Ether Monument is dedicated to the successful use of ether as a surgical anesthetic.
The park is free and open to the public daily from 9 am to 7 pm.
4 Charles St, Boston.gov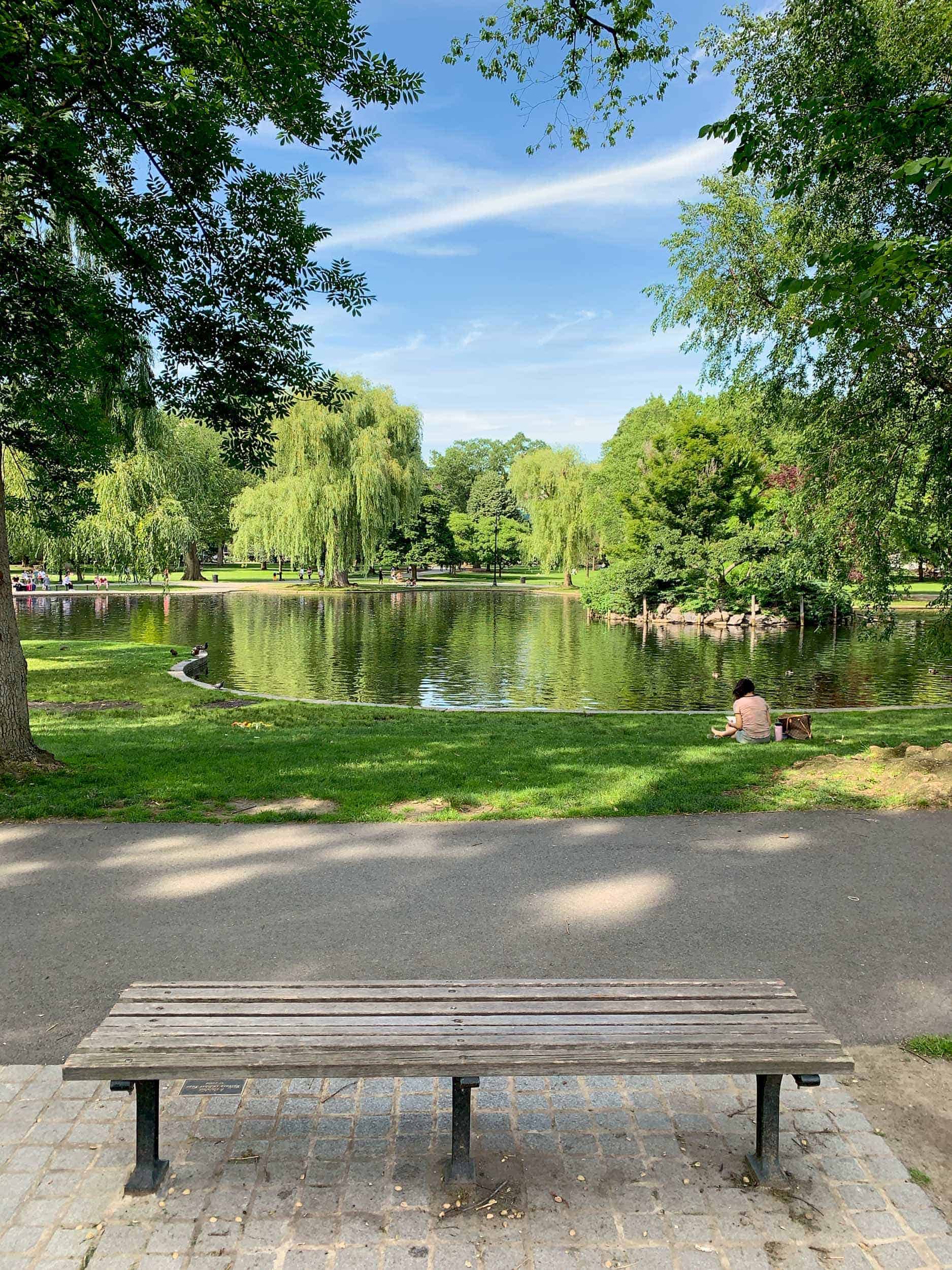 Find the Good Will Hunting Bench
The Boston Public Garden was also the location of an emotional scene in the 1998 Acadamey Award-winning movie Good Will Hunting.
I'm a massive fan of the movie, so I made it a point to find the exact bench where Sean (Robbin Williams) talks to Will (Matt Damon) about living a rich and full life.
The bench is unmarked, though there's a marker on Google Maps to help you out.
Once I found it, I waited a few minutes for a couple sitting there to leave and then took a seat.
The view is beautiful but by no means the only pretty place to sit in the park.
When an older woman came and sat next to me to feed the squirrels, I took it as my cue to move on.
I faced the water, just north of the Boston Public Garden Bridge.
See also: 15 Cheap and Fun Things to Do in New Orleans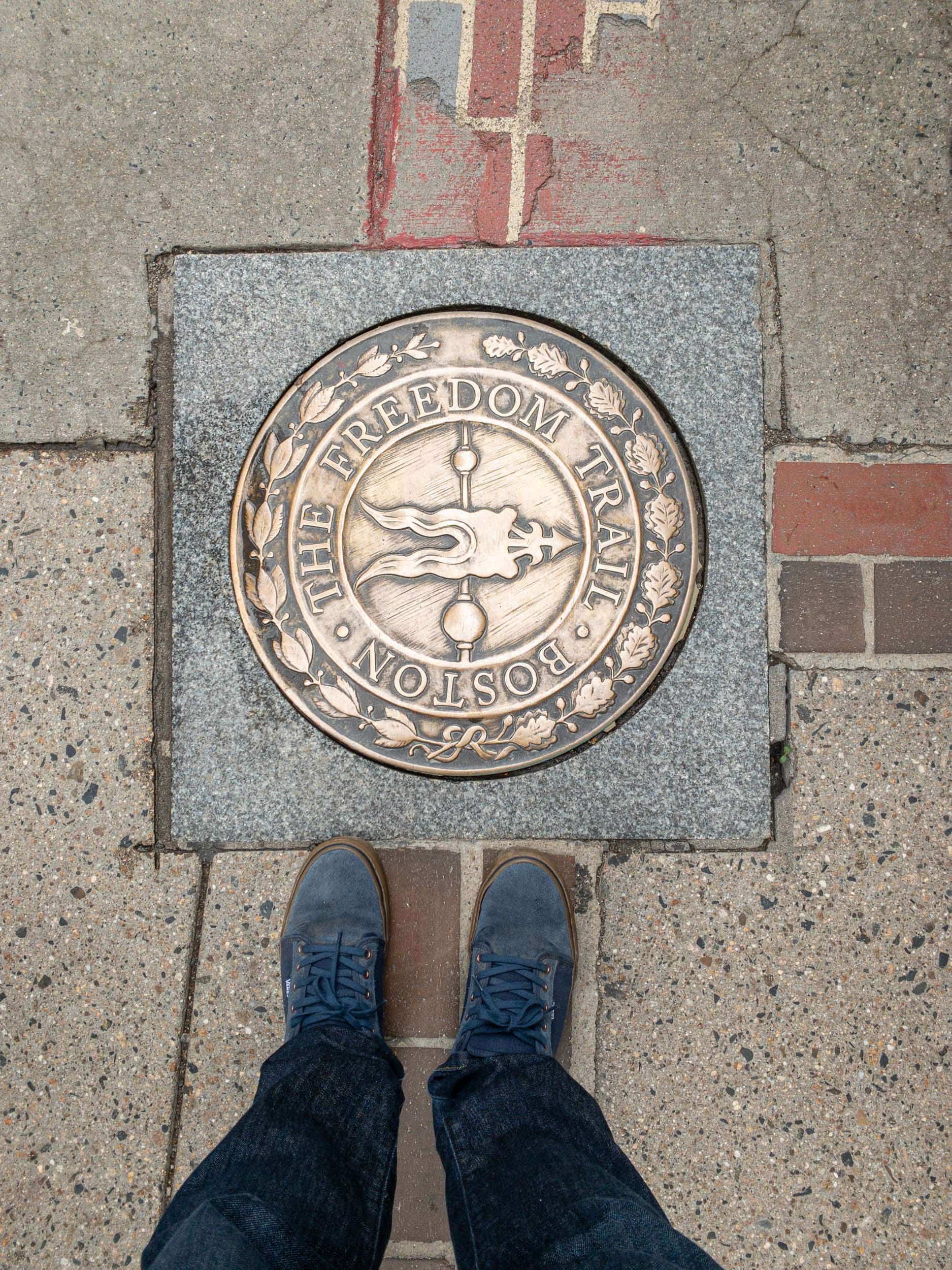 Walk the Freedom Trail
The Freedom Trail is a must for any first-time visitor to Boston. Walking the trail was my highest priority.
The 2.5-mile trail begins at the Visitor's Center in Boston Commons and winds its way past 15 historic buildings, monuments, churches, meeting houses, and cemeteries.
The trail can be walked independently for free. Access to Google Maps can help keep you on track.
Red bricks laid into the sidewalk are a physical manifestation of the trail and a helpful visual.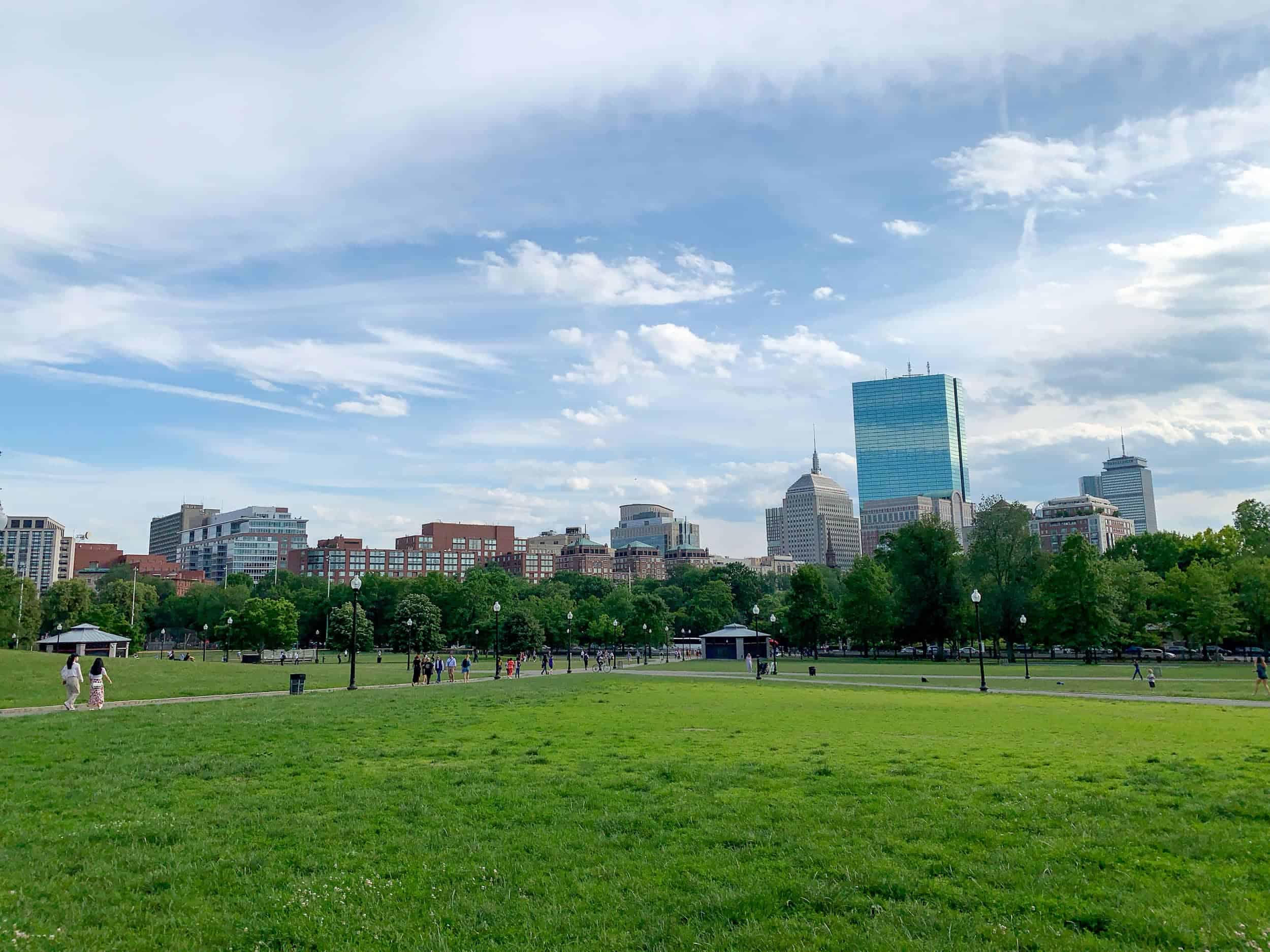 Boston Commons
Created in 1634, Boston Commons is the oldest public park in the United States.
The 44-acre park is adjacent to the Public Garden in downtown Boston.
Like the Public Garden, it's worth walking around and features several monuments and statues, including the Soldiers and Sailors Monument (1877) dedicated to those who fought in the Civil War.
To start walking the Freedom Trail, head to the Visitor's Center on the east side of the park, near the intersection of Tremont and West Street.
Be like Dorothy (in the Wizard of Oz) and follow the red-brick road.
139 Tremont St, Boston.gov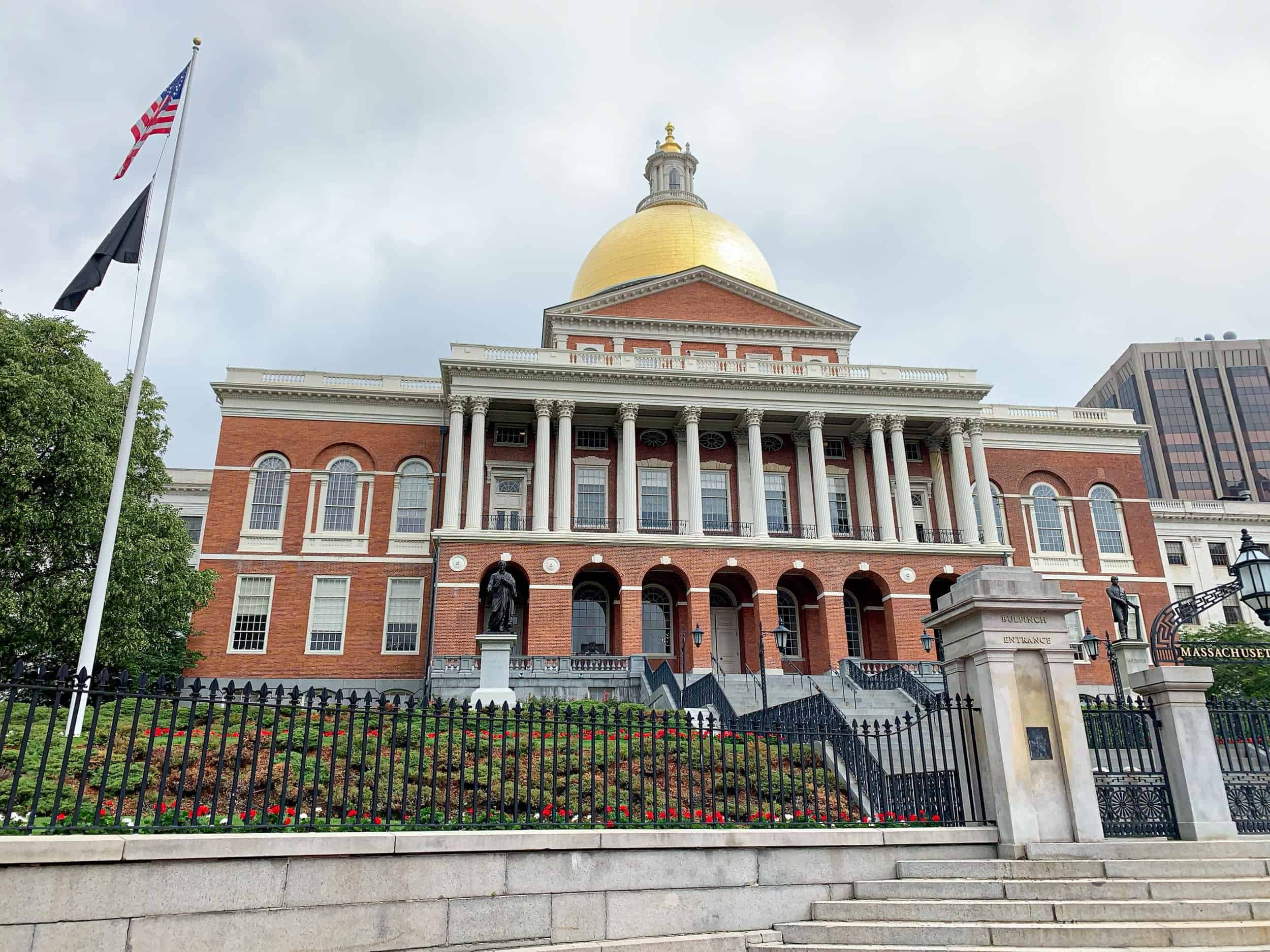 Massachusetts State House
Looking out over Boston Common from the other side of Beacon Street is the gold-domed Massachusetts State House.
The State House has been home to the Massachusetts government since it opened in 1798.
24 Beacon St, malegislature.gov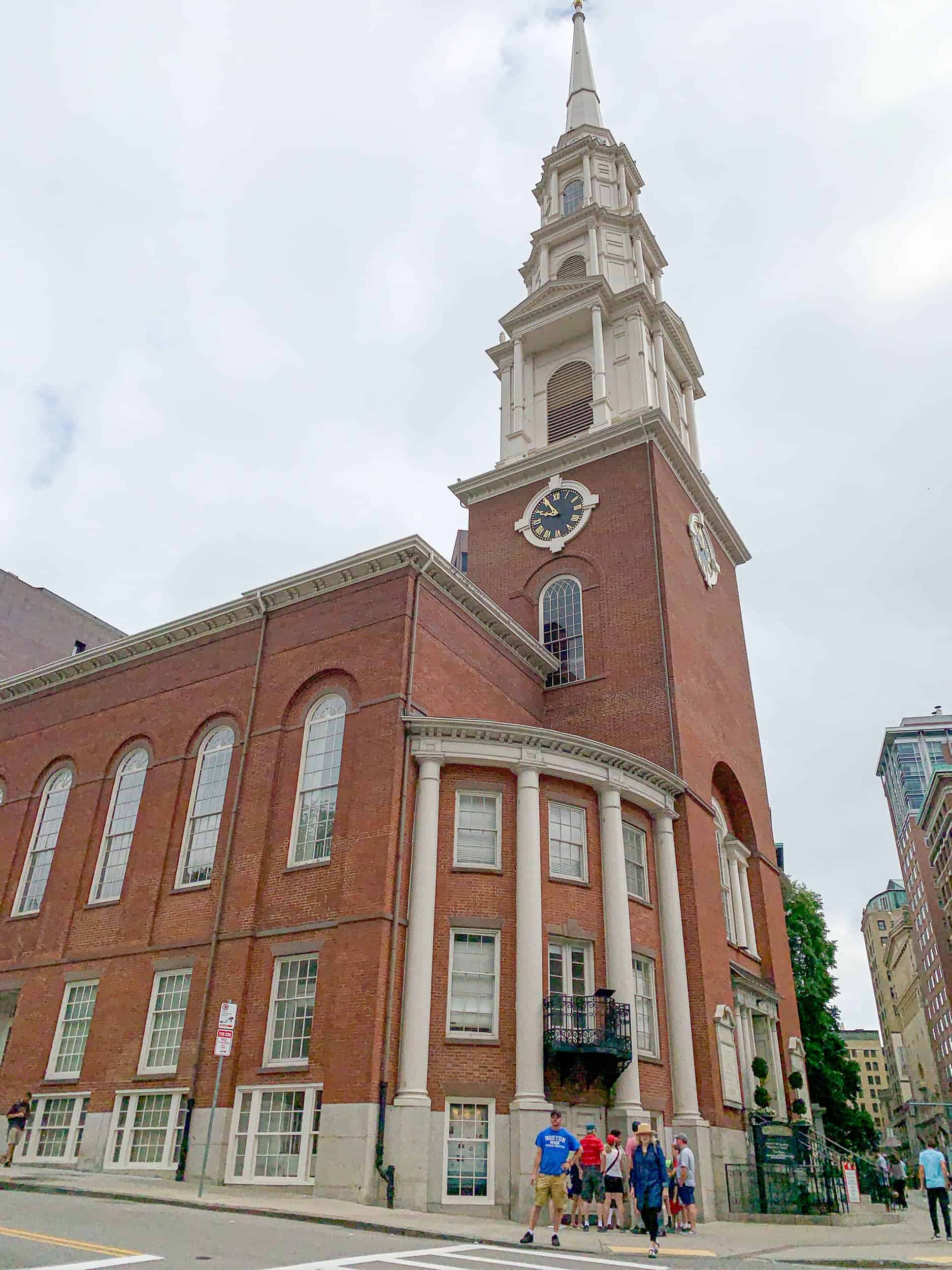 Park Street Church
The Park Street Church was built in 1809 and featured a 217-foot high steeple, which was once the first thing visitors would see when approaching the city.
The interior is rather dull compared to other churches on The Freedom Trail.
But it's free to enter Park Street Church, so don't hesitate to take a quick peek inside.
1 Park St, parkstreet.org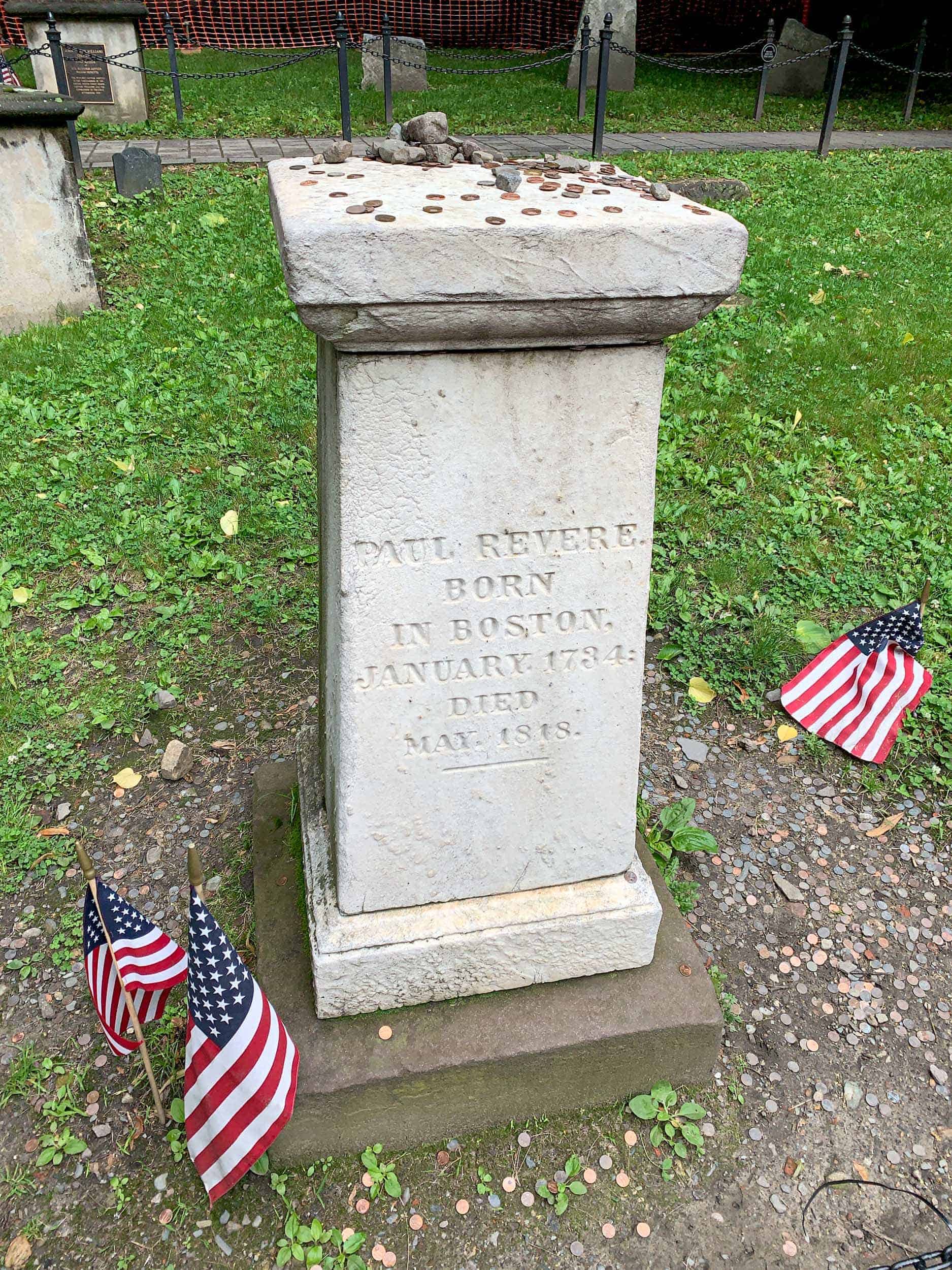 Granary Burying Ground
Established in 1660, The Granary Burying Ground is the eternal resting place of approximately 5,000 Bostonians, including notable figures in American history such as Paul Revere and Samuel Adams.
The cemetery, located next to Park Street Church, got its name from a granary building that once stood next to it.
The most significant burial marker is an obelisk dedicated to Benjamin Franklin's parents.
1 Park St, Boston.gov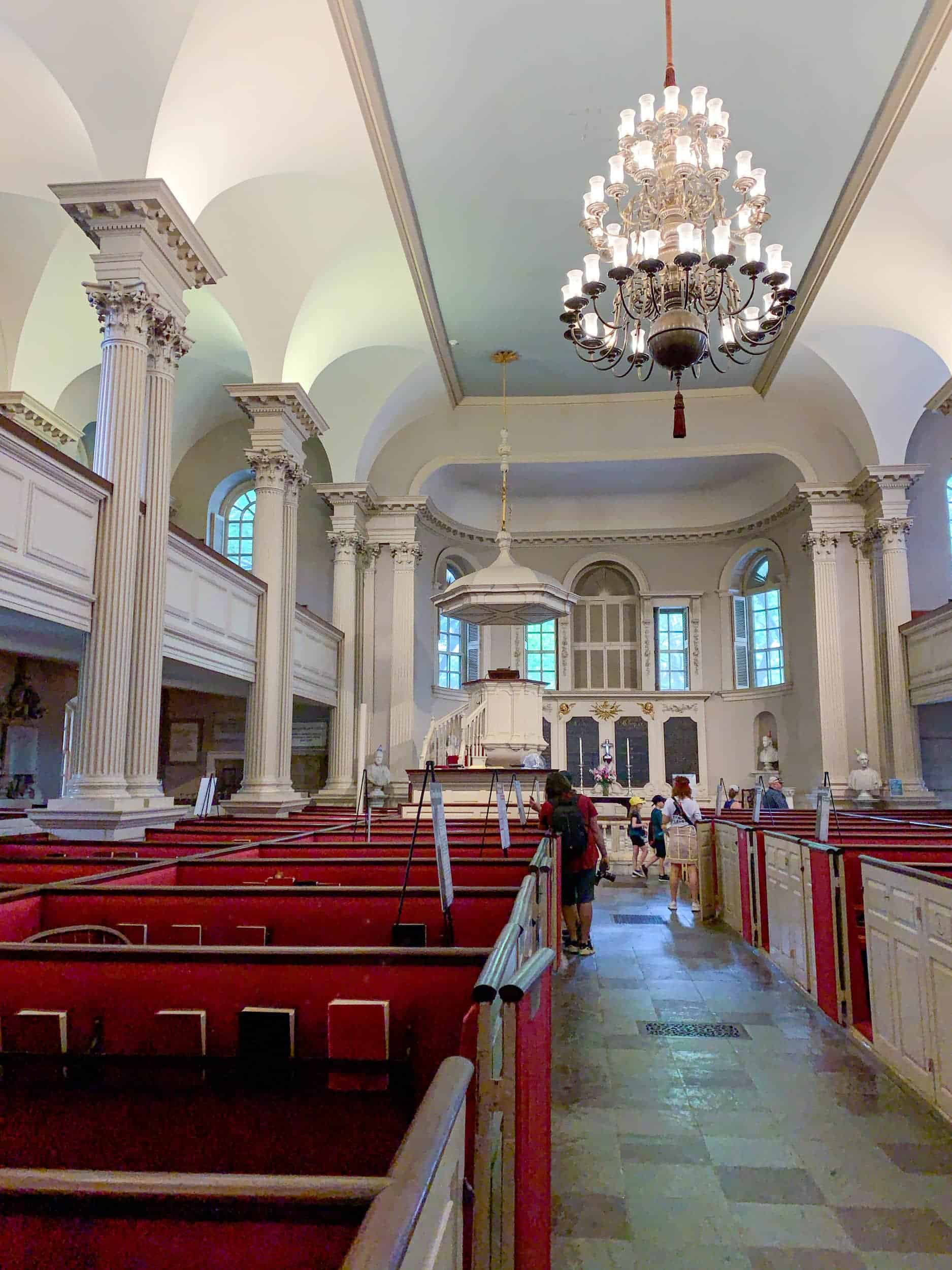 King's Chapel and Burying Ground
King's Chapel was founded in 1686 and is home to Boston's oldest burial ground.
The current church structure was built with granite in 1754.
Once again, it's free to walk inside. Instead of long pews, you'll see partitioned box seats where families would worship together.
I don't recall ever seeing a church with this feature, at least not in the United States.
The Corinthian columns linking the nave add grandeur to the space.
An elegant pipe organ sits above the entrance, so be sure to look upward on your way out.
58 Tremont St, kings-chapel.org
Pro Tip: Across the street from King's Chapel is the Omni Parker Hotel, where the Boston cream pie was invented.
Learn more about it and other can't-miss Boston foodie experiences on Feastio, my food blog.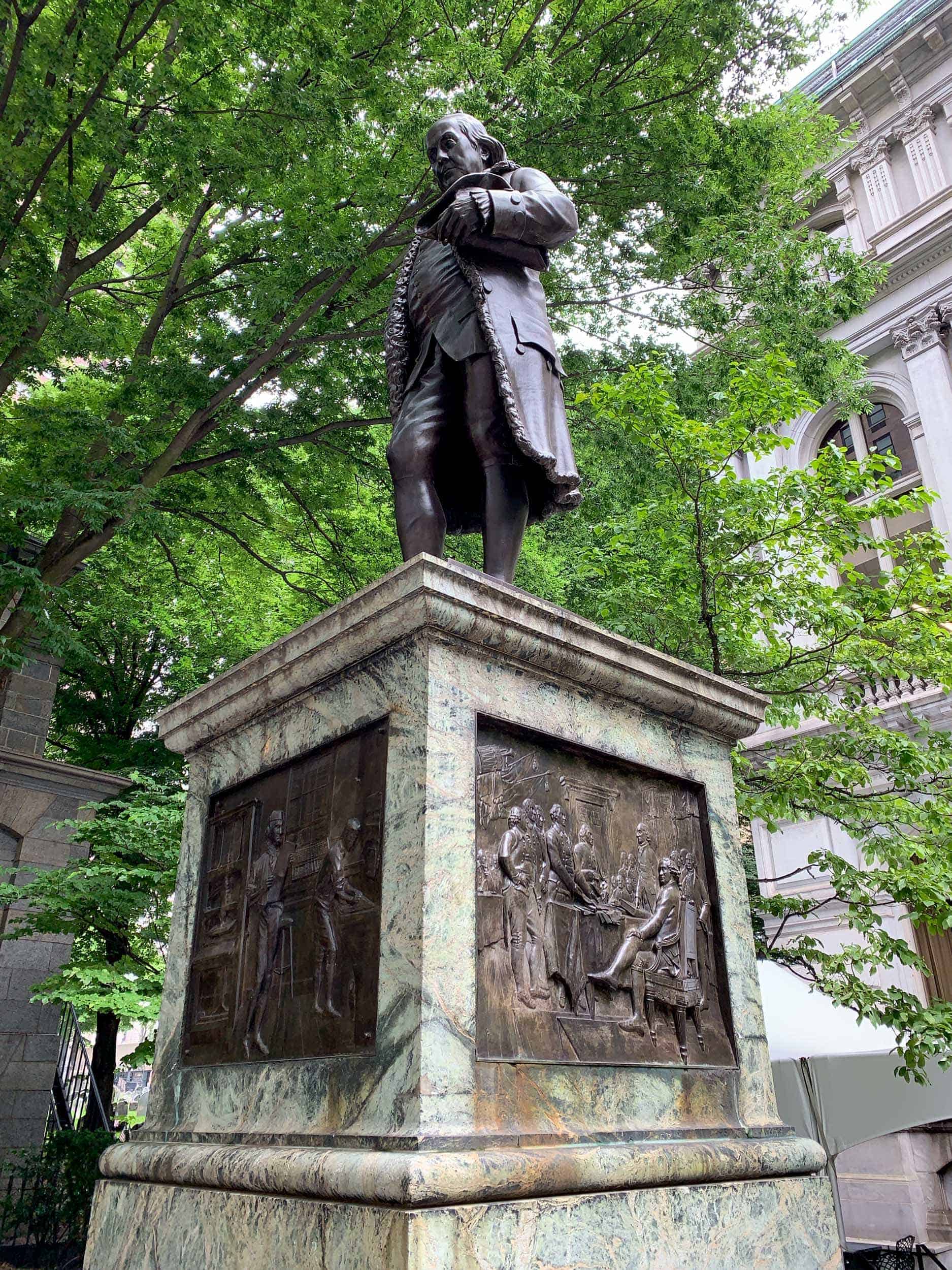 Old City Hall, Benjamin Franklin statue, and site of former Boston Latin School
Founded in April 1635 and opened for classes in 1645, Boston's Latin School was the first public school in the USA.
The school offered free education for boys, regardless of their family's status or wealth, and girls were taught at home.
Notable alumni include Benjamin Franklin, whose statue marks the school's site but dropped out before graduating, Samuel Adams, and John Hancock.
All three were later signatories of the Declaration of Independence.
45 School St, oldcityhall.com
Old Corner Bookstore
Constructed in 1718, the Old Corner Bookstore is Boston's oldest commercial building.
In a sign of the times, it is now home to a Chipotle Mexican Grill.
Still, that's a better fate than the demolition it faced in 1960, though it would be nice if the city re-purposed it as something other than a fast-food restaurant.
238 Washington St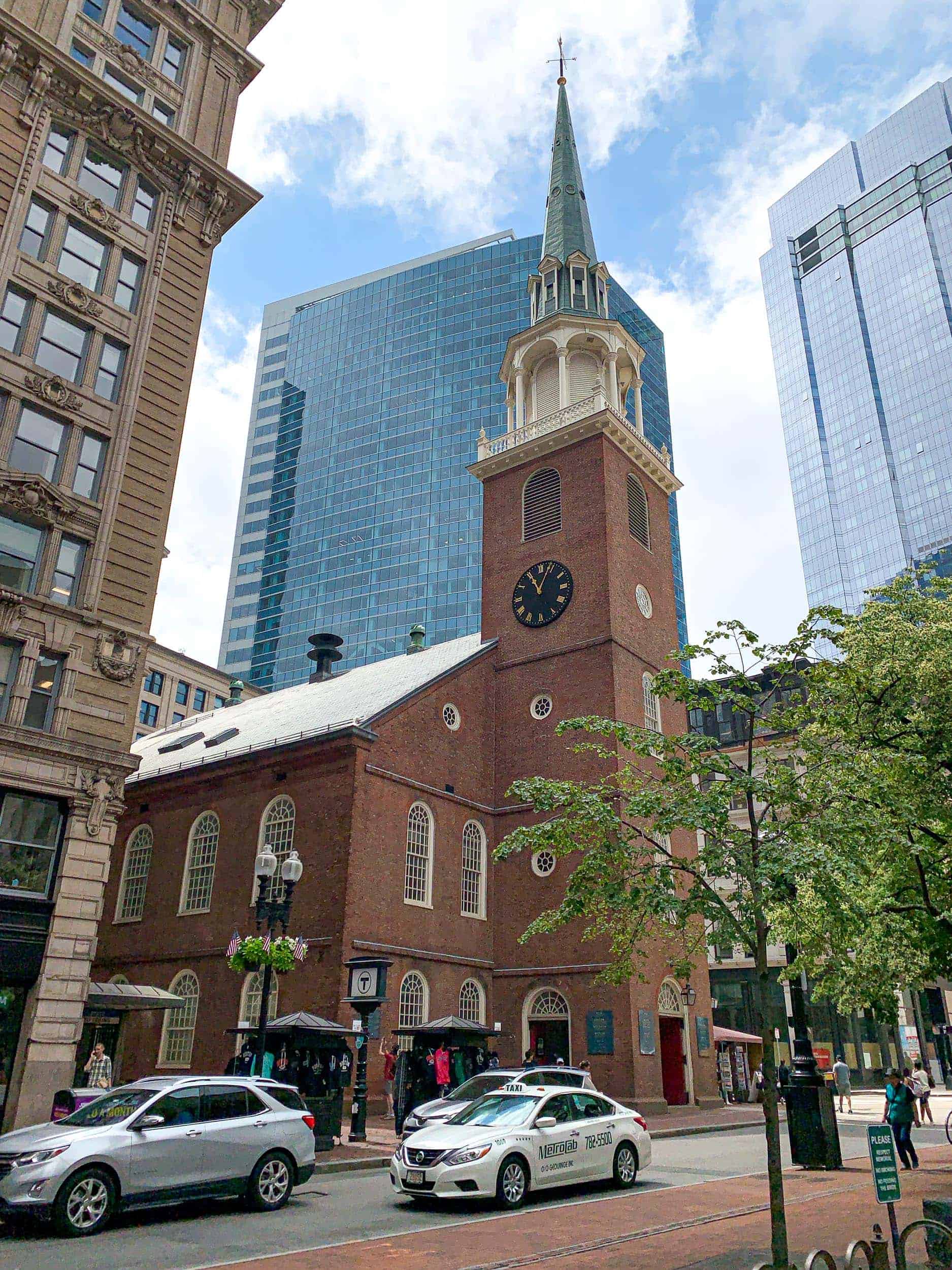 Old South Meeting House
Constructed in 1729, the Old South Meeting House was Boston's largest building in colonial times.
The building served as a place for Puritans to meet, debate, and protest British rule.
On December 16, 1773, 5,000 men debated the tea tax here.
When they failed to reach a compromise, Samuel Adams signaled the start of the Boston Tea Party, and over 300 chests of tea were dumped into Boston Harbor.
310 Washington St, osmh.org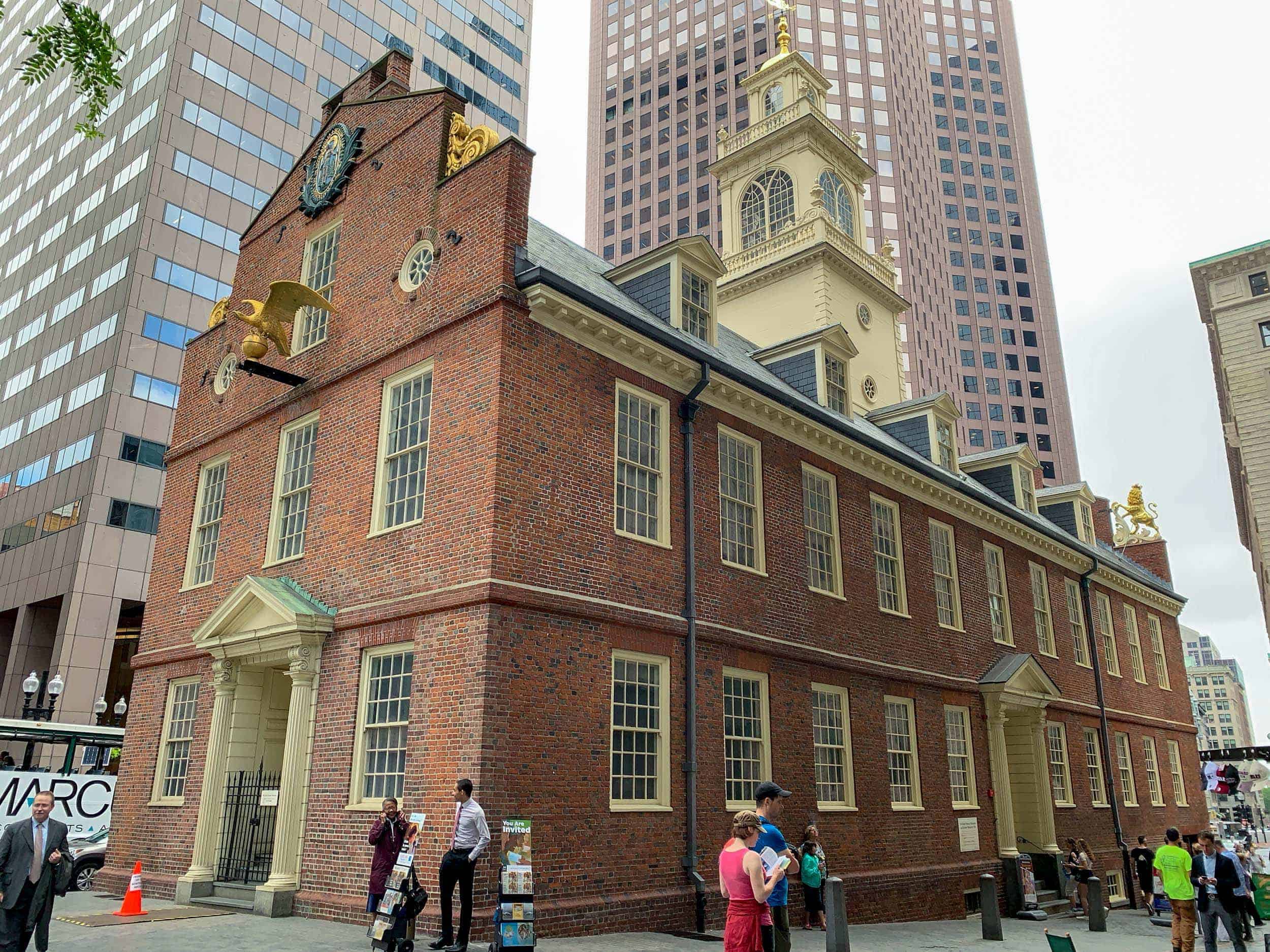 Old State House
Dating back to 1713, the Old State House is Boston's oldest public building. It's free, of course, to walk around the exterior.
Inside, there's a small museum with American Revolution-era artifacts.
However, there's an entrance fee of $12 for adults. Intent on saving money, I skipped it.
206 Washington St, bostonhistory.org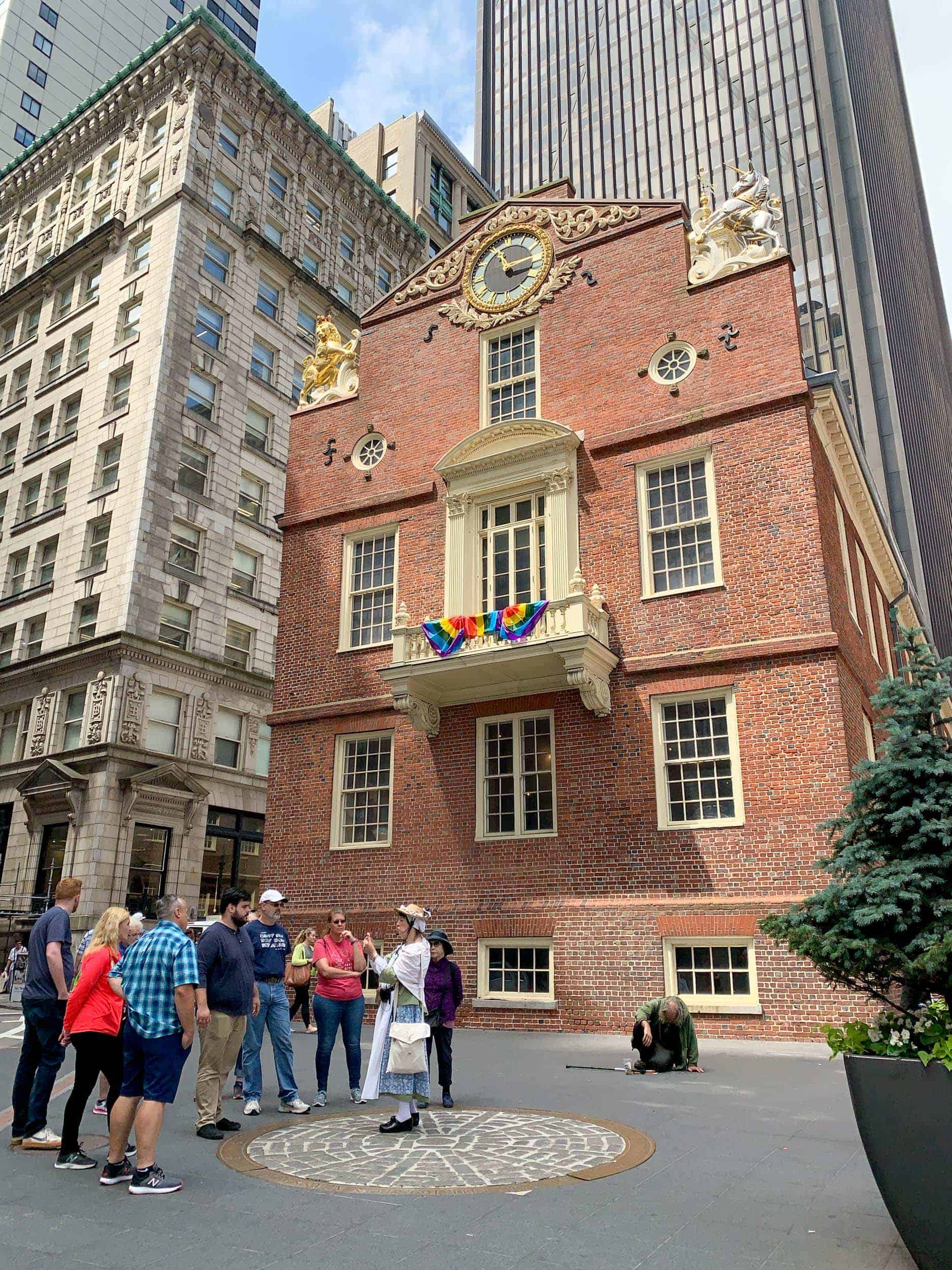 Location of the Boston Massacre
Behind the Old Meeting House is a cobblestone circle marking the site of the Boston Massacre on March 5, 1770.
What began as a street fight between Bostonians and a British soldier led to a riot with British troops (known as "Redcoats") firing on Bostonians, killing five people.
The violent event helped unite Americans against British rule and is seen as a precursor to The American Revolutionary War, which began on April 19, 1775.
206 Washington St, bostonhistory.org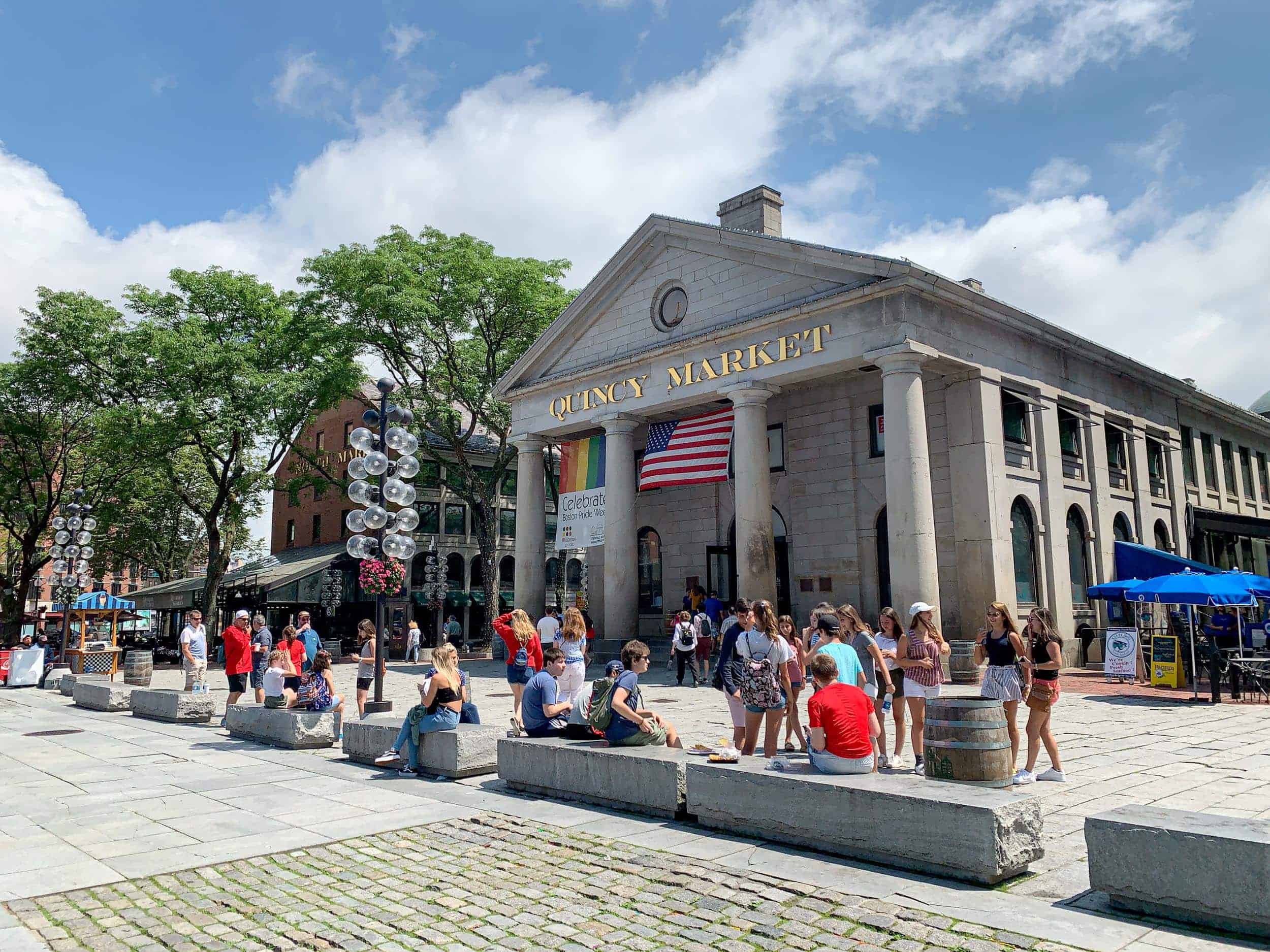 Faneuil Hall
On a lighter note, the next stop on The Freedom Trail is Faneuil Hall, a market built in 1741.
Today, the three halls are filled with cafes, bars, restaurants, and shops.
There's a nice mix of indoor and outdoor dining spaces. It's easy to linger here.
While I walked through Quincy Market and was tempted to eat every cookie and cupcake I saw, I held out for lunch elsewhere.
4 S Market St, faneuilhallmarketplace.com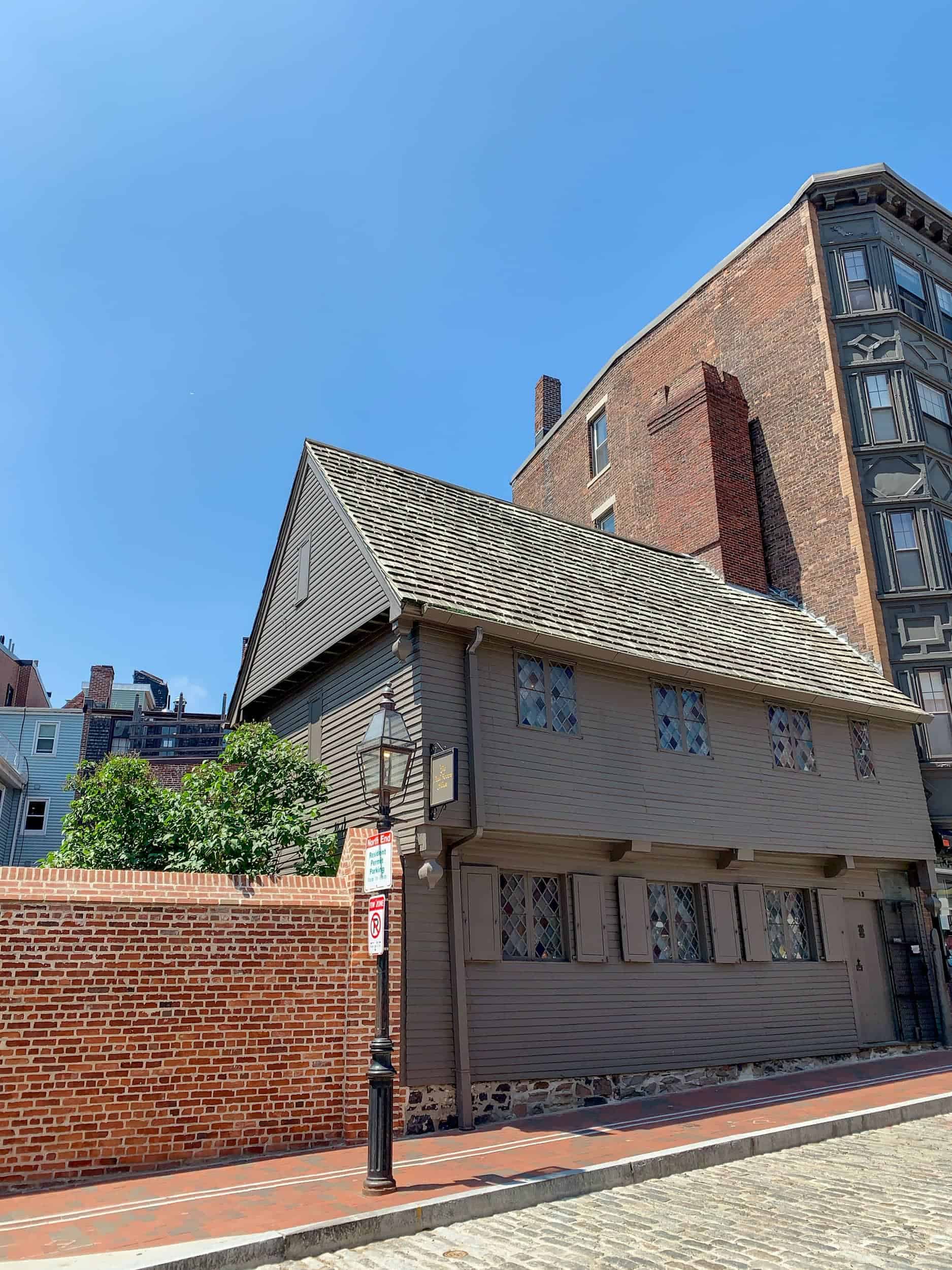 Paul Revere House
Paul Revere's House is a welcome change from the bigger public buildings along the Freedom Trail.
Initially built in 1680, Paul Revere owned it from 1770-1800.
It's free to view the house from the street, and a short walk through the interior carries a $5 admission fee for adults.
Inside the oldest original structure still standing in downtown Boston are several furnished rooms. No photos are allowed.
19 N Square, paulreverehouse.org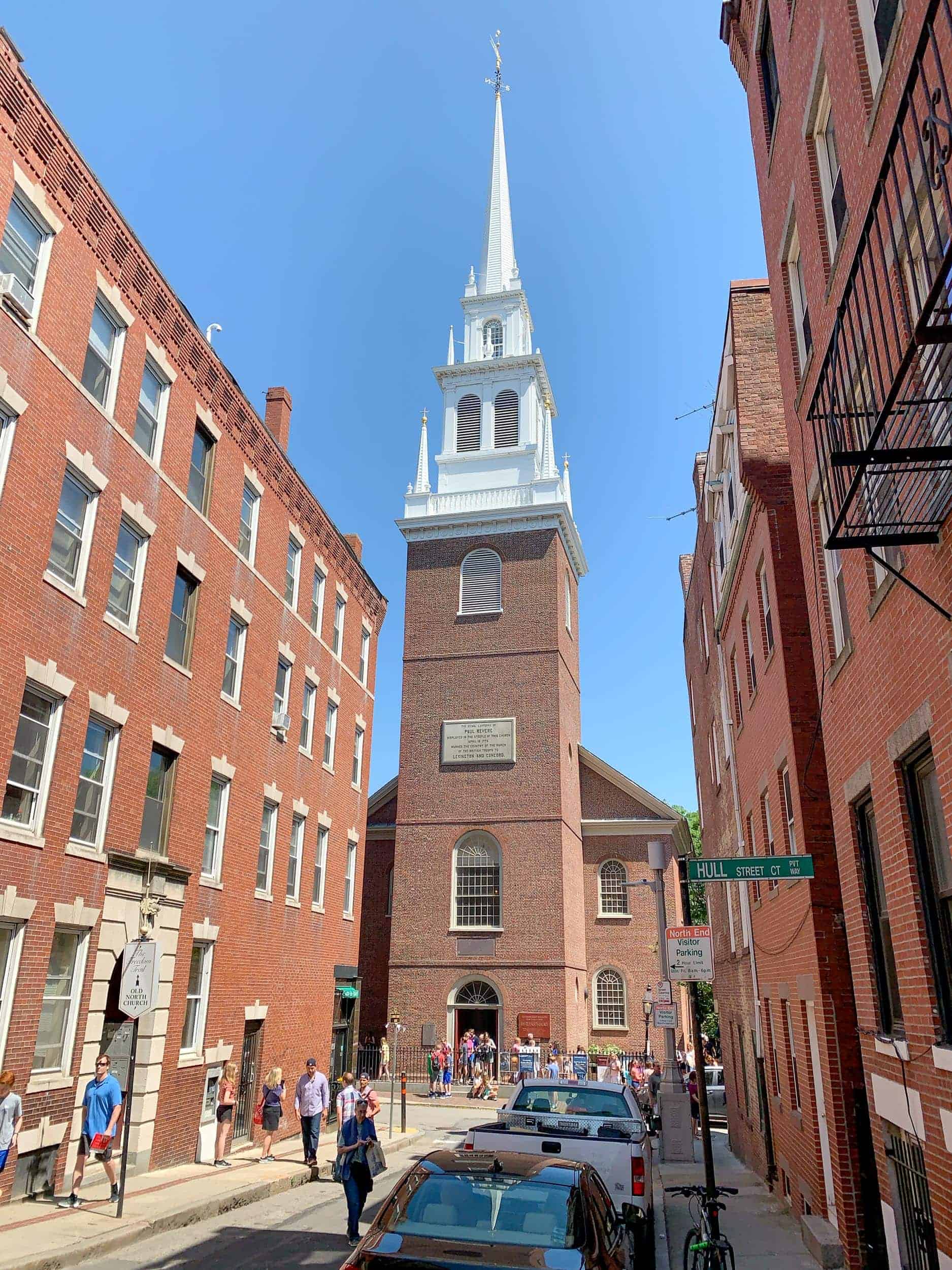 Old North Church
Built in 1723, the Old North Church is the oldest in Boston.
It's famous for being where Paul Revere began his ride on horseback on April 18, 1775, to warn colonists the British were coming.
It's free to view the church from the street. Admission to see the interior (without a tour) is $8 for adults.
I paid to look around but skipped the guided tour.
The all-white interior is the nicest of the churches you visit on The Freedom Trail, and there are plenty of plaques to provide info about critical events and historical figures.
193 Salem St, oldnorth.com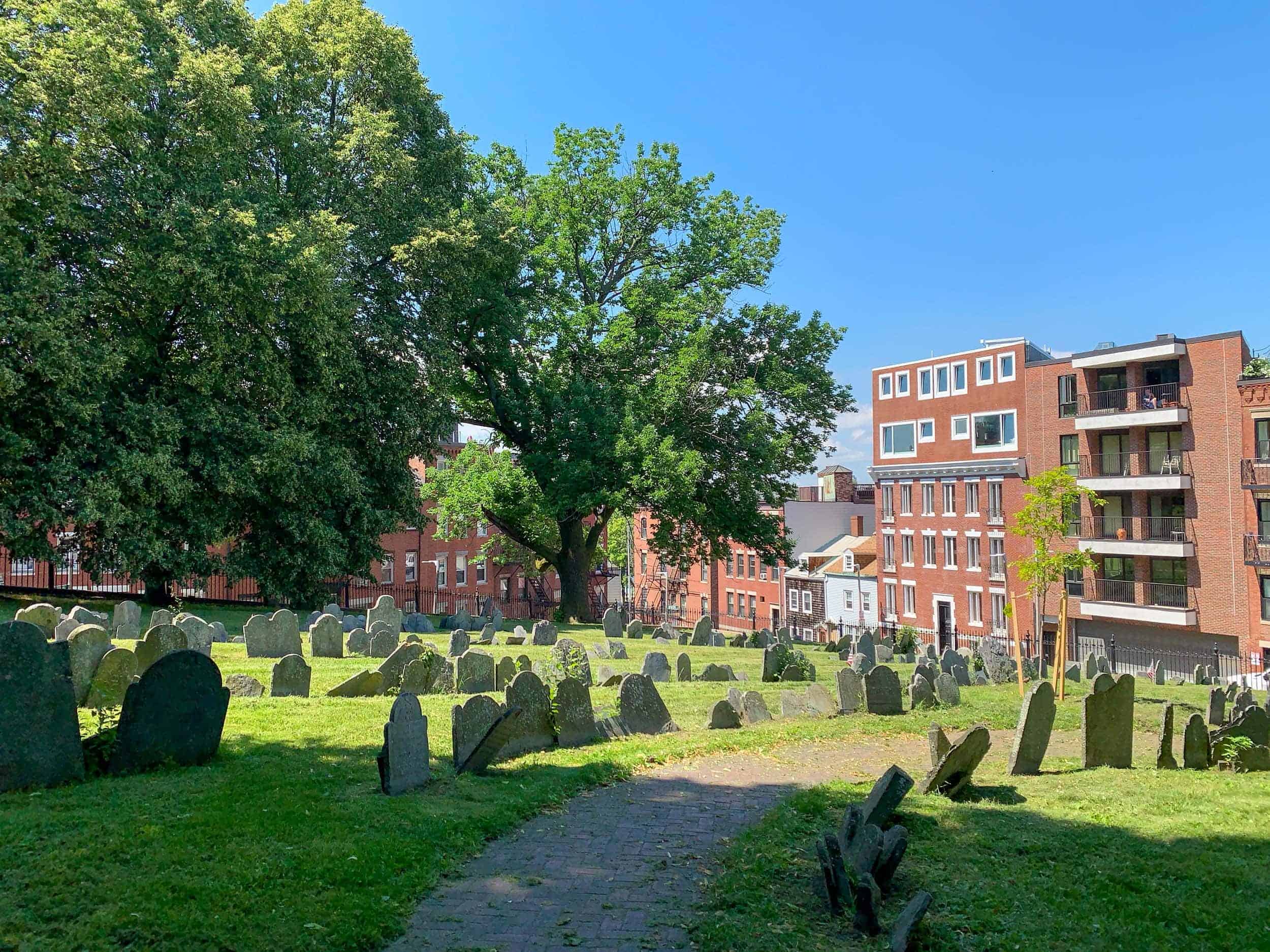 Copp's Hill Burying Ground
Copp's Hill Burying Ground, the third and final cemetery on The Freedom Trail, is up the street from the Old North Church.
It dates back to 1659 and is Boston's most significant colonial burying ground.
It had taken me about five hours to reach this point in The Freedom Trail, so I called it a day and headed back to the hostel.
Hull St and Snowhill Rd, Boston.gov
USS Constitution
Follow The Freedom Trail across the North Washington Street Bridge and turn right to visit the USS Constitution.
Nicknamed "Old Ironsides," this warship is the oldest in the US Navy and is still operational today.
It's free to visit; however, a $10-$15 donation is suggested. If you're 18 or older, a photo ID will be required.
3rd St, ussconstitutionmuseum.org
Bunker Hill Monument
The Bunker Hill Monument is the 16th and final stop on The Freedom Trail. This 221-foot tall obelisk memorializes the Battle of Bunker Hill.
Ascend the hill for scenic city views and mark the end of your free walking tour.
Monument Sq, Charlestown, nps.gov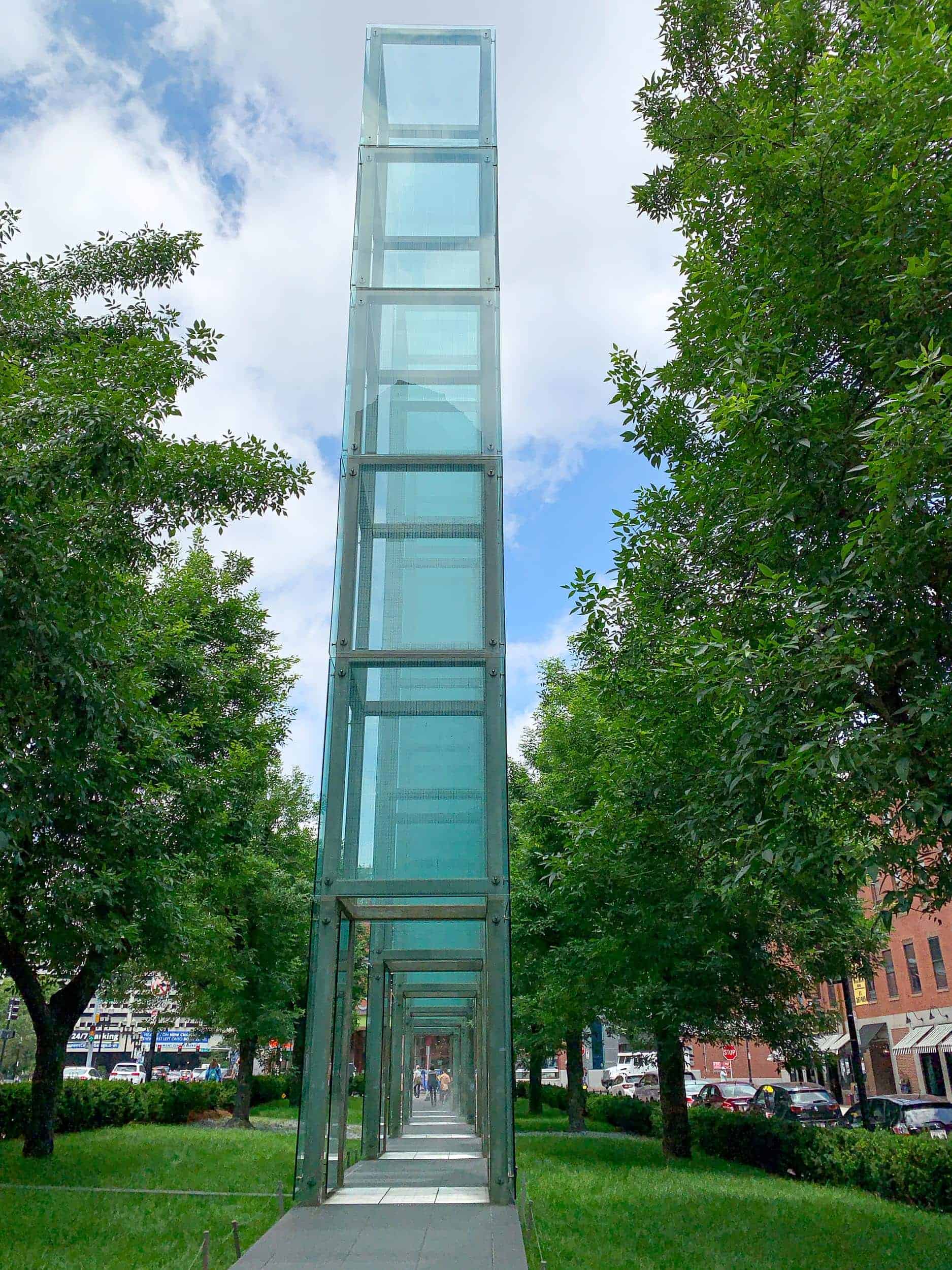 Experience The New England Holocaust Memorial
The New England Holocaust Memorial is a thoughtful tribute to the genocide that occurred at the hands of the Nazis from 1939-to 1945 when six million Jewish people were murdered.
The six glass towers, each symbolizing a death camp, reach a height of 54-feet.
Steam rises from grates at their base, an ominous reminder that the Nazis used gas chambers for mass murder.
Walking through the memorial is free and a must for those of us who vow never to forget such atrocities.
It's located a block from Faneuil Hall, making it an easy stop on The Freedom Trail.
98 Union St, nehm.org
Related: Nazi Concentration Camps – Walking Among Ghosts in Poland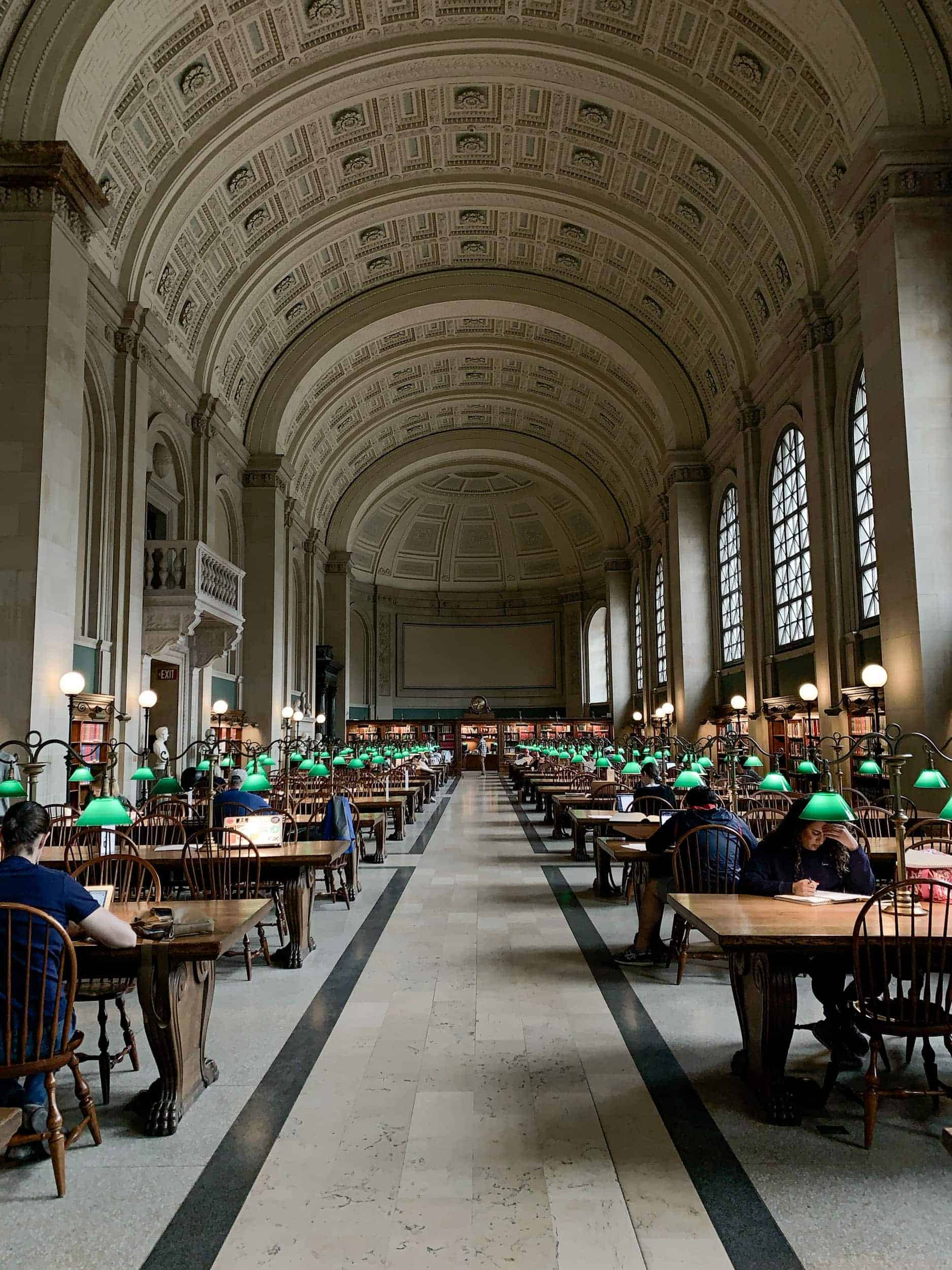 Tiptoe Through the Boston Public Library
Established in 1848, the Boston Public Library was the United States' first big, free city library.
It's across the street from Copley Square and free to walk through. Free daily public tours are also available. Visit the website for times.
700 Boylston St, bpl.org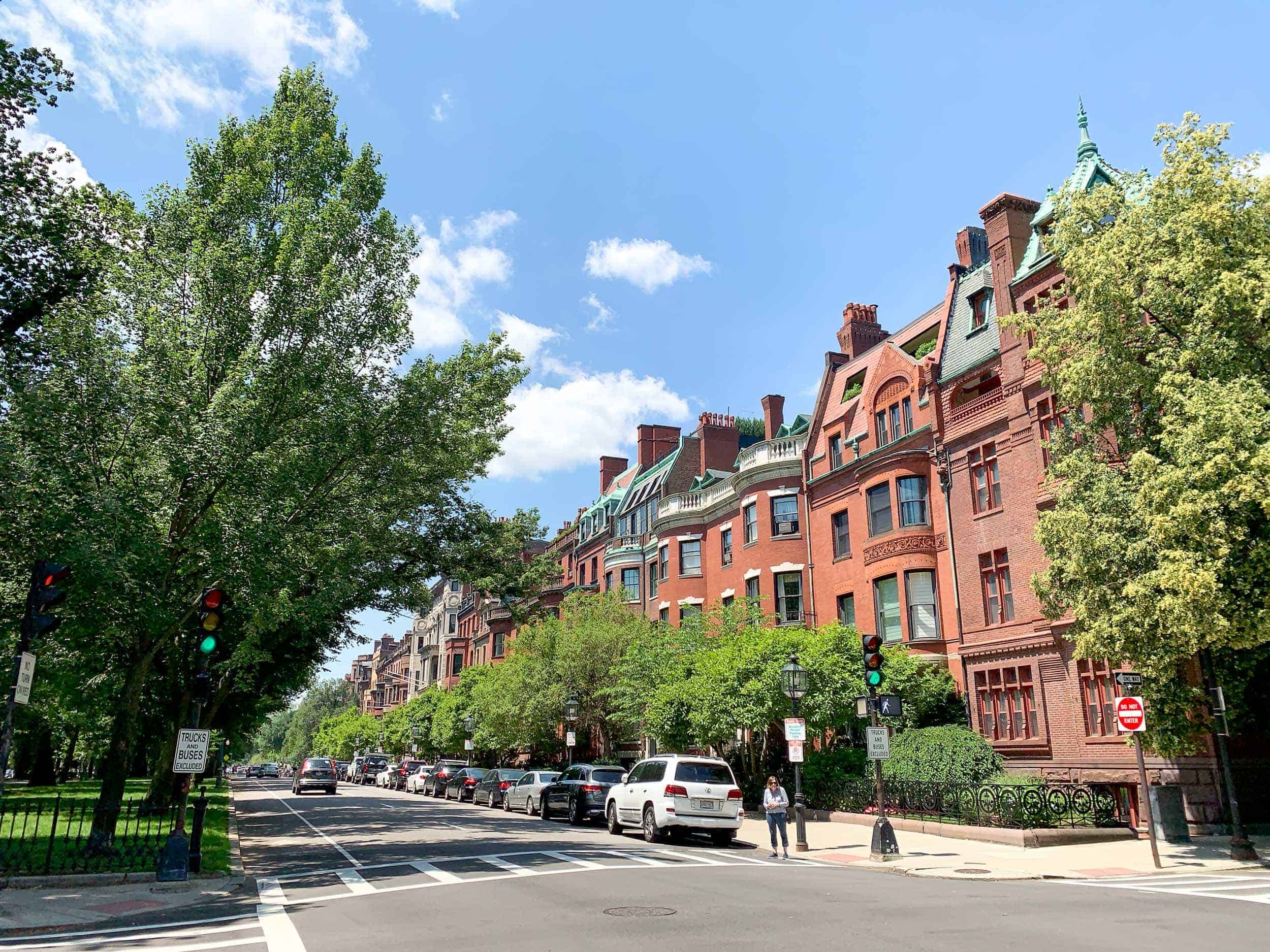 Explore the Back Bay Neighborhood
Back Bay is an affluent neighborhood bordered by the Charles River to the north, Boston Public Garden (and downtown) to the east, and Fenway Park to the west.
The tree-lined streets are easily walkable.
I recommend starting in Public Garden and walking west through the park parallel to Commonwealth Avenue.
In addition to shade, several intriguing statues line the path.
This route is primarily residential, with expensive townhouses on both sides of the park.
To get a drink, bite to eat, or do some window shopping, walk back along Newbury Street.
Commonwealth Ave and Newbury St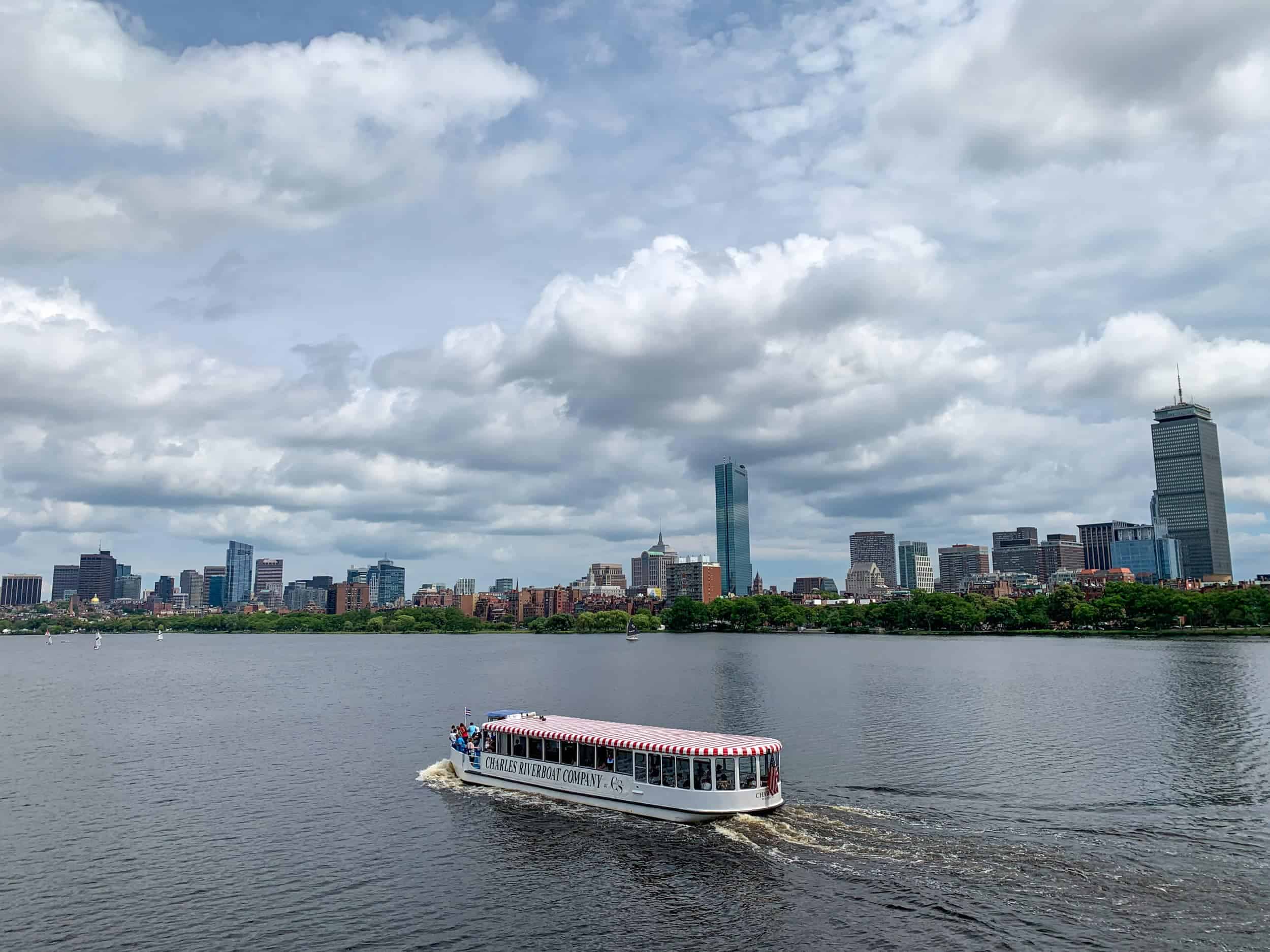 Cross Harvard Bridge
At the western end of Back Bay is the Harvard Bridge, which connects the city of Boston with Cambridge on the other side of the Charles River.
The northern end of the bridge (closer to the Cambridge side) offers spectacular views of the Boston skyline.
Go all the way across the Harvard Bridge, and you'll be on the MIT campus, which I mention shortly as another free place worth a visit.
Massachusetts Ave Bridge
Take the Harborwalk
The Harborwalk is a system of pedestrian paths that line the Boston Harbor.
Chances are you won't have time (or the desire) to walk the entire network.
Just know it's there and incorporate some time on it as you visit other sites.
Various locations. Go to 88 Sleeper St (for the view above), bostonharborwalk.org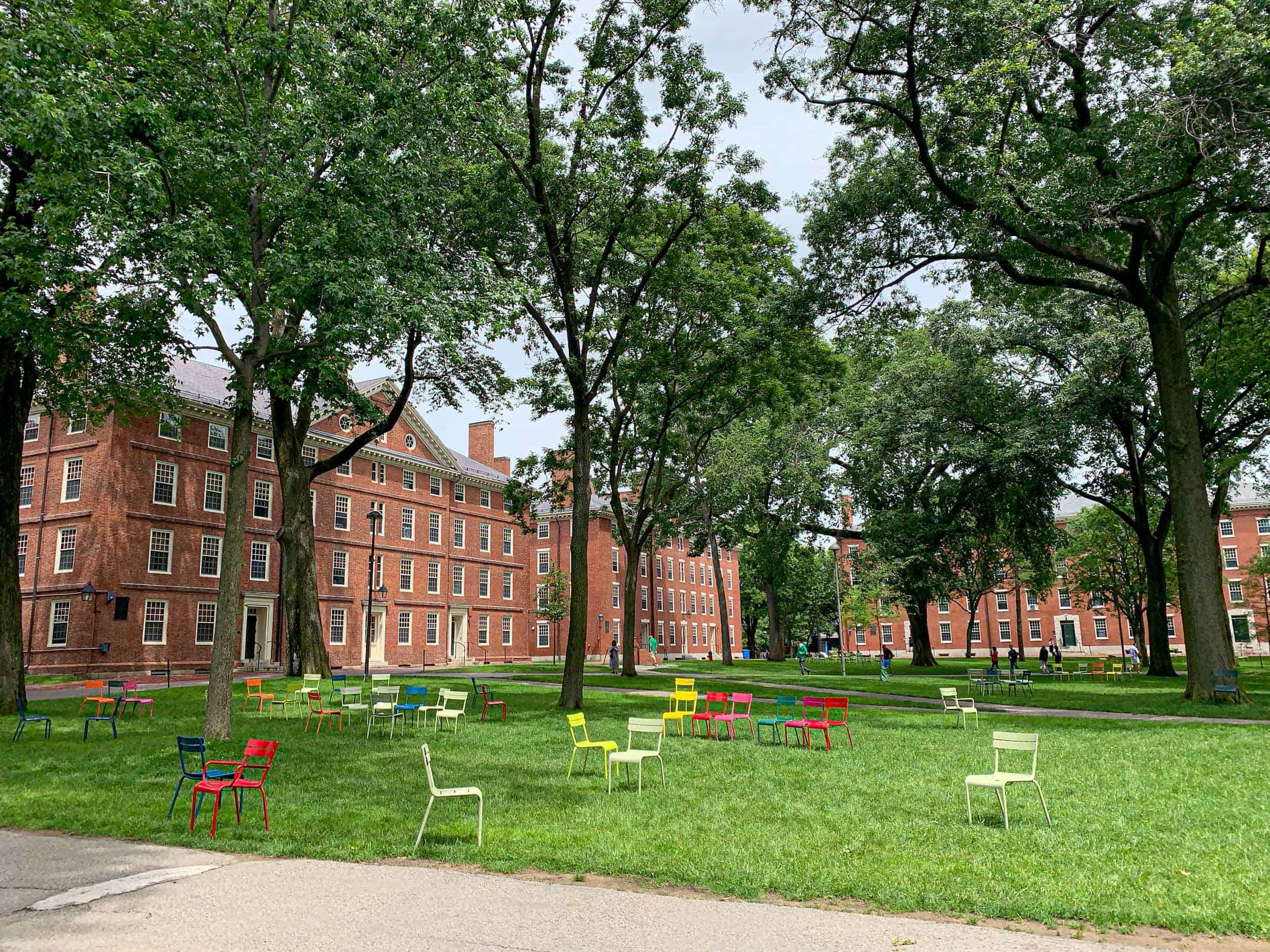 Universities in Boston
Go to Harvard University
Boston is a university city, and no university is more well-known or highly respected than Harvard University.
Technically, Harvard is in Cambridge, across the Charles River from Boston; it's easy and free to visit Harvard's campus.
I took an Uber. However, you can also take the subway's red line to the "Harvard" station, which exits at Harvard Square.
From there, you have to cross the street to enter Harvard Yard, the main campus and home to dormitories and the imposing Widener Library.
Free, student-led guided tours are also available, but I enjoyed just walking around on my own.
Several museums dot the campus, which you can visit for a fee. I skipped them in the interest of time.
As my dad attended Harvard Business School, I walked across the North Havard Bridge to check out that campus.
Unlike Harvard University, there were absolutely no tourists there.
Harvard Yard, 2 Kirkland St, harvard.edu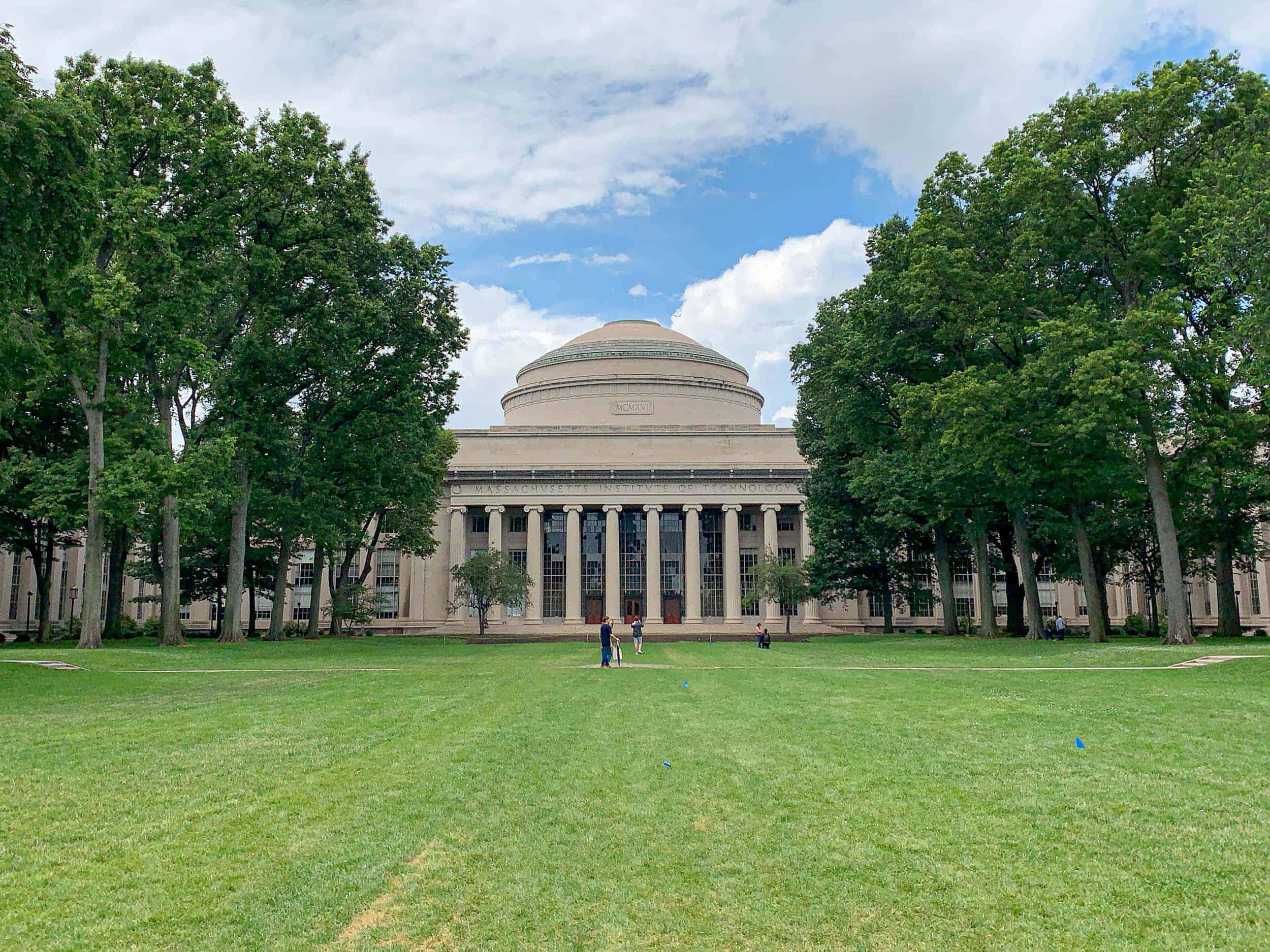 See the Great Dome on the MIT Campus
Cambridge is also home to the Massachusetts Institute of Technology (MIT), one of the most outstanding technical schools in the world.
The Great Dome, a university symbol, is the Barker Engineering Library, and it's free to walk through.
Good Will Hunting fans may also recognize the building from a movie, as it's where Will worked as a janitor when his mathematical genius was discovered.
Memorial Dr, MIT campus, libraries.mit.edu/barker/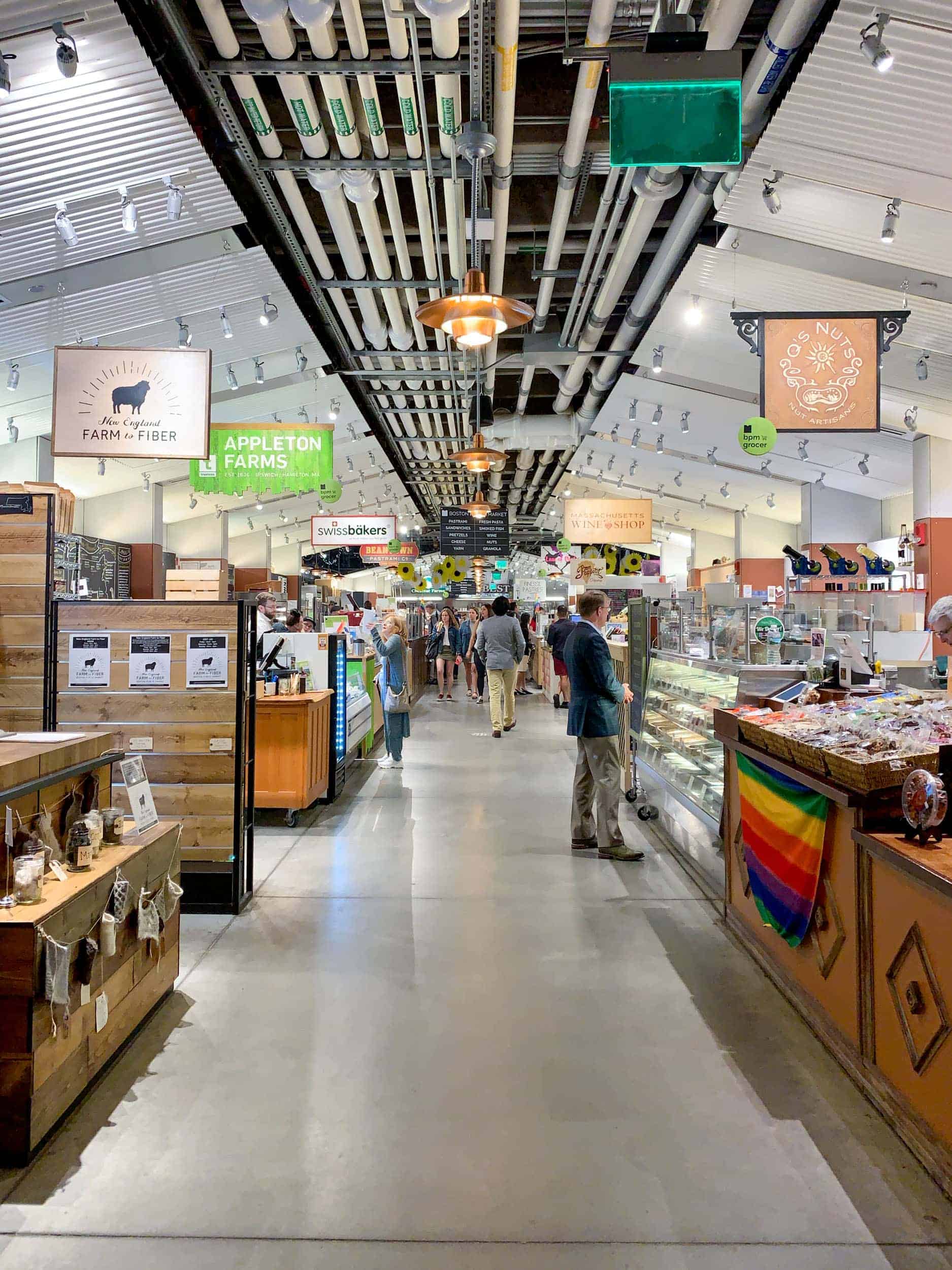 Food and Breweries
Browse The Boston Public Market
The indoor Boston Public Market is just a block north of Faneuil Hall, making it another free and easy thing to see along The Freedom Trail.
The market is home to 40 New England food providers, ensuring that you're supporting local farms and food entrepreneurs if you choose to eat here.
100 Hanover St, bostonpublicmarket.org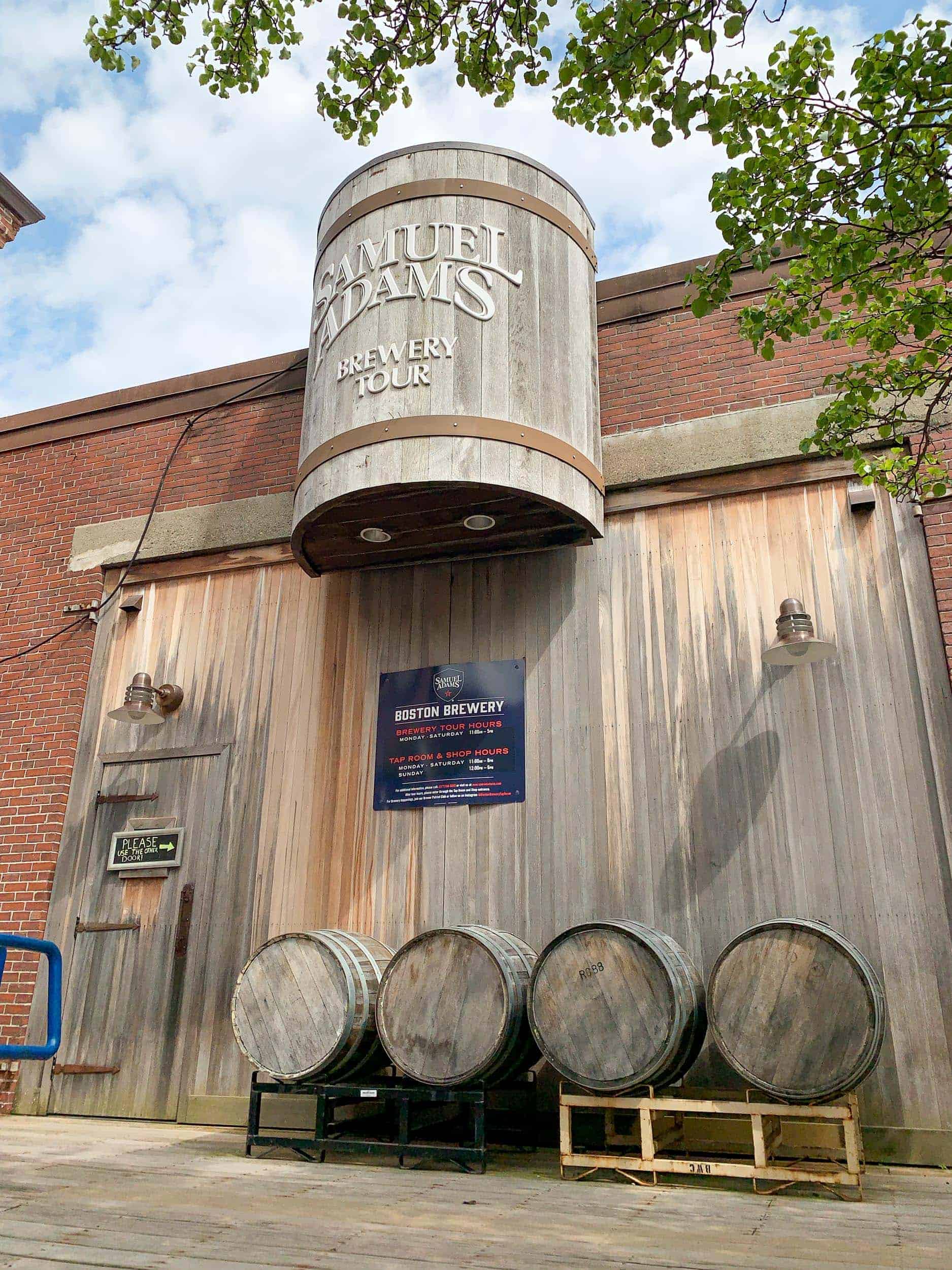 Tour the Samuel Adams Brewery
Samuel Adams led the craft beer charge in the 1990s, and I've been a fan ever since.
Beer fans will make the time for a pilgrimage to their Boston brewery.
Free tours, including a complimentary tasting of three beers and a souvenir glass, are available daily.
Additional paid tours that introduce you to barrel-aged beers are also available. Must be 21 or older to participate.
Sam Adams is always a good decision!
30 Germania St, samueladams.com
Related: Steamboat OktoberWest – A Celebration of Colorado Craft Beer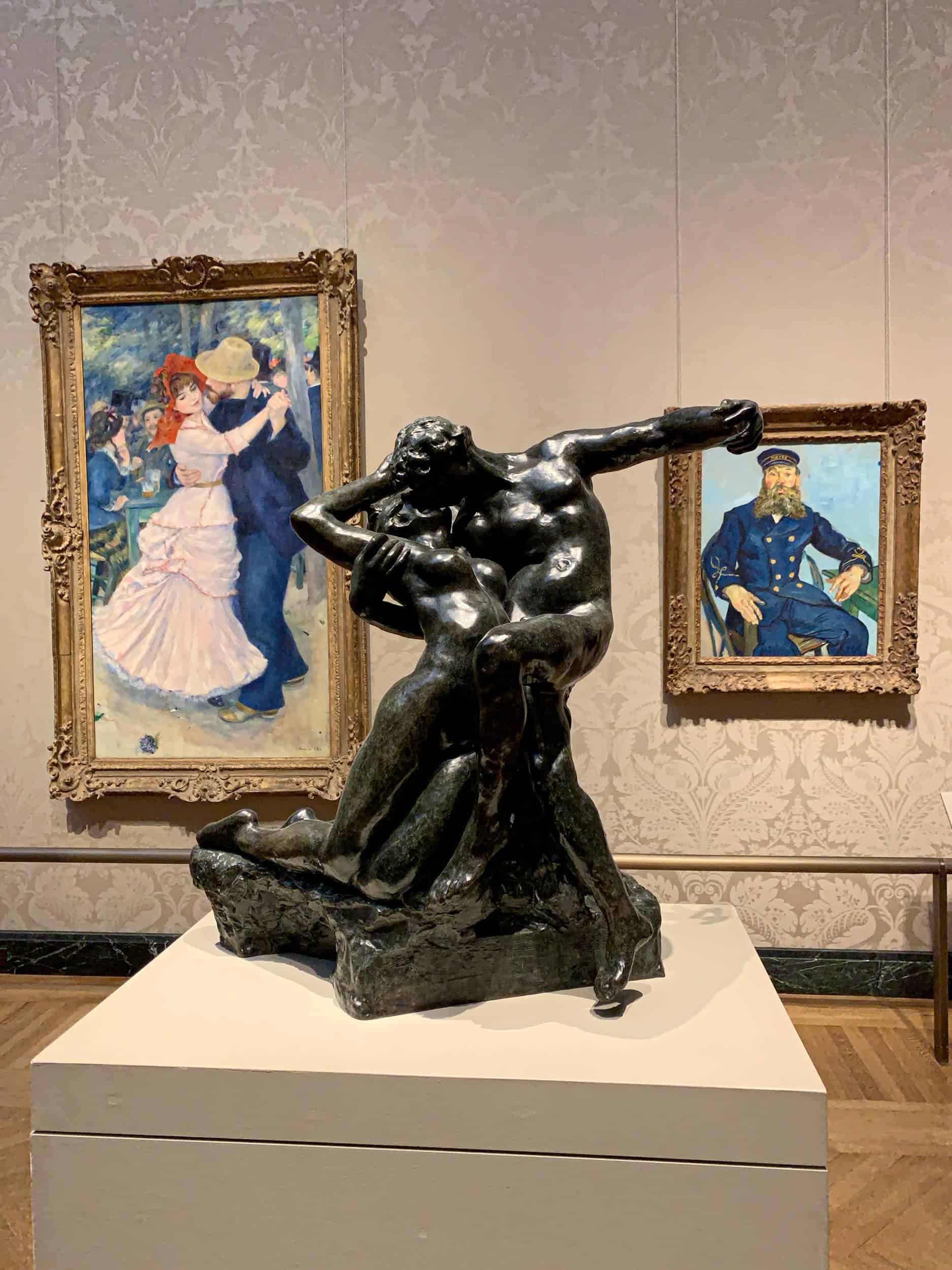 Culture
Get Lost in The Museum of Fine Arts
Boston's Museum of Fine Arts is world-class.
It features one of the largest collections of paintings by Claude Monet outside of France, plus works by artists such as Vincent Van Gogh and Paul Gauguin.
The regular cost of admission is $25 for adults. However, access is free every Wednesday after 4 pm.
Admission is also free on five "Open House" days each year. Visit the website for details.
465 Huntington Ave, mfa.org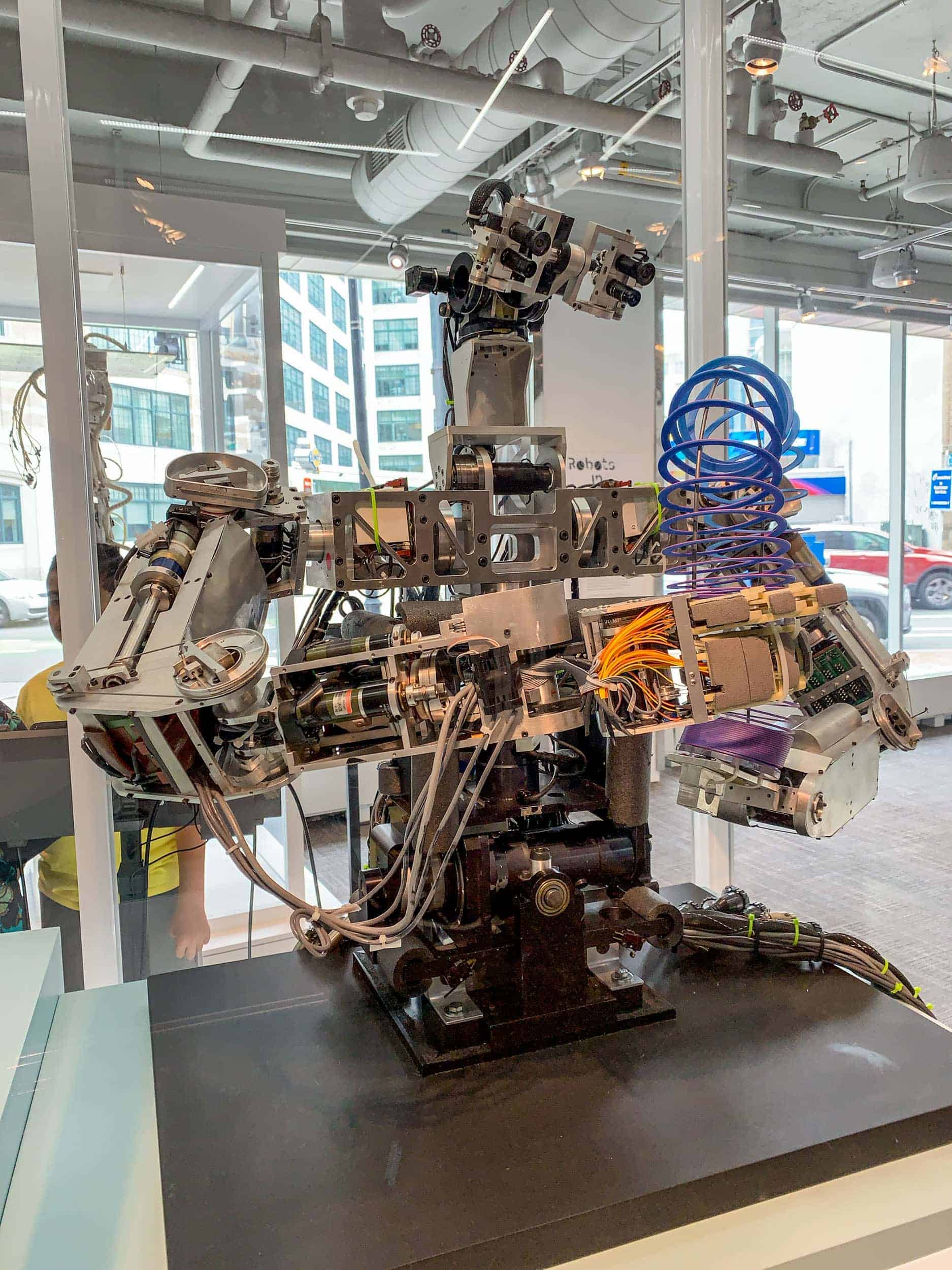 Geek Out at the MIT Museum
Last but not least, I want to share the MIT Museum, which is free on the last Sunday of each month, September through June.
I benefited from free entry on my last night in Boston by sheer luck with my schedule. I thoroughly enjoyed the experience.
The ground floor has old robots, while the upper level has several exhibits, including a fascinating one entitled Gestural Engineering: The Sculpture of Arthur Ganson.
If you can't make it on the last Sunday of the month, adult admission is $10.
265 Massachusetts Ave, mitmuseum.mit.edu
***
There you have it, an extensive list featuring dozens of free things to do in Boston.
About half the ideas are along The Freedom Trail, with the rest being spread around downtown Boston and Cambridge.
I'm confident it's enough to keep any first-time visitor busy.
If you're wondering what to do after visiting Boston, consider spending a weekend in Nantucket. It is a 3.5-hour drive, and you can rent a cozy house with a great view.
____
My stay at HI Boston was in partnership with Hostelling International USA. However, I would've stayed there on my own as well, given the location and excellent value.
Dave is the Founder and Editor in Chief of Go Backpacking and Feastio. He's been to 66 countries and lived in Colombia and Peru. Read the full story of how he became a travel blogger.
Planning a trip? Go Backpacking recommends: